According to a survey by Gartner, that around 50% of companies are currently having 81% or more of their employees working remotely during this COVID pandemic. Another 15% of companies said 60-80% of their employees were already working remotely!
Work from home was picking up steam pre-pandemic as businesses looked to improve company culture and move along with changing times. And employees were loving it, as a whopping 37% of employees said they would change jobs for one that offers remote work!
However, due to the Coronavirus (Covid-19) pandemic, remote work was quickly moved from a nice-to-have luxury to a must-have necessity. As people look to flatten the curve and curb the spread of the virus, many companies had to radically transform their work culture overnight to make way for remote work and telecommuting.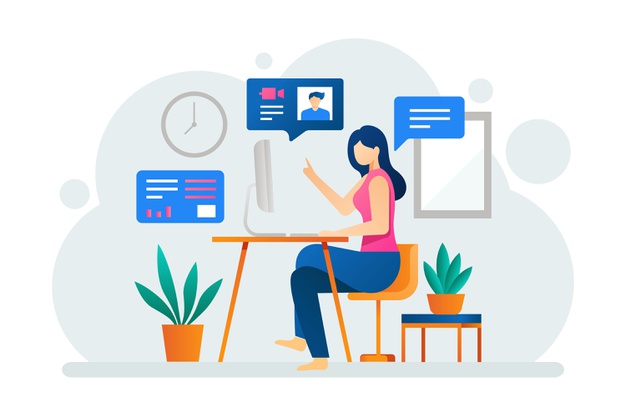 While working from home continues to gain popularity, few businesses have formal documents and policies in place to manage and control the process. In fact, more than 57% of employers with remote staff do not have a policy in place. By not having a clear policy in place, there's likely going to be a ton of ambiguity and confusion in the workplace, which can lead to disastrous results.
In this blog post, we will discover how remote work can be beneficial to your company, how to avoid remote work limitations, and how to craft the perfect work from home policy. Read on…
What is a Work From Home Policy?
A Work From Home Policy is a workplace document that outlines the responsibilities and expectations for employees who are working from home. It acts as an agreement between the employer and employee regarding what is expected of them in terms of work.
A work from home policy is usually part of the employee handbook and may include criteria such as:
Who is eligible to work from home,
Approval process and key stakeholders involved
Process of requesting remote work benefits
Guidelines and regulations, and more.
A thorough Work From Home Policy sets the right expectations and lays down the infrastructure that supports remote works and mitigates its challenges.
Benefits Of Creating a Working From Home Policy
Allowing employees to work from home can be beneficial to the employee, the company, as well as the environment! Here's why you should proactively create a Work from Home Policy and empower your employees to work remotely:
1. Saves commute time
Did you know that the average American commute is more than 52 minutes each day! Allowing employees to work from home saves hours on their commute time, making them more happy and productive.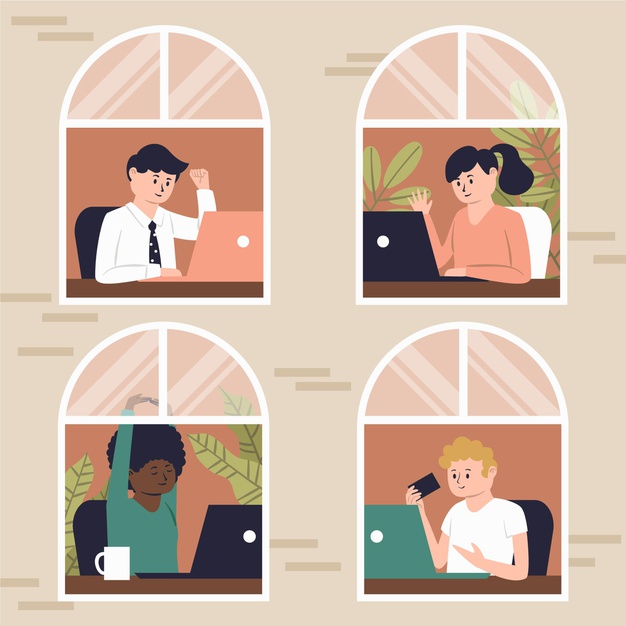 In fact, in a report published by the Royal Society for Public Health in the UK, it was found that 55% of participants felt more stressed as a result of their commute.

2. Builds trust
A Harvard Business Review survey reveals 58 percent of people say they trust strangers more than their own boss. By encouraging employees to work from home, you as a boss or manager are signaling to the employee that you trust them to do their job sincerely. This helps create an emotional bond between the employer and the employee.
3. Higher loyalty
A survey shows that around 79% of employees said they would be more loyal to a company that provides flexibility. Whereas, 32% said that they have left a job because of the lack of flexibility. Giving your team flexibility in their schedule is a great way to build employee loyalty and reduce attrition.
4. Improved focus
Another great advantage of working at home is the lack of distractions. A Harvard Business Review study found that remote employees contribute almost a full day more productivity per week versus employees in an office. Workplace distractions like water-cooler gossips, incessant small talks, and unnecessary meetings, all result in unproductive work.
5. Reduces sick leaves
Working remotely, especially in the times of a global pandemic, can result in employees being safely isolated at home. Even if they do get sick, they are less likely to spread that illness to others. Data suggests that remote employees decrease the use of sick days by 6% per year.
6. Save dollars for the business
 According to a report by Flexjobs, employers can save $22,000 per remote worker per year, even if their entire team is not remote.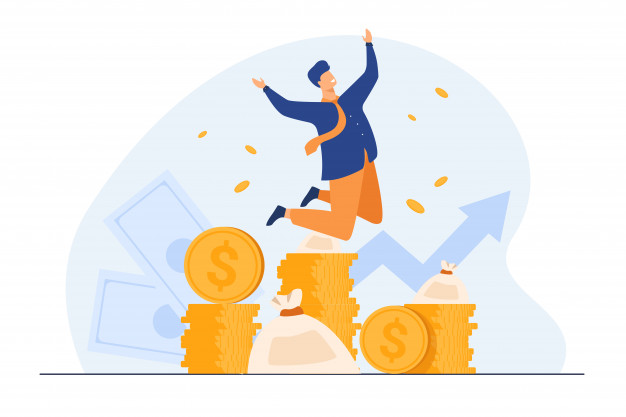 If your employees work from home, you can directly improve your company's bottom line by reducing a ton of operating costs like rent, furniture, coffee, janitorial services, stationery, utilities, etc.
Read more: The Ultimate Remote Collaboration Guide For Distributed Team
Limitations of Working From Home
While there are numerous benefits to creating a work from home policy and enabling remote work, there are some downsides to it. Make sure to safeguard your work from home policy against the potential limitations of remote work.
1. Social isolation
Social isolation is one of the biggest challenges faced by a remote worker. According to a report by Buffer, 19% of remote employees stated isolation as their #1 problem while working from home. Make sure your work from the home policy has tips about combatting social isolation or have a designated number of days allowed for remote employees to visit the office and interact with the team.
Read more: Combating Social Isolation in Remote Working
2. No boundaries
Another common complaint we hear from people who work from home is not having concrete boundaries between work and play, .ie. their professional and personal lives. When your work is accessible 27*7, it's hard to not check "one more email" or do some work after dinner and fully detach yourself from work. Establishing boundaries is healthy as it relaxes your mind and prepares you to tackle work the next day.
3. Homely distractions
While remote work can help you avoid office distractions, workers can still get distracted at home. Working some remote employees make the mistake of working form their beds which is often unproductive, others might get distracted by TV or some household chores.
Follow these Steps to Write a Work From Home Policy
Now that we know the benefits and the potential downsides of working from home, its time to craft work from home policy that is going to optimize the benefits while limiting the risks of remote work, setting up employees for success.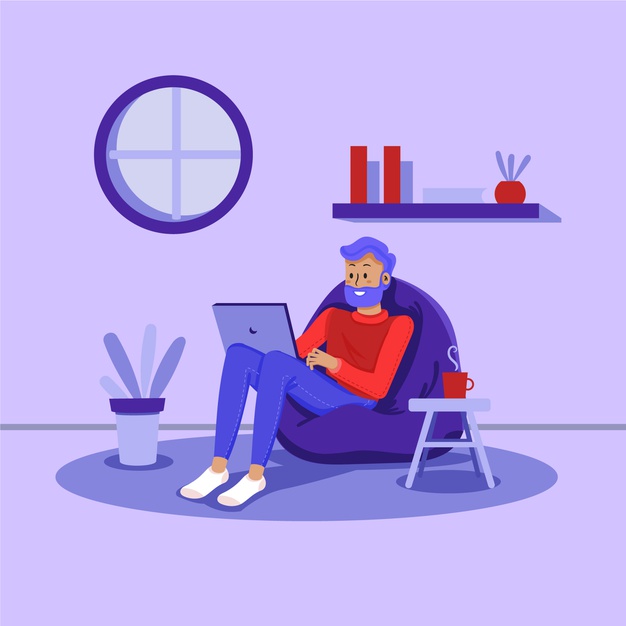 Here are the few things you should definitely include in your work from the home policy:
Step 1: Define the purpose
First of all, you need to define the purpose for writing the work from the home policy document. You need to convey the benefit of creating such a document and how it can benefit both the employer and the employee to get the most out of remote work.
Step 2: Define the scope
Next up, you need to define the scope of the document. This section of the policy will outline who is eligible to work from home since all job functions cannot be handled remotely.
You can further take into account software limitations or security risks associated with employees who work from home. Moreover, you can even set up eligibility criteria like allowing those employees to work from home who have been with the company for more than 6 months.
Step 3: Outline the request process
In this section, you need to describe the entire process following which employees can request work from home. Is there a form they need to submit? To whom? Do employees need to apply to be considered for the policy? Describe the exact steps an employee needs to take in order to have the option of working from home.
Step 4: The approval process
Once you have set up the request process, its time to outline the key personnel involved in green-lighting the work from home policy requests. Employees should know precisely who to contact, who will be approving, and how much time the whole process will take.
Step 5: Set working hours
 It's crucial that your work from home policy clearly outlines the working hours (or the hours an employee needs to be online). Having a regular schedule helps ensure that the employee is productive throughout the day and is available in case he/she is needed for any sort of collaboration or communication. Companies usually setup the same working hours for remote employees as the standard office workday to ensure stability and consistency.
Step 6: Set acceptable work from home days
Outline exactly when employees will be allowed to take benefit of the work-from-home policy. Can employees take work from home days as needed or will your company have a set day of the week or month dedicated to working from home? Are there certain days or months of the year when remote work would be impermissible? State that distinctly within your work from the home policy so there's no confusion afterward.
Step 7: Outline communications channels
Since remote employees would be working from home, setting up communication channels so that your work goes smoothly is vital.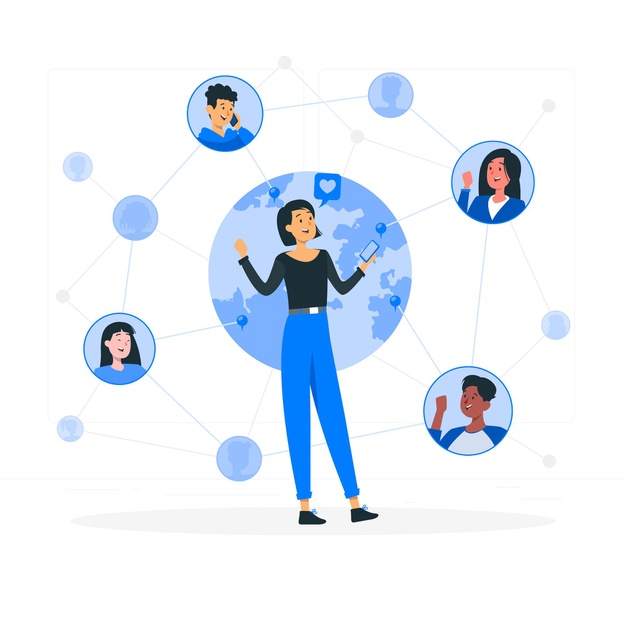 Clearly specify which communication tools would you be using for emailing, messaging, video conferencing, collaborating, and more.
Here is our own remote communication breakdown:
Slack: For a quick chat
Skype: For video conferencing
Bit.ai: For collaboration
Calendly: For scheduling meetings
Read more: Effective Workplace Communication For Better Collaboration
Step 8: Give IT support
 Remote employees rely on a whole lot of technology to do their job effectively. This is why it's important to have a clear line of communication between your IT team and remote employees so that their work goes smoothly.
Have a ticketing system in place specifically for remote employees can help tremendously. Moreover, you might also need to specify if remote employees are expected to use a VPN (virtual private network) software to protect their company system for hackers or other security breaches, especially if any remote employee works from a cafe or co-working space.
Step 9: Continuous improvement
 It's important to get feedback and suggestions from employees and managers about your work from home policy. Keep iterating and updating the policy based on appropriate feedback.
Over to you
Having a work-from-home policy is notably attractive to job seekers as more and more employees look for remote work in these testing times. Having such policies enforces a positive image of your company as being progressive and having trust in your employees to do their jobs effectively.
Such policies are surely going to make your current and future employees more happy and productive, all the while attracting top talent from all across the globe. So, what are you waiting for? Hop onto your documentation tool and start creating a work from home policy document today!
Before you go…
Looking for a Documentation Tool to Write Your Work From Home Policy?
By now, you are well equipped to write an awesome Work From Home Policy document but there's one little problem…you don't have an awesome documentation tool!
Use a documentation tool like Bit to create a robust, collaborative, and interactive Work From Home Policy for your company with ease. Why Bit?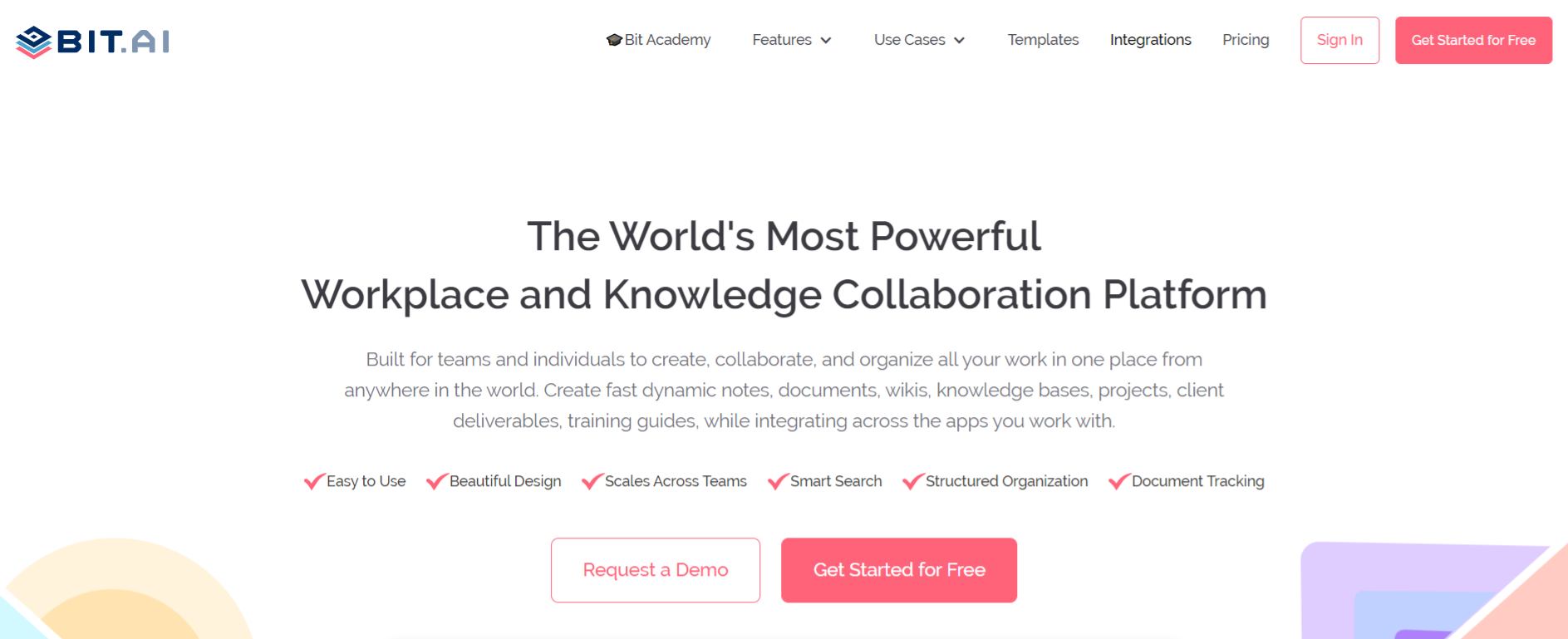 Well, Bit.ai is an all-in-one document collaboration platform designed for the modern-day workplace. Bit provides a commonplace for employees to collaborate in real-time and create policy documents, brainstorm ideas, assign tasks, store media assets, and get work done collaboratively. For both internal as well as external documentation, Bit is the go-to choice of software for managers in 100+ countries over the world.
Simply create a workspace, add your team members, and start creating your workplace documents like the work from home policy documents quickly!
Here are some of the main benefits of using Bit:
Organized workspaces and folders: Bit brings all your documents and details in one place by allowing you to organize information in workspaces and folders.
Real-time collaboration: Collaborate with your team and management and feedback in real-time using @mentions and highlight features as every document comes with its separate comment stream.
Content library: Bit has a content library where you can store and share media assets. You can save images, files, videos, PDFs, and content easily and can access it at any point.
Rich embed options: Bit.ai integrates with over 100+ web applications (Ex: YouTube, PDFs, LucidChart, Google Drive, etc.) to help you create media-rich and interactive policies or other workplace documents.
Smart search: Bit has very robust search functionality that allows anyone to find information quickly. You can search for folders, files, documents, and content inside your documents across all of your workspaces.
Interlink documents: Bit allows employees to create unlimited documents and interlink them to create robust internal wikis.
Templates: Bit has a plethora of amazing templates that cut your work in half and help you kickstart your work quickly.
Watch the video below to learn more or sign up for a FREE account and start exploring yourself!
Further reads: 
Policy and Procedure Manual: What, Why, and How?
Refund Policy: What is it and How to Create it!
Focus at Work with the Help of These 11 Effective Ways!
How to Write a Statement of Work?
Employee Documentation: What is it and Types?
What is a Progress Report and How to Write One?
7 Compelling Reasons Why You Need To Invest In Team Collaboration
8 Key Benefits of Virtual Teams for Your Company!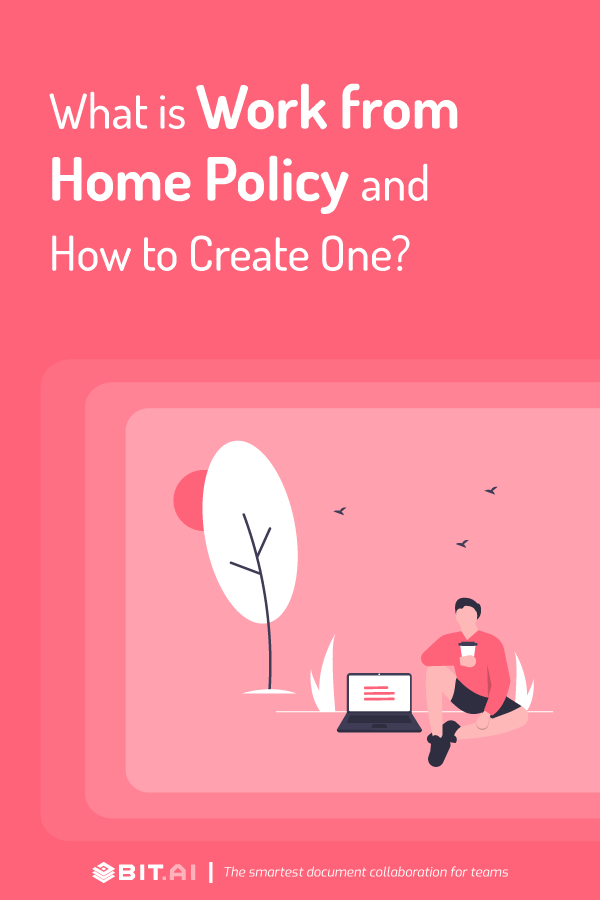 Related posts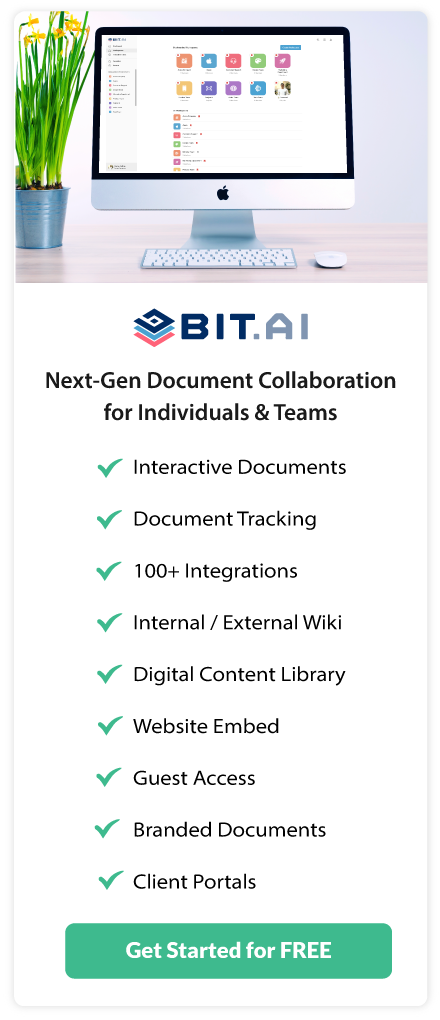 About Bit.ai
Bit.ai is the essential next-gen workplace and document collaboration platform. that helps teams share knowledge by connecting any type of digital content. With this intuitive, cloud-based solution, anyone can work visually and collaborate in real-time while creating internal notes, team projects, knowledge bases, client-facing content, and more.
The smartest online Google Docs and Word alternative, Bit.ai is used in over 100 countries by professionals everywhere, from IT teams creating internal documentation and knowledge bases, to sales and marketing teams sharing client materials and client portals.
👉👉Click Here to Check out Bit.ai.