Every marketer knows – the struggle of reporting is real.
Reporting is complicated, and it can either build or destroy your entire marketing process.
No matter how extraordinarily your campaign performed, or how much it helped in increasing sales, creating a compelling marketing report isn't an easy task.
The risk of diving into the wrong data, drawing the wrong conclusion, and taking the wrong path is always lingering upon you.
But that doesn't change the fact that marketing reports are at the core of every marketing strategy.
If you can't measure something, you can't modify it, and you can't measure something without a good data tracking method in place.
It's a vicious cycle.
So, if you're standing on the verge, knowing you need a marketing report to track how your marketing strategies are working out, but also feeling a little perplexed as to where to begin…you're at the right place.
We're gonna tell you about an amazing platform that'll help you in creating stellar marketing reports.
But before digging into that, let's begin with understanding what a marketing report exactly is and why it is so important to create one.
Marketing Reports – What Are They? (Definition)
A marketing report takes data from your marketing channels to show the overall performance result of your marketing strategies.
While the scope of a marketing report can vary depending on the number of platforms you're using to collect data and the subject (SEO, analytics, social media, etc.), the main purpose is to evaluate your marketing campaigns against the predetermined set of goals and key performance indicators (KPIs).
Basically, a marketing report gathers data on how your business is doing in terms of engaging with people and turning them into customers and clients.

But that's not it! It also helps you learn and track what works and what doesn't and gives you insights on how you can make your marketing strategies better.
Remember, there are many types of marketing reports, and it entirely depends on which data you need to monitor and analyze! Let's have a quick peek at four of the most important marketing reports:
Read more: What is a Marketing Plan and How to Create One for Your Business?
Types of Marketing Reports
1. General Marketing Report
We all know that the path to turning a visitor into a lead or paying client isn't a straight line but a complex web of twists and turns.
Keeping this in mind, how will you decide which channel should be your utmost priority?
How will you make sure that you stay focused and don't miss out on the bigger picture?
The answer is simple – using a general marketing report.
This marketing report is an overview of all your marketing efforts. From content marketing to e-commerce analytics, this report has it all.
2. SEO Marketing Report
How much organic traffic are you're getting on your website?
Which countries do your visitors come from?
Which keywords are driving visitors to your website?
Did the number of backlinks to your website increase or decrease?
You will find the answers to all the above questions and more in SEO marketing reports.
However, SEO reporting isn't a common practice.
The reason? SEO is considered to be a slow-changing sector, compared to social media marketing and paid advertising.
But that doesn't change the fact that SEO is a key part of any long-term digital marketing strategy. This report helps in keeping you, your team, and your clients in the loop as to how your SEO efforts are performing.
3. PPC Marketing Report
Yes, the goals of a PPC marketing report are similar to those of an SEO marketing report.
The only difference is, in a PPC report, you have to show that your efforts are driving more traffic and leads, and therefore, the metrics look a little different.
A good PPC marketing report includes stats on clicks and costs, conversions, revenues, and ad performance.
Your PPC stats are great for driving sales and conversions – but only if they are monitored on a continual basis.
Read more: Marketing Funnel: What is it & How to Create it? (Steps included)
4. Social Media Marketing Report
One can't deny that social media is a great tool to interact with people and build a community around your products or services.
Unlike SEO, on social media, things happen super fast. Your post can go viral and get you tons of followers in the blink of an eye.
Similarly, someone might post something negative about your company, and it could go viral too.
That's why you should monitor your social media on an hourly basis.
However, to find out whether your social strategies are working or not, you need to see the bigger picture.
…and a social media marketing report will help you do that.
The key KPIs that should be in your report are impressions and reach, engagement and, likes & followers.
You must be wondering if your boss isn't breathing down your neck, why do you even need to create a marketing report?
It's just another daunting task being added to your already busy work schedule, isn't it?
Your time is invaluable, and you want to spend it on taking care of your consumers and building your business, right?
However, the reality is, there are so many perks of creating a marketing report.
A properly crafted marketing report can be a significant asset for your team, instead of just being a cliche PDF.
How? Let's find out.
Read more: How To Create An Effective Marketing Strategy For Your Business?
The Benefits of Creating Marketing Reports
1. Tracking the Journey of the Customers
As a marketer, what's the one thing that you need the most?
It's obvious – you want to know where exactly your prospective customers are on their journey.
You want to know which device they're using.
You want to know when they'll purchase your product.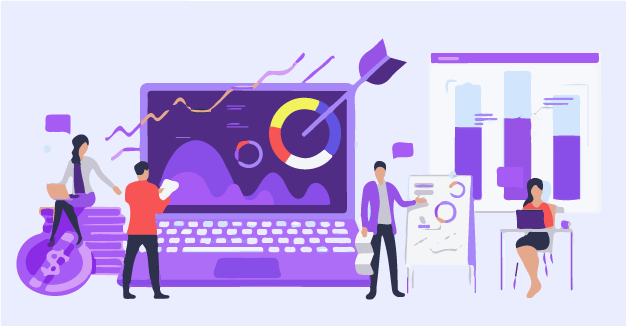 You want to know their needs and wants.
A marketing report gives you just that – rich, quality data.
Once you've all these details, you can offer your customers exactly what they're looking for.
2. Aligning Marketing and Sales Team
Did you know that the misalignment between sales & marketing departments costs businesses more than a trillion dollars per year?
That's right. $1 trillion (that's 12 zeros)!
It's really important that data flows freely across the entire organization so that the company can do what's needed to reach its goals.
…and this can be achieved using marketing reports.
 Here's how: 
Let's imagine that during a campaign, the sales team finds out that the revenue is less than the benchmark that had been set.
They might not know the reason behind it, but they can alert the marketing team to look into the issue.
The marketing team can then take a look into the marketing report, find things that aren't going down well with the target audience, make tweaks to their strategy, and bring sales back on track.
The bottom line is, when you align sales and marketing, you'll be able to uncover many insights, fine-tune your sales and marketing strategies, as well as take your business to new heights!
3. Making Data-Driven Decisions
Your marketing report can help you shape your entire marketing strategy.
Even if you're the most awesome marketer in the history of the world, your intuitions and expertise will only get you so far.
Sooner or later, you need theories and strategies backed by solid data, and this is exactly what a marketing report gives you.
Tip:
You want your team to see the report and take steps accordingly. You don't want them to bite their nails in confusion, right?
So, always think about the information and metrics that are tightly connected to the success of your business, and include them in your report.
Always include data that is good and easy to digest.
Don't just fill it with all the numbers and figures you've gathered, because a marketing report needs to have a purpose. Without it, it's just a bunch of unwanted, isolated numbers.
While creating a marketing report, remember these lines:
"The most important thing you can do to avoid misjudging something's importance is to avoid lonely numbers. Never, ever leave a number all by itself. Never believe that one number on its own can be meaningful. If you are offered one number, always ask for at least one more. Something to compare it with." – Hans Rosling in Factfulness
4. Measuring and Proving Your Efforts
Marketing is worth the investment, and we're sure of that. We know that quality marketing leads to the growth of any business.
However, there are so many people in this world who consider it as a 'support function' and a risky expense.
This is exactly where marketing reports come in.
These reports show the worth of your efforts.
If you can show that your campaigns are working, generating leads, bringing revenue, and turning your prospects into customers, then you can prove how valuable your marketing efforts are.
Your clients might forget why you're hosting contests, writing blogs, or why you're hiring social media influencers.
If you tie all your strategies to your objectives like generating leads and increase revenue, you can prove the purpose of your actions.
Moreover, marketing reports tell you what's working, what isn't, and what needs to be improved.
Without marketing reports, your team is flying blind and they'll probably end up getting hit by something they didn't see coming.
4 Things You Must Include in Your Marketing Reports
If you want to create a marketing report that your stakeholders, clients, and CEOs actually want to read, include these four things in it:
1. Goals
The only way to succeed is by setting goals and striving to achieve them.
This is what keeps your brand growing.
Always add a section for goals in your marketing reports and revisit it to evaluate how things are working out.
Make sure that you include the KPIs that you'll be using to measure your success as well.
2. The Work You Have Done
Launched a new campaign?
Designed new collaterals?
Revamped your website?
This is the place where you mention all of that. This section is significant because it lays the foundation for how well clients understand your marketing report.
Give a short overview of everything you've accomplished or fall short of and compare your past results with the current ones. This will help you ensure continuous optimization of your marketing strategy.
You can dive into the details later in the metric sections.
3. Leads and Customers
This is the simplest way to prove the value of your work.
If the project is lead-driven, write everything about the leads you've generated.
It's imperative to understand where those leads have come from, so mention the channels – SEO, PPC, direct, etc.
This saves your time, money, and effort that you're putting in unsuccessful channels.
For example, if you're managing a blog for a client, create a section in your marketing report about blog traffic and leads.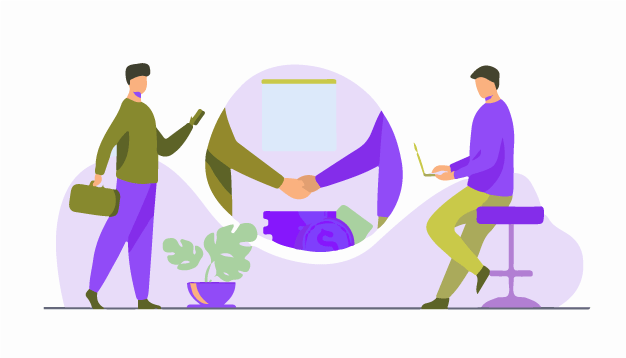 Include where your visitors are coming from and which channels are the most successful.
This will help you optimize your content strategy by telling you what type of content is drawing visitors!
4. SEO Data
Your marketing report should include an overview of your website rankings and the steps you took to increase them.
For instance, you can create a table showing new backlinks for a particular period of time, or a site audit to show the growth of your website.
This section also depends on the kind of SEO services you provide – whether you're optimizing on-site or providing link-building services.
If you want to make smart choices, you need to know if your marketing strategy is working.
With that said, we know that no one has hours and hours to put into creating marketing reports and things get worse when you've to deliver marketing reports every month to curious clients.
There's so much data available, and it becomes hard to know what to focus on and what to do with it.
Fortunately, there is an amazing documentation tool out there to help you -Bbit.ai. 
Bit.ai – The Best Tool to Create Marketing Reports
You might have got great results from your marketing campaign, but if you cannot present them in the right way, they're not much use to you.
We understand that data is everywhere, but it's not always easy to collect and present it in an easy-to-understand format. You need something that shows the necessary KPIs in a clear and understandable format, graphs, charts, and tables.
…and this is exactly what Bit.ai does.


Through its integrated and intuitive tools, Bit.ai has made the often complex and long process of writing marketing reports easy.
On bit.ai, you can craft a 'live' marketing report that has the perfect format, is easy on the eyes, and great to look at! You can easily share this report with your clients, internal teams, and interested stakeholders.
Bit lets you add videos, social content, music, cloud files, maps, charts, surveys/polls, code, presentations, and much more to your marketing reports.
The best part? On Bit.ai, you can collaborate with your team members in real-time. You can co-edit documents, use inline comments, and bring your colleagues to the same place to write and make decisions related to your marketing reports.
That's not it! You can also get real-time insights on your shared docs with document tracking. You can see how much time someone has spent reading your marketing report, how often they come back to read the report, how far they've scrolled, and more.
Bit.ai is the edge you need to create more effective marketing reports!
Our team at bit.ai has created a few awesome marketing templates to make your marketing process more efficient. Make sure to check them out before you go, your marketing team might need them!
Final Words
If you're into marketing, you obviously didn't get into the field only to spend your time creating reports.
But, you also know that marketing is all about numbers.
Creating a good report is essential for proving that your efforts are moving the needle and evaluating the success of your advertising campaigns at a glance.
So, don't just assume your marketing is working—always keep track of the data by creating marketing reports.
And if you use Bit.ai to create the report, we bet that it would be so awesome that you will probably end up being invited by your boss to his weekend barbeque!
Got any questions? Tweet to us @bit_docs!
Further reads:
Business Report: What is it & How to Write it? (Steps & Format)
Marketing Resume: How to Write One to Impress Recruiters!
7 Types of Reports Your Business Certainly Needs!
12 Marketing KPIs Every Marketing Team Should Monitor!
Saas Marketing: Definition, Funnel, and Comprehensive Strategies!
Formal Reports: What are they & How to Create them!
Marketing Research: Definition and Process to Follow!
Technical Report: What is it & How to Write it? (Steps & Structure Included)
How To Create A Marketing LaunchPad Document?
How To Create a Partnership Marketing Plan? (Template Included)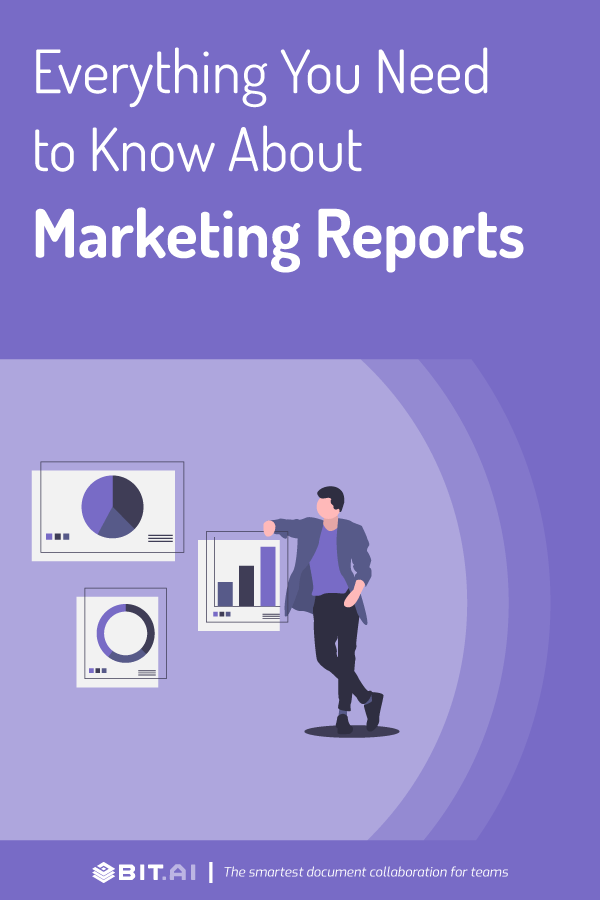 Related posts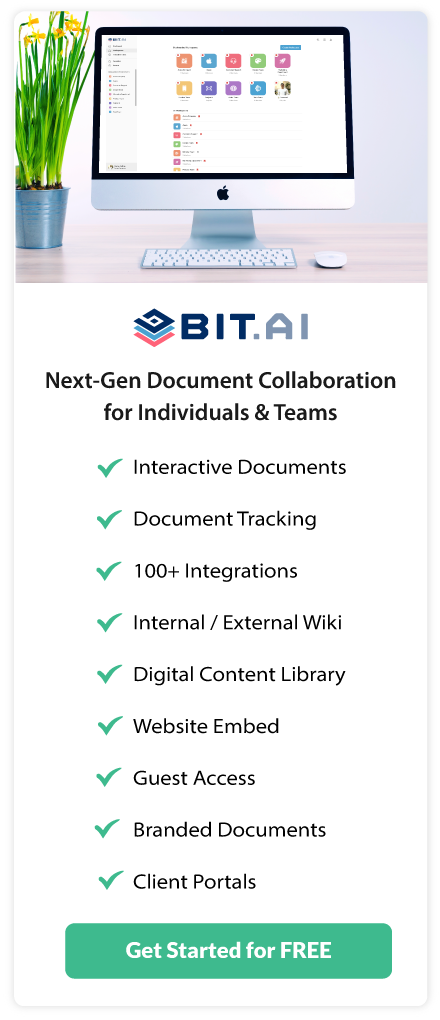 About Bit.ai
Bit.ai is the essential next-gen workplace and document collaboration platform. that helps teams share knowledge by connecting any type of digital content. With this intuitive, cloud-based solution, anyone can work visually and collaborate in real-time while creating internal notes, team projects, knowledge bases, client-facing content, and more.
The smartest online Google Docs and Word alternative, Bit.ai is used in over 100 countries by professionals everywhere, from IT teams creating internal documentation and knowledge bases, to sales and marketing teams sharing client materials and client portals.
👉👉Click Here to Check out Bit.ai.