Learn how to embed Airtable database easily into a bit document in order to create comprehensive reports and impress your reader!
What would you rather choose?
Sending multiple spreadsheets to the client or one comprehensive document including all the details he/she would need?
Of course the second option. It brings convenience to the table.
Working on multiple applications may clutter your work and get confusing for the client.
Embedding your Airtable database to the document you're sending will make your entire project easy to grasp, remember and store.
In this article, we will understand why you should embed the Airtable database in your documents, and finally, learn how you can do so. Let's get started!
What is an Airtable Database?
Airtable is the spreadsheet for the current generation that ‍has the power of a database It provides an entire workspace for you to record and align any and everything in a responsive manner.
It has pre-designed templates for varied tasks like content tracking, event management, bug tracking, marketing campaign tracking, product launch, customer success tracking, and much more.
Airtable is integrated with popular applications such as Slack, Gmail, Dropbox, Google Drive, Zendesk, etc, and even social media platforms like Facebook, Twitter, Instagram, and more…
Trusted by 200,000 teams across the globe, Airtable is indeed the smarter version of spreadsheets!

Bit.ai is a new-age document creation and collaboration software that makes your documents alive with rich media integrations and responsive workflow.

Bit.ai lets you collaboratively work with your team in real-time to get effective returns.
You can create almost any document with Bit, be it an academic project report, organization's sales pitch, employee training material, company policies, technical documentation, and much more.
In these documents, you can integrate rich media such as spreadsheets, presentations, slideshows, PDFs, etc, with a single click!
Embedding Airtbale files in Bit documents could not be easier. Simply copy-pasting the Airtable database link into a blank Bit document will do the job!
Bit.ai's smart interface identifies the type of link pasted in the document and brings it alive, in its original form. You can actually scroll the Airtbale database inside of a Bit document without having to redirect on any other link.
Awesome isn't it?
Why Should You Integrate Airtable in Your Bit Documents?
1. Effective Collaboration
When you create a document, you type it out in a document editor like Word or sheets, communicate with your team about it on chat apps like skype, slack, etc, then share them via email, get updated on email, and store it on the cloud. Bit makes this entire process come alive under one virtual roof thus aligning all tasks and getting maximum efficiency!
2. Goodbye to Complicated Email Attachments
Create a single comprehensive document by attaching your spreadsheets, files, media, etc, and get ready to make a fabulous impression on the client!
3. Define your Work
Sometimes sending just a spreadsheet or a file may not be enough. It needs supporting context for better understanding. By embedding Airtable into your documents, you can explain what the spreadsheet is about and also give some follow-up context.
How to Embed Airtable in your Bit Documents?
Here are the exact steps you need to follow to embed Airtable in your Bit documents:
Step 1: Click the Share Button on the Desired Airtable Database
When you click on the share button on any Airtbale Database, you will get a link to that document.
Step 2: Copy-Paste the Link
Copy that link, open the bit document in which you want to embed it, and simply paste that link. It's done! We told you it couldn't get easier, didn't we? At this step, you can also customize it on your Bit document. Let's see how.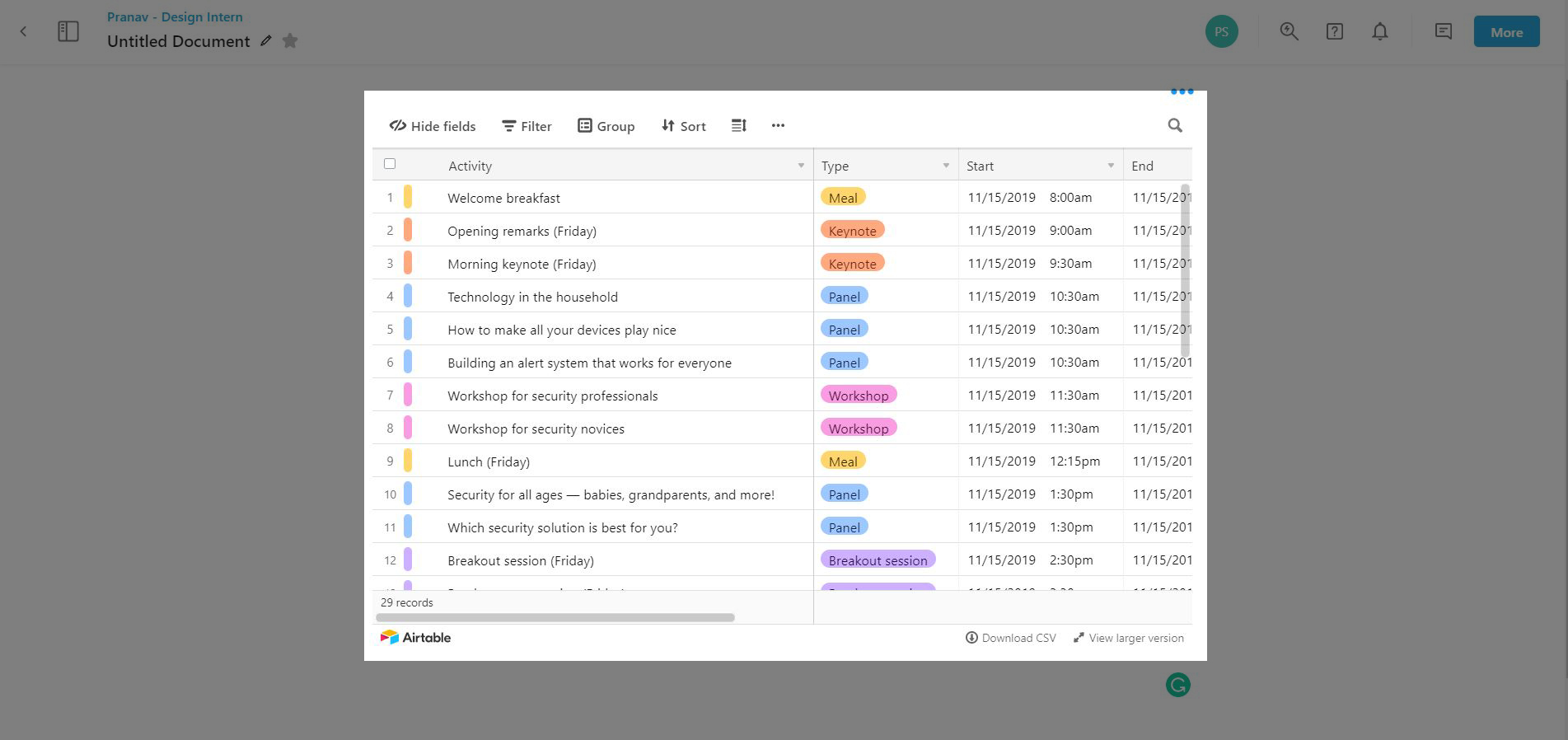 Step 3: Customize it
When you paste the Airtable link, the Bit software will read it and show the document in the same way it was on Airtable. On the upper right-hand corner of the embedded media, you will see 3 dots for customization. This toolbar will allow you to make it full width, add a caption or delete it.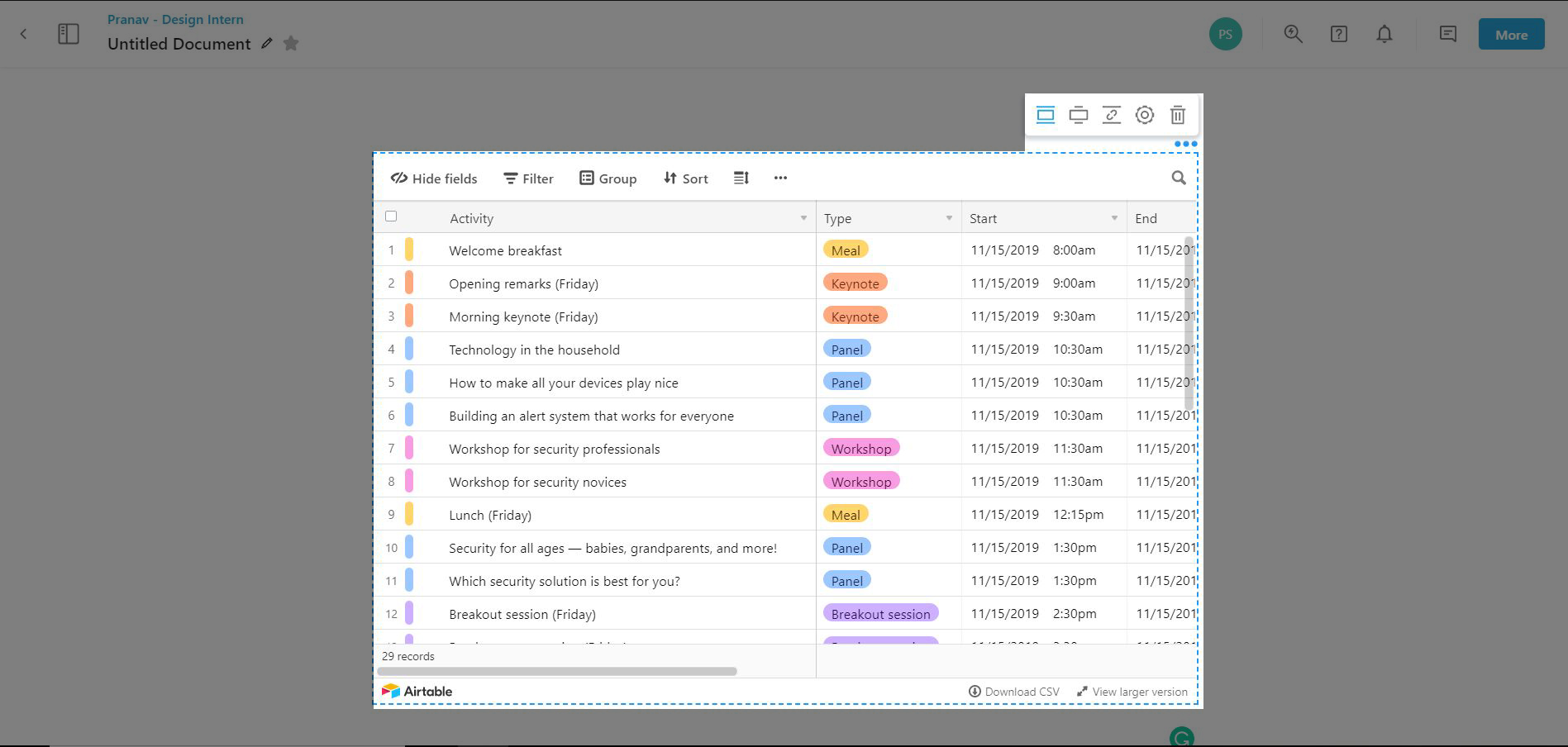 👉Watch this video to learn more:

Wrapping Up
Embedding a smart spreadsheet, like Airtable on your Bit document can really enhance your documentation process.
It brings all your data under one virtual roof and lets you easily keep up with the workflow.
Try embedding a database on your bit doc and witness how positively it impacts the reader!
Let us know how it goes by tagging @bit_docs on Twitter!
Further reads:
How to Embed PDF in Your Documents?
How to Embed Airtable Files in Your Documents?
How to Embed Google Sheets Within Your Documents?
How to Embed Lucidchart Diagrams to Your Documents?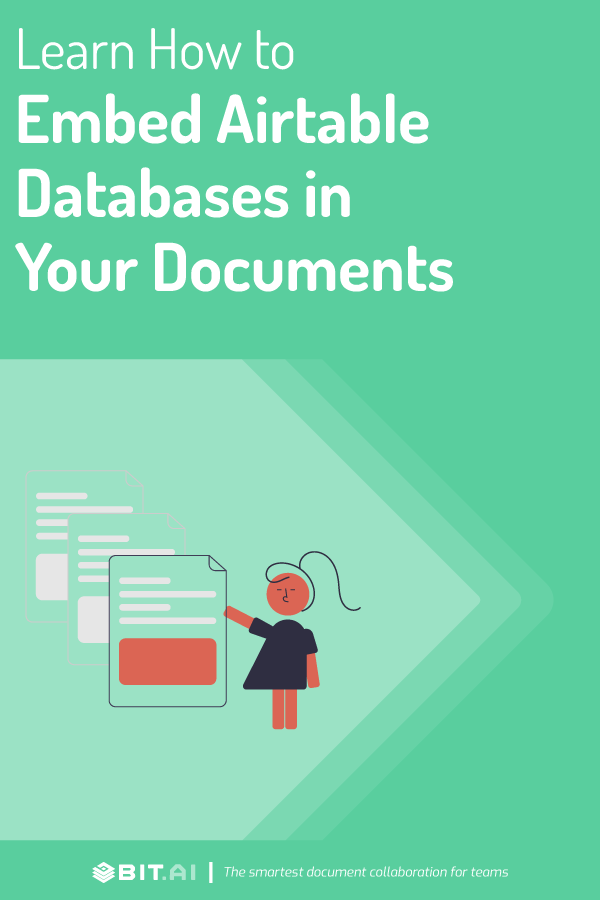 Related posts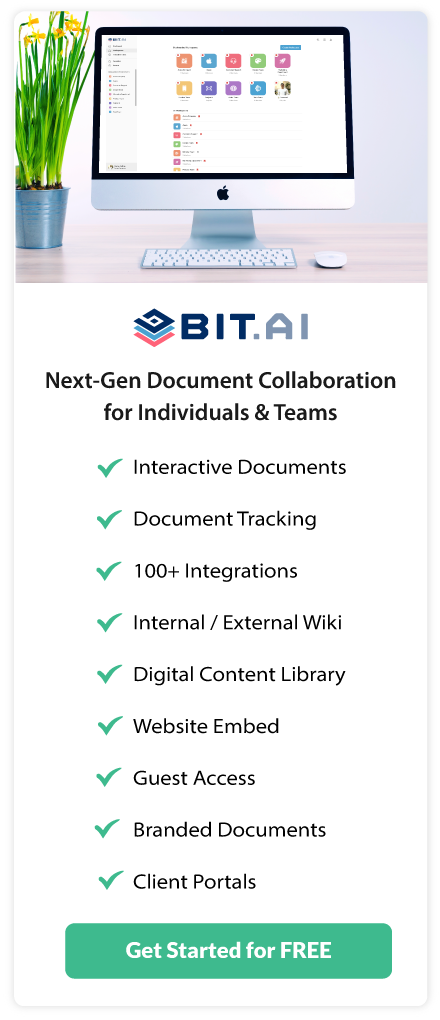 About Bit.ai
Bit.ai is the essential next-gen workplace and document collaboration platform. that helps teams share knowledge by connecting any type of digital content. With this intuitive, cloud-based solution, anyone can work visually and collaborate in real-time while creating internal notes, team projects, knowledge bases, client-facing content, and more.
The smartest online Google Docs and Word alternative, Bit.ai is used in over 100 countries by professionals everywhere, from IT teams creating internal documentation and knowledge bases, to sales and marketing teams sharing client materials and client portals.
👉👉Click Here to Check out Bit.ai.