In research of close to 200 blog posts written by startup founders citing their reason for failure, running out of cash was at the second position. Not having enough money to sustain a new business is one of the main reasons why businesses fail. This is why it's essential to keep the early investments coming. 
In order to get funding for your startup and win over investors, startup founders rely on something called a pitch deck. A pitch deck is like a PowerPoint that tries to gain investor confidence in your product or service and in turn, get the necessary funds to kickstart or keep the business afloat.
Before we introduce you to our awesome pitch deck template, let's take a quick look at what exactly is a pitch deck and what are the things one needs to include in a pitch deck.
What is a Pitch Deck? (Definition)
A pitch deck is a presentation delivered to investors to explain your company, the problem you are solving, important milestones, the stage your company is at, and what you're looking for in terms of investment.
Why are Pitch Decks Important?
Did you know that almost 90% of startups fail? Investing in startups is a risky business. Investors wouldn't know if your business would still be around in a few year's time or if they will ever see a return on their investment.
This is why creating an enticing, thought-provoking, attention-grabbing pitch deck is key. Getting that investment could be the difference between the life and death of your business and hence, pitch decks should not be taken lightly.
Pitch decks are an important way of providing a visual representation of your company to investors. Typically there are around 10 different categories of information that are covered to provide investors with the information they need to ask questions, analyze the markets, and make investment decisions.
Read more: How To Create Effective Issue Tracking Documents For Your Company
How to Create a Pitch deck? Follow these Steps!
Title: Pitch Deck
Message from Founders
Company Purpose: Describe your company's purpose in one line. Any novice should be able to understand what your company does with this one line.

Overview: Point out the major milestones reached thus far.
Problem: Describe what problems your product or service is going to address?
Solution: Create a clear and compelling message. Make sure it explains what you do, how you're different and most importantly why it's worth investing in.
Why Now: Explain recent trends that make your solution important.
Market Size: Identity/profile the customer segment and its size
Competition: What are other companies doing in this space and how does your product or service fit in within this landscape?
Product: What stage is your product at?
Business Model: Explain your revenue model.
Go-to-Market Strategy: What is your sales and distribution method? What is your marketing strategy?
Team: List founders and management
Financials: Add any financial information like balance sheet, P&L, cash flow, projections, etc.
Now that you know the importance and elements of a pitch deck, it's time to put that information to test by using a documentation tool like Bit.
Read more: Founders' Agreement: What is it & How to Create it?
Key Benefits of Creating Your Pitch Deck on Bit.ai
Pitching your idea or product to investors can be nerve-wracking, but it doesn't have to be. With the right pitch deck, you can quickly gain investor confidence and old their attention long enough to convince them of all the benefits of investing in your idea. And in order to create the right pitch deck, you need the right tool. This is where Bit comes in.
Bit.ai is a new-age documentation and knowledge management tool that helps teams to create, share, track, and manage all company knowledge in one place. Bit documents, unlike your standard Word Docs, are interactive.

This means founders can easily create interactive and beautiful pitch decks easily. Bit also supports document tracking using which you can create and share these pitch decks with investors and see whether they viewed your pitch deck or how far they scrolled!
Whether your team is creating pitch decks, business plan, executive summary, investor update documents, business proposals, brainstorming documents, meeting minutes, SWOT analysis, competitive research, project management plan, etc, they can easily add Spreadsheets, Slideshares, Google Slides, YouTube videos, PDFs, Maps, Charts, Graphs, and more to your pitch decks and make them visually stunning.
Collaborate with other team members: Multiple people can simultaneously collaborate on a Bit smart document in real-time. It's a great way for founders to handle different aspects of the pitch deck together under a single roof. Bit's sleek, minimal and distraction-free editor makes a great tool for documentation.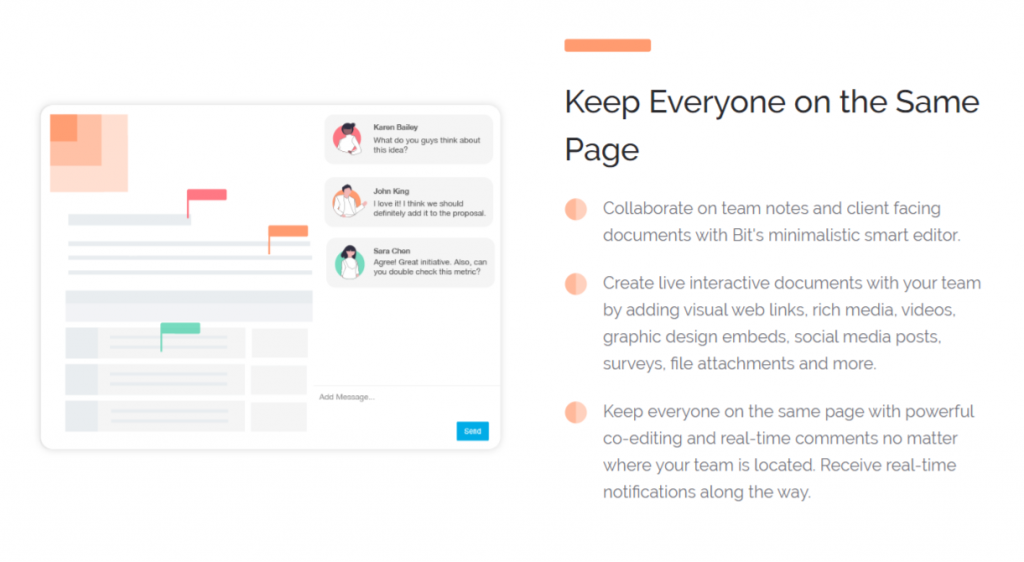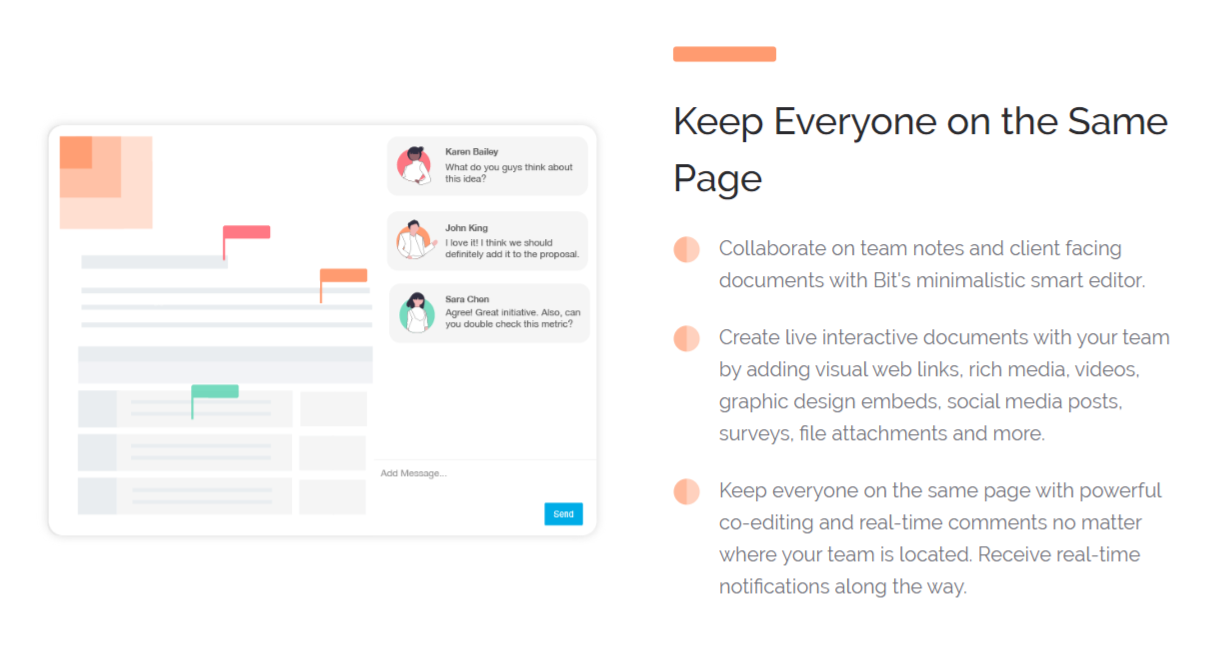 Create Interactive Pitch Decks: You can add content from over 100+ various applications that will live inside of your Bit documents. Add Excel spreadsheets, PDFs, Google Forms, Gantt charts, social media posts, YouTube videos- basically anything on the internet with a link and Bit will automatically convert that into live content living inside your pitch deck!
‍Recommended power links and files you can add to your pitch deck:
Weblinks
Google Sheets, OneDrive Excel, Airtable
PDFs, PowerPoint in Google Drive/OneDrive
YouTube, Vimeo
Draw.io, Lucidcharts
Sketchfab, Figma, Marvel
Easy to Use: Bit has an amazing UI that's easy to understand by a new user, making onboarding easier. The user experience is phenomenal too as things flow from documents to workspaces swiftly. No matter if you want to create documents for personal use or professional use, Bit's amazing organizational capabilities help arrange your information easily.
Distraction-free and quick documentation: The best part is Bit's support for Markdown which allows users to quickly create and format text without any distractions. Once you are done creating your pitch decks, you can easily export them as PDFs, Word files, Markdown and much more.
Multiple ways to share: Bit documents can be shared in a live state meaning that all changes that you make to the document will update in real-time. If you are sharing your documents with investors, partners, or clients, they will always get your most up-to-date changes.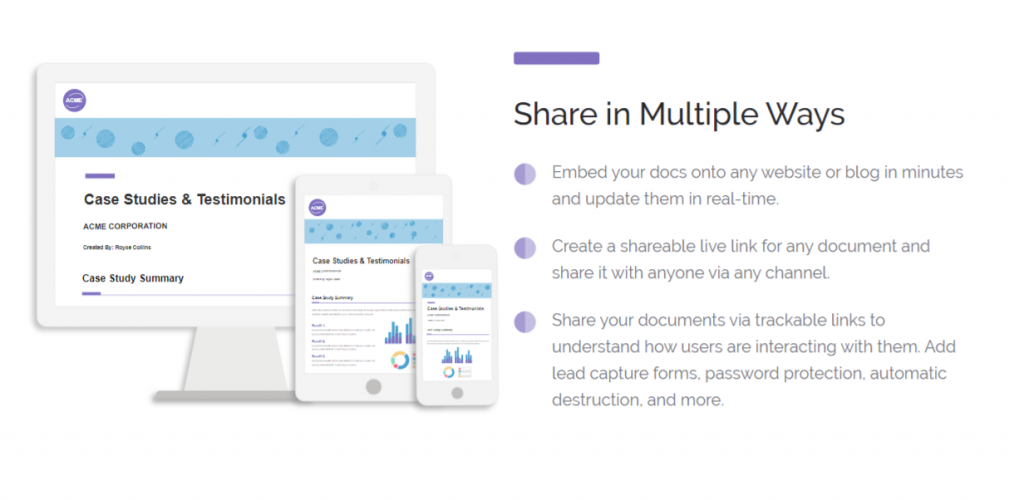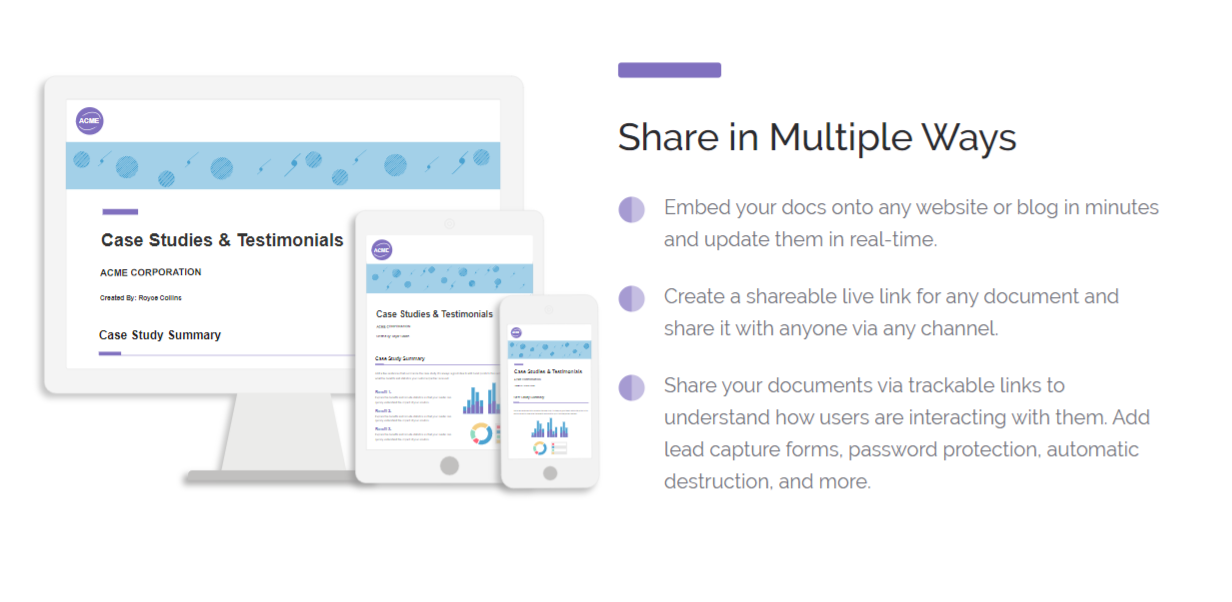 You can even embed Bit documents on any website or blog. Since Bit documents render and are responsive, any changes made to these documents will reflect live on the site! Moreover, features like document tracking, password protection, file access restrictions, etc. help keep your pitch decks and other workplace documents safe.
Bit provides a common workplace for team members to collaborate, document, share their knowledge, brainstorm ideas, store digital assets, and innovate together. The best part is that this knowledge is safely secured in your workspaces and can be shared (or kept private) with anyone in your organization or the public!
Here are some of the main benefits of using Bit:
Collaborate in real-time
Interlink a pitch deck and other documents
Create fully responsive documents
Create pitch deck documents only visible to yourself or your team
Track engagement on shared pitch deck documents with investors, partners, etc.
To make the process of creating your pitch deck easier, we have created a ready-made pitch deck template for you! Check it out below: 

How to use Pitch Deck Template with Bit
The process of creating a pitch deck on Bit is insanely easy! Just follow these four simple steps to create a pitch deck quickly:
Step 1: Create a Bit Account
Go the home page of Bit.ai and click on Get Started for Free or Sign Up to get started. Enter your email address to sign up. Once in, you can create your personal profile.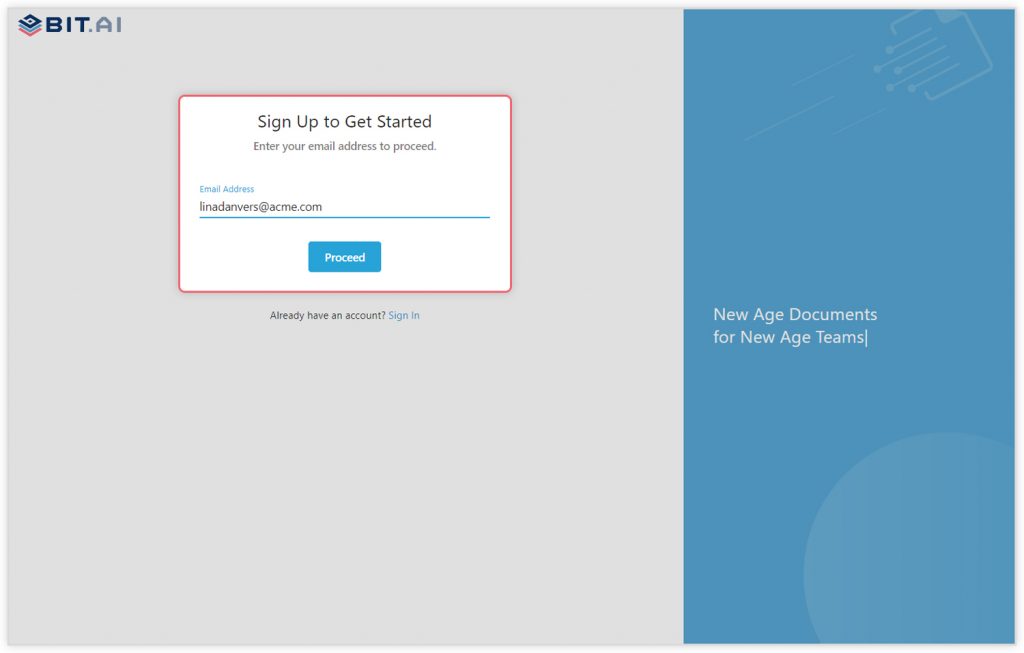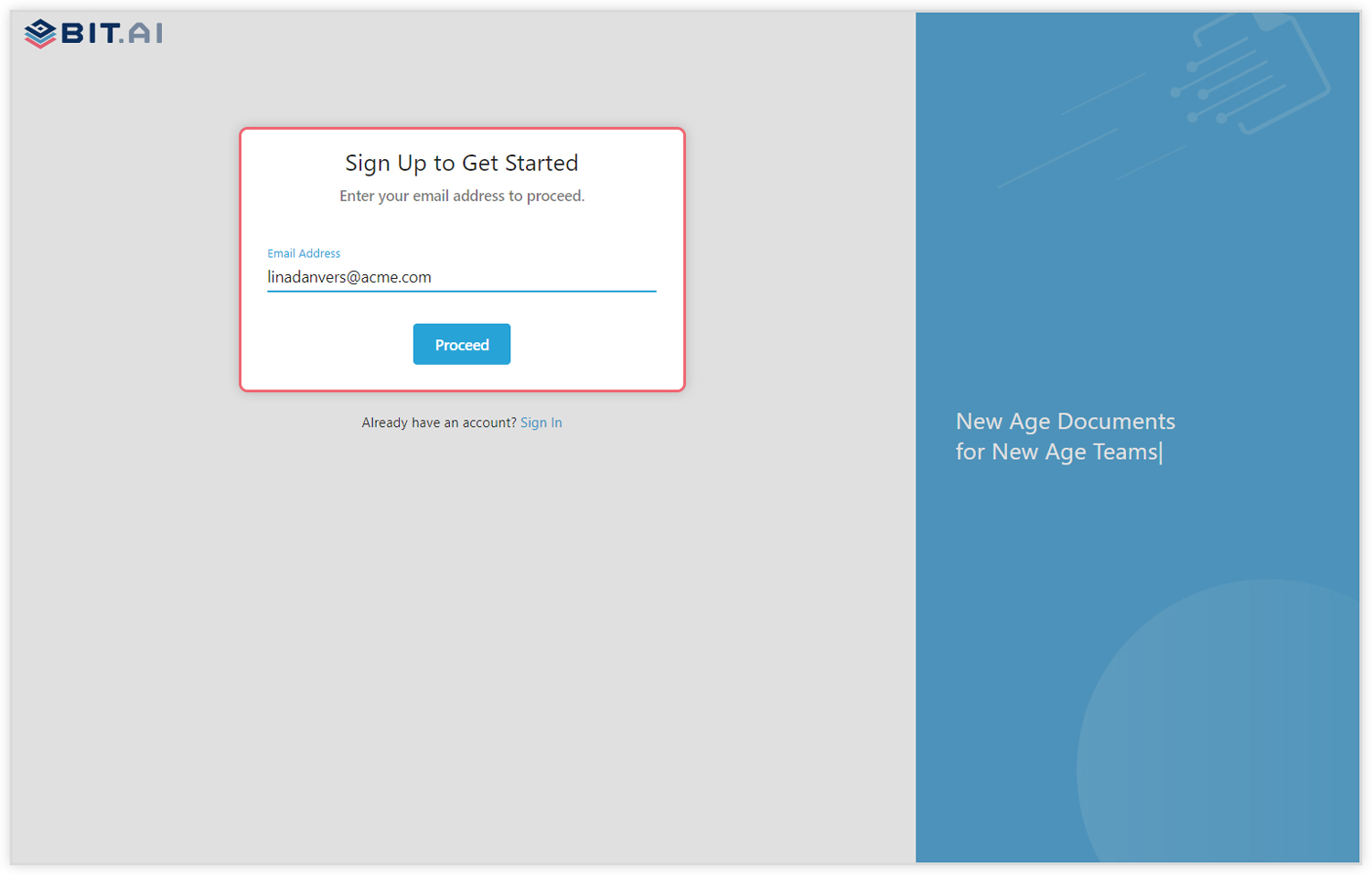 Step 2: Create a Workspace
Workspaces are where the work gets done. Click on the 'Create Workspace' button on the right. A popup will show up prompting you to add a name for your new workspace. You can create a workspace around a team, department, large project, client, partner, etc.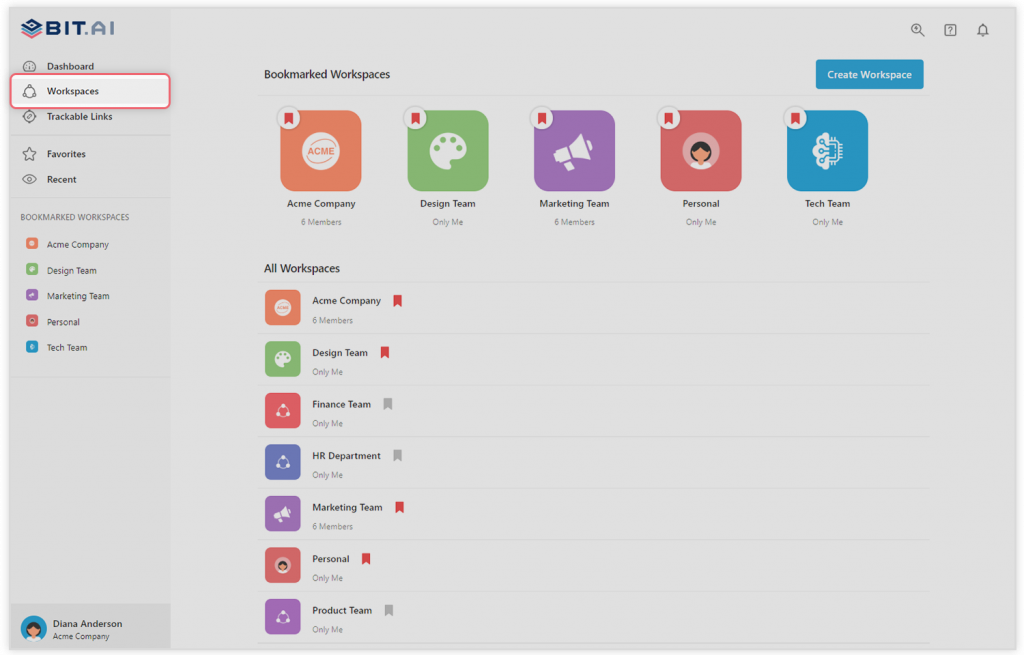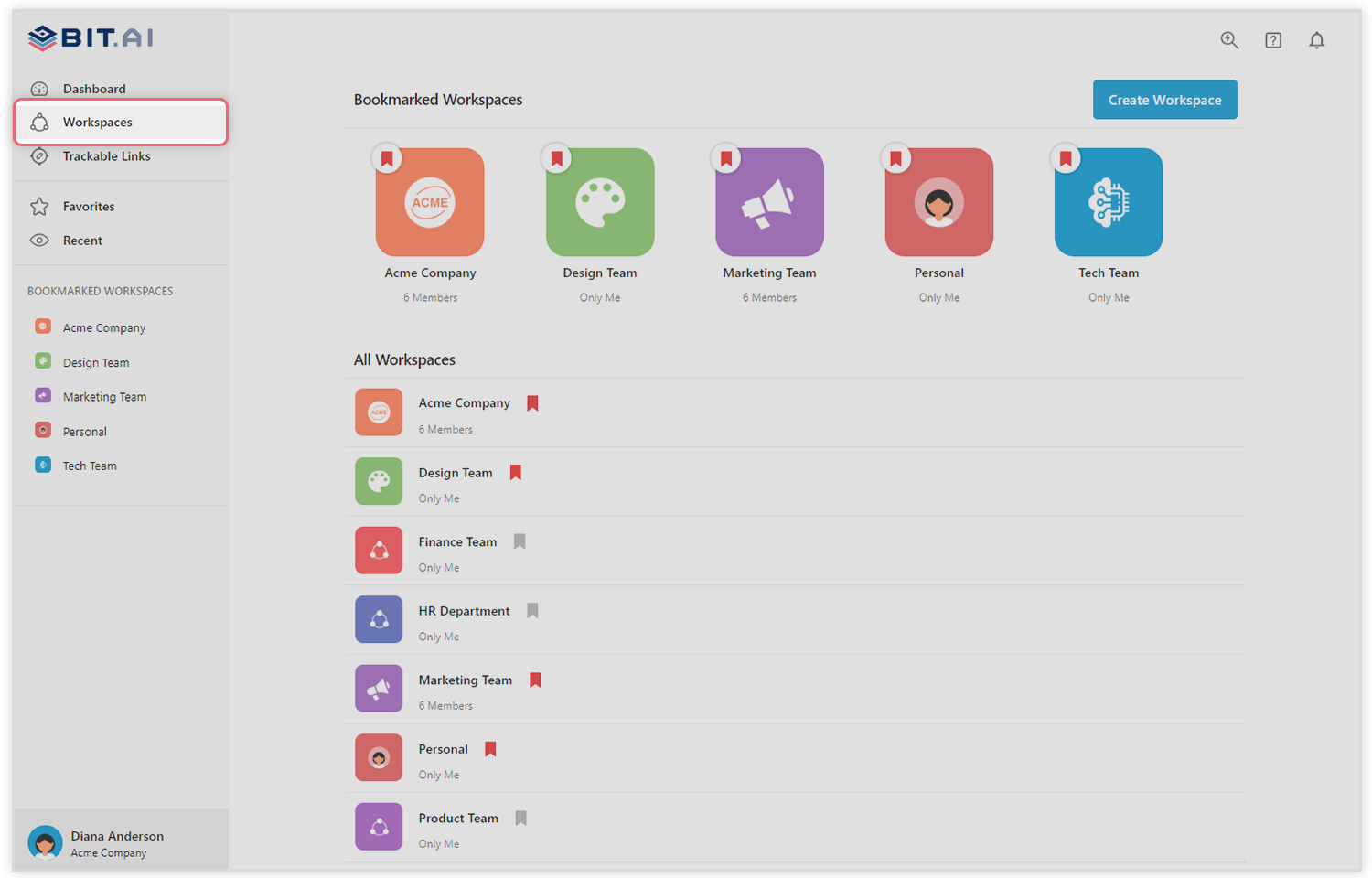 Inside each workspace, you can create an unlimited amount of Bit documents and access your content library (storage area for all of your digital assets – web links, files, cloud files, rich embeds, etc.).
Step 3: Add Team Members
Bit allows your team members to collaborate in real-time and get work done. Collaboration starts at the workspace level.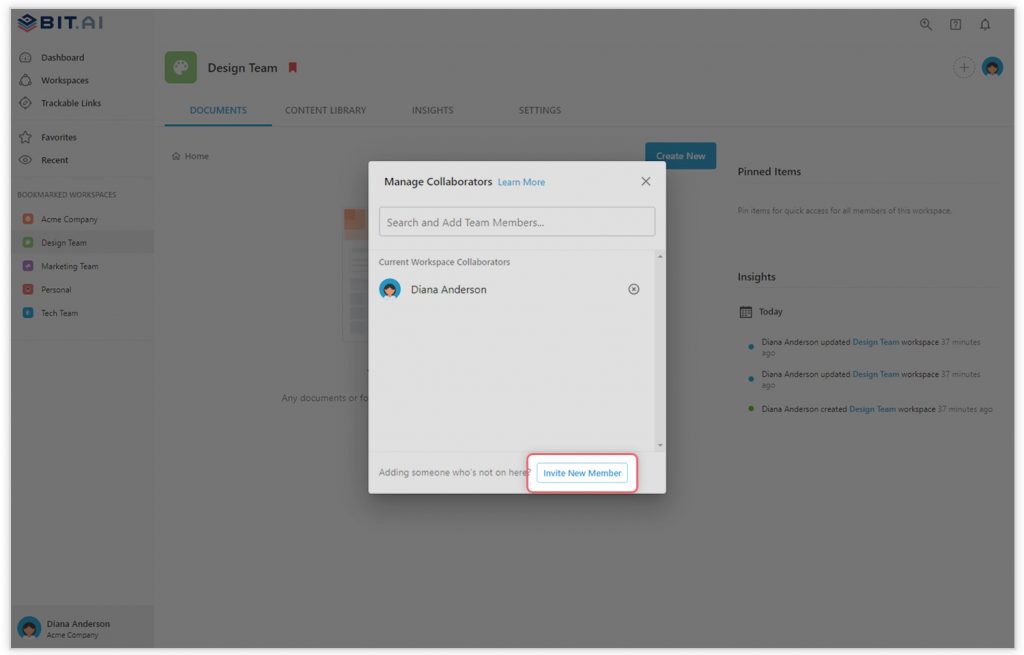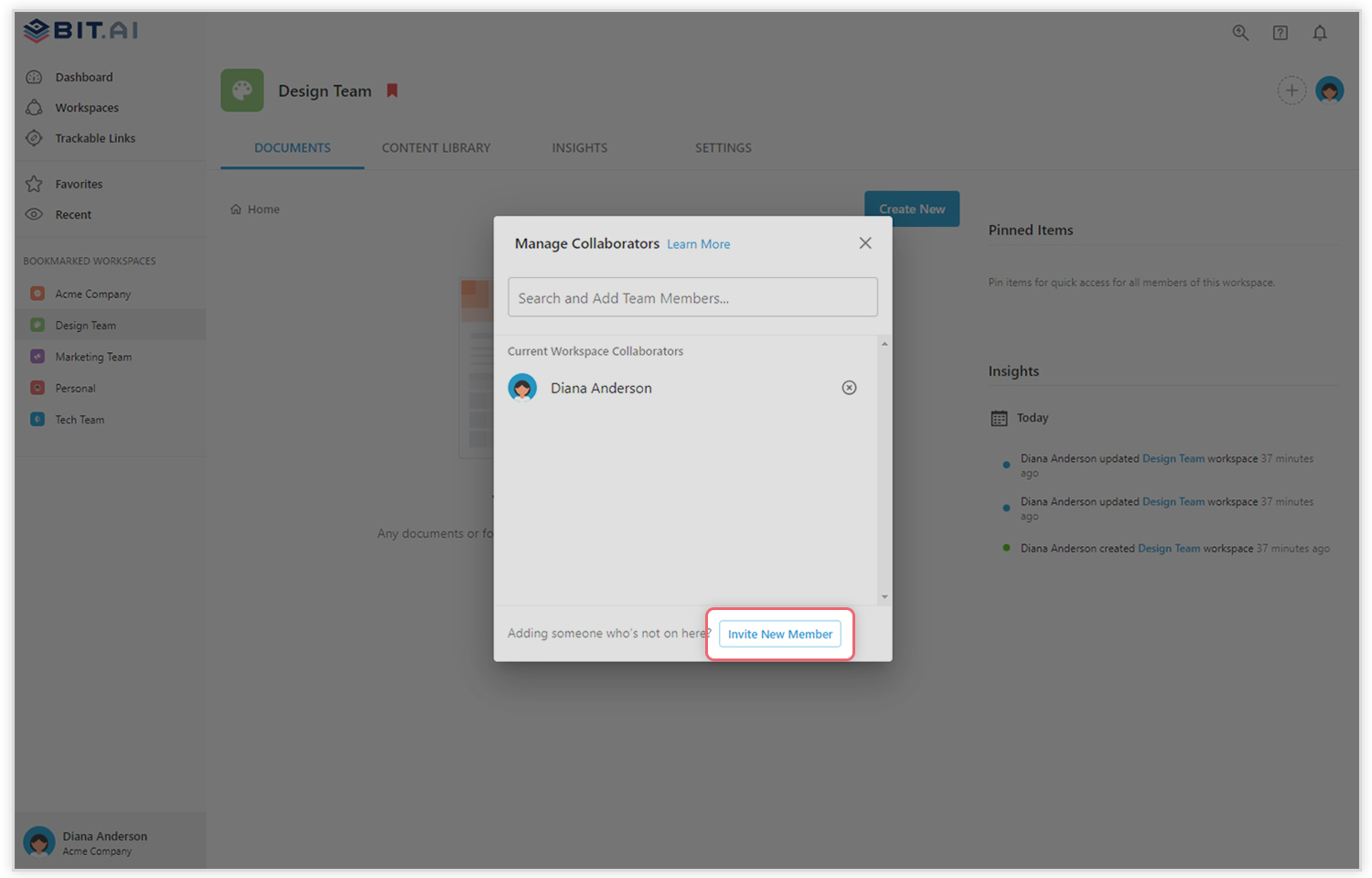 You create private workspaces by default. However, you can invite others to join you inside of a workspace and collaborate together with the knowledge, projects, documents and content inside of the workspace.
Step 4: Create Your Desired Document
Once you are in the workspace, click on the 'Create New' button. Select 'From Template' in the dropdown.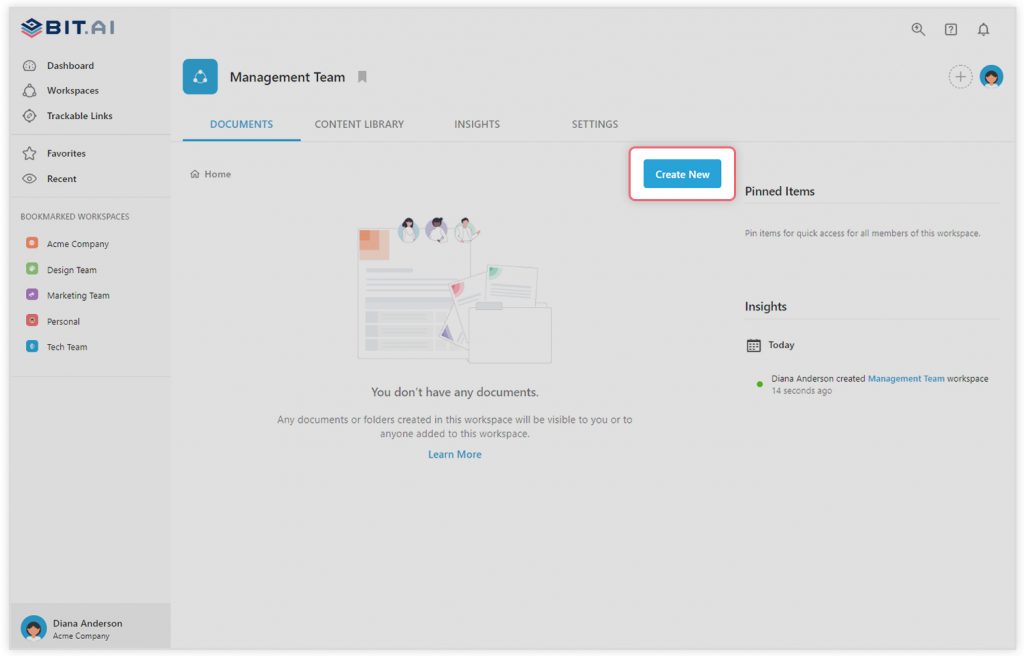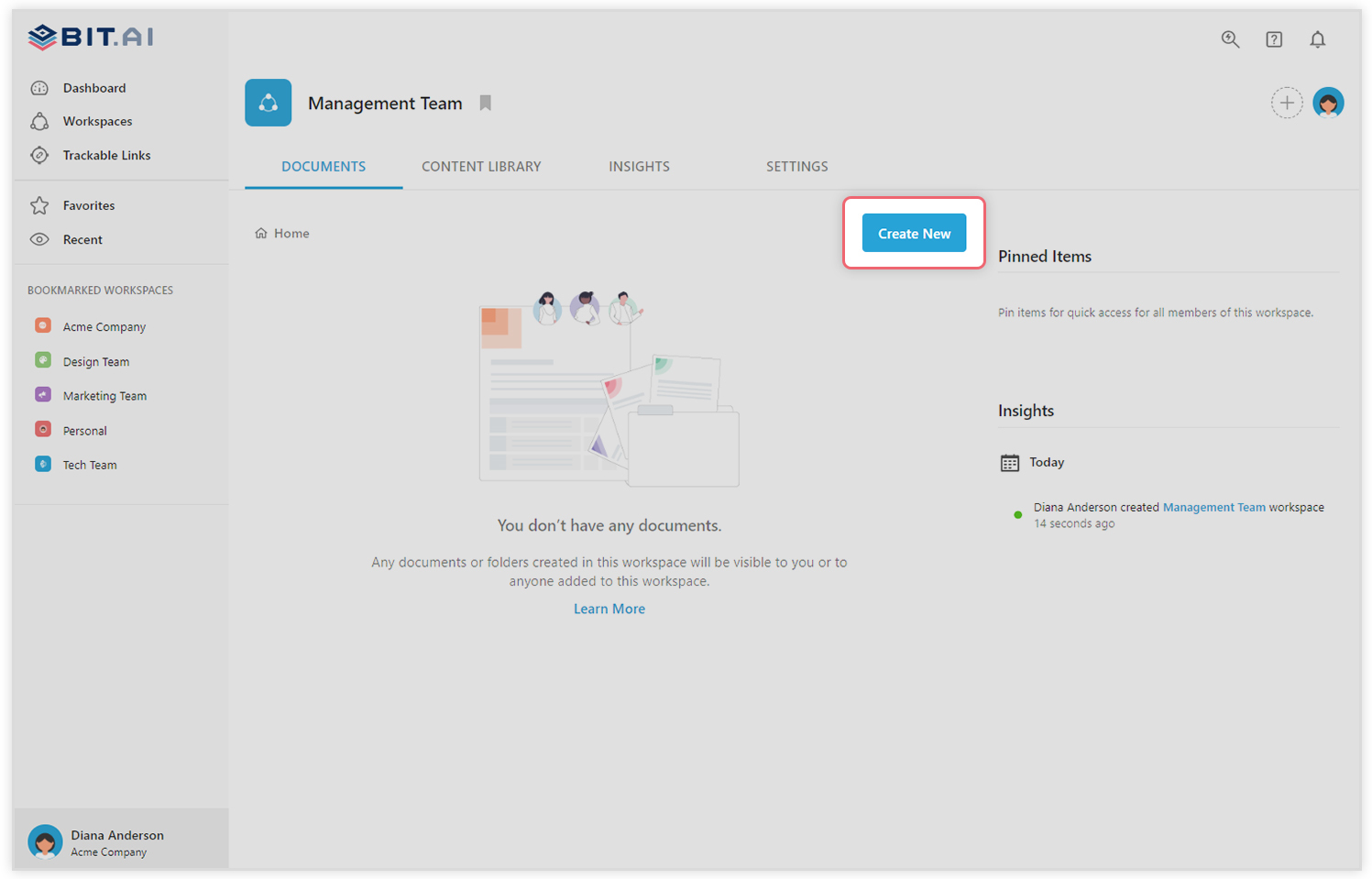 A pop up will display allowing you to select a template from the gallery. In the search box on the top left corner, you can search for a "pitch deck template". Once your desired template pops up, click on it and click on the "Use Template" button on the bottom right corner.
That's it! Your pitch deck document is ready for use!
Over to you!
Impressing investors and getting funding for your startup is tough. However, if you prepare well, are ready with your numbers, and have a solid pitch deck to support your presentation, the sky is the limit.
Using a pitch deck template can significantly reduce the time and effort required to create such presentations, equipping founders with everything they need to be successful. If you need any help with the pitch deck template or want to know how Bit can help your team, let us know by tweeting us @bit_docs. Cheers!
Further reads: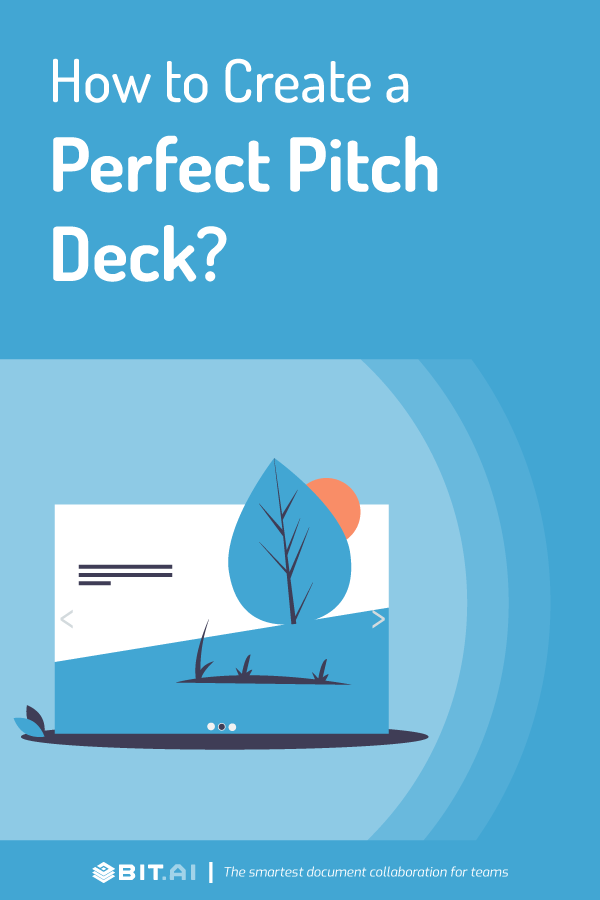 Related posts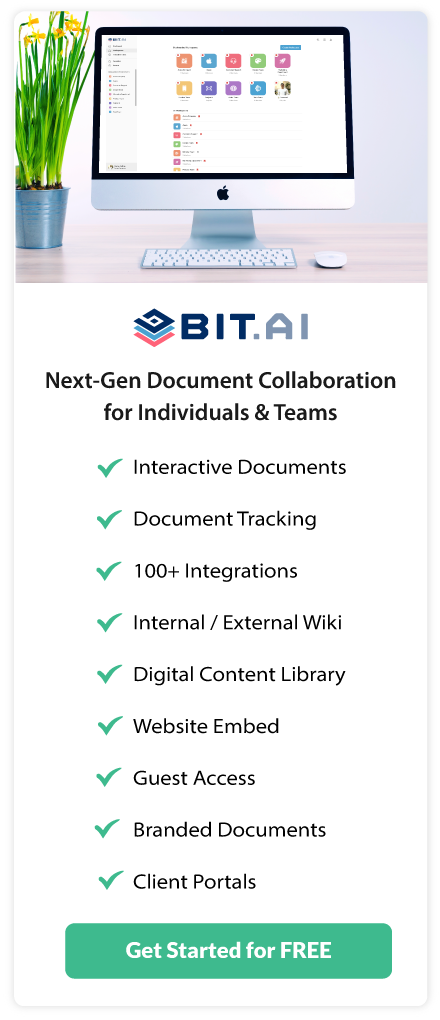 About Bit.ai
Bit.ai is the essential next-gen workplace and document collaboration platform. that helps teams share knowledge by connecting any type of digital content. With this intuitive, cloud-based solution, anyone can work visually and collaborate in real-time while creating internal notes, team projects, knowledge bases, client-facing content, and more.
The smartest online Google Docs and Word alternative, Bit.ai is used in over 100 countries by professionals everywhere, from IT teams creating internal documentation and knowledge bases, to sales and marketing teams sharing client materials and client portals.
👉👉Click Here to Check out Bit.ai.