Today, we decided to be 'Instagram Mythbusters' and write a comprehensive guide on Instagram Marketing Hacks and grow your Insta presence in a practical way. 
What's the Big Deal with Instagram?

🤔
Instagram is one of the most popular places online to create a passionate following, share products, and grow your business.
So naturally, there's plenty of advice on the internet on how to grow your Instagram account. You'll see tips on hashtags, creating stories, suggestions on Instagram live, etc. Unfortunately, everyone keeps recommending the same things over and over again.
Sure, there's a lot of content out there, but as it is true for everything on the internet- not all advice is good advice.
Today, we decided to be 'Instagram Mythbusters' and write a comprehensive guide on how to hack Instagram growth in a practical way.
We have curated the very best tips of what to do, what NOT to do, the best tools to use, best practices to follow, and some hard-core backed-by-data facts!
We hope you enjoy reading this ebook as much as we had fun creating it!
Table of Contents for Instagram hacks:
Instagram Marketing Hack #1: 🔗Do More With Your Single Bio link
Instagram Marketing Hack #2: #️⃣Hashtags
Instagram Marketing Hack #3: ⛵️Explore Page
Instagram Marketing Hack #4: 📚Story Hashtags
Instagram Marketing Hack #5: 🕐Best Times to Post on Instagram
Instagram Marketing Hack #6: 👉Instagram Carousels
Instagram Marketing Hack #7: 👫Instagram influencers
Instagram Marketing Hack #8: 📱Instagram Live
Instagram Marketing Hack #9: 📙Instagram Stories
Instagram Marketing Hack #10: 👆Instagram Ads
Instagram Marketing Hack #11: 🎥Share Videos
Instagram Marketing Hack #12: 🌅Show Off Your Customer Photos
Instagram Marketing Hack #13: 🎥Choose Your Video Thumbnail
Instagram Marketing Hack #14: 🌄Choose Instagram Filters
Instagram Marketing Hack #15: 👋How to Hide Filters
Instagram Marketing Hack #16: 🛍Add a Shoppable Instagram Gallery on Your Store
Instagram Marketing Hack #17: 🎙Offer Special Instagram Promotions
Instagram Marketing Hack #18: 👍Reposting Other People's Content
Instagram Marketing Hack #19: 🌈Add Your Product Photos on Unique Backgrounds
Instagram Marketing Hack #20: 😀Maintain a Consistent Look
Instagram Marketing Hack #21: ✅Post Several Times a Day
Instagram Marketing Hack #22: ❤️Save Posts You Love
Instagram Marketing Hack #23: 🌄Post More Than Just Product Photos
Instagram Marketing Hack #24: 🌄Edit Your Images Beyond Instagram's Filters
Instagram Marketing Hack #25: 📱Use Instagram Grids
Instagram Marketing Hack #26: 👉Add Long Captions
Instagram Marketing Hack #27: 💻Add Text to Your Images
Instagram Marketing Hack #28: 📆Schedule Your Instagram Posts
Instagram Marketing Hack #29: 🔑Add Two-Factor Authentication to Prevent Instagram Hacking
Instagram Marketing Hack #30: 😎Emojis are cool!

Instagram Marketing Hack #31: 🚀Create Viral Stuff
Instagram Marketing Hack #32: 🖼️Use Grids
Instagram Marketing Hack #33: 👉@mention accounts in your bio
Instagram Marketing Hack #34: 🔍Zoom into Photos
Instagram Marketing Hack #35: ✨Make your bio and captions presentable
Instagram Marketing Hack #36: 🔛Turn on Instagram notifications for pages you love
Instagram Marketing Hack #37: 💥Create Boomerangs!
Instagram Marketing Hack #38: 👉Instagram Takeovers
Instagram Marketing Hack #39: ✔Follow Prospects
Instagram Marketing Hack #40: ➕Add Multiple Accounts
Instagram Marketing Hack #41: 🏆Run Contests on Instagram
Instagram Marketing Hack #42: ➰Loop Giveaways
Instagram Marketing Hack #43: 👉How to Hide Ads
Instagram Marketing Hack #44: 🌐Use Geotags
Instagram Marketing Hack #45: 📊Instagram Insights
Instagram Marketing Hack #46: ✍Add Alt Tags 
Instagram Marketing Hack #47: ➕Join an Instagram Pod
Instagram Marketing Hack #48: 🌟Share stories to Facebook
Instagram Marketing Hack #49: 👨‍💼Switch to An Instagram Business Profile
Instagram Marketing Hack #50: 😎Follow Instagram Creators Account
😎Why Instagram?
Instagram has transformed itself into a selling behemoth. From global brands like Netflix to your local mom-and-pop store, everyone's marketing themselves or products on Instagram. Don't believe us? Take a look at these stats:
33% of Instagram users report that they have purchased items that they first saw on the platform.
38% of customers say they frequently purchase products they find on Instagram.
It is 60x more likely that customers interact with a brand's Instagram account than Facebook.
It looks like Instagram has finally found the perfect balance of the ideal social media site. It's an awesome advertising platform and everyone's favorite social network!
Big brands have been quick to spot the vast opportunity Instagram holds. It is the ultimate marketing and selling platform.
This significant jump in the number of businesses using Instagram can be mostly attributed to the introduction of the "Instagram for business" feature in early 2016. Instagram is catering to businesses to help them get the most out of Instagram. Here are a few of their business-focused features:
Business Feature #1: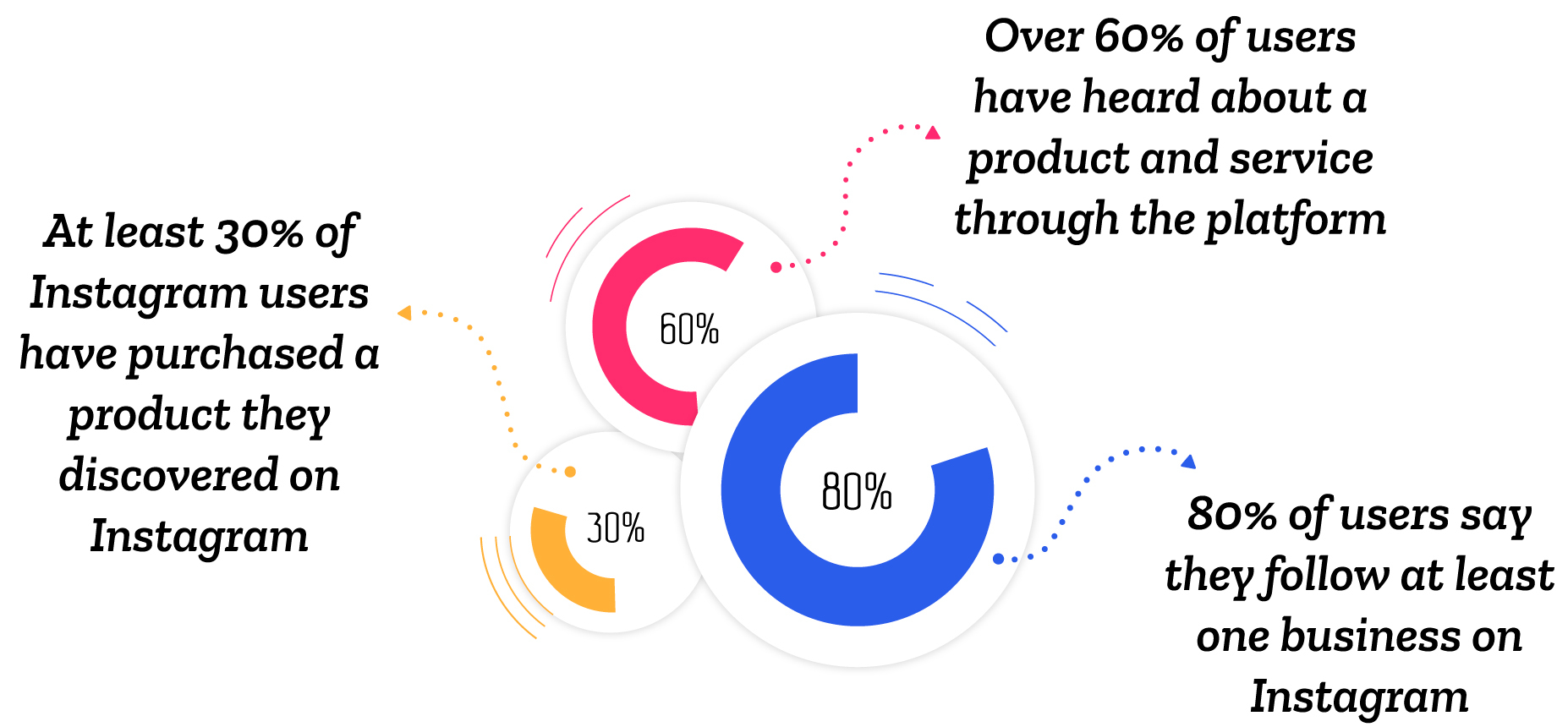 Instagram Hack #1: Do More With Your Single Bio Link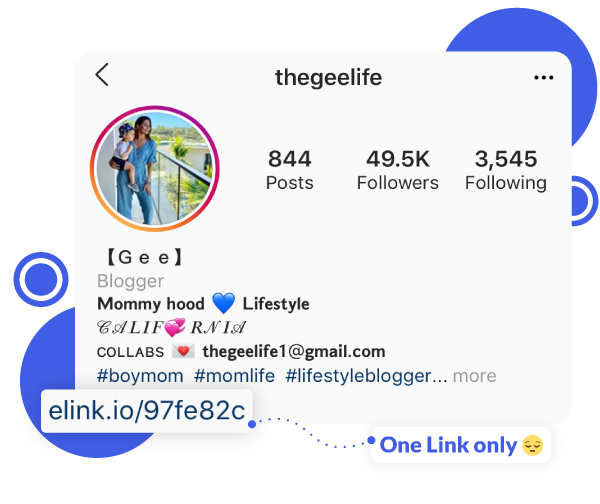 Instagram allows users to have only ONE link in their bio. Only ONE. That's all.
Now you see this creates a big problem for people who might want to…
Promote their other social media accounts
Add purchase links to products they are recommending
Add a link to their latest blog post
Add their latest YouTube video link on Instagram
and more…
The hassle is REAL, of going into your Instagram bio and editing those links over and over again according to your latest post. You're not alone. This problem of how to add more than one link to your Instagram profile has been a significant annoyance to influencers and brands since the beginning of 'Insta-land.'
Using a tool that allows you to have multiple bio links becomes crucial to solving this problem. Our favorite Insta landing page tool that has the coolest pages is elink.io.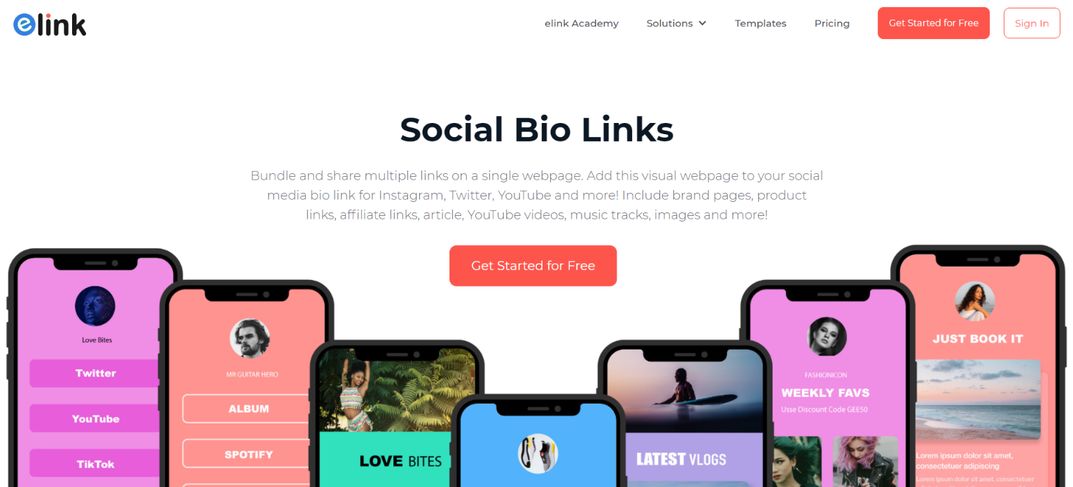 elink.io allows anyone to create collections of web links (articles, blog posts, videos, audio, affiliate products, etc.), and create stunning social bio link pages you can share on your Instagram bio.
It turns those web links into visual blocks that you can quickly create a stunning landing page for all of your content. There are over 32 modern templates to choose from that are responsive and look great on all devices.
Once you're done just add your new landing page URL to your Instagram bio and boom you're ready to go! You can update it anytime with the latest products, video content, promotions, etc. You can even check analytics on your Instagram elink and track engagement levels, referral sources, and the location of your audience.
Instagram Hack #2: How Many Hashtags To use?
We all know how important hashtags are. They form the basis of content discovery and allow your posts and videos to be found by millions of people worldwide.
Instagram has a 30 hashtag per post limit. There have been various studies on the appropriate amount of hashtags per post. Some studies say…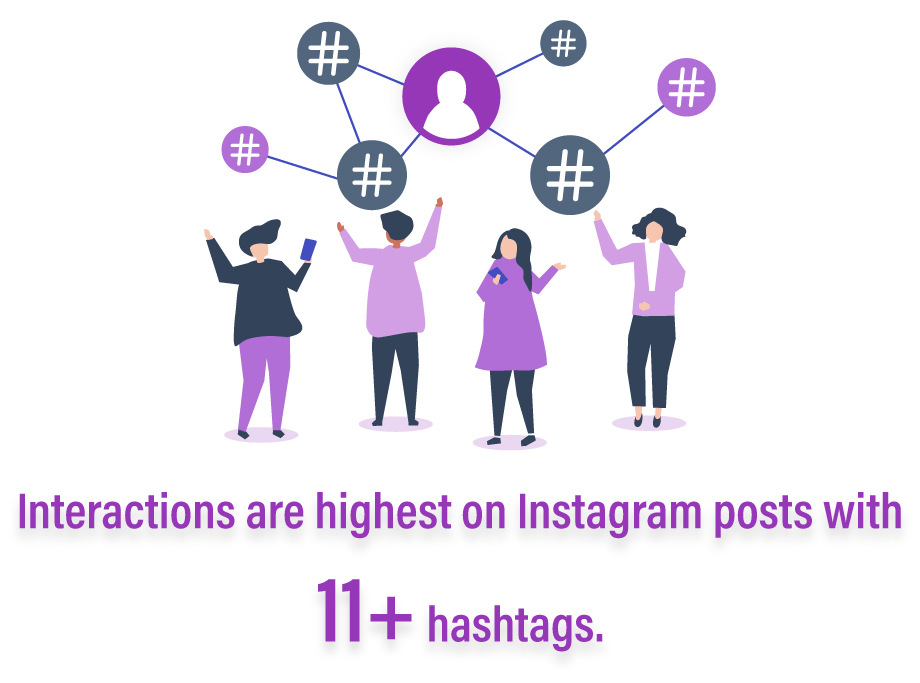 However, we would suggest you go all-in with the 30 hashtag limit. The more hashtags you use, the more your content has the chance of landing on the explore page of that particular hashtag.
Wait, what the heck is the explore page? The explore page of a hashtag is the collection of all the posts using that hashtag. It can be accessed when someone clicks on a hashtag.
Always remember that hashtags are the key to your content discoverability!
👉MONEY TIP: If you think using 30 hashtags in a post is too much, you can always hide your hashtags in the first comment of your Instagram post. This keeps your captions clean without compromising your engagement boost, which can be achieved using hashtags.
But using hashtags and using the right hashtags are two widely different things. You see, everyone will tell you to use all the viral hashtags, but that actually is a recipe for disaster.
Let's see what the right approach for using hashtags is in our next Instagram marketing hack.
Instagram Hack #3: Which Hashtags To Use?
Using 30 hashtags in a post is great, but if you are not using the right hashtags, Instagram might even punish you for it.
The Instagram algorithm is designed to keep the platform spam-free. Using overused and irrelevant hashtags on your post just because those hashtags have the most engagement is a bad, bad strategy.
Your goal with hashtags should be to reach the top posts section (especially the top 9 posts) when people search that hashtag.
The best way to do this is to use the…
The 10-10-10 strategy dictates that you use…
10 highly popular hashtags in your niche
10 moderately popular
And the remaining 10 highly targeted smaller hashtags
Your first goal is to reach the explore page of the smaller hashtags. Once you accomplish that you have a good chance of reaching the explore page of the medium-sized hashtags. If everything goes well, eventually you can reach the explore page of larger hashtags.
This is how you gain 500-1000's followers a day on Instagram.
Now, to make these hashtags easier for you, we have a few recommended tools.
One of our go-to tools to find out relevant and trending hashtags is Display Purposes. Just type in a few keywords related to your Instagram post and Display Purpose will spew out relevant hashtags. A good thing about this tool is that it automatically filters out banned and spammy hashtags for you.
Another great tool for finding relevant hashtags is TagFinder. Just add a hashtag and Tagfinder will find you 29 more hashtag similar to yours to maximize your reach. You can even check out hashtags statistics and find local hashtags.
Hashtag Expert for Instagram is another great app with awesome UI. However, it's for iOS users only. You can generate top hashtags, browse between 35 different categories, and sort hashtag suggestions based on 8 different algorithms! It's an awesome hashtag app with great UI.
Instagram Hack #4: Create content that reaches the explore page
As we discussed above, every hashtag on Instagram has its own "gallery." People can visit the collection of photos using a particular hashtag by clicking on the hashtag.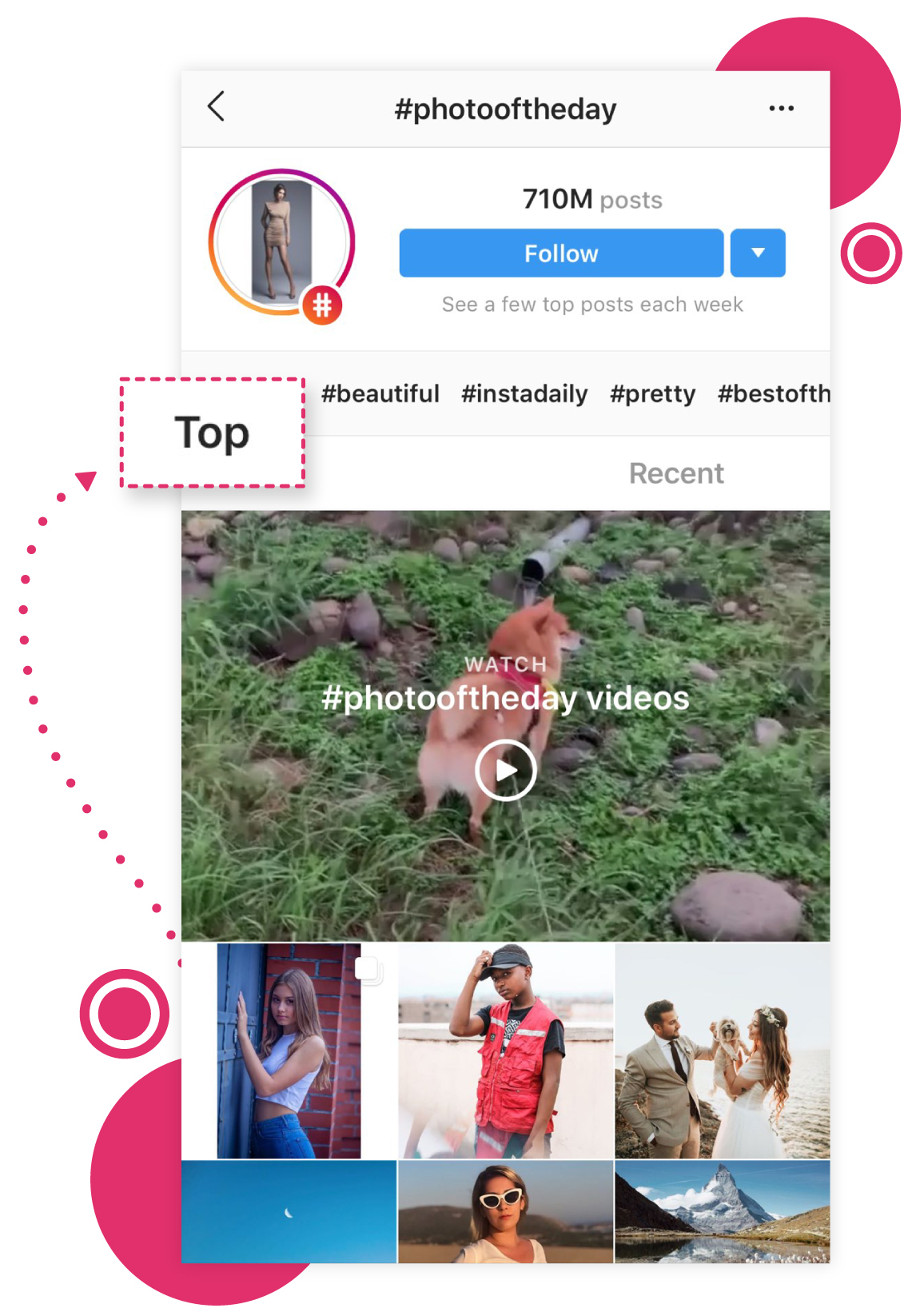 Each hashtag gallery has a "Top" section and a "Recent" section. The posts in the "Top" section are determined by a combination of how recent the post is, and how many likes/comments posts are receiving. The goal is to reach the "Top Posts" section as these are the ones most likely to be seen by people.
Instagram Explore Page is often an untapped territory for lead generation and should be made full use of using the above-mentioned 10-10-10 strategy.
In order to create content that reaches the Explore Page, you need to see what kind of content already exists. For example, if you look for the hashtag #fitness, you can see the top post is a video of someone doing a workout routine.
Now if you are a fitness influencer, producing high-quality workout videos for your Instagram fitness bio and profile should be your top priority if you want to get featured on Instagram's explore page.
By searching for the content that's already winning on Instagram, you can try to one-up that content by carefully studying and observing.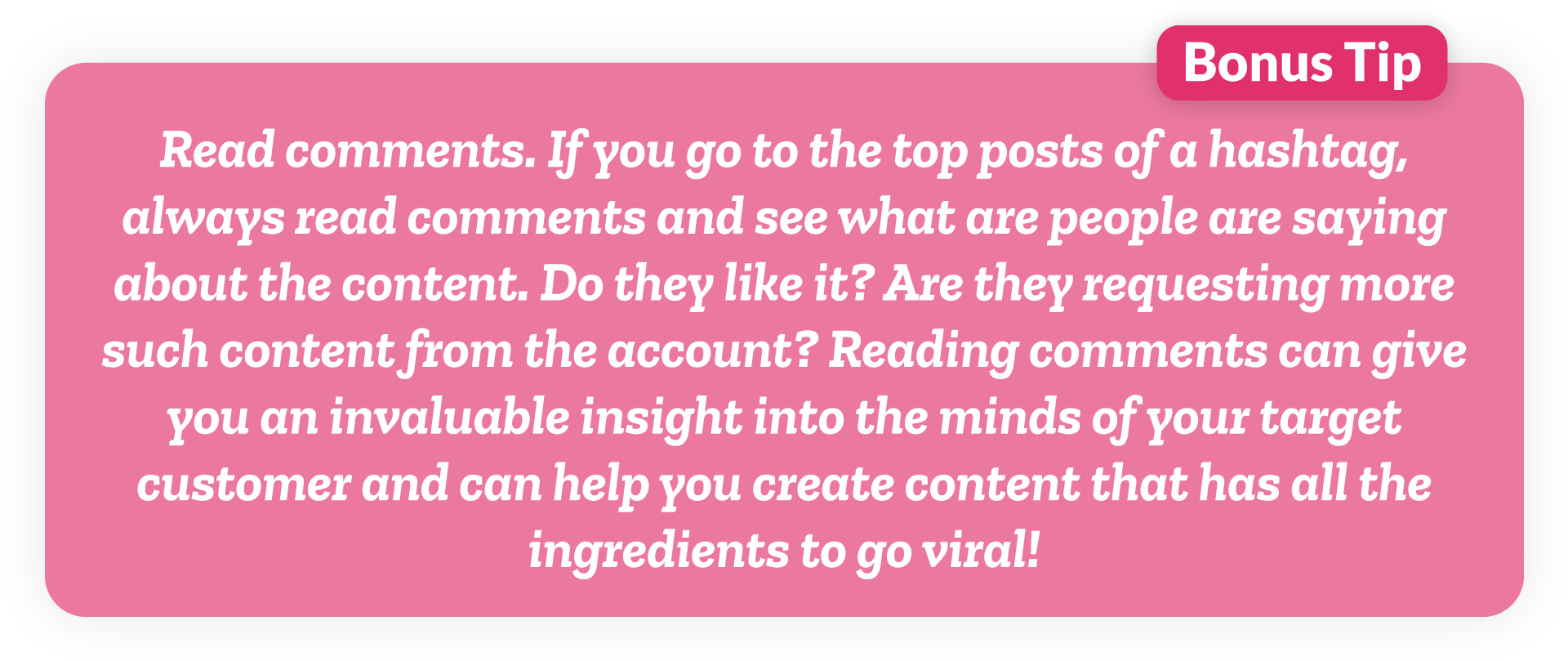 Instagram Hack #5: Instagram Story Hack
A good rule of thumb for marketing on social media is to use the shiny new thing extensively. Since feeds are getting crowded, Instagram wants you to use other mediums for expressing yourself like Instagram stories. People have flocked towards Instagram stories as they are seeing much more engagement than they do with their posts.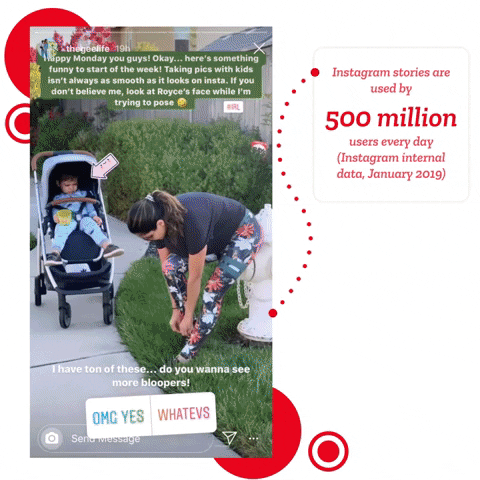 One third (1/3) of the most viewed Instagram Stories are from businesses,
50% of businesses on Instagram worldwide created at least one story during a typical month.
You may be thinking posting stories on Instagram is important because it's a relatively new feature. But the most exciting part about Instagram Stories is that your story floats up to the very beginning of your follower's story feed every time you post something. This means that even if your Instagram post gets lost in the feed, people are surely going to see your story (if you post frequently enough).
Many people use this tactic to let their audience know that they have uploaded a new post. This is a great way of letting your followers know about a post that didn't appear in a feed due to Instagram's algorithm.
Instagram Hack #6: Best Time to Post on Instagram
Have you ever wondered what the best times are to post on Instagram? There's a lot of opinions out there, but here is one interesting analysis conducted by a social media marketing tool Later👇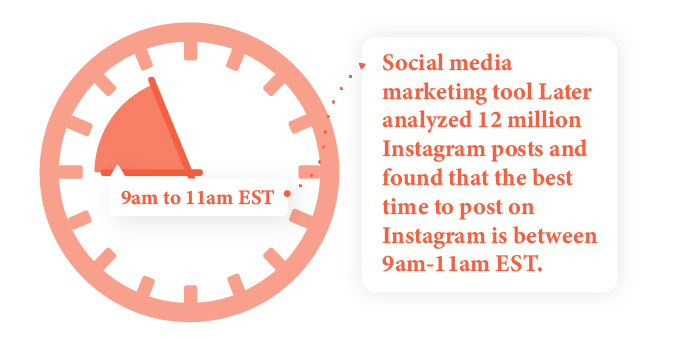 If you want to read more about the right time to post on Instagram, the following are some of the best resources:
As you read more about this topic, you'll realize that there's no single agreed-upon time that works best. The best approach would be just to keep your mind focused on posting regularly, and not worrying about the time too much.
You can always go into your Instagram Insights and see when your audience is most active and try modifying your content schedule accordingly.
If you forget about posting at particular times on Instagram, these scheduling tools might help.
With over 4 million users, Buffer is an easy way to schedule posts, track the performance of your content, and manage all your accounts in one place. Buffer's browser extension which integrates with WordPress, Chrome, and RSS readers, is a handy addition that allows you to save content on the go and schedule it for later.
Instagram Hack #7: Instagram Influencers
In 2017, 92% of marketers who used influencer marketing found it to be effective. Why? Take a look at these stats:

You may be wondering why are marketers and brands lining up with billions of dollars to partner with normal people like you and me? Actually, therein lies the answer.
You see consumers have increasingly lost interest in traditional advertising methods and subsequently in celebrity endorsements. People like to make purchase decisions based on the experience of their peers, friends or the micro-influencers they follow so dearly on social media.
Making deals with these micro-influencers and having them become your brand advocate can be a great way to generate massive customer awareness and goodwill.
Instagram Hack #8: Instagram Live
If you are someone who's always worried about the Instagram Algorithm ruining your content outreach, we have a silver bullet for you- Instagram Live!
Instagram Live is a part of Instagram Stories. We all know what happens when you post a new story on Instagram- you are displayed at the top of everyone's feed. However, when you go live on Instagram, you're bumped to first place in the Stories that are shown above the feed.
That's right! If you go Live on Instagram, your content will be the first thing your audience will see when they open the app (provided that no one else in their feed is life at the same time too). Even if by chance your audience has multiple people live on Instagram at the same time as you, your video still has a better chance of being in the top 5 stories on someone's feed.
Even with so much attention grab at stake, not many people go Live on Instagram. While some are just afraid of being on the spot and talk to people live, others find it difficult to create content for live videos.
If you decide to take up the challenge, then these Instagram live ideas will come in handy:
Many influencers use Instagram Live to answer live Q&As. This is the safest content for Instagram live as you don't have to prepare a script or think of new ways to engage your audience. You can just tell them to ask you whatever's on their mind and you can answer accordingly.
Product Launch:
If you are launching a new product or service, you can live stream your office's product launch party and virtually invite all your customers to it via Instagram live. This would make them feel close to your brand and a part of your journey.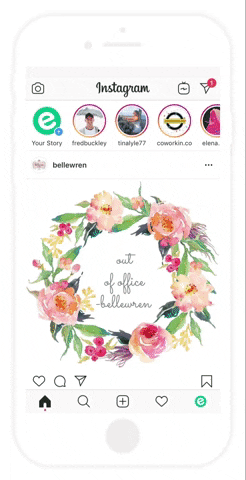 Suppose you have a big sports event going on like the Super Bowl or FIFA World Cup Final. You can live stream your reactions on Instagram while the match is live and make it feel like you are watching the match/event with your audience. This is a great way to humanize the brand and let them know that you care about the same things as they do.
How to Share an Instagram Live Video:
Click the Camera icon on the top left corner
Click Live on the bottom of the screen
Click on Go Live
Yep, it's that easy! Now go and show off your fun personality!
Instagram Hack #9: Hashtags in Instagram Stories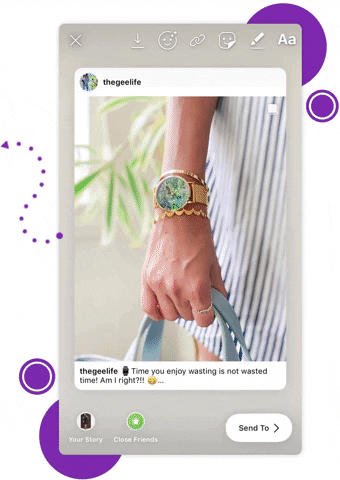 You can increase your stories reach by using hashtags in your stories and hiding them.
Add a few relevant hashtags to an Instagram Story and reduce the size of the font used.
Using the color pick tool that appears when you enter text, select one of the colors within your photo. Ideally, pick a color from an item that's large enough to accommodate your hashtag.
You have masqueraded the use of a hashtag while gaining all its benefits.
And oh btw, these hashtags in your stories have their separate collections (think to explore page but for Stories). So whenever you use a hashtag in an Instagram story, your story gets added to the story collection using that hashtag, thereby increasing your reach and discoverability.
This allows you to use multiple hashtags and expand your Story's reach without showing a cluttered mass of hashtags.
Smart, eh? 😉
Instagram Hack #10: Instagram Ads
Taking into account its massive user base and wide popularity, Instagram is the go-to platform for advertising your business in 2019. Facebook, Twitter, and other social media platforms also have a significant user base, but the level of engagement Instagram receives is still unmatched by its rivals.
Instagram images get an average of 23% more engagement than their Facebook counterparts.
@hm

Brands on Instagram regularly see engagement from around 4% of their total followers compared to the less than 0.1% that Facebook and Twitter see.

Brands see engagement rates 10x higher on Instagram than they do on Facebook.
As it is evident from the stats, Instagram is worth your advertising dollars and can skyrocket your growth on the platform.
Since Instagram is a visual platform, plain, boring, and text-heavy ads are a strict NO. Make sure that your images only have about 20% of text in them for maximum engagement.
Here are some fun way brands are advertising on Instagram:)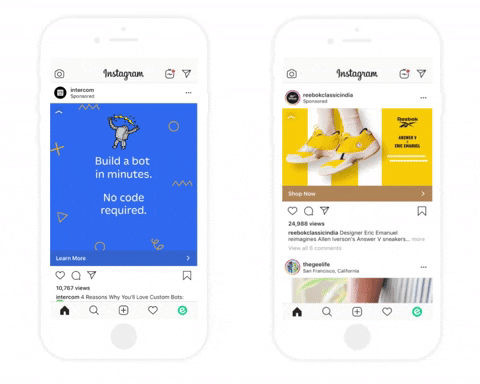 Instagram Hack #11: Videos are better than Still Images
Cisco predicts that video will be 82% of all internet traffic by 2022. It's no surprise that people love watching videos online and Instagram is no different. Time spent watching video on Instagram is up more than 80% year over year, according to Instagram.
Videos get the edge over static image posts because of the simple reason that it engages a user in a much better way, increasing the time spent on the app. Since videos increase the time spent by any user on the app, Instagram heavily promotes video content and often gives it a priority in place of an image post.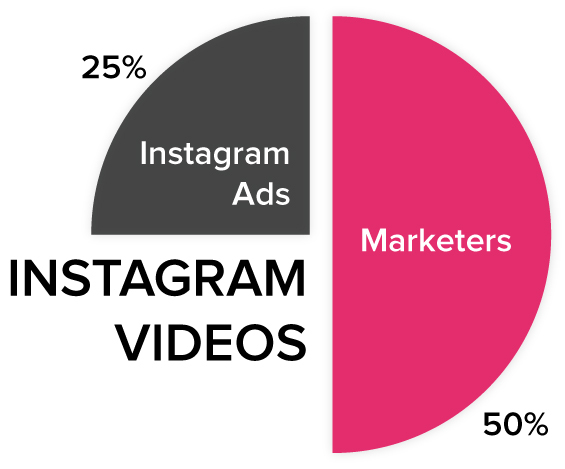 No matter which niche your business belongs to, you can quickly whip out your phone and make a how-to video or start giving tips live. This video can not only be shared in the feed but can also be posted as an IGTV video. For example, if you are a fitness trainer, you can have someone record your training session and post short clips of your workout routine regularly.
If video marketing is not part of your marketing strategy, we would highly recommend you to get moving. If you don't know how to produce quality videos and don't have the budget or people to help, you can easily create an awesome video using these tools:

Instagram Hack #12: Instagram Tv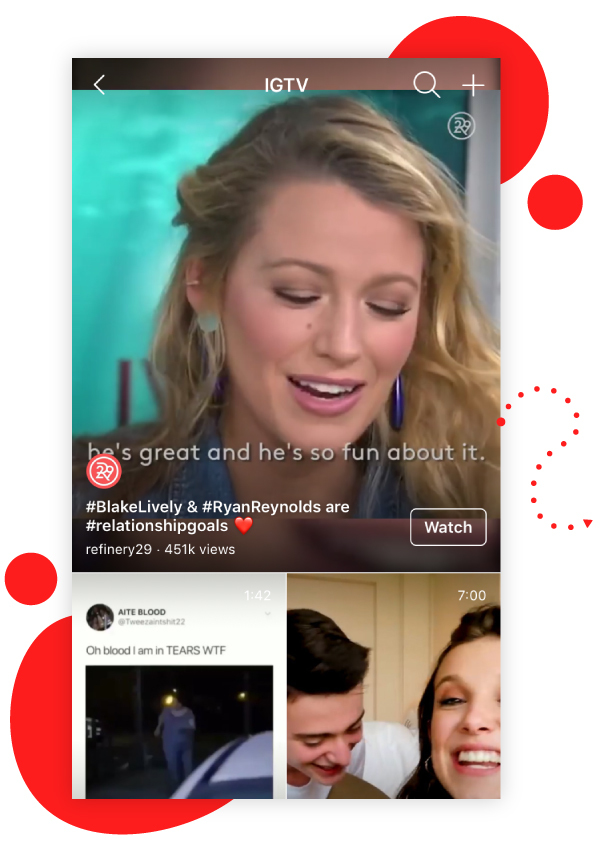 Last year, Instagram tried to bring in another cool feature to the app- IGTV. Like TV, IGTV has channels. But, in IGTV, the creators are the channels! Since we all consume content on the go on our smartphones, Instagram tried to revolutionize video consumption by introducing vertical videos via IGTV.
However, the unfamiliar aspect ratio has made many creators perplexed. This is one of the major reasons why the feature has seen slow adoption and has not yet taken over YouTube as many suspected it would.
However, to promote IGTV videos, Instagram has started to show IGTV video previews in the user's feed. They are not giving up on IGTV and you shouldn't as well. Don't let the concept of vertical videos stop you. Either post them wide as you do it on your feed or use a tool online to create vertical videos.
BONUS TIP👉 IGTV Aspect ratio: a minimum of 4:5 and a maximum of 9:16
If you are an iOS/Mac user, iMovie is a great tool for creating stunning IGTV videos. Just choose your clips, add titles, music, and effects and you're done! iMovie even supports 4K video and 10 creative video filters that add a cinematic touch to your IGTV videos.
How to Share an Instagram IGTV Video?
Click the TV icon on the top right corner
Click the "+" icon on the top right corner.
Upload your video.
Make sure to have an awesome thumbnail for your IGTV video. Your IGTV video not only appears on the feed but also gets added to your profile like a story highlight. Thus, having a great-looking video thumbnail becomes as important than ever!
Read more: 25 Insane Instagram Stats that Will Shock You!
Instagram Hack #13: Presentation is Key!
How you present your brand on Instagram is key. You can decide to share product photos, behind-the-scenes photos, worldly quotes, or timely memes. Whatever you do, just be consistent.
Your brand needs to have an Instagram personality so that people know what kind of content to expect when they follow you. Having consistency in your posts is vital to establish brand recognition and recall.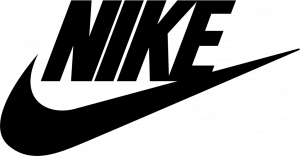 For example, Nike, the famous sneaker brand, has over 90 million followers on Instagram. Nike rarely posts about sneakers though. Instead, when you browse through their feed, you will see extraordinary people from all spheres of life (but mostly athletes) who overcame the odds and came out strong at the end.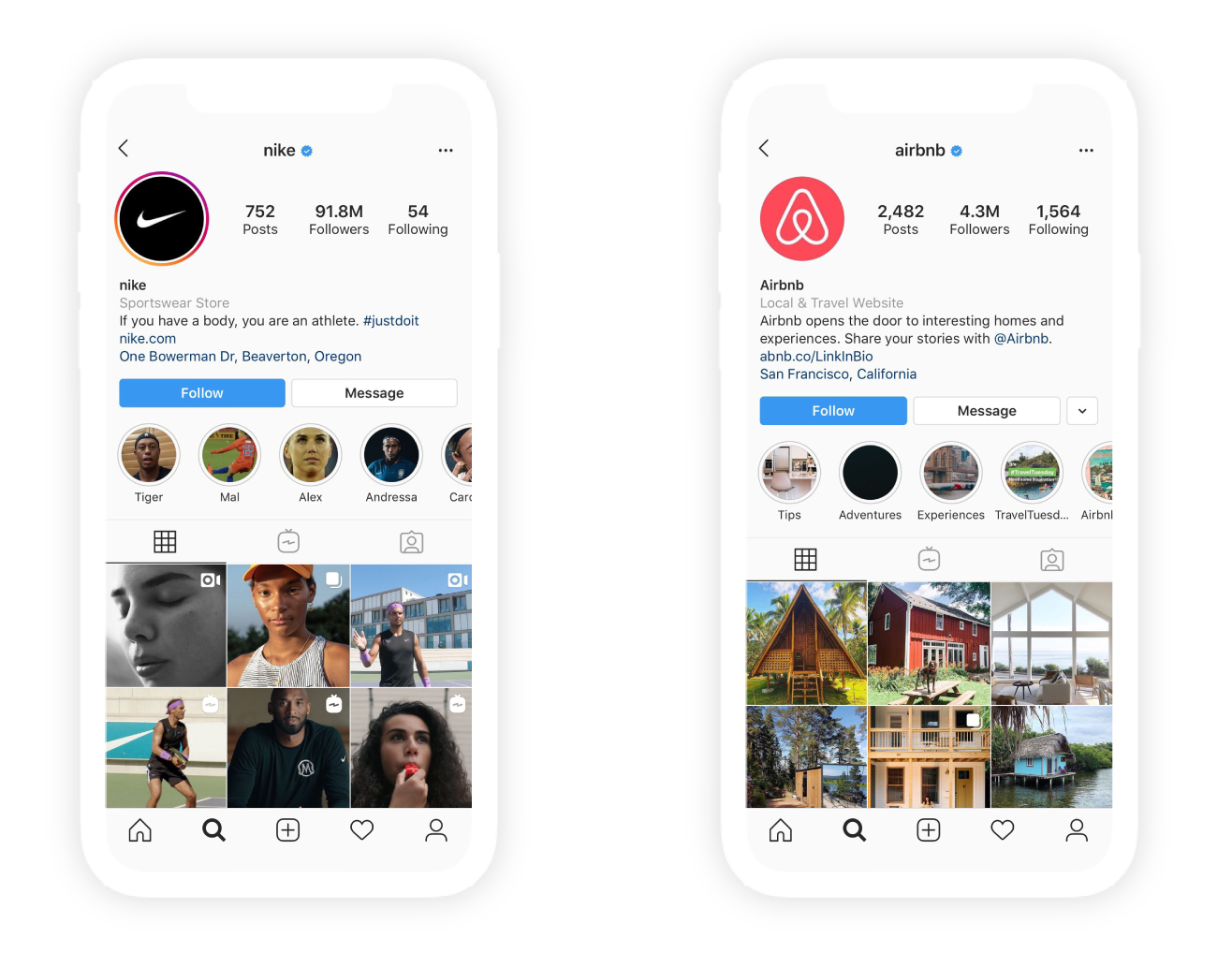 Their posts are accompanied by a motivational quote from the person in the photo which ends with the same hashtag every time- #JustDoIt (which is also their brand's tagline). Powerful messaging indeed.
Airbnb

, the world's largest accommodation sharing site, is one of our favorite Instagram accounts. Airbnb's Instagram is filled with pictures of beautiful homes and destinations, which are indeed it's "products". One look at their Instagram and we promise you'll be booking your next trip to Bali! Beautifully captured images coupled with a brief description of the house or nearby attractions is Airbnb's jam.
In both these examples, consistency is the thing in common. If you see an Instagram post of an athlete with a motivational caption, your mind instantly goes to Nike. Or if you see someone relaxing in a pool overlooking a beach, you think of Airbnb. That's how you get to be on the top of mind for your customers. Start building an Instagram personality of your brand via consistency!
Instagram Hack #14: Instagram Filters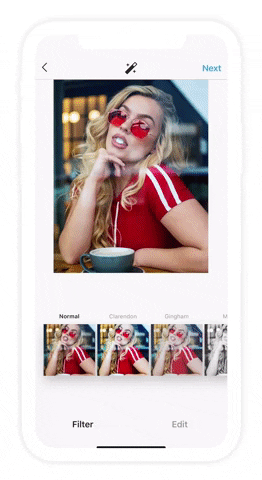 Using Instagram filters is a way to beautify your images and give them that consistent look we talked about in our last hack. Using the sample of about 40 million posts, PetaPixel.com concluded that 18% of all photos use a filter. When looking at the distribution of filter popularity,  Clarendon is the winner with 25% followed by Juno which is used 8% of the times a filter is applied.
Huffington Post also did a review of the top 19 Instagram filters and their uses. You might want to check that for getting a more clearer view on filters and which one is right for you.
However, choosing the right filter for your posts is not about choosing the most popular one. It's about choosing the one which enhances the viewing pleasure of your audience and makes your product photos pop. It depends on your niche and the type of vibe you are going for.
For example, if you are a company, you can go for filters (say, Clarendon) that add a bit of vibrancy to your images. On the other hand, if your company sells vintage watches, a more soothing filter like Reyes or Crema might help.
Instagram Hack #15: Edit your images beyond Instagram filter's
Apart from using these Instagram filters that every Instagram users have access to, people make use of other photo editing apps to make their photos stand out. It makes total sense; you don't want to use the same tools that everyone else using, right?!
Here are some tool recommendations to make your Instagram posts stand out-
VSCO: Easily one of our favorite editing app. Apart from having a great filter library, VSCO is also a photography and discovery app providing you with awesome photography inspiration.
Snapseed: Developed by Google, Snapseed is a photo-editing for iOS and Android that enables users to enhance photos and apply filters.
Lightroom: If you need advanced editing tools, Adobe also offers mobile apps to enhance your photographs and make your Instagram posts stand out.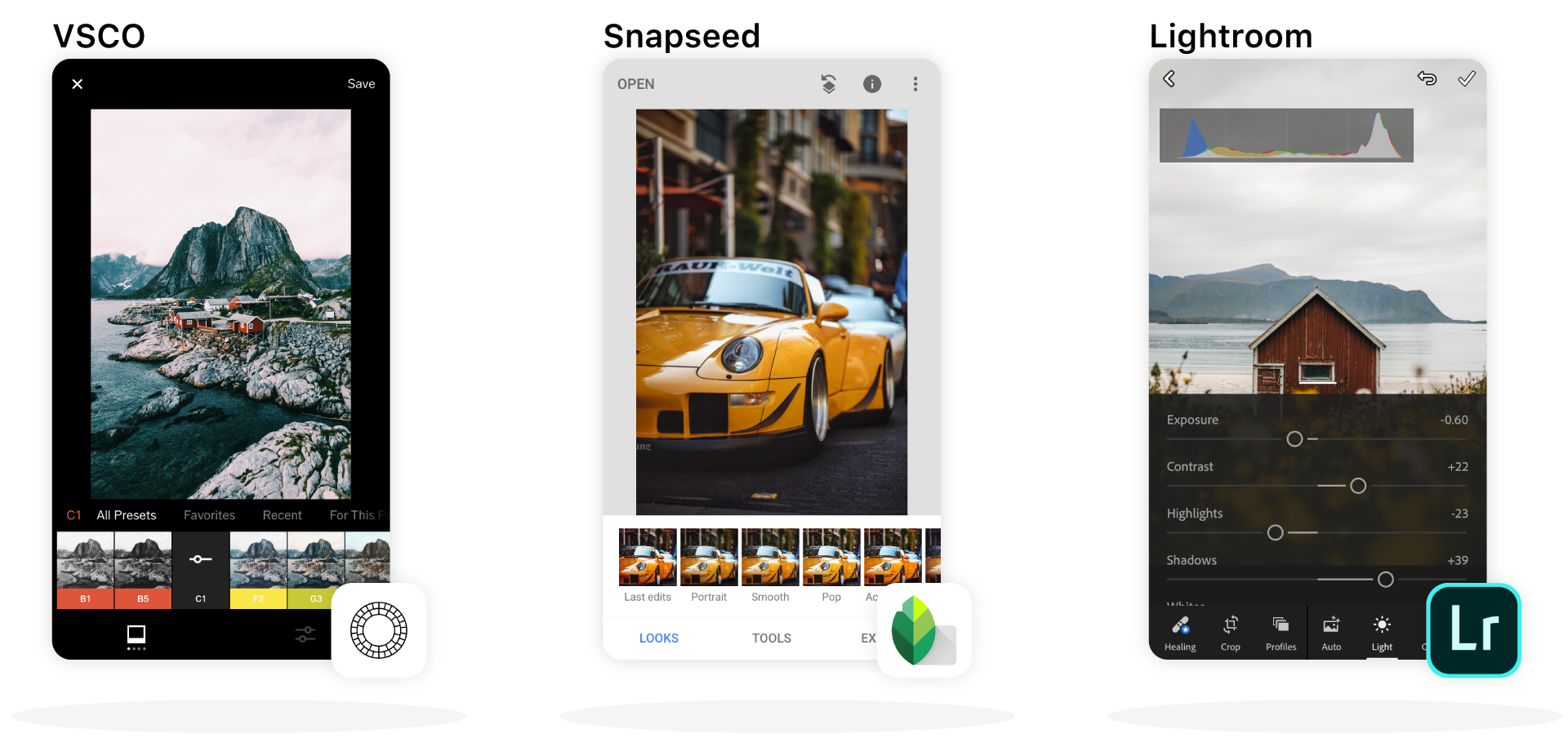 Instagram Hack #16: Filter out the filters
In order to maintain a consistent look, you need to use the same filter or the same combination of filters for every Instagram post. However, with so many filter options, one is bound to get confused and might end up ruining their feed.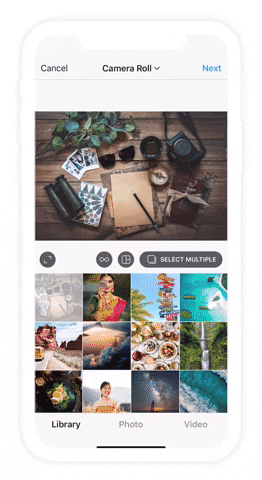 A great Instagram filter hack that not many people know about is the ability to hide Instagram filters and prioritize them according to your liking.
How to hide or rearrange Instagram filters:
Select an image you want to upload and click Next.
Scroll to the end of your filter list and click Manage.
To add a filter, click on the circle beside it.
To hide a filter, click on the checkmark. If you see a blank circle, you've hidden the filter.
To rearrange your filters, drag the filter into the position of your choice.
Click the tick icon in the top left corner when you're done!
Hiding and rearranging filters not only helps you save time, but also makes sure that you are using the same filters for your images! Why not make your life easier and create visual consistency?
Instagram Hack #17: Reposting other people's content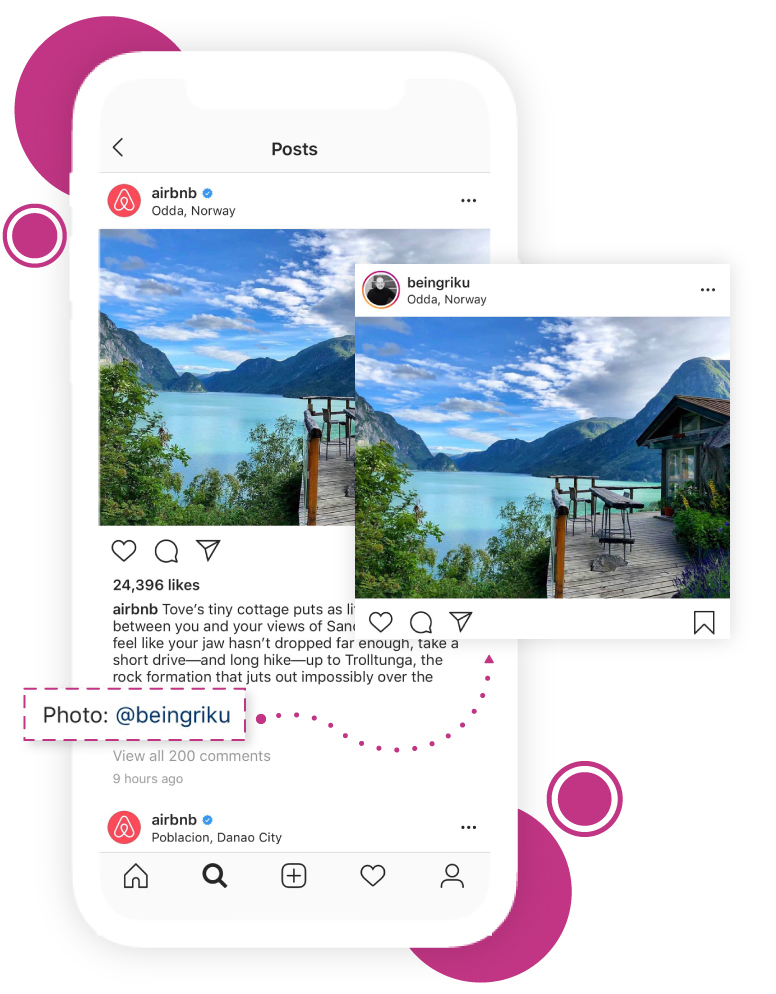 Did you now that posts containing or featuring User-Generated Content (UGC) have a 4.5% higher conversion rate than non-UGC posts?!
When other users post about your business, it leads to a higher degree of trust amongst their peers about your brand. Higher trust often leads to high conversions. Make sure to create branded hashtags and ask your followers to use it to share their side of the story.
UGC is 76% more trustworthy than branded advertising, according to AdWeek. Apart from being free and solid advertising for your brand, UGC is also a great strategy for filling your Instagram feed with free content!
Posting UGC on your Instagram account is great, but you have to keep few things in mind. First, ask for permission. Although it is not really illegal to post other people's content on Instagram if you give the appropriate credits to the original account, but you still should be covering your bases. Asking for permission by either commenting on the user's photo or DM-ing (personal messaging them) on Instagram is the way to go.
Did you know that 65 percent of Instagrammers grant permission to use their photos within 24 hours? Instagrammers usually love having their photo reposted on a brand's account.

Remember our Airbnb's example of how their feed looked amazing. Well, a majority of Airbnb's feed is composed of user-generated content. According to Simply Measured, 80% of Airbnb's Instagram engagement comes from UGC!
If Airbnb wants to feature a user's photo on their content, they leave a comment on the user's photo. They then ask them to go to a link where they can read and agree to Airbnb's terms of use for UGC. Users are asked to reply with #AirbnbPhoto to confirm and provide the link to the Airbnb featured in user's photo.
Millennials spend 30% of their media time (5 hours per day) engaged with user-generated content (UGC). It makes sense to include it in your marketing strategy!
Instagram Hack #18: Offer discounts to your followers
A quick way to boost your Instagram following and engagement is to give special deals and promo codes to your audience.
For example, you can give special coupon codes in your Instagram stories (which, by design, will only last a day). You can then share this message to your Facebook or Twitter fans and ask them to head over to your Instagram in order to take advantage of the sweet deal.
This is a smart way to cross-promote across your social media accounts. It's also a great way to increase your following by having your audience follow your account to take advantage of any future discount codes and offers.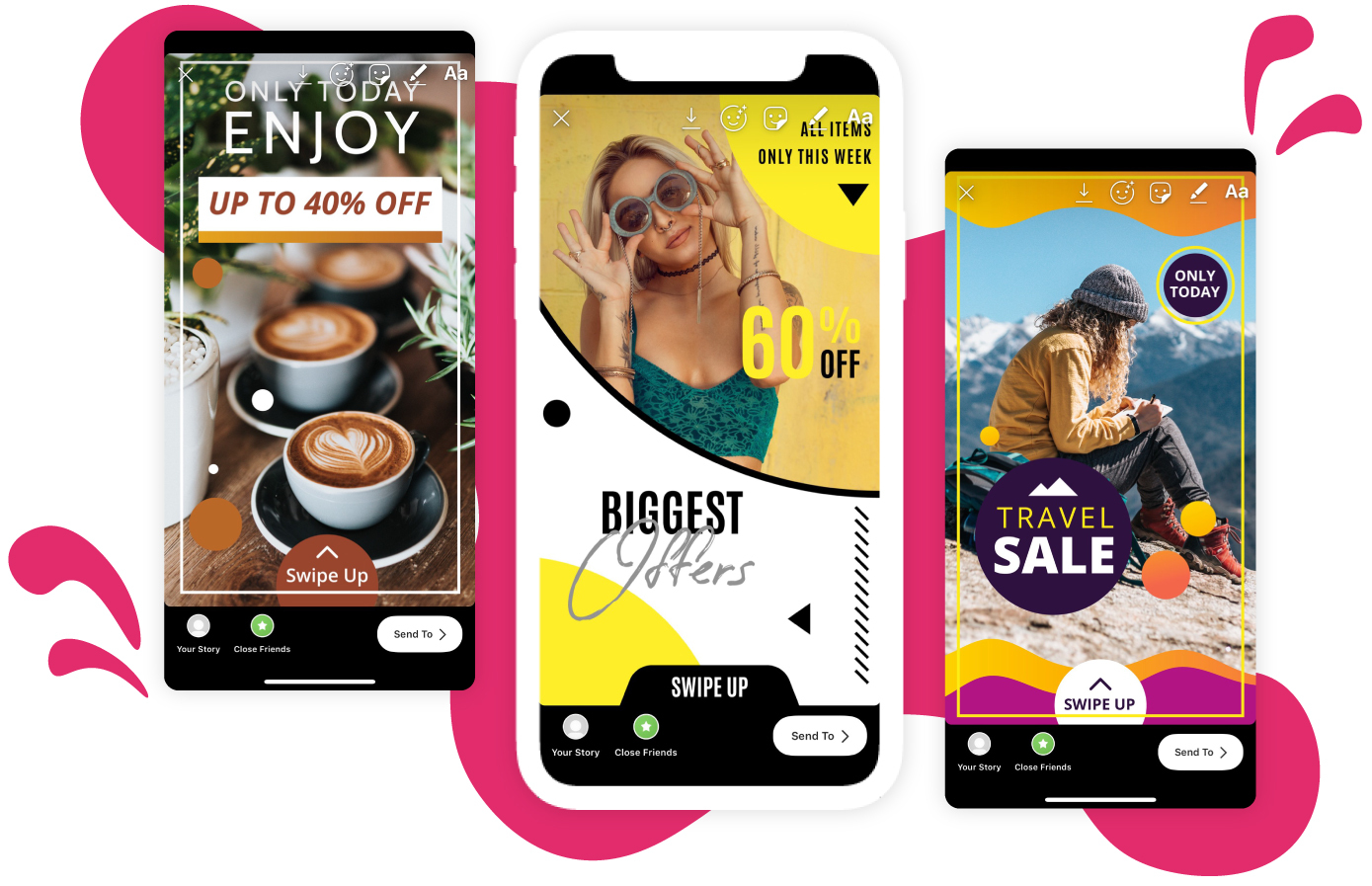 Instagram Hack #19: Make your Insta feed shoppable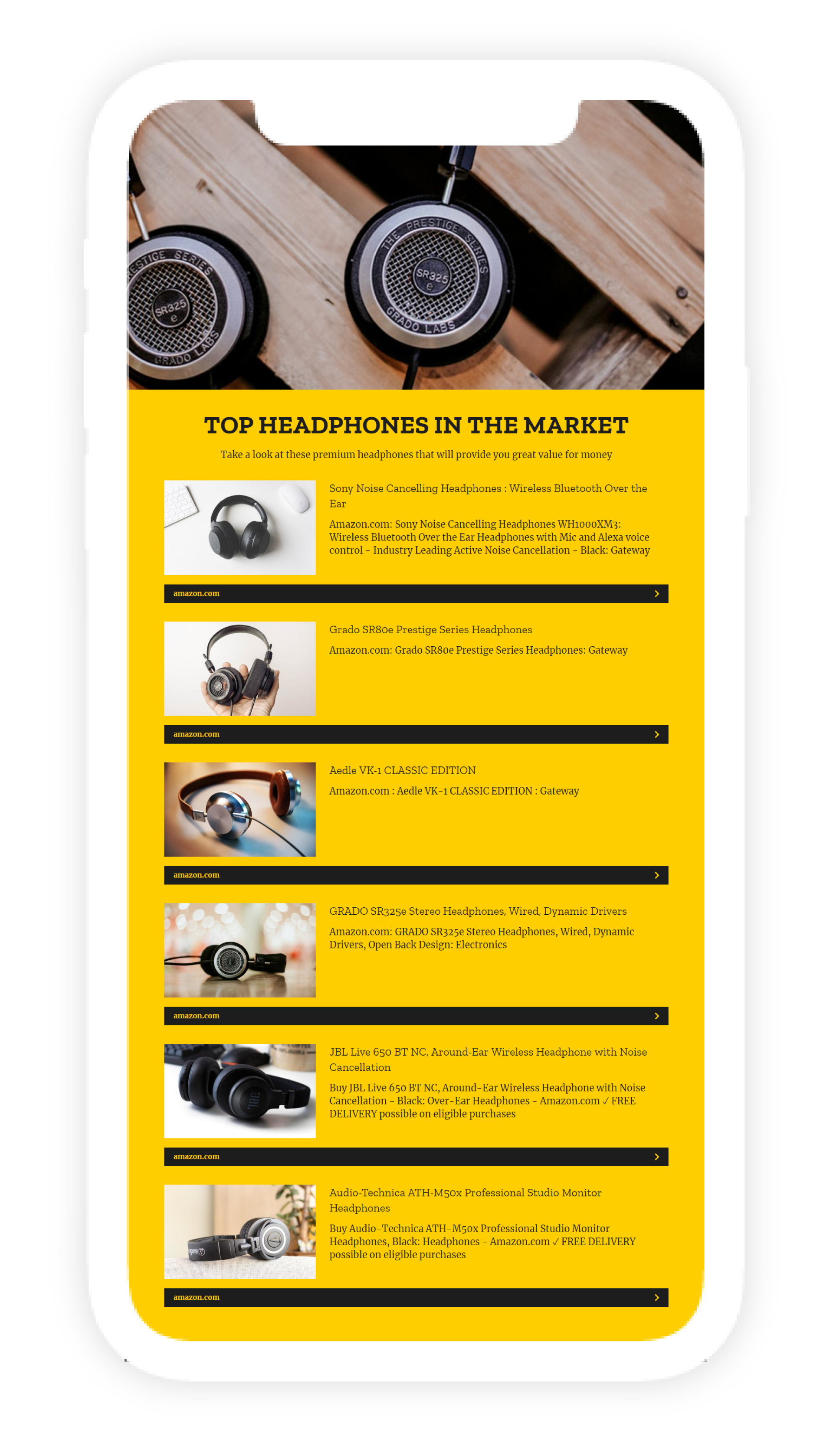 Influencers are often recommending affiliate products through their Instagram for people to buy. However, the single link in bio limits their ability to promote multiple products at once.
In order to make your Instagram feed shoppable, you can use a tool like elink.io. This tool helps you create a page that looks exactly like your Instagram feed and embed that page on your website, or blog. You can even share this page as an email newsletter and encourage your subscribers to buy.
There are also many Shopify apps like Covet.pics, Shop Instagram and UGC, and Snappt that can create a shoppable Instagram gallery page that gets added onto your website that includes all of your Instagram posts.
Read more: 11 Best Link in Bio Tools in 2022
Instagram Hack #20: Choose your video thumbnail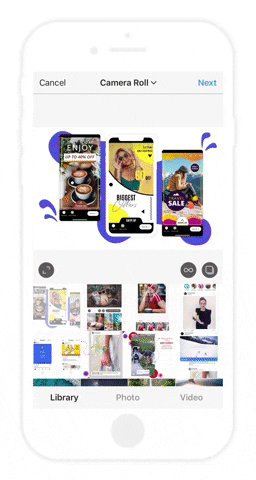 The video thumbnail is one of the most important aspects of a video that often gets ignored. If you want to stop the scroll and have people watch your video, you need to grab their attention with an awesome video thumbnail.
How to Choose Your Instagram Video Thumbnail:
Click the middle button on the bottom
Click Video and create or upload a video
Click Next
Choose the "cover" tab from the bottom.
Scroll through the different stills of the video to choose the right thumbnail
Click Next
Select the frame which depicts your video in the best possible way and is also fun to look at!
Instagram Hack #21: Post multiple times a day
This is one of those generic pieces of advice you'd find everywhere online. However, it doesn't take away from the fact that it's solid advice too. People from all over the world with different timezones follow your account on Instagram. There's never going to be a "best time to post," even though we keep debating it over and over again.
The truth is, you need to post several times a day to accommodate multiple time zones. Not only that, but people are increasingly spending more time on Instagram than ever. According to Recode, the average Instagram user (on Android) spent 53 minutes daily on the app. This means that people are checking Instagram several times a day, and each time they open the app, they expect to be greeted with fresh new content.
If you can't post multiple times, make sure you publish at least one post every day.  If you don't post for a few days, you're compromising your account's potential for organic growth. Instagram often rewards accounts that post consistently and can even punish your organic reach if you haven't posted in a few days or weeks.
Instagram Hack #22: Mix it up!
The reason you are on Instagram is to get more sales- we get it. But that doesn't mean that you need to be salesy all the time. You can mix up your Instagram content by posting high-quality photos and videos related to your content.
Nobody wants to see product photos all day. Instagram is the place where brands showcase their personality and try to be a "part of the community."
For example…
Women-focused co-working space and community, The Wing, has a fun vibe to their Instagram. Apart from sharing photos of their modern co-working spaces, they also showcase their personality by often sharing quotes from pop-culture and fun images like the one shown here.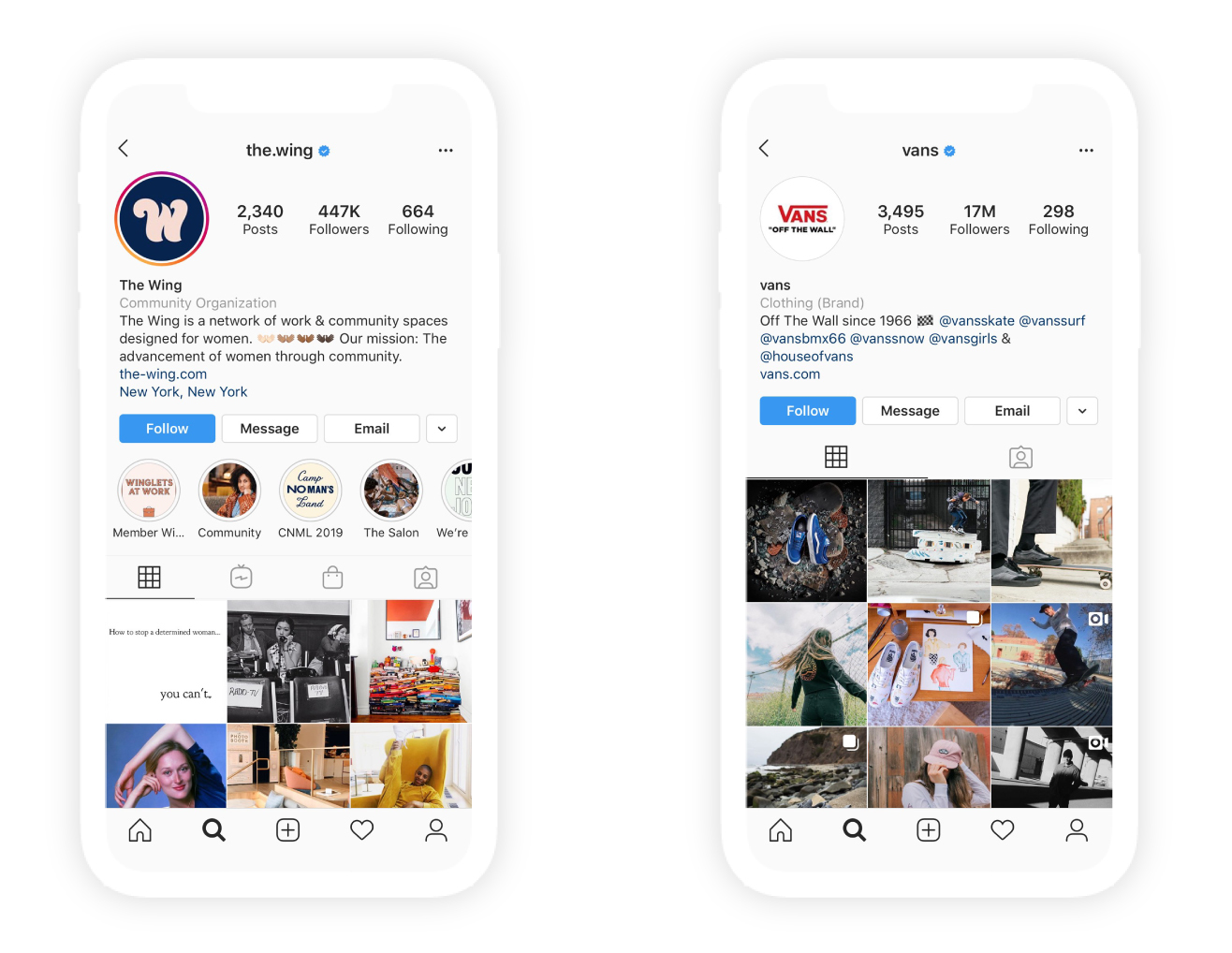 Another great example of mixing up content for Instagram is Vans. Apart from sharing their shoes, bags, and other products, they are often seen sharing skating, surfing, and BMX videos to showcase their brand as cool and hip.
Instagram Hack #23: Display the Products the Right Way!
Product photos can be pretty bland to look at if you aren't doing it right. Instagram is all about the visual appeal and how you display your products can make all the difference. If your product photos are dull, nobody on Instagram is going to follow your account, let alone buy what you have to offer
A great hack to make your product photos look original is by placing them on cool backgrounds.
Take a look at Swatch's Instagram account. See how they form a pattern with their product photos? Their photos are a mixture of Swatch watches on cool, flashy backgrounds and people wearing their watches.
Mac Cosmetics often displays their product- a lipstick, with a vibrant picture of a model's lips along with text overlay conveying their powerful messaging.
Woodland, the famous shoemaker, showcases its products in their "natural habitat" (i.e. the outdoors). Woodland makes products for adventure lovers and displaying their products in the outdoors signifies their sturdiness and longevity.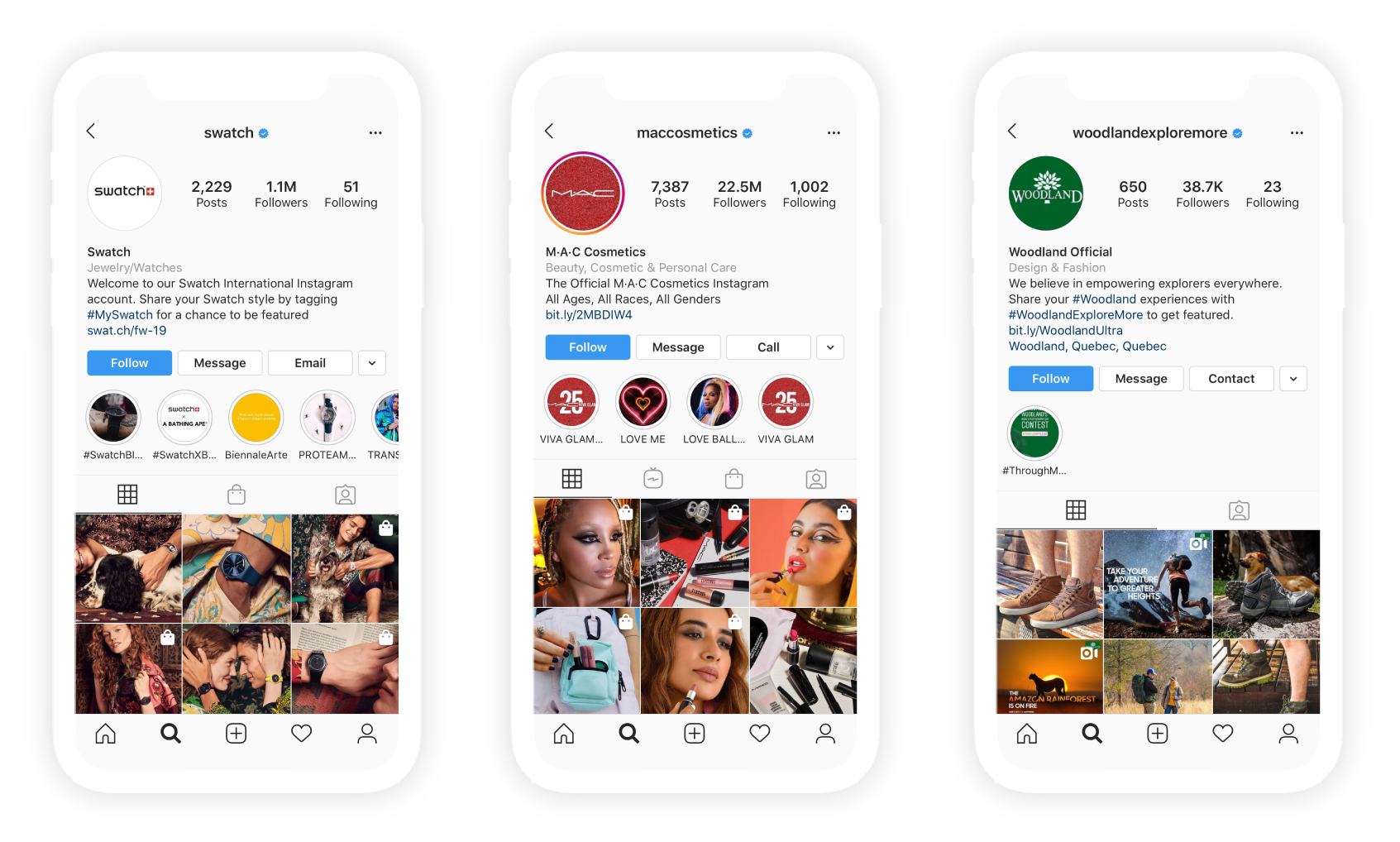 Simply clicking pictures of your products in your office and posting them on Instagram will not result in much traction. Take a page out of these big brands' playbook and place your products on cool backgrounds and watch your Instagram feed turn into a lifestyle magazine!
Instagram Hack #24: Bookmark Cool Content
Back in 2016, Instagram added the ability for users to save or bookmark content for future reference. Every picture or video you see on Instagram has a bookmark icon next to it. Clicking it will save that post in your collection which you can later go back to.
This is a great feature, especially for marketers and brand managers. Whenever you come across a great post or ad from any competitor or contemporary in your niche, you can bookmark the post for inspiration. This is somewhat similar to what Pinterest users do when they create a Pinterest board. However, Instagram collections are strictly private.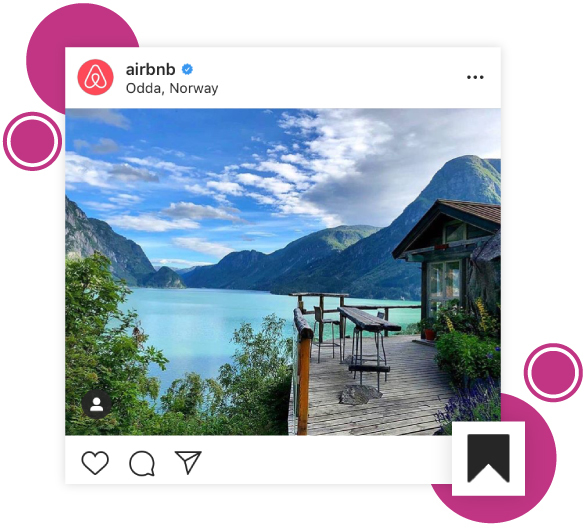 Going through your saved ads and content can help give you a ton of fresh ideas for your own and content and at the same time, keep you on top of industry trends.
To save an image:
Click the bookmark icon below the image
Save to Collection
Enter a name for your collection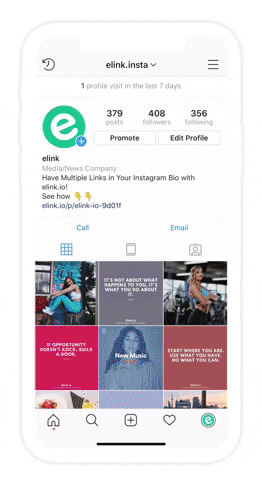 To make multiple collections:
Go to your profile
Click the hamburger menu in the right corner and click on 'saved'.
Click the + symbol
Add a collection name
Click Next
Check the image you want to add to that collection
Click Done
Saving posts can help you keep an eye on the competition and at the same time, keep you inspired.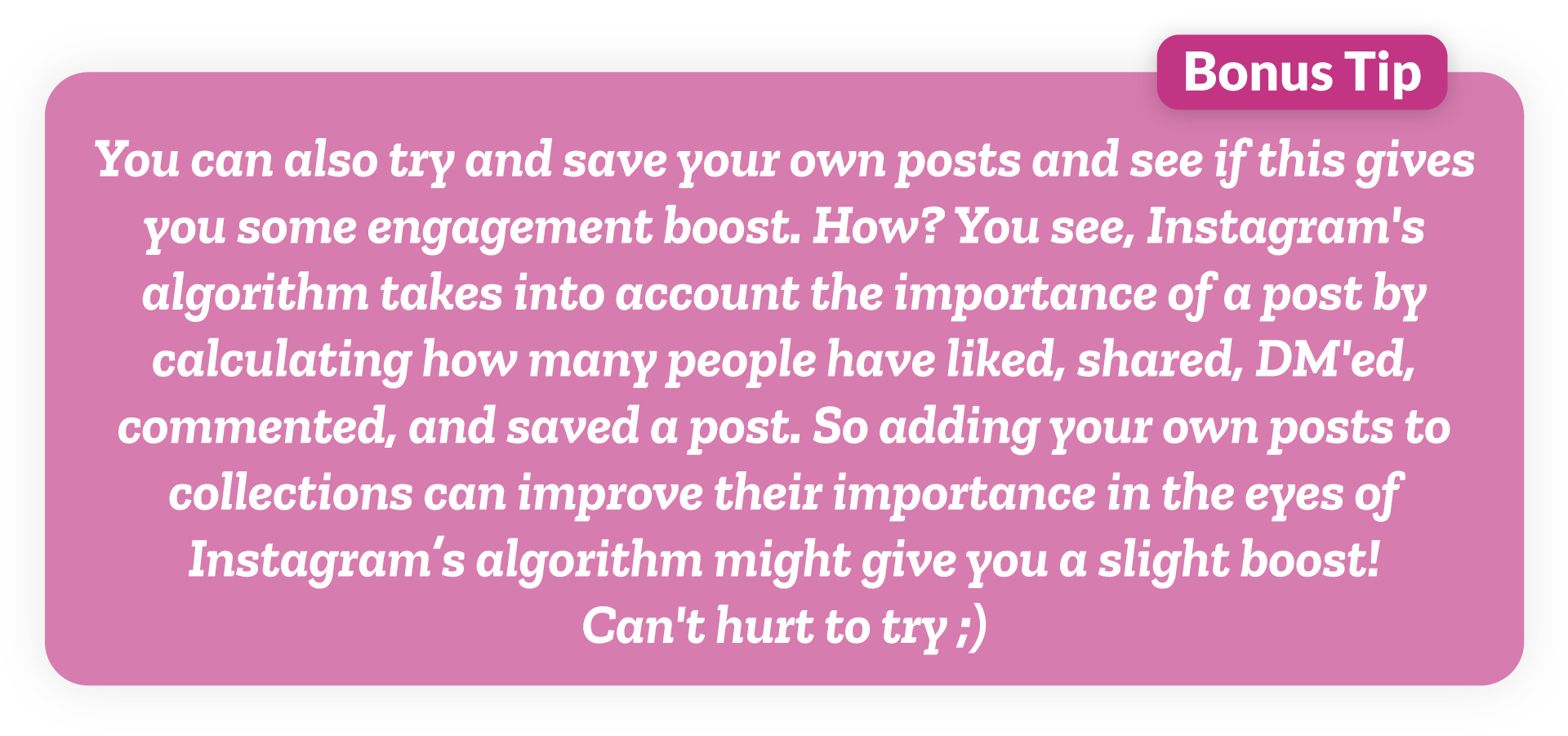 Instagram Hack #25: Follow Hashtags
Back in 2017, Instagram allowed users to follow a hashtag so that anyone who uses that hashtag can appear in their feed. Now, this doesn't mean that everyone that uses that hashtag will start populating your feed. Rather the ones that appear on your feed are HIGHLY TARGETED. 1% of the 1%!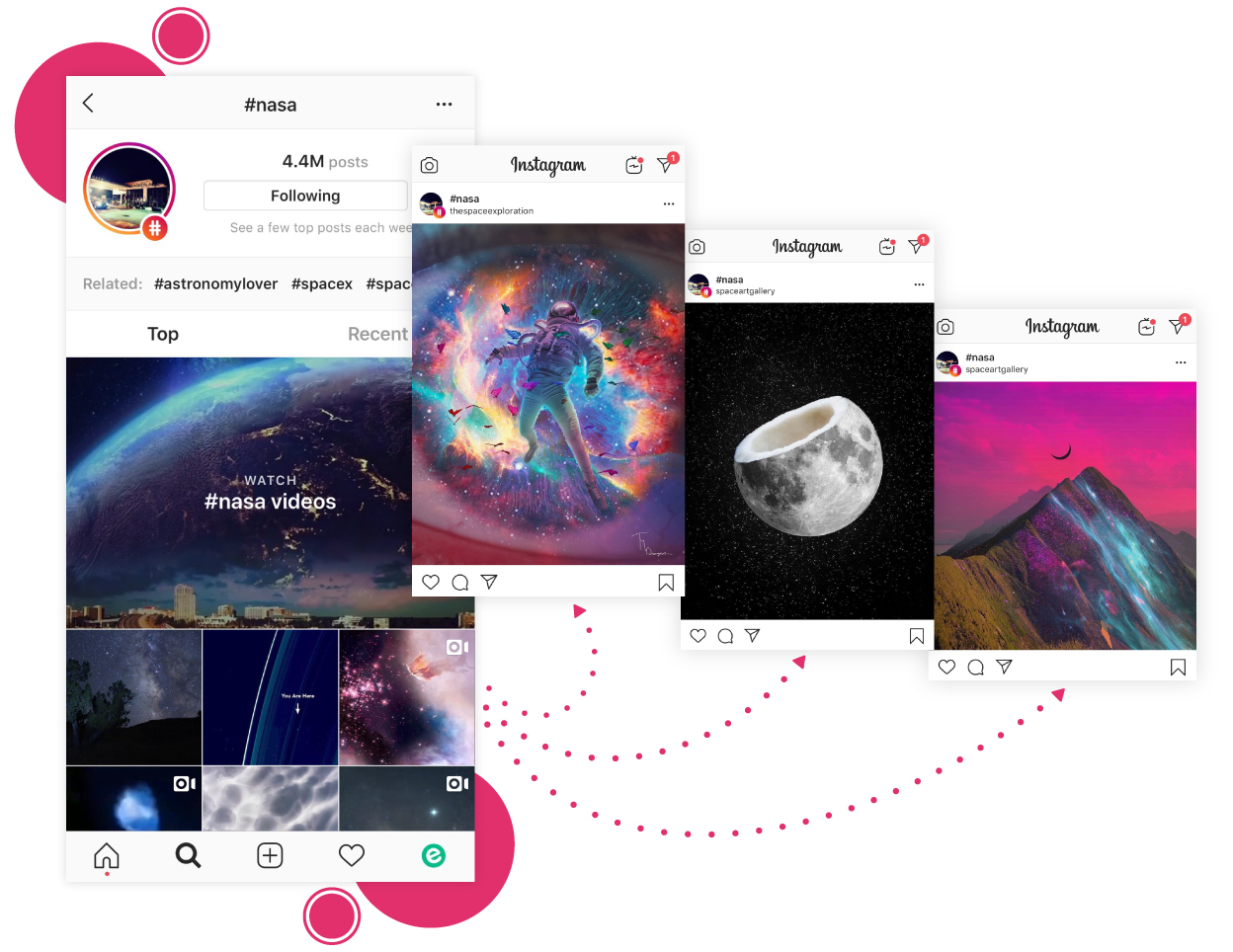 Instagram algorithmically selects the best hashtag posts based on factors such as recency and quality.
As marketers, it's a great opportunity for us to stay on top of trends and see what posts are appearing for a certain hashtag. Keep an eye on the photos that appear in your feed after you've followed a hashtag. These photos are the absolute best (according to Instagram). Study these hashtag posts and see how you can use them to better the reach of your content!
Instagram Hack #26: Add Long Captions
Instagram cuts off long captions by adding the three dots ("…") and asking people to click on it to read more. Having the most important information at the beginning makes sure that Instagram doesn't cut off your text. It also makes sure that everyone who views your Instagram photo won't miss your important information.
However, that doesn't mean that we encourage you to write short captions. It's quite the contrary.
Even though Instagram started off as a photo-sharing app for visual aficionados, it has morphed into this full-fledged social networking site with a billion users worldwide. People from all spheres of life- be it an artist, dancer, chef, or software engineer- everyone uses it to share the latest happenings in their life. Facebook is no longer the place for friends to virtually "hang out".
In order to tell your story effectively, you need to make use of all three forms of communication, i.e. audio, video, and text.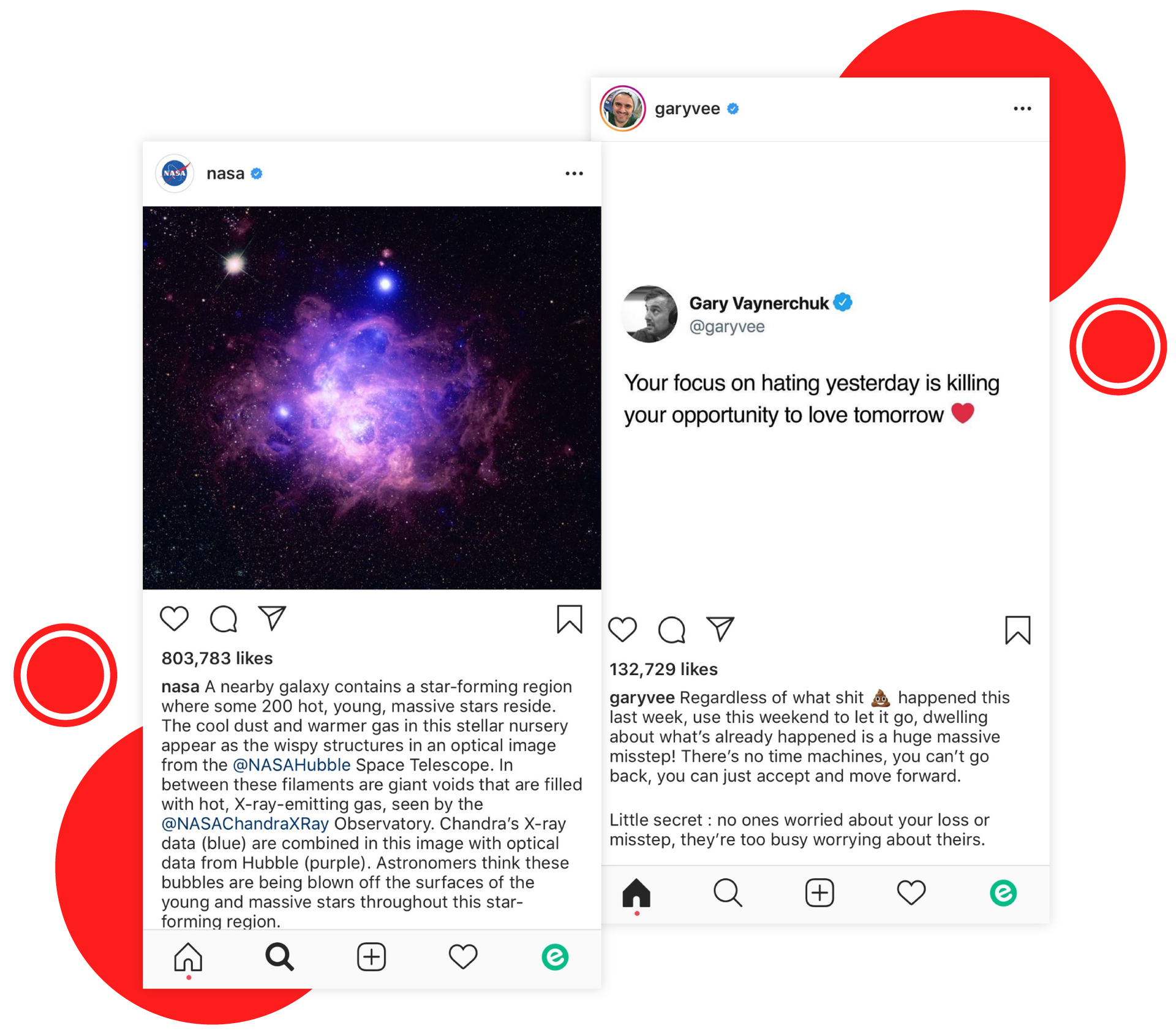 Writing long, detailed captions can help you amplify the message you are trying to convey via the photo. It's important to use different methods to engage your audience for an immersive experience, rather than just having them view and liking photos.
For example, take a look at how NASA explains the deep mysteries of outer space via their mesmerizing photos accompanied by a detailed description of it.
Entrepreneur and internet phenomenon, Gary Vaynerchuck, often posts motivational photos and videos on his Instagram which are accompanied by the further distillation of the image. He focuses on how one can implement the true meaning of the said quote in his/her life.
Instagram Hack #27: Hack Your Photos by Adding Text
If your photos seem generic, there's a good chance that they will get lost in your follower's feed. In order for you to stop their incessant scrolling and pay attention to your post, you can a bit of text to it to stand out.
For example, if you are gym trainer you can post an awesome shot of your gym and overlay it with text that says "work hard, play harder" or "gym forever" (I'm sure you can come up with better taglines than this😜).
Make the text eye-popping so that if your image failed to stop a person from scrolling, your text will.
There are a ton of photo editing apps that can help you add text to your images. Below are some of our favorites: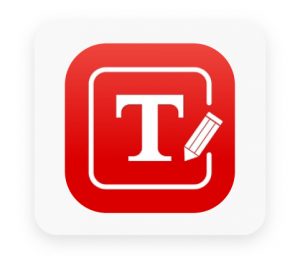 Add Text on Photo
With over 800 fonts categorized by language, serifs, display, handwriting, and monospace. Apart from Instagram photos, users can also create memes, quotes, Instagram stories, Youtube thumbnails, banners, cover photos with captions, word art, posters, flyers, invitations, logos, etc.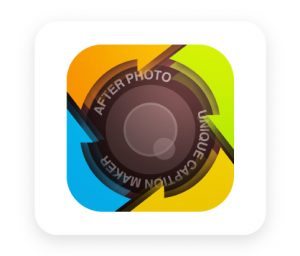 After Photo by Image Studio
If you are an iOS user, After Photo is a great app to add text overlay to images. You can easily add and manage multiple text layers and make stunning text photos with their wide selection of filters.
Instagram Hack #28: Schedule your Instagram Posts
Whether you use Instagram professionally or for a side-gig, remembering to post consistently can be challenging. Posting on time is crucial, especially if you have deeply studied your audience and know the exact time slots for maximum engagement.
To make it easy for you to remember, use an Instagram post scheduler.
We use Buffer to post consistently on all our social media channels. You can schedule posts, track the performance of your content, and manage all your accounts in one place. The free account allows you to schedule 10 posts at once, which is a great deal for people with budget constraints.
Instagram Hack #29: Safeguard your Instagram Against Hackers
Suppose you are following our Instagram Marketing Hacks guide by heart and your account is getting popular with every passing day.
Growing your account is great until your account gets hacked! Popular Instagram accounts are vulnerable to hacks and should be protected. A simple hack you can deploy right this second is by using two-factor authorization for your Instagram account.
If you set up two-factor authentication, you'll be asked to enter a special login code or confirm your login attempt each time Instagram is being accessed on a new device.
There are several two-factor authentication methods you can use with your Instagram account. To get started with two-factor authentication, choose either:
Here's how you can add an extra layer of security to your Instagram account and set up two-factor authentication:
Go to your Instagram profile.
Click the hamburger menu in the right corner and click on the 'settings' button located at the bottom.
Click on Safety and then inside 'Login Security', choose "Two-Factor Authentication."
Click on the Get Started button.
Choose your security method (i.e., how would you like to receive the security code)- either via text message or via an authentication app.
If you choose the text message option, Instagram will send a 6-digit code to your mobile number to confirm your number.
If you choose the authentication app option, Instagram will send a code to your 3rd party authentication app like Duo mobile or Google Authenticator.
Wait for a text message to get sent to your phone and enter the code.
Screenshot your Backup Codes

Instagram Hack #30: Emojis are Awesome!
The research found that when we look at a smiling emoji face online, the same parts of the brain are stimulated as when we look at a human face. This means that emojis actually show a real effect on human beings!

In order to understand how emojis are used on Instagram and do using emojis in posts affect engagement, Quintly analyzed around 29,000 accounts with 5.5 million posts between January 1 and July 31, 2017.
Their analysis shows that there's a 15% higher interaction rate for posts with at least one emoji as compared to those with no emojis.
AgoraPulse did a similar experiment and although their result was not as profound as Quintly's, they still say a 2.94% increase in engagement between posts with and without emojis.
It certainly wouldn't hurt your brand to use emojis on Instagram. It's an awesome way to better get your point across and a great opportunity for your brand to come out as fun and exciting. Make sure to add 1-2 emojis to your captions or even in your bio to show off your fun side 😉
Instagram Hack #31: Create Viral Stuff
Social media is an obvious channel to skyrocket your growth efforts and leverage word-of-mouth marketing. Posting content around your product on social media and having it shared on a large scale is the key to growth.
The steps that you go through between inviting more users to your Instagram account is called a "viral loop." Each follower gets one (or more) more people to also become a follower.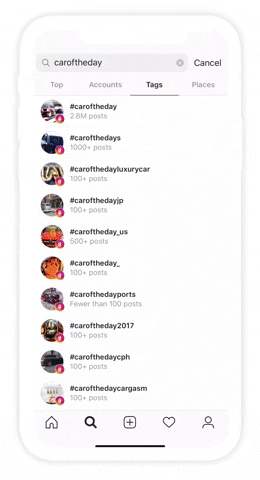 This viral loop is a measurement used for rapid growth rates of customers, sign-ups, followers, etc., and is one of the prominent tactics in marketing.
Creating good quality, timely, and relevant content are some of the main ingredients of viral growth. But who decides what is good content? We often get attached to the content we create and all of the efforts we put in. It leads all of us to think that the quality content we create has the potential to go viral. Unfortunately, that's far from reality.
A good way to ensure you are creating top-quality content for Instagram is to study the explore page and the top posts for each of your most prominent brand hashtags.
For example, if you are run an online store for automotive parts, your key hashtags have to be #cars, #carlovers, #caroftheday, and the likes. If you search these hashtags on Instagram and go through the 'top posts' of each hashtag, you are bound to find some similarity between top-ranking content across different hashtags in the same niche.
You can then try and emulate that visual / written content and study their hashtag strategy and give yourself the best chance of making it to the top of the Instagram explore tab.
Instagram Hack #32: Use Instagram Grids to Stand Out!
Have you ever seen people posting multiple images and forming a collage like this:
Posting elements of your picture until it forms a grid is a great way to get creative on Instagram. Brands and celebrities often use this puzzle style posts to make a big announcement on Instagram.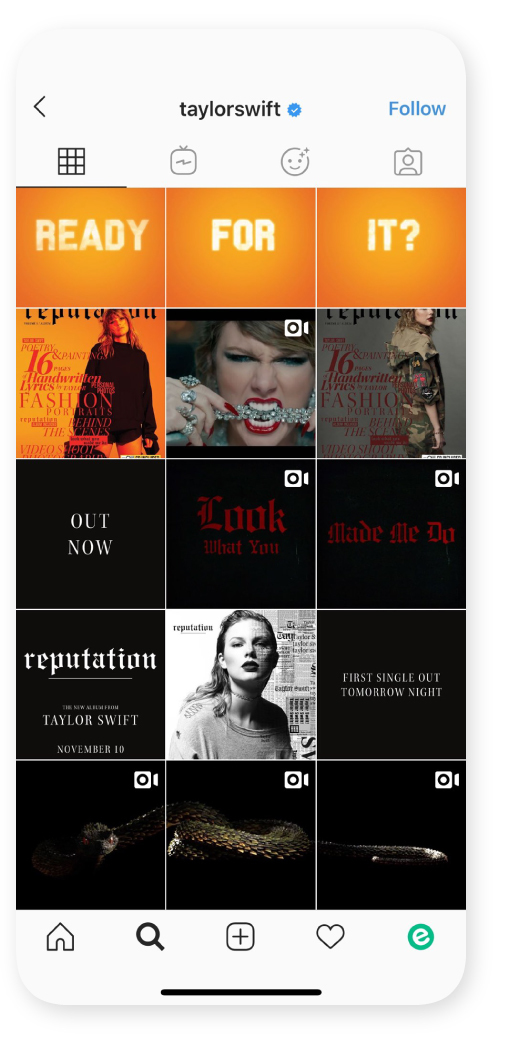 For example, for the release of her album Reputation, megastar Taylor Swift deleted all her previous Instagram photos and posted a video sliced into 3 separate posts to entice her fans.
Grids are great for announcements and the overall aesthetics of your Instagram and look amazing when you go through the entire feed.
However, until a full row is completed you can end up with these sliced-up images in your feed individually, it can get annoying for some.
Nevertheless, Instagram grids are a fun way to stand out of the crowd and showcase your creativity as a brand (or as an individual).
A fun way to use Instagram grids can be to post them like puzzle pieces and ask your followers to comment on what they think would be the next image!
This will not only increase engagement on your account but will also cause people to come back to see the completed puzzle.
If you want to try your hand at using Instagram grids, you can use one of the following tools: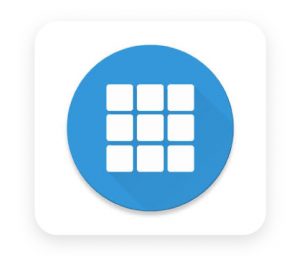 9square for Instagram (Android):
With over a million downloads on the Play Store, Grid for Instagram is a simple app to create grids. You can crop any picture into 2×1, 2×2, 2×3, 3×1, 3×2, 3×3, 3×5, 3×6, grids.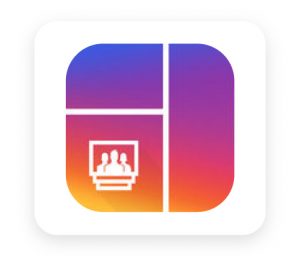 Grid Post Maker for Instagram (iOS):
Another great app for making grids, Grid Post Maker allows you to make 50+ types of grids for Instagram.
Instagram Hack #33: Mention Accounts in your Bio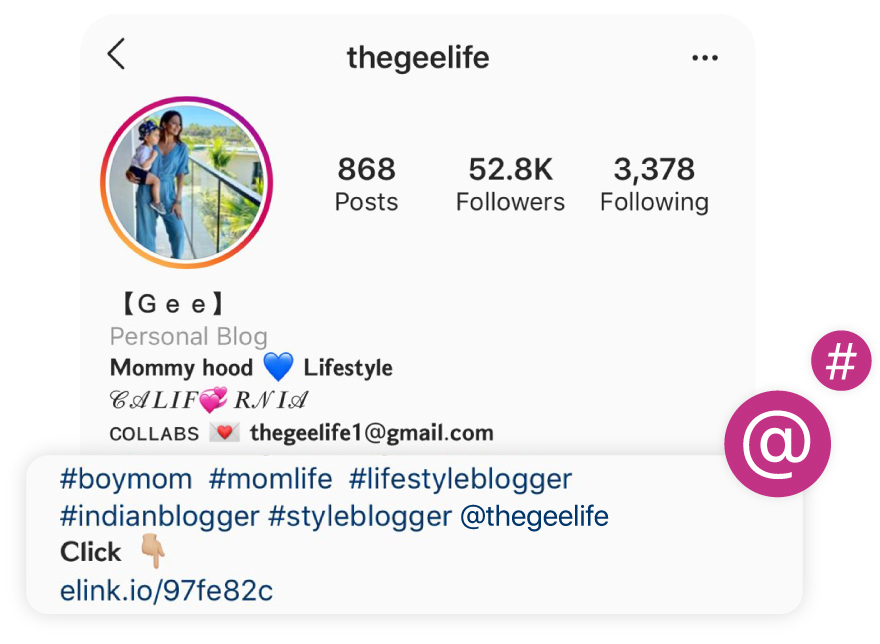 Last year in March, Instagram introduced a new feature – the ability to include clickable hashtags and profile links in your bio. Now when you include a # or @ in your bio, they become live links that lead to a hashtag page or another profile.
Now, why would you want to @mention other accounts in your bio? Well, Instagram has always been a place for self-expression, and now there are even more ways to express yourself and your interests by adding hashtags and your favorite account links in your bio.
As marketers and influencers, we can @mention our own business accounts to cross-promote and get more followers.
To add a hashtag or profile link in your bio, just tap on Edit Profile and go to the bio section. When you type a # or @, you will see a list of recommended hashtags and accounts in the type-ahead. Once you select the hashtags and accounts you want, they will automatically be linked in your bio.
Instagram Hack #34: Zoom into Photos
Zooming in on an Instagram photo is particularly useful when you are doing competitive research and you want to see the fine details of a product that a competitor is selling.
Instagram Hack #35: Make your Bio and Captions More Presentable
When you write your Instagram bio or caption, Instagram doesn't provide you with any formatting options. Your text comes out as a paragraph that doesn't look presentable especially if you are writing a long caption. Adding line breaks and giving your content some breathing space is a good way to make sure your content is readable and enjoyable.
Since Instagram doesn't allow you to add a line break, you cannot directly write your captions or bio inside your Instagram App. You need to write your caption inside a note-taking app and then copy and paste it to your Instagram.
How to Add Line Breaks on Instagram:
Open up your phone's default note-taking app. Alternatively, you can download Google keep.
Write your caption or bio in your notes app. Format it as you want it to appear on Instagram.
Make sure you don't have a blank space between two paragraphs.
Copy and paste the caption or bio into Instagram.
Instagram Hack #36: Turn on Instagram Notifications to Stay Vigilant
Earlier in this guide, we talked about Instagram's algorithm and how it shows you the most popular Instagram posts first. If you follow a lot of people, you might miss out on some great posts. This is why Instagram came up with the notification feature where you can turn on notifications for any account and get notified as soon as they upload a new photo or video.
This is an extremely important feature if you know how to use it. Keeping an eye on the competition is a crucial part of any businesses marketing strategy.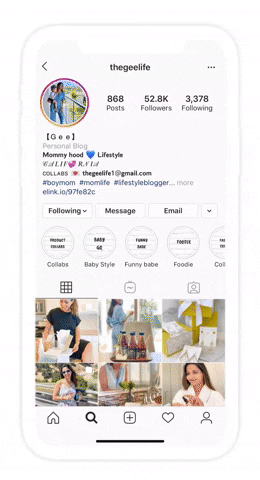 By turning on post notifications for your competitors, you can always stay vigilant on Instagram and see whatever they are posting as soon as they post.
You can also turn post notifications on for influences and affiliates who are working with you so you can see exactly their sponsored post goes live.
Lastly, if you have a few super fans who are constantly bragging about using your product online, you can turn on post notifications and always engage with them (like tier post or leave a thoughtful comment) in an attempt to humanize your brand.
To turn post notifications on or off:
Go to their profile.
Tap Following > Notifications.
Tap next to Posts to turn notifications on or off.
Instagram Hack #37: Create Instagram Boomerangs
Instagram Boomerangs are GIF-like videos that play on a loop. If you are thinking of adding a bit of flair to your brand account you can try these out as they are very popular amongst the Instagram community.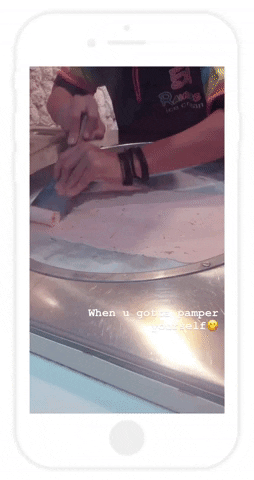 Boomerangs add a fun twist to your overall Instagram marketing and give you new content avenues to entertain your audience with. You can either use the Instagram app itself or download the stand-alone Instagram boomerang app to make awesome boomerangs.
Go to your Instagram feed and swipe right to open Stories.
At the bottom of your stories camera view, you'll see the words "Normal" and "Boomerang" and many more.
Select "Boomerang" to take a Boomerang video. Once you are in Boomerang mode, you'll see the camera button with a looping- infinity symbol on it.
Make your boomerang videos while holding that button on the bottom of the screen.
You'll see the silly looping clip you've created.
You are now ready to share your first Instagram Boomerang!
Instagram Hack #38: Instagram Takeovers
An Instagram takeover is when someone temporarily takes over another account and shares content with their audience (on behalf of a brand.) The takeovers are done by brands or influencers by collaborating with a celebrity, an influencer, or even a team member.
"It's the modern-day equivalent of guest appearances on rap albums."-Garyvee
Instagram Takeovers are one of the easiest ways to organically reach new followers and build brand awareness on Instagram. It's a win-win situation as both the brand and the influencer get recognition and awareness.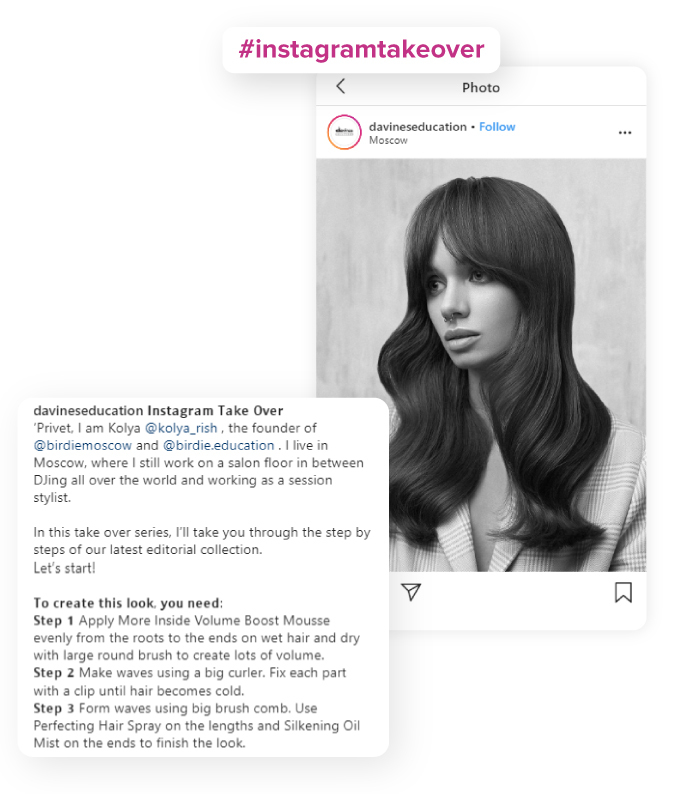 Gary Vaynerchuck, a well-known social media personality says Takeovers are a valuable marketing lesson every brand should take.
"Even if these don't work for you or your brand, the opportunity for these takeovers is a valuable lesson. When you see an opportunity where both parties get great results, when a "1+1=3," you need to go all in."
Even though Instagram takeovers are trendy nowadays, they have existed for a long time. Back in 2012, General Electric had a contest to determine their super fan and the winner was offered a trip to the GE Aviation facility in Wales to snap behind-the-scenes photos.
What was then considered a fun way to interact with your customers has now turned into a full-fledged marketing strategy to drive sales and awareness.
And with new features like Instagram stories and Instagram live, "story takeovers" are becoming common day by day.
If you plan on doing an Instagram takeover soon, keep the following points in mind:
✅ Set goals to watch
What do you want to accomplish with your Instagram takeover? Whether it's getting more followers, more brand awareness or more sales- defining your goal beforehand will influence the strategy and the metrics you choose to measure the success of the takeover.
✅ Who do you want as a guest?
The next step would be to select a candidate for your Instagram takeover. There are three main types of guest you can invite for an Instagram takeover:
Influencers
Your employees
Customers
✅ Choose a type of takeover
After you have pitched your chosen influencer and they have agreed to work with you, the next step would be to decide what type of takeover your brand should do. Thanks to Instagram, there are more than one ways in which an influencer can take over your brand account
Create Instagram posts
Instagram Stories takeover
Go live (maybe a Q/A session?) with your Instagram account
Promote the takeover
Promote your upcoming takeover by announcing it a few days or maybe even a week before and give your audience a heads up. You can promote the takeover in your Instagram on your feed and Instagram Stories (Bonus: Use the countdown sticker) and ask your takeover partner to do the same.
✅ Measure results
Measure the results of your Instagram takeover against the goals you set in step 1. Measuring results is crucial to determine what worked and what to improve next time you do an Instagram takeover.
Instagram Hack #39: Follow Prospects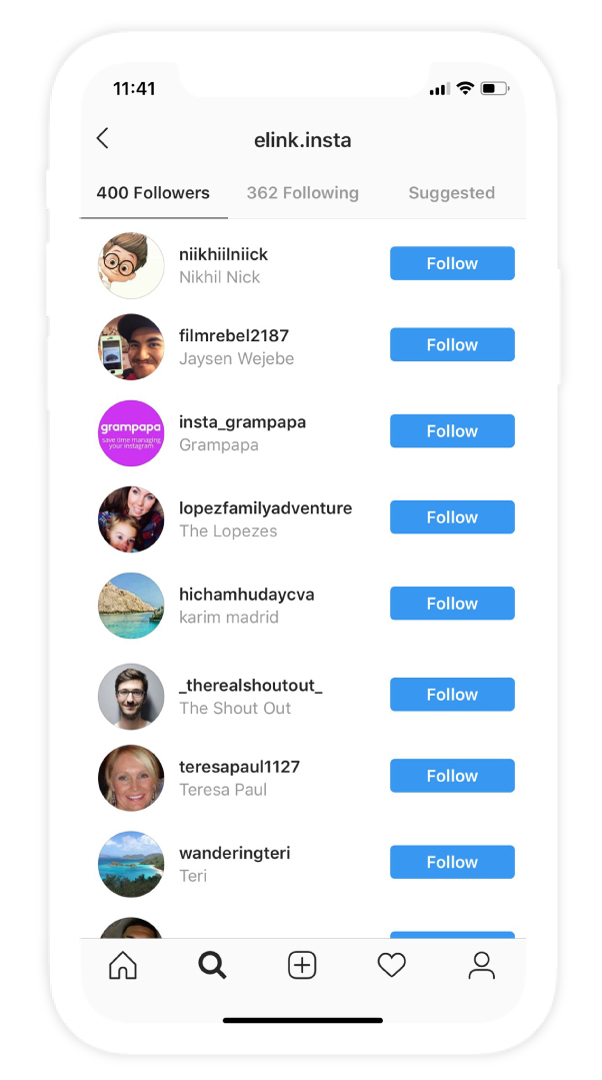 Don't worry this is not another follow-for-follow scheme. Well…not entirely! According to Chron, you can follow and unfollow 160 people each hour. Anymore will probably get you banned temporarily from Instagram.
We are not asking you to follow a bunch of people and then unfollow them.
We are asking you to follow ONLY relevant people and give yourself a chance to receive follow back. These people are most likely to be your future customers.
Finding relevant people on Instagram is pretty simple. Just click on any hashtag and explore accounts who are consistently posting using that hashtag.
For example, if you have an online coffee subscription business, find relevant hashtags related to coffee and follow people who are using these hashtags. Not everyone you follow will follow you back many will choose to follow your brand if it's relevant to them.
In this way, you increase your chances of getting discovered by your target audience and gain followers along the way.

Instagram Hack #40: Add Multiple Instagram Accounts
If you run a brand account or a successful Instagram page, you might have to regularly log out and log in to your different accounts.
However, you don't have to go through this time-consuming activity of logging in and out as you can now easily switch between 5 different accounts with the click of a button.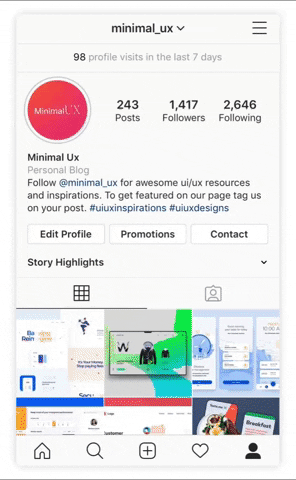 When you add multiple Instagram accounts, you can switch between them without having to log out and log back in. To add multiple Instagram accounts:
Go to your profile and tap.
Tap Settings.
Scroll down and tap Add Account.
Enter the username and password of the account you'd like to add.
Go to your profile.
Tap your username at the top of the screen.
Tap the account you'd like to switch to.
Note: You can add up to 5 accounts at once.
Instagram Hack #41: Run Contests to Gain Exposure
Did you know that accounts that hold Instagram contests grow their followers 70% faster over three months on average than accounts that don't? Shocking, right?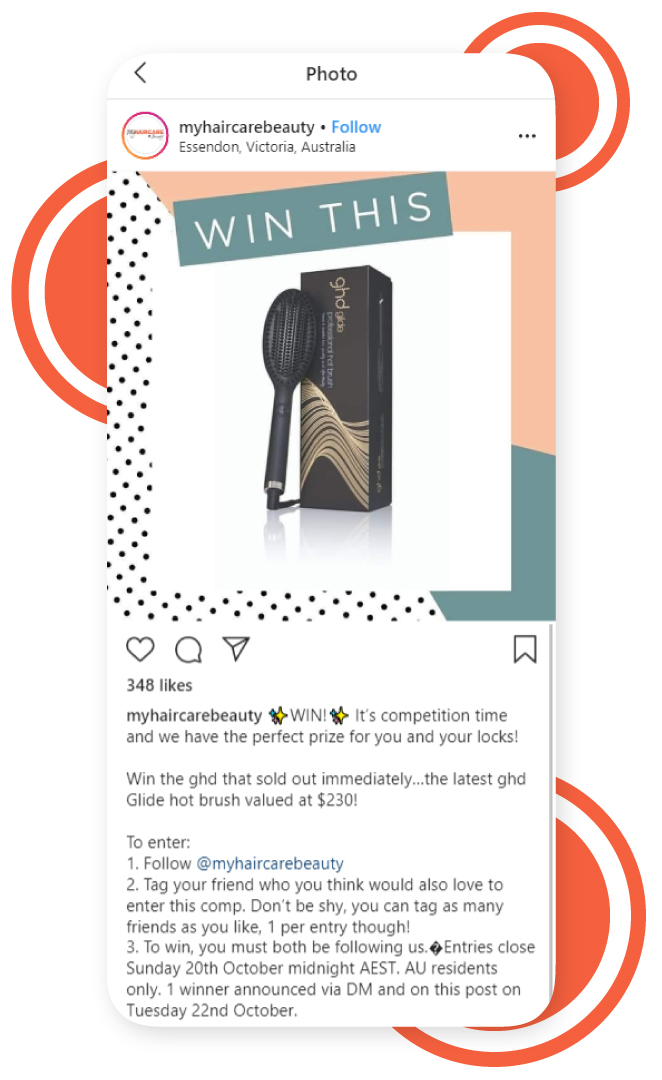 Holding a contest especially giveaways on Instagram is undoubtedly one of the best ways to gain tons of followers and engagement on your Instagram account.
To get the best out of an Instagram contest you need to have an audience of at least 5 to 10 thousand. However, even if you have a small Instagram account you can still experiment with giveaways and grow your account rapidly and organically.
There are a few types of contests you can run on your Instagram-
Like, Comment, or Follow your account for a chance to win
Tag or @mention a friend in the comments for a chance to win
Repost your branded post or share it in your stories
Selfie contest ( share your selfie with the product)
Using these common Instagram contest mechanics you can increase engagement on your Instagram account multifold and expose your content to a broader audience.
According to Tailwind, Instagram contests get 3.5 times as many likes and 64 times more comments on average than regular posts! On top of that, 91% of the posts that have achieved 1,000+ comments are contesting. Clearly, in terms of improving brand awareness and recognition, nothing comes close to holding an Instagram contest!
Note: Make sure you abide by Instagram's s promotion guidelines before running your contest.
You'll want to promote your Instagram contest not only via your feed but via Instagram stories too. You should also cross-promote your Instagram contest on your other social media profiles by sharing a Tweet, Facebook post, Pinterest image, etc.
Instagram Hack #42: Loop Giveaways
Speaking of contests and giveaways, a new type of Instagram contest that has gained a ton of traction in the recent past are giveaway loops (or loop giveaways?).
Instagram loop giveaways are contests that are co-hosted by multiple accounts and offer a big prize. Thanks to online personalities like Jake Paul and even the Kardashians, loop giveaways have quickly become a brand new, and at the same time, an effective marketing strategy.
To enter a loop giveaway, users must follow all of the participating accounts. A loop giveaway can typically involve 20- 30 different accounts that a user has to follow to enter the contest. Even though it seems like a lot of work, the incentive is usually big enough to lure the participants in.
For example, Jake Paul and Team 10 recently hosted an Instagram loop giveaway with prizes worth $100,000! Users had to do follow everyone that Team 10 was following and tag 10 friends on Team10's recent post to enter the contest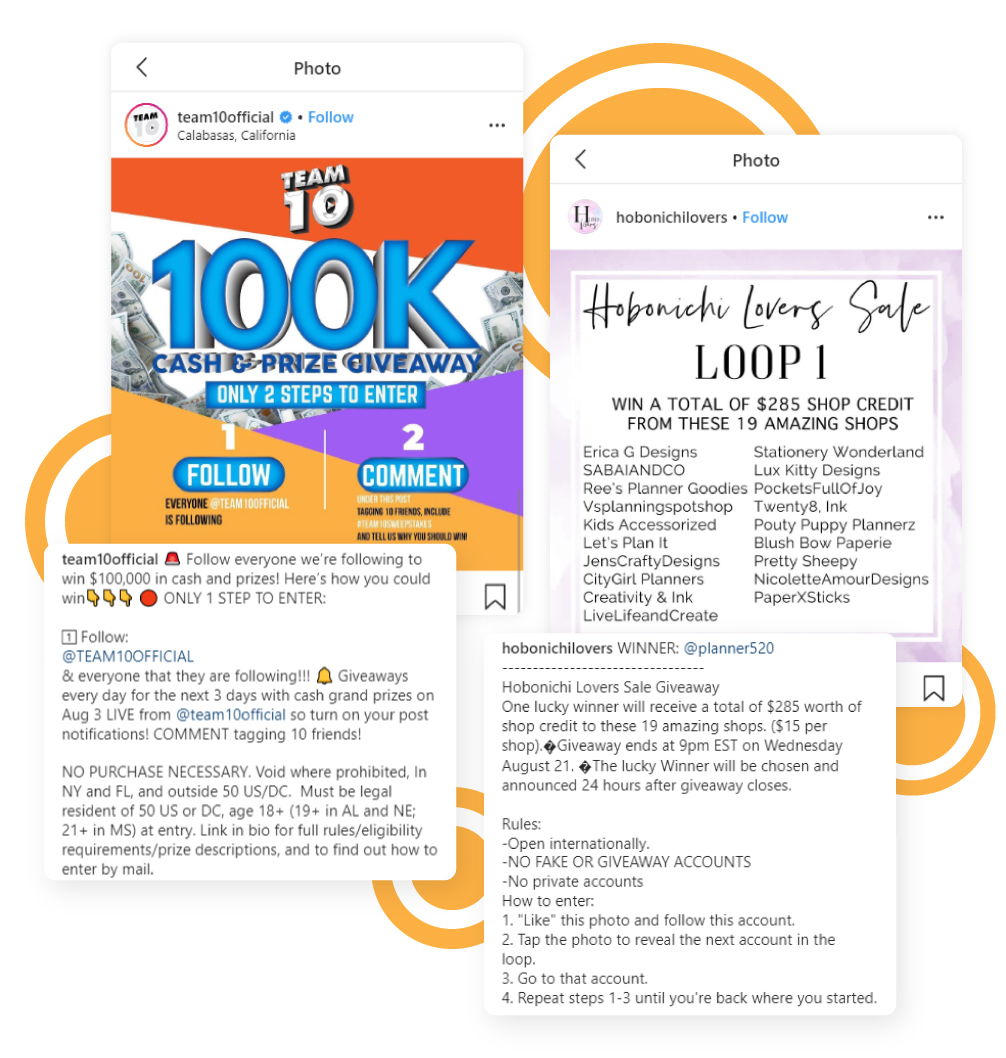 Similarly, Hobonichi lovers hosted a loop giveaway on Instagram where users had to follow 19 different Amazing stores to win $285 worth of shop credit to these 19 shops.
By partnering with different accounts and using loop giveaways, you can cross-promote your Instagram and can get discovered by thousands of new people!
Instagram Hack #43: How to Hide Ads
If you are constantly seeing irrelevant ads in your Instagram feed there is an option to hide them.
How to hide Instagram Ads
You can hide an ad you don't like by tapping (iOS) or (Android) in the top right of the sponsored post and then choosing Hide Ad. You can also select why you don't want to see this ad (optional).

Even though you can hide irrelevant ads from your feed, you can't get rid of the ads completely- not that we recommend you to hide ads anyways. We would recommend you to save these ads and study their copy, the design, the color scheme used, etc. to understand what type of ads get maximum engagement and which one's don't.
Instagram Hack #44: Use Geotags
An Instagram Geotag is nothing but the location where your Instagram photo or video was taken. Whether you are a local business trying to attract nearby people to your store or you are a global brand trying to reach out to an audience in a specific region, geotags are massively underrated marketing tools.
If you run a physical store or restaurant, geotags are extremely crucial for your business. For example, when people add your geotag or location to their Instagram posts, you can easily find them and start engaging with their posts. You can also repost and show off fan photos taken at your brand location for social proof. Geotags are also a perfect way of finding your most engaging fans and local influencers to partner up and work with!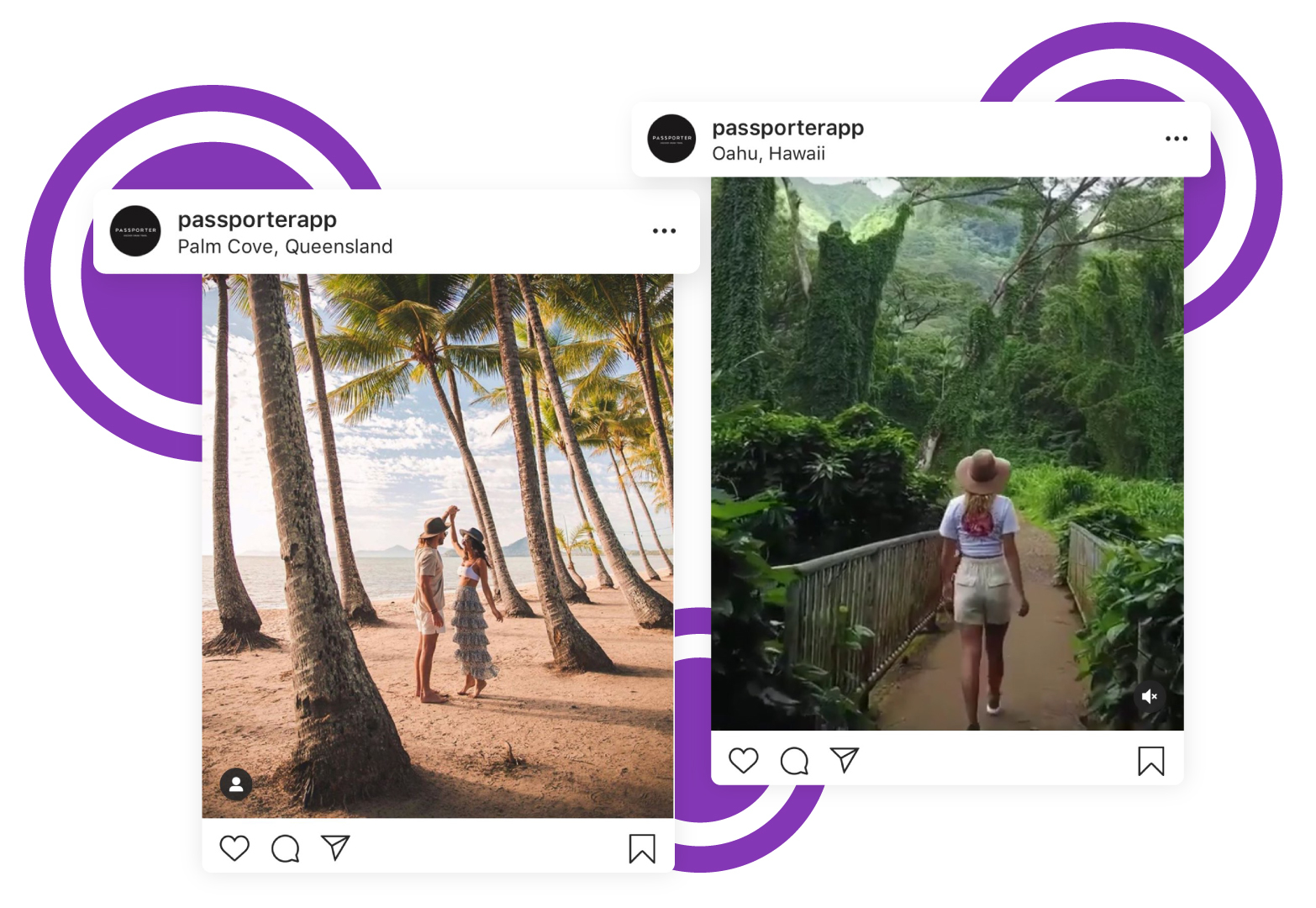 To Add a Geotag to an Instagram Post:
Add your image or video as you normally would.
On the screen where you add your caption, click on add your location.
Instagram will automatically show you nearby locations (if you have locations services turned on). If you don't see your desired place, you can search for more.
To Add a Geotag to an Instagram Story:
Instagram Stories also allows users to use clickable location stickers on photos or videos.
Upload a photo or video to your Instagram story as you normally would.
Click on the Sticker icon.
Choose the location sticker.
Add your location.
Instagram Hack #45: Instagram Insights
Measuring what works and what doesn't is key in producing quality content. If you don't know what type of content your audience likes to consume, you will never be able to give it to them regularly. This is where Instagram insights come in.
Instagram Insights is a feature that allows you to learn more about your audience and how your content is performing on the platform. You can learn key information like weekly/monthly/yearly top posts, engagement rates, demographics, time zones, and locations of your audience.
However, this feature is only available for an Instagram business account so make sure businesses you've already made the switch to a business profile on your Instagram account.
To view your account insights:
Go to your profile.
Tap the hamburger menu on the top left.
Tap Insights.
In the Activity tab, you can track weekly interactions, reach, and impressions. The Content tab lets you see how your posts, stories, and promotions are performing. The Audience tab gives important insights into your audience.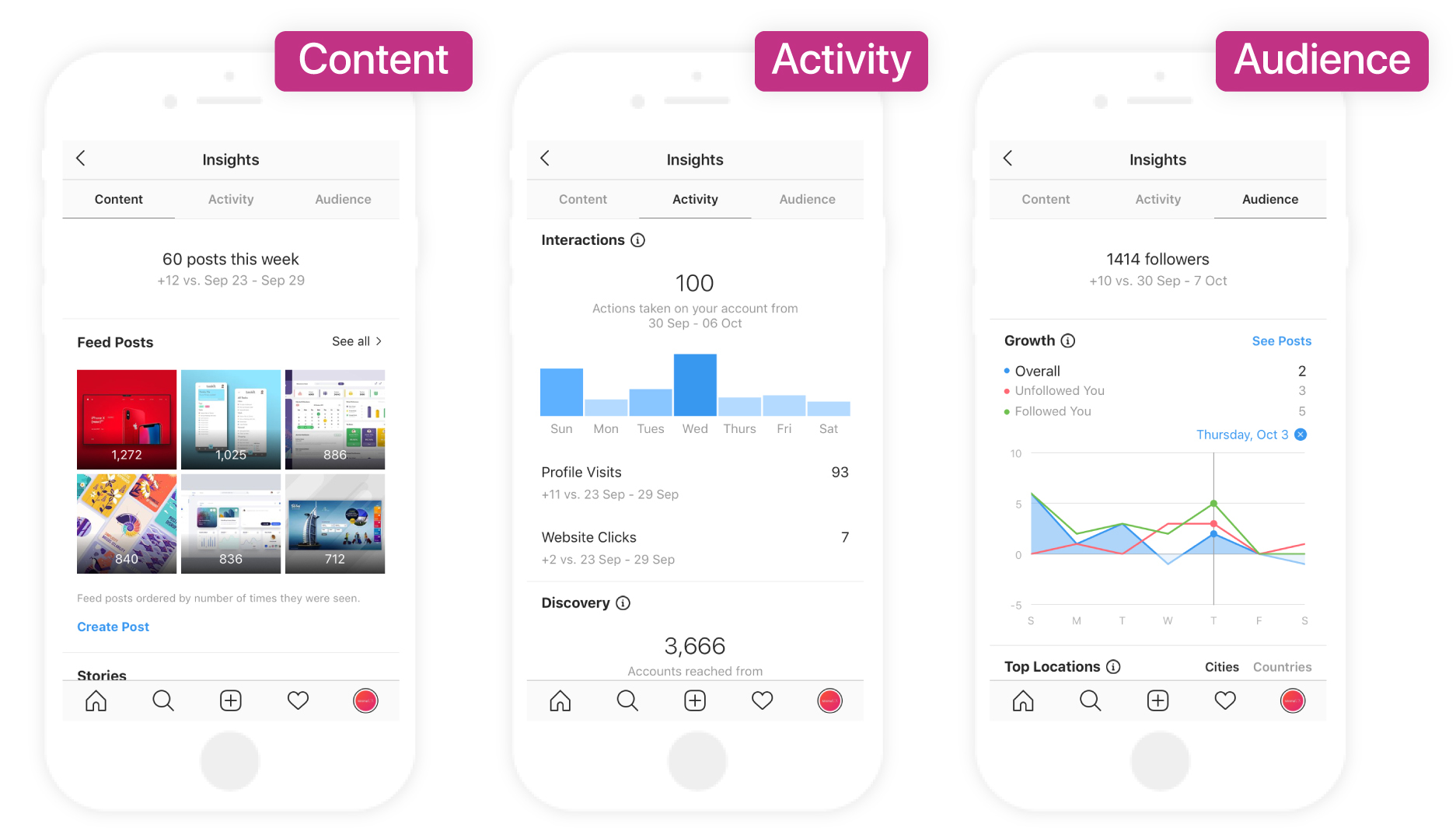 To view insights of a particular post, just go to the desired post and click 'View Insights.' You'll see the number of impressions, reach, and engagement numbers for your post.
Instagram Hack #46: Add Alt Text to Your Instagram
Alt tags are a description of photos for people with visual impairments. Instagram automatically creates these alt tags for your images, but you can replace this text to provide a better description of your photo. Keep in mind that this description will only be read if someone is using a screen reader to access Instagram.
Adding alt tags is also a great SEO hack. Till now, your photos on Instagram only had a description but no keyword that could signal the search engine what that photo is about.
Apart from helping the visually impaired,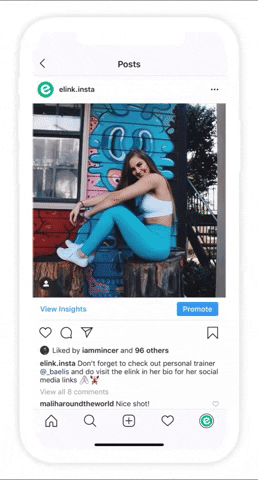 alt tags are also useful for people with slow internet connections. Instagram shows ALT tags if you happen to be in an area with poor internet connectivity and the photo can't load.
To see and edit alt text for a photo:
Upload a photo on Instagram.
Choose a filter and edit the image, then tap Next.
Tap Advanced Settings at the bottom of the screen.
Tap Write Alt Text.
Write your alt text in the box and tap Done.
To change the alt text of a photo after you've already posted it on Instagram:
Go to the photo and tap (iOS) or(Android).
Tap Edit.
Tap Edit Alt Text in the bottom right.
Write the alt text in the box and tap Done.
Instagram Hack #47: Join an Instagram Pod
Since 2016, the year when Instagram got rid of the chronological feed, people have come up with many different creative strategies to give their content an edge and have the algorithm work in their favor.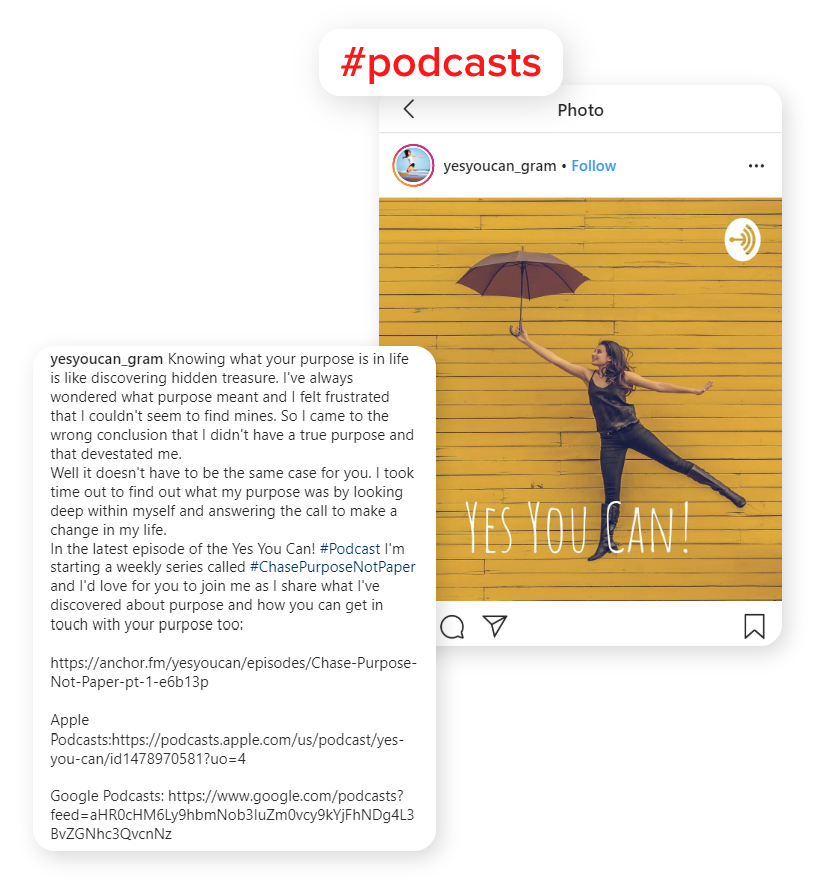 One such strategy is using an Instagram pod. An Instagram pod is nothing but a DM group of like-minded people who like/comment/share each other's photos and videos and help each other out in beating the algorithm.
Pods' rules vary, but essentially, whenever a pod member posts something new, they share that post in the DM group (pod) and everyone in the group is required to like or comment.
This gives an initial push to the post which is known to be one of the most important factors used in Instagram to rank a post in a user's feed.
It's mutually beneficial for everyone in the group since it operates on a like-for-like or comment-for-comment basis.
However, Instagram doesn't look too happy about these DM groups. In an article by Buzzfeed, it was reported that Facebook has suspended 10 such groups for helping hundreds of thousands of people trick Instagram's algorithm into showing their posts to more people. Instagram confirmed the 10 groups violated its terms of service, and that they had been taken down as a result.
Since Instagram is owned by Facebook, many Instagram pods have moved their residence from the DM to an encrypted app known as Telegram. 
Although Instagram pods haven't been officially banned by Instagram or Facebook, it is clear that they do not condone these DM groups. Also using an Instagram pod for getting higher engagement will skew your engagement metrics as it will be difficult for you to measure whether your content is resonating with their audience or your higher engagement is just because of a like-for-like group.
Instagram Hack #48: Share Stories to Facebook
Love it or hate, Facebook is here to stay. Even though you might not be using Facebook for your personal lives, ignoring its reach and scale can be catastrophic for your business.
Last year in May, Facebook announced that Facebook stories now has 150 million daily active users and is on track to beat Snapchat. Those numbers are too good to ignore and if your business is not making use of Facebook stories you are missing out on a huge chunk of potential customers.
Even though Facebook feeds can be messy, Facebook stories enjoy a prime location on the news feed (at the top), providing ample opportunity to promote your brand to new audiences.
If you don't want to spend time and resources creating stories for another social media platform, we have a nifty hack for you. You can easily repurpose Instagram Stories for Facebook Stories in a few easy and simple steps.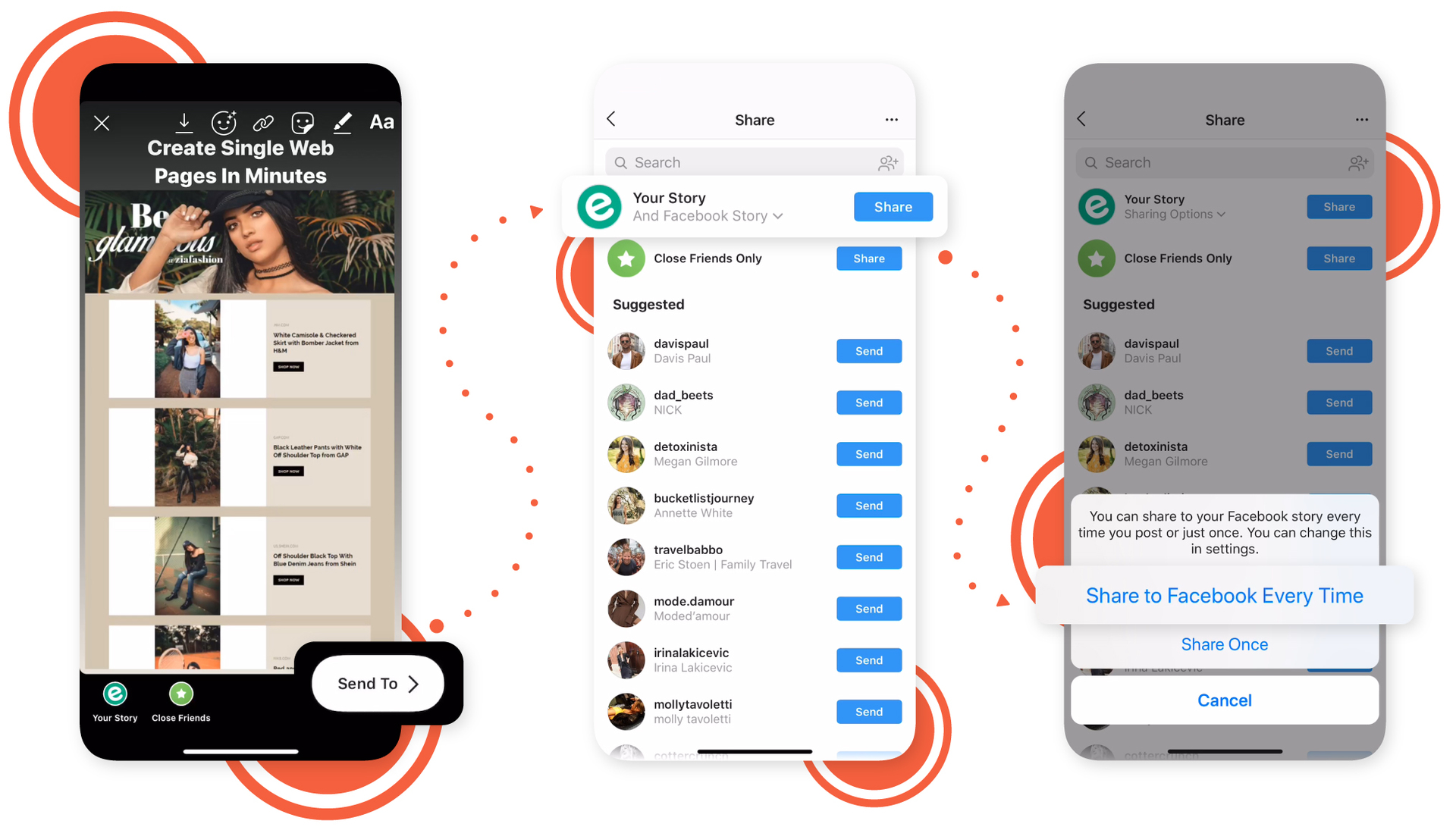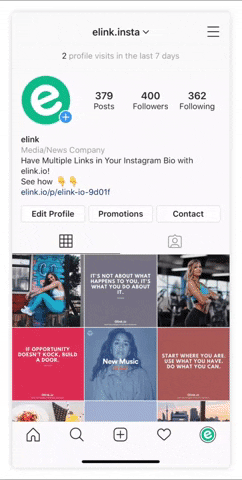 To share your story to Facebook:
Instagram Hack #49: Switch to an Instagram Business Profile
If you are using your personal Instagram account for your business, it's a good idea to switch to a business profile on Instagram. With an Instagram business account, you can get a ton of valuable information and learn how your audience is interacting with your content.
You can then take this invaluable information, tweak your content, and make sure that your future posts and stories are something that your audience is bound to enjoy.
With an Instagram business profile, you can see real-time metrics on how your stories and promoted posts are performing, get valuable insights into how your fans and followers are interacting with your content and unlock exclusive features that make it easier to get noticed and drive sales.
You can also set up business hours, phone numbers or location to make it easier for customers to contact you.
Set Up a Business Account on Instagram
On Instagram, you can convert your account to a business account to get access to features to help establish a business presence and achieve business goals.
To switch your profile to a business account:
Go to your profile and tap
Tap Settings
Tap Account.
Tap Switch to Business Account.
We recommend that you connect your business account to a Facebook Page that is associated with your business. This will make it easier to use all of the features available for businesses. At this time, only one Facebook Page can be connected to your business account.
Add details such as your business or accounts' category and contact information.
Tap Done.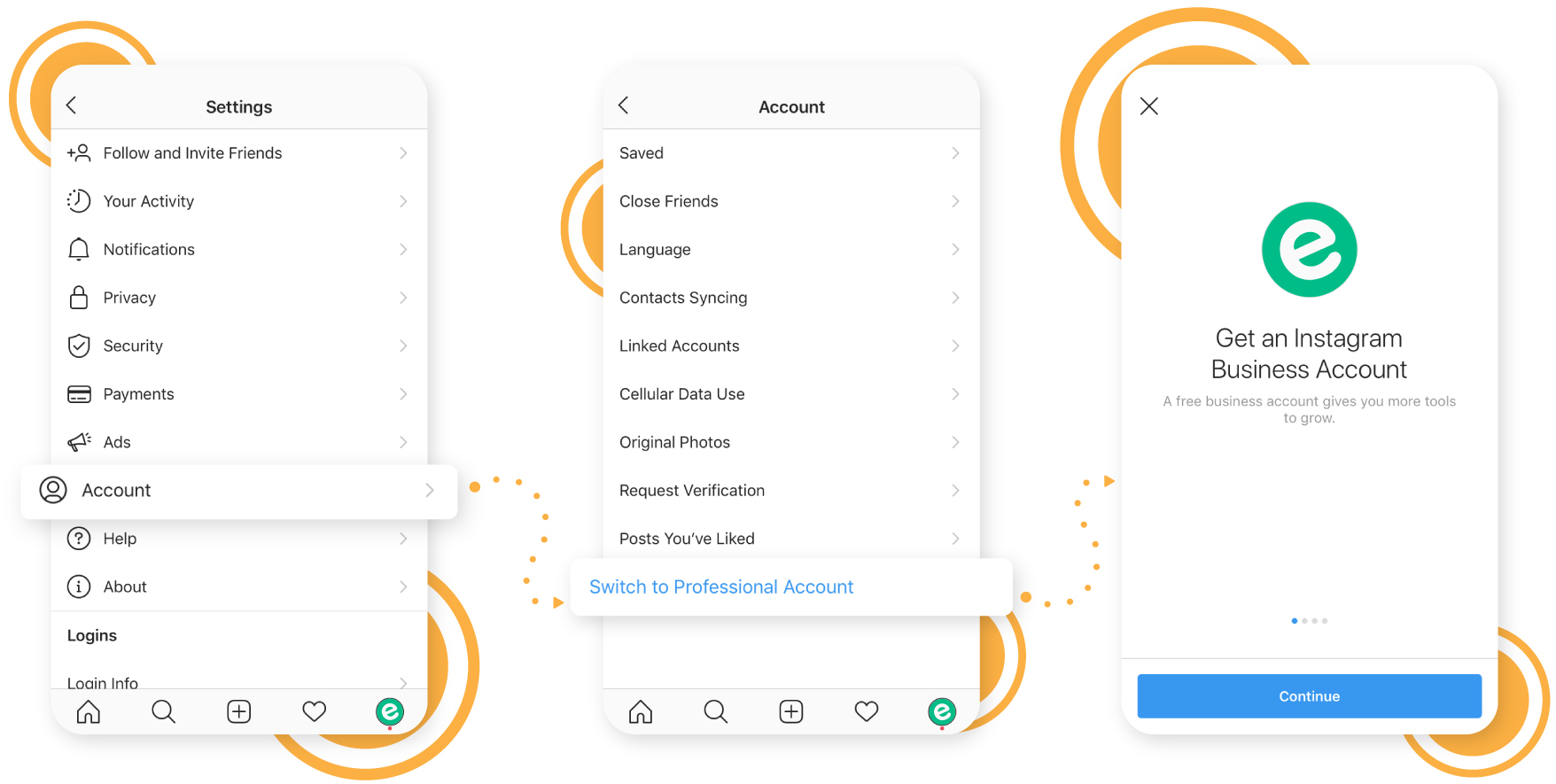 With a business account, you can better understand who is engaging with your business, at what time and day your audience is the most active on Instagram, which are your most liked posts and more. With so many awesome features, it's hard not to switch 😉
Instagram Hack #50: Follow Instagram's Creator's Account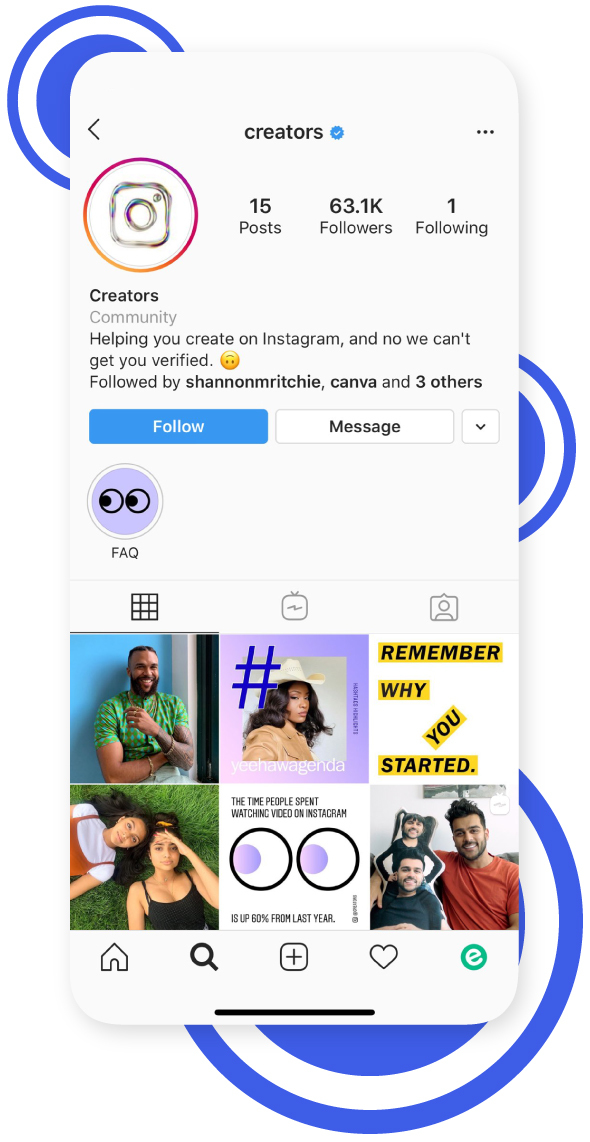 Recently, Instagram launched a new account geared towards creators. In words of the Instagram team, the account is "the place for creators like you to get inspired and up your game on Instagram."
The creator's account regularly posts helpful tips like pointing out that 60% of people listen to stories on the platform with the sound on and tips and tricks from fellow creators on how to better market themselves on Instagram.
If you want to improve your Instagram game, taking advice directly from the folks at Instagram looks like a great way to do that!
Overall, it's a good way to get information and inspiration on how to post on Instagram and wow your audience 😉
Final Thoughts
There you have it- our guide to Instagram success! Now, before you start implementing these hacks and tips, remember- there are no quick fixes. Brand building on any platform takes time and patience- the secret sauce to do anything worthwhile in life! Now go ahead and start your new Instagram journey and let us know how it went 😉
PS: We'll be updating this Instagram marketing hacks guide every month and keep adding new and improved hacks and tips. Make sure to join our email list to get your monthly Instagram hack report every month! 👇
Further reads : 

Related posts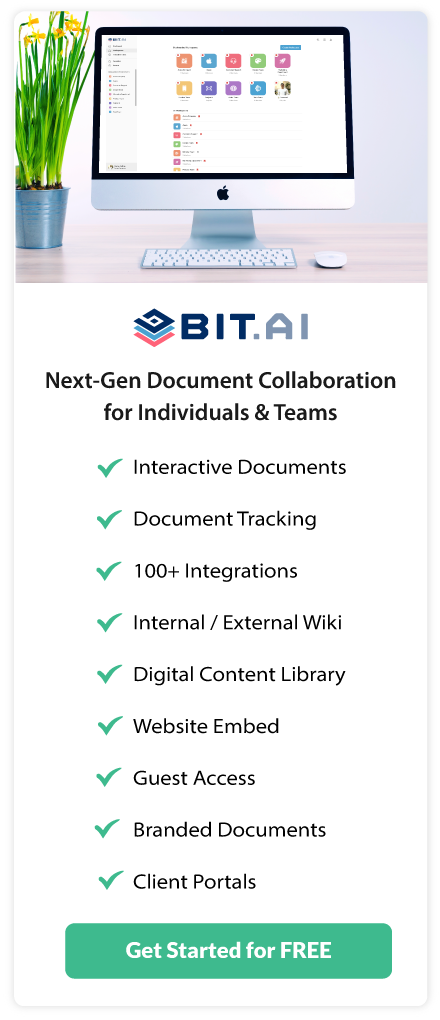 About Bit.ai
Bit.ai is the essential next-gen workplace and document collaboration platform. that helps teams share knowledge by connecting any type of digital content. With this intuitive, cloud-based solution, anyone can work visually and collaborate in real-time while creating internal notes, team projects, knowledge bases, client-facing content, and more.
The smartest online Google Docs and Word alternative, Bit.ai is used in over 100 countries by professionals everywhere, from IT teams creating internal documentation and knowledge bases, to sales and marketing teams sharing client materials and client portals.
👉👉Click Here to Check out Bit.ai.