Having an internal wiki can turn out to be one of the best investments by your company. What makes an internal wiki so special? And more importantly, what exactly is it? Let's find out…
Imagine you are starting a new job. It's your first job in an industry you have no prior experience. What do you do on your first day?… Panic!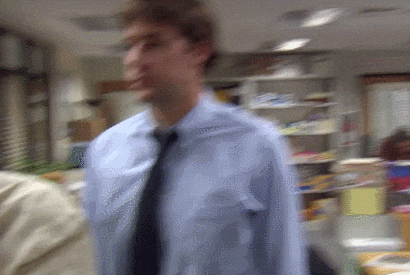 For new hires, getting adjusted to the company norms cultures, rules and regulations, policies, procedures, and processes can become a nightmare. A new hire doesn't know how things work, where to look for answers, or whom to contact.
So how do you make sure your new employee doesn't have a panic attack? Instead, they have a smooth transition in your company, are provided with all the information they need to start off with work, and know all about company work culture? Through an internal company wiki!
In fact, an internal wiki helps educate:
New Employees
Old Employees
Transitioning Employees
Remote Employees
Employees in Global Offices
There are numerous use cases…
Once your company decides to create an internal wiki, you'll look back and wonder how you survived without an internal wiki for so long!
So without further ado, let's dive deep into what's an internal wiki and why it's absolutely important for every business to have one.
What's an Internal Wiki?
I'm pretty sure the first thing that came to your mind when you heard the term wiki was Wikipedia, the online encyclopedia right? Well, you're not entirely wrong in making that connection.
Wiki comes from the Hawaiian word for "quick". As Wikipedia defines a wiki as, "A website on which users collaboratively modify content and structure directly from the web browser. In a typical wiki, the text is written using a simplified markup language and often edited with the help of a rich-text editor."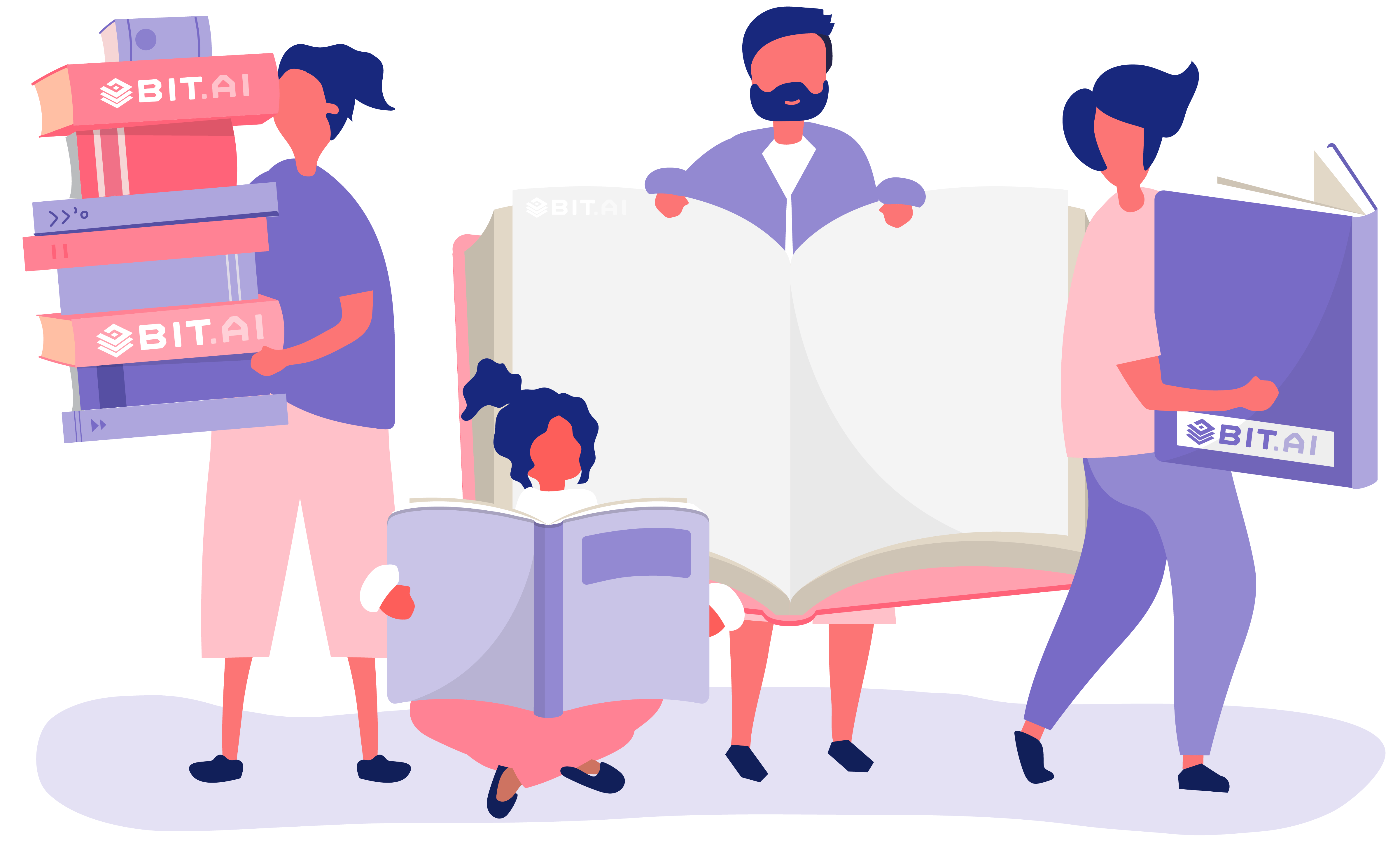 Since Wikipedia acts as the single source of all knowledge on the internet, created collaboratively by people from all over the world, and can be edited by anyone, a wiki acts as a single source of all knowledge for an organization which can be too, created, edited and modified by any employee of the organization.
An internal wiki, or corporate wiki, functions as a central repository for managing and distributing all company knowledge and information.

It's a place where all your co-workers can store internal documentation about company policies, processes, how-to guides, projects or products they are building, common workflows, shared logins, procedure checklists, etc. Think of an internal wiki as a Wikipedia made specifically for your company.
Cool right?
Don't even get me started on the key component to set up an awesome wiki for your company…search. Anyone in your organization can search and find answers to the questions they have. Nothing is better than encouraging employees to be proactive and reduce that shoulder tapping.
Read more: The Ultimate Guide To Knowledge Base
Why every company needs an internal wiki?
A study conducted by McKinsey & Company shows that employees spend 19% of an average workweek trying to gather the information needed for completing a task.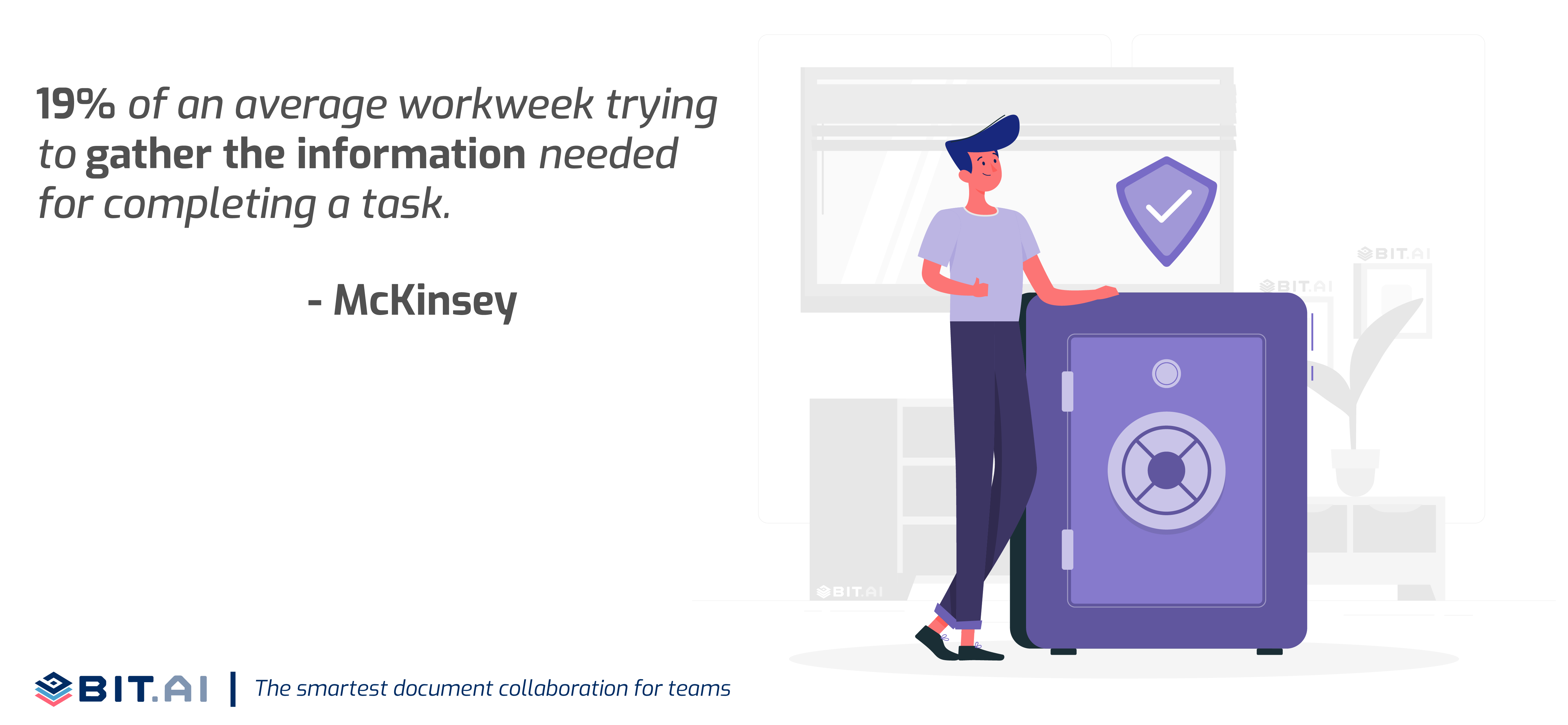 However, when companies use an internal knowledge base to store their data, employee productivity can boost by as much as 35%!
All the giants of the world like Google, Microsoft, and Apple use an internal wiki to keep their knowledge safe and accessible. A great wiki helps to boost employee productivity and efficiency, thereby saving a ton of money!
Let's break down the key reasons why an internal wiki is absolutely necessary:
1. Improving collaboration and communication
A huge part of an internal wiki is the ability to collaborate with your team. It's important to create and edit information together. It helps with transparency and improved communication amongst employees.
Managers can update SOPs (standard operating procedures)
Project managers can keep project status updated
HR Teams can update ethics policies
Developers can share code & resources
Design teams can update brand style guides
You get the point. The use cases are endless!
Read more: Best Internal Communication Tools For Better Teamwork
2. Onboard new team members faster
Training new employees and getting them up to speed with the rest of the organization can be challenging.
Going back to the beginning of this blog post, remember how we talked about how difficult it could be for new employees to adjust to a new company or industry without having any prior knowledge of the practices, procedures, standards, etc.?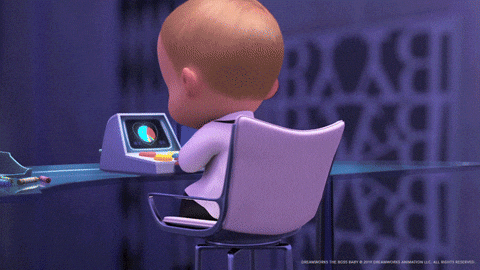 A massive 40% of employees with poor training leave their jobs within the first year. An internal wiki is a great way to overcome that challenge.
The wiki in your organization becomes the go-to place to store:
Guidelines
Checklists
How-to guides
Customer support material
Training documents
Design material (logos, etc)
Business policies
Best practices and more!
Basically, all the important stuff you and your team have learned over time. It's impossible to feed an employee with everything that is in your brain.
The best way is for a new hire to be resourceful and seek out answers to questions they have. Just like all of us turn to Wikipedia online to answer our most pressing questions, it's important your employees have access to something similar to your company.
Did you know that companies that invest in employee training enjoy a 24% higher profit margin versus companies who don't? Investing in an internal wiki could just prove out to be your best investment yet!
Read more: How to Create a Visually Appealing Private Wiki?
3. Preserve knowledge of knowledge workers
Imagine if a key employee or manager with years of experience decides to work somewhere else or retires? He/she takes their knowledge with them and it becomes an uphill battle to replace them.
Their on-the-job experience is lost.
How they viewed, looked at issues is lost
Strategies or tactics they used are lost.
How they managed projects is lost.
The research they conducted is lost.
Simply put, it's impossible to replace and find someone who has the exact experience they brought and learned at your company. This is why an internal wiki plays a crucial role in the organization.
An internal wiki allows businesses to capture all of this vital knowledge of their employees and keep it in a safe repository. This way, when employees leave, their knowledge doesn't leave with them. Your current or future employees can easily access this information and continue doing their work.
Read more: How to Create an Incredible Training Manual (Template Included)
Checklist For Creating Internal Wiki
The perfect internal wiki should have all these essential features for it to be successful:
Internal Company Wiki Checklist:
Real-time collaboration between employees.
Provide separate digital workspaces for people to work in teams.
Robust content management system to store all of the company's files and documents- PDFs, excel sheets, guides, training documents and videos, images, etc.
Strong search capabilities to quickly browse through files and folders and provide employees what they are looking for quickly and easily.
Protect the information stored in the wiki from outsiders and or anyone without the proper consent to access that information.
It's difficult to find a tool that has all the above-mentioned features and is easy to use. That is why we came up with Bit, the best workplace collaboration tool to create your own internal wiki.
Bit.ai is a new-age document collaboration tool that helps teams to collaborate, share, track and manage all company knowledge in one place.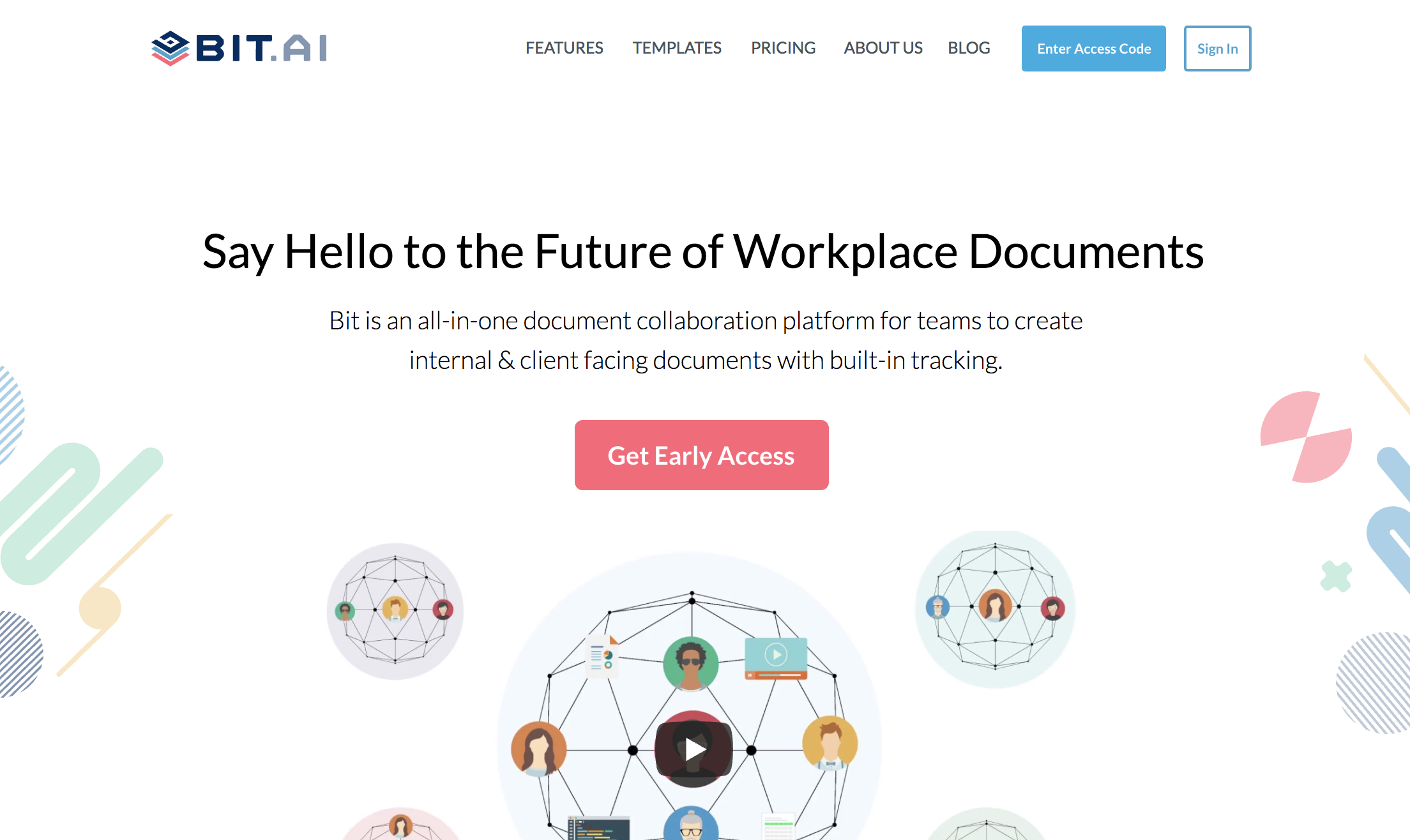 Why To Host Your Internal Wiki On Bit?
Bit is the perfect platform to host your internal wiki. You will be able to easily share and edit information about procedures, process, methodology, code, checklists, training documents, how-to guides, company policies, process documentation, and various other workplace documents.
Here are some of the ways Bit is going to make your workplace wiki life amazing:

1. Real-time Collaboration
Multiple people can simultaneously collaborate and create a smart document in real-time.
It's a wonderful way to manage projects, create client-facing material, brainstorm, share meeting agendas, create proposals, and most importantly, share and manage information and knowledge!
And thanks to its smart editor, Bit makes the process of documentation and content creation quick and easy.
Read more: Top Real-Time Document Collaboration Tools For Team Productivity
2. Team Workspaces
Smart workspaces are created around projects, teams, departments, and clients to keep your documents, data and information organized.
Workspaces make it easy to collaborate and ensure that the right team members have access to the right documents at the right time. They are fluid so your information can move through your organization's workflows.
3. Content Library
Bit has a content library that automatically saves the images, files and digital content you add to your internal wiki so that you can access and reuse them easily.
This is a smart way to store a repository of digital assets your team can access at any point.
4. Smart Search
Bit documents also support smart search, which allows anyone to search workspaces, documents and the text inside documents quickly and easily across your internal wiki.
There's also a robust search in the content library where users can search their digital assets using keywords, titles, descriptions, or tags. They can even search for files based on their source. (i.e., YouTube). This is extremely useful for new hires to not feel overwhelmed while looking for information.
Read more: Why Smart Professionals Track Their Shared Documents
5. Permission & Access Levels
Bit allows users to manage permissions and information access that suits your organizational needs. It supports features like document tracking, password protection, file access restrictions, etc that help keep your important company information safe.
Bit provides a common workplace for knowledge workers and experienced executives to collaborate with employees, share their knowledge, brainstorm ideas, store digital assets, and innovate together.
The best part is that this knowledge is safely secured in your workspaces and can be shared (or kept private) with anyone in your organization!
Actively managing knowledge and using Bit for facilitating an internal wiki can help organizations increase their chances of success.
Bit helps preserve key knowledge for everyone to access, facilitate better decision-making, reducing the chances of error, stimulating innovation and encouraging a culture of constant learning.
Pin this for future reference!

Going forward, what's next?
If your company doesn't have an internal wiki yet, we'd encourage you to give it a try. The goal of an internal wiki is to streamline the various types of information scattered around your organization and make it available to everyone.
The ability to create and edit stuff collaboratively is a must for an internal wiki. Another key feature you should look for while creating an internal wiki is its ability to perform really advanced, deep, and in general, smart searches across the platform.
Only when the right information is accessed at the right time and by the right person, can the purpose of knowledge and information management can prove out to be successful and efficient.
In short, if your employees prefer searching the internal wiki instead of Google or Wikipedia, you have done your job!
Further reads : 

Don't want to forget this information?
Pin it for future reference!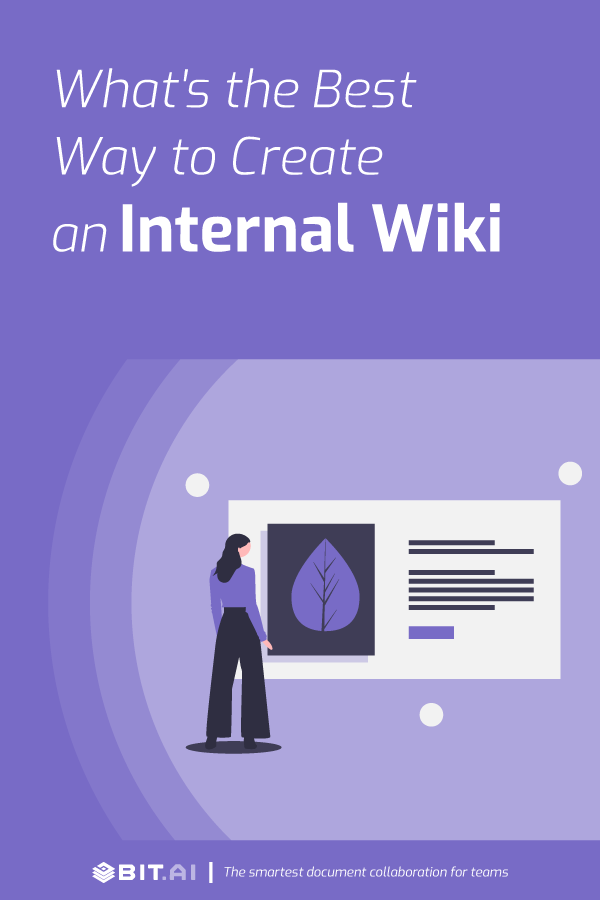 Related posts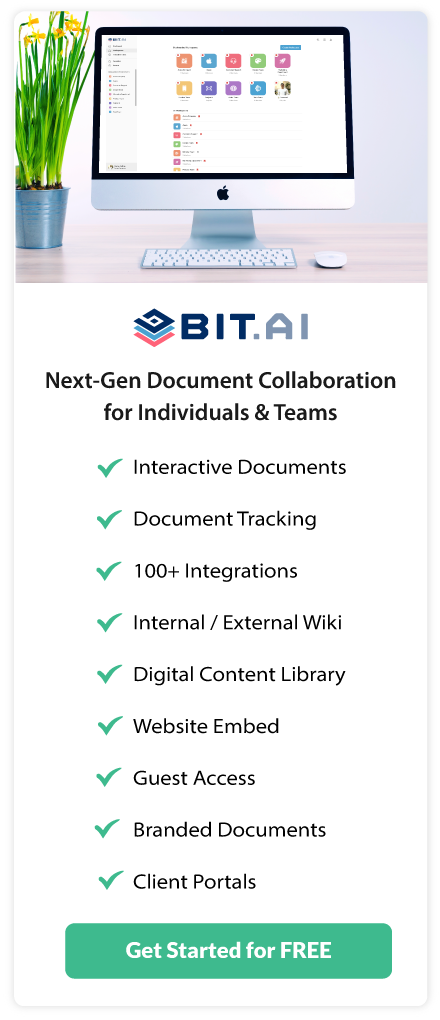 About Bit.ai
Bit.ai is the essential next-gen workplace and document collaboration platform. that helps teams share knowledge by connecting any type of digital content. With this intuitive, cloud-based solution, anyone can work visually and collaborate in real-time while creating internal notes, team projects, knowledge bases, client-facing content, and more.
The smartest online Google Docs and Word alternative, Bit.ai is used in over 100 countries by professionals everywhere, from IT teams creating internal documentation and knowledge bases, to sales and marketing teams sharing client materials and client portals.
👉👉Click Here to Check out Bit.ai.