With startups going lean, mean, and agile, growing at an unprecedented pace, the need for managing knowledge has never been so pressing. Establishing workflows, processes, sharing knowledge, and maintaining records of progress is the need of the hour.
New employees need to get up to speed quicker than ever if startups want to survive in this cut-throat competitive landscape. And with 9 out of 10 startups failing, nothing can be left to "chance".
A corporate wiki is an answer for many, as companies create knowledge bases to help manage organizational knowledge centrally, onboard and train new employees faster, and get the data they need to do their jobs efficiently.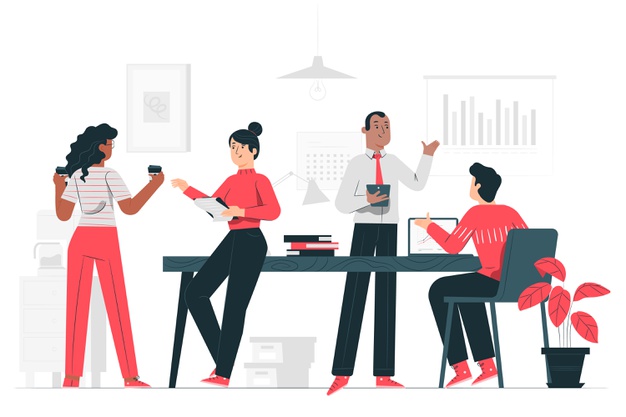 But wait, what exactly is a corporate wiki?
In this blog post, we are going to understand what a corporate wiki is, why it's important for businesses to have corporate wikis, and in the end, discuss the details of creating a corporate wiki easily. Read on…
What is a Corporate Wiki? (Definition)
Wiki? Wikipedia? We know that's the first thing that came to your mind. Well, you're not entirely wrong in making that connection!
The word "wiki" comes from the Hawaiian word for "quick". Wikipedia defines a wiki as, "A website on which users collaboratively modify content and structure directly from the web browser. In a typical wiki, the text is written using a simplified markup language and often edited with the help of a rich-text editor."
As Wikipedia acts as the singular source of all knowledge on the internet, created collaboratively by users from all over the world, a wiki acts as a central source of all knowledge for a company, which like Wikipedia, can be created, edited, and altered by any employee of the company.
A corporate wiki, also known as an internal or private wiki, operates as a central repository for maintaining and sharing all company knowledge and information. It's a point where all your co-workers can store company documentation like processes, how-to guides, company policies, common workflows, shared logins, project info, checklists, etc. Think of a corporate wiki as a Wikipedia made particularly for your business.
While having all your company data centrally located is amazing in its way, the best feature of having a wiki is its search capabilities. Anyone in your company can quickly find answers to their queries without having to disturb fellow co-workers. This makes employees proactive and reduces the shoulder-tapping that results in a wastage of time.
Read more: Internal Knowledge Base For Businesses!
Why your Business needs a Corporate Wiki?
According to a report by McKinsey & Company, employees spend over 19% of an average workweek trying to gather the information needed for completing a task! To add to that, Fortune 500 companies lose roughly $31.5 billion a year by failing to share knowledge.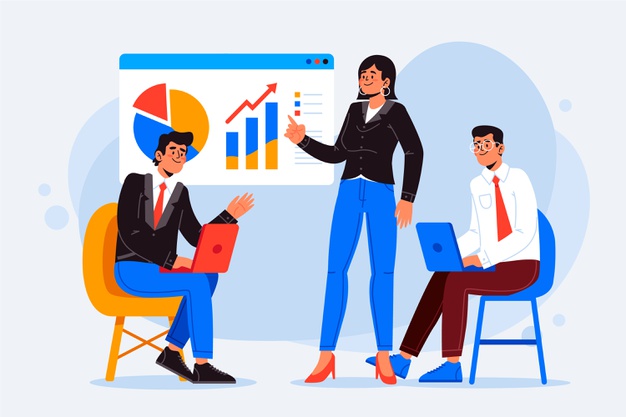 However, when these companies do use wiki software to store their data, employee productivity can boost by as much as 35%!
A great corporate wiki helps boost employee productivity by providing them with everything they need to do their jobs well. Here are few great reasons to deploy a corporate wiki today:
1. Faster onboarding
The biggest challenger with hiring new employees is the training that follows. Getting them up to speed with all company norms, procedures, policies, etc can be time-consuming. If you don't do it right, it's going to cost you in the future. In fact, a massive 40% of employees with poor training leave their jobs within the first year. A corporate wiki is a great way to overcome this hurdle.
Corporate wikis are a great place to store company guidelines, how-to guides, training material, customer support documents, checklists, design material, best practices docs, and more. Essentially, all the crucial knowledge you and your team have acquired over time.
Without a corporate wiki, training a new employee becomes a hassle. It's impossible to remember everything and teach a new employee with everything that is in your brain. The best way is to provide them access to all company knowledge in one place and let them only come to you in case they have any further questions.
Since companies that invest in employee training enjoy a 24% higher profit margin versus companies who don't, investing in a corporate wiki might just turn out to be your best investment yet!
2. Improved collaboration and communication
A corporate wiki promotes the culture of transparent communication and effective collaboration in the organization.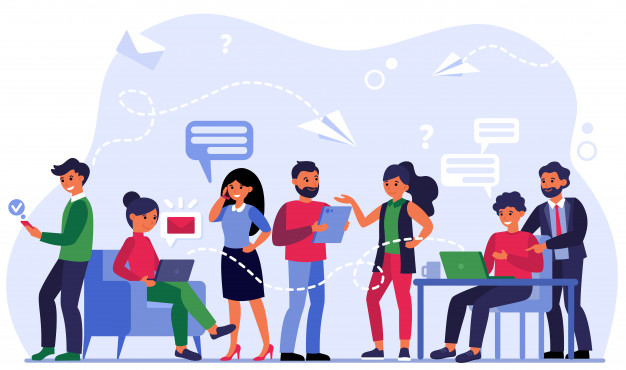 When the entire team creates and edits information together, share their experiences and insights, and help everyone grow, it builds a culture of teamwork all around the workplace. This, in turn, breaks down all departmental silos in the organization and allows your employees to work as a cohesive unit.
3. Many Use Cases
A corporate wiki has a ton of use cases. Managers use it to share standard operating procedures, HR teams use it to share guidelines and policies, developers use it to collaborate on code while design teams use wikis to update brand style guides. The use cases are countless!
4. Preserving knowledge
Another great benefit of a corporate wiki is its ability to preserve the knowledge of past employees. In case your most experienced employee leaves the company or goes on a vacation, a corporate wiki ensures that their knowledge doesn't leave the organization with them.
A corporate wiki allows companies to seize all of the vital knowledge of their employees and keep it in a safe repository for anyone to access. This way, when an employee leaves, their knowledge is still there to train current and future hires. In short, a corporate wiki is beneficial for new, old, transitioning, as well as remote employees.
Read more: How to Create a Visually Appealing Private Wiki?
How to Create a Robust Corporate Wiki?
Now that you know what a corporate wiki is all about and why it is important for companies to have a corporate wiki, its time to build one from scratch.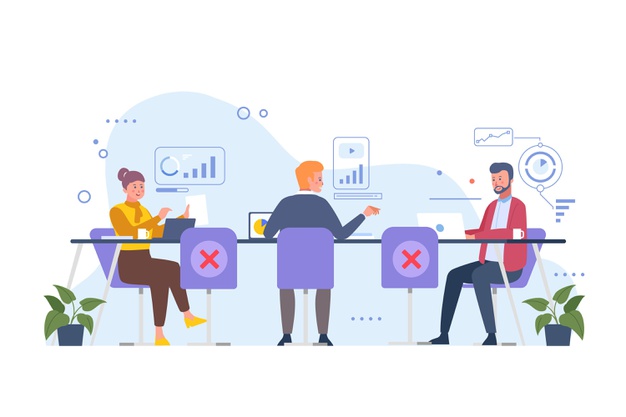 A great corporate wiki should have the following features for it to be successful:
An easy to use the editor: The primary function of a wiki is to allow users to create and store information. Without a decent editor, a wiki becomes too much of a hassle. This is why an ideal corporate wiki should have a minimal, distraction-free, and easy to use an editor that supports various writing formats like Markdown for fast typing.
Smart search functionality: A wiki should be able to search through all the information stored inside of it quickly. Speed is of the essence here. This is why wikis should be able to search via title, labels, description, or even the content inside the documents! This will help users quickly find what they're looking for even when they are not sure the exact name of the doc they are searching for.
Real-time collaboration: The ability to edit a document simultaneously with co-workers is a must for any corporate wiki. If it has in-line commenting (for feedback and suggestions) or a built-in chat system, even better! Such features promote knowledge sharing in its true sense and promote an environment of teamwork and collaboration in the workplace.
Organization- Even if you store all company knowledge in one central location, its effectiveness lies in your ability to organize that data. Scattered knowledge is as good as no knowledge at all. Corporate wikis that provide digital workspaces and hierarchical folders to store and organize data are a must.
Interlinking of documents- You need to be able to interlink documents around different topics and problems to have everything work collectively, making it simpler to share knowledge.
Content Management- A good corporate wiki not only stores your documents but also the company's digital assets like logos, videos, PDFs, files, and other media content. If it integrates with other major cloud storage platforms like Google Drive or Box, then the wiki can truly bring all company data under one roof.
Security features: Shielding your company information from strangers is essential. This is why features like password protection, document tracking, document expiration, etc are important for a corporate wiki to have.
It's almost impossible to find a tool that has all the above-mentioned features and is easy to use at the same time. That is why we decided to build our own corporate wiki with Bit.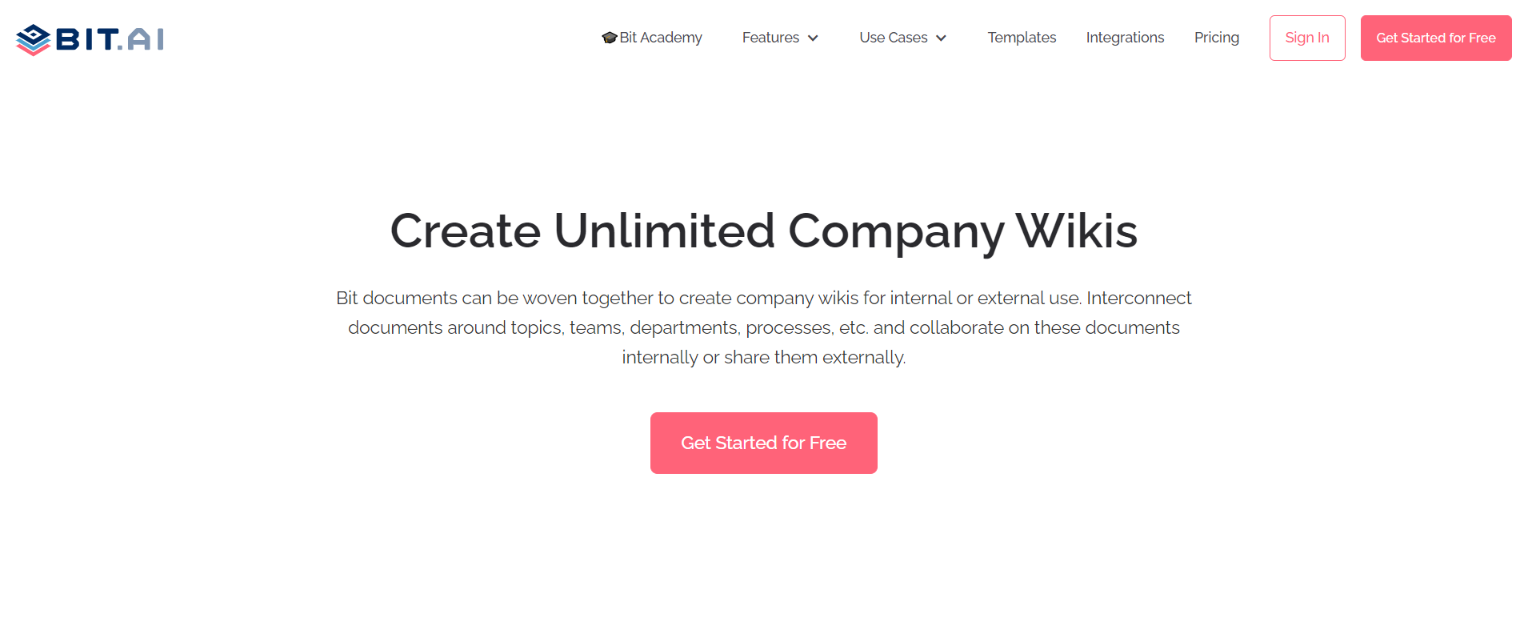 Bit.ai is a new-age corporate wiki and collaboration tool that helps teams to collaborate, share, track, and manage all company knowledge in one place.
Bit is the perfect platform to host your corporate wiki. Collaborate with your team in real-time, store documents in workspaces and folders, search anything quickly, and bring all your media files under one roof with this awesome platform.
Watch the video below to learn more or sign up for a FREE account and start exploring yourself!
Summing it up…
Corporate wikis are great for storing and sharing company knowledge and promote knowledge transfer throughout the organization. With tools like Bit, creating, and maintaining corporate wikis become 10 times easier, all the while being easy on the pocket! If your company doesn't have a corporate wiki yet, we'd encourage you to give it a try. So what are you waiting for? Sign up for Bit and start documenting your company knowledge today!
Further reads:
What's the Best Way to Create an Internal Wiki?
Business Requirements Document (BRD): What, Why, and How to Write?
Operations Manual: What is it & How to Write it?
How to Create an Employee Handbook?
Standard Operating Procedures (SOP): What, Types, and How to Write?
Change Management Plan: What, Why, and How to Write?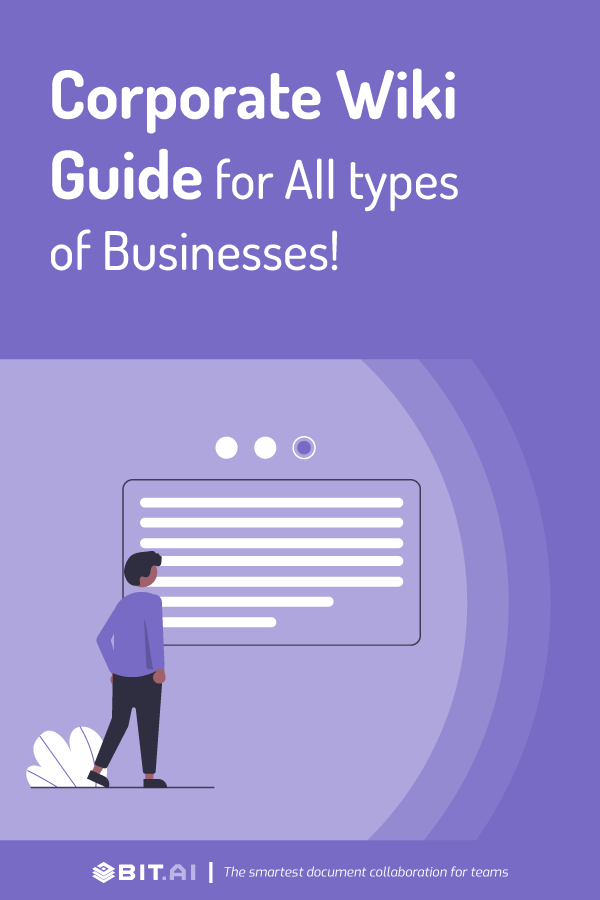 Related posts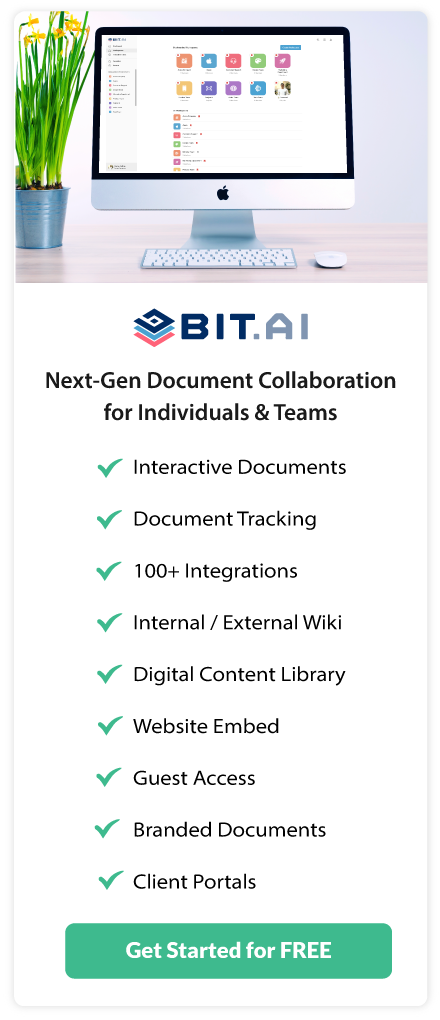 About Bit.ai
Bit.ai is the essential next-gen workplace and document collaboration platform. that helps teams share knowledge by connecting any type of digital content. With this intuitive, cloud-based solution, anyone can work visually and collaborate in real-time while creating internal notes, team projects, knowledge bases, client-facing content, and more.
The smartest online Google Docs and Word alternative, Bit.ai is used in over 100 countries by professionals everywhere, from IT teams creating internal documentation and knowledge bases, to sales and marketing teams sharing client materials and client portals.
👉👉Click Here to Check out Bit.ai.