With more than 3 billion jobs posted online at any point in time, standing out from the competition might present a fine line between finding the perfect candidate possible or having to settle for the best from a bad bunch.
Speaking of a bad bunch, stats also suggest that 100 million startups are launched every year. And, as the number of competitors skyrockets, the pool of present talent is diluted, leaving you with minimal choice.
So, what can be the solution? How about a compelling and clear job description. The perfect job description can help your job stick out from the others. It's where you start advertising your organization and job role to your future hire.
And, the key to write an effective job description is to keep it concise, while providing enough information so applicants understand everything about the role and the company. However, writing one is not as easy as it seems!
This is why we created a job description template for you to use as an employer. But before we dive into the template, it is important to understand what are job descriptions and why are they important for the hiring process.
What is a Job Description?
A job description is a document that helps the hiring team gain all the knowledge needed to hire for a particular position. You can write a job description for coordination and internal use, post it on a site, or share it with headhunters.
The main objective of a job description is to convince the potential candidates that they fit best for a particular role and disqualify those that do not match the requirements of the description.
The right tone and details of a job description can help you stand out to incredibly desirable applicants.
Job descriptions are used post-hiring as well- Both parties can refer back the document for roles, responsibilities and other information to measure how well the job is being processed and if the new recruit is matching expectations.
Read more: How to Write an Unavoidable Job Offer Letter
Why Job Descriptions are Important?
Job descriptions offer information to potential applicants about the job and the responsibilities and qualifications that the job requires. These descriptions can also be framed internally between the HR department and the hiring manager.
Also, from a company's perspective, a job description is important in making sure that the applications received for the position closely match the needs of the role itself.

It helps external recruiters to manage the selection process and receive a good amount of applicants that are suitable for an interview or further selection.
Other benefits of an effective job description are-
To help the recruitment team during the selection process
Assist in formulating questions for the interview process
To allow the potential employee to determine their position or standing within the structure of the organization
To help in forming a legally binding employment contract
To help set objectives and target for the employee upon joining
To support in formulating training and development plans
Read more: Succession Planning: What is it & How to do it?
What You Should Include in Your Job Descriptions?
A typical Job description document should involve the following details:
Title: Add the title of the document
Company Name: Mention the full name of your company
Created by: Name or position of the person drafting the letter (usually its the HR or HOD)
Hiring Details:
Job Title
Job Category
Department
Job Code
Reports To
Travel Required
Location
Position Type
Salary Range
Date Posted
HR Contact
Expiration Date
External Posting URL
Internal Posting URL
Job Overview: Provide an overview of the position and how it fits into the department and company.
Role & Responsibilities: Outline all of the responsibilities that are need for the job.
Qualifications: Add any qualifications that are necessary like education, years of experience, licenses, etc.
Preferred Skills: Add the skills of a candidate that would be preferred.
Approvals & Reviews: Get the approval of management.
Read more: How To Make An Employment Contract
Create a well-defined Employment Contract the Right Way with Bit
All set to write that informative job description to woo your prospective candidates? Well, we have got the perfect too for you!
Bit.ai is a new age online document collaboration tool that helps anyone create awesome job descriptions, offer letters, employment contracts, employee handbooks, and other company documents in minutes. Bit is the dream tool for both employers and employees as it helps revolutionize the hiring process and makes it more modern, fun and interactive.

It even has an amazing UI that's easy to understand by a new user, making onboarding easier. The user experience is phenomenal too as things flow from documents to workspaces swiftly. No matter if you want to create a job description to support your recruitments process, Bit's amazing organizational capabilities help arrange your information easily.
Still not sure how Bit can help you write an impressive marketing strategy to help you execute that business plan? Let's see some more of Bit's awesome capabilities!:
Collaborate in real-time
Multiple people can simultaneously collaborate on a Bit smart document in real-time. Suggest edits, work collectively and ask questions with real-time mentions, and comments.
Interlink business plan documents
Now, you can interlink your description with other important assets that are supposed to be posted like an employment contract, offer letters and more within the platform.
Distraction-free and quick documentation
The best part is Bit's support for Markdown which allows developers to quickly create and format text without any distractions. Once you are done creating your job description, you can easily export it as PDFs, Word files, Markdown and much more. Markdown is supported by GitHub and other software development tools, making it easy to share the work you do inside of Bit with other platforms.
Track engagement on shared employee contract documents with HR, partners, etc.
Imagine if you were able to track the time spent by others on your job description, how frequently they were viewed, and if they were viewed at all.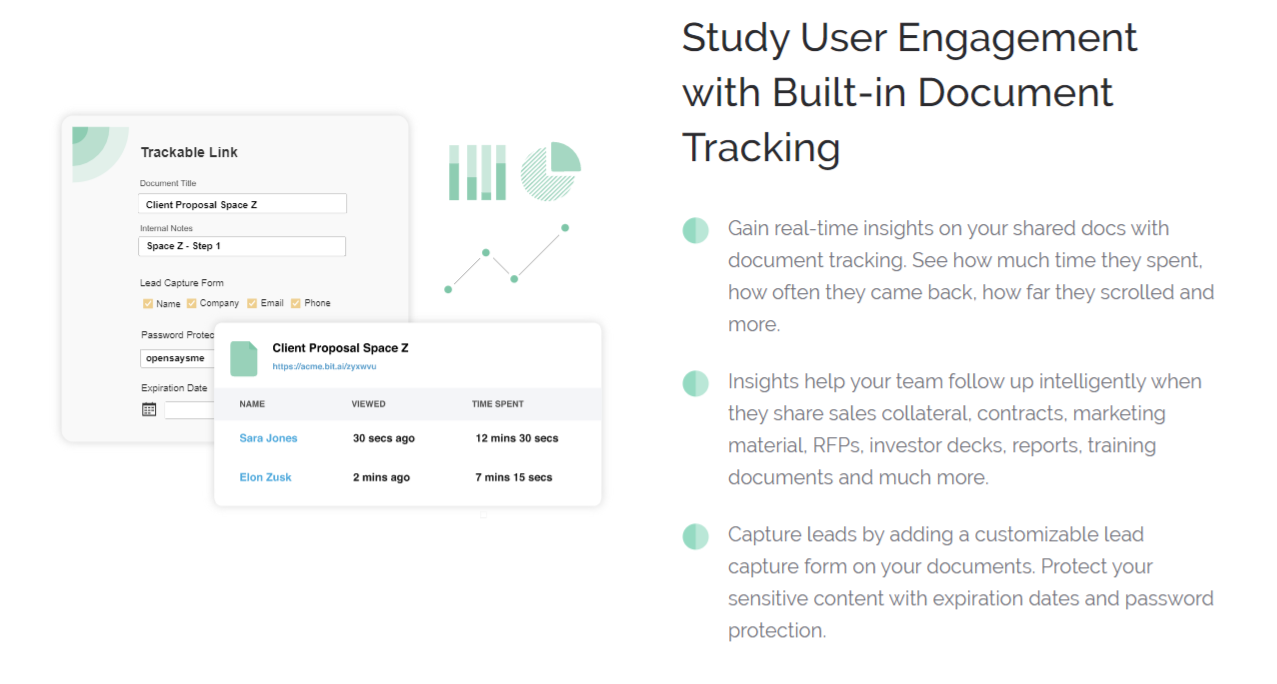 Well, Bit allows you to track your documents and gain amazing insights, helping you create an even better version of your documents.
Automated table of contents
Bit also has an automated table of contents based on the headers you add to your document. This makes sure you can scroll to different sections of your job description quickly as an employer, employee and for your HR viewing the final published document!
Multiple ways to share
Bit documents can be shared in a live state meaning that all changes that you make to the document will update in real-time. If you are sharing your job description with employees, they will always get your most up-to-date changes.
You can even embed job descriptions on your websites. Since Bit documents render and are responsive, any changes made to the document will reflect live on the site! Moreover, features like document tracking, password protection, file access restrictions, etc. help keep your documents safe.
Now, that you have learned everything about the job description and how to create one, feel free to check out Bit's amazing job description template to make the recruitment process a success!
Read more: How To Create a Performance Improvement Plan
To make the process of crafting a Job Description easier and fun, we have created a ready-made template for you! Check it out below: 

How to use Job Description Template with Bit
The process of creating a job description document on Bit is insanely easy! Just follow these four simple steps to create a job description document quickly:
Step 1: Create a Bit Account
Go the home page of Bit.ai and click on Get Started for Free or Sign Up to get started. Enter your email address to sign up. Once in, you can create your personal profile.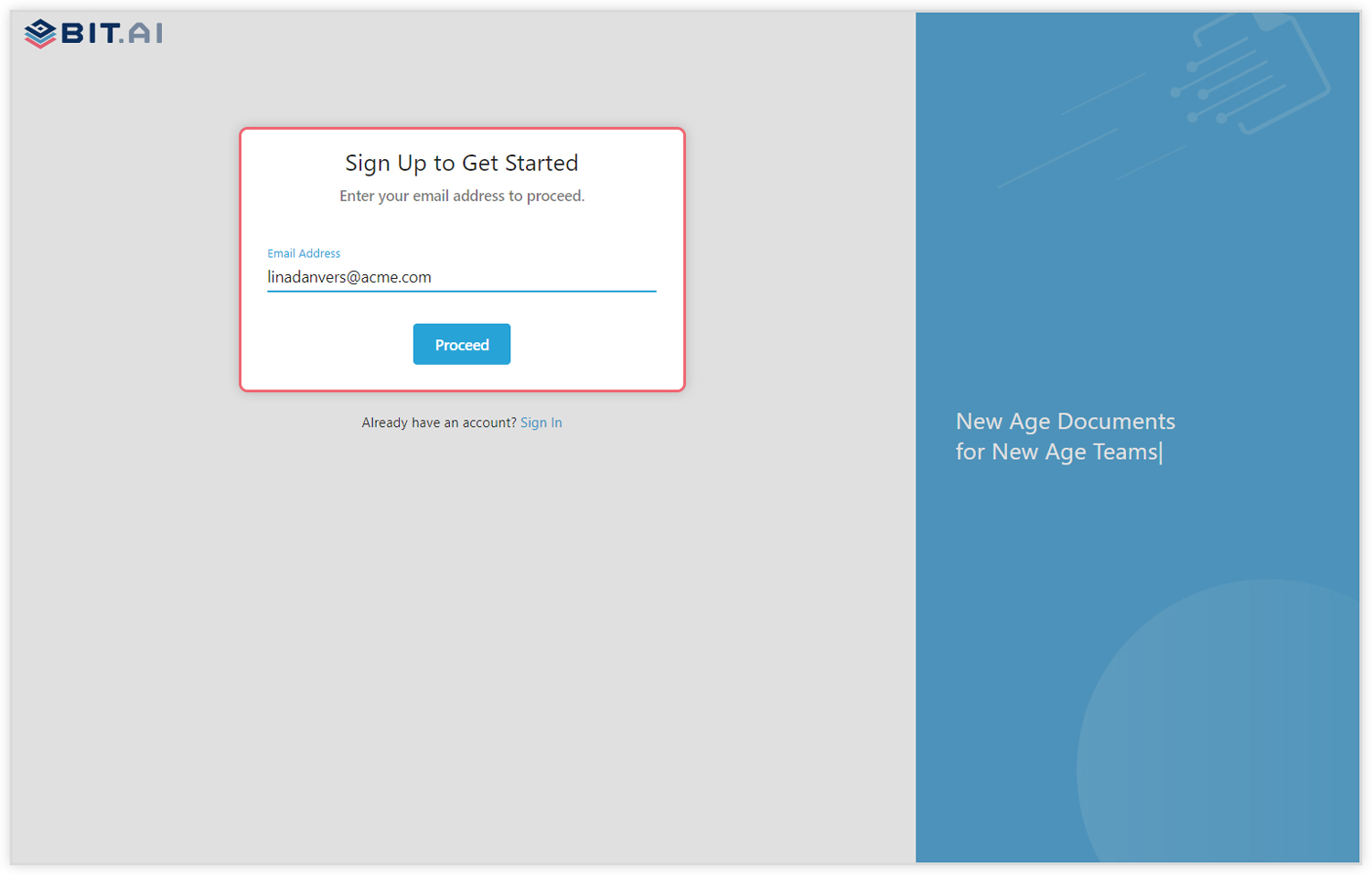 Step 2: Create a Workspace
Workspaces are where the work gets done. Click on the 'Create Workspace' button on the right. A popup will show up prompting you to add a name for your new workspace.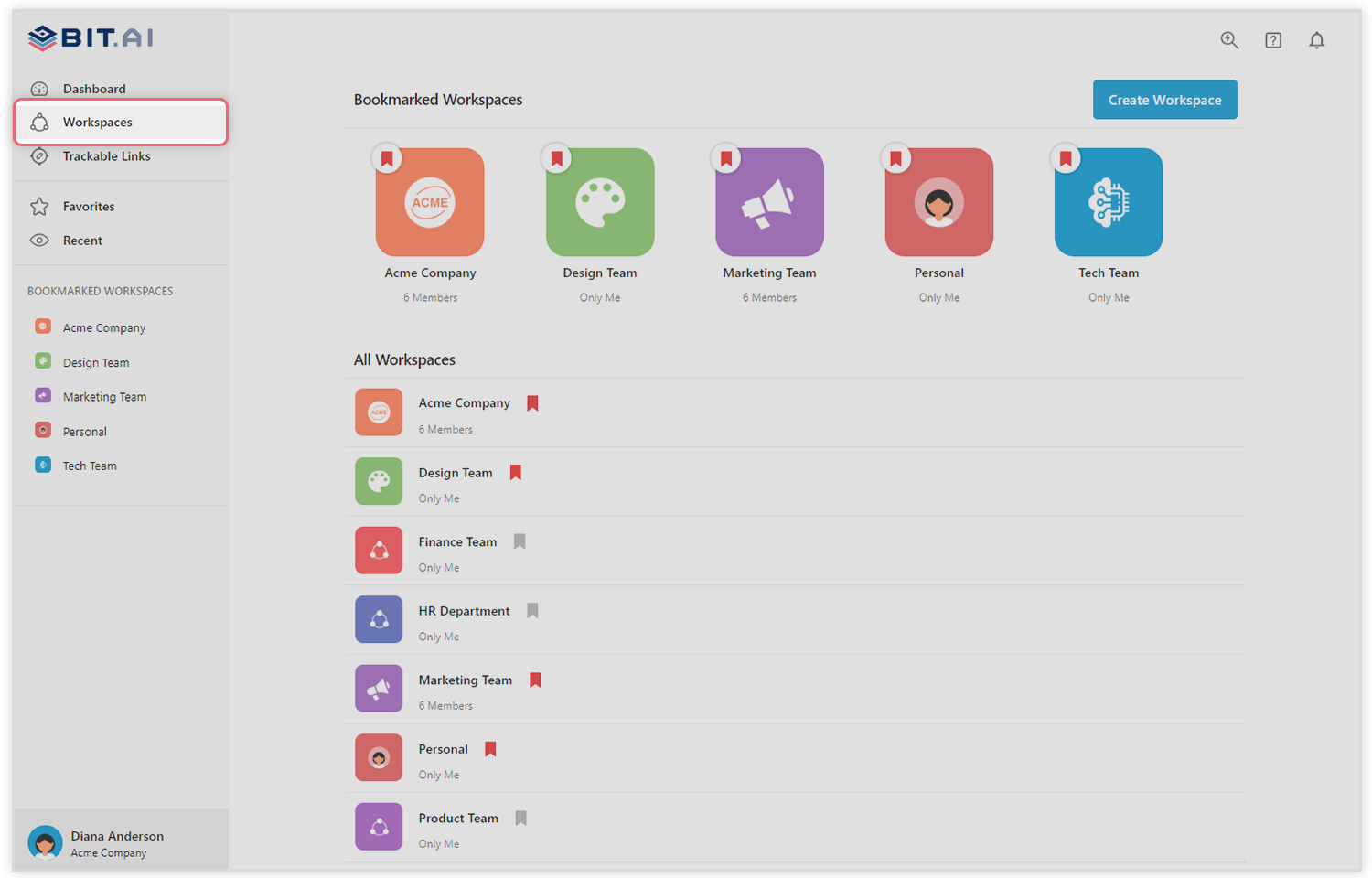 You can create a workspace around a team, department, large project, client, partner, etc. Inside each workspace, you can create an unlimited amount of Bit documents and access your content library (storage area for all of your digital assets – web links, files, cloud files, rich embeds, etc.).
Step 3: Add Team Members
Bit allows your team members to collaborate in real-time and get work done. Collaboration starts at the workspace level.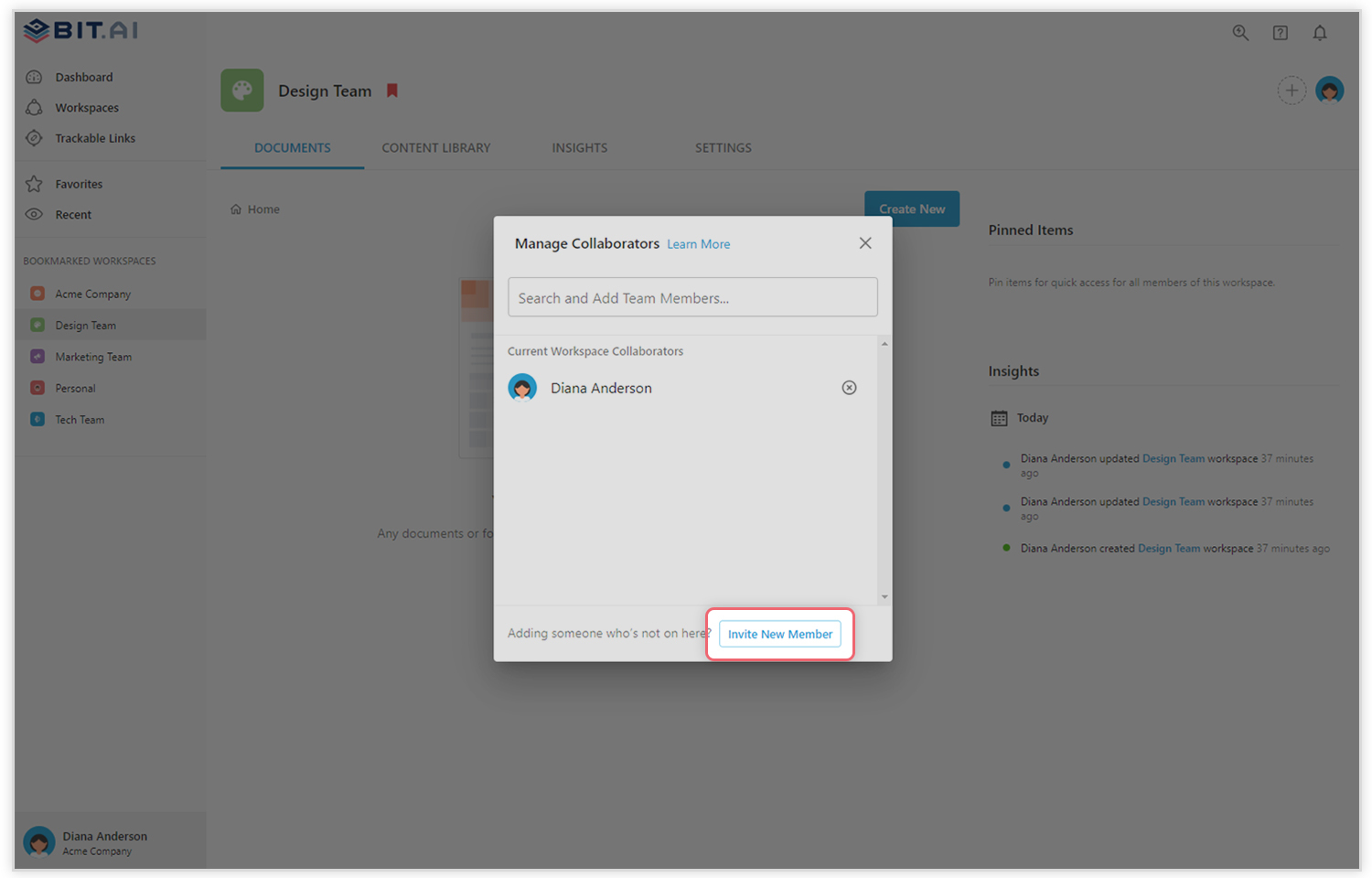 You create private workspaces by default. However, you can invite others to join you inside of a workspace and collaborate together with the knowledge, projects, documents and content inside of the workspace.
Step 4: Create Your Desired Document
Once you are in the workspace, click on the 'Create New' button. Select 'From Template' in the dropdown. A pop up will display allowing you to select a template from the gallery.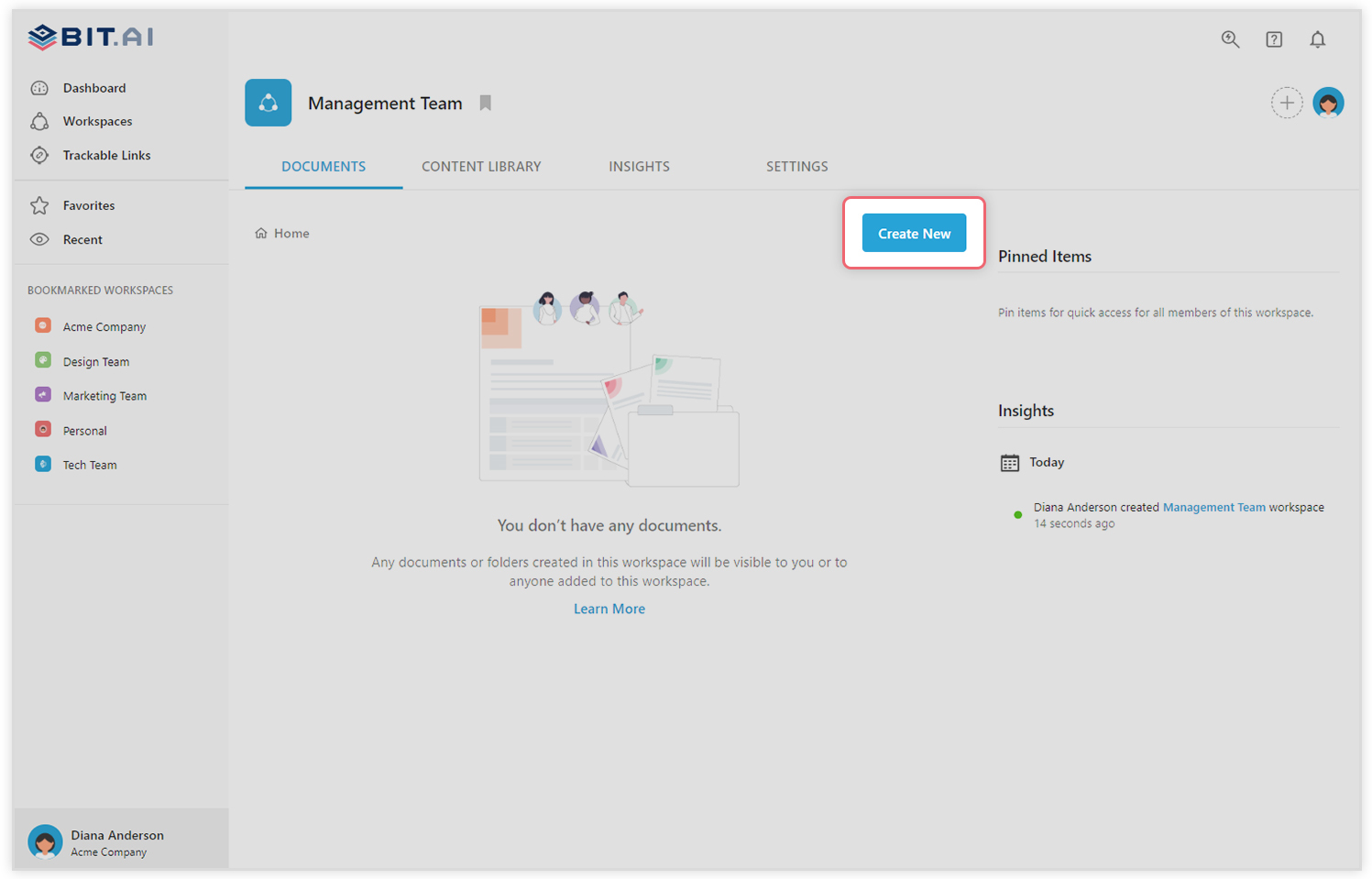 In the search box on the top left corner, you can search for "job description template". Once your desired template pops up, click on it and click on the "Use Template" button on the bottom right corner.
That's it! Your job description document is ready for use!
Our team at bit.ai has created a few more awesome templates to make your hr process more efficient. Make sure to check them out before you go, your hr team might need them!
🎥Watch this video to learn more👇
Conclusion
Always remember to sell your job through the job description!! Applicants need solid reasons to resign from their current workplaces or apply to your job over others. This will only happen when you describe the perks and benefits that come with the job position (like- high-end workstation, working days and/or free meals) and explain how their position contributes to the organization's growth.
If you have any other questions or need help with our job description template, let us know by tweeting us @bit_docs. Cheers!
Further reads: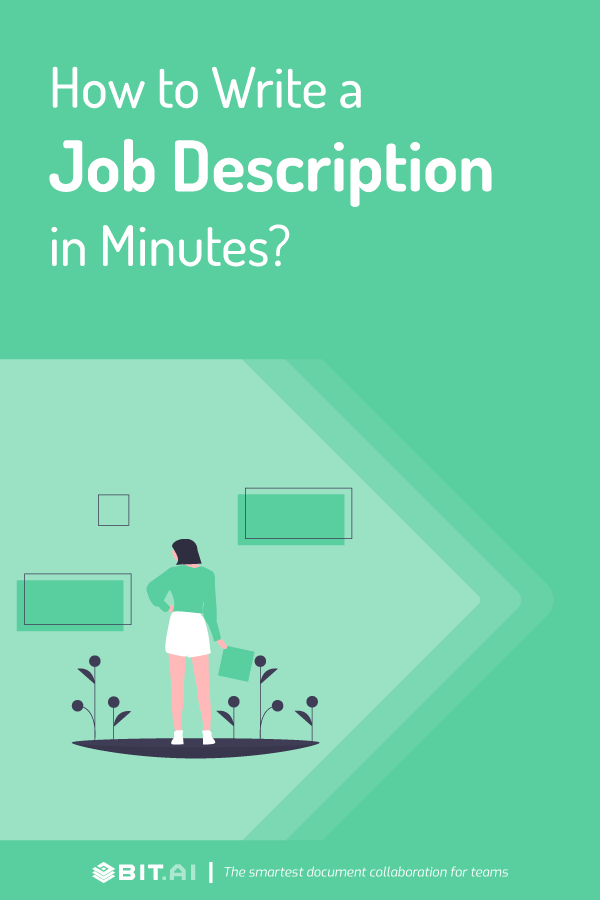 Related posts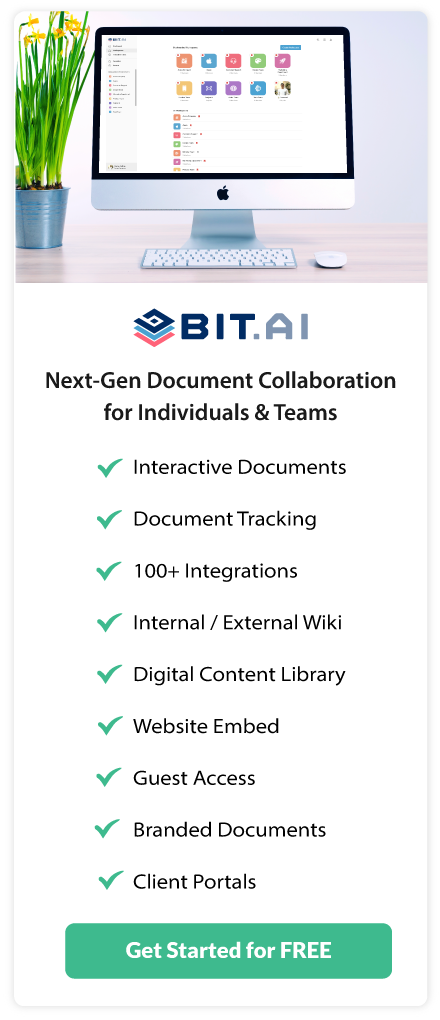 About Bit.ai
Bit.ai is the essential next-gen workplace and document collaboration platform. that helps teams share knowledge by connecting any type of digital content. With this intuitive, cloud-based solution, anyone can work visually and collaborate in real-time while creating internal notes, team projects, knowledge bases, client-facing content, and more.
The smartest online Google Docs and Word alternative, Bit.ai is used in over 100 countries by professionals everywhere, from IT teams creating internal documentation and knowledge bases, to sales and marketing teams sharing client materials and client portals.
👉👉Click Here to Check out Bit.ai.