Today, we are going to teach you how to quickly create an employee handbook and keep all your employees on the same page.
Having a clear, transparent relationship between employees and the company is a must to building a healthy, long-lasting relationship. According to a study by TINYpulse, transparency is the number one factor in determining employee happiness in the workplace.
An important part of transparency, is the communication and understanding of company rules, policies, procedures, and values. An employee handbook is a tool that can help you build the foundation for a healthy relationship.
Here are some of the ways employee handbooks are beneficial:
It helps new employees get up to speed and ensure their smooth transition into the company.
Acts as a shield for company protection against any future lawsuits or disagreements.
Ensures all employees are aware of company rules and what is expected off of them.
However, writing an employee handbook is quite a difficult task. Don't worry we're going to teach you how to take it head-on!
We're going to cover everything there is to know about an employee handbook, what information it should contain, how it should be written, and a bonus tip at the end of how you can write an employee handbook quickly and effectively. Read on…
What is an employee handbook? (Definition)
An employee handbook or an employee manual is defined as a document consisting of company policies, procedures, and rules that include working and behavioral expectations to guide employee actions.
An employee handbook allows employees to understand what is expected of them and what they can expect from the company.
New employees are usually handed a copy of the employee handbook along with a legal document to sign. The legal document states that they've read the handbook and agree to the terms and conditions. This process helps companies avoid conflicts in the future.
Read more: How To Write A Stellar Instruction Manual
What to Include in an Employee Handbook?
An employee handbook should be written clearly and in language that is easy to understand. You must avoid writing a complicated employee handbook, filled with technical jargon and long-format explanations.
The information in the handbook should be precise and well explained for everyone to fully acknowledge and embrace it.

An employee handbook usually begins with a welcome message and an explanation of the purpose of the document. A typical employee handbook usually contains the following:
Information about the company
A welcome letter from the CEO
The company's mission, vision, purpose, values, and broad strategic goals
Equal employment and non-discrimination policies
Equal employment opportunity
At-will nature of employment
Code of conduct
Safety and security
Pay policies
Non-compete, non-disclosure, and employee confidentiality agreements
Benefits
Sick leave policy
Paid vacation policy
Family and medical leave policy
Assessment processes for promotions and raises
Process for filing complaints
Organizational information
Pension plans
Parking for employees
You'll want to include information that is relevant to your company. It's important that your employee handbook is kept current and as your company evolves.
Why create an employee handbook in the first place?
Having an employee handbook in place has several advantages:
Facilitates the smooth functioning of an organization by outlining the do's and don'ts of the workplace beforehand.
It helps employees understand their roles and responsibilities and what is expected of them in terms of job performance and general code of conduct.
Creates an atmosphere of equality in the workplace. In this way, employees can do their work freely and positively, knowing that the rules and policies of the organization don't vary from employee to employee or situation to situation.
Ensures employers are consistent in the enforcement of company policy and maintain a healthy work environment.
It creates a useful resource to keep all the key policies and procedures in one place by creating a knowledge base so that you don't have to keep looking for answers from co-workers or seniors.
By putting out an effective employee handbook, the company ensures a positive, harmonious, fair, safe, and productive work environment. As a result, the handbook can protect the company from various discrimination or harassment lawsuits and can also help employees in defending a lawsuit.
How to Create an Employee Handbook Easily?
Creating an employee handbook is not an easy task. Here's why:
An employee handbook is not a one-page document you can sail through quickly. Writing down the rules, policies, procedures, ethics, etc. requires a deep understanding of the company norms.
If you have a big company, the creation of the employee handbook must require inputs from upper-management, HR, and the legal department. Having all these people together in a single workplace to write, give suggestions, and garner feedback is tricky.
Creating an employee handbook might require a team of copywriters, editors, and proofreaders to make sure the document is written in a structural manner, free from any grammatical errors or typos.
You also need a document editor- to create the employee handbook- as well as a knowledge management tool- to safely keep all of this information in a secure, centralized location.
It's important to treat your employee handbook as a living document and make changes to it as your organization evolves.
Here's the Smartest Way to Create Your Employee Handbook
Creating, editing, sharing, and storing your employee handbook is no easy task. Here's how we recommend that you take on the challenge in the least stressful way.
Bit.ai is a new-age document management and collaboration tool that helps teams to collaborate, share, track, and manage all company knowledge in one place. It's the perfect tool to create, store, and share an employee handbook.
[/vc_column_text]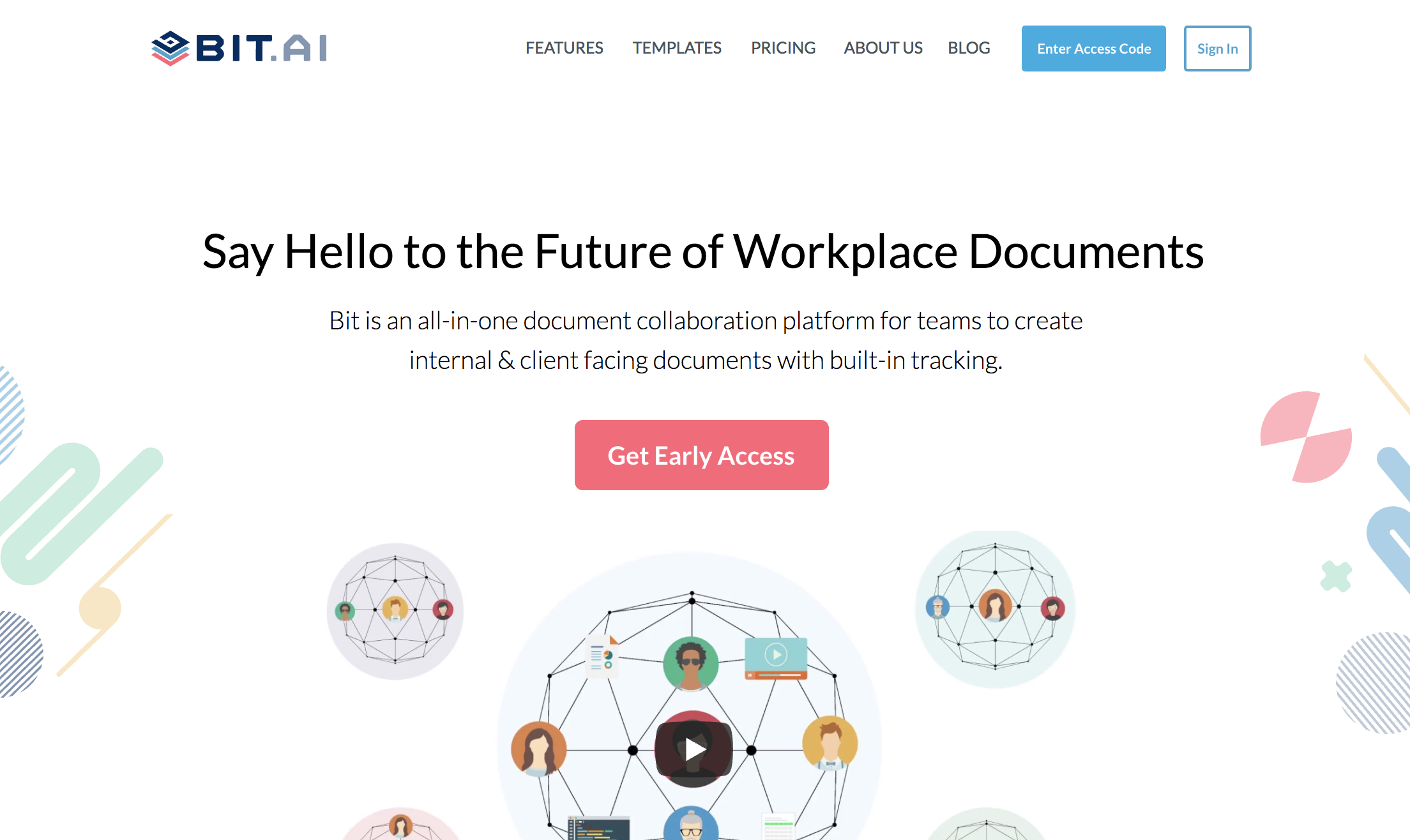 Bit helps you create documents of the future that are dynamic and much more than plain-boring text. Thus, apart from allowing multiple users to collaborate on documents, Bit also allows users to share any sort of rich media like YouTube videos, SoundCloud Playlists, Google Docs, One Drive Excel Spreadsheets, GIFs, Tweets, etc. Basically, anything on the internet with a link (i.e. https://…) can be shared and Bit will automatically turn it into visual content.

Read more: How To Write Project Reports That "Wow" Your Clients
How you can use Bit to create the perfect employee handbook?
Multiple people can simultaneously collaborate on a Bit smart document in real-time. It's a wonderful way to create an employee handbook for your company by working simultaneously with your peers and superiors.
Imagine bringing together your team of writers, editors, proofreaders, and members of the HR and legal department, as well as upper management into a single piece of document. Anyone can give suggestions and feedback and help create the best version of the employee handbook possible.
Bit has a smart editor that makes the process of documentation and content creation quick and easy.
To make the employee handbook more engaging and easy to understand, you can add videos, spreadsheets, cloud files, visual web links and so much more using Bit. Just copy and paste the link into the content and Bit will automatically display the content visually.
Bit allows users to manage permissions and information access that suits your organizational needs. It supports features like document tracking, password protection, file access restrictions. etc. that help keep your important company information safe.
Bit, thus, acts as an internal knowledge base where employees can find everything they need to know about the company at a single location. You cannot only create and store employee handbooks but a variety of workplace documents like training guides, process documentation, research, project proposals, fact sheets, media kits, and much more.
Bit documents also support smart search, which allows anyone to search and find any files, images, documents, etc. quickly and easily across all of their workspaces. With the ability to effectively label content, users can search any query regarding vacation policy, sick leaves, benefits, etc. using keywords, titles, descriptions, or tags. They can even search for files based on their source. (i.e., YouTube).
Read more: Employment Contract: What is it & How to Make it? (Free Template Included)
Employee Handbook Template
Need a template to start creating your employee handbook? Take a look at this one 👇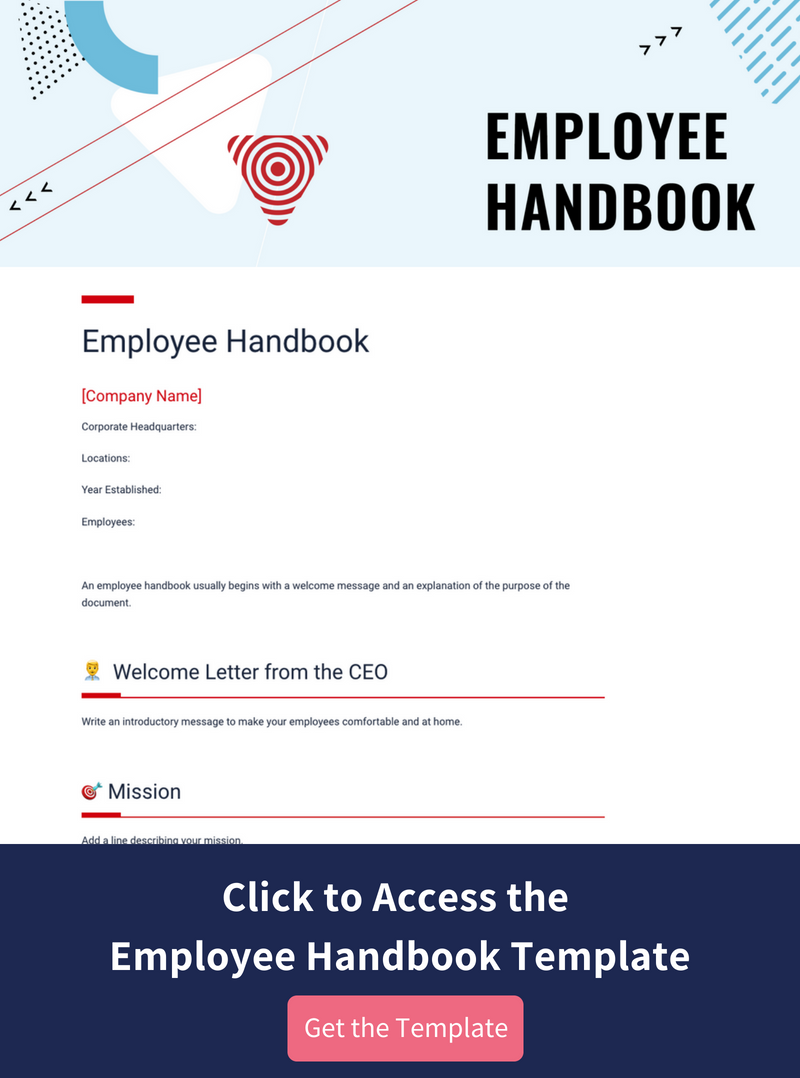 🎥Watch this video to learn more👇
Finally…
Employee handbooks are great to maintain an open and transparent relationship with employees and management.
A major point to keep in mind is to keep updating the rules and policies stated in the employee handbook to ensure they are in line with current company culture.
 Companies with engaged employees outperform those without engaged employees by 202%. So, make sure that your employees feel equal and thrive in a positive work environment.
So what do you think about creating an employee handbook? Do you think it helps with creating a positive work environment? Let's have a chat in the comments below.
Further reads :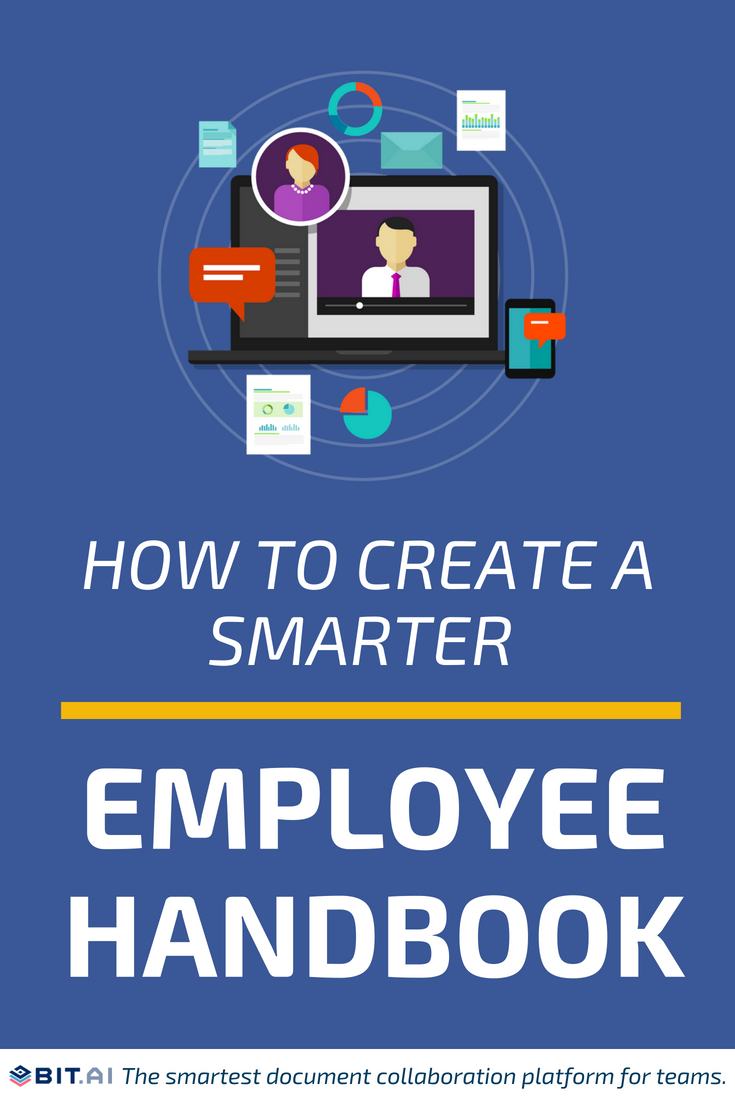 [/vc_column][/vc_row]
Related posts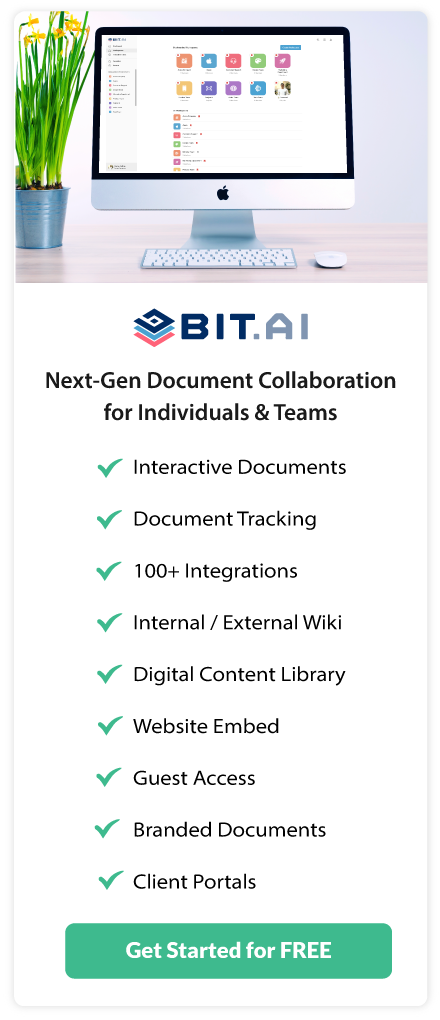 About Bit.ai
Bit.ai is the essential next-gen workplace and document collaboration platform. that helps teams share knowledge by connecting any type of digital content. With this intuitive, cloud-based solution, anyone can work visually and collaborate in real-time while creating internal notes, team projects, knowledge bases, client-facing content, and more.
The smartest online Google Docs and Word alternative, Bit.ai is used in over 100 countries by professionals everywhere, from IT teams creating internal documentation and knowledge bases, to sales and marketing teams sharing client materials and client portals.
👉👉Click Here to Check out Bit.ai.