Training your employees is not just about scratching something off your to-do list.
It's about motivating your staff to contribute to the organizational objectives.
It is about making them feel respected.
It's about cultivating an ecosystem for them to succeed.
We understand the fact that training workers are a tedious job. Not only are you responsible for designing a training curriculum with realistic outcomes, but you also have to make it meaningful and profitable because in a business environment, every minute counts.
With an employee training management system in hand, the positives greatly outweigh the negatives. So, let's look at what an employee training management system is and how you can use it to its best potential!
What are Employee Training Software and Tools? (Definition)
Employee training software and tools are used by companies to provide their staff with online training.
Through employee training software and tools, your staff will complete the training at their own pace with an online training module at their fingertips. This assists them in retaining the information more efficiently than they would in conventional training sessions.
An employee training software can help you save money on instructors, equipment, and, facilities for classrooms while making the entire process more successful.
However, when you can comfortably stick to your conventional employee training practices without having to break a sweat, why consider investing in fancy employee training management software?
Let's have a look at why you should totally use employee training software and tools!
Why Should You Use Employee Training Software and Tools?
Training software and tools enable you to build or upload eLearning classes for your employees, track how much they have learned, and measure outcomes.

This is like an online class, where the most boring activities are made easier, such as grading, processing statistics, and monitoring.
Here are some simple reasons why you should think about using Employee Training Software and Tools:
Increased knowledge retention
Enhances training flexibility
Allows training at multiple locations
Provides increased accessibility of resources
Pedagogical improvements
Reinforces vital knowledge
Reduces training costs
Boosts productivity
Removes boring training sessions.
If you want to make your workers more efficient, you need to check out the employee training software mentioned below! They will make your life simpler, help you save time, and motivate your employees to do well.
Read more: Employee Documentation: What is it and Types?
List of Top Employee Training Software and Tools
Pulling people off their desks to sit in training rooms could affect their productivity. The hours spent in these rooms are non-productive.
To avoid these non-productive hours and also deliver practical training to their employees, enterprises have started using employee training software to create, manage, and provide practical training.
Here is a handpicked list of the top employee training software and tools:


Bit.ai is a revolutionary new-age documentation and knowledge management platform that allows employees to communicate, exchange, monitor, and maintain all company documentation in one location.
Bit is nothing like regular Word or Google Docs. Bit docs are quick and interactive. You can keep all your knowledge and work in bit's workspaces for your team to access. You can create workspaces for personal use, around teams, departments, or the whole company.
Bit gives your HR team the power of creating employee handbooks, training manuals, and more. You can create these documents in any form like images, files, videos, visual links, charts, etc.
The most amazing feature of bit.ai that it lets you work with your team in real-time. You can co-edit and use inline comments to bring all your employees to the same place.
Bit has a sleek editor, a robust content library, smart workspaces, and so many templates to choose from!
Pricing: Bit.ai offers a free plan with limited features, and its pro plan starts from:
Standard ($12/month)
Plus ($20/month)
Enterprise (contact sales)
For training and assessing employees remotely, iSpring Learn is an easy-to-use cloud-based LMS.
iSpring Suite, a versatile authoring toolkit combined with the LMS, is what differentiates iSpring Learn from its rivals. iSpring Suite allows capabilities beyond embedding a video from YouTube and building introductory text courses, unlike built-in course builders that some LMSs have.
With its assistance, specialized tests, multimedia tutorials, and communication simulations, you can create high-end immersive eLearning for your employees.
Pricing: For 100 users, iSpring Learn's plans range from $3.66/active user/month to $2.82/user/month for 500 users. When the number of users reaches 500, a personalized package can be provided.
Docebo is a flexible and scalable framework providing a full solution for enterprise learning.
Its white labeling and branding choices are two of Docebo's features that catch the eye right after signing up. You can practically configure everything: from the backdrop of a sign-in page to the look of a course catalog; you can also set up the logo and colors for the mobile app.
In addition to graphic customization, comprehensive localization is also supported by Docebo. It is accessible in 40 languages and helps major multinational firms who need to educate workers. By contributing presentations, manuals, or visual guidance, staff can also share their experiences and best practices using Docebo.
Pricing: The annual pricing starts at $2,000 and can reach $500,000.
LearnUpon is a versatile platform that can be used for both internal training for staff and external training for stakeholders.
The platform interface tends to be neat and user-friendly. Without much experience, you should be able to work out many of the features of the platform.
Each client has a personal relationship manager that is there to assist you in any potential problems.
As the platform delivers top-notch service to its clients at any level, its functionality coincides with the pricing schedule.
Fast switching between learning portals is another great function in LearnUpon. This enables individual learning spaces to be developed and tailored by all groups of learners, staff or associates, and organizations.
Pricing: The basic plan starts at €599 (~$663) monthly for up to 50 active users. The second plan starts at €999 (~$1106) per month for up to 250 users. The third plan starts at €1,699 (~$1873) for 250+ users.
SAP Litmos is a cloud LMS built for thousands of learners to take, deliver, and track on-demand training quickly.
For both the admin and the learner, it is a user-friendly framework. The interface is self-explanatory.
SAP Litmos has built a massive marketplace where over 15,000 off-the-shelf learning materials can be accessed. The courses are rendered in a video format of bite-size (5 to 20 minutes long), which is ideal for learners' interaction.
It makes the right choice for organizations that do not currently have an educational designer or wish to save time and resources in creating their training material. It has an advanced editor that helps you to develop straightforward eLearning content.
Pricing: $6 per user if the company falls into the 150-500 or 500-1000 tier. For fewer than 150 users per month, you can choose the plan for $15 per user. There are custom plans for 1,000 learners per month.
There are so many options available in the market that are surely going to confuse you.
To ease your confusion, we have listed some standards that you should keep in mind before heading out to pick one employee training software for your organization.
Read more: Best Employee Onboarding Tools Out There!
How to Choose the Best Training Software and Tool For Your Employees?
A company needs to find the best employee training tools.
Have you ever wondered what standards are used to differentiate one software for employee training from another?
Here are things you should consider when choosing the best employee training software:
1. Compatibility
The first thing you need to consider is that the software for employee training is consistent with the workflow you are using.
Ensure that the software you choose can integrate with the tools you're using currently without any problems.
Test the employee training software carefully to decide if it can help you develop the skills of your staff in the best possible manner.
Before you commit, check the metrics, and make sure that they fit with your objectives.
2. Knowing Your Audience
Before selecting the right employee training software, you need to understand your workers' needs, background, and objectives.
Determine whether your workers are new employees or seasoned pros. Are they senior managers or leaders in the organization?
The employee training software that would be most suitable will be determined by employee personalities and their organization's status. You should take their age differences into account, too. Millennials, for example, tend to enjoy technology.
3. Mimic Face-To-Face Training
Companies are expected to execute online training programs under certain constraints, even with an excess of online training tools. For upper management, classroom training may be a perfect and inexpensive way to learn the strategies and expertise they need for their work.
You ought to find a way to make sure that the computer interface mimics the face-to-face feeling that company leaders enjoy business training experiences.
Ideally, the software must promote teamwork and cooperation within the team, even if they are situated thousands of miles away.
4. Have Clear Learning Goals and Objectives
Be sure you have simple and straightforward learning objectives when selecting the right employee training tools. This makes it easy to find the employee training software that helps you obtain the goals.
Staff's responsibilities, the amount of preparation they need, and how to bridge the differences are a few things that you need to remember. These variables will allow you to decide if the top contenders fulfill the core parameters.
5. Have a Consistent Schedule
Many managers make the error of attempting to meet all their workers' training needs once a year in a three-day cycle. This puts a lot of pressure on your staff and the tools you choose for employee preparation.
Aim to expand your online training course during the year to alleviate the burden on your workforce and the new software for employee training. Give training for a few hours every week. It will allow you to have more results during online training, which will reduce the pressure on your company. It is also a perfect way to change the program so that the staff and their plans can meet all the various needs.
Wrap Up…
Useful software for employee training management will improve your workers' morale and increase productivity, which will intensively drive your company's growth.
It's very easy to fall for a fancy facade, but you need to make sure that you choose the training software that creates more excitement in employees and keeps them interested in the training material.
The smart thing to do is request a demo session to evaluate employee performances and consider whether it is maximizing the overall efficiency.
After all, the only thing worse than training your employees and losing them is not training them and keeping them!
Further reads: 
Related posts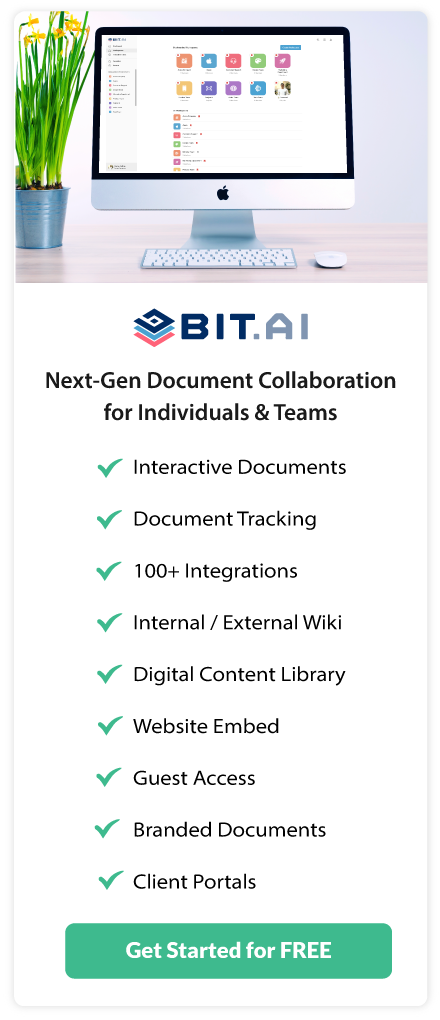 About Bit.ai
Bit.ai is the essential next-gen workplace and document collaboration platform. that helps teams share knowledge by connecting any type of digital content. With this intuitive, cloud-based solution, anyone can work visually and collaborate in real-time while creating internal notes, team projects, knowledge bases, client-facing content, and more.
The smartest online Google Docs and Word alternative, Bit.ai is used in over 100 countries by professionals everywhere, from IT teams creating internal documentation and knowledge bases, to sales and marketing teams sharing client materials and client portals.
👉👉Click Here to Check out Bit.ai.