Want to create an operating agreement for your LLC? No worries, we have got you covered! Read on…
All set to start your own LLC? Congratulations! You really are doing a gutsy job.
It definitely requires a lot of effort to come with the idea of setting up an LLC and to execute it successfully.
But wait, how to go about it? What's next!?
Setting up all the required capital, arranging all the necessary paperwork?
Yes, all of these are essential but there's more to it.
There is a document that you have to create: an Operating Agreement.
Well, an operating agreement is not a must-have document for LLCs but creating one gives you an added advantage over others.
We'll tell you all the reasons. But first, let's find out what an operating agreement is!
What is an Operating Agreement? (Definition)
An operating agreement is a document that forms the backbone of LLCs (Limited Liability Companies).
In most states, it is not necessary for LLCs to have an operating agreement. However, having a written LLC keeps your business safe.
An operating agreement plays a major role in the operation of every LLC. It outlines the duties, powers, rights, and obligations of all the members of an LLC.
It also deals with questions regarding ownership, voting rights within the firm, duties, and responsibilities of the members, allocation of profits, losses and tax items, succession and dissolution policy, and more.

It allows you in setting out financial and working relations with your LLC members, owners, or managers. Once the document is signed by the members of an LLC, it acts as an officially binding contract.
If you still think, "Why do I need an operating agreement if it is not necessary for creating an LLC?", read on and you will find the answer!
Why Do You Need an Operating Agreement?
Yes, most states do not require LLCs to create an operating agreement for their functioning.
However, it is always better to create one in order to prevent your firm from falling into any unforeseen conflicts or consequences.
An operating agreement safeguards you legally, and thus protects the legal status of your company. It is unwise to run your LLC without an operating agreement.
Let's explore a few more reasons why you should create an operating agreement!
1. Guarding Your Limited Liability
Operating agreements free the members from personal liability to the LLC.
There are high chances that an LLC could closely resemble a sole partnership or proprietorship. If such a situation arises, it may jeopardize your limited liability.
An operating agreement prevents any such instances from occurring and hence keeps you legally safe.
2. Avoiding Your State's Default Rules
Most states have their own default rules that may govern LLCs. Not creating an operating agreement means you are subjected to these rules.
Whereas, creating an operating agreement lets you create regulations and guidelines according to your company's customized needs.
Your company and its rules thus remain exclusive, which would obviously help you in achieving your business goals.
Read more: Financial Plan: What is it & How to Create an Impressive One?
3. Preventing Miscommunication
Verbal agreements are often too fragile. Oral communication often leads to miscommunication and misunderstanding, which may create huge consequences for your business.
You obviously would not want your company to fall into crisis, just because of the lack of written documents.
Creating an operating agreement is the best idea to prevent your firm from facing any such consequences. You can refer to them in case of any such unforeseen events happen in the future.
4. Clarifying Business Succession
An operating agreement clearly describes how to go about if the owner dies, or becomes unable to run the business. This is called a succession plan.
It stipulates details regarding who will manage the LLC, once you are unable to do so, or when you pass away.
A succession plan is very essential for your LLC. Otherwise, your family members might get exhausted from the legal battle that may follow.
How to Create an Operating Agreement? (Things you must Include)
Each business is unique. There are different kinds of LLCs and the character and functioning of each of them can highly vary.
Therefore, it is necessary to draft an operating agreement that satisfies your business's conditions. The key contents of an operating agreement vary according to the exclusive nature, size, and aim of your business.
However, to give you an idea of how to draft an operating agreement, we have listed some of the main sections that you must include.
1. Ownership
The main section to be covered in an operating agreement is regarding its ownership.
Usually, an LLC's ownership is divided amongst the members based on their investment levels. However, there are exceptions in cases like, when the LLC is the brainchild of a single member, but that they contributed less.
Whatever the case, the details regarding ownership should be clearly specified in the operating agreement. This could prevent any conflicts or issues that may arise in the future.
2. Equity Structure
The allocation of profits, losses, and distributions, contributions, capital accounts, together comprise the equity structure of an LLC.
Membership interests, classes of membership interests, contributions, and capital accounts, should be clearly addressed in your operating agreement.
Also, exact clarifications must be made regarding the manner in which the profits, losses, and distributions are allocated among the members.
If you are running a single-member LLC, you retain 100% equity. However, if yours is a multi-member LLC, the equity is distributed among the members, as per the terms specified in the operating agreement.
3. Management
Usually, LLCs are managed by the members. However, it is up to you whether to appoint a manager to run the day-to-day operations.
You can appoint a manager or a number of managers if you think your company needs one.
If you decide to appoint a manager, the operating agreement should consist of all the necessary terms regarding the person's appointment, duties and responsibilities, voting processes, and even removal.
Read more: Standard Operating Procedures (SOP): What, Types, and How to Write?
4. Voting
Every LLC may reach a certain point where conflicts of interest may arise among the members regarding a decision.
Such a situation can be sorted out by conducting voting among the members, to arrive at a majority decision.
Most LLCs have a standard rule where the members may vote in proportion to their percentage interests. However, you are free to change this rule through an operating agreement.
5. Record-Keeping
Apart from the two major records: constitutional document and operating agreement, LLCs are required to maintain certain other documents.
They may be related to the organization, management, finances, and ownership of the business.
Every operating agreement should essentially have a section exclusively for matters related to keeping these documents.
It should cover areas like what all records and documents are to be kept. The rights of the LLC members to inspect those records should also be specified.
6. Anti-Dilution Protection
There are chances that new members may be added to your LLC and they need to be provided with interest.
If 100% of the LLC interests are distributed amongst all the founding members, there are chances that it may be diluted to provide interests to the new members.
Anti-dilution protection saves you in such cases, by allowing a member to maintain his/her membership interest percentage.
Such protections may consist of veto rights on the issuance of new membership, limitation on capital calls without the members' consent, or even provisions for existing members to purchase new membership interests being offered.
7. Restriction on Transfer
Your operating agreement should have a separate section addressing the transfer of membership interests.
It must include a detailed explanation regarding how the membership interests might be transferred. It should also be made clear if those transfers include management rights, approval rights, and originally established rights.
Most LLCs have a rule, according to which, members cannot sell or transfer their membership interest unless they have prior approval.
8. Non-Compete and Non-Disclosure Agreements
Both the non-compete and non-disclosure agreements serve a common purpose. They act to restrict any chance of an employee harming the company for personal or financial gains.
A non-compete agreement puts restrictions on ex-employees, which prevents them from leaving the company and setting up a similar business in close proximity to the company.
Whereas, a non-disclosure agreement or confidentiality agreement prevents employees from revealing or disclosing sensitive information regarding the company to someone else.
Now, we are going to introduce you to something interesting. So far, we have talked about the what, why, and how of an operating agreement.
But, what platforms do you rely upon to create such documents?
Are you that person who still depends on Word or Google Docs, and create outdated documents!?
If your answer is 'Yes', it is high time to change your path and take a new turn.
But choosing an advanced tool isn't that easy either. There are a whole lot of documentation tools and software, piled up out there. This ain't surprising, given the rate at which technology is growing.
Hence you have to be extremely wise and selective while choosing the documentation platform for your business, right from creating the operating agreement.
Let us introduce you to an advanced documentation platform: Bit.ai.
Read more: Profit-Sharing Agreement: What is it & How to Create it?
Bit.ai: The Ultimate Tool for Creating an Operating Agreement
Bit.ai is a cloud-based document creation and collaboration platform, designed exclusively to satisfy all your documentation needs.
With Bit, you can create exciting documents, collaborate with your colleagues or team members, and even share and track those documents in real-time.
Be it your operating agreement, articles of organization, client-facing document, product report, invoices, meeting agenda, company performance report, or anything, Bit is your perfect assistant for creating those.
Bit.ai has a plethora of stunning templates that you can use for creating documents that are fully responsive. That's not it! With design automation built-in, you can change the color theme of the document with one click.
Bit also gives you the option of adding rich embeds to your documents. Powerpoints, spreadsheets, images, graphs, videos, music, PDFs, and anything with a link can be embedded into your document.
You can also create workspaces on Bit.ai, where you can actively collaborate with your team members. This boosts your productivity and enhances the pace of your work! The workspaces can be created according to your needs. They can be private workspaces, team workspaces, department workspaces, and more.
Once you create the documents, you can share them with utmost ease, and even track them in real-time. You can see who opened your operating agreement, how much time they spent on it, and more.
Sounds awesome, doesn't it?
Tip: You can use Bit's Guest Access to invite your attorney to review your Operating Agreement and ensure that it meets your state and county standards.
Wrapping Up
Drafting an ideal operating agreement saves your LLC from falling into unexpected or unforeseen financial, security, or legal crisis.
Considering how important an operating agreement is, make sure that you use the right platform for creating one.
Wishing you all the success in your endeavors. May your LLC emerge as a great success!
P.S. Don't hesitate to tweet us @bit.docs if you have got any queries or suggestions. We would love to hear from you!
Further reads:
Founders' Agreement: What is it & How to Create it?
Consulting Agreement or Contract: What is it & How to Create it?
Vendor Agreement: What is it and How to Create it?
Shareholder's Agreement: What is it & How to Create it?
How to Create Quotations That Your Clients Can't Reject?
Sales Contract: How to Create one for Your Business? (Steps Included)
How To Make An Employment Contract?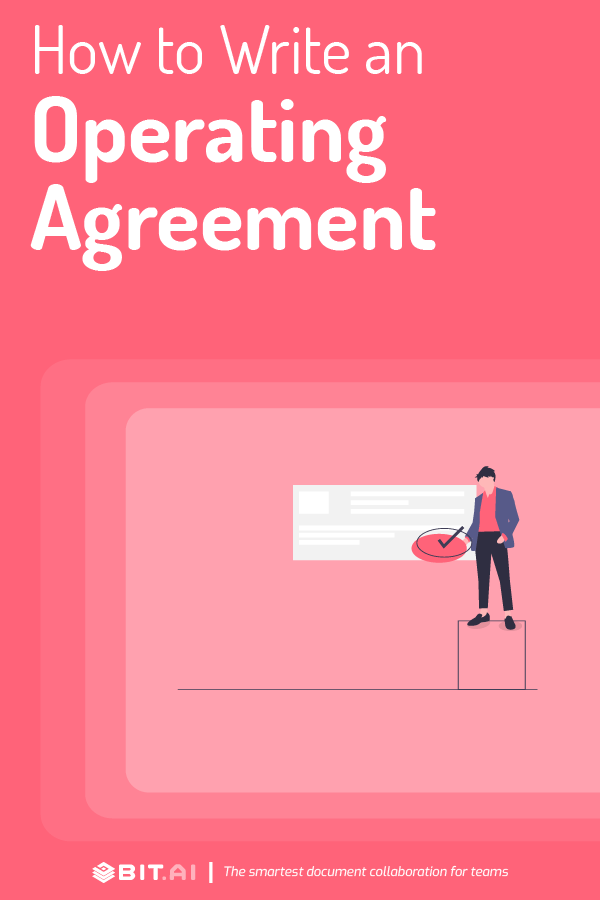 Related posts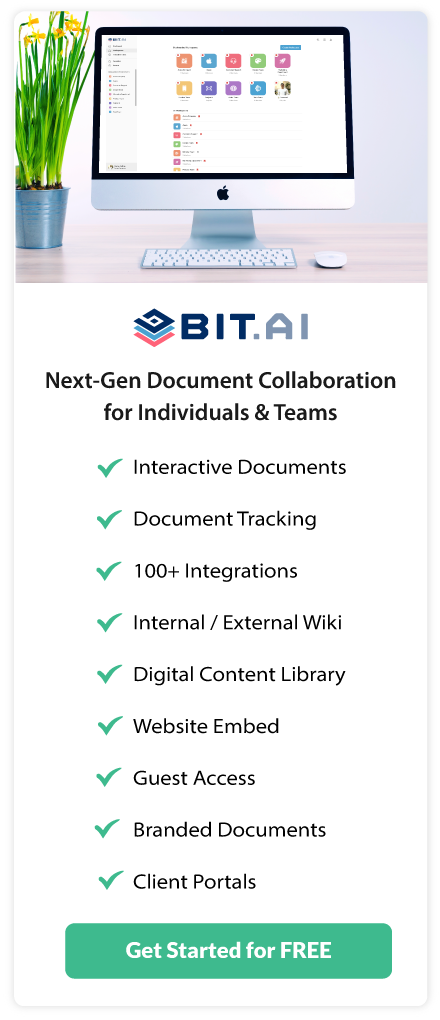 About Bit.ai
Bit.ai is the essential next-gen workplace and document collaboration platform. that helps teams share knowledge by connecting any type of digital content. With this intuitive, cloud-based solution, anyone can work visually and collaborate in real-time while creating internal notes, team projects, knowledge bases, client-facing content, and more.
The smartest online Google Docs and Word alternative, Bit.ai is used in over 100 countries by professionals everywhere, from IT teams creating internal documentation and knowledge bases, to sales and marketing teams sharing client materials and client portals.
👉👉Click Here to Check out Bit.ai.