Digital transformation can mean different things to each company. This makes it difficult for companies to understand its true potential and why its absolutely necessary to embrace this revolution in technology to survive in the modern world. Let's try to understand the true meaning of digital transformation and why your business might be in great threat of you don't take this seriously!
"It is not the strongest of the species that survives, nor the most intelligent that survives. It is the one that is the most adaptable to change" – Charles Darwin
Digital technologies have fundamentally changed how we live. From radically changing the way we interact, talk, meet, and engage with each other, to rapidly changing the way we do work, the transformation has been enormous.
It is no surprise that we are witnessing the greatest era of cultural change in our society, and technology has to do with a big part of it. This digital transformation, however, is not only limited to large enterprises, but to startups and small businesses as well.
Every article, blog post, Facebook post, Tweet, industry report or survey points towards a big digital transformation of our society.
Businesses today do not worry about the limitations of technology in achieving a particular task or process but worry about choosing and eliminating the vast variety of technological tools at their disposal to do work.
However, the challenge is in understanding this transformation. Many CEOs, CIOs, management and business leaders are still confused as to what digital transformation really is?
Does using Skype or Slack to communicate counts as digital transformation? Or is it about storing our critical documents in the cloud? What parts of our strategy needs to change to bring in this transformation? Do we need to get rid of the old ways of doing things? And most importantly, is it really worth all the fuss?
As technology is playing a big role in helping businesses keep up with this massive cultural change and provide immense value to customers, its crucial to learn just how important digital transformation for your business really is.
This blog will certainly help you learn what exactly digital transformation is, why is it a big deal, and how you can implement it for your own success.
Read more: The Best Tech Websites To Follow in 2023!
What is Digital Transformation? (Definition)
Many industries and organizations are either in the middle of a digital transformation, are planning digital transformation or are struggling with the very concept.
This is largely due to the fact that digital transformation is usually different for different businesses and industries.

There's no single technology or software that enables digital transformation. It is a combination of cultural as well as the technological change that leads to improved performance and efficiency for a business.
A true digital transformation requires a reinvention of most, if not all areas within an organization- from the tools and apps it uses, its supply chain and workflow, its customer engagement, to its employee skill sets.
"When digital transformation is done right, it's like a caterpillar turning into a butterfly, but when done wrong, all you have is a really fast caterpillar." – George Westerman
In simple terms, digital transformation is the transformation of business by revamping the way it conducts its business and adopting digital technologies to improve business processes. 
It is the integration of digital technology into all areas of a business, fundamentally changing how businesses operate in the modern world and deliver value to customers and stakeholders.
Digital transformation is a mindset that requires continually improving by challenging the status quo, experimenting with new ways of doing things, and embracing these changes to be relevant in this constantly changing digital world.
Read more: What Is A Digital Workplace And Its Impact On The Future Of Work
Why digital transformation is necessary to survive in the modern world?
If there was a golden rule on how to stay in business its this one- "adapt to meet changing market conditions or face extinction". There are many reasons as to why businesses need to adopt digital transformation, but the most important one is survival.
This is due to the fact that the companies who ignore the current state of the market fail to match new customer expectations and are often replaced by new businesses that do.
"The last ten years of IT have been about changing the way people work. The next ten years of IT will be about transforming your business." – Aaron Levie | CEO of Box
With the rapid digitization of society, organizations are having to transform much more quickly. Check out some of these amazing stats which prove how crucial this transformation really is:
Digital transformation could be worth $18 trillion in additional business value, according to analyst house IDC.

At least 40% of all businesses will die in the next 10 years if they don't figure out how to change their entire company to accommodate new technologies.
Gartner's CIO Agenda suggests digital business will represent an average of 36% of a business's overall revenue by 2020.
What are the major reasons for this digital transformation? 
1. Customers Expect Top-Notch Service:
The dawn of artificial intelligence, cloud computing, big data, smartphones, connected devices, and other innovations have drastically improved the lives of the customers.
The vast amount of information present at customer's fingertips has empowered them to make better-informed purchase decisions, thus changing the kind and quality of products and services they expect from the businesses they interact with.
The era of instant gratification has given birth to a phenomenon like one-day delivery- which was unheard of a decade ago.
Thanks to the digitization of the workplace, you can have all company information- troubleshooting guides, how-to manuals, FAQs, etc. all in one place (maybe in a document management system or cloud service), service reps are able to provide a faster, better customer experience.
To keep up with customer expectations, the old ways of doing work needs to make room for the new ones.
Read more : Why Companies Are Shifting To Digital Workplaces?
2. Increased Efficiency
There's no doubt that technology has enabled new processes, strategies, and procedures that have made us more productive and efficient. Work overload decreases productivity by 68% in employees who feel they don't have enough hours in the day to complete their tasks.
Digital transformation can help increase productivity by getting rid of commute times, time spent searching for information, as well as time spent on other administrative tasks that technology can do very quickly.
A complete digital transformation of your business will result in prompt customer service, higher quality of products, faster workflow and lead times, better information management, and reduced time and cost.
3. Provides a Competitive Advantage
In a recent Gartner survey, "56 percent said that their digital improvements have already improved profits." Company's who are rapidly moving towards a digitized workflow clearly possess a competitive edge on those who are still following traditional ways of doing work.
A complete digital transformation of your business allows companies to:
Get access to information quickly and easily, saving employees time and effort.
Employees can provide better service to customers and offer better turnaround times.
Save a ton of money by switching from paper to digital documents.
Mobile platforms enable work to happen wherever and whenever.
Cloud computing grants an organization quicker access to its needed software and saves a ton of money using cloud storage instead of file cabinets.
Emerging technologies like artificial intelligence and machine learning provide organizations with insights to drive more accurate decisions around marketing, sales, and product development.
Improved internal as well as external communication and collaboration.
Since employees end up saving a lot of time and money, they can focus on the things that really matter and contribute to the business's success more effectively.
Read more: What Is Competitive Analysis And How To Do It Right?
Tips to implement Digital Transformation in your workflow
Convinced about the implications and use cases of digital transformation? Good! Let us now see some of the basic steps required by an organization to implement digital transformation successfully.
1. Align the organization
Any change process starts with an awareness that there's an issue in the organization.
Upper management and leaders need to ensure that everyone understands the shortcomings of the current system and why change is more than necessary to secure a successful future.
Being completely transparent with the employees of the implications and impact of carrying out the transformation is key to a smooth implementation.
2. Identify the areas in need of transformation
The first step to digital transformation is finding out key areas within the organization that are in dire need of digital change.
Many businesses make the mistake of taking on a complete transformation of their business which overwhelms the employees and often results in failed implementation.
3. Map out key technologies
The choice of technology depends upon the process you are trying to optimize.
While there are many new technologies seeing rapid growth, it doesn't mean that you will need to implement all of them in your business.
Focus on finding the technologies that fit with your business goals and objective and implement them effectively.
Read more : How Digital Collaboration In The Workplace Improves Workflows
4. Layout the implementation strategy
Now that you know what you need and where you need it, its time to define the roadmap to success.
Typically, such implementations are carried out in phases to mitigate risks and ensure steady transformation and understanding of the process being transformed.
5. Measure the success
To measure the effectiveness of your plan you will need to set up some key performance indicators (KPIs).
In order to drive real change, you need to put in some measure that indicates a real change has taken place and that the plan was indeed a successful one.
A great way to do this is to set up SMART goals to keep the transformation process transparent and measurable. These metrics will demonstrate the effectiveness of the plan and will also guide future decision making.
Challenges to Digital Transformation
There are many challenges to digital transformation. 
Many organizations struggle with legacy systems that hamper advancement and change. Research shows that 9 out of 10 IT decision-makers claim legacy systems are preventing them from harnessing the digital technologies they need to grow and become more efficient.
Not many people like change. People often get comfortable with the current state of living and doing work, which makes it harder to challenge the status quo and implement a company-wide transformation.
Many businesses are unable or unwilling, to allocate the money to replace old technologies.
Many also have a hard time finding qualified personnel at the top level who can drive such change strategically and put the company on the correct path to success.
In order for digital transformation to take place, the leadership group needs to create an organizational culture that not only supports new ideas but also encourages continual improvements that lead to success.
The management needs to instill this mindset not only in their employees but also all the stakeholders so that they are comfortable with this type of transformation.
Everyone should be made clear about the nuances of old legacy systems and processes in a way that they not only understand but are willing to identify and abandon dated and ineffective processes and replace them with something better.
Only then an organization can survive in this highly competitive landscape and provide customers the quality of service they have been waiting for.
So, what do you think about digital transformation? What steps do you plan on taking to make your organization more digitally inclined? Let us know in the comments below!
Further reads : 
[/vc_column_text]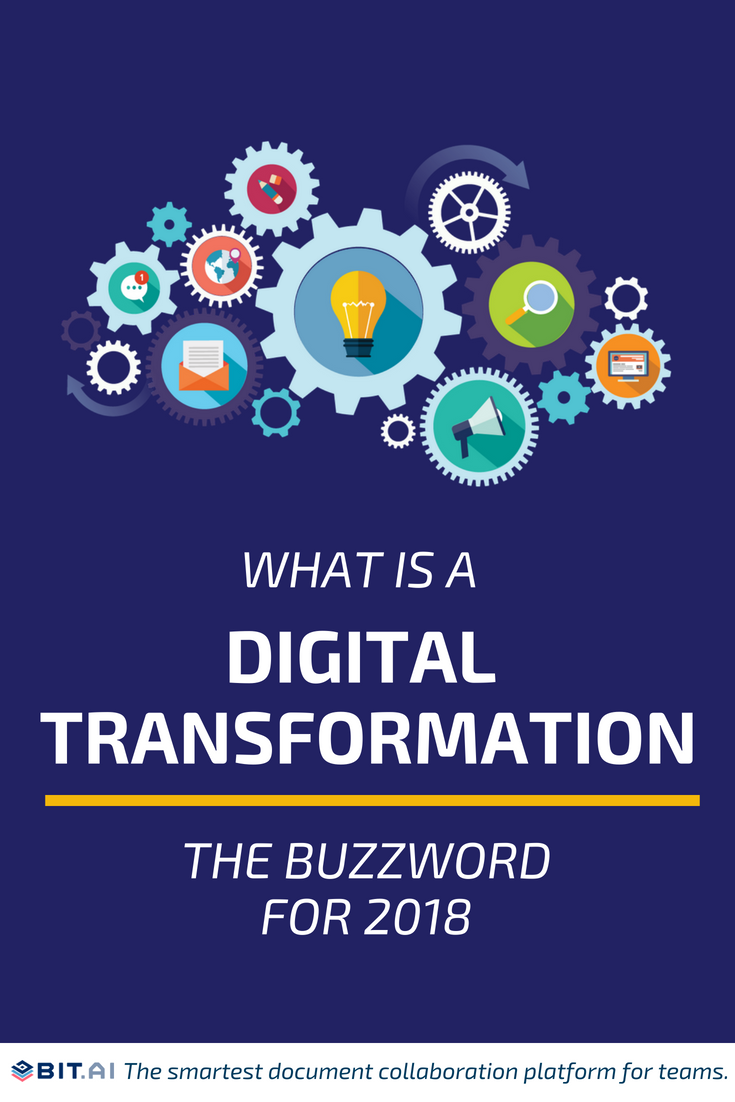 [/vc_column][/vc_row]
Related posts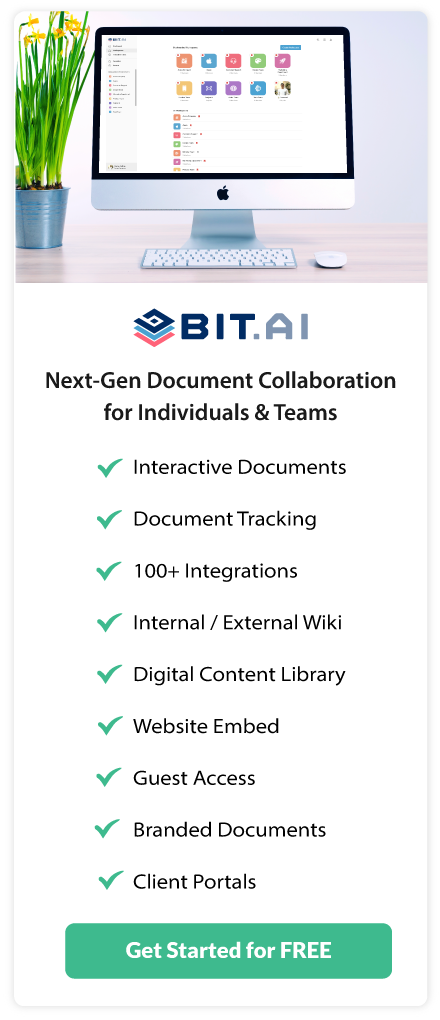 About Bit.ai
Bit.ai is the essential next-gen workplace and document collaboration platform. that helps teams share knowledge by connecting any type of digital content. With this intuitive, cloud-based solution, anyone can work visually and collaborate in real-time while creating internal notes, team projects, knowledge bases, client-facing content, and more.
The smartest online Google Docs and Word alternative, Bit.ai is used in over 100 countries by professionals everywhere, from IT teams creating internal documentation and knowledge bases, to sales and marketing teams sharing client materials and client portals.
👉👉Click Here to Check out Bit.ai.