Let's consider a scenario: You've ordered a couple of things online. However, they will arrive when you're at work. So, you would ask a friend or a family member to collect the items on your behalf, right?
The same works for a business, but on a much larger scale and legal bindings, and a lot of money. This usually happens when a business does not have the time, resources, knowledge, or skills to carry out a particular task or event.
Just the way we ask a favor from a friend or family member, in the business world, agents are hired to act on behalf of an activity or event. But, unlike trusting a friend or family member, you cannot blindly trust an agent. Nor can an agent blindly trust you.
This is where you as a business owner or manager enter into an agency agreement with an agent to solidify the relationship by making it official.
If you are looking for agents and don't know how to write an agency agreement, then you are in the right place!
In this blog, we will explain to you what agency agreements are, how important they are, the steps involved in creating the perfect one, and even present you with a bonus surprise at the end!
So what are you waiting for? Dive right in!
What is an Agency Agreement? (Definition)
An agency agreement is a document signed by a company in order to enter into a legal relationship with an agent. This means that the agent is officially authorized by the company to complete tasks or act on behalf of that company.
This document legally binds a company and an agent under an agreement.
You can use an agency agreement when you are hiring legal services, using marketing services, outsourcing vendors, etc.
So, if your company asks a lawyer, an accountant, or a vendor to carry out a task on your behalf, then you have to enter into an agency agreement in order to protect the interests of both the parties involved.
Now you might be wondering, "how this is in any way different from an employment agreement?".
Well, an agency agreement does not contain additional benefits that usually come with an employment agreement. That means, things such as healthcare benefits, paid leaves, etc. are not part of such an agreement.

What's more? An agency agreement usually lasts for a short period of time, unlike employment agreements that last for an indefinite or long time.
Now that you know what agency agreements are, let's take a look at why it's important to create them.
Read more: Profit-Sharing Agreement: What is it & How to Create it?
Why You Must Create an Agency Agreement?
There are many reasons why you must create an agency agreement. What are they? Let's take a look:
1. Defines the Business Transaction
An agency agreement defines the basis of your entire business transaction. It lays down the what, how, where, when, why, and who of your agreement. This ensures that there is transparency in the business undertaking and that both the parties involved know all the essential details.
2. Increases Efficiency
With all the guidelines and rules to be followed during the business transaction clearly stated in an agency agreement, there is little room for error. It saves you time, energy, and effort. This ensures that there is uninterrupted workflow and optimization of performance which helps increase the overall efficiency of your business.
3. Provides Legal Backing
Since an agency agreement is a legally binding document, it outlines the consequences in the event of a breach of contract. This means that both you and your agent will both be protected by it and will be allowed to take it up to the court to solve the case.
4. Acts as a Reference
An agency agreement serves as a solid reference for clarifications whenever any disputes or disagreements arise. This helps clear off misunderstanding and miscommunications and resolves any issues or arguments, thereby saving time and effort.
5. Minimizes Risks
During the process of creating an agency agreement, you can anticipate potential risks and consider any unforeseen changes that might affect the business transaction. This will help you create provisions for it in the document and will help you get back on your feet if such situations arise in the future.
6. Maintains Business Relationships
Lastly, creating an agency agreement ensures establishing a healthy and professional relationship between your company and your agent. This ensures the smooth functioning of your business as well.
The bottom line is, agency agreements not only helps settle disputes by providing legal support for both the parties involved, it also pushes for the smooth functioning of the transaction while establishing a professional relationship.
Now that you know how important an agency agreement is, let's get down to the nitty-gritty of writing a well-structured and well-defined one for your business!
Read more: Vendor Agreement: What is it and How to Create it?
How to Create an Agency Agreement? Follow these steps:
Here are the steps involved in creating an agency agreement:
Step 1. Provide the Names and Addresses
The first step is to make sure that you write down the legal name of your company and the legal name of your agent in the agency agreement. This clearly establishes that both parties are entering into a legal and professional relationship.
Below that, you must include your company's address and your agent's address. This is to ensure that both parties have a physical location to contact in case of a legal dispute.
Step 2. Detail the Scope of Work
The next step is to describe the scope of work in your agency agreement. Here, you will define what your work or project is and describe what you want from the agent. The goal is to make sure that you provide a specific and detailed description of the services you need.
In this section, you must detail:
What you and your agent have agreed upon
What services should be provided
What results you expect from the agent
How many revisions and changes are allowed
Here, you can make some room for any additional work-related requests in case extra work pops up along the way. So be sure to mention that during such circumstances, it will be quoted at a separate rate and agreement. This is to ensure that you and your agent can work up an agreement even if more work gets added in the future.
Step 3. Fix a Duration for the Contract
Once you have provided a description of the services or tasks to be performed, then you must detail the time duration of the agency agreement.
You must clearly define a timeframe and mention the start and finish date of your agreement within the document.
Step 4. Specify Terms of Payment
This is an extremely crucial section of your agency agreement. Here, you and your agent must set a clear payment schedule and lay down the payment terms.
Specify the exact rates to be paid, the modes of payment, and the time period within which the payment should be made. You can charge on a monthly basis or bill your agents based on the completion of milestones.
In this section, you can also discuss refunds, pre-payment, lump-sum payment and also leave some room for negotiation.
Also, don't forget to detail how you plan to deal with delays in payment or other payment-related issues.
Step 5. Describe the Termination Clause
The next important section of your agent agreement is the termination clause. In this section, you must include a provision for early termination or specify the grounds of termination, which could be due to breach of contract, non-performance, etc.
The conditions to terminate must be the same for both parties. Here, you must mention:
The notice period for cancellation or termination (at least 7 days)
The mode of termination (written or email)
How to manage the outstanding work and payment
Step 6. Discuss Ownership and Copyrights
Since your agent does the work on behalf of you and you are paying for it, it is important to detail who owns what.
In this section of your agency agreement, you must discuss and detail who gets to own the work and retain the copyrights. This is crucial to avoid confusion and disputes in the long run.
Step 7. Add a Confidentiality Clause
This section of your agency agreement ensures that your information and your agent's information remain confidential.
Here, you can state what aspects of your business relationship should remain confidential or private. You can even add a non-disclosure agreement to protect data from being revealed or leaked.
Step 8. Include an Indemnity Clause
Indemnity is protection or security against any loss or legal liability of a party's actions. Under this clause, you can detail the consequences one must face if there is a breach of contract or failure to fulfill responsibilities.
This section acts as a security for both the parties involved in the agreement.
Once you follow all these steps and include all the important sections, you are officially ready to send out your agency agreement.
Before you leave, we'd like you to take a look at this special tool that can make writing any type of agreement as easy as a walk in the park.
Spare a few minutes and with a couple of clicks, you'll have yourself the perfect agency agreement in your hands!
Don't believe us? Scroll down and see for yourself!
Read more: Client Brief: What is it and How to Write it? (Steps Included)
Bit.ai: Tool for Creating All Kinds of Agreements

We know that writing an agreement from scratch is no child's play. There are so many things you have to consider and so many sections that you need to include, and quite frankly, it is an exhausting and time-consuming task.
This is where bit comes in! It is a modern-day cloud-based document creation and collaboration platform that will help you create, edit, organize, manage, and share agreements all under one roof and that too in a matter of a few minutes!
Check out these amazing features of Bit:
1. Ready-made Templates
Don't spend a second worrying about how your document would look, because Bit has an extensive template gallery that offers over 70+ professionally designed templates from which you can choose your favorite one!
All you have to do is pick a template for your agreement, fill it with your customized content and you'll get the whole draft ready in a few minutes!
2. Auto-formatting
With Bit, you no longer have to waste your time trying to fix the format of your agreement because it comes with an auto-formatting feature that automatically formats your entire document to give it a very consistent and uniform look.
3. Smart Workspaces
Your business is always likely to enter multiple agreements at a time. How do you keep track and manage them all? With bit, of course! Bit allows you to create infinite workspaces and folders around multiple agreements to help you store, organize, and manage information super efficiently.
4. Real-time Collaboration
Creating an agreement document will require you to consult multiple teams and departments. Bit will help you do this easily with its real-time collaboration feature.
This means that you can seamlessly collaborate with your team and work together on the same document, chat privately, make inline comments, co-edit, and do so much more in order to create a perfect agency agreement.
5. Document Sharing
Bit allows you to share its documents in different ways. This means that you can share your agency agreements by exporting them or converting them into Docx, PDF, and other formats or you can use Bit's link-sharing option to share your document with the agency.
6. Simple UI
Don't worry about being a newbie to the Bit platform, because Bit has a super simple and easy-to-understand user interface which makes it breezy for new users to get on board with the platform and use it for creating and collaborating.
… and lots more!
All-in-all Bit is a super awesome tool that has the perfect set of features to help you create a well-structured and formatted agency agreement!
We highly recommend Bit to you because Bit will make your life in the business easy!
Get Bit today!
Conclusion
There's no denying that a solid agency agreement can protect you and your agent. They are safety nets that you can fall back on. So, basically, it's like a win-win situation for both the parties involved.
That's why in this blog, we have provided you with all the necessary steps to take in order to write the perfect agency agreement. To top it all, we have even provided you with an awesome tool like Bit to give you a hassle-free writing experience as well!
We think it's fair to say that you are now fully equipped to write an agreement that will get you an amazing agent!
Now go out there and seal the deals!
Further reads: 
Consulting Agreement or Contract: What is it & How to Create it?
Operating Agreement: What is it & How to Draft One for your LLC?
Shareholder's Agreement: What is it & How to Create it?
Founders' Agreement: What is it & How to Create it?
Service Proposal: What is it & How to Create it?
Retainer Agreement: Definition, Advantages, Types & Structure!
Distributor Agreement: What is it & How to Create One?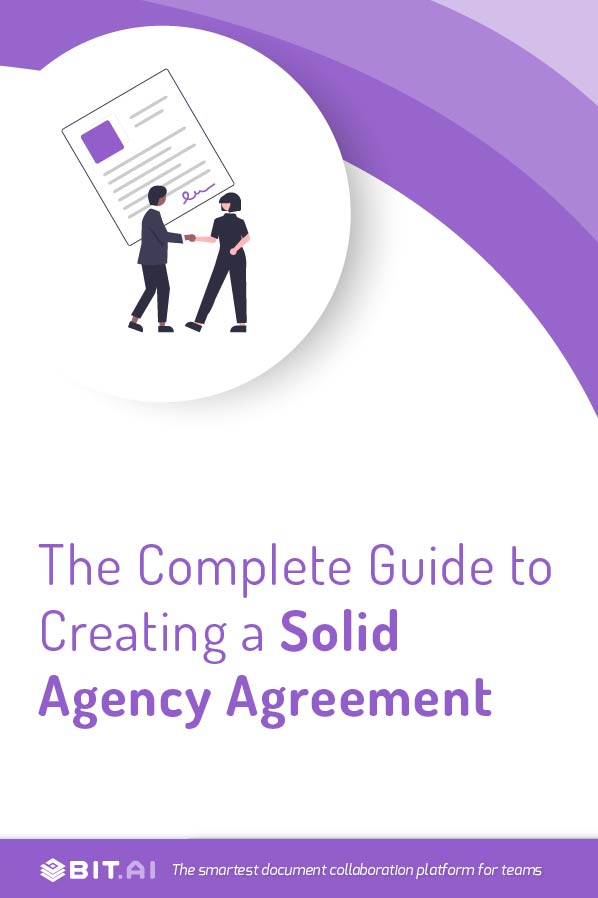 Related posts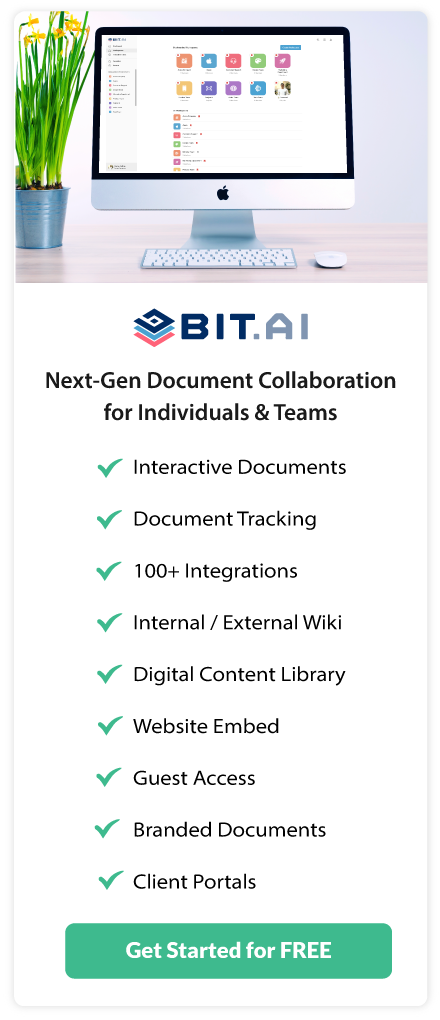 About Bit.ai
Bit.ai is the essential next-gen workplace and document collaboration platform. that helps teams share knowledge by connecting any type of digital content. With this intuitive, cloud-based solution, anyone can work visually and collaborate in real-time while creating internal notes, team projects, knowledge bases, client-facing content, and more.
The smartest online Google Docs and Word alternative, Bit.ai is used in over 100 countries by professionals everywhere, from IT teams creating internal documentation and knowledge bases, to sales and marketing teams sharing client materials and client portals.
👉👉Click Here to Check out Bit.ai.