Did you know that the expenditure in the education sector is just over 6% of GDP or close to $1.2 trillion in the US? However, less than 3% of education spending is allotted to technology. While the education sector has been slow in introducing newer ways of learning via technology in the classroom, things have changed quite rapidly in the past few months.
The COVID-19 pandemic has led to worldwide lockdowns, forcing teachers to take their classrooms online. This, in turn, has led to explosive growth in educational technology tools and apps. Such tools are often focused on making learning fun, interactive, and delightful for students, providing them newer ways to acquire and retain concepts.
While there are many student tools on the market, there are certainly some platforms that stand out. Today we decided to dive deep into Google search pages and find the best student tools out there. So without further ado, let's begin…
We've broken down this list into 5 broad categories to help you find the best student tools that best fit your needs.
List of Student Tools for note-taking:
Research suggests that students who take notes score higher on both immediate and delayed tests of recall and synthesis than students who do not take notes. Moreover, the more students record, the more they remember and the better they perform on exams! Since note-taking is such an integral part of a student's life, we are kicking off our list with some of the best note-taking apps out there.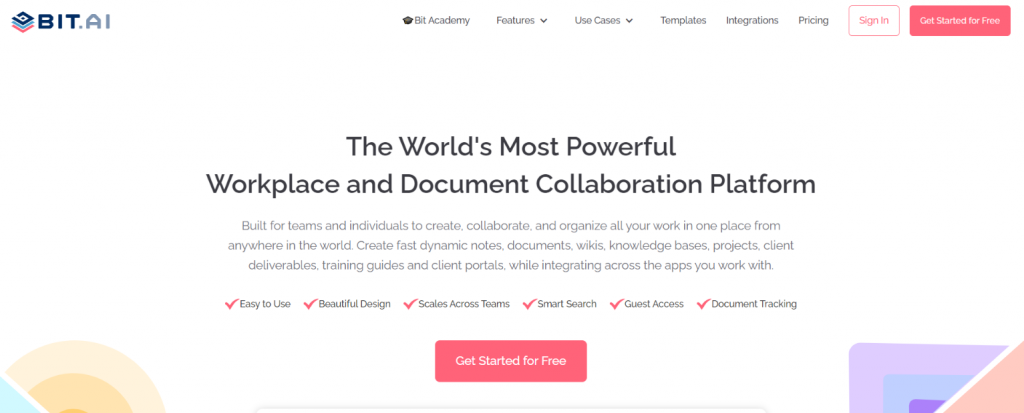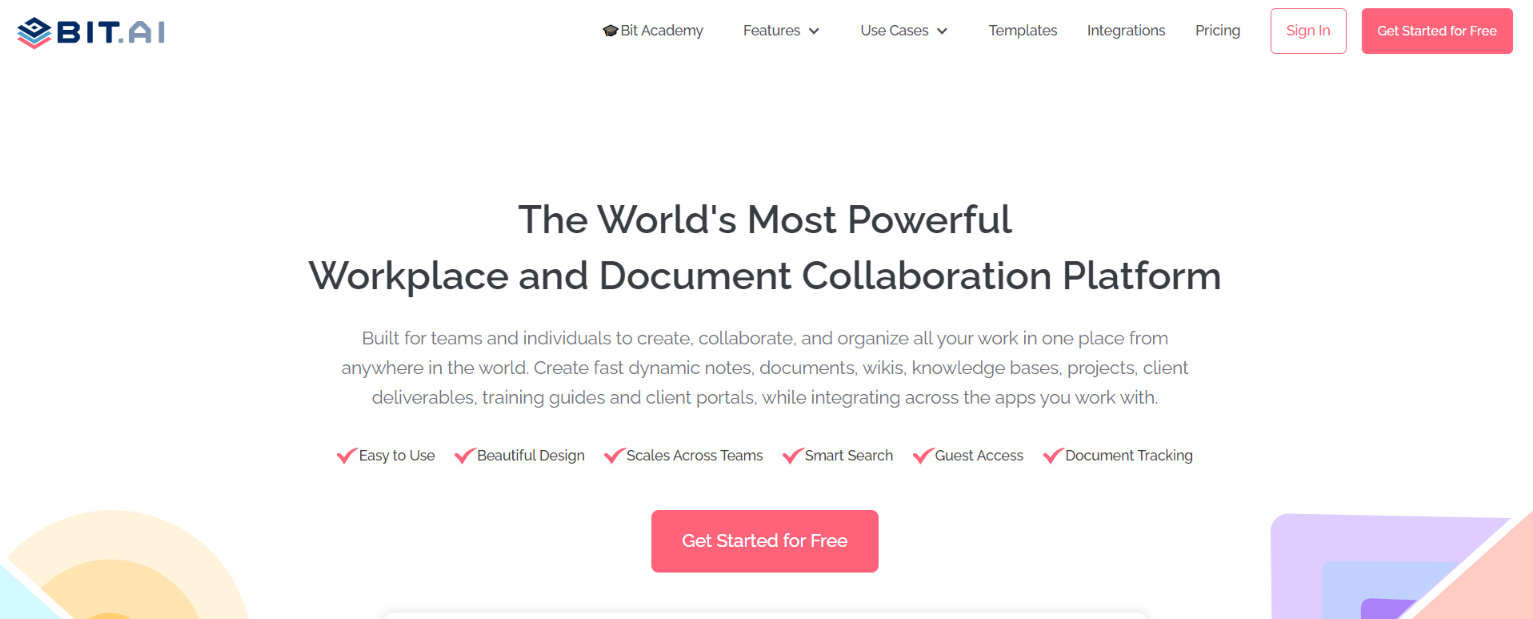 Kicking off our list is Bit, an amazing online note-taking tool that helps anyone create awesome notes, assignments, reports, and other classroom documents in minutes. Bit is the dream tool for both students and teachers as it helps transform classroom education and makes it more functional, fun, and interactive. Some of the key reasons why you should use Bit.ai in your classroom includes:
Workspaces to keep everything organized: Students use Bit as their digital notebook. Bit organizes files and documents into "Workspaces," making it easier for them to keep data from different subjects into different workspaces. Since note-taking is most effective when notes are organized, Bit allows students to keep their assignments, class notes, report research, and other resources organized in different workspaces and folders for easy access.
Real-time collaboration to promote co-learning: Bit supports real-time collaboration that allows students and teachers to work together on assignments in real-time from the comfort of their homes. This is particularly helpful nowadays as students and teachers are collaborating online due to the coronavirus outbreak. With the presence of real-time chat, teachers can highlight stuff that needs changes and give feedback.

Create media-rich, interactive notes: Researches have found that if students read text alone, three days later they only remember 10 percent of the information-but adding a picture to the text increases recall to 65 percent. This is why Bit assists students to create media-rich notes. Add images, spreadsheets, YouTube explainer videos, PDFs, podcasts, and more to add context around your notes and cultivate deep learning.
Better learning experience: Teachers use Bit to create media-rich reports, assignments, homework, and documents for their students to give them a more immersive learning experience than sharing boring text-only PDFs. Teachers can add anything to their documents- videos, Gifs, images, Word documents, spreadsheets, PDFs, etc. – basically anything on the internet with a link.
Some cool features of Bit include:
Workspaces to organize notes and documents
Document tracking provides teachers with the ability to see how many students have viewed their document, and how many have actually spent time reading it.
Real-time collaboration between students and teachers
Embed feature to embed documents on any website even google sites.
Pricing: 

Free with limited functionality
Paid plans start from: Standard ($12/month), Plus ($20/month), Enterprise (contact sales).
Read more: How Bit.ai Can Help Students Better Manage Their Schoolwork?


OneNote is a free note-taking app by Microsoft. OneNote acts as your digital notebook, allowing students to keep all their information organized digitally. You can create multiple notebooks and add notes inside of them for every subject or topic. Need faster note-taking? Quickly click a picture of your whiteboard or slide and OneNote will enhance its quality to make it easier to read.
OneNote supports both handwriting and stylus support so users never have to compromise on their note-taking style. Students can also record lectures and sync notes with audio to provide a quick context.
Students can also lock their notes with passwords, add sticky notes for reminders, collaborate with fellow students and edit in real-time, and auto-sync their notes across various devices.
Some cool features of OneNote include:
Annotate slides and documents
Write on top of images, printouts, or add sticky notes
Multiple organization options
Digital highlighter and digitization of notes
Pricing:
Next up is Evernote, another amazing note-taking app for students. Evernote empowers students to capture digital information and process hand-written notes to their Evernote notebooks. Students can take notes in a variety of formats like text, audio, pictures, annotated web page clippings, video recordings, and more. With stylus-compatibility, Evernote makes note-taking a breeze for students.
Evernote neatly organizes all classroom notes into virtual notebooks. With powerful search, finding docs, PDFs, photos, and even handwriting is quick and easy. Evernote also has this amazing feature of scanning your handwritten notes and adding them to your online notebook, making it easy for students to keep all their notes in one place.
Evernote also supports collaboration as students can present notes and ideas with others using the built-in presentation feature. Additionally, students can save emails from teachers inside Evernote, keeping them near their notes for context.
Some cool features of Evernote include:
Web Clipper to quickly bookmark content for research
Extract text from images for faster note-taking
Digitize hand-written notes easily
Pricing:
Free plan with limited functionality
Pro plan starts at Plus ($34.99 per year or $3.99 per month), Premium ($69.99 per year or $7.99 per month), and Evernote Business.
Read more: 9 Awesome Assignment Writing Tips to Get Better Marks!
List of Student Tools for online classes
Since the Coronavirus pandemic began, students have been taking online video classes with their teachers to keep up with their education. While many new tools are emerging in this space, here are 3 most reliable tools for online classes:

Zoom was named 2018 Gartner Peer Insights Customers' choice for meeting solutions and is our number 1 pick for video conferencing tools for online classes. Zoom has temporarily removed the 40-minute time limit on its free basic accounts for primary and secondary schools affected by the Coronavirus. Zoom provides secure video conferencing for hybrid classrooms, admin meetings, office hours, and more.
Zoom provides HD quality audio and video calls so that students can learn more effectively. With many collaborative features onboard, Zoom provides one-click content sharing, real-time collaboration, annotation, digital whiteboard solution, and more. A great feature is the ability to record classes and transcriptions, allowing students to take the lecture with them and learn at their own pace.
Some other cool features of Zoom includes video breakout rooms, group chats, polling, and multi-sharing. Teachers can create and repurpose video content into easily-digested videos, providing a better learning experience. Zoom also provides hardware products to enhance the physical classroom experience and combine the power of technology and learning.
Some cool features of Zoom include:
Polling, chats, and other collaboration features
Free for primary students
Hardware for classrooms
Pricing:
Free with limited features
Pro plans start at Pro (14.99/month), Business (19.99/month), Enterprise (19.99/month)


Skype is a widely popular video conferencing app and has been around for over 18 long years. A lightweight alternative to Zoom, Skype has recently come up with "Skype Meet Now". Meet Now can host a video conference without signing up for a service or downloading the software. Teachers can simply create a meeting room, share the link with students, and start the lecture.
Skype has a ton of features especially catered towards students. Virtual field trips allow students to take filed trips via video calls with experts from historical sites, museums, and farms. With Mystery Skype, Skype automatically connects two different classrooms for one giant video conference and promotes cultural exchange and team bonding experience. Teachers can also bring in guest speakers to provide students, an in-depth knowledge experience.
Some cool features of Skype Meet Now include: 
Themed collections with lessons around literacy, animals, etc
Virtual field trips and collaboration
Mystery skype for bonding sessions
Pricing:
Free
Paid plans start at $5 per month per user


Another great video solution, GoToMeeting enables distance learning by allowing teachers to host classes easily. From a group of 25 to 250, teachers can easily conduct online classes and collaborate with students. With virtual office hours and on-demand content, students can access cloud recording and transcript capabilities empowered by natural language processing.
For a student to student collaboration, GoToMeeting provides a plethora of features like file sharing, instant messaging, and on-demand video conferencing and screen sharing. Conducting over 50 million meetings each year, GoToMeeting is a viable option for online classes and a worthy competitor to Zoom and Skype.
Some cool features of GoToMeeting include: 
Available on mac, pc, and mobile.
On-campus hardware solutions
Cloud recordings and offline learning
Pricing: 
Free trial available
Paid plans: Professional ($12/month), Business ($16/month), Enterprise (contact sales).
List of Student Tools for presentations
Creating slideshows and presentations is part of any modern classroom. Presentations allow students to visually present their thoughts in front of the class, helping them organize their thoughts and helping them present it in a systematic manner.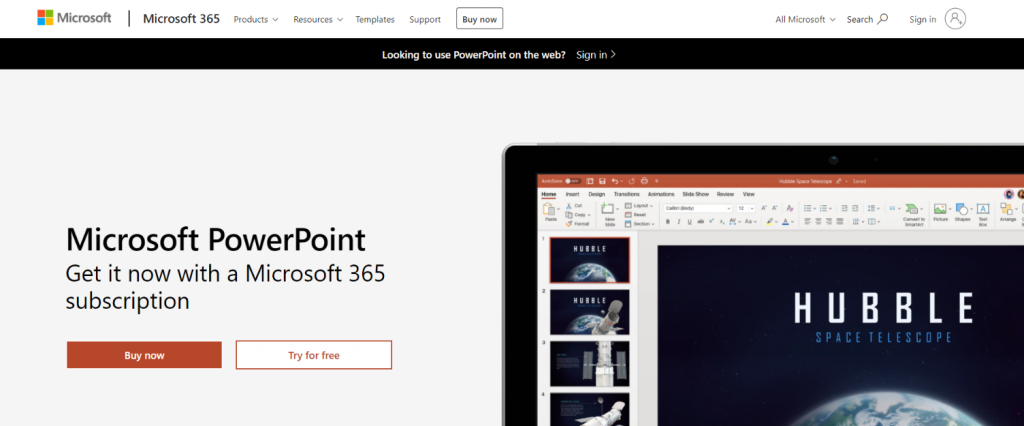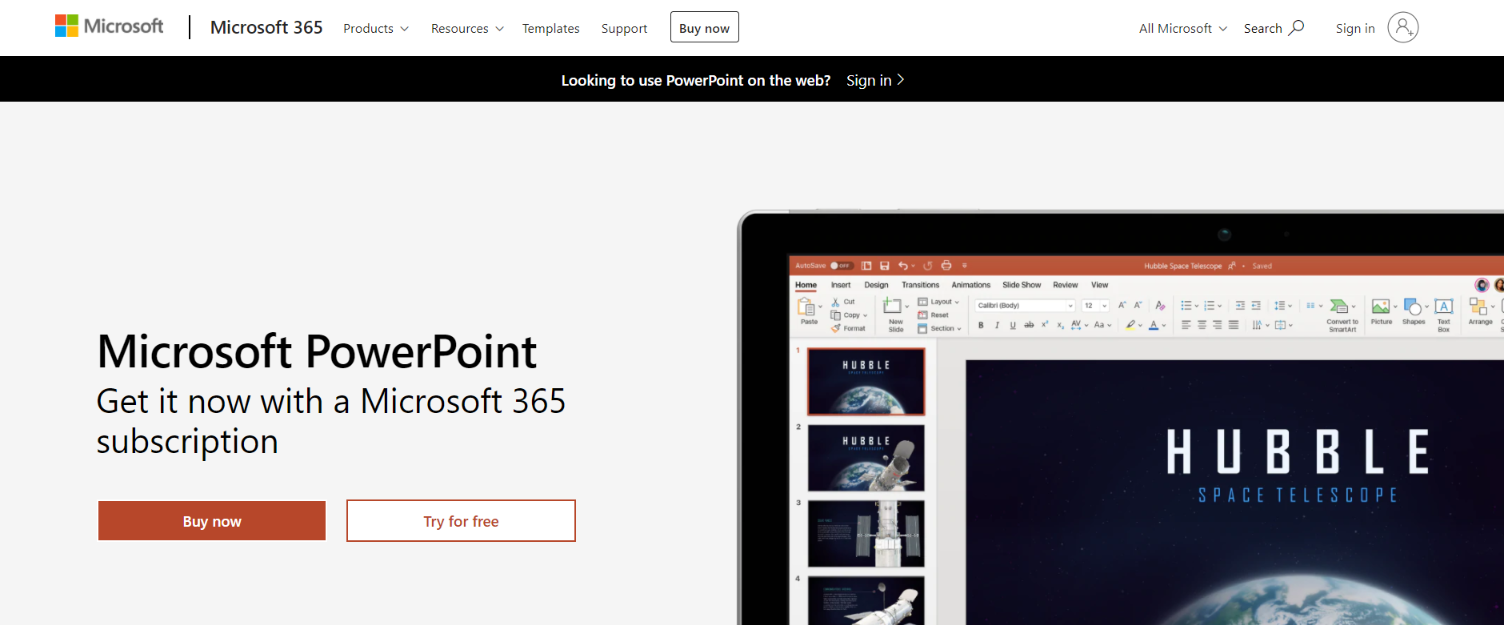 We are sure you have heard of Powerpoint, the presentation tool by Microsoft. Released way back in 1987, Powerpoint has been around since the internet and continues to be the preferred system for presentation and slides worldwide. Powerpoint's slide designer is intuitive and easy to use. Students can insert images, text, fonts, and even 3D objects to their slides and let their imagination run wild.
Apart from using a mouse or a trackpad, students can use a stylus, touch, or even their voice to design their presentations with Microsoft Powerpoint. Powerpoint also has a feature called Presenter Coach which lets students practice their speech and get recommendations on pacing, word choice, and more using the power of AI.
If you have a group presentation, students can co-edit and co-create a presentation using Powerpoint's real-time collaboration features. With templates in over 40 categories, creating presentations is fast and easy.
Some cool features of Microsoft Powerpoint include: 
Available on mac, pc and has mobile apps for iOS and Android and even works as a chrome extension
AI-based recommendations and training
Familiar interface
Pricing: 
Free plan with limited features
Paid plans:$126.89/one-time/user
Read more: Learning Objectives: What, Why & How to Write?
If you find Microsoft Powerpoint to corporate-y or boring, try Prezi, a new age presentation software. Teachers use Prezi to make interesting and interactive presentations for their students. Prezi makes it easy to create presentations and slideshows students would actually pay attention to by allowing teachers to be present with the content on the screen simultaneously. Whether it is live or recorded, Teachers can present the content while maintaining the human connection with their students, something other presentation tools lack.
Transitions in Prezi are more dynamic and captivating as the tool exists on the browser for easy access. Preziseamlessly integrates media content, allowing teachers to embed images and other elements directly into the presentation. Apart from slideshows, teachers can create short video lessons or messages, keeping students up to date with assignments and due dates.
If you have your old Powerpoint slides lying around, there's no need to create Prezi slides from scratch, and the tool automatically "prettify" what you already have.
Some cool features of Prezi include: 
Templates to kickoff your slides and presentations
Lesson plans to help teachers plan and execute effectively
Teacher's gallery for recommendations and inspirations
Pricing: 
Free plan with limited features
Paid plans: Edu Plus ($3/month), Edu Teams (contact sales)
List of Student Tools for Content Curation

elink was ranked the best website for teaching and learning by AASL (American Association of School Librarians), making it our go-to platform for content curation. Both students and teachers can use elink to curate and share content and keep learning fun and interactive. Create lesson plans, book recommendations, resource pages, faculty updates, and more with this nifty tool!
Teachers are always researching the best teaching methods, building reading lists, planning for lessons, and collecting digital content to engage their students, thereby finding new ways to bring technology into the classroom. elink is a great way to do all of that and more, helping teachers find the best content on the web and present it in a visual format for better learning.
It's the only platform out there that allows students to curate information from around the web and turn it into beautiful shareable content in minutes! Students can create web pages, email newsletters, and embed content onto nearly any website.
Some cool features of elink include:
Extensive template library to create, reading lists, assignments resources pages, and so on.
Bookmarker and RSS reader in-built
Chrome Extension makes clipping and saving content a breeze.
Pricing: 
Free with limited functionality
Paid plans start from Pro monthly ($15/month), Pro 1 year ($12/month), Pro 2 year ($10/month)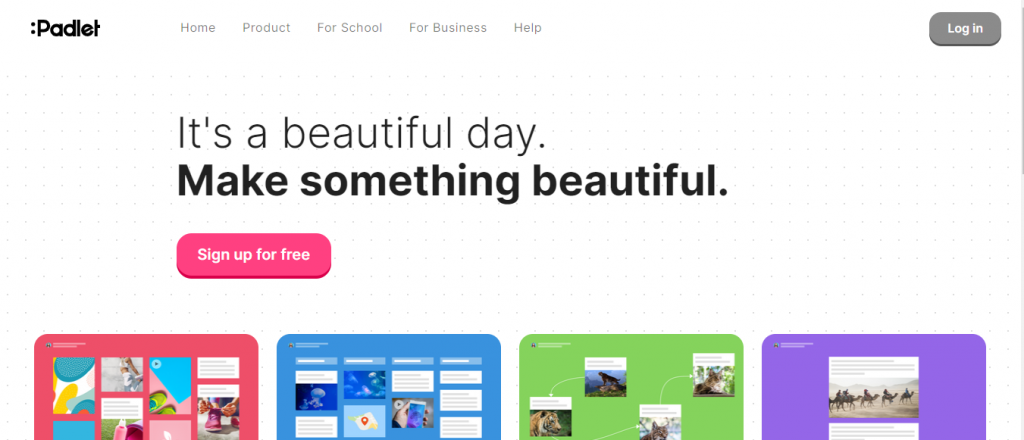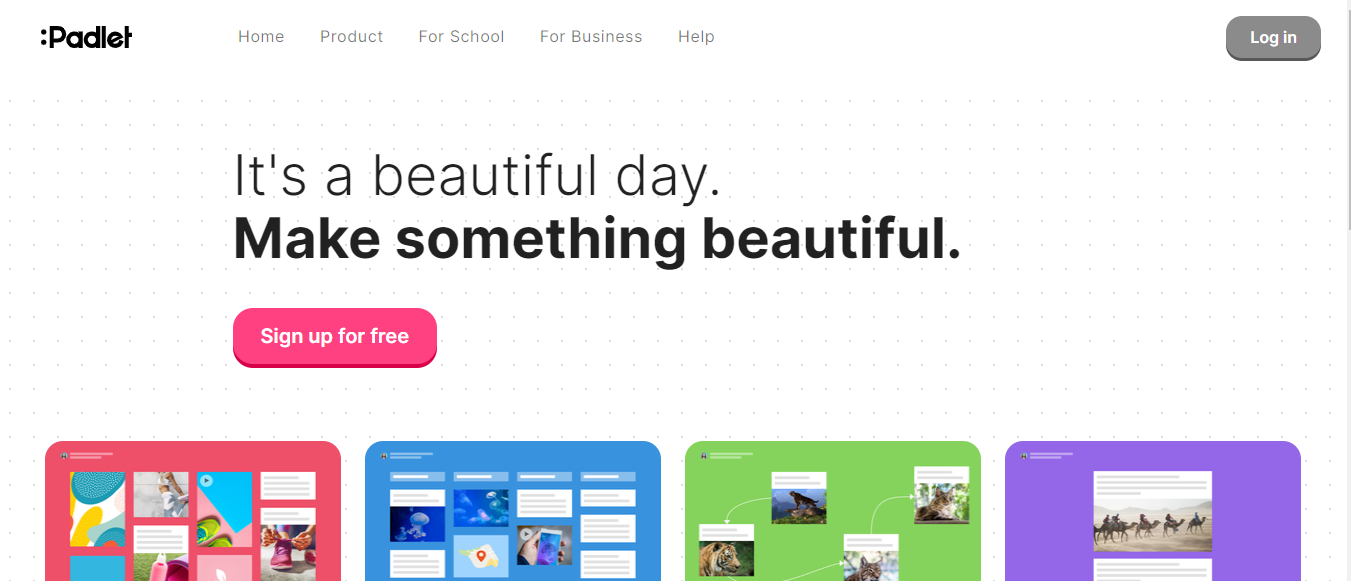 Padlet allows students to collect information from the internet and pin it onto virtual bulletin boards. A web app that lets students and teachers add post-it notes to a digital wall. Padlet brings the ease of a sticky note to your laptop and PCs. Users can add any link, videos, images, music, or anything they want to add to their virtual wall. They can also embed content from anywhere on the web like Vimeo, YouTube, Instagram, Twitter, and 400 other apps!
Students can also upload their own resources like assignments or class notes. They can keep their boards as private or can share it with their classmates for a group project. On the other hand, teachers use Padlet as a form of developmental assessment to track students' knowledge of a concept.
Display your Padlet wall in 8 different ways (grid, stream, freeform, etc) to suit your style of learning. Some students use Padlet to save their bookmarks while others use it to collaborate with their friends on group projects.
Some cool features of Padlet include:
Custom branding to add your school name and logo
School-wide activity monitoring to know what's going on
Create reports and portfolios for students by class, subject, or year
Pricing: 
Free trial for 30 days
Paid plans start from $2000
List of Student Tools for Gamification


Kahoot turns monotonous lectures into a fun game show, gamifying the learning process. Kahoot's mission is to involve students and teachers in the classroom for better engagement and promote learning retention. Teachers use Kahoot to create enjoyable games and quizzes on any topic and in any language. Once done, they can host the game with questions using a projector, and create a game-show environment.
With over 60 million active users in over 200 countries, Kahoot is widely recognized as the go-to tool for gamification of learning. Moreover, over 50% of US teachers use Kahoot to engage students in the learning process, making it an awesome platform.
Apart from quizzes, teachers can create games with multiple-choice questions as students join in and compete with their classmates. Teachers can then track the accomplishments and participation of each student and analyze performance for grading.
Some cool features of Kahoot include:
Game reports for gauging performance
Polling to check student's understanding of a topic.
Share quizzes with other teachers and faculty.
Pricing: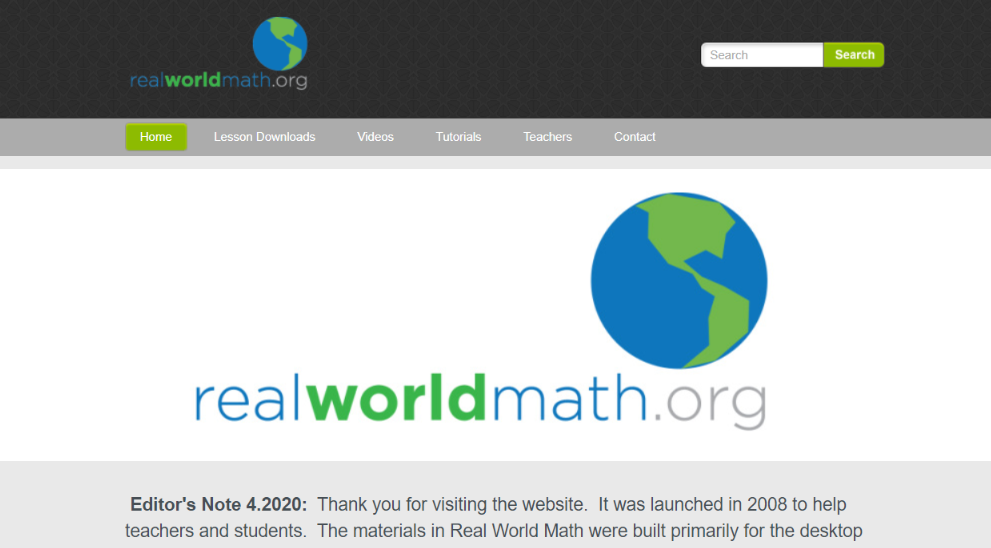 Don't like maths? RealWorldMath uses tools like Google Earth and Sketchup to help you understand the tricky subject of mathematics in a new light. Get a better understanding of concepts and how they are relevant to your everyday lives as RealWorldMaths creates 3D videos and interactive lessons for students.
The tool has over 30 downloadable activities, instructional tutorials, and videos for Google Earth & SketchUp for 4th graders and higher. Anyone can use Google Earth to add photos, annotations, placemarks, and models to the earth's surface, measure distances, and draw paths, making it easier for students to apply mathematical concepts in a virtual environment and better their understanding.
Some cool features of RealWorldMaths include:
30+ interactive models and 3d videos
Annotations for teaching effectively
An interactive way to learn maths
Pricing: 
Before you go!
Our team at bit.ai has created a few awesome education templates to make your processes more efficient. Make sure to check them out before you go, you might need them!
Conclusion:
So this was our pick for the top student tools out there. These tools are surely going to take your online education to the next level, making learning fun and exciting. Did we miss out on your favorite student tool? Do let us know by tweeting us @bit_docs!
Further reads: 
Student Collaboration: What, Why, and Tools!
Best Homeschooling Apps and Tools to Educate Kids!
Best Journal and Diary Apps for Making Notes!
Collaborative Teaching: What is it & How to Do it the Right Way?
How to Create an Amazing Study Guide?
The Best Authoring Tools You Must Explore!
How To Make Class Notes Worth Reading?
How To Create Effective Lesson plans For Students?
Top 11 Tools for Researchers in 2022
Cornell Note-Taking: What is it and How to Do it?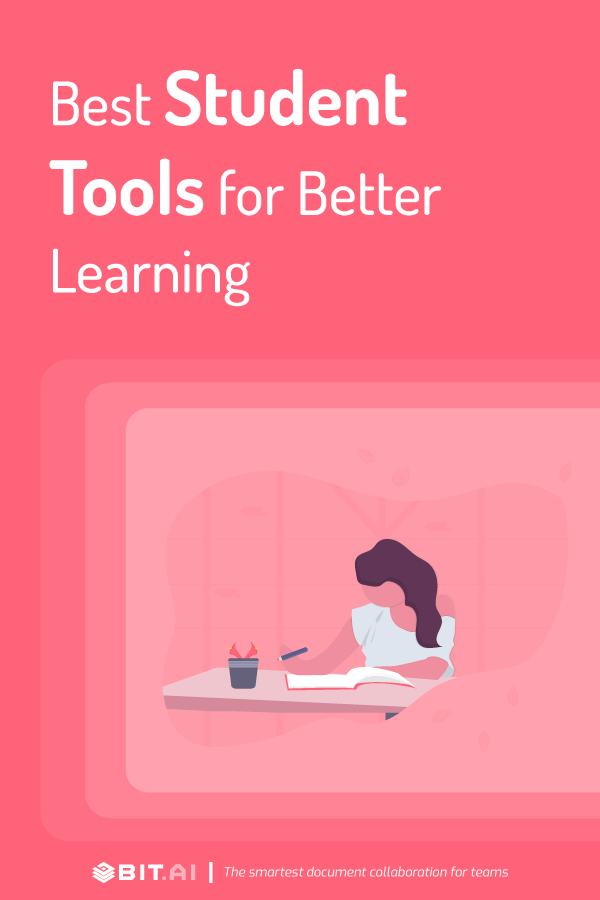 Related posts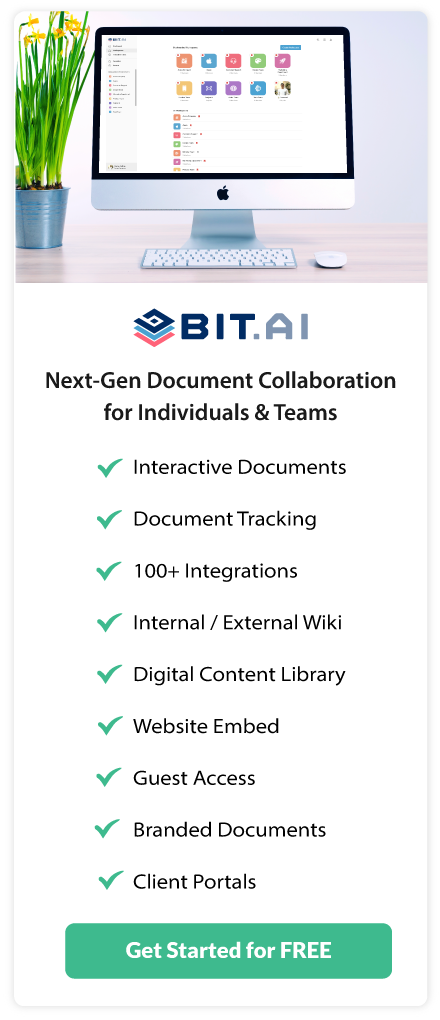 About Bit.ai
Bit.ai is the essential next-gen workplace and document collaboration platform. that helps teams share knowledge by connecting any type of digital content. With this intuitive, cloud-based solution, anyone can work visually and collaborate in real-time while creating internal notes, team projects, knowledge bases, client-facing content, and more.
The smartest online Google Docs and Word alternative, Bit.ai is used in over 100 countries by professionals everywhere, from IT teams creating internal documentation and knowledge bases, to sales and marketing teams sharing client materials and client portals.
👉👉Click Here to Check out Bit.ai.