Let's be real, schoolwork is no breezy task.
Most students struggle with school work from time to time. It presents multiple challenges for many students, even for the most enthusiastic and studious ones.
Understanding the challenges kids face can help you get better insights into how you can help them effectively manage their schoolwork.
A study showed that 33% of schools strongly agreed the way technology was used in their school to help students be more independent and self-directed. 35% said that technology helped students to learn at their own pace while it helped 30% learn collaboratively with peers. 41% said it helped students learn more actively, and 27% said it helped students think critical.
Since kids these days are pretty comfortable with technology, it's crucial that they have the right software in their hands to make the best of their learning experience.
And we have just the right tool for you – Bit.ai!
No idea what Bit is? This blog will explain everything to you! But before diving into the nitty-gritty of what Bit is and how it works, let's look at the challenges you face while doing schoolwork.
The Challenges You Face While Doing Schoolwork
Here are some common challenges that students face while doing their schoolwork:
1. Managing Notes
Note-taking is one of the most crucial parts of schoolwork. After all, writing down notes from your classes and lectures help you remember information and make studying easier.
However, the problem arises when you have a mish-mash of notes from multiple subjects and about several topics. This makes managing all your notes one of the most difficult tasks.
2. Staying Organized
Admit it, staying organized does not come naturally to most of us. It's hard to keep track of everything that is going on within each subject, the several projects and assignments you have to do, the notes you have written, and more.
This often creates a big pile of mess which you will later have to spend time trying to declutter.

3. Issues with Working in Groups
As much as the intention of group work is to help the students learn about teamwork and the importance of communication, it often does the opposite, where one student ends up doing all the work.
Some of the problems that group works create include the lack of an organized brainstorming session, dumping of too many ideas at once, ideas getting lost or left out in the chaos, clashes between the students, uneven distribution of workload, and lots more.
4. Monotony
We can all collectively agree that doing schoolwork can be quite boring and monotonous, especially if it's dealing with a subject we hate (and everyone has one subject that they just cannot stand).
Students may find the subject, its notes, and the projects associated with it bland and tedious. This can result in the loss of interest and even affect their learning capabilities.
In addition to all this, there is also a lack of time management that makes schoolwork all the more difficult than it already is.
According to the National Sleep Foundation, teens need between eight and 10 hours of sleep each night, but only 15 percent are even getting close to that amount.
Another survey by Student Life in America indicated that over 50% of students reported feeling stressed, 25% reported that homework was their biggest source of stress, and on average teens are spending one-third of their study time feeling stressed, anxious, or stuck.
Now, we know that your school schedule can get quite hectic and downright overwhelming, but what if we told you that you could easily plan your work, gather all your assignments, track your progress, and even collaborate with your classmates – all in one place?
Yes, you heard that right! With Bit.ai, you do all this and more. Don't believe us? Then scroll down right now because you're in for a surprise!
What is Bit.ai?
Bit.ai is a new-age document collaboration and management tool that helps create, collaborate, share, track, and manage information in one place.
It's a new and modern approach to education that allows both teachers and students to share, express, teach, and learn across all types of digital content without relying on a number of apps and complicated software.
Bit helps you coordinate and organize all your classes, studying, and schoolwork, along with your personal projects and interests from other areas of your life in the best way possible!
It provides a holistic digital learning experience that is perfect for our digital world and offers a platform for students to collaborate on everything related to their school work.
If you're wondering what makes Bit so special, then scroll down to find out!
Features of Bit.ai
Here are some of the amazing sets of features that Bit offers:
1. Ready-made Templates
Bit has an extensive template gallery that offers over 70+ professionally designed templates from which you can choose your favorite one! All you have to do is fill in your customized content and you'll get the whole draft ready in a few minutes!
2. Design Automation
You don't have to waste your time trying to fix the format of your documents because Bit will automatically format your entire document to give a very uniform and consistent look.
Additionally, it provides you with its own collection of themes that lets you change the look of your entire document, its layout, and even color too – with just one click!
3. Media Integration
Want to bring your documents to life? Then Bit's rich media integration will help you do just that! It supports over 100 different rich media integration and lets you add videos, presentations, charts, maps, surveys and so much more to your documents.
4. Smart Workspaces
Bit is the perfect place for organizing your content. Why? Because Bit lets you create infinite workspaces and folders to help you manage, organize, and store information in a neat and orderly manner, making your work more efficient.
5. Real-time Collaboration
With Bit, you can seamlessly collaborate with anyone and work together on the same document in real-time, chat privately, make inline comments, co-edit, and do so much more to ensure that you do not miss out on any important details.
It even lets you highlight sections, leave comments and mention people as well.
6. Smart Search
Worried that all your information might get lost if you create too many workspaces or folders or documents. Not if Bit's smart search can help it.
Search any information quickly across folders, files, documents, and content inside your documents across all of your workspaces and you will easily get the results within seconds.
7. Document Sharing
The coolest part about Bit is that it allows you to share your documents in many different ways.
You can export your document by converting it into Docx, PDF, and other formats or use Bit's live link-sharing option to share your document with anyone you want or even invite members by giving them guest access to your workspace.
8. Simple and Amazing UX/UI
Even though Bit is jam-packed with features, it has a simple and easy-to-understand user interface, which makes it extremely easy for new users to get on board with the platform.
It has a minimal design aesthetic and an excellent UX that makes the flow between the documents to digital workspaces clean and swift! It simply provides a systematic and professional approach to the whole process!
All-in-all Bit is a super awesome tool that has all the perfect features for helping you create documents and collaborate on them easily.
Now that you have seen some of the cool features of Bit, allow us to explain to you how you can use Bit.ai to organize your schoolwork!
How to Use Bit.ai to Organize School Work?
1. Use Stunning Templates for School Work
We already talked about Bit's extensive template gallery. It offers over 70+ professionally designed ready-to-use templates that make all your processes much easier. Here is a list of some of the templates that you can use for your schoolwork:
You can use these educational templates to create notes and lesson plans, share classroom resources, collaborate on projects, work on student assignments, and much more.
Just pick a template you like and customize it however you want. Don't worry about its format or uniformity because will automatically format your entire document to give it a clean and consistent look.
All you have to do is simply focus on your content and let Bit do the rest of the work!
2. Use Interactive Documents
One of the coolest features of Bit is that it lets you create documents that are super interactive and support rich integrations! This essentially means that you get to add different types of media such as images, videos, PDF files, excel sheets, links, graphs, and even GIFs to your document.
Create class notes, assignment work, teamwork reports, study guides, case studies, research papers, and any other academic document you want and bring them to life for the complete digital learning experience.
You can even create a color-coding system to keep your notes or case studies organized by highlighting them or changing the document themes and colors with just one click.
3. Store School Materials in Content Library
Got too many school materials to keep track of? Use Bit's content library to store and share all your digital or media assets in one centralized location.
You can easily add any type of content inside your content libraries, such as images, files, PDFs, Google Docs, Dropbox files, SlideShares, YouTube videos, visual web links, presentations, and absolutely any other type of media you want, and store and save them in an organized manner.
In case you are worried that you might have too many materials stored and might have trouble finding them when you need them the most, Bit's smart content search will help you quickly find them. It allows you to search your content based on its title, keywords, tags, content type, and more.
Bit is simply the most perfect tool for saving all your schoolwork!
4. Create Workspaces around Projects
In school, you deal with so many different subjects or courses. And each subject or course will have its own set of notes, projects, assignments, presentations, and other work. To manage them all and keep them organized you can use Bit.
Create multiple workspaces around subjects or projects or assignments and store everything you have in them so that you can easily access them and efficiently manage them.
You can even invite your classmates or friends or teachers and provide them editing access to receive comments or feedback. For this reason, Bit makes a great platform for group activities and projects.
Your teachers or educators can even create virtual classrooms through these workspaces and fill them with materials and content to make your schoolwork much easier.
5. Collaborate with Classmates
Remember how we mentioned Bit makes a great platform for group work and projects? Let's dive a little deeper into that.
Earlier, we discussed some of the issues students might face while working in groups that might lead to an uneven distribution of work between the members. This is where Bit swoops in to save your day.
In group work, you need to have a well-defined brainstorming session where everyone is able to express their ideas and thoughts. With Bit's real-time collaboration feature, you can seamlessly collaborate with your team and work together on the same document, chat privately, make inline comments, co-edit, and do so much more.
It's a wonderful way to create a knowledge base for your group works or projects by working simultaneously with your peers or group members.
What's more? You can receive notifications if someone leaves a comment or feedback on your document, adds you to a workspace, adds a document to a workspace, updates a workspace, mentions you in a comment, and much more.
This ensures that everyone is constantly updated about their work and gets an equal chance to participate.
Read More: Student Collaboration: What, Why and Tools!
6. Create Checklists
One way to organize your schoolwork is to create checklists for yourself. After all, nothing beats the feeling of crossing out a completed task from a checklist.
Use Bit to create your very own checklist for all your project work, assignments, tests, and even your personal life tasks or activities. This way, you can keep track of all important dates and approaching deadlines and finish them on time.
7. Share Documents with Classmates
Whether you want to receive feedback from your teachers or simply share notes with your classmates, Bit has got you covered there as well. There are numerous ways you can share all your documents, notes, or assignments with Bit.
You can export your document by converting it into Docx, PDF, and other formats or use Bit's link-sharing option to share your document with anyone you want. With Bit's trackable link, you can get live analytics and insights about your documents, such as who viewed them, how much time they spent, and even how far down they scrolled through them.
Another way is to use the guest access option that allows you to invite your teachers or classmates or anyone else into your workspace and give them view-only or comment-only access to your documents.
In a nutshell, Bit is an excellent tool to help you with your schoolwork and even your personal life! So quit second-guessing yourself and get Bit right away!
Conclusion
Technology has made its way to the education field and is providing wonderful resources to the students and learners. It has made learning easier and more fun.
With children becoming more equipped with technology and exploring and expanding their learning methods, it's important that we guide them by providing them with the right tools.
We hope that this blog has helped you understand what Bit.ai is, why it is an amazing tool for schoolwork, and how you can leverage it to make the best out of school learning.
Wish you all the best! Ciao!
Further Reads
How To Make Class Notes Worth Reading?
How to Create Lesson plans in Simple Steps? (Free template)
12 Best Student Tools for Better Learning in 2022
13 Best Homeschooling Apps and Tools to Educate Kids!
Learning Objectives: What are they & How to Write them
How Bit.ai Can Help You Manage Your Academic Research?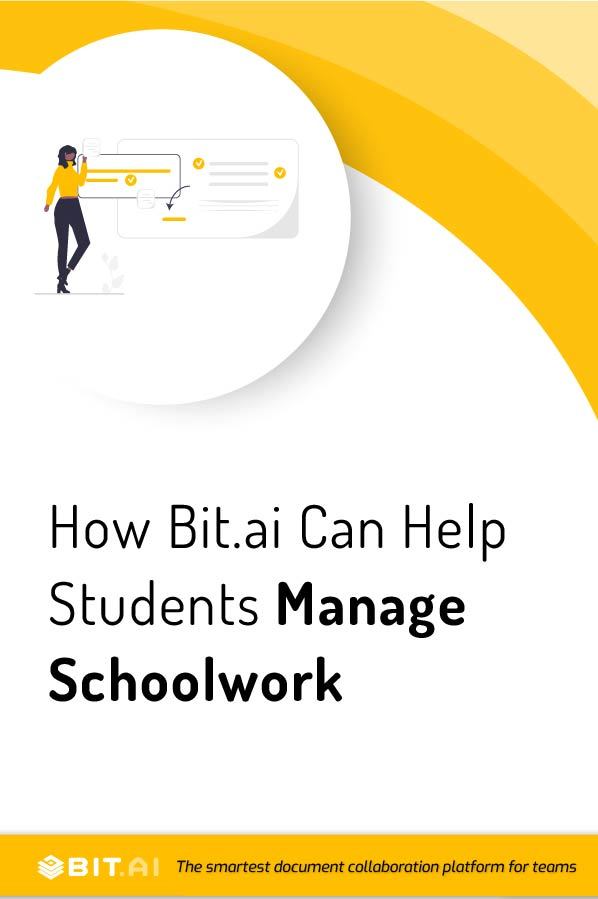 Related posts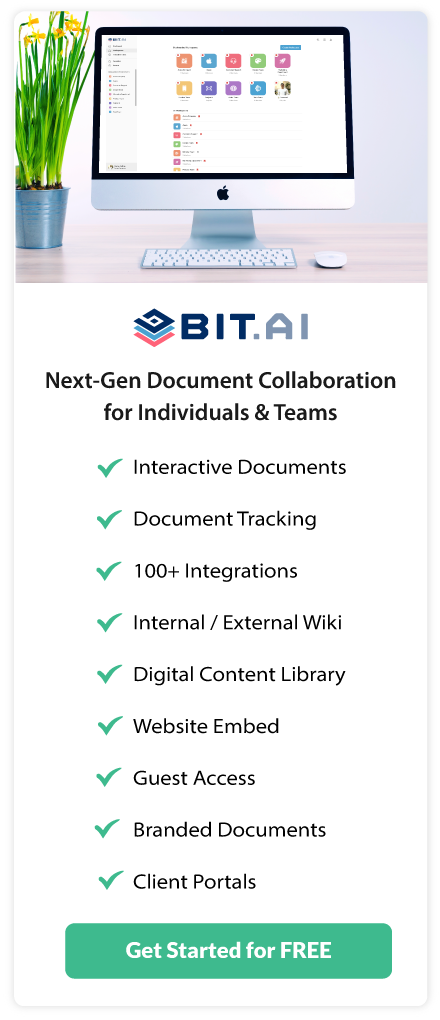 About Bit.ai
Bit.ai is the essential next-gen workplace and document collaboration platform. that helps teams share knowledge by connecting any type of digital content. With this intuitive, cloud-based solution, anyone can work visually and collaborate in real-time while creating internal notes, team projects, knowledge bases, client-facing content, and more.
The smartest online Google Docs and Word alternative, Bit.ai is used in over 100 countries by professionals everywhere, from IT teams creating internal documentation and knowledge bases, to sales and marketing teams sharing client materials and client portals.
👉👉Click Here to Check out Bit.ai.