A case study is a great way to show your prospective customers how great your products and services are.
But how effective are case studies in generating new business? And if they are, what is the best way to create one? We're going to tackle these questions in our in-depth blog post on case studies. Read on…
What is a Case Study? (Definition)
The best definition of a case study is a written document that explains the progression of a person, event, or thing over a period of time.
In the context of business, it's a report of a company's implementation and outcome of a product, service, or practice.
Case studies are often used by psychologists, social scientists, and anthropologists to help:
Find underlying issues
Study a subject in-depth
Future trends based on the findings
In this blog post, we will examine the use of case studies as a business tool and how it helps to grow businesses.
Importance Of A Case Study:
In business, a case study is used to provide social proof to customers and prospects. Case studies are a great way to let companies know how valuable your products or services are and how they can benefit. They are one of the best marketing communication strategies that help drive customers.
By sharing real-life examples of companies who benefited from your products, prospects can visualize how it can help them as well. Ultimately this leads to greater sales results.
More credibility = more sales
The use of case studies as a marketing and sales enablement tool is widely used in various industries. Nearly 90 percent of consumers trust online reviews as much as personal recommendations.
This is a major reason why a whopping 73% of B2B marketers use case studies as a content marketing tactic. Marketers know the ability of case studies in creating a positive buzz around a product or service and build a reputation in the market.
Positive feedback and testimonies from existing customers help to build trust and credibility. It motivates other customers to take a leap and give your product/service a chance.
As the world becomes more and more connected, we are inundated with hundreds of advertisements every day. Every day we see banner ads, social media ads, Google ads, mobile ads, print ads, and commercials.

Businesses are doing anything to get your attention and convince you to buy from them. It is estimated that Americans are exposed to around 5000 advertisements each day.
In a world full of banner ads, case studies bring back the "genuine" in marketing efforts.  Case study readers become compelled to look into your product/service. The facts and figures translate into proof and help nudge them along your sales pipeline.
All in all, case studies have the following benefits:
Builds trust and credibility amongst clients and prospects.
Helps "sell" your product using pull instead of push advertising.
Provides practical insights that the reader can implement easily and achieve results.
Appeals to the problems of a target market and provides a hands-on solution.
Case study content can be used in a multitude of ways: e-books, PDFs, social media excerpts, white papers, guides, PPT, etc.
Can be used as a great SEO tool by optimizing keywords around your case studies.
When done right, case studies highlight your successes in a way that will easily convert prospects into customers.
Now, let us see how you can make a compelling case study that really hits home with your clients and prospects!
How To Write A Case Study? Follow these steps:
A case study, when executed correctly, can become a powerful sales and marketing asset. Writing a case study is not for boasting about the benefits of your product or service.
Great case studies focus on the problems faced by the customer, the solution they adopted, and the outcome. It's more about the cold-hard facts and less about "selling" your products.
Crafting the perfect case study from zero to finish is no easy task. Keep in mind the following tips to write an exceptional case study and avoid these common mistakes: 
Step 1. Select the Right Candidate
Not every one of your customers is an ideal candidate for a case study. Nor will every customer you ask, agree to lend you their valuable time for your case study.
You need to have a plan in place for selecting the right candidate before beginning with the case study. Keep these things in mind while selecting the ideal case study candidate:
Well versed in your product/service.
Experienced outstanding results by using your product/service.
Willingness to share company data and or financials to strengthen the case study's credibility.
Include notable brands as they bring credibility to the use of your product/service.
It's important to make sure that the chosen candidate belongs to the niche you are targeting. Companies who see the results attained by others in their industry understand how your products/services will help them.
Step 2. Ask the Right Questions
Once you have selected the perfect candidate for your case study, it's time to dive in and collect data. Have a well-prepared plan before making contact with the customer.
To create a compelling story, ask open-ended questions. Let the customer tell their story of how they were struggling with an issue and what changed after they used your product. These type of emotion-proving insights cannot be gained from simple "yes" or "no" answers.
Below are some examples of the type of questions you should ask your clients to create an amazing case study.
The Introduction: This is the section of your case study where you introduce the 'hero' of your story. The best way to Introduce the case study to your audience is by gathering some basic insights into your customer's business. These might include:
Who is the customer and what do they do?
How many employees do they have?
What were the customer's short and long-term goals?
The Problem: Make sure you get a detailed overview of the problems your customer was facing before adopting your solution. This is going to provide context around your case study and make your story more compelling. Here are some questions you should ask your client:
What challenges were you facing prior to adopting our product?
How was the problem affecting your business?
The Decision: This part highlights your USP (unique selling proposition) over other products and services available in the market. Therefore, asking the right questions can result in the best form of advertising for your company. Questions you should ask include:
What other solutions prior to this were you using and why didn't they work out?
What made you choose our product/service over the others?
Who was involved in the decision-making process?
The Result: Perhaps the most important part of the interview process is to understand how your customer was able to solve their problem. You can show off how impressed they are with your product through quotes, stats, etc. Remember, it's not a sales pitch. The more facts and numbers included in the result, the better. Here are some questions you can ask your client:
Did our product solve your problem?
How does our product affect your productivity?

To whom would you recommend our product to?
Step 3. Tell the Story from Start to Finish
Once you have gathered all of the information, it's time to create a cohesive story.
The story should read something like this…
The customer is the hero of your case study who, when faced unimaginable terrors, used your product and their troubles went away.
It doesn't have to be that dramatic, but you get the point! Storytelling is the most important ingredient for creating the perfect case study.
To recap, start off by introducing the customer, the challenges faced by them, the solutions they explored, and how your product turned out to be the perfect solution! Easy peasy!
Read more: How To Create An Interactive Pdf In Minutes?
Step 4. Include the Facts
Remember, case studies are all about cold-hard facts. The more numbers you can include the better. Providing the reader with numbers helps them see where the customer began and where they ended up with the help of your product/service.
For example, don't just say "Acme company doubled our website traffic in the last six months." Show them a screenshot of Google Analytics (or other proof elements). An excellent case study highlights the before-after picture in a crystal clear manner.
Step 5. Formatting
Make sure your case study is properly formatted and easy to read. It's always a good rule of thumb to include images, graphs, and charts wherever possible. It makes the case study easy to understand and follow.
No matter how interesting and insightful your case study is, if it's not written in a clean, clear, and simple manner, it will, unfortunately, go unnoticed.
Things To Take Care Of While Writing A Case Study:
Case studies require time, effort, and careful planning. Here are a few things to take care of while writing a case study:
1. Making it a sales pitch: Your case study is not the place to boast about your features, your competitive advantage, or your talented team.
2. Failure in backing up facts: It is critical to include data with your customer success stories. Saying "our products helped X company immensely," doesn't cut it. Back it up with metrics, numbers, stats, etc.
3. Choosing the wrong target customer: Make sure to select customers that belong to industries within your target market. Your hard work can go to zero very quickly if your target niche does not identify with your customer's problems.
4. Not informative enough: If you are unable to collect enough information about the customer, their challenges, and their path to success, it can cause your case study to fall flat. It's important to have details included that help your audience with their buying decision.
Make sure you answer:
"Who" is the customer
"What" are their goals and challenges
"Why" did they end up using your product
"How" did they implement your product/service to their advantage
A case study can be a great sales enablement tool that helps drive conversion and interaction. Avoiding the above-mentioned mistakes will surely strengthen your chances of conversion.
Read more: How To Write A Research Paper?
How To Promote Your Case Study?
Now that you have taken care of all the bits and pieces of your case study, it's time to show off your hard work to the world.
Case studies are often placed on a company's website for the world to see and experience. There are many creative ways to promote your case study. These include:
1. Optimize your case study for search engines
A case study can act as a great SEO tool in driving traffic to your websites. Since your case study addresses common problems, your target market may be actively searching for solutions online.
If your case study shows in Google search results you have a greater chance of showcasing your hard work to your target market. 
2. Use it as a sales enablement tool
Use your case study as a sales enablement tool to help educate your sales force on how customers are using the product.
Case studies can also be used by salespeople during their interaction with a prospect to help them move down the funnel.
3. Share your case study with your fans on social media
Share impressive facts, figures, and quotes from the case study on your Twitter or Facebook pages and share a link to the case study.
You can also add your case study to your list of publications on LinkedIn or Medium.
4. Write a blog post about your case study
You can ask your content marketers to write a blog post complimenting the case study.
You can talk about the problems tackled in the case study and how your product/service was able to solve that problem. You can also capitalize on relevant keywords, driving traffic to the blog post, and thus, the case study.
5. Share your case study with your email subscribers
A large majority of U.S. businesses, 86%  prefer communication with companies to happen through email. Sending your case study to your email subscribers can be a great way to move the sale forward.
You can also include the case study as part of your company newsletter. Case studies can do wonders for your business in reaching and converting prospects to customers.
6. Put case studies on your home page
Place the case study on your company's home page to garner the maximum eyeballs and generate a larger impact.
7. Create case study videos
Videos have picked up some serious steam in 2017 and will continue to do so in the future. In fact, video drives a 157% increase in organic traffic.
Creating short videos or a video series based on your case study can be an excellent way to utilize interview footage and gain additional eyeballs. You can also put up these videos on your homepage as they are believed to increase conversions by 80% or more.
Read more: Effective ways To Start Sending Videos For Increasing Conversions
Watch this video to learn more
Conclusion:
The basic idea behind a case study is to help your prospect see themselves in the story. It should tell a compelling story that engages the prospect and provides the "push" needed to make the ultimate decision.

Here are some of the key takeaways you need to keep in mind while creating the perfect case study:
It's not about selling and boasting about your product's features. It's about providing proof.
Make sure the customer belongs to the niche you are targeting.
Always start by describing the company's business, its goals, and its aspirations. Move on to discuss the challenges they faced before using your product and what made them settle for your product.
Describe the path to the solution as clearly as possible. Answer this question in detail: how did your product or service resolve the customer's issue? Pull out quotes from the case study and highlight them.
Talk about the specific strategies implemented by your customers that helped their business succeed. Back up those strategies with facts, figures, and graphs.
Use simple language and avoid technical jargon. Make effective use of formatting via bullet points, highlights, bold, italics, etc.
Case studies can be a powerful tool for converting prospects into customers. They help provide proof of concept to potential buyers, build trust, credibility and eventually drive prospects further down the sales funnel.
What are your thoughts on the power of case studies? What will you by trying as a result of this blog post? Let's discuss case study strategies in the comment section below.
Further reads: 

Related posts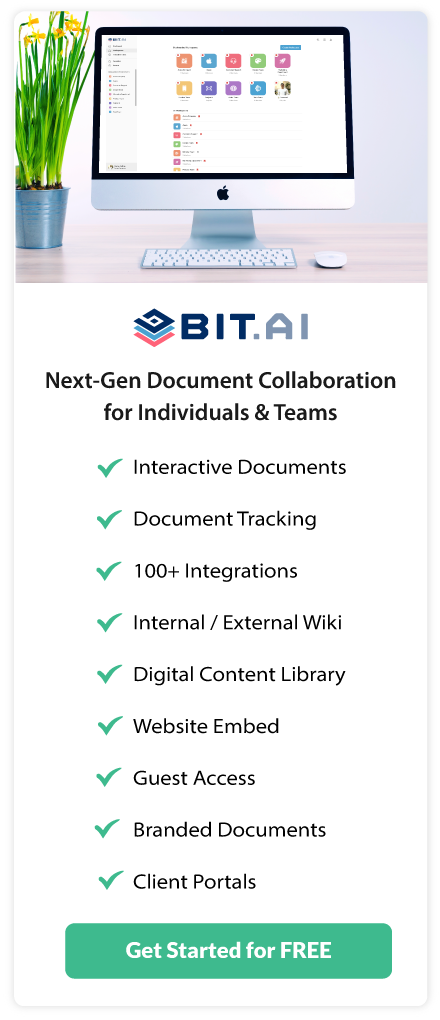 About Bit.ai
Bit.ai is the essential next-gen workplace and document collaboration platform. that helps teams share knowledge by connecting any type of digital content. With this intuitive, cloud-based solution, anyone can work visually and collaborate in real-time while creating internal notes, team projects, knowledge bases, client-facing content, and more.
The smartest online Google Docs and Word alternative, Bit.ai is used in over 100 countries by professionals everywhere, from IT teams creating internal documentation and knowledge bases, to sales and marketing teams sharing client materials and client portals.
👉👉Click Here to Check out Bit.ai.