If you are looking to improve business processes and workflows, a great starting point is online document collaboration. There are a variety of affordable, flexible online document collaboration tools available today.
One of the benefits of document collaboration tools is that they no longer require expensive software purchases or complex installations making it a must-have for the modern digital office.
For anyone who is not a millennial, do you remember when you had to file thousands of paper documents by hand? Perhaps you remember having documents delivered to various departments for approval? What about those bulky, cluttered file cabinets that held the same amount of information as a tiny folder on the cloud?
Yep, that's an ugly image we need to get out of our heads!
It's reminders of the past, that make us grateful for having the tools and technology of today! Online document collaboration tools are one such revolutionary change that has pulled us out of the document dark ages and helped increase our productivity multi-fold.
Shift Towards Collaboration Tools
Apart from helping us get rid of those ugly file cabinets, document collaboration tools are widely being used by businesses to:
Become more organized
Increase productivity
Foster teamwork & collaboration
Reduce storage costs
Reduce security costs
Switching to a digital solution also helps reduce the reliance on paper and saves additional costs for printing, storing, maintenance, filing, etc. According to RegisteredRep.com, companies with annual revenues between $500k and $1 million can save as much as $40k per year by switching to digital document management.
In today's fast-moving digital work environment, the emphasis is on using the right online tools to foster efficiency and productivity.
It's no surprise, then, that online document collaboration has become one of the most popular ways for organizations to improve their overall workflows. According to an Alfresco survey of more than 753 business professionals, 83% of professionals depend on technology to collaborate.
Read more: What Is Workplace Collaboration And How To Do It Right!
Benefits Of Collaboration For Better Productivity
Online document collaboration tools have many benefits that can help your business reach new heights of success with reduced overhead. Here are 10 major reasons why your company must start deploying an online document collaboration tool ASAP:
1. Makes tracking workflows easier
The most compelling case for online document collaboration is it makes tracking workflows easy. Remember the last time you had to email files back and forth? Were you ever unsure if you were working on the most current version of a file?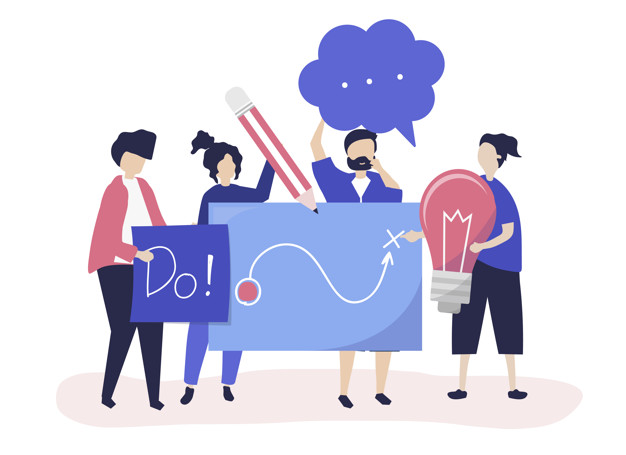 Those days are over. With online document collaboration, participants in any project can always see the current working version of a document, and they can also see any recent changes that have been made to that document. This helps keep team members up to speed with all the latest developments and reduces confusion.
2. Improved collaboration in distributed teams
Most organizations today have far-flung work teams, with offices in several different cities and in different time zones. Moreover, most organizations today employ a mix of employees, some of whom work directly in an office – and some that work outside of the office.
There needs to be a way to share documents amongst these loosely distributed teams, and the solution for many organizations is through online document collaboration.
These tools not only bring those teams closer than ever but provide a virtual space for co-workers to collaborate effectively.
Read more: 50 Best Team Building Activities For Collaboration
3. Improved employee participation and engagement in projects
One common problem faced by companies is caused by the dreaded email "CC: list." Often a message goes out to a large group of people with a request for commentary or feedback, and nobody actually responds.
Everyone on the "CC: list" assumes that someone else will respond, and that leads to a situation where employee engagement is basically zero.
With online document collaboration, you don't have that problem because there's no "CC: list" to worry about. Everyone can see people commenting, editing, or giving their feedback on a document in real-time.
Once one person sees that others are commenting on a document, that naturally leads to increased engagement. Document collaboration tools thus do a great job of providing an environment that encourages collaboration and feedback.
4. Increased overall office efficiency
Just because you are 'at' work doesn't mean you are working. You likely are familiar with those totally unnecessary and uncalled-for "meetings." If you're a middle manager, you spend about 35% of your time in a meeting.
This goes up to 50% if you are a part of upper management. A whopping $37 billion per year is spent on unproductive meetings in the US. If your office is constantly calling meetings or arranging conference calls to review documents, one quick way to boost overall office efficiency is online document collaboration.
No longer do you have to send out numerous meeting requests to review workflows. The best part is there doesn't have to be any surprises at that meeting when a flurry of last-minute changes results in a document that looks completely different! Instead, as soon as changes in a collaborative document are ready, you can send a quick update to everyone involved in a project, and they can share their feedback.
Read more: 21 Collaboration Statistics That Show The Power Of Teamwork
5. Better information access
A major advantage of having a document collaboration tool is the ease of access to information. Document collaboration tools provide a central location for all files, documents, and other rich media. This makes it extremely easy for team members, irrespective of their location to access information.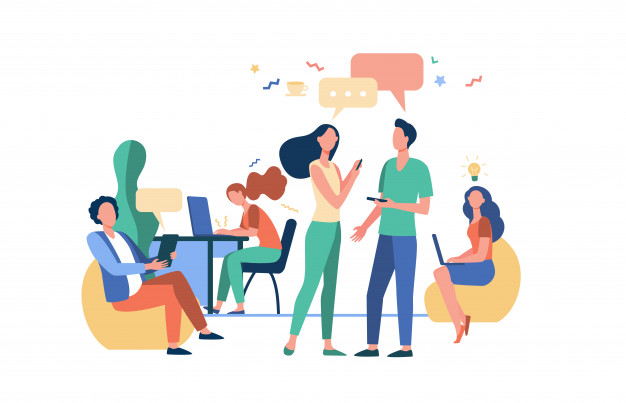 Document collaboration makes it easy to add collaborators and decide who should have access to what content. It's directly tied to cloud storage solutions that allow employees to access, collaborate, and share content regardless of where they are in the world.
Employees no longer need to save files to their hard drives or on those forgettable USB sticks. Just log in to your collaboration tool and you're good to go!
6. Improved access to real-time updates
More often than not you start emailing back and forth different versions of a document as it's being updated. Colleagues become confused as to which version is the most current version.
A document collaboration tool solves this email mess pretty easily. Online document collaboration tools offer various features to keep track of work and provide real-time updates of the changes made.
You can tag a team member to review a document, get notified when someone makes a change to a document, and can also see how the document looked before the changes were made.
7. More cross-functional teams
An online document collaboration tool is great for employees from different departments or cross-functional teams, working together on a single project. For example, creating a new landing page for your website requires the joint efforts of your marketing, design, and tech teams.
With co-workers from different departments working together, there's a high probability of vital information slipping through the cracks. With a document collaboration tool, you can easily have all teams work together on a document and collaborate seamlessly in a single workspace.
Read more: 7 Compelling Reasons Why You Need To Invest In Team Collaboration
8. Improved Client Communication
Online document collaboration tools not only provide a collaborative virtual workspace for team members and employees but also act as a single source of truth for clients and partners.
Clients, partners, and other external stakeholders can easily keep tabs on the progress by receiving regular updates on a project, without having to schedule monthly review meetings.
They can also suggest changes or share their feedback in real-time, saving a lot of time and costly changes in the future.
9. Quick Editing
An online document collaboration tool helps to cut down unproductive time spent communicating and sending documents for edits and approvals. Using a document collaboration tool, anyone can comment, annotate, and approve documents quickly.
As soon as a document is uploaded to the tool, reviewers can get notified and start making live edits. They can then notify all team members that the changes have been made. This makes workflows smooth and organized, with every team member on the same page.
Read more: Best Collaborative Document Editing Software in 2022
10. Better Brainstorming
By having a single place for communication and collaboration, a cloud-based document collaboration tool fosters creativity and brainstorming.
When employees from different departments come together and engage with one another, new ideas, growth strategies, design inspirations, and tactics are bound to be exchanged.
It breaks down physical barriers between employees and allows them to communicate in a way that is effective, and fun!
Kickstart Your Document Collaboration With Bit.ai
If you are looking to improve business processes and workflows, a great starting point is online document collaboration. The benefits of document collaboration tools are multifold- they help save time, effort and result in a more collaborative work environment that fosters creativity.
Impressed by the capabilities of a document collaboration tool? Bit is a cloud-based document collaboration tool that helps teams create, manage, and track all your business documents in one place.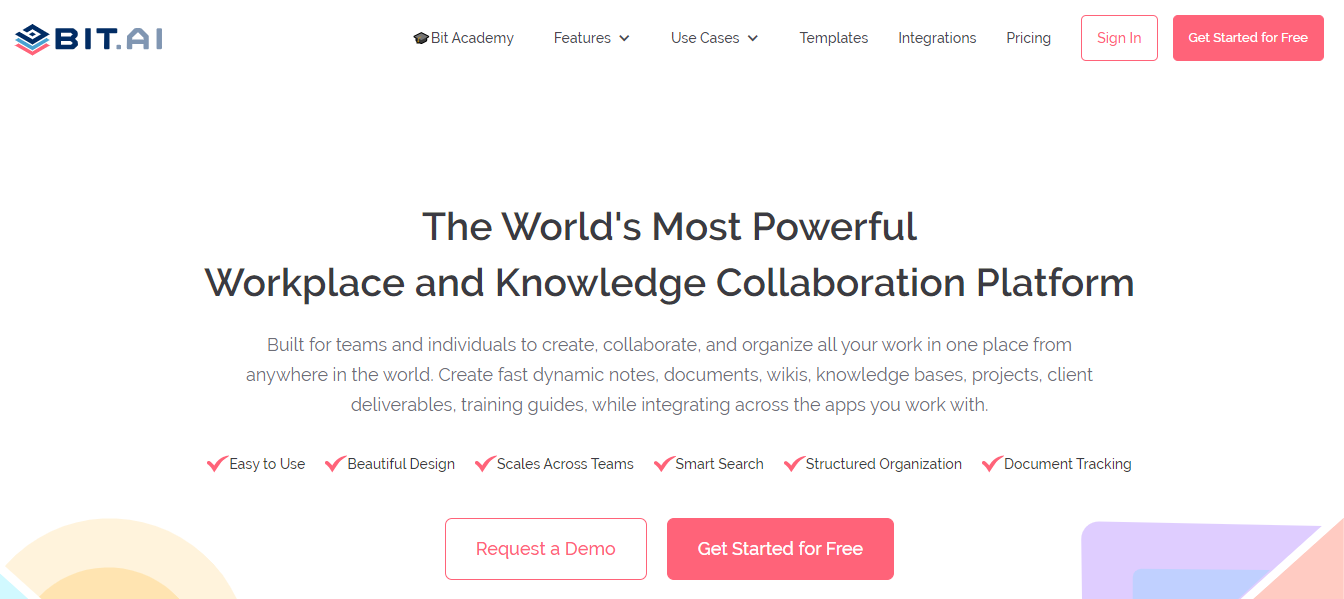 Get your team together in a Bit workspace and create PowerPoint presentations, PDFs, sales and marketing collateral, investor updates documents, employee training guides- basically any workplace document.
Bit documents are unlike any other documents on the planet- add Videos, Google Spreadsheets, Audio, Dropbox files, SlideShares, or any sort of rich media available on the internet. Once you've created your smart digital document in Bit you can start tracking them and get engagement insights like never before!
Further reads: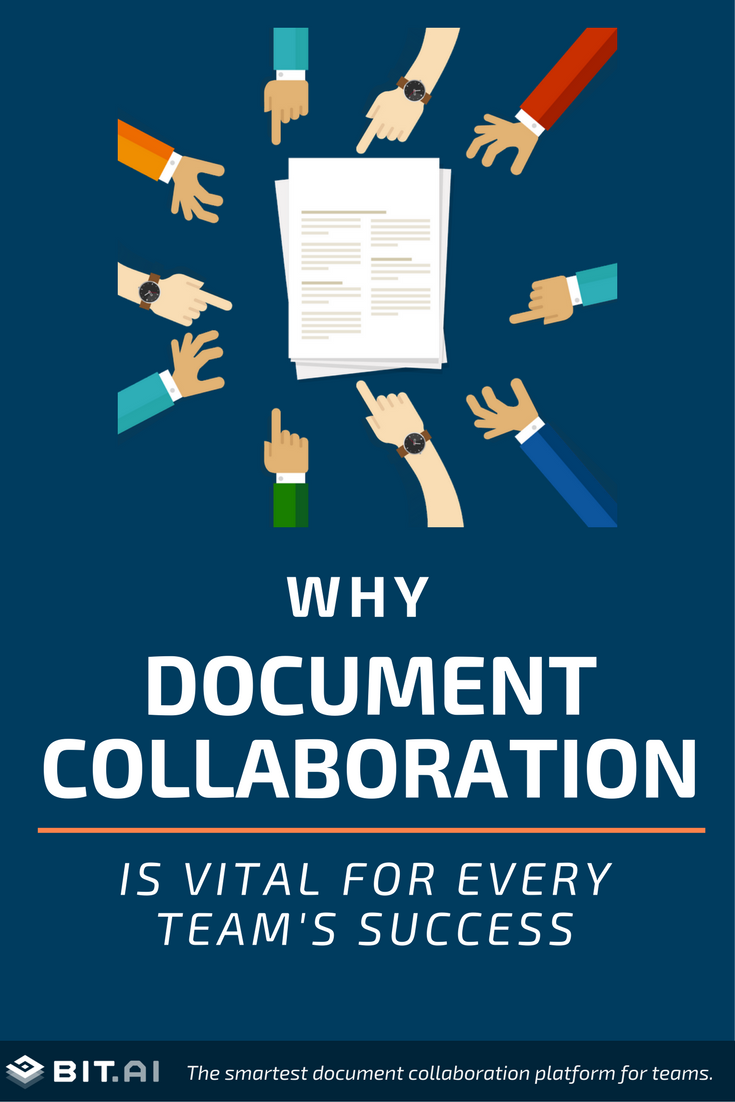 Related posts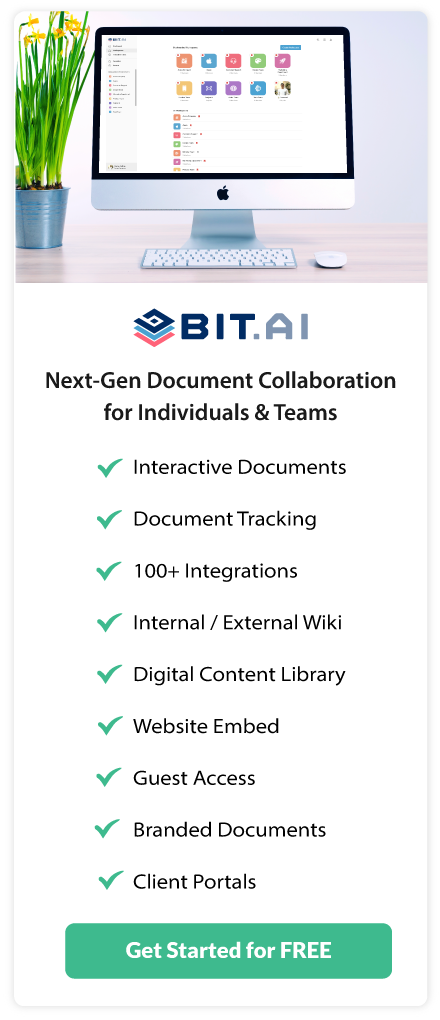 About Bit.ai
Bit.ai is the essential next-gen workplace and document collaboration platform. that helps teams share knowledge by connecting any type of digital content. With this intuitive, cloud-based solution, anyone can work visually and collaborate in real-time while creating internal notes, team projects, knowledge bases, client-facing content, and more.
The smartest online Google Docs and Word alternative, Bit.ai is used in over 100 countries by professionals everywhere, from IT teams creating internal documentation and knowledge bases, to sales and marketing teams sharing client materials and client portals.
👉👉Click Here to Check out Bit.ai.