Performance reviews are often underestimated in most companies. They are considered time-consuming and just another box-ticking exercise for your company.
But the fact of the matter is that performance reviews can motivate employees, boost employee engagement, and help achieve all your organizational goals.
Take a look at these statistics to understand the crucial role that performance reviews play in the progress of your company:
Not to mention around 60% of employees say they want feedback daily or weekly.
Surely, creating effective performance reviews must be on the top of your list if it already isn't. But we've got your back if you're wondering how to deliver constructive feedback to your employees!
In this blog, we will teach you anything and everything you need to know about performance reviews, their importance, and how to create one. Let's get started!
What is a Performance Review? (Definition)
A performance review is a formal assessment done by a manager to evaluate the work performance of an employee. It involves identifying the strengths and weaknesses, offering valuable feedback, and setting goals for future performance.
A performance review also goes by the name performance appraisal, employee evaluation, or performance evaluation. These assessments are usually conducted throughout the year at a specific date on a monthly, quarterly, or annual basis.
Performance reviews help employees understand what they're doing well, how they can improve their performance, what is expected of them, and how their work and role contribute to the larger company goal. It communicates expectations, fosters employee engagement, encourages growth and development, and empowers employees to achieve their maximum potential.
The 5 Types of Performance Review
1. Weekly Performance Review
Weekly or fortnightly performance review is done weekly. They don't require a large amount of data or be goal-oriented. They mostly help in keeping records and ensuring that a project stays on track week by week.
2. Monthly Performance Review
Monthly performance reviews are done on a monthly basis and are usually done for freelancers or employees on short-term contracts, new hires, and short-term projects. It includes more specific, detailed, and short-term goals and evaluations.

3. Quarterly Performance Review
Quarterly performance reviews are done every three months as companies often divide their business year into quarters, such as Q1, Q2, Q3, and Q4. These reports can be created as an aggregate of weekly/fortnightly or monthly reviews.
4. Mid-year Performance Review
Performance reviews carried out every six months are called mid-year performance reviews. They are usually done halfway through the year and again at the end of the year. They are not as big as annual reviews or detailed as monthly reviews.
5. Annual Performance Review
Annual performance reviews are reviews conducted every year or on an annual basis. It is basically a review of an employee's 12-month overall performance.
Now that you know some of the different types of performance reviews, let's try and understand why they are important.
Why are Performance Reviews Important?
1. Offers Feedback
Performance reviews are all about evaluation and providing feedback to your employees. It creates an opportunity for your employees to get some recognition and credit for a job they have done well.
Additionally, it also helps highlight the areas that require more attention and improvement. Creating that balance between acknowledgment and constructive criticism will help your employee understand their strengths and weaknesses.
2. Provides Clarity
The success of your business relies heavily on the effort of each employee working in your organization. With performance reviews, you can offer clarity about the company's goals and expectations and set up a benchmark to assess the overall performance.
This will help your employees understand their roles within the organization more clearly and improve their performance.
3. Identifies Talent
Performance reviews are a great way to identify and nurture the talent within your company. They give you a picture of how your employees are doing in terms of their skills, knowledge, initiation, and engagement with your company's vision and mission.
This basically acts as a record of an employee's strengths and weaknesses, which will help you assign the talents towards greater responsibilities and put them to best use.
4. Boosts Engagement
It is quite common for employees to become disengaged in work, even the high-performing ones. A performance review is what will help change this as it enables valuable conversations via regular feedback and encouragement.
This helps draw attention to the important aspects of a business, ensures that everyone is working towards the common business goals, and encourages engagement and free flow of communication.
With a performance review process in place, you can bring the best out of your people and ensure that your business is always running smoothly. It's the best way to offer feedback, support, guidance, and encouragement.
Now that you know the importance of creating performance reviews, let's take a look at how to create one!
How to Conduct a Performance Review? (Steps)
Step 1. Gather Relevant Information
Before you start writing a performance review, you need to gather all information that is relevant to the report, such as your employee's self-review, their goals, and other useful data. This can also include one-on-one notes, feedback from other stakeholders, examples of recognition, and other relevant work projects.
Gathering all these data and documenting performance throughout the year makes it easier to start writing a performance review.
Step 2. Include Basic Information
When you are writing a performance review for an employee, you need to include the basic information that is relevant to the report.
In this section, you must mention your employee's name, department, and position. Here you must also include the date of the review and information about the reviewers.
Step 3. Set Employee Goals & Objectives
Setting goals is an important part of a company's performance management. It will help you have an outline and framework of all the actions that need to be taken to succeed.
In this section of your performance review, you need to set goals and objectives for future performance. The goals need to be specific, clearly defined, and measurable.
Here, you can also establish the key areas and competencies that your employees need to work on and create a plan about what steps need to be taken to do them.
Setting these goals will allow employees to be more engaged and motivated, and will help them improve their job performance, thereby contributing to the overall growth of the organization.
Step 4. Provide Evaluation of the Overall Performance
The next section to be included in a performance review is the evaluation or assessment of the overall performance of the employees. Here, you describe how well the employee performed or how they did not meet the expectations.
This part may vary as it can be done in multiple ways and in review formats. You can offer the assessment of the overall performance through a rating scale, a detailed feedback grid, a long-form or open-ended feedback form, a peer review or group evaluation form, and more.
Step 5. Mention Compensation and Rewards
Every employee deserves to receive the best compensation, rewards, and recognition for their achievements. It will help increase motivation and productivity, so you must mention what they will receive in the performance reviews.
The compensation and rewards can be in the form of bonuses, incentives, increase in salary, employment perks, time-offs, variable pay, and other monetary benefits. Mentioning these in the performance review will act as an incentive for your employees to perform well.
Step 6. Plan for the Future
It is always a good idea to include a professional development plan in the performance review. This section is all about the improvement needed for the future. Here, you can discuss the training needs of the employees and other specific priorities and areas that need to be addressed.
Step 7. Conclude the Review
Hurray! You have successfully made it to the end of the performance review. Here, you will cover all the final comments, questions, and conclusions.
Now that you know what elements are to be included in a performance review, take a look at some of the tips you need to keep in mind while writing one.
4 Tips For Writing a Great Performance Review!
1. Make Time
As a manager, you must ensure that you make time to write a thoughtful and helpful performance review for your employees.
2. Offer Objective Reviews
All feedback and comments that you offer in your performance review must always be based on observations, facts, and data. Your review should never be subjective or based on personal opinions.
3. Use Language Carefully
The words and language you use in your performance review matter a lot. You must make sure that your language is specific and measurement-oriented and always include powerful action words. Always focus on the individual and avoid comparisons with other employees.
4. Take a Coaching Mindset Approach
Your performance review is the perfect opportunity for you to coach your employees, so use it to develop and establish a mentor-mentee relationship with your employees. This will help make your performance review process more effective.
Before you leave, we would like to introduce you to a tool that can aid you in the process of writing performance reviews. Scroll down to find out more!
Use Bit.ai To Write Effective Performance Reviews!

What's Bit.ai? Well, Bit.ai is a new-age document collaboration and knowledge management tool designed exclusively to satisfy all your documentation needs. It helps you create, edit, organize, manage, and share documents – all under one roof! Here's how Bit can aid you in the process of writing performance reviews.
Smart Workspaces and Folders:
With Bit, you can create infinite workspaces and folders and bring all your work documents and files by organizing information in one place. This means that you get to create workspaces and folders around your employees and manage everything in an efficient and organized manner.
Auto-formatting:
Don't worry about the formatting of your performance review anymore because Bit comes with an auto-formatting feature, which automatically formats your entire document to give it a very uniform and consistent look. With design automation builds, you can change the color theme of the document with one click. Focus on your content and let Bit do the rest of the work!
Media Integration:
To make your performance reviews more interactive and dynamic, use Bit's 100+ rich media integrations to add images, links, PDFs, tables, charts, presentations, excel sheets, graphs, videos, GIFs, and basically any type of rich media to your document.
Real-time Collaboration:
With Bit's real-time collaboration feature, you can invite other managers and team leaders and collaborate on each employee's performance reviews. You can also co-edit, highlight text, mention collaborators, and make comments on the document.
We could go on and on, but you get the point, right?
All in all, Bit is a modern-day editor that makes writing fun and distraction-free and is the perfect tool to work on a performance review or other smart workplace documents!
So quit waiting around and just get Bit already!
Conclusion
…. and voila! You now have a clearer picture of what a performance review is and how to draft one efficiently.
We have also introduced you to a super awesome tool that can help you create performance reviews for your employees.
Now all you have to do is get Bit, start organizing your work, and create effective performance reviews! Good luck, folks!
Further Reads: 
Best Performance Review Tips For Managers (Template Included)
Performance Report: What is it & How to Create it? (Steps Included)
Performance Improvement Plan (PIP): What is it & How to Create it?
Employee Training: Definition, Importance & Tools to Use!
9 Ways to Improve Work Performance in 2022
Boost Employee Morale with these Effective Tips!
Formal Reports: What are they & How to Create them!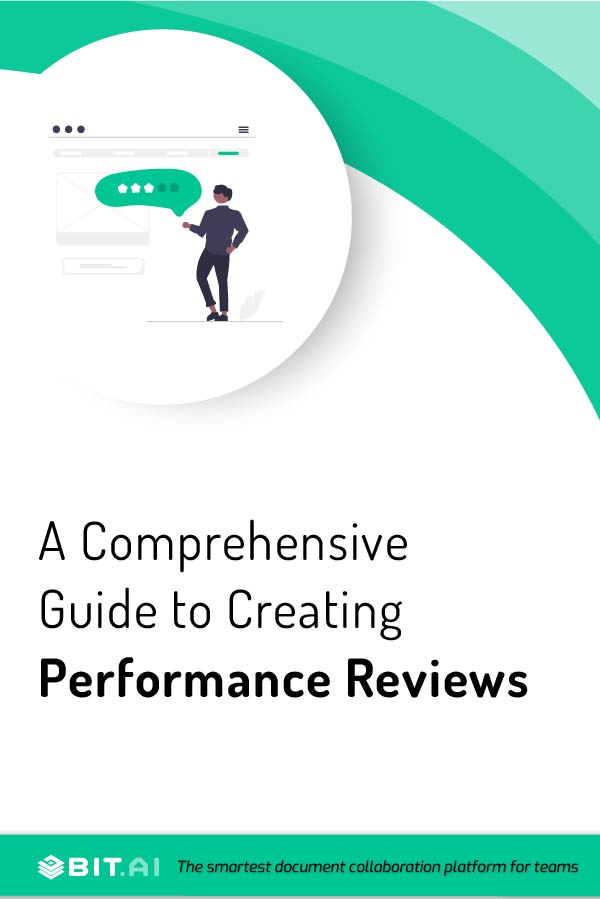 Related posts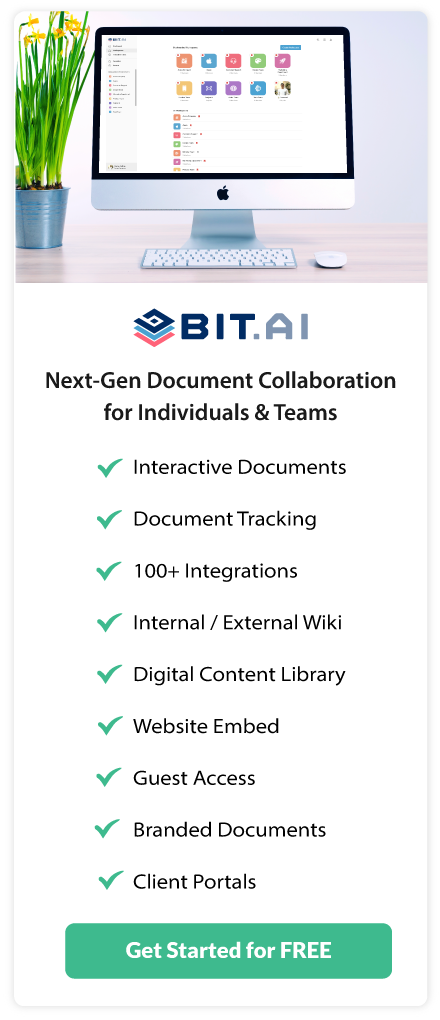 About Bit.ai
Bit.ai is the essential next-gen workplace and document collaboration platform. that helps teams share knowledge by connecting any type of digital content. With this intuitive, cloud-based solution, anyone can work visually and collaborate in real-time while creating internal notes, team projects, knowledge bases, client-facing content, and more.
The smartest online Google Docs and Word alternative, Bit.ai is used in over 100 countries by professionals everywhere, from IT teams creating internal documentation and knowledge bases, to sales and marketing teams sharing client materials and client portals.
👉👉Click Here to Check out Bit.ai.