Working as part of a team, regardless of the size of your company, is both challenging and rewarding.
Everyone on the team brings their unique set of skills, experiences, abilities, and problems to the table, which may either help or hinder cooperation.
And each team will be required to handle many tasks at once, work swiftly, and be adaptable.
In today's workplace when teams are made up of people working remotely or partially remotely, in different time zones, and across many offices, it is extremely difficult for hubs to stay in sync.
Not to mention, teams need to be sure they are creating synchronously, even if they are working asynchronously, which is not a simple task.
This is where a team charter will help in bringing everyone together and defining your objectives while sticking to the said mode of execution.
So in this blog, we will help you understand what a team charter is, why it is important and how to create an effective one for your business!
Ready? Then dive right in!
What is Team Charter? (Definition)
A team charter is a document created in a group environment that specifies the team's goals and establishes boundaries. It defines the purpose of a team, how it should work, and what its expected outcomes should be.
Basically, it is a roadmap that provides clarity and offers directions to a team.
A team charter is formed early on in the team's formation and is usually developed in a group setting to facilitate comprehension and buy-in.
A team charter fulfills two functions:
It acts as a resource for team members to display and demonstrate their team's focus and direction.
It educates other members of the company, such as organizational leaders and other workgroups, by demonstrating and displaying the team's direction.
Creating a team charter clears up any ambiguity about the group's goals. It also contains the necessary information so that the team does not have to do any rework and get it correctly the first time.

Now, let's go over why creating a team charter is crucial for your business.
Benefits of Team Charter
Having a team charter ensures a shared vision among the teammates. Because a team charter is formed jointly, there are clear roles and responsibilities in addition to set milestones.
A team charter encourages buy-in and support from all team members. It energizes, motivates, and encourages by providing clarity on the team's who, what, and why with increased communications. It helps create scope for improved results.
While team members come and leave, it's critical to evaluate and amend the team charter to ensure that new team members have an equal opportunity to contribute, support, and buy-in.
Since a team charter is often a large, bold, and colorful laminated paper that is prominently displayed for all team members to notice, it acts as a constant reminder to them about their mission, why they exist, and what motivates them to succeed.
In short, having and creating a team charter can help the team in various ways, such as:
Helps the team have a shared vision
Define clear roles, responsibilities, and milestones for a team
Improves the overall communications within team and departments
It holds all team members accountable for their actions
Ensures that there are improved results for most teams
Demonstrates a team's purpose to the rest of the organization
Reduces confusion whenever conflicts arise.
Now that you know how important a team charter is, let's take a look at the steps involved in creating an effective one for your organization.
How to Create a Team Charter? (Steps)
Creating a charter requires the documentation of various procedures. Purpose, Stakeholders, Membership, Responsibility, Decision Making, Team Name, Life Span, Communication, and Financial Needs are the various phases in the process.
What are the steps involved in creating a team charter? Let's take a look!
Step 1. Brainstorming your ideas
A team charter is a document that is created in a group environment, which makes it crucial that the first step in actually creating it involves the team getting together and brainstorming.
Everyone's input must be taken into consideration on setting the objectives and laying out a plan. So be sure to invite all your team members to participate in the creation of your team charter.
Keep in mind to take notes so that you can track all the information discussed and gathered throughout the brainstorming session.
Step 2. Establish the Objectives
When you are creating a team charter, you have to recognize the goals you want to achieve through it. For this, you need to start by establishing the team's background and setting objectives and goals.
Summarize what your team charter is about and why it is being created. Create a mission statement explaining what the team is trying to accomplish. This allows the team to see where and how they fit in the organization.
It is also important to note that the objectives you set should fulfill the SMART (Specific, Measurable, Achievable, Relevant, and Time-Bound) criteria.
Step 3. Define Roles and Responsibilities
Every member of the team needs to know their roles and responsibilities so that they are clear about what they have to do and avoid confusion. So, once you have established your goals and objectives, you need to define your team's roles and responsibilities in the team charter.
For this, you must assess each member's expertise, divide work based on that by specifying who is doing what and for whom, and finally allocate duties. You can also include the names of each member, mention their job titles, and outline the duties they are supposed to take up to ensure clarity.
Read More: Manage your Distributed Team with help of these Tips &Tools!
Step 4. Specify the Budget and Resources
Once the goals are set and the roles and responsibilities are defined, you can assess the budget and resources that will be required by your team to carry out projects and tasks.
The two ways to determine a team's budget are through:
The top-down method: Where the team efficiently divides the allocated budget for various tasks and projects.
The bottom-up method: Where the team calculates and decides what kind of budget and resources are needed to complete tasks and projects and requests it from the authorities.
Make sure you set the budget and distribute resources, including people, equipment, and materials, by the goals and objectives that you specified.
Step 5. Clarify Team Operations
After including what roles and responsibilities are to be carried out by each member, the next section in the team charter must clarify how these roles and responsibilities are to be carried out.
Here, you must identify the best practices and clarify how it is to be done. Document recurrent tasks such as meeting guidelines, decision-making procedures, conflict resolution methods, work distribution, communication, progress updates, and so on to make it easy for the team.
Doing this will help keep your team on the same page and on the same schedule.
Step 6. Include Assessment and Evaluation
Having a section in your team charter for team assessment and evaluation becomes a useful tool for team training in the future.
Here, you can describe how success will be measured and how employee performance and progress will be assessed. Include what metrics will be used to measure, when it will take place, and who will make the assessment.
Also, incorporate two-way dialogues and peer-to-peer feedback so that each member can share their own perspectives about their team leaders and fellow peers.
Step 7. Sign the Document
The last step is closing the team charter with signatures from each team member. This must be done after there is discussion and once all team members are on board.
Doing this will ensure that each member of the team understands their role, responsibility, and how they are involved in the project, and agrees with it all the details mentioned in the team charter.
… and voila! You now have a well-written team charter at your disposal!
Before leaving, we want to introduce you to a tool that can help you write team charter documents in a matter of a few minutes!
Don't believe us? Then scroll down to find out what we are talking about!
Bit.ai: Tool for Creating a Team Charter

For creating a team charter document, you need a proficient tool that can help you create, share, and collaborate with stakeholders and get work done efficiently. This is where Bit comes in!
Bit.ai is a new-age documentation collaboration and knowledge management tool that helps teams to collaborate, share, track, and manage all company knowledge in one place. You can use Bit to create team charters, collaborate with your team in real-time, and store all information in one place for easy and fast access.
Simple, Clean UI:
Bit has a very minimal design aesthetic to it, allowing even a newbie to quickly get on board with the platform. Even though the platform is feature-rich, it does a great job of not overwhelming a new user and provides a systematic approach to work.
Smart Workspaces: 
With Bit, you can create infinite workspaces and folders to help you manage and organize all your information in one place.
Design and Formatting:
Focus on the content and let Bit help you with the design and formatting of your team charter. Bit documents are completely responsive and look great on all devices. With amazing templates and themes, Bit docs provide you with the type of brand and design consistency that is unheard of in the documentation industry.
Smart search: 
Bit has very robust search functionality that allows anyone to search and find any files, images, documents, etc quickly and easily across all of their workspaces. Users can search their digital assets using keywords, titles, descriptions, or tags. They can even search for files based on their source. (i.e., YouTube).
Media Integrations:
Bit.ai integrates with over 100+ popular applications (YouTube, Typeform, LucidChart, Spotify, Google Drive, etc) to help teams weave information in their documents beyond just text and images.
Real-time Collaboration:
With Bit, you can seamlessly collaborate with your team and work together on the same document in real-time, chat privately, make inline comments, co-edit, and do so much more to ensure that you do not miss out on any important details to be included in your team charter.
Sharing:
Bit documents can be shared in a live state meaning that all changes that you make to the document will update in real-time. So if you are sharing your documents with your team, they will always get your most up-to-date changes. You can even embed Bit documents on any website or blog.
… and lots more! We could go on, but you get the point, right? Bit is indeed the one-stop solution for all your documentation needs! So quit waiting around and get Bit today!
Conclusion
Whether created to drive corporate values, a short project or to give direction to new working units, team chartering can improve the results of managers and employees.
A good team charter lays forth the group's logic and goals, as well as the essential direction for a team to go forward and acquire a competitive advantage.
That's why creating a team charter is a practical and effective strategy to assure alignment with corporate and team goals, as well as to assist individuals and businesses in succeeding.
In this blog, we have helped you understand what team charters are, why they are important, and how to create them. We even introduced Bit so that creating team charters becomes easier for you!
Now all you have to do is get Bit and get started on your team charter!
Further Reads: 
Project Charter: What is it & How to Write it Perfectly? (Template Included)
12 Efficient Ways To Manage Teams This Year!
15 Team Meeting Ideas & Topics For Your Next Meeting!
9 Virtual Team Building Games for Remote Employees!
Make Your Distributed Teams Work More Efficiently With Bit.ai!
15 Team Building Skills You Must Develop for Better Collaboration!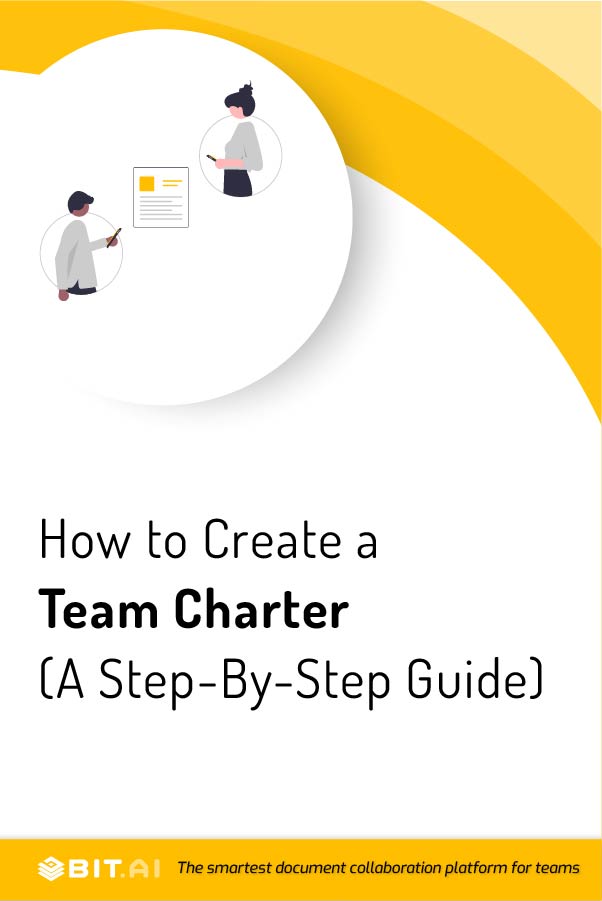 Related posts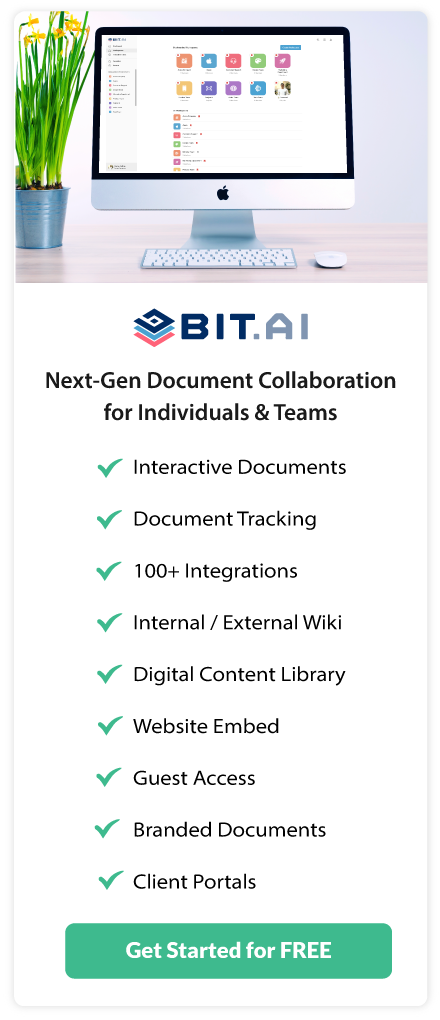 About Bit.ai
Bit.ai is the essential next-gen workplace and document collaboration platform. that helps teams share knowledge by connecting any type of digital content. With this intuitive, cloud-based solution, anyone can work visually and collaborate in real-time while creating internal notes, team projects, knowledge bases, client-facing content, and more.
The smartest online Google Docs and Word alternative, Bit.ai is used in over 100 countries by professionals everywhere, from IT teams creating internal documentation and knowledge bases, to sales and marketing teams sharing client materials and client portals.
👉👉Click Here to Check out Bit.ai.