Gone are the days when you had to meet face-to-face with each customer to talk about their issues.
With the advancement of technology, it has become possible for people to simply whip up their phones and report an issue with just a few clicks.
Thanks to tools like help desk software, people no longer have to put in the effort and wait in line to get their issues addressed.
In a hyper-competitive world, you cannot just ignore the importance of having a help desk software, especially when customer service is a critical component of a successful business.
In fact, more than 77% of customers say they are more loyal to businesses that offer top-notch customer service and 75% of customers desire a consistent customer experience.
So it's time you consider investing in robust help desk software and focus on moving towards a customer-centric approach with your business.
If you're unaware of what help desk software is and the several options you have, this blog is here to help guide you through it all. Here, we'll walk you through the meaning, benefits, and the list of some of the best help desk software available on the market.
Let's get started!
What is a Help Desk Software? (Definition)
A help desk software is a tool that is used to capture, organize, manage, track, and respond to customer-related queries and requests online. It is a one-stop point of contact for providing centralized information and support management for customer issues and their fixes.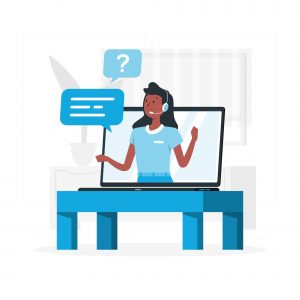 To put it simply, they are simply the software application version of those help desks that you see at an airport or a hotel, or an office building.
With help desk software, you can resolve customer grievances, manage both internal and external queries and requests of a company, provide self-service options, track and report performance, and more.
The main purpose of help desk software is to serve customers and simply make them feel heard so as to improve their overall customer experience.

Benefits of Using a Help Desk Software
1. Improves Customer Experience
All customers want a seamless experience each time they interact with your business. In fact, customer service is a number one priority for most customers.
And with help desk software by your side, you can offer the best customer experience. It ensures that your customers have a delightful experience by making it easy for them to reach out, keeping them informed with timely updates, and resolving their issues quickly.
2. Increases Productivity
There's no denying that help desk software actually makes the job of an agent easy. It automates repetitive tasks quickly thereby reducing workload and helping you focus on more important tasks.
It provides a 360-degree view of the customer and helps monitor the progress of a customer ticket. It also lets you access its knowledge base to help solve customer complaints effectively and efficiently.
All of this collectively contribute to the increase in productivity within the company and help serve the customers better.
3. Offers a Library of Information
What makes help desk software an excellent tool is that it has a knowledge database that stores all the information about customers and their problems and requests.
It also offers a library of information that allows customers to have access to self-care plans, video tutorials, step-by-step guides, and other relevant company or product information at all times.
4. Ensures Security
The best part about help desk software is that comes with a set of excellent security features that ensures that your customer's data and your data are kept safe and secure.
It allows you to safely access, upload, and share information without any security breaches. With encryption, password and privacy control, single sign-on, etc. your privacy is 100% guaranteed.
5. Transparency in Communication
With a centralized database and shared inbox, help desk software ensures that all communication is visible to all members of the company. It allows you to see isolated requests and crossed communication lines from multiple sources in a single platform.
It also lets you see the ticket history of each problem and lets you keep track of them in real-time. There's simply a lot of transparency with help desk software around!
6. Continuous Learning and Improvement
Part of what makes help desk software a worthy investment is the continuous customer feedback. It collects and shares comments and feedback from customers and helps you get an understanding of what you're doing right and wrong.
The reporting and analytics can be used to make better decisions about the services being offered, standard operating procedures, staffing, training, and more. This ensures there is continuous learning and improvement happening.
Simply speaking, a help desk software is everything you need to elevate your customer interactions to the next level! This brings us to the next section – the list of some of the best help desk software in the market. Let's dive right in, shall we?
Read More: Improve Customer Satisfaction in these 11 Smart Ways!
List of Help Desk Software
1. LiveAgent

LiveAgent is a feature-rich help desk and ticketing software that comes with a central platform for viewing all incoming tickets and messages. It offers 24×7 customer support, a knowledge base, FAQs, and community forums.
LiveAgent brings together all your conversations, emails, social media references, and other platforms in a unified inbox for easy multichannel communication. It lets customers discuss new features, ask questions, offer feedback, and more through its community forum.
The software lets you create self-service articles and customize them to your company's design and style without any coding skills. It also helps you create reports and allows you to review the progress on issues anytime from anywhere.
Pricing:
Forever free plan with limitations
Ticket – $15/agent/month
Ticket+Chat – $29/agent/month
All-Inclusive plan costs $39/agent/month
2. Zoho Desk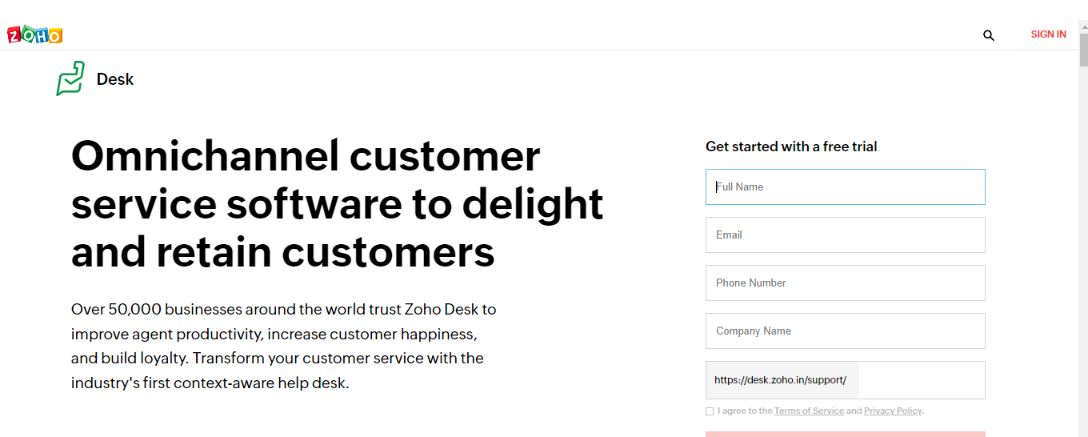 Zoho Desk is a cloud-based help desk software that is built to resolve everyday customer service challenges. It converts customer queries and requests across multiple channels into tickets and compiles them into a single interface.
With Zoho Desk, you can set up multiple help centers and allow customers to directly submit tickets from its client portal. It lets you set permission to control access to the portal and also helps monitor your customers' behavior and engagement levels.
Zoho Desk promotes customer self-service via knowledge base portals and community forums and offers a wide range of information including product updates, new features, upcoming sales, or other announcements.
What's more? Zoho Desk allows you to communicate and manage all your customer support requests through email, chat, social media, phone, and other web forms.
Pricing:
Free: Forever free plan, limited to 3 agents
Standard: $12/agent/month
Professional: $20/agent/month
Enterprise: $35/agent/month
3. Zendesk

Zendesk is a help desk software and customer service platform that brings together all customer interactions across emails, chats, social media, mobile, etc. in one place. It comes with features such as AI-enabled chatbots, targeted and behavior-based triggers, offline forms, file exchanges with customers, and more.
With Zendesk, your customers can submit their requests through tickets in its self-service portal simply by completing a form and customizing them. It also lets them view the status of their requests and issues, offer feedback, check articles, and much more.
Zendesk also has a strong knowledge base and community forum with a customer-facing web interface and shared inbox that boosts communication and collaboration. Its live chat analytics allows you to see statistics about agent efficiency, customer satisfaction, chat length, and lots more.
Pricing: 
Suite Team plan costs $49/agent/month
Suite Growth plan costs $79/agent/month
Suite Professional plan costs $99/agent/month
4. Freshdesk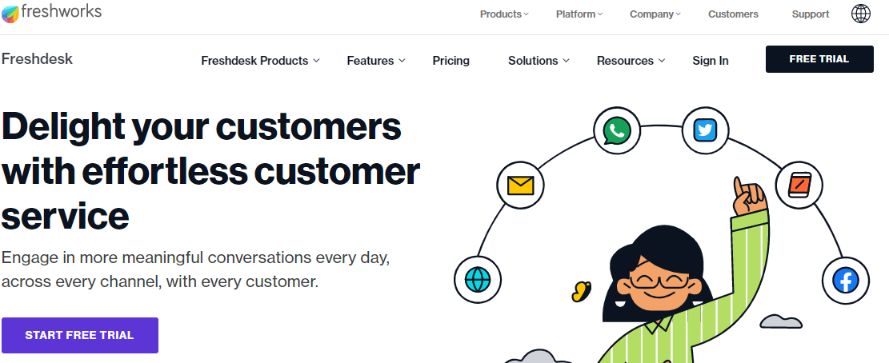 Next, we have Freshdesk, a reliable help desk software that comes with excellent AI capabilities, automation tools, multi-channel support, self-service portals, and more. It is designed to track all customer complaints and tickets.
Freshdesk automates the ticket assignment process and eliminates all the repetitive tasks and processes. It helps identify pain areas and tracks your team's performance and customer satisfaction via its intuitive reporting system.
With Freshdesk, you can streamline all your customer conversations in one place. Your customers can ask questions and post advice on Freshdesk's community forums. It also has an inbuilt knowledge base that offers learning articles, product solutions, and instructional workarounds for your team and customers.
What's more? Freshdesk also comes with multi-product and multi-lingual support.
Pricing
There is a free plan available with basic features
Growth plan is priced at $15/agent/month
Pro plan is priced at $49/agent/month
Enterprise plan is priced at $79 per agent/month
5. Jira Service Desk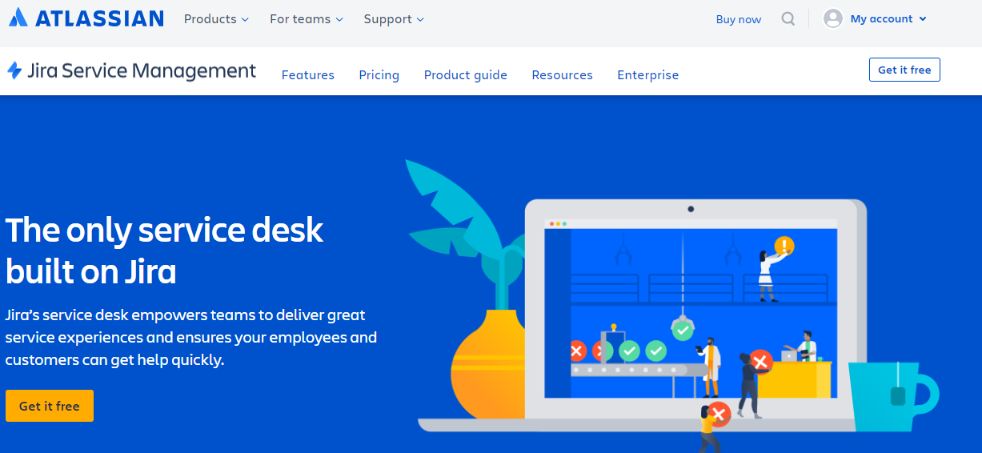 Jira Service Desk is one of the most used help desk software in the world. It comes with a good support team, offers solutions to service management and customer service, and delivers end-to-end service to customers.
Jira Service Desk has a good user interface that helps resolve issues quickly. It helps create custom workflows, visualize and manage all your daily tasks and sprints, and assign tasks to your team.
With Jira Service Desk, you can also get a real-time view of your team's performance via burnout charts, velocity charts, cumulative flow diagrams, epic reports, and more.
Pricing:
Free plan available.
Paid plans start at $7.50/per user per month.
Read More: 7 Best Issue Tracking Software in 2022!
6. HappyFox

HappyFox is a cloud-based help desk software that lets you organize customer tickets based on category, urgency, and progress. It helps create an online forum where your customers can share their views on issues and seek help.
Streamline repetitive tasks such as assigning support issues to members, updating ticket status, and creating a smooth ticket resolution workflow with the help of HappyFox. You can also review your customer's feedback through reports and dashboards and manage all support requests according to their needs.
HappyFox's issue routing system helps prevent frequent and recurring issues from happening again. It also has a knowledge base with detailed articles for an in-depth understanding of the issues for their resolution.
What's more? HappyFox has smart automation and powerful integrations, and also supports more than 35 languages.
Pricing
7. Hiver

Here is Hiver, a help desk software that is built specifically for Google Workspace. It helps you organize, track and collaborate on customer queries and requests right from Gmail.
Hiver helps set up highly customizable automation that can be used to assign queries, categorize queries based on their nature, change the status of queries, and much more.
With Hiver's workload distribution functionality, you can get a 360-degree view of what your team is working on and the status of all tasks in real-time. Its advanced analytics dashboard keeps track of key metrics and views different types of reports for deeper insights.
The best part about Hiver is that because it intuitively fits inside Gmail's interface, you can quickly and easily onboard on the platform.
Pricing:
Growth plan costs $22 per user/month
Pro plan costs $37 per user/month
Elite plan costs $57 per user/month
8. HubSpot Service Hub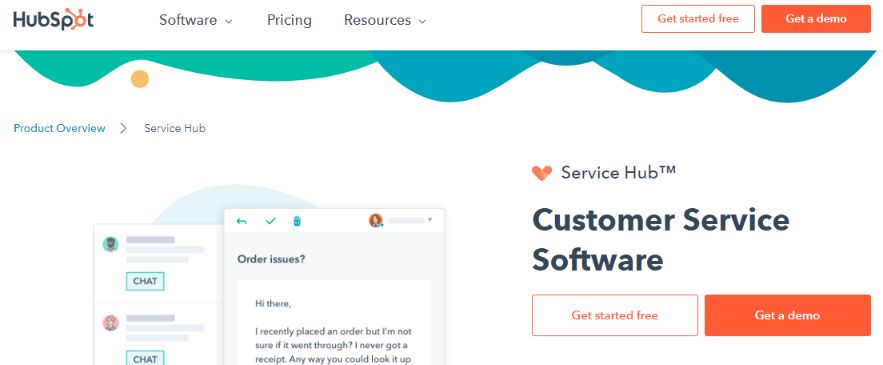 Hubspot's Service Hub is a very popular help desk software that will help you log, organize, and keep track of all customer issues and requests. It offers flexible customer support and helps expand customer relationships.
Hubspot provides a central dashboard that any member of the team can view. It offers reports on sales activity, individual performance, website insights, productivity, and more. It also has a knowledge base that ensures information is readily available for every member of your team.
While using Hubspot's help desk software, you will have access to its customer feedback tools to proactively measure customer sentiments and engagement. It also supports other functionalities such as live chats, email-tracking, meeting scheduling, prospect tracking, and more
Pricing Plans:
Free plan available
Starter plan at $50/month
Professional plan at $400/month
Enterprise plan at $1200/month
9. SysAid

SysAid is a highly-scalable help desk software that helps handle tickets, resolve issues, manage assets, and more. It simplifies workflows while providing a smooth customer experience. It is mainly designed for IT service administration.
SysAid's ticket automation ensures that all your customer tickets automatically sort, prioritize, and send themselves to the right desk, thereby helping you resolve issues quickly and efficiently. It has powerful asset management features that help you manage all your IT assets directly within the software, and resolves issues faster with all the asset data and records inside each ticket.
With SysAid, you can route and match customer tickets based on the skills and workload of each team member. It also sends automatic notifications and reminders for your tickets based on priority levels and due dates.
Pricing:
Contact SysAid directly for pricing.
Conclusion
Communication forms the foundation of most businesses and they require some way or the other to manage all their conversations. A help desk software is what can help your business carry out the right conversations with customers efficiently and effectively.
With the right help desk software, you can deliver excellent results. We hope that our list has helped you make a decision on choosing the one that will manage, track and resolve all customer problems in the best way possible and improve your workflow!
Create a name for your business by giving your customers premium-level customer service! Good luck, folks!
Further Reads: 
Customer Service Policy: What is it & How to Create it? (Free Template Included)
Customer Service Training Manual: What is it & How to Create it?
Top 9 Customer Service Software for Small Businesses!
Customer Profile: What is it & How to Create it?
10 Best Customer Analytics Tools and Software in 2022
21 Rock-Solid Ways to Improve Customer Focus in Your Business!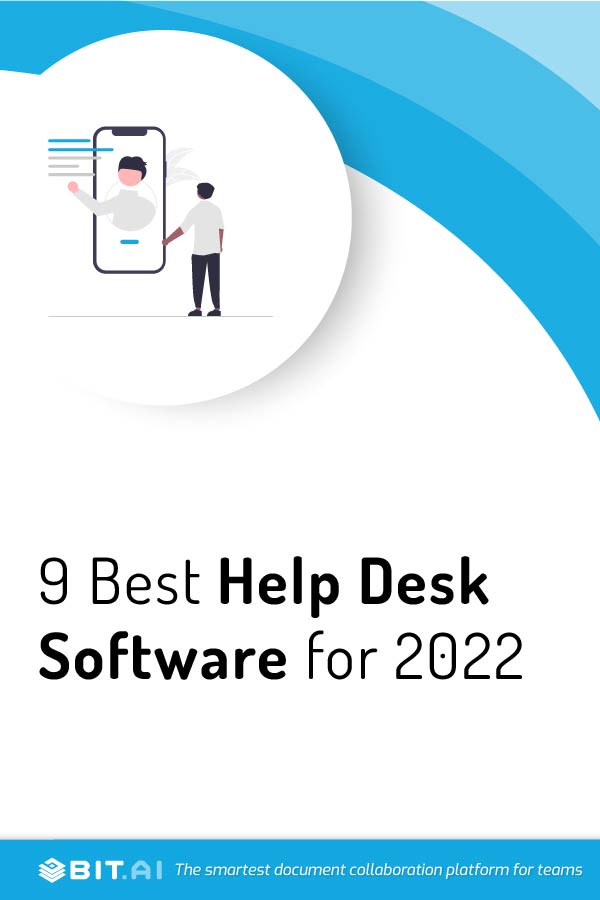 Related posts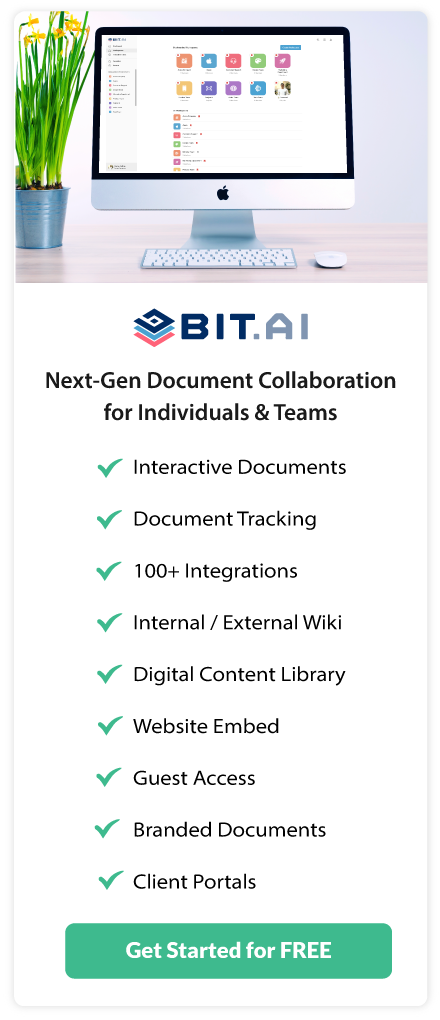 About Bit.ai
Bit.ai is the essential next-gen workplace and document collaboration platform. that helps teams share knowledge by connecting any type of digital content. With this intuitive, cloud-based solution, anyone can work visually and collaborate in real-time while creating internal notes, team projects, knowledge bases, client-facing content, and more.
The smartest online Google Docs and Word alternative, Bit.ai is used in over 100 countries by professionals everywhere, from IT teams creating internal documentation and knowledge bases, to sales and marketing teams sharing client materials and client portals.
👉👉Click Here to Check out Bit.ai.