Have you ever been in a situation where you have run out of things just when you needed them the most? Like that time you reached into your bag of tissues only to realize there's none left or the time you were making coffee and you realized that you've run out of sugar?
Such instances prove that not stocking up often leads to undesirable situations. This is true even for businesses. While it may be easy for you to go on a quick grocery run to stock up essentials at home, it's not easy to do that in the case of a business.
And being out of stock when you're running a business can lead you to lose customers and sales, tarnish your reputation and credibility, and ultimately result in loss.
That is why knowing your inventory level is crucial to the success of your business and its operations. However, keeping track of all your inventory across various locations is a complex and difficult process.
But gone are the days when inventory was monitored using calculations done by hand per item, per location. Technology has now blessed us with inventory management software to help gain visibility across multiple locations and conduct seamless transactions.
In this blog, we have compiled for you a list of some of the best inventory management software in the market so that you don't have to spend time doing it.
But before you jump straight to the list, let's get to know what inventory management software is and why they are important for your business. Let's get started!
What is an Inventory Management Software?
First off, let's try to understand what inventory management is.
Inventory management is a process that involves ordering, storing, utilizing, and selling the inventory of a company. It usually involves dealing with raw materials, components, finished products, warehousing, and the processing of all these items.
This is done to identify and keep track of all the company's inventory from the time of its purchase to its sales. It also helps determine which and how much stock to order at what time.
An inventory management software, like its name suggests, is a web-based application that helps you manage and track your inventory throughout its journey, from manufacturer to warehouse to point of sale.
By using this software, you can monitor your inventory levels, material purchases, deliveries, and sales. You can compare it with your current inventory stock, then predict how much stock you will need, and simply ensure that you always have what you need.
An inventory management software also helps with several other processes such as invoicing, accounting, financial reporting, creating reports, tracking shipments, and lots more.

Now that you have a rough idea about inventory management software, let's take a look at some of the advantages or benefits of using them in your business.
Benefits of Using an Inventory Management Software
1. Increases Productivity and Efficiency
An inventory management software offers a single location for you to view your inventory levels, track your sales, find vendor information, manage payments, and more.
This organized and systemic process lets you get done more things in less time. It cuts down the time spent on tracking, processing, and auditing your inventory. It also automates repetitive tasks so you can focus on more important matters. This, in turn, improves productivity and increases efficiency.
2. Prevents Overselling and Stock Outs
The problem with not having an accurate picture of your inventory or stock is that it can lead to overselling, which will, in turn, result in stockouts. This will cost you your customers, marketing budget, and reputation.
With inventory management software, you can manage your orders and inventory across various channels and gain visibility into when you need to replenish your stock. This will prevent you from running out of stock and help you maintain the right balance.
Read more: Operational Efficiency: Definition, Importance & Ways to Improve it!
3. Brings in Higher Profits
With inventory management software, you can always keep an eye on your inventory and track which ones are performing well and which ones are performing poorly. You can gain better business insights and use this knowledge to make better decisions that will bring you a higher income and result in higher profits.
Additionally, accurate inventory tracking will also help reduce waste, detect thefts, and track productivity, which will also help you improve your income without adding anything to labor costs.
4. Reduces Errors
The best part about using inventory management software is that it automates all manual tasks that are prone to errors, such as data entry, calculations, expense tracking, and more.
In doing this, it prevents human errors and costly mistakes and provides precise and accurate information at your fingertips. No more running to the warehouse to double-check your stock or racking your brains over calculations.
5. Improves Customer Experience
Since using inventory management software ensures that you never run out of your stocks, it also means that you always have the most popular and sought-after products in stock.
It also lets you offer better customer service through a seamless and transparent purchase and shipping process. This improves your customer's experience, which in turn, will help you retain your existing customers and turn your one-time buyers into loyal customers.
In short, inventory management software improves efficiency, provides higher profitability, and offers a better customer experience.
Now that we know the benefits of using inventory management software, let's take a look at some of the best ones available in the market!
List of 9 Inventory Management Software
Let's start off the list with inFlow Inventory, a great inventory management software for businesses that are on a limited budget. It is great for retail, wholesale, distribution, manufacturing, and e-commerce.
inFlow Inventory makes managing inventory a breeze and helps you track all your inventory across multiple locations in real-time and keeps everyone on the same page about inventory levels.
With inFlow Inventory, you can choose, pack, and ship orders, manage purchases and sales, track bills, link e-commerce, and accounting, and lots more.
inFlow Inventory is available as a mobile app and gives you the option to add smart scanners to facilitate barcode scanning features. It also provides support via live chat, email, and phone.
Pricing:
Free version available
Entrepreneur plan costs $89/month
Small Business plan costs $249/month
Mid-sized Business plan costs $499/month
Enterprise plan – custom pricing
Orderhive is a cloud-based inventory management software that helps manage inventory, warehouses, purchases, returns, and shipping. It is a great option for small businesses and e-commerce businesses.
Orderhive supports the first-in, first-out (FIFO) method and uses the Kanban approach for reordering or replenishing stock. It facilitates multi-channel selling and supports auto-synchronization of all inventory channels in real-time.
With Orderhive, you can bulk add, update, or delete products, link or unlink products with different stock-keeping units, generate and print labels of multiple shipping carriers, manage order payments, and more!
Orderhive offers hundreds of integrations with popular apps like eBay, Etsy, Amazon, Shopify, QuickBooks, WooCommerce, FedEx, and more. It even has a mobile app and works on all major browsers.
Pricing:
Free version available for Shopify users
Lite plan costs $49.99/month for 200 orders and one user
Starter plan costs $149.99/month for 1,200 orders and three users.
Growth plan costs $299.99/month for 3,000 orders and five users
Enterprise plan – Custom pricing and unlimited users
If you're someone who uses the Zoho suite, then Zoho Inventory is the perfect inventory management software for you. It offers effective management across multiple channels.
Zoho Inventory has an intuitive and easy-to-use user interface that is suitable for small and mid-sized retail businesses. It lets you handle orders, record deliveries, purchase orders, create sales, and manage invoicing and shipping.
With Zoho, you can keep track of the stock-flow of different products, which includes every unit in each warehouse. It also supports barcode scanning to ensure that the right items are packed and shipped.
What's more? Zoho Inventory enables seamless integration with various e-commerce platforms such as Amazon, Shopify, Etsy, and eBay.
Pricing:
Free plan available
Standard plan costs $59
Professional plan costs $99
Premium plan costs $159
Elite plan costs $239
Here is Ordoro, a popular, time-saving inventory management software that makes multichannel selling easier. It has an intuitive and easy-to-understand interface and enables more than one user to use the software.
With Ordoro, you can create products within your inventory system and update descriptions, images, branding, and more across all sales channels. It also lets you manage, track, and sync all your incoming orders to your inventory.
Ordoro's order tracking features keeps track of and gets accurate location details of all your products. It even sends you stock alerts to notify you about low stocks and helps prevent overstocking.
Some other features of Ordoro include dropshipping, batch-print shipping labels, multiple warehouse tracking, kitting capabilities, barcode scanning, and more. It also offers integrations with third-party sites like Amazon, Shopify, Etsy, and more.
Pricing:
Express plan starts at $59
Pro plan starts at $499
Enterprise plan starts at $999
QuickBooks Commerce is an inventory management software that fully integrates with the QuickBooks accounting tool. It streamlines your order management, tracks your inventory, and even helps with invoicing.
With QuickBooks Commerce, you can get a powerful view of your inventory by syncing with multiple sales channels and enabling live tracking of your inventory levels. It also helps you keep track of backorders and reorder stock when you have a shortage.
QuickBooks Commerce is great for restaurants as it helps track food expenses, automates invoice approvals, and easily integrates with software like Square Inventory. It also offers features like sales reporting, tax calculation, barcode scanning, accounting, expense tracking, and more.
Pricing:
QuickBooks Commerce starts from $40/month
Shopventory is a cloud-based, real-time inventory management software that helps track and monitor your sales and inventory management performance across multiple channel sales and locations.
What makes Shopventory unique is its forecasting and reporting capabilities. It provides a detailed view of inventory histories and inventory valuations, forecasts inventory with predictive analytics, identifies slow-moving inventory, tracks discounts and profitability, monitors how inventory has changed over time.
Shopventory is great for vendor management as it lets you tag and identifies vendors based on what they sell, shipping discounts, and location. It also lets you add notes to track important vendor information.
Moreover, Shopventory offers a highly-visual dashboard, condition-based alerts, barcode scanning, invoicing, and integrations with popular platforms like Shopify, Stripe, QuickBooks Online, Amazon Alexa, and more.
Pricing:
Shopventory pricing starts at $39/month
Up next on the list is Katana, a visual enterprise resource planning software that comes with inventory management, raw material tracking, production planning, stock support, and more. It focuses on small manufacturers or business owners.
This inventory management software has a centralized dashboard that provides complete visibility over your multi-channel inventory and sales orders. It offers business-related data such as sales status, warehouse status, low stock alerts, and more.
Katana lets you manage orders, raw materials, and manufacturing operations across multiple channels. It also tracks your products and materials at all stages of their lifecycle, ensuring that you maintain optimal inventory levels everywhere.
Moreover, Katana provides extensive customer support and offers integrations with numerous CRM and e-commerce tools and other third-party apps.
Pricing:
Price starts from $99/month
Here we have, Fishbowl Inventory, a top-notch warehouse and inventory management software that streamlines manufacturing, distribution, selling, servicing, and other business operations. It is designed for small to medium-sized businesses.
Fishbowl Inventory tracks inventory from order to delivery and monitors asset levels in multiple locations. It sends you real-time inventory updates to help you understand your inventory levels and sets automatic re-order points to avoid stock-outs.
In addition to inventory management and tracking, Fishbowl Inventory helps manage accounting systems and FIFO tools. Its integration with QuickBooks helps with the efficient handling of accounting and shipping.
What's more? Fishbowl Inventory stores vendor information for vendor management and generates custom reports to give you an insight into your business.
Pricing:
Offers a one-time payment of $4395
Cin7 is a cloud-based inventory management software that simplifies your business operations by linking all your inventory, sales channels, stock locations, and customers. It is suitable for e-commerce platforms, retailers, and wholesalers.
Cin7 offers a proprietary automation platform that provides end-to-end control over your selling process and helps you with inventory and order management. It also gives great visibility into your inventory.
In addition to inventory tracking and barcode scanning, Cin7 offers advanced demand forecasting and omnichannel support that syncs multiple channels every five minutes.
It comes with an integrated POS system, manufacturing features, e-commerce features, and even a payment portal.
Pricing:
Small business plan starts at $299/month
Business plan starts at $539/month
Advanced plan starts at $999/month
Enterprise plan – Contact for pricing
Conclusion
Whether it is a successful e-commerce business or a small retail business or a huge enterprise, inventory management is for everyone.
And since we have listed out the benefits of having inventory management software for your business, you don't want to go another day without utilizing it for managing and tracking your inventory.

We hope our list of inventory management software has helped you short-list a few that will help your business. But remember, you need to consider various other factors like your business needs, budget, type of products, and so on.
So, do your research, compare prices and features, and choose the inventory management software that fits your organization! Happy stocking!
Further reads:
Best Roadmap Software You Need to Try (Free & Paid)
11 Bug Tracking Software to Check Out in 2022!
11 Agile Project Management Tools You Should Use in 2022
Top 7 OKR Software You Need To Use This Year!
10 CRM Tools and Software You Should Explore Right Now!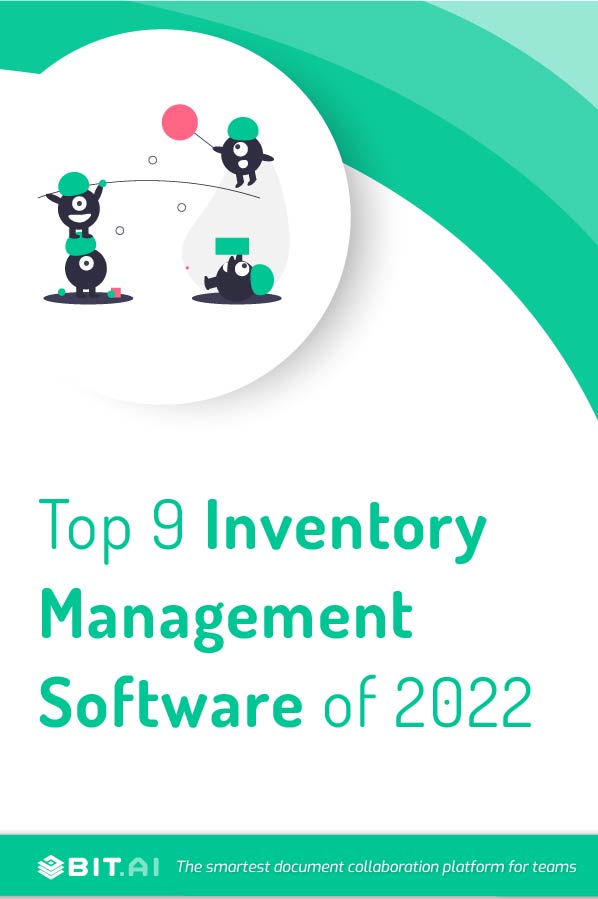 Related posts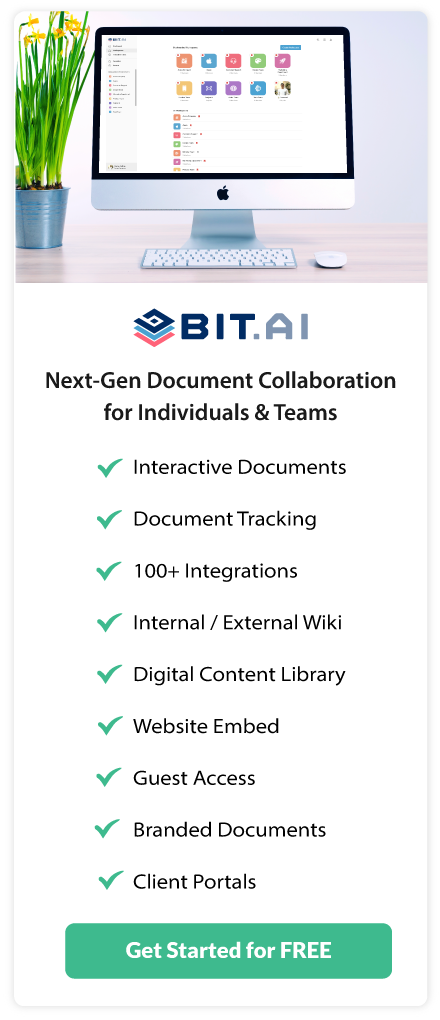 About Bit.ai
Bit.ai is the essential next-gen workplace and document collaboration platform. that helps teams share knowledge by connecting any type of digital content. With this intuitive, cloud-based solution, anyone can work visually and collaborate in real-time while creating internal notes, team projects, knowledge bases, client-facing content, and more.
The smartest online Google Docs and Word alternative, Bit.ai is used in over 100 countries by professionals everywhere, from IT teams creating internal documentation and knowledge bases, to sales and marketing teams sharing client materials and client portals.
👉👉Click Here to Check out Bit.ai.