Customers are at the heart of your business. That means, putting your customers first and implementing a customer-focused strategy across your business isn't something you can ignore!
In fact, the importance of being a customer-focused organization is backed by research. Hold your hats because you're about to be swept away by these stats:
However, the thing is, being truly customer-focused is more than just promptly answering your customers' queries, offering low prices and discounts, fixing a complaint, or throwing a sale. It runs deeper than that.
Customers now have different needs and expectations. They've got higher standards. They are more self-aware as to what they want and what they don't. Most importantly, they've got a myriad of choices to pick from.
So, how will you stand out from the crowd, survive in this super-competitive market, and keep your customers close? Let's explore a few amazing ways to improve customer focus in your business!
List of 21 Surefire Ways to Improve Customer Focus in Your Business
1. Make Your Customers Feel Heard & Important
Behind every customer, there's a story, and your customers shouldn't have to repeat that story every time they interact with your business.
To make your customers feel heard, ensure that your customer service team has easy access to all the information they need to resolve the customers' issues – such as their name, account information, when and why they last reached out, etc.
2. Give Clear & Correct Information To Customers
From marketing campaigns to post-purchase, maintain transparent communication throughout the customer journey. If you don't stay true to what you say, you will surely lose customers' trust instantly.
For instance, don't tell your customer that their order will reach them soon. This won't help the customer in any way because 'soon' can be a day or a week. Instead, specify the date by which they will receive the order.
3. Hire The Right People
Some people might have the technical skills that are required for a job, but if you want to build a customer-focused organization, hire individuals who demonstrate customer-focused skills and mindset.
In other words, hire people who can properly represent the culture you want to build and can get on board with it. You're going to make a substantial investment in these people, so they have to be the right choice.

Read more: Customer Profile: What is it & How to Create it?
4. Leverage The Power of Artificial Intelligence
When it comes to being a customer-focused business, being reactive to the customers' needs is important. But, what's even more important is proactively meeting the expectations of your customers.
All thanks to AI, providing proactive experiences doesn't even have to be complex or costly. For instance, you can just deploy a chatbot to welcome customers when they're on your website and solve their queries.
5. Get Feedback From Your Customers
No matter how great you think your customer service is, you need to understand and act upon the gap between your customers' expectations and their actual experience.
Interact with your customers, understand what their pain points are, and the experience they had while using your product. In simple words, amplify the voices of your customers and use their feedback to improve your business and create a better experience.
6. Get Your Employees Involved
Never underestimate the insights of your employees – whether it's the office cleaner, the project manager, or the director.
The thing is, each employee has a different experience with your company, and their feedback can give you some essential answers! If there's something that your employees don't like about your company, the customers are very much likely to feel the same.
7. Use The Right Customer Metrics
It's not enough to create goals and implement them for a better customer experience. You need to analyze customer satisfaction and loyalty using the right metrics.
Based on this analysis, you can fine-tune your strategies and implement new ideas to improve the overall customer experience. You can use metrics such as Net Promoter Score (NPS), Customer Lifetime Value (CLV), Customer Equity, and many more.
8. Deliver Exceptional Customer Service 
One of the major goals of a customer-focused company is customer satisfaction, right? Well, for that, you should go above and beyond to solve your customers' issues. Keep implementing new strategies to keep your customers happy.
You can also offer some discounts and free items to your customers! All these strategies will help you increase customer satisfaction, lower the churn rate and boost revenue.
8. Empathy is Important
Want to build a strong relationship with your customers? Well, there can't be a greater attribute than empathy that can help you do that.
Try to understand what really clicks with your customers. Put yourself in the customers' shoes and understand their perspectives. Most importantly, when you're interacting with your customers, show that you understand how they feel, and make them feel like they matter.
10. Meet Your Customers Where They Are
Your customer base consists of multiple types of customers, and each customer prefers a different method of communication.
Yes, having a single communication channel for every customer and providing a great experience on that channel seems appealing. But, if you communicate according to your customer's preferred channel, you will be able to foster long-term loyalty and fandom.
11. Define What Customer Focus Means To Your Business
Customer focus will mean different things for different businesses. So, it's extremely important that you have a crystal-clear idea of what customer focus is, and what it means in terms of your business.
Many companies mention 'customer focus' in their vision and mission statements, but that's not enough. The key is knowing what these statements mean and creating strategies accordingly.
12. Promote Inter-Team Collaboration
Customers might get annoyed if they have to repeat their problems over and over again to different agents. This shows that you don't care enough about them!
What you need to do is collect their information, collaborate internally, and process the information on their behalf. All in all, inter-team collaboration is an integral part of a customer-focused business, and it helps in delivering a seamless customer experience.
13. Include Your Customers
This is a very simple strategy that you can implement in your business. Involve your customers in all the brainstorming sessions, product design process, and every other meeting.
Basically, don't make decisions about what your customers need or want – without considering their point of view. Don't make choices that will give your business short-term gains at the cost of your customer relationships.
14. Monitor Customer Interactions
Besides listening to your customers, monitoring your performance at all the touchpoints is critical as well. Complaint lines, feedback on the internet, social media comments, transactional, pulse or planned surveys, call-center logs – monitor your performance everywhere.
You should also set KPIs based on the customers' experience and the experience that you planned, identify the gap, and bridge it.
15. Empower & Reward Your Employees
When your employees feel good about their job and are satisfied with the work environment, they will be more motivated towards creating a greater customer experience.
Even your customers will feel a positive impact when they're interacting with happy and highly-motivated employees! Always remember that employee culture is highly infectious when it comes to dealing with customers.
16. Make it Your Company Culture
If you implement the customer-focused approach in just one or two areas of your organization, it won't really fulfill the purpose. Customer-focused practices should be present in every department, and each employee in your organization should be aware of its importance.
For that, you need to create a culture within your organization where every employee adopts the customer-first approach from their very first day.
17. Use The Abundance of Data
You no longer have to guess what your customers want and what they are looking for – all thanks to the abundance of data that's available at your fingertips.
You can analyze all the customer data and customer service trends, and establish the most effective customer-focused strategy. In short, you can strengthen the customer experience by making data-based decisions.
Read more: 10 Best Customer Analytics Tools and Software in 2022
18. Customize The Customer Experience
A customer-focused business isn't just about providing great customer service. You need to work towards customizing your customers' experiences.
For instance, address your customer by their name when you're interacting with them. When asking them questions, try to use their first names to keep the interaction more personal. This will make them feel valued and respected, which in turn will increase loyalty!
19. Build The Trust of Your Customers
It goes without saying that customer trust and loyalty are critical for building a successful business. Even though it's not something that can be done overnight, there are various actionable steps that can pave the way toward this goal.
For instance, you can share customer testimonials and reviews, fix customer complaints promptly, provide exceptional and customer-friendly service, and much more.
20. Map Out The Customer Journey
Through a customer journey map, you can walk in the shoes of your customers and see how they're interacting with your company.
This map is entirely research-based and focuses on the customers' perspective, allowing you to see what their needs are at each point of interaction, how well you're able to meet those needs, things you can change, and the areas where you can improve.
21. Reinforce The Customer-Focused Vision During Training 
Rome wasn't built in a day! Incorporating a customer-focused vision into every nook and corner of your company will take time and persistence.
The key is to continually remind your employees how important it is to become customer-centric. Focus on training your employees regularly, help them build the right skills, and teach them how to serve customers in a better manner.
Wrapping Up
By following a customer-focused approach, you will be able to foster loyalty in your customers and boost your bottom line. After all, customers always stay loyal to companies that treat them well.
All in all, putting your customers first will always lead to great things. Now, just take a step back, evaluate where you currently stand, and then start working towards building a customer-focused organization.
By the way, have you ever used any of the strategies we mentioned above? Is there any other amazing strategy that you would like to share with us? We'd love to hear from you. Tweet to us @bit_docs and let us know. Cheers!
Further reads: 
10 Best Customer Retention Strategies for Startups!
Customer Survey: How to Create it the Right Way? (Template Included)
9 Customer Acquisition Strategies Your Boss Wishes You Knew!
10 CRM Tools and Software You Should Explore Right Now!
Buyer's Journey: What is it & it's 4 Key Stages You Must Know!
Customer Segmentation: Definition, Importance, Types & Process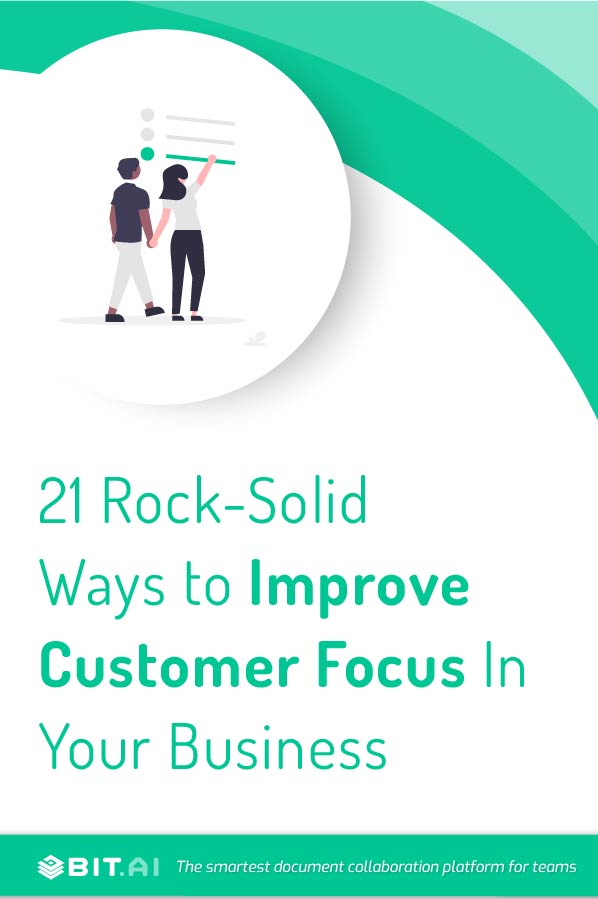 Related posts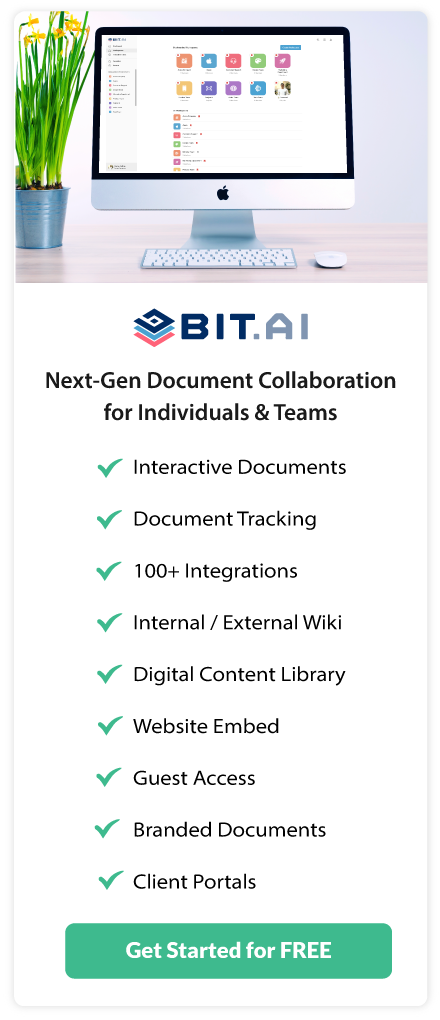 About Bit.ai
Bit.ai is the essential next-gen workplace and document collaboration platform. that helps teams share knowledge by connecting any type of digital content. With this intuitive, cloud-based solution, anyone can work visually and collaborate in real-time while creating internal notes, team projects, knowledge bases, client-facing content, and more.
The smartest online Google Docs and Word alternative, Bit.ai is used in over 100 countries by professionals everywhere, from IT teams creating internal documentation and knowledge bases, to sales and marketing teams sharing client materials and client portals.
👉👉Click Here to Check out Bit.ai.