Team building exercises are a great way to bring teams closer and learn new skills to work together. There is, of course, the added benefit of a much-needed break from work to recharge. In this blog post, we will look at the top benefits of team-building and why your organization needs to start implementing team-building exercises today. Read on…
Did you know that companies with more engaged employees earn 2.5x more revenues than those with low engagement levels?
The answer seems simple enough, right?
Just get your employees to participate and collaborate more! The employees will eventually be more engaged at work and you will see a bump in your revenues in no time!
As simple and easy as it may sound, the stats tell a different story. According to a survey, 70% of US employees are not engaged at work.
Moreover, organizations with low employee engagement scores saw 18% lower productivity, 16% lower profitability, 37% lower job growth, and 65% lower share price over time. Yep, it's that bad.
Getting people to be more engaged at work is a common problem faced by organizations all over the world.
In some cases, the reason may be the diversity in the workplace, poor management, lack of internal communication, or pure lack of motivation. The bottom line, teams that aren't able to collaborate effectively are costing businesses big bucks.
There's a solution that any organization and team of any size can implement immediately- team-building activities!
Team building has been the secret weapon of managers to help teams work effectively together. But what exactly is team building?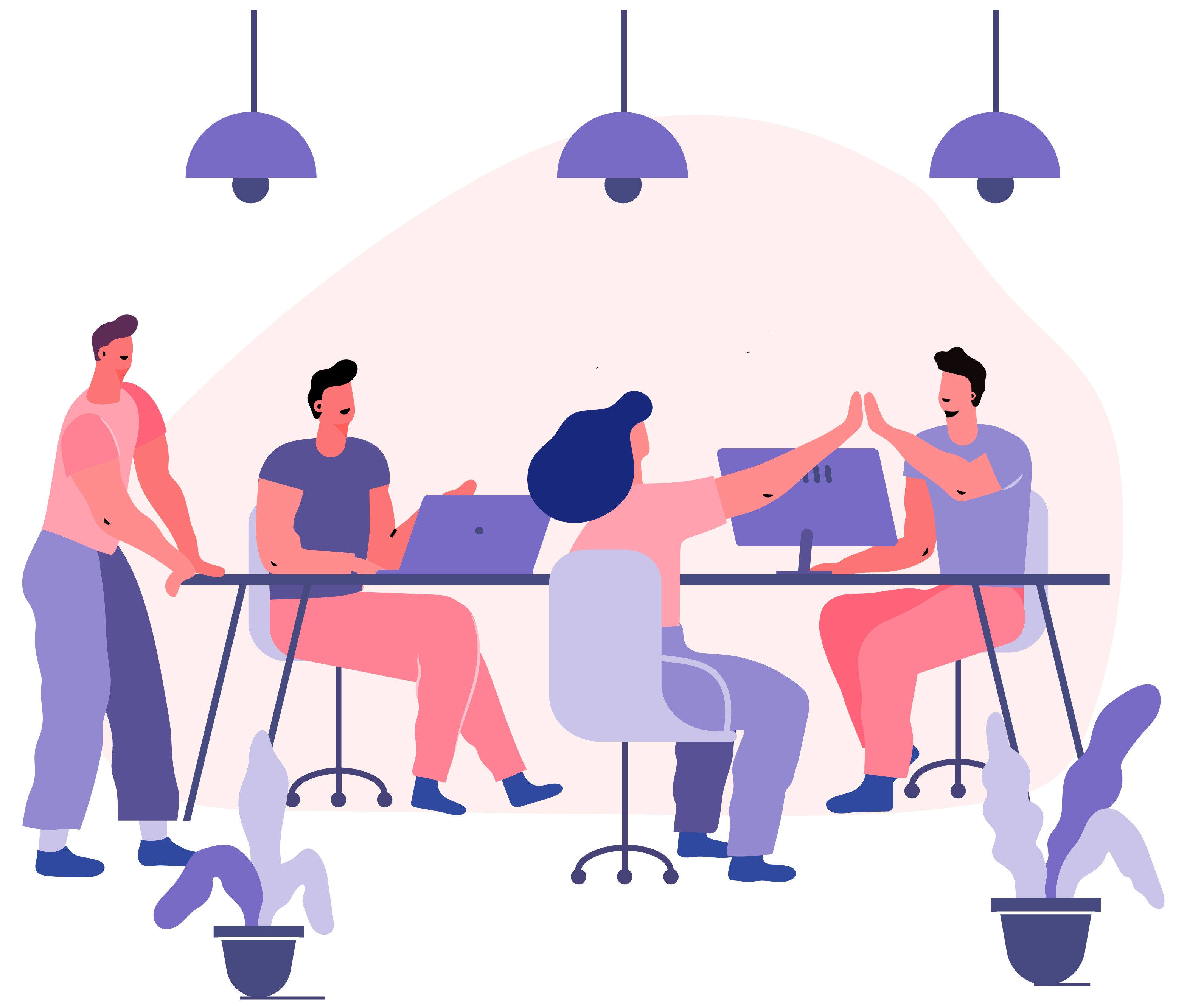 Team building exercises can be defined as a group of activities, strategies, and tactics used to enhance social relations between team members.
Team building exercises let employees develop an emotional bond with one another, understand each other's strengths and weaknesses, and learn how to collaborate and communicate with each other effectively. Only when employees are comfortable with each other and join forces, they can achieve greater success.
Let's take a look at the top benefits of team-building exercises in the workplace.
It's essential for every organization to engage in some sort of team-building activities as they result in a multitude of benefits.
Here are the top 11 reasons why team building will help your organization.
1. Increase in Employee Morale
Team building activities are a fun and interactive way to boost employee morale. Getting out of the monotony of work and engaging with one another for non-work-related events and tasks can do wonders for teams.
Taking part in fun games and activities that require team collaboration can increase efficiency in the workplace. Engaging in fun activities allows team members to develop relationships with their peers and upper management.
These new communication channels can foster new creative ideas and perspectives.
Read more: Importance Of Teamwork And Collaboration
2. Positive Work Environment
Team building exercises are a great way for employees to have fun and interact with one another.
These positive interactions translate to a positive work environment back in the office. Picnics and off-sites help keep employees excited to come to work, work towards the same mission and interact with their co-workers.
You don't have to do these exercises every week, but it's beneficial to have a nice team-building activity after every few months. After all, nobody likes working in a boring office environment!
3. Improves Team Communication
One of the most important reasons behind team building activities is to foster open and clear communication amongst team members.
By getting people out of their workplace setting, organizations can break down their communication silos and help employees connect. Taking team members bowling or dinner can help conversations flow in no time.
This will eventually result in better relationships at work and increase your company's overall efficiency.
Read more: Best Internal Communication Tools For Teams
4. Builds Trust Among Employee
Team building activities based on improving trust can be extremely important for newly-formed teams or cross-functional departments.
In both of those cases, they haven't had the chance to connect with each other and form meaningful relationships. A good example of a team-building activity that builds trust is the blindfolded obstacle course.
Employees are divided into pairs where one partner is blindfolded and the other partner has to guide him/her through a path full of obstacles. Employees are kind of forced to trust each other's judgment blindly and follow along with it.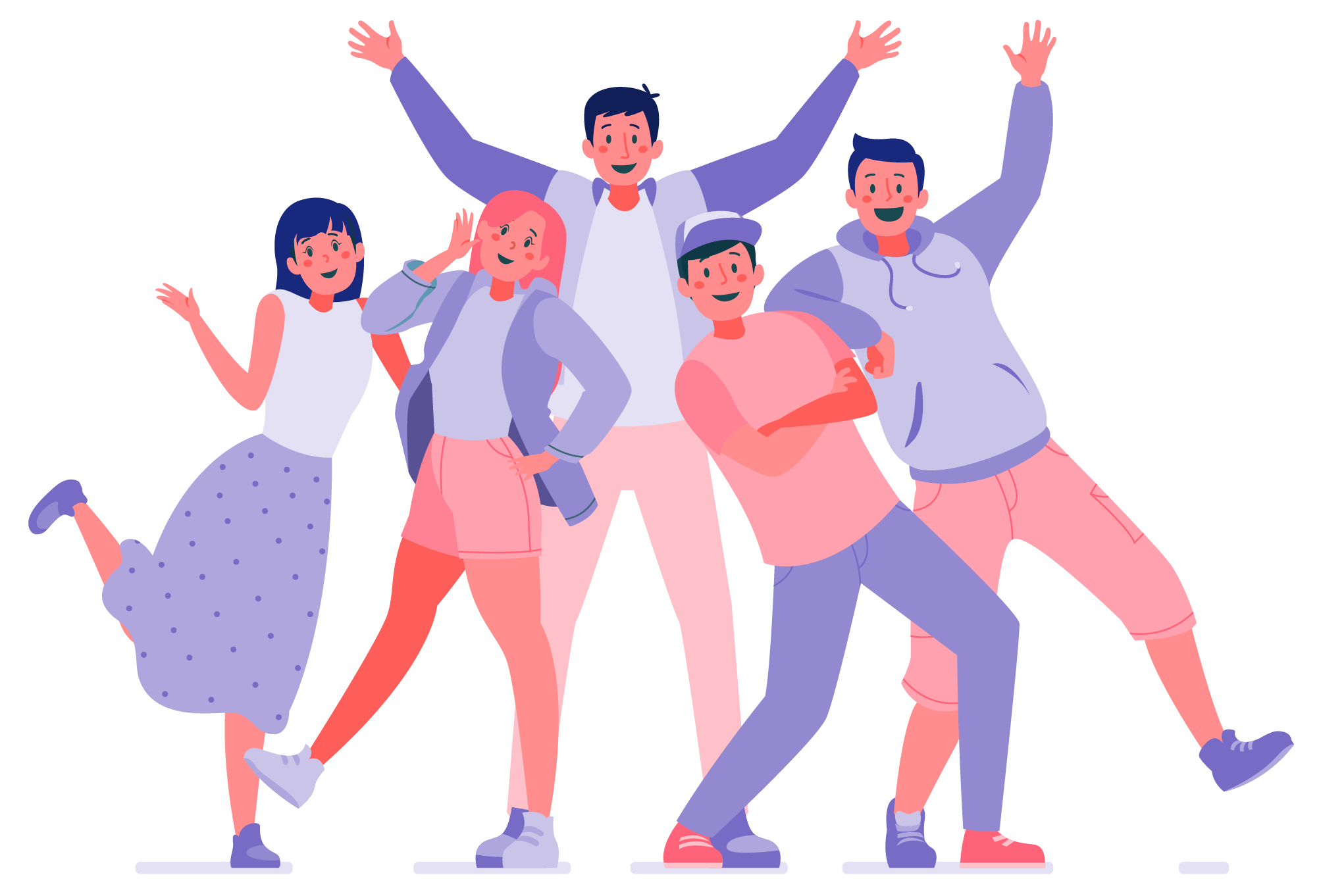 These kinds of team-building exercises help build a sense of trust and support amongst employees. They can lead to better interpersonal relations back at the desk.
When employees can trust and count on each other, they operate with a sense of freedom which often leads to better results.
5. Helps Teammates to Know Each Other Better
A Gallup study found that close work friendships boost employee satisfaction by 50% and people with a best friend at work are seven times more likely to engage fully in their work.
Team building activities help team members know a person outside the office environment, which often results in a more natural and human relationship.
Making friends and acquaintances in the workplace goes a long way to increase productivity, improve morale and enhance collaboration in the workplace.
You also get to know each other's strengths and shortcomings better, which is critical information for improved team behavior.
6. Cross-departmental integration
Team building exercises bring together people from various departments or even branches.
This gives employees, a chance to interact with people they wouldn't typically interact with at the office.
When employees from different departments communicate and collaborate, it can give birth to a new wave of ideas and topics that previously wouldn't have been possible.
7. Resolves Conflicts
According to a study,  U.S. employees spend 2.1 hours per week involved with conflict, which amounts to approximately $359 billion in paid hours or the equivalent of 385 million working days.
A team can comprise of members with different attitudes, backgrounds, demographics, and personalities. Even though small conflicts or disagreements are common when working in a team, maintaining team harmony is a must.
Conflicts amongst team members can cause productivity levels to go down quickly. These problems can turn into a nightmare for managers and can affect the company's bottom line if not handled correctly.
Some ways team building activities resolve conflict are by:
Understanding each other's point of view
Learning how to communicate problems and issues with one another
Getting to know each other on a more personal level
Reducing the chances of future conflicts
8. Positive Reinforcement
Team building exercises are a good opportunity to provide the well-deserved recognition your employees and teams deserve. This can be done through fun award ceremonies and activities.
Employees receive a strong message that the organization values the contribution of each and every one of their employees and takes conscious efforts to make sure that their hard work doesn't go unnoticed.
9. Increases Collaboration
When you have a collaborative work environment, employees feel more secure and content. Collaboration is at the heart of teamwork and involves getting work done together, as well as helping each other out when needed.
Even though collaboration is a critical part of any organization's culture, 39% of surveyed employees believe that people in their organization don't collaborate enough.
Team building activities aimed to improve collaboration can bring people closer, help build skills for discourse and teach how to work towards solving problems together.
Fun activities like group tent building competitions, playing sports, or participating in a charity drive at a homeless shelter are a few of the many ways in which team building can bring your team together.
Read more: 20 Best Online Collaboration Tools For Teams
10. Increases Creativity
Following the same schedule day-in and day-out can lead to a creative rut. Employees often end up not being their creative selves as they are not inspired or motivated enough to think beyond the walls of the office.
However, by breaking the routine day-to-day activities for a fun-filled day at the park, employees can get a much-needed breather. This recharge often results in an increase in creative ideas and problem-solving between co-workers.
Going out with teammates and facing new challenges can help employees attain a new perspective and outlook.
11. Develop Skills
It's no surprise that we spend the majority of our time at work. The American Time Use Survey found that employees between the ages of 25 and 54 spend an average of 8.7 hours working or in work-related activities.
With such tight schedules, there's little to no time for employees to learn new skills. This also poses problems for managers who get caught up in the daily grind and have no time to discover what additional skills an employee possesses.
This makes team-building activities all the more important as they help employees discover and learn new skills (like leadership, communication, etc.) and allow managers to discover hidden gems in the form of their employees.
Conclusion
Even though team building plays a crucial role in an organization's success, it is often overlooked. It's about time that you take team-building activities seriously and start deploying these in your organization this week!
Team building activities make sure that employees get to know each other well, learn to trust and count on each other, and are motivated to get the job done together.
When you establish a positive work environment where everyone respects and understands each other, your organization becomes unstoppable. Make these activities an ongoing affair and not a one-time thing!
What team-building exercises do you plan on implementing in your organization? Let's have a chat in the comments below!
Further reads :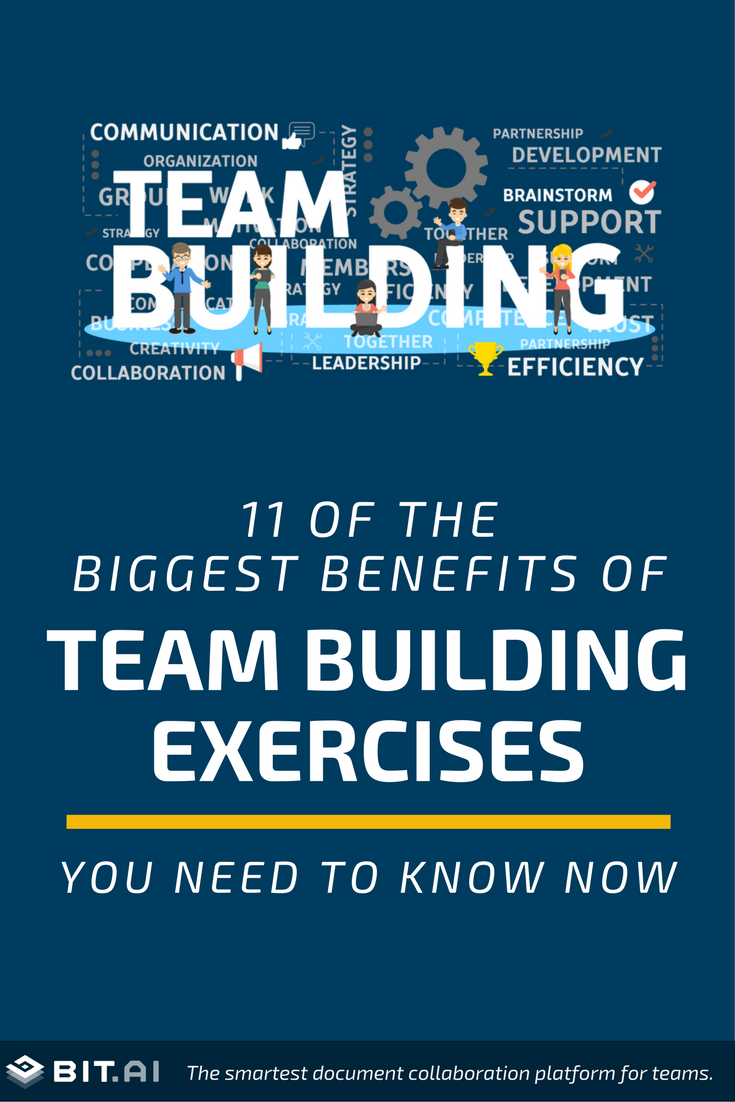 Related posts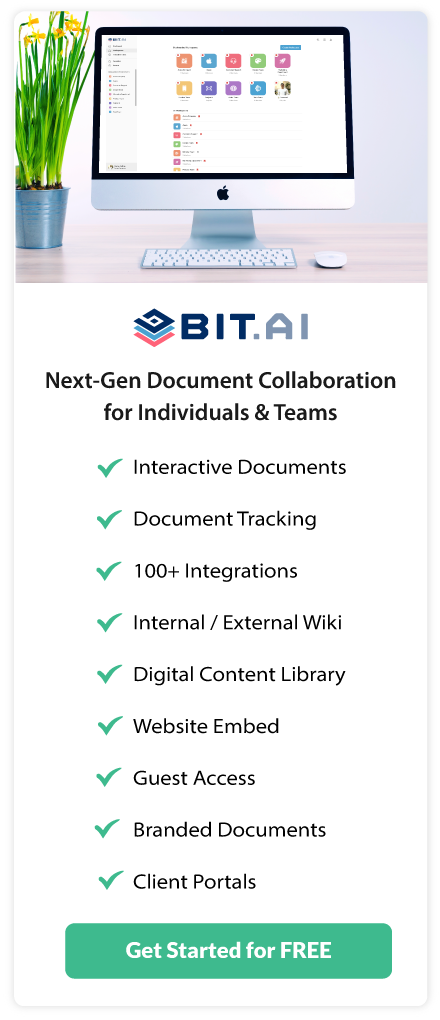 About Bit.ai
Bit.ai is the essential next-gen workplace and document collaboration platform. that helps teams share knowledge by connecting any type of digital content. With this intuitive, cloud-based solution, anyone can work visually and collaborate in real-time while creating internal notes, team projects, knowledge bases, client-facing content, and more.
The smartest online Google Docs and Word alternative, Bit.ai is used in over 100 countries by professionals everywhere, from IT teams creating internal documentation and knowledge bases, to sales and marketing teams sharing client materials and client portals.
👉👉Click Here to Check out Bit.ai.