Want to know what are the hottest Tech Summits to need to go to this year? Your search ends here!
Tech summits or conferences are an integral part of the tech ecosystem. They offer a fantastic opportunity for aspiring as well as veterans of the technology industry to meet and network.
Tech summits bring like-minded, innovative, and go-getters under a single roof and encourage them to spark meaningful discussions and healthy relations.
For both professional and personal growth, attending tech summits is an excellent opportunity.
However, the challenge is to find the right tech summit out of hundreds of summits out there. Not every tech summit is going to be related to your niche or area of expertise.
To make the events you attend a worthwhile experience, you need to find the best ones out there.
Don't worry though, you don't have to go down that infinite spiral of search results to find out about all the tech summits. We have done it for you!
List of Top 11 Tech Summits You Must Visit In 2023!
No matter what your goal is- whether you are looking to network with industry peers, stay up-to-date with the latest and greatest in technology, or looking out for trends to follow, there's a tech summit for you.
Interested in blockchain? Want to know the implications of artificial intelligence? Or perhaps you want to learn about the latest in cloud computing? There's a tech summit on this list for each and every interest!
So without further ado, let's dive into our list of some of the best tech summits from around the globe.
Date: July 18-20, 2023
Location: Virtual
WITS 2023 Virtual Summit provides a range of opportunities to enhance your tech career, including engaging speakers and panels covering the latest technology trends, practical advice on thriving in the tech industry, and diverse workshops on professional development. You'll also have the chance to network with other women in tech and connect with companies dedicated to a diverse workforce.
Date: May 9-11, 2023

Location: Orlando, FL
Entry fee: $1499 – $1899
Be inspired by in-depth keynotes, sessions, and networking at Think 2023, where senior business and technology leaders from across industries will be hosted. The content is geared towards C-level, line of business, and senior IT leaders. At IBM Think, 2023, you can deepen your understanding through real-world examples and learn how emerging technology trends and breakthroughs drive business transformation. You'll also get an interactive experience and engage with experts and peers to explore how current and future tech inspires new ways to reach goals.
Date: March 21-23, 2023
Location: Las Vegas and Virtual
Summit 2023 is an in-person and virtual event with innovative keynotes, 200+ sessions, hands-on labs, pre-conference training, and networking activities. Here, you can explore how organizations can thrive in the ever-changing digital economy and spark innovations. Some of the key speakers at the event include Lisa Su, Aaron Sorkin, Eli Lilly, Tig Notaro, Peyton Manning, Damar Hamlin, and more.
Date: August 29-31, 2023
Location: Moscone Center, San Francisco
Full Conference Pass: $899
Next '23 is Google's global exhibition where developers, decision-makers, and transformative leaders come together to share challenges, solutions, ideas, and game-changing technologies. At this event, you can hear about the most recent Google innovations in AI, productivity, security, data, and more. You can also learn about the roadmaps for popular Google products, participate in training, breakout sessions, demos, and hands-on labs, and attend keynotes.
Date: June 12-13, 2023
Location: San Diego, CA
The Garner Digital Workplace Conference aims to redefine culture, connection, and creativity to thrive in a hybrid and flexible work world. It offers insights and research-backed sessions to help you cut through the hype, dive deeper, and drive results.
Here, you can create and execute an effective digital workplace strategy and get critical insights into the impact of new technology on workplace strategy. Whether you're responsible for digital workplace strategy, applications, architecture, infrastructure, or operations, this summit covers everything.
Date: June 1, 2023
Location: New York and Virtual
Join an exciting group of CEOs, chief people officers, HR executives, startup founders, thought leaders, and talent executives at the Forbes Future of Work Summit for a day of conversations, insights, and ideas about the changes shaping the future of work. The summit will discuss the solutions that can bring a more sustainable, profitable, and inclusive working method.
Notable speakers include Amy C Edmundson, Keith Ferrazzi, Everett Taylor, Lidiane Jones, Monique Herena, and more.
Date: November 13 – 16, 2023
Location: Altice Arena & Fil, Lisbon
Web Summit 2023 is a technology conference that will bring together 70,000+ people and companies redefining the tech industry. It mainly focuses on Internet technology, emerging technologies, and venture capitalism. The event will include Fortune 500 companies to start-ups, with attendees representing all levels and sectors of the global high-technology industry.
Over to you…
So there you have it – our picks for this year's best tech summits from all over the world.
Whether you are an employee, customer, developer, or founder in the technology field, going to one of the above conferences can help you stay on top of the latest trends, strategies, innovations, tools, and technologies.
Apart from the learning, these tech summits are a great way to meet and network with like-minded people, brainstorm ideas, debate on topics, and spark interesting discussions.
One thing's for sure- no matter which one of these tech summits you decide to go to, you are bound to walk out with personal as well as professional growth.
Don't forget to let us know which tech summit you will be attending this year by tweeting us @bit.ai
Further reads: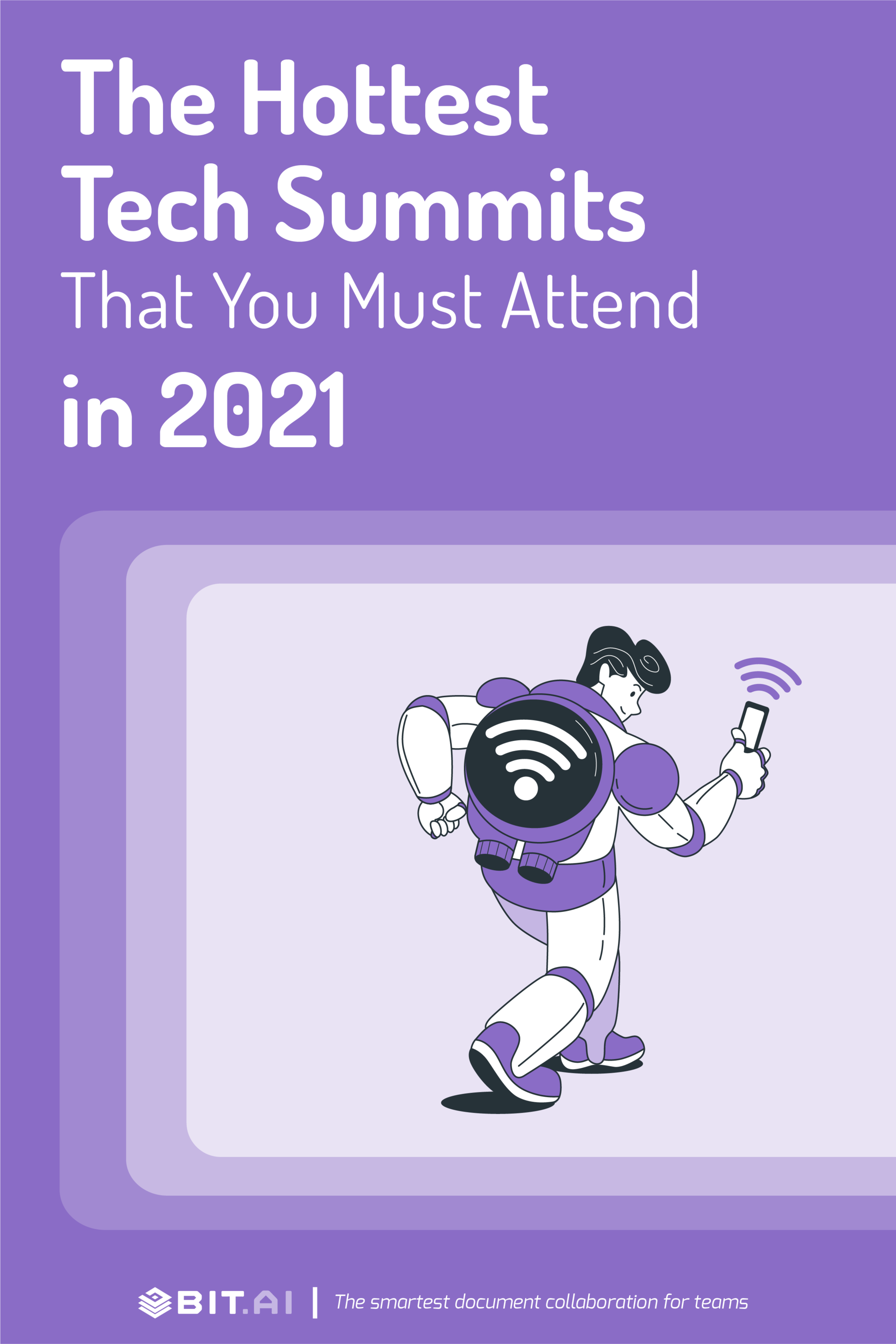 Related posts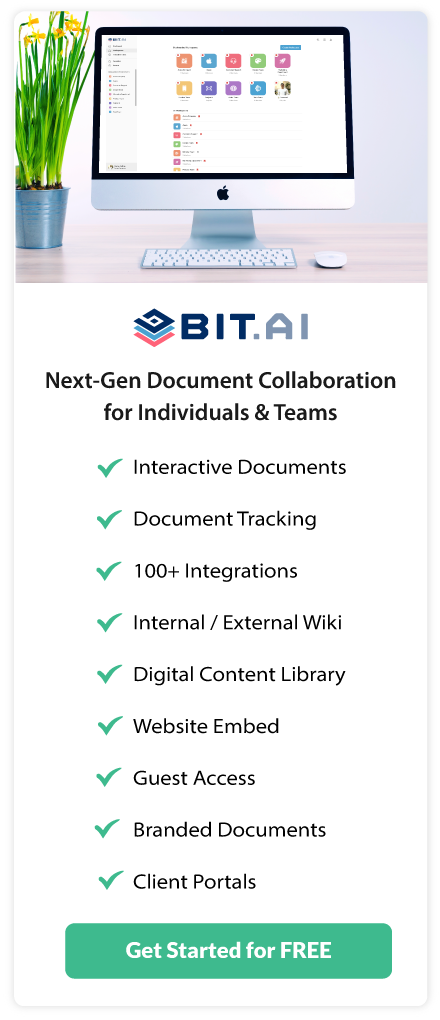 About Bit.ai
Bit.ai is the essential next-gen workplace and document collaboration platform. that helps teams share knowledge by connecting any type of digital content. With this intuitive, cloud-based solution, anyone can work visually and collaborate in real-time while creating internal notes, team projects, knowledge bases, client-facing content, and more.
The smartest online Google Docs and Word alternative, Bit.ai is used in over 100 countries by professionals everywhere, from IT teams creating internal documentation and knowledge bases, to sales and marketing teams sharing client materials and client portals.
👉👉Click Here to Check out Bit.ai.