Want to know what are the hottest Tech Summits to need to go to this year? Your search ends here!
Tech summits or conferences are an integral part of the tech ecosystem. They offer a fantastic opportunity for aspiring as well as veterans of the technology industry to meet and network.
Tech summits bring like-minded, innovative, and go-getters under a single roof and encourage them to spark meaningful discussions and healthy relations.
For both professional and personal growth, attending tech summits is an excellent opportunity.
However, the challenge is to find the right tech summit out of hundreds of summits out there. Not every tech summit is going to be related to your niche or area of expertise.
To make the events you attend a worthwhile experience, you need to find the best ones out there.
Don't worry though, you don't have to go down that infinite spiral of search results to find out about all the tech summits. We have done it for you!
List of Top 11 Tech Summits You Must Visit In 2022
No matter what your goal is- whether you are looking to network with industry peers, stay up-to-date with the latest and greatest in technology, or looking out for trends to follow, there's a tech summit for you.
Interested in blockchain? Want to know the implications of artificial intelligence? Or perhaps you want to learn about the latest in cloud computing? There's a tech summit on this list for each and every interest!
So without further ado, let's dive into our list of some of the best tech summits from around the globe.

Date: April 26 – 27, 2021
Location: Virtual

Entry Fee: $975 – $1,450
The past year of 'work from home' life has taught every employee about the importance of IT and how it helps preserve the integrity of a good workflow. Such digital workspaces are now a must-have.
Gartner has been at the forefront of promoting this workforce continuity in digital spaces for years with this summit! With keynotes from Rahaf Harfoush and Michael Woodbridge, this summit is bound to help you build and adopt digital strategies, leverage the right technologies, and more.
All in all, you'll leave with powerful insights that will help you enable better workplace productivity and set a thriving workplace for tomorrow.


Date: April 27 – 28, 2021
Location: Virtual
Join thousands of tech industry leaders at this summit to get and share innovations, insights, and experiences on open-source technology.
The event includes engaging discussions about the future of enterprise IT and the best part is that all of this content will be available for streaming after being aired for a seamless viewing experience.
Paul Cormier, Mark Enzweiler, and many more industry leaders will be there at the session to answer all your questions.
Read more: Top Technology Trends To Watch For In 2022

Date: April 27 – 29, 2021
Location: Virtual
Entry Fee: Free
Yes, you heard it right. Adobe is organizing a free summit this year.
Adobe is aiming to expand your skills, help you drive growth, and develop customer loyalty.
This year is all things customer experience!
Some of the speakers include Shantanu Narayan (CEO, Adobe), Serena Williams (Tennis Player), Dan Levy (Writer, Actor), Rajesh Subramaniam (CEO, FedEx), and many more!
Make sure you register and learn the best from the best!

Date: May 4 – 6, 2021
Location: Virtual
Entry Fee: $975 – $1,045
Another highly insightful event by Gartner that a tech geek should not miss!
This event aims to help you create a strong and robust data and analytics strategy for your data-centric business. No matter what position, this event is a great starter pack for any business official.
Execute a world-class business strategy with the skills you acquire at this summit!

Date: May 11 – 12, 2021
Location: Virtual
IBM's flagship event, Think 2021, to bring ideas about hybrid cloud and AI to life.
Even though virtual, IBM plans to navigate through the recent changes in the tech world with the same gusto as last year.
With live discussions and technical sessions led by real users, this event has it all! You can even tailor the event to your interests and tune in to watch a personalized curriculum.
Speakers include top IBM visionaries like Arvind Krishna, Jim Whitehurst, and many more!

Date: June 1 – 2, 2021
Location: Online
Entry Fee: $59
"In a world of speed, we help you keep up – and get ahead" – ESPC21 lives up to its tagline and this conference is the proof of that.
ESPC provides SharePoint, Office 365 & Azure users content that can help them stay on track with the changing trends and achieve success.
With speakers like Jeff Teper, Karuana Gatimu, and free educational resources, this is a sure-fire event for all professionals.
Read more: The Best Tech Websites To Follow In 2021

Date: June 17, 2021
Location: Virtual
After their extremely successful 2020 summit with over 5000 participants from 80 plus countries, DTS Virtual is back with a bang!
With the most influential business leaders, DTS aims to share knowledge, debate the latest trends, and network with a global community.
Michele Romanow, Ian Tien, Rik Ferguson are some of the leaders set to take the stage at the event. Don't forget to join and engage with the leaders of tomorrow!

Date: October 7 – 9, 2021
Location: Lviv, Ukraine
Want to stay ahead of your software with changing times, learn evergreen coding tricks, AR and robotics? IT Arena Summit has it all covered!
This is a three-day event filled with impressive global leaders and changemakers who will help transform your businesses. And most importantly, it is a great place to be for informal networking and loads of entertainment.
This year is focused on "The Speed of Change" and we're sure that with amazing speakers, this summit needs to be on your bucket list!
Read more: The Best Tech Websites To Follow In 2022

Date: Oct 12-14, 2021. 

Location: To be decided.
One of the hottest events of the year is coming soon! This annual Google event is held by Google executives to dig deeper into different applications and use-cases of cloud and how it can revolutionize new industries and business processes.
Get to learn from the world's leading companies about how they tackle their biggest challenges using the cloud. It is a lucrative event to connect with experts and broaden your horizons about the digital space.
Although given the prevailing conditions, the exact shape of the event is uncertain. But you can save the date!

Date: October 2021.
Location: Amsterdam, Netherlands
Entry Fee: $176
World's biggest AI summit is almost here!
This is your one-stop for everything AI and machine learning.
With a mind-boggling line-up of speakers who are ready to tackle burning questions about AI and share their insights on how AI is redefining the industry, you are in for a ride!
With tech talks, use cases, Q&As sessions, and a community of 200,000 multi-disciplinary experts – this is one place that is brimming full of opportunities!

Date: November 1 – 4, 2021
Location: Altice Arena, Lisbon, Portugal
Entry Fee: $997
Known for being the largest tech conference in the world, Web Summit is the place to be if you are looking to network in the technological space.
Started in 2010, it has quickly grown to become the largest tech conference in the world with over 70,000 attendees from all over the world.
For professionals looking to build their brand awareness and gain global exposure, this is one boat you need to get on! Various discussions, workshops, competitions, and networking opportunities like the Night Summit will round out the event experience.
Pre-Registrations have already begun, so what are you waiting for? Go ahead and sign up!
Over to you…
So there you have it – our picks for this year's best tech summits from all over the world.
Whether you are an employee, customer, developer, or founder in the technology field, going to one of the above conferences can help you stay on top of the latest trends, strategies, innovations, tools, and technologies.
Apart from the learning, these tech summits are a great way to meet and network with like-minded people, brainstorm ideas, debate on topics, and spark interesting discussions.
One thing's for sure- no matter which one of these tech summits you decide to go to, you are bound to walk out with personal as well as professional growth.
Don't forget to let us know which tech summit you will be attending this year by tweeting us @bit.ai
Further reads: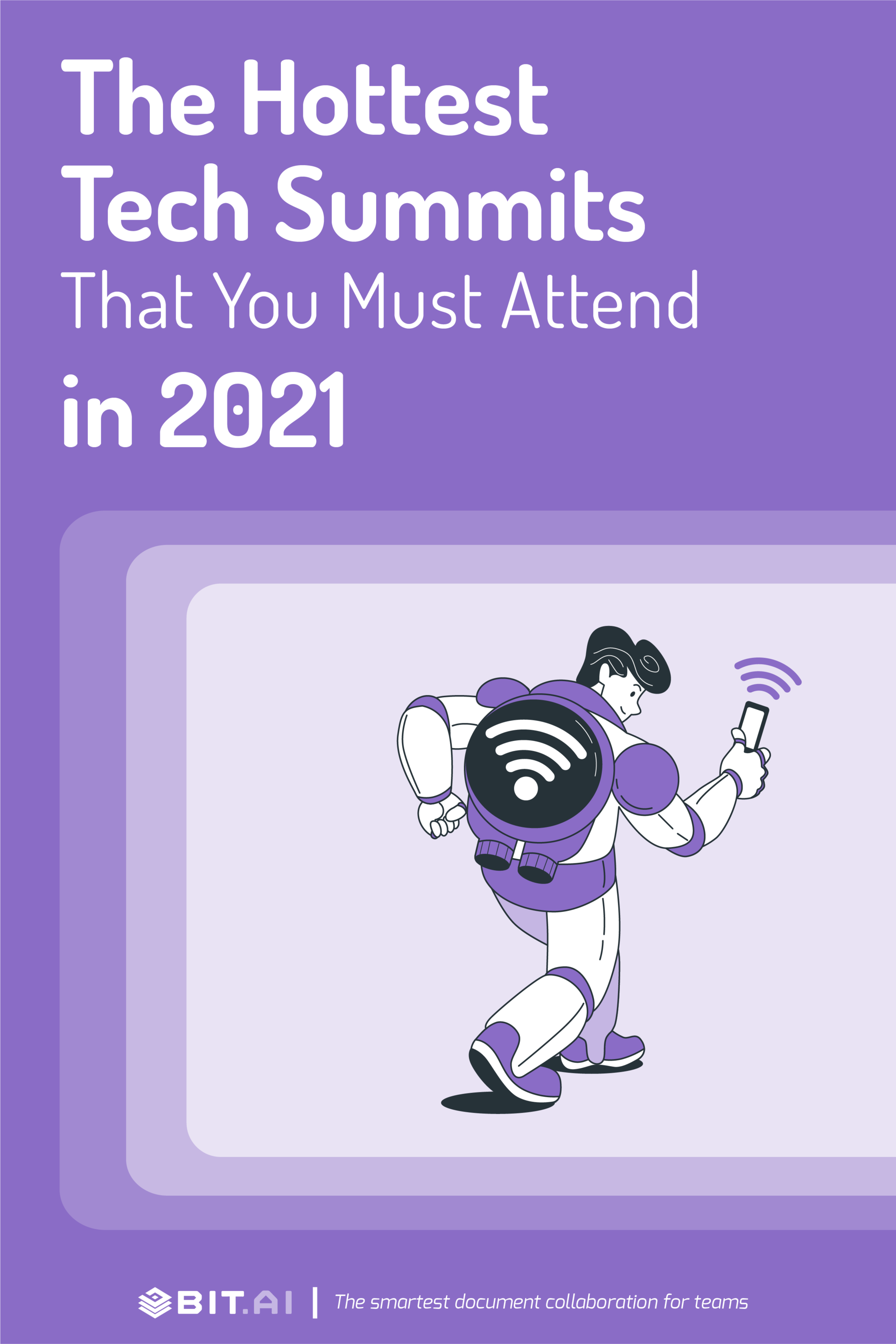 Related posts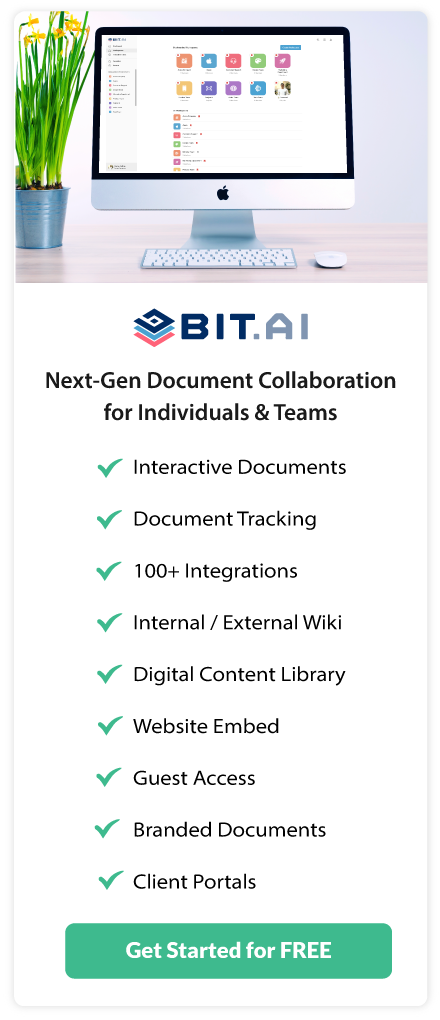 About Bit.ai
Bit.ai is the essential next-gen workplace and document collaboration platform. that helps teams share knowledge by connecting any type of digital content. With this intuitive, cloud-based solution, anyone can work visually and collaborate in real-time while creating internal notes, team projects, knowledge bases, client-facing content, and more.
The smartest online Google Docs and Word alternative, Bit.ai is used in over 100 countries by professionals everywhere, from IT teams creating internal documentation and knowledge bases, to sales and marketing teams sharing client materials and client portals.
👉👉Click Here to Check out Bit.ai.