The social media landscape has evolved over the past decade, with some platforms fading while others have flourished. Now, they offer valuable opportunities for brand-influencer partnerships that can become lucrative ventures.
Influencer Marketing is about connecting with individuals who not only share your values and goals but also leave a lasting impression on your audience, much like introducing someone to your friends and family.
It's equally essential for influencers to discover brands that can elevate their careers to the next level, creating a mutually beneficial relationship.
This article is your guide to navigating the world of influencer marketing. Whether you're a brand seeking the right influencer or an influencer searching for the ideal brand partnership, we'll show you where to look and how to make those connections.
Let's begin!
Best Channels For Influencers
1. Instagram
Instagram is a powerhouse in influencer marketing. Both marketers and influencers widely favor it. The platform offers robust analytics tools, making it easy for influencers to understand their audience. They often use features like carousels, stories, and takeovers to promote products, making it a versatile platform for brand collaborations.
2. YouTube
YouTube is another influential platform for influencer marketing. It's known for longer-form content and in-depth reviews. Influencers on YouTube create various types of content, including tutorials, FAQ videos, and comprehensive product reviews. It's an excellent platform to showcase products in detail and engage with a broad audience.
3. TikTok
TikTok is popular among a younger demographic. Its short-form video format is highly engaging. Influencers here often use catchy hashtags and challenges to encourage user participation. Duets allow followers to create their own versions of influencer videos, enhancing engagement.
4. Facebook
Facebook has a broad user base, making it suitable for influencer marketing. The platform supports traditional posts, as well as groups and Facebook Live. Influencers create posts, tag brands, and use hashtags to reach their audience. Facebook Live enables real-time interaction between influencers and their followers.

5. TapInfluence
TapInfluence connects brands with persuasive content creators to produce various content types, from written native advertising blog posts to visually engaging marketing campaigns like infographics or video series. Influencers within the TapInfluence program can choose brand engagement opportunities and earn income for their services.
6. Upfluence
Upfluence is a powerful software tool for brands seeking the perfect influencer match. It offers access to a vast database of over 3 million influencer profiles, allowing businesses to search for influencers based on criteria such as location, keywords, engagement rate, and more. Additionally, it simplifies communication with influencers, tracks campaigns, and calculates ROI.
So, there you have it! The top influencer marketing channels and some handy platforms to help you find your ideal influencer match.
Best Influencer Platforms for Creators
Are you making content online and wanting to team up with brands to grow your audience and make money? There are some great platforms out there that can help you do just that. Let's check out some of the best ones:
1. Mavrck
Mavrck is a platform that brings creators and brands together. It's like a matchmaker for influencers and businesses. The cool thing is they have something called an "influencer index." It's like a directory where creators can create profiles so brands can find them easily. If a brand likes what they see, they can contact the influencer directly.
2. Activate
Activate is perfect for influencers who want to be in control. On this platform, creators can scroll through a list of partnership opportunities. It's like a menu where you can choose what you want to work on. You can even negotiate how much you want to get paid and send your proposals to brands. It's all about you being in charge.
3. #Paid
#Paid is where influencers can set their rates. It's like setting your price tag. You can decide how much your content is worth, and brands will pay you accordingly. To see what campaigns are available, you'll need to sign up. It's like joining an exclusive club of influencers.
4. Clever
Clever is like a full-service influencer agency. They are experts at connecting creators with brands and their campaigns. They work with all kinds of influencers, but they love those micro-influencers. It's like having a professional team to guide your influencer journey.
5. Grins
Grins is like your friendly neighborhood influencer platform. It's where creators can connect with brands and find exciting opportunities. It's all about sharing those smiles with your audience and making some extra cash while at it.
6. Creator.co
Creator.co is another fantastic platform for helping you shine. It's like having a spotlight on your talent. Here, you can discover collaboration opportunities with brands that align with your style and values. It's about being true to yourself while working with awesome brands.
These platforms are like a treasure trove for creators. They open doors to exciting opportunities, help you connect with the right brands, and let you shine in influencer marketing.
10 Best Influencer Platforms To Collaborate
1. Shopify Collabs
Shopify Collabs is a fantastic choice. It's free if you already have a Shopify plan. This all-in-one tool lets brands collaborate with influencers on social media platforms like YouTube, Instagram, Facebook, Twitter, and Twitch. You can create your custom application page, find the perfect influencer for your campaign, and manage payments and special offers in one place.
2. YouTube BrandConnect
YouTube BrandConnect is perfect for those looking to work with YouTube influencers. This platform allows companies to connect with creators who have a strong following. You can create authentic and engaging branded content. It even syncs with your Google Ads account, giving you access to exclusive influencer marketing tools.
3. Grin
Grin is a platform with many tools for relationship management, discovery, content management, product seeding, and payments. It can even integrate with your marketing stack, making things super convenient.
4. Aspire
Aspire is excellent for creating a unique influencer marketing program. It offers customizable relationship workflows, making it easy to tailor your influencer marketing process to your specific needs. You can also find and connect with influencers, brands, and industry experts.
5. Creator.co
Creator.co offers tools for reporting, insights, and campaign execution. You can search for creators, build your creator community, and create an easy onboarding process for the influencers you want to collaborate with. Plus, it has a bunch of other helpful tools.
6. Open Influence
Open Influence is like your campaign co-pilot. It helps you from ideation to creator selection to performance tracking. It has a studio feature that provides video production tools if you need production assistance.
7. Klear
Klear is all about connecting brands and influencers, but its standout feature is its analytics tool. You get influencer insights, demographic data, trending data, and brand safety audits.
8. Traackr
Traackr is all about data-driven influencer marketing. You can find partners, create reports, monitor posts, and more. It's great if you're running affiliate and paid programs.
9. Impact.com
Impact.com is perfect if you have multiple partnerships to manage. It helps you optimize all your collaborations and build strong relationships.
10. Influence.co
Influence.co is a directory and portfolio site where creators can network and showcase their work. It's great for small businesses on a budget since it helps creators promote their brand, and you can even use it for free to find relevant creators.
So, there you have it, the top 10 influencer platforms to help you collaborate and make your influencer marketing campaign successful. Whether you're a brand or an influencer, a platform exists for you.
Final Thoughts
Influencer marketing can be a real game-changer for both creators and brands. You probably know where to look for those juicy brand deals if you're a creator. And if you're a brand, finding the right influencer is key.
But here's the thing: don't just stick to one social platform. Start with one or two, get the hang of it, and then spread your wings. Trying out new channels might surprise you – you could reach new audiences you didn't even know existed. Plus, you might stumble upon some amazing influencers you couldn't access.
The secret here is experimentation. Don't be afraid to try new things, influencers, and platforms. It's like a puzzle; with time, you'll figure out what works best for your brand. So, boost your brand with influencer marketing – it's worth it!
Happy collaborating!
Further Reads:
15 Best Influencer Marketing Platforms For Creators and Brands!
Social Listening: Get To Know About Your Audience & Competitors!
Promotion Strategy: What is it and How to Create it?
Social Proof: 8 Ways to Use it to Get More Sales!
Network Marketing: What is it & How Does It Work?
15 Best Marketing Techniques for 2023!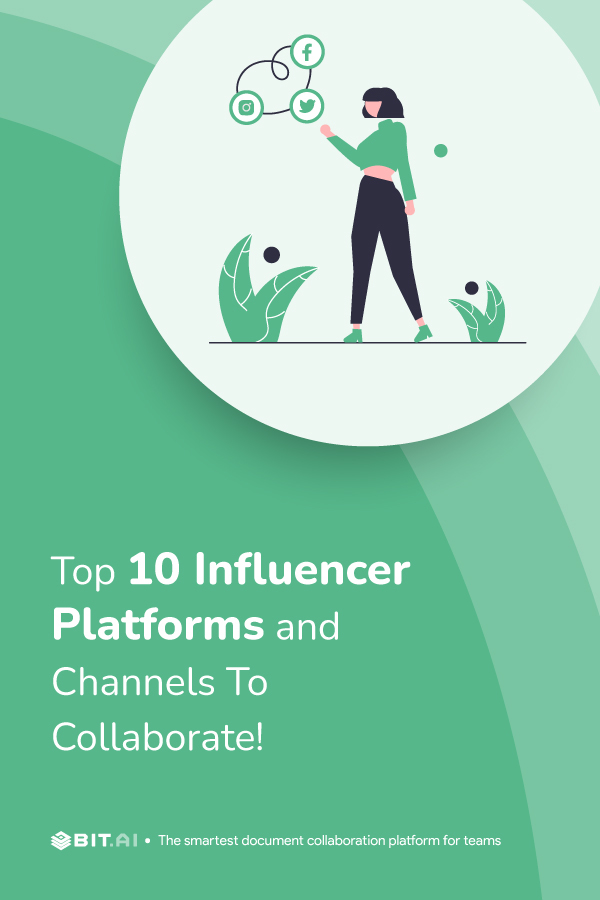 Related posts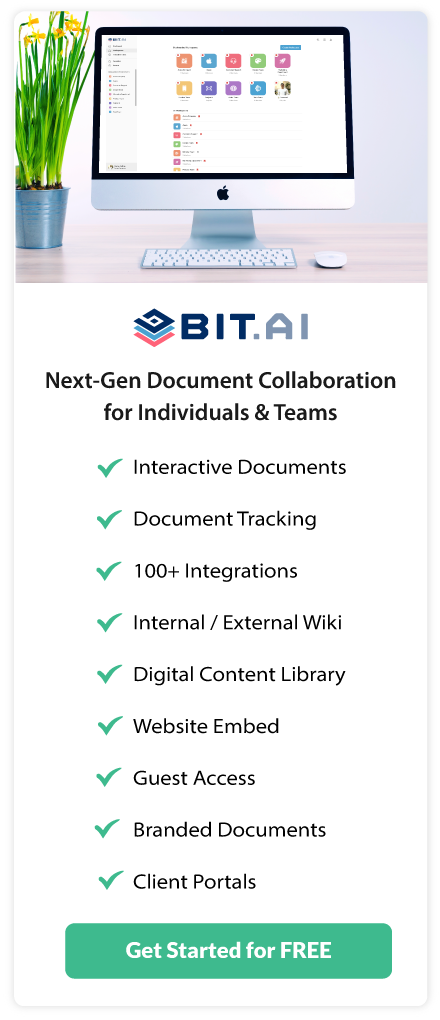 About Bit.ai
Bit.ai is the essential next-gen workplace and document collaboration platform. that helps teams share knowledge by connecting any type of digital content. With this intuitive, cloud-based solution, anyone can work visually and collaborate in real-time while creating internal notes, team projects, knowledge bases, client-facing content, and more.
The smartest online Google Docs and Word alternative, Bit.ai is used in over 100 countries by professionals everywhere, from IT teams creating internal documentation and knowledge bases, to sales and marketing teams sharing client materials and client portals.
👉👉Click Here to Check out Bit.ai.