Influencer marketing, once a niche tactic, has now evolved into a multi-billion-dollar industry, driving businesses of all sizes to tap into the power of authentic influencer collaborations.
At the heart of this industry lie these platforms – digital hubs that connect brands with influencers, facilitate seamless collaborations and provide sophisticated tools for measuring the impact of campaigns.
With a wide variety of influencer marketing platforms flooding the market, choosing the right one can be a daunting task. That's where our guide comes in. We've meticulously researched and curated a list of the top 15 influencer marketing platforms that are shaping the landscape today.
But first, let's look at what an influencer marketing platform is! Dive right in, folks!
What are Influencer Marketing Platforms?
An influencer marketing platform is a digital tool or software designed to facilitate and streamline the process of influencer marketing campaigns. It serves as a bridge between brands and social media influencers, content creators, and bloggers.
These platforms provide a range of services and features that help both sides collaborate effectively and enhance various stages of influencer marketing, including influencer discovery, campaign management, communication, analytics, and payment processing.
An influencer marketing platform simply makes it easier for businesses to find and partner with relevant content creators. Brands can search and identify influencers whose audience aligns with their target demographics, create and manage campaigns with defined objectives, communicate effectively with influencers for content creation and approvals, monitor performance metrics, and execute payments securely. Influencers, on the other hand, benefit from streamlined communication, clear campaign guidelines, and access to brands looking for their expertise.
Top 15 Influencer Marketing Platforms To Run Campaigns
1. Grin
Let's kickstart the list with Grin, a top-tier influencer marketing platform for e-commerce brands. It offers over 100 million influencers to choose from, and around 37 million profiles have email addresses.
Grin covers platforms like Facebook, Instagram, Twitch, Twitter, and YouTube. It provides a user-friendly influencer discovery tool that allows brands to search for influencers based on various criteria such as demographics, interests, engagement metrics, and more.
Grin streamlines the influencer marketing process by automating certain tasks, such as tracking influencer content and performance. It also offers comprehensive campaign management tools, allowing brands to set up influencer campaigns, establish collaboration guidelines, and communicate effectively with influencers.
2. Upfluence
Upfluence is a robust and versatile influencer marketing platform that empowers brands and marketers to effectively collaborate with influencers and drive impactful campaigns. It is suitable for small to medium-sized businesses.

Upfluence streamlines every step of the influencer marketing journey. It goes beyond initial collaboration by offering a suite of content-tracking features. Brands can monitor the progress of influencer-created content, provide feedback, and ensure that the content adheres to their brand identity.
It uses a database with over 500 million pieces of content spanning across Facebook, Twitter, Instagram, YouTube, Pinterest, and blogs, and allows businesses to explore this vast database to discover influencers aligning with their precise requirements.
Related: How To Build A Solid Social Media Presence For Your Brand?
3. CreatorIQ
CreatorIQ stands out as one of the most advanced influencer marketing platforms mentioned. It boasts powerful analysis and reporting features and its connections with other marketing and online selling tools make it an excellent option for brands seeking a well-connected technology setup.
CreatorIQ simplifies the influencer marketing process and helps tackle longstanding issues in the industry like fake followers, exaggerated reach numbers, and influencers who aren't genuine or only care about money.
CreatorIQ connects directly with social media platforms like Facebook and Instagram and uses its smart computer program to study more than 1 billion public social media accounts. It gives each influencer a score called an "Integrity Quotient," which helps you figure out how genuine an influencer's audience is.
4. Aspire
Aspire is a platform where people who are influencers on Instagram and YouTube can connect with brands. There are more than 150,000 influencers in their system who chose to be a part of it. But not just anyone can use it. Influencers need to have a certain number of likes or views to be considered real influencers. It means you should have at least 500 likes on Instagram or 2,500 views on YouTube.
If an influencer meets these rules (and their posted content is appropriate), they get added to AspireIQ's database. Then they can see offers from brands who want to work with them. It tries to match up influencers with brands for specific campaigns.
Aspire is a great choice for enterprise brands. The platform also offers support for campaign management, relationship management, and affiliate tracking.
5. Influencity
Up next on the list is Influencity, another influencer marketing platform that focuses on Instagram, YouTube, and TikTok. Currently, it has over 170 million influencers in its database.
The platform gives you different ways to search, so you can really explore an influencer's profile. You can use filters to learn about their audience, what brands they like, how well their posts do, and more.
Influencity also gives you detailed info about your influencer campaigns. You can see what kinds of people saw the influencer's posts and how much those people liked the posts.
Related: Brand Identity: How To Build a Successful & Memorable Brand?
6. Impact.com
Impact.com is an influencer marketing platform that helps clients make the most out of partnerships with influencers, affiliates, publishers, mobile apps, and important business connections. It lets companies find and team up with potential partners from all over the world using automated campaigns.
With this platform, businesses can handle influencer partnerships better. This helps them build trust, create authenticity, and increase their earnings. It supports every step of influencer campaigns, from discovering the right creators to checking how well they do and paying them fairly for their work.
Big names like Lenovo, Coach, Walmart, BBQGuys, Kiss the Ground, and Vivino use impact.com. Simply put, it has all the tools required for finding influencers, evaluating them, communicating, and keeping track of their performance.
7. LTK
LTK, also known as LIKEtoKNOW.it, emerged in 2011 and stands out for having one of the biggest networks of carefully selected creators. This platform has built strong communities of creators in popular lifestyle areas like fashion, travel, and fitness. It's a complete influencer marketing solution, from planning influencer campaigns to analyzing their impact.
They handle everything from planning influencer campaigns and finding the right creators to analyzing the results. They also offer a shopping app for buyers. So, it's not just a platform for brands but also shoppers. They use original content to bring everyone together.
For influencers, they offer helpful features too. Creators can use their tools on both computers and mobile devices to make, share, and see how well their content does on social media.
8. Klear
Klear stands out as another complete influencer marketing platform, offering influencer search, analytics, campaign management, and payment tracking all in one place. They have managed to partner with some of the most renowned brands and agencies, including Huawei, IMG, Adidas, Microsoft, and KAYAK.
Klear's platform centers around analytics, making use of an extensive collection of data from social networks and a vast influencer database. Their data is robust and can help you keep tabs on your campaigns.
The platform also features a fantastic "Monitors" tool that not only assists in research but also enhances the discovery process. Despite the vast options available on the platform, this enhancement ensures that finding influencers remains quick, effortless, and accurate.
9. #paid
#paid is an influencer marketing platform that takes a different approach from the usual influencer marketing methods. It acknowledges that influencers earn their status by creating exceptional content that draws in an audience.
#paid allows brands to create campaign outlines detailing objectives, content requirements, and the type of creators they're looking for. But it goes a step further in assisting brands to choose the right influencers. They use a technique called "Whitelisted Ads." This lets brands specify certain creators and content for use in paid ads on platforms like Facebook and Instagram.
Influencers can express their interest in a brand's campaigns by using a "Handraise." This is where they show they're interested. Influencers write a note explaining why they're a good match and what their approach would be.
10. Influsoft
Influsoft is an influencer marketing platform that is mostly aimed at enterprises or larger companies. It has a very detailed Discovery section that lets you do thorough searches among millions of influencers.
With Youtube, you can see how people interact with each video, like how long they watch and where they lose interest. Facebook videos also have special details, like who watches with sound and who doesn't, and if the audience is paid or natural.
Influsoft also has a part called Plan, where you can get ready for a campaign. Once you've planned, you can check how things are going with the Measure part, which shows you live updates on your campaign's progress. You can dive even deeper with the Listen part, which looks into your campaign's performance in more detail. This even includes analyzing emotions conveyed, not just whether things are positive, neutral, or negative.
11. Tagger
Tagger is an influencer marketing platform that focuses heavily on using data to make smart choices, and its advanced analytics and reporting features let brands and agencies measure how well their campaigns are doing.
Tagger's influencer database is solid, especially if you're looking for typical creators in popular areas. The search tool has thousands of filters, like location, niche, how much engagement they get, and who follows them.
What really sets Tagger apart is how it lets you understand the psychology of influencers. The platform looks at what people talk about to know what they're into. It can tell what topics interest them and what they're likely to talk about. This means you can find influencers whose followers will genuinely like your brand.
12. Affable
Affable.ai is one of the influencer marketing platforms that assists both startups and big companies in connecting with top influencers in their specific fields. They have a database of 6 million influencers on Instagram, YouTube, TikTok, Facebook, and Twitter.
With more than 20 advanced search filters, the platform helps businesses find and target the right influencers, create connections with them, and spread their brand's message even further.
Affable is great at tracking Instagram stories and measuring engagement rates, which is a really important thing for any online marketing plan. It also checks how many people click on links and makes purchases on Shopify.
13. Humanz
Humanz has gained recognition and left a strong impression on major brands and agencies. This influencer marketing platform relies on artificial intelligence to rebuild trust among creators, brands, and their intended audiences.
They provide access to a marketplace with over 50,000 influencers, aiding brands and their marketing teams in finding the ideal influencer for their campaigns. Working with registered influencers streamlines tasks like communication and content approval since everything is centralized. Thanks to its algorithm, it examines public profiles, considering followers, text, images, videos, and performance data.
Humanz strives to create a platform that's equally appealing to both brands and influencers. Both marketers and influencers can expect the same level of functionality and user-friendliness.
14. Socialbakers
Founded under the name Candytech, Socialbakers initially served as a social media marketing agency. During that time, they developed their own software platform to gather and analyze data using Facebook's APIs. This marked the inception of what later evolved into the SocialBakers influencer marketing platform.
SocialBakers collects a wealth of data about your engaged audience. They disregard information from bots, inactive accounts, and passive followers to maintain the accuracy of the data. Once these distinct audience profiles are established, the AI system suggests influencers likely to resonate with your audience. They draw from over 30 million influencers on platforms such as Instagram and YouTube.
Additionally, you have the option to manually search for influencers across not only Instagram and YouTube but also Facebook, Twitter, LinkedIn, and Pinterest. The platform offers insights into each influencer's follower count, engagement levels, commonly used hashtags, a gallery of recent content, and mentions.
15. Traackr
Dating back to 2008, Traackr is one of the oldest influencer marketing platforms. While offering a range of online management tools, Traackr's primary emphasis is on assisting medium to large companies, as well as agencies, in forming enduring connections with influencers.
Traackr furnishes numerous choices for businesses sifting through its collection of influencers. The influencer database employs a combination of computer algorithms and human input, striking a balance between opt-in and computer-generated databases.
One notable feature is a real-time social listening tool that lets you track influencer content. Additionally, they offer a network visualization map illustrating an influencer's connections both within and outside a company's network.
Traackr provides influencer discovery, relationship management, and campaign oversight across various social media channels like Facebook, Twitter, Instagram, YouTube, Pinterest, and Tumblr, in addition to blogs.
Wrap Up
There you have it – a comprehensive list of some of the best influencer marketing platforms out there! With so many options in front of you, it can be difficult to make a decision, so remember to consider factors like your budget, functionality, and campaign goals. Hope you have an idea of what's out there! Thanks for reading! Adios!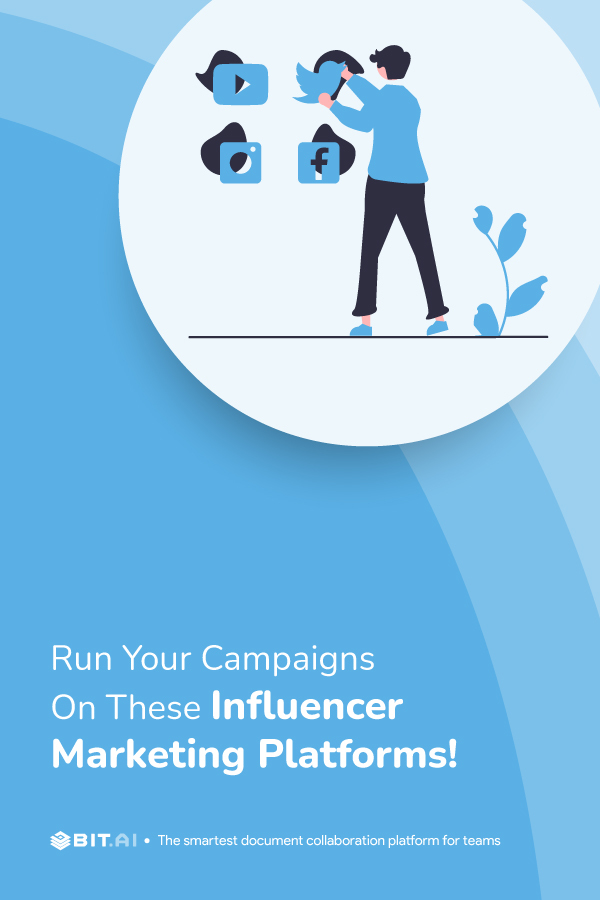 Related posts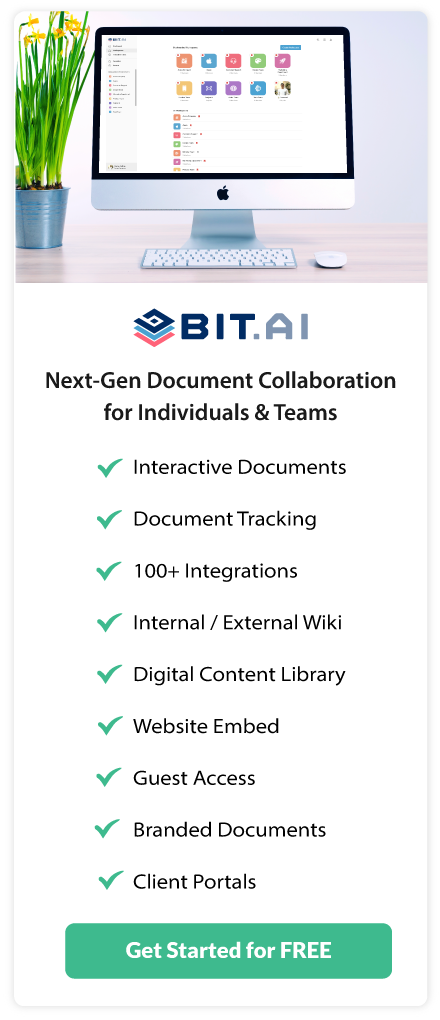 About Bit.ai
Bit.ai is the essential next-gen workplace and document collaboration platform. that helps teams share knowledge by connecting any type of digital content. With this intuitive, cloud-based solution, anyone can work visually and collaborate in real-time while creating internal notes, team projects, knowledge bases, client-facing content, and more.
The smartest online Google Docs and Word alternative, Bit.ai is used in over 100 countries by professionals everywhere, from IT teams creating internal documentation and knowledge bases, to sales and marketing teams sharing client materials and client portals.
👉👉Click Here to Check out Bit.ai.