Looking for some great power words to get attention? we have got a complete list of power words that will make your content stand out. Read on…
Raise your words, not your voice. It is rain that grows flowers, not thunder. -Rumi
Ever wonder why some content online goes viral while others don't? Why do some brands always sell out whatever the product may be, while others struggle? Why does clicking on some article online becomes irresistible even though you kind of knew it would have mediocre content? They all have something in common, a secret sauce that attracts people and forces them to take a particular action.
The secret sauce is the usage of power words. Every successful brand, company or smart marketer makes use of powerful words to sell their product or service.
From blog posts, Facebook ads, and Instagram stories to billboards and flyers, marketers know the kind of lasting effect power words can have on an individual, and hence, they incorporate these words in everything they do.
Don't ever diminish the power of words. Words move hearts and hearts move limbs. ~Hamza Yusuf
However, marketers alone aren't making use of such words to persuade action. Professional speakers, copywriters, podcasters, salespeople- are all aware of the magic of powerful words, words that can influence the masses. But what exactly are these powerful words? Let's find out…

What are Power Words?
Words have the power to trigger curiosity, evoke emotions, and prompt action- everything that's required to sell. These words are known as Power Words, i.e., they have the power to trigger an emotional as well as a psychological response from the person reading/listening.
Whether you want to attract people to sign up for your mailing list, watch your ad, read your blog posts, or click on the "Buy Now" button for your product page, power words are the smartest and one of the most effective ways to motivate people to take a specific action.
For example, a print-on-demand website called Teespring made use of power words and changed their call to action on their website. Their previous call-to-action button (the one on the left) had the following language below: "This campaign will not be printed unless the goal is reached." However, they later changed their language (see image on the right): "Don't worry, you won't be charged unless the goal is reached!".
The result? Teespring's conversion rate increased by 12.7%! Clearly, the statement on the right is more reassuring and positive than the statement on the left. The power of words is real!
A-List of Some of The Most Powerful Words in the English Language
Intrigued by the power of words? We have compiled a comprehensive list of some of the most powerful words in the English language. You can use these words anywhere on your website- your headlines, subheadings, meta descriptions, product pages, videos, call to actions, and more.
To make it easier for you to browse through, we have divided this list into words that elicit a certain kind of emotion. So without further ado, lets jump right in…
Power Words that Invoke a Feeling of Greed
A natural human tendency to want more than we actually need is greed, and it is a powerful emotion. Include these words in your ads and social media to invoke a sense of scarcity and feeling of urgency
Bargain
Billion
Bonanza
Before
Bonus
Best
Big
Cheap
Cash
Clearance
Costly
Don't miss out
Discount
Dollar
Deadline
Double
Expire
Economical
Exclusive
Extravagant
Extra
Final
Fortune
First
Fast
Feast
Frugal
Frenzy
Giveaway
Greatest
Gift
Guilt-free
Hurry
Half price
Instantly
Inexpensive
Immediately
Instant Savings
Jackpot
Luxurious
Last chance
Limited
More
Massive
Money
Monetize
Marked down
Never again
New
Now
Nest egg
Pay zero
Pay Now
Premiere
Price break
Prize
Profit
Proven
Present
Quick
Quadruple
Rich
Reduced
Remarkable
Revolutionary
Running out
Sale ends soon
Savings
Save
Skyrocket
Six-figure
Special
Soaring
Special offer
Surge
Triple
Treasure
Unlimited
Ultimate
Up-sell
Value
While they last
Whopping
Power Words that Invoke a Feeling of Fear
Fear is part of our primal instinct that keeps us safe from any danger. Using fearful words in our copy can persuade people into taking action in order to avoid a disaster or mishap.
Afraid
Agony
Armageddon
Annihilate
Assault
Apocalypse
Beware
Blinded
Backlash
Blood
Bloodbath
Beating
Bomb
Bloody
Bumbling
Caution
Clueless
Crisis
Corpse
Crazy
Cripple
Crisis
Cadaver
Cataclysmic
Catastrophe
Collapse
Danger
Dark
Daunting
Dangerous
Deadly
Devastating
Disastrous
Death
Destroy
Death
Destroy
Drowning
Dumb
Death
Destroy
Error
Embarrass
Epidemic
Frightening
Fail
Feeble
Fool
Fooled
Forgettable
Formidable
Fraud
Frantic
Fired
Gambling
Grim
Grievous
Gullible
Hack
Harmful
Harsh
Horrendous
Horrid
Horrifying
Humiliation
Horrific
Hurricane
Hazardous
Hoax
Holocaust
Insidious
Intimidate
Invasion
Jail
Lame
Limitation
Jeopardy
Lunatic
Lurking
Lawsuit
Looming
Mistake
Meltdown
Mired
Mediocre
Misfortune
Murder
Mishap
Nightmare
Ominous
Ordeal
Painful
Panic
Peril
Piranha
Pale
Pitfall
Played
Plummet
Plague
Plunge
Prison
Pummel
Pus
Poison
Poor
Reckoning
Refugee
Revenge
Rash
Reckless
Reject
Risky
Ruin
Savage
Scary
Scam
Setback
Severe
Scream
Searing
Shatter
Suffering
Shellacking
Silly
Slaughter
Slave
Smash
Strangle
Stupid
Suck
Torture
Toxic
Tragedy
Tailspin
Tank
Trap
Trauma
Targeted
Teetering
Terror
Terrorist
Unlucky
Useless
Unexpected
Unhealthy
Unknowingly
Volatile
Vulnerable
Vaporize
Victim
Warning
Wreaking havoc
Worry
Wounded
Power Words that Invoke Curiosity
Curiosity is the key factor behind taking action. Make your readers, viewers, and listeners curious by using words that invoke a feeling of curiosity and make them intrigued. These power words can be used for your blog post headlines, email subject lines, YouTube video titles, and landing page CTA's and make them impossible to resist.
Astonishing
Answers
Become an insider
Behind the scenes
Backdoor
Banned
Blacklisted
Be the first
Bizarre
Black market
Bootleg
Censored
Classified
Closet
Concealed
Confidential
Controversial
Class full
Confessions
Covert
Crazy
Cover-up
Cringeworthy
Dark
Discovery
Did you know
Disclose
Eye-opening
Elusive
Extraordinary
Forbidden
Forgotten
Hidden
Hush-hush
Hilarious
Insane
Insider
Illegal
Illusive
Invitation only
Incredibly
Interesting
Key
Limited
Lost
Little-known
Login required
Life-changing
Members-only
Must-know
Must-use
Mysterious
Mystifying
Magic
Myths
Odd
Off the record
On the QT
Obscure
Outlawed
Off-limits
Priceless
Privy
Psycho
Private
Questions
Quirky
Restricted
Ridiculous
Remote
Secret
Sneak peek
Strange
Stunning
Spoiler
Secrets
Shocking
Smuggled
Spoiler
Supersecret
Top secret
Thought-provoking
Trade secret
Unauthorized
Under wraps
Underground
Unbelievable
Uncharted
Unconventional
Unexplored
Undiscovered
Unexplained
Unheard of
Unlock
Unsung
Under the table
Unique
Untold
Unusual
Wacky
Withheld
Zany
Power Words that Invoke Desire or a Feeling of Lust
Making your readers feel an intense desire to achieve something can do wonders for your product, service, or content. Lust makes a person think irrationally because the desire to attain is so strong. Here are a few words you can use to have that same effect:
Attractive
Alluring
Brazen
Breathless
Breathtaking
Captivating
Compelling
Crave
Charismatic
Desire
Depraved
Engaging
Enchanting
Exposed
Exotic
Fascinating
Forbidden
Flirt
Hunger
Hypnotic
Intriguing
Irresistible
Longing
Lust
Lonely
Lovely
Magnetic
Mesmerizing
Mind-blowing
Mouthwatering
Mischievous
Naughty
Obsession
Pleasurable
Passionate
Provocative
Promiscuous
Ravishing
Riveting
Shameless
Sensual
Sexy
Sinful
Steamy
Stimulating
Sleazy
Sleeping
Striking
Sweaty
Tawdry
Tease
Tantalizing
Thrilling
Uncensored
Urge
Wild
Wanton
Whip
Power Words that Invoke Trust
According to Clickz.com, a staggering 84% of millennials do not trust traditional advertising. Building trust between you and your readers is the foundation of good business. Trust is what drives a long-term and meaningful relationship between a brand with its customers.
According to research, one-third (33%) of American consumers say trusting a brand is important because they are struggling financially and cannot afford to waste any money on a bad purchase. You can use the following words that invoke a feeling of trustworthiness.
Assured
According to
Approved
Accredited
Authoritative
Authority
Anonymous
Authentic
Adaptable
Advantage
Always
Backed
Bonafide
Because
Best selling
Best
Cancel anytime
Case study
Consistent
Certified
Definitely
Delighted
Dependable
Don't worry
Endorsed
Expert
Ensured
Fully refundable
Guaranteed
Genuine
Improved
Ironclad
Lifetime
Moneyback
No strings attached
No obligation
No questions asked
No risk
Official
Privacy
Professional
Protected
Proven
Recession-proof
Results
Refund
Reliable
Recognized
Research
Scientifically proven
Safety
Safe
Secure
Studies show
Try before you buy
Tested
Track record
Unconditional
Unsubscribe
Updated
Verify
Worldwide
Well respected
Warranty
Power Words that Invoke Anger
Why would you want to invoke the feeling of anger inside your prospects? Anger is another powerful emotion that makes us irrational and influences our decisions.
When targeted at your own company, invoking anger inside your customers is not a good idea. However, when it's directed towards a customer pain point or a market need, it can do wonders for your brand if you can provide them with the solution.
Absurd
Abuse
Arrogant
Agitate
Annoy
Bully
B.S.
Backstabbing
Beat down
Brutal
Boil over
Broke
Buffoon
Bullshit
Crooked
Corrupt
Coward
Cruel
Crush
Diminish
Diatribe
Deceitful
Despicable
Disgusting
Detest
Devastating
Discriminatory
Disgraceful
Dishonest
Dishonorable
Evil
Exploit
Fear
Foul
Force-fed
Greedy
Hostile
Hate
Heartbreaking
Heinous
Hindrance
Immoral
Inexcusable
Infuriating
Know it all
Lies
Loser
Loathsome
Lying
Money-grubbing
Money-grubbing
Maul
Miff
Morally bankrupt
No Good
Obnoxious
Payback
Pitiful
Pound
Punish
Rant
Raise hell
Revolting
Ruthless
Screw
Sick and Tired
Stuck up
Shameful
Senseless
Snob
Snotty
Snooty
Smug
Stink
Sneaky
Sniveling
Terrible
Thug
Unethical
Underhanded
Vicious
Victim
Violent
Waste
Weak
Worst
Waste
Wrong
Wounded
Call-to-Action Power Words
The most prominent place to use power words is to add them to your call-to-action. A call-to-action creates a sense of urgency and helps them take action. Some of the most common and highly active call-to-action words include:
Add to cart
Browse
Buy Now
Call
Click
Claim
Contact
Check
Comment
Download
Discover
Explore
Follow
Find
Free
Get
Grab
Join
Learn
Launch
Need
Promote
Register
Sign up
Start
Search
Save
Subscribe
Send
Share
Submit
Trial
Try
Update
Vote
Want
Power Words that Invoke a Feeling of Pride
Research suggests that vanity or inflated pride in oneself or one's appearance is one of the main factors that drive our purchase decisions and forces us to spend more than we should have.
This isn't surprising as the majority of the things we buy is to look good in front of others as well as ourselves. Using such powerful words that invoke vanity is a great way of luring in customers and making more conversions.
Achieve
Amazing
At the top
Attractive
Ahead of the game
Amplify
Boss
Beautiful
Bold
Bright
Brilliant
Boost
Booming
Brassy
Bravery
Brazen
Conquer
Cheer
Clever
Crowned
Courage
Daring
Drop-dead
Dazzling
Defiance
Elegant
Enchant
Effective
Elite
Epic
Fortunate
Fearless
Foxy
Good-looking
Genius
Guts
Gorgeous
Handsome
Hero
Jaw-dropping
Jubilant
Kickass
Lucky
Legendary
Mind-blowing
Magic
Magnificent
Miraculous
Moneymaking
Notable
Noteworthy
Optimal
Prosperous
Proud
Peak
Quick-witted
Remarkable
Sensational
Sassy
Smart
Spectacular
Saucy
Successful
Staggering
Spine
Strong
Stunning
Super-human
Turbocharge
Triumph
Ultimate
Unbeaten
Undefeated
Victory
Valor
Vanquish
Wonderful
Wealthy
Wondrous
You
Encouraging Power Words
Statistics show that one out of four people feels tired all the time. There's a good chance that the person consuming your content is tired and/or is probably bored. Giving your readers a sense of encouragement would give them a much-needed energy boost. This will, in turn, improve their overall mood and they will end up associating your brand with positivity.
Use these powerful words and raise the level of motivation for your readers
Amazing
Astonishing
Ascend
Astounding
Audacious
Awesome
Backbone
Badass
Beat
Belief
Blissful
Bravery
Brighten
Brilliant
Celebrate
Cheery
Cheer
Colossal
Command
Conquer
Classy
Courage
Daring
Defiance
Delight
Dominate
Defeat
Devoted
Dignity
Empower
Effortless
Epic
Excited
Extraordinary
Excellent
Eye-opening
Fearless
Ferocious
Fabulous
Faith
Fantastic
Fierce
Force
Fulfill
Graceful
Grateful
Glorious
Glory
Grit
Guts
Honor
Hope
Happy
Heart
Hero
Incredible
Jaw-Dropping
Jovial
Kudos
Lovable
Flawless
Logophile
Marvelous
Master
Mind-blowing
Miracle
Miraculous
Noble
Perfect
Persuade
Phenomenal
Pluck
Power-up
Praise
Prevail
Remarkable
Revel
Rule
Radiant
Stupendous
Score
Seize
Sensational
Spectacular
Spine
Spirit
Splendid
Spunk
Staggering
Strengthen
Striking
Strong
Stunning
Stunt
Supreme
Surprising
Terrific
Thrive
Thwart
Titan
Tough
Triumph
Tremendous
Unbeatable
Unbelievable
Unforgettable
Unique
Unleash
Uplifting
Valiant
Valor
Vanquish
Victory
Virtuoso
Win
Final Words
There you have it, folks! A comprehensive list of some of the most powerful words in the dictionary. Use these words in your marketing material and you'll surely increase conversions easily!
What are your favorite power words? Can you think of a few we missed? Let us know by tweeting us @bit_ai
Further reads: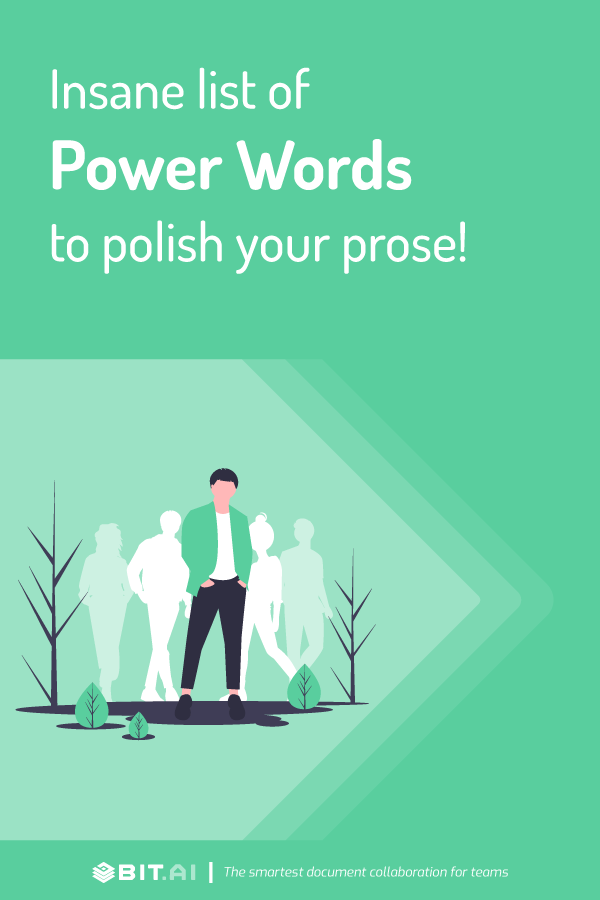 Related posts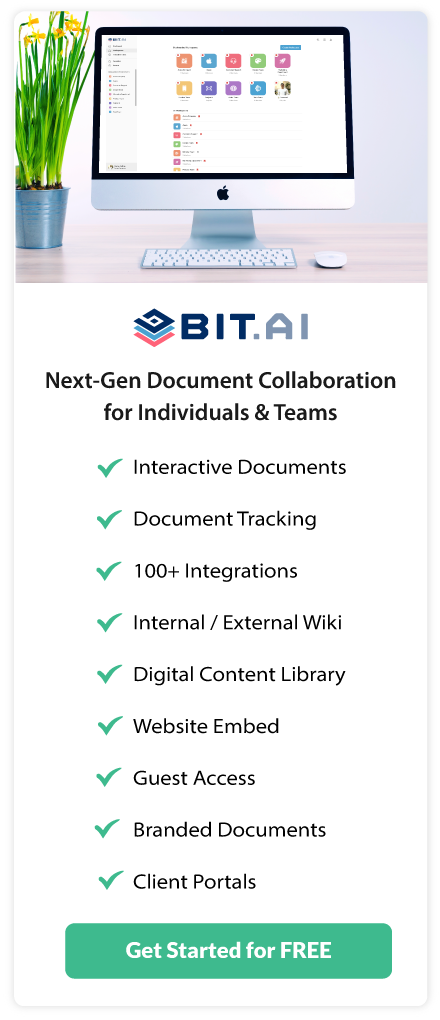 About Bit.ai
Bit.ai is the essential next-gen workplace and document collaboration platform. that helps teams share knowledge by connecting any type of digital content. With this intuitive, cloud-based solution, anyone can work visually and collaborate in real-time while creating internal notes, team projects, knowledge bases, client-facing content, and more.
The smartest online Google Docs and Word alternative, Bit.ai is used in over 100 countries by professionals everywhere, from IT teams creating internal documentation and knowledge bases, to sales and marketing teams sharing client materials and client portals.
👉👉Click Here to Check out Bit.ai.