Just like any other organizational project, creative work requires a clear plan and measurable goals from the beginning. That's where a creative brief comes in! Building a creative brief helps you create an outline of your needs when planning your creative tasks around a project.
In other words, a creative briefing is the treasure map to inspire your design team and marketing team to come up with better ideas. This brief shows professionals not only where to start digging for creative inspiration, but also how to open the treasure chest of quality content.
A creative brief is an important document when it comes to defining a prototype for any design project, whether it's a multi-media campaign, a single e-book, or a partnership design collaboration.
It is also the bedrock of any marketing and advertising campaign. It's a smart way to ensure you and your team have thought through what your customers and audience needs. It really is the first step in your journey for producing all types of campaigns like:
Marketing campaigns
Print ads
Websites
Promotional videos
Website banners, etc
In fact, top firms like Reebok and Paypal use this creative briefs for the work they do. It helps teams stay disciplined and focused on the same goal. It brings synchronization and cohesiveness to marketing campaigns as teams, cross-functional teams, distributed teams, etc. work together.
But, before you begin with the process needed to write a creative brief, let's dig a little further into what a creative brief is and why is it important!
What is a Creative Brief? (Definition)
A creative brief is basically a recorded document that helps in guiding and inspiring any project. It usually involves inter-team collaboration between copywriters and designers with other departments.
The aim is to get all contributors aligned with the project requirements, manage expectations, and make it easy for the design team to execute successfully. A creative brief is not only helpful from a creative standpoint, but it's also significant for project logistics and it brings everything together in one spot.
Keep in mind that creative briefs are not meant to be written and then left inactive. It is an ever-evolving dynamic document that may change as the project progresses.
However, by the time the project begins, your creative brief should be well thought out and have specific targets that your creative, design, and content teams can refer back to throughout the whole process. It's an important way to make sure everyone is in sync and making the right decisions.
Read more: How To Write A Brand Style Guide?
Importance of a Creative Brief
67% of the creators from a content studio reported that scoring necessary information just to begin with a creative project was very difficult!

A creative brief serves as the major documentation for a project's ideas, objectives, execution, and a path for how you are going to achieve success. Not having one increases the chances of missing deadlines and that means wasting a lot of time making sure each collaborator is on the right track.
1. Clarify the Project's Timeline and Enhance Creativity!
Marketing teams juggle multiple projects at once, which means it can be difficult for them to manage and control everything on their plate. It is necessary for marketers to value their team member's opinions regarding current timelines and workloads.
Also, marketers have to focus on the ROI of the company and often creativity is gets overlooked in this equation.
Marketers are busy coordinating all efforts involved and spending a significant amount of money and resources on a project, but can become loose when it comes to making sure their project is equipped with the right creative vision!
This is where creative brief works like magic! It's the perfect go-to document for marketers to have clear timelines and push their teams to come up with a strong creative perspective.
Read more: How To Create Brainstorming Document the Right Way?
2. A Reusable Document
Even if you have completed a project, the creative brief still holds a great deal of value. Although it is no longer needed for active support for that project, it can be used as a template when working on similar projects or working with clients.
A creative brief is a real-time guide about what should be done on a project and provides a reminder as to what may be needed for a similar successful project in the future.
Make sure you save your history of creative briefs as they are helpful guides and reference points. They will come in handy down the line!
Read more: How To Write A Project Proposal that'll Get Approved In No Time?
3. Helps You Identify What You Don't Know!
Although the main benefit of a creative brief is to create a central point for ideas, inspiration, expectations, and goals related to a project.
However, creative briefs often result in a subtle perk – realizing what you don't know! This exercise forces your team to be complete with your ideas and understand the why's behind expectations.
This process will force you and your team to come up with a more in-depth understanding of what you're trying to accomplish, what your client's objective might be and come up with a well-thought-out plan!
How to Write the Perfect Creative Brief? Follow these Steps!
Once you have the full information about the project and are ready, to begin with, writing, use these 6 helpful steps to draft a strong brief in minimal time and effort:
Write a brand statement
Overview of the challenges and objectives
Describe the target market
Analyze the competitive landscape
Offer a brief distribution plan
Share the brief with members
Step 1. Write About the Brand
This step is all about setting the tone of your entire brief. It lets you show your client and your team that you recognize their mission and project objectives. This is also a great way to curate a list of company goals that you need to keep in mind while planning to develop an on-brand project.
Build the tone with one or two sentences that sum up the brand's mission. Follow this up with a small paragraph that gives a background on the brand and what led to the development of the particular project.
Step 2. Highlight the Objectives and Challenges
The next step is to write a descriptive paragraph about the challenges faced by the brand and how your creative project aims to resolve them. Then provide further detail on how the project will offer a solution.
This will help you to emphasize why the project needs to take place. It'll help ensure that the project's expectations and objectives will be aligned by the entire team involved.
If you're working with a client and they haven't identified any significant challenges, then you can focus this section on writing down the objective and goals.
Read more: How to Write Project Reports that 'Wow' Your Clients?
3. Describe the Target Audience
Before you come up with the type of content to create that will engage the audience, you and your team first have to learn about the niche market you are targeting. This part is vital for you to drill down the specific types of customers and describe what's important to them.
Including basic demographics like gender, age, and geography. You should also add elements like customer pain points and their solution in this section of the brief.
If your team has already developed a detailed buyer persona, this would be a great place to include some of the character notes as well!
4. Analyze Your Competitors
Keeping a tab on what your competitors are already doing is beneficial for the whole team. You can use this competitive data to forge creative ideas, try new approaches, gain knowledge from their failed projects, or build a project that revamps a tactic they've used in the past.
Add a quick list of competitors with similar service or product offerings, in this section. Create a shortlist of a few elements your company has in common with them, how your brand stood out in the market already, and the areas where this project can help you get ahead.
Read more: Porter's Five Forces Analysis to Outwit your Competition!
5. Offer a Brief Distribution Plan
Once you are done with the project, you will have to make sure your target audience actually sees it. Curate a list of platforms and channels that you plan to announce the project launch on.
You'll want to understand where your target audience is and identify the ad platforms, social media networks, web platforms, traditional media, etc.
While drafting this section, you should also include captions and messages that will go along with your sales promotion strategy.
6. Share Your Creative Brief
It's the final step! Once you have drafted your creative brief, share it across the teams you'll be working with. You even have to circulate it around the organization via email, newsletters, or presentations.
As you or your clients spread the word, you should be willing to answer questions or take feedback from colleagues in case they have any great ideas.
This technique will improve team alignment, boost support for the project, and ensure that all team members are on the same page.
🎥Watch this video to learn more👇

Wrapping up!
We hope you are now equipped to write that amazing creative brief. Don't forget to share it with your mates in order to get their feedback and suggestions before submitting the final dream project.
With a creative brief, your projects are surely going to feel like a breath of fresh air to your clients, making you look more credible and professional!
If you have any further questions or need additional tips regarding your Creative idea you can always tweet us @bit_ai. All the Best!
Further reads: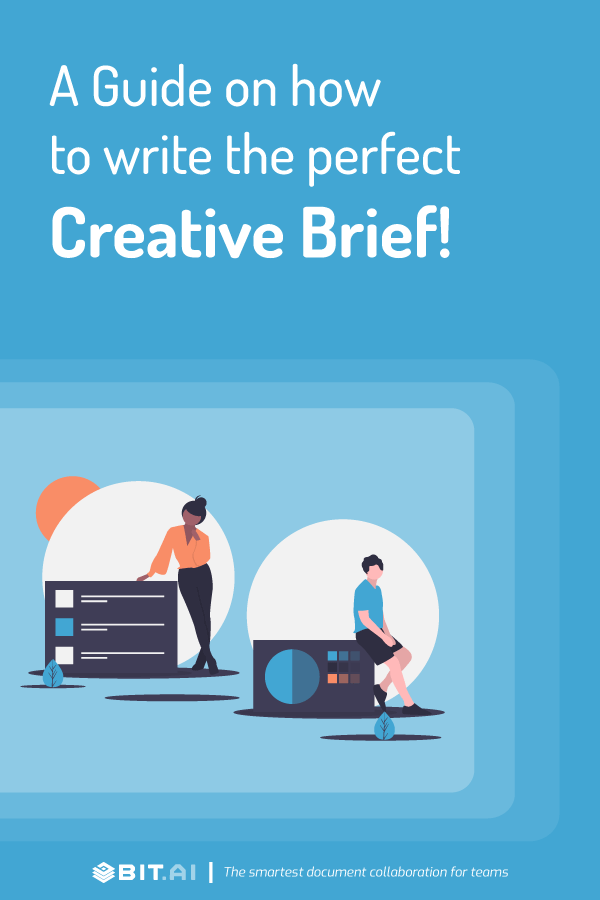 Related posts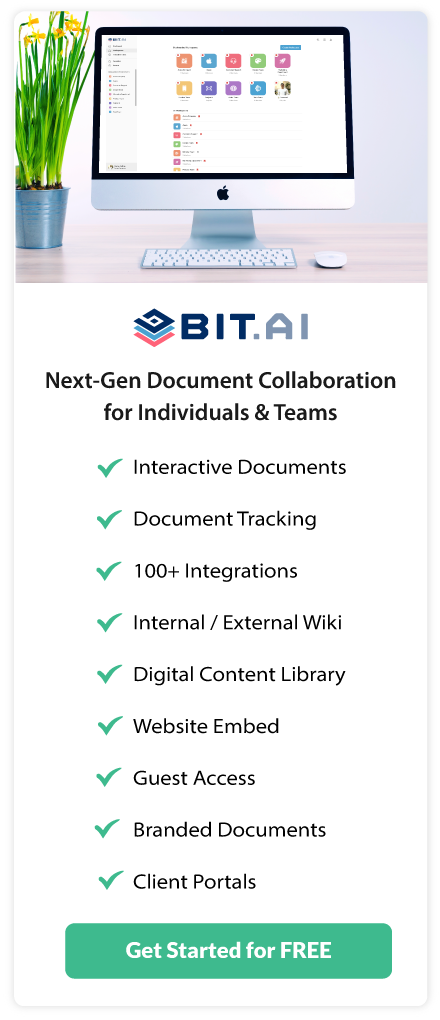 About Bit.ai
Bit.ai is the essential next-gen workplace and document collaboration platform. that helps teams share knowledge by connecting any type of digital content. With this intuitive, cloud-based solution, anyone can work visually and collaborate in real-time while creating internal notes, team projects, knowledge bases, client-facing content, and more.
The smartest online Google Docs and Word alternative, Bit.ai is used in over 100 countries by professionals everywhere, from IT teams creating internal documentation and knowledge bases, to sales and marketing teams sharing client materials and client portals.
👉👉Click Here to Check out Bit.ai.