Sales prospecting is arguably the most important part of sales. Looking for suitable customers, building relationships with them through various sales outreach routines, and closing more deals is what every salesperson is hired to do.
Business relies on sales representatives' abilities to go out in the field, represent their brand, spread their message, and build long-lasting relationships with prospects. Since 50% of buyers choose the vendor that reaches out or responds to the first, sales reps should be equipped with everything they need to do sales prospecting efficiently and without any roadblocks.
However, more than 40% of salespeople say sales prospecting is the most challenging part of the sales process, followed by closing (36%) and qualifying (22%). In order to make this challenging process easier, there are many software tools out there.
These sales tools will not only help you in the prospecting process but will make your entire workflow a lot smoother. But before we dive into our outstanding list of sales tools for prospecting, let us briefly discuss what exactly is sales prospecting.
What is a Sales Prospecting?
The first step in any sales process, sales prospecting is the process of searching for or identifying potential customers (or clients) for the purpose of creating new business for the company.
Sales prospecting includes finding and reaching out to multiple people to find out which amongst them can be a potential customer. This list is then stored in a CRM (customer relationship management) software or maintained via an excel sheet for further reference and outreach.
The primary objective of prospecting is to cultivate a dependable database of individuals interested in your product or service as per certain criteria. Once the list is ready, salespeople reach out to them in the hopes of persuading them and converting them from prospects to new customers.
Now that we are clear about what sales prospecting really is, let us now explore some of the sales tools that are surely going to improve your prospecting in 2022.
Our Top Sales Tools For Prospecting:
Different goals and objectives require different sales tools. There is no one-size-fits-all tool for every business. Whether your business focus is:
Gather and nurture leads,
Make sense of valuable data,
Improve conversions,
Form meaningful relations with prospects and customers,
Or something else, one of the following tools will surely fit your needs flawlessly. So, without wasting any more time, let's dive straight into our picks for the best 10 sales tools for prospecting on the market.
Note: The prospecting tools in this list are not ranked in any order. These tools simply stand out as being the best of the lot at their respective use case.
Bit.ai
Followup.cc
Allbound
Hunter.io
Snov.io
Cloze
Pipedrive
Linkedin Sales Navigator
LevelEleven
Cirrus Insight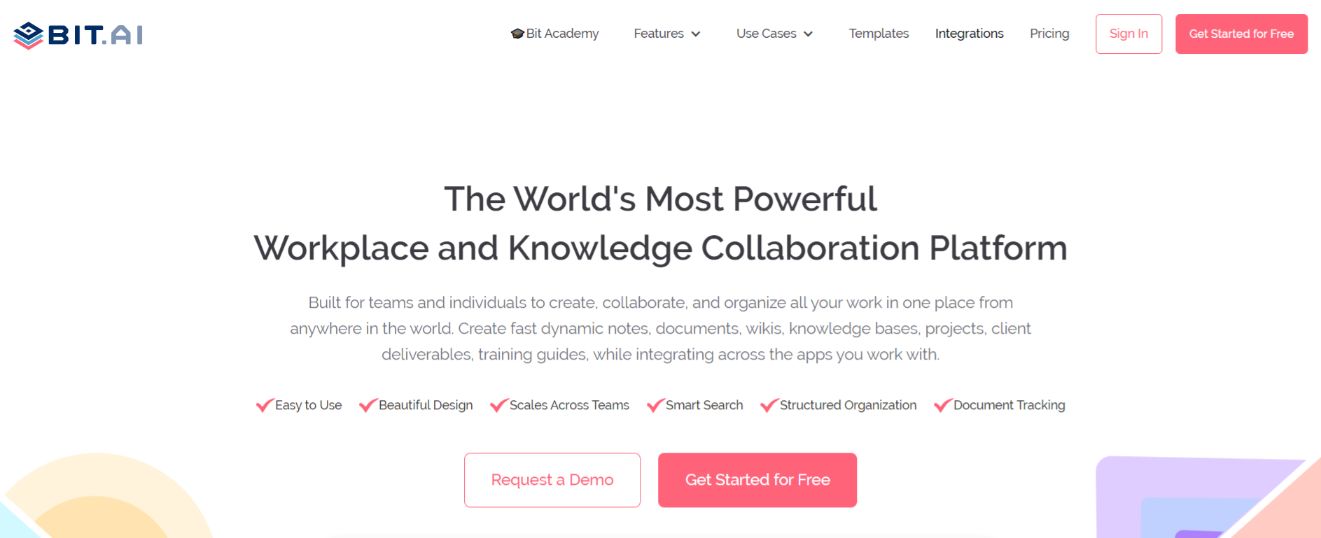 Working in sales means you are often creating or sharing some sort of documentation. Be it presentations, sales decks, proposals, persona documents, case studies, ebooks, or something else, Salespeople frequently find themselves making a lot of documents. This is why every salesperson must use Bit, new-age document creation and management tool.
A modern-day collaboration tool, Bit empowers sales teams to make marketing and sales materials while collaborating in a common workplace. The sales team can create, customize collaborate, and share internal as well as client-facing material. Since these documents are on-brand, your customers and clients can easily recognize your material.
With document tracking in-built, sales reps can receive instant notification anytime a client or prospect views their sales document. They can get engagement metrics like how much time did they spend on your smart document and other valuable user information.
Users can also set up a customizable lead capture form that allows them to collect information (name, company, email, etc.) before their audience views the document.
All in all, Bit is a must-have tool for Sales teams!
Key Features of Bit include: 
Document tracking
Real-time collaboration with fellow sales reps.
Store media assets, files, and documents in one place.
Pricing: 
Free with limited functionality.
Pro plan starts at: Standard ($8/month), Plus ($15/month), Enterprise (contact sales)
The bit is designed to run your entire sales collaboration and knowledge sharing process, so your team can focus on bringing in new business.
Read more: Top 21 Sales Enablement Tools That Will Empower Your Team

With so much on their plate, some tasks are bound to slip through for sales reps. However, when it's about following up with a prospect or client, that mistake could be costly. Following up is critical as it can literally make or break a sale. However, as your pipeline increases, human error and forgetfulness creep in.
To deal with this, install Followup.cc. An awesome chrome extension, Followup.cc seamlessly integrates with your Gmail account and helps you organize your follow-ups at the top. Next time you are sending an email to a prospect, the extension reminds you to schedule a follow-up for the future.
A staggering 80% of sales require five follow-up attempts, and yet over 40% of sales reps give up after the first attempt. Make sure to follow up and close more deals with Followup.cc!
Key Features of Followup.cc include: 
Snooze low-priority emails and focus entirely on the things that matter the most.
Auto follow-up on emails, track email opens, set recurring reminders.
Email scheduling
Pricing: 
Free trial
Pro plan starts at: Starter ($23/month), Professional ($36/month), Salesforce edition (50/month)

A Partner Relationship Management (PRM) software, Allbound is a cloud-based tool for sales reps and marketers. If your business already has a channel partner program or has plans to implement one, Allbound is a must-try.
With Allbound, businesses can provide their partners, resellers, and distributors with the training and resources they need to close more deals. Real-time collaboration, partner training programs, sales enablement content, customer intelligence, etc. are all key features included in this mobile-friendly software.
Key Features of Allbound include: 
Align your sales ecosystem to the buyer's journey.
A resource library to store and share content with partners.
Formalized deal registration process.
Pricing: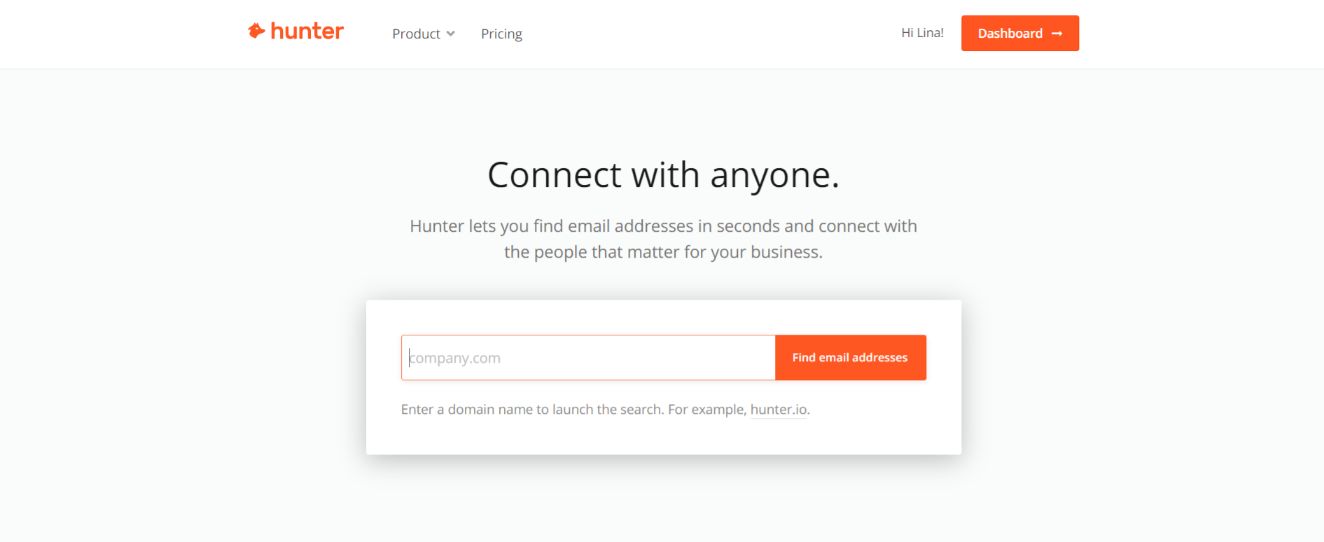 Cold emailing is a part and parcel of every sales rep's routine. However, finding email addresses of prospects could be difficult. This is were Hunter.io comes in. Hunter.io is a chrome extension that lets you locate email addresses of people no matter they are in the world.
Just type in the name of the person and their website (or company) domain and Hunter.io will quickly locate their email id using its aggregator. Hunter.io also shows a confidence score (the accuracy of the said email address) that it gives to each suggested email.
Apart from email addresses, users can also find out the names, job titles, phone numbers, and social media profiles of prospects, making Hunter.io an essential tool for your sales arsenal.
Key Features of Hunter.io include: 
Used by 2,000,000+ professionals and leading companies.
Export or synchronize leads with your favorite CRM.
Filters to find only role-based email addresses.
Pricing: 
Free with limited functionality
Pricing starts at: Starter ($49/month), Growth ($99/month), Pro (199/month), Enterprise ($399/month)
Read more: 9 Sales Collateral Examples You Should be Using in 2022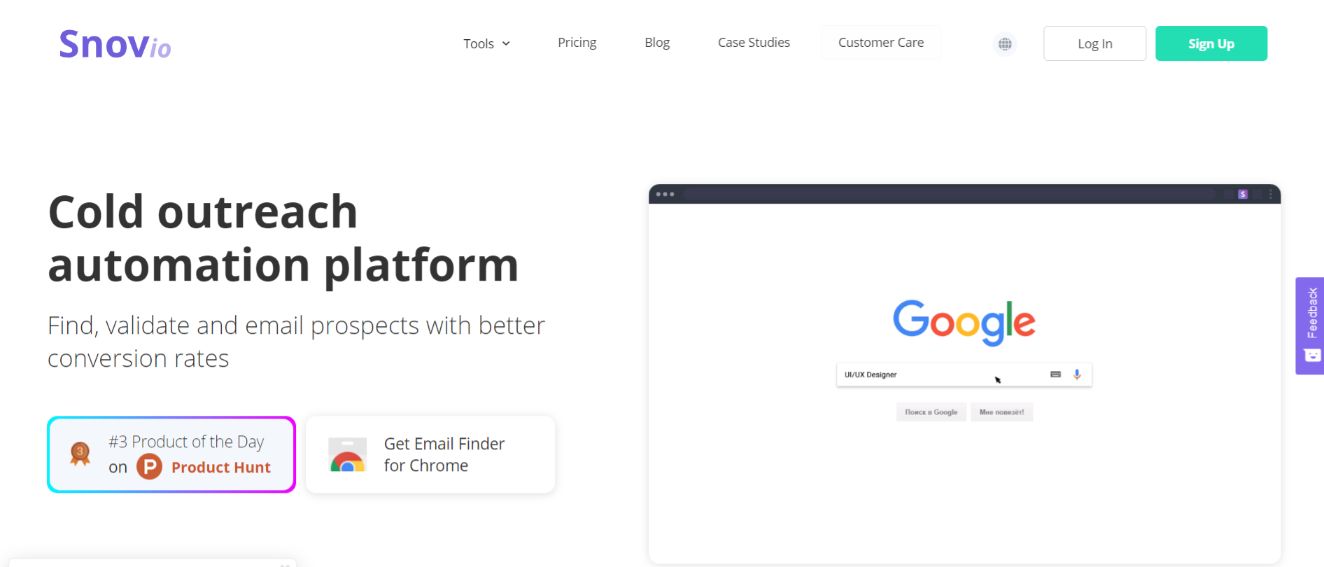 A cold outreach automation tool, Snov.io is another great sales prospecting tool. Snov.io works primarily as an email finder and validator tool with the added benefit of email tracking. You can find email addresses, name, and job positions of people working in a company via their domain email search feature.
With just one click, you can find emails, validate their authenticity, and send and track emails. Users can also use Snov.io to send out drip campaigns with triggers, goals, and auto follow-ups messages.
Key Features:
Receive real-time browser push notification when people read your emails or when they click on links.
Check what technologies are being employed by a website using the "technology checker" tool.
Find email addresses for Linkedin.
Pricing: 
Free plan with limited features.
Paid plans start at- Small ($26 per user/month), Medium ($49 per user/month), Large ($89 per user/month), and XL ($139 per user/month).

68% of sales professionals say it's absolutely critical or very important to have a single view of the customer across departments. However, customer interactions nowadays go from phone calls and meetings all the way to emails, Linkedin, and chatbots.
With our interactions scattered all over the place, it's difficult to have a single view of every customer. Well, Cloze to the rescue! A customer relationship management tool, Cloze acts as your personal assistant. It keeps tabs on all your customers as it automatically gathers insights on every prospect from your apps and creates one view of every person and company.
By having all this crucial information in one place, Cloze then uses advanced data science to figure out who is important and prioritize customer relations accordingly! Cool, right?!
Key Features:
Customer contact details, calls & email exchanged, documents exchanged, and social media interactions all in one place.
Automatic prompts to reach out.
Maintains prospect data automatically.
Pricing: 
Free plan with limited features.
Paid plans start at- Cloze Pro ($17 per user/month), Business Silver ($21 per user/month), Business Gold($29 per user/month), and Business Platinum ($42 per user/month).

Used by over 90,000 companies worldwide, Pipedrive is a could-based CRM software for sales teams. Keep track of your sales efforts with this easy-to-use the software. It's a minimalistic user interface that allows sales reps to quickly get on board with the platform and visualize their sales process – schedule, emails, follow-ups, proposals, etc.
You can see exactly where a customer is in the sales pipeline and what you need to do to close the deal. This blend of prioritizing and organizing sales tasks is the key feature of Pipedrive we have come to love. You can also set and measure key metrics for your sales process and see how your business is performing.
Key Features:
Mobile apps and integrations with major sales platforms.
Track calls, emails, and contact history.
Automate tasks using artificial intelligence.
Pricing: 
Free plan with limited features.
Paid plans start at- Essential ($12.50 per user/month), Advanced ($24.90 per user/month), Professional ($49.90 per user/month), and Enterprise ($99 per user/month).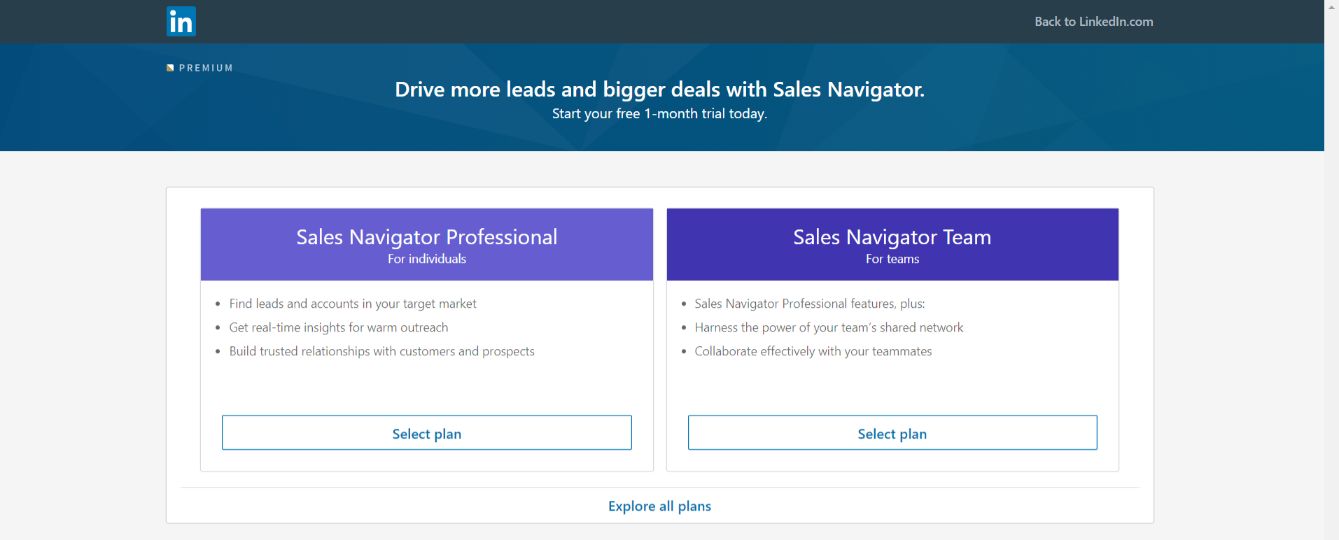 Next up is LinkedIn's very own Sales Navigator. With nearly every company and its employees having a Linkedin account, it's easier to look for and find prospects on Linkedin as compared to any other social networking site.
With built-in CRM integration, sales reps can automatically save leads and accounts from your Sales Navigator to your CRM in a single click. With Linkedin InMail, sales reps can reach over 500 million members on LinkedIn, even if they are not connected to them.
Key Features:
Smart Links Presentations to share and track content with prospects.
Teamlink to collaborate on leads with your sales team.
Notes and tags to effectively organize lead data.
Pricing: 
Free plan with limited features.
Paid plans start at- Professional ($79.99/month), Team ($134.99 per user/month), Enterprise (contact sales)
Read more: Top SaaS Products for Small Businesses in 2022

LevelElven gamifies performance management, helping your sales team achieve better results. With real-time visibility into their day-to-day performance, sales teams can use LevelEleven to keep track of their progress.
LevelEleven displays personalized scorecards, real-time TV broadcasts, and other key metrics for their entire sales team, keeping them motivated during the sales process. By showing them their progress in real-time, sales reps can see where they are excelling and what needs improvement.
Key Features:
Create custom incentives to motivate individual reps.
Identify key KPI's and team's performance.
Coaching software to empower sales teams and improve performance.
Pricing: 

Cirrus Insights is a feature-packed sales prospecting tool that doesn't want you to leave your inbox. By bringing all your prospecting arsenal to your inbox, Cirrus Insight streamlines your sales workflow effectively.
With a ton of features like email scheduling, drip campaigns, email tracking, email analytics, email templates, and more, Cirrus Insights is a full-on productivity suite for sales teams. Cirrus Insight is available for your Gmail as well as Outlook account.
Key Features:
Email analytics to study email opens and click-through rates.
Email attachment tracking.
View all customer emails, calls, and meeting notes in one place.
Pricing: 
Free trial for 14 days.
Paid plans start at- Starter plan ($27/month), Closer plan ($45/month).
Carry Out Sales Prospecting The Right Way with These Tips!
Since over 40% of sales reps identify sales prospecting as the hardest part of the sales process, we thought of giving away some key points to follow while carrying out sales prospecting:
1. Define your Target Customer
Before you start looking out for prospects, it's important to describe what your ideal customer looks like. Determining whether the prospect belongs to your target market, has the capacity and willingness to buy what you're selling, and has the authority to make purchase decisions. Defining the target persona is crucial because it will help you identify quality leads and save you a ton of time and resources.
2. Customer Analysis
Once you know what your ideal customer looks like, it's time to get your hands dirty with some research. Look for platforms and places where your ideal customer hangs out. These could be social media, directories, trade shows, purchased lists, official records, business magazines, and more.
If you are a B2B (business to business) sales rep, make sure you identify the key decision-maker and not waste your time with a prospect who doesn't have the authority to make purchase decisions. Your analysis will reap you rewards in terms of a highly relevant and target list of quality prospects.
3. Prioritize the List
Done with the research? Good, its time to make the list of your top candidates and prioritize. Prioritizing prospects will help save you time and effort as it will ensure you are only going after the prospect who has the highest possibility of becoming your customer. You can then work your way down to the list.
4. Make the First Contact
Now that the list is in the order of priority, it's time to make the first contact and get in touch with prospects. Using the tool of your choice, you can reach out to prospects easily. Whether you are cold-calling or cold-emailing, make sure you are well aware of the prospect- their needs, wants, business, and industry.
Only 13% of customers believe a salesperson can understand their needs. This is why it's important to do your research and be helpful in your first contact with a prospect. Less selling, more helping should be your motto.
5. Develop Relations
Once you have made the first contact, it's time to ask for an appointment to further address the details and move the prospect down the sales funnel. Remember, sales are not about you and your business, it's about helping a customer solve their problems.
When you solve a customer problem, you not only make them happy but also create business for you. This is not a one-way street but a mutually beneficial partnership.
Before you go!
Our team at bit.ai has created a few awesome sales templates to make your sales process more efficient. Make sure to check them out before you go, your sales team might need them!
Final Words
So there you have it folks, our pick for sales tools for prospecting! Prospecting doesn't have to be hard. You are bound to hear a ton of "No's" from your prospects but it's all part of the sales process. Shift your focus from the No's to the Yes's and keep marching on! And with our list of awesome sales prospecting tools, we are sure success is only around the corner for you. Good luck!
Further reads: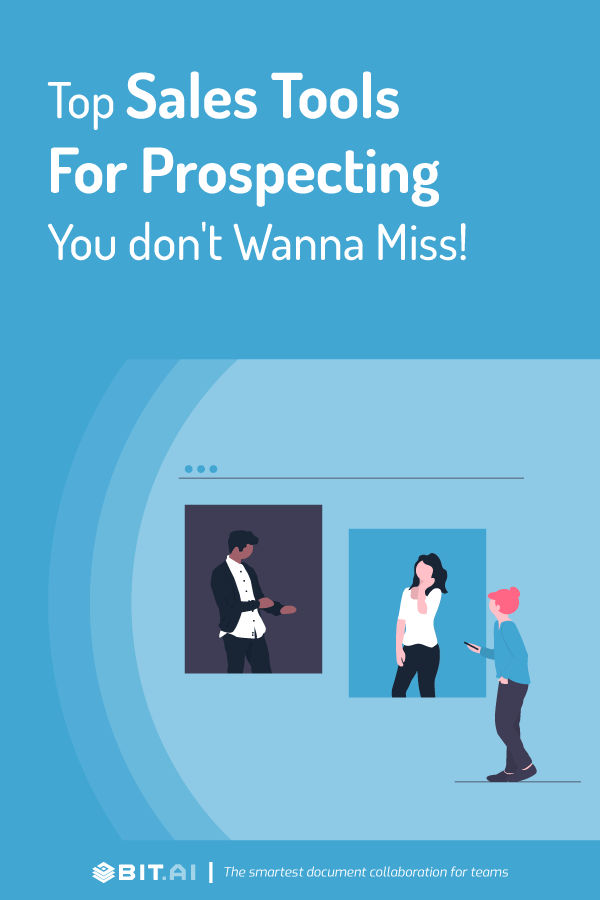 Related posts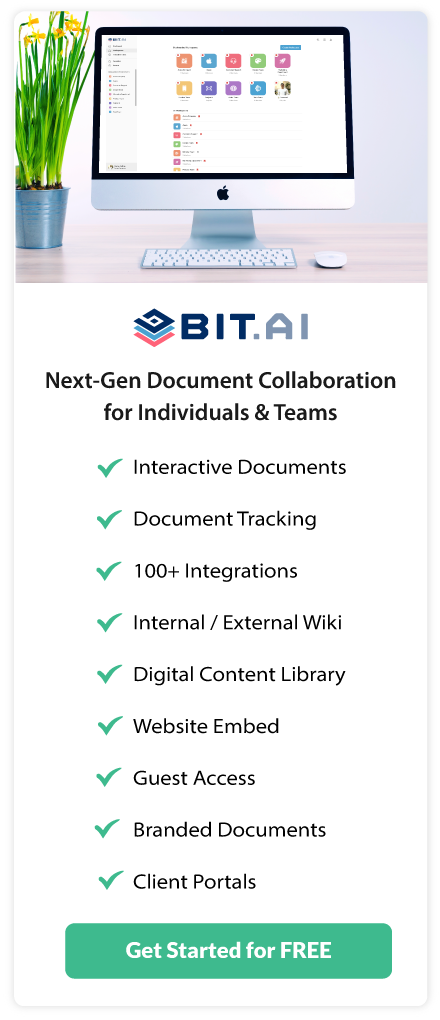 About Bit.ai
Bit.ai is the essential next-gen workplace and document collaboration platform. that helps teams share knowledge by connecting any type of digital content. With this intuitive, cloud-based solution, anyone can work visually and collaborate in real-time while creating internal notes, team projects, knowledge bases, client-facing content, and more.
The smartest online Google Docs and Word alternative, Bit.ai is used in over 100 countries by professionals everywhere, from IT teams creating internal documentation and knowledge bases, to sales and marketing teams sharing client materials and client portals.
👉👉Click Here to Check out Bit.ai.