We all know – the struggle of creating project reports is real! It is a complicated process that can either build or destroy your entire project.
No matter how extraordinary your project idea is, or how wonderfully one of your projects performed, creating a compelling project report isn't easy.
The risk of analyzing the wrong data, taking the wrong path, or drawing up the wrong conclusion – it's always, always lingering upon you.
So, if you're standing on the edge, knowing you need to craft a project report, but also feeling a little uncertain about how to begin – you're at the right place.
In this article, we will tell you what a project report is and the things that you need to include in it. We will also tell you about a tool that will help you write one in no time. Let's roll!
What Exactly is a Project Report? (Definition)
A project report is a written document that encapsulates all the essential information related to a particular project – from goals and objectives to analysis and recommendations.
This report helps you transform a business idea or plan into a productive venture, without any confusion or chaos. Along with defining the strategies for project execution, it helps you implement them properly.
You should always create a well-detailed project report. Why? Because you can't dive into starting a project without giving much thought to your goals, your plan of action, your strategies, and the big picture.
Still not convinced? Well, let's explore a few more reasons why you need to spend your valuable time creating this one report.
Reasons Why You Should Create a Project Report
Yes, creating a project report is a crucial part of starting or managing a project, but not for the reasons you might think. Most people assume that a project report is meant to raise money for a particular project, or get a sponsor. It is true, but that's not the only use of a project report!
In short, it's not just about the funding. The process of writing a project report and putting it together is much more valuable. When you're writing a project report, you discover and understand what it's going to take to make your project successful. It gives you clarity about your ideas.
After all, before you can explain your ideas and strategies to your friends or investors, you should be able to explain the idea to yourself!

Secondly, spending a little time on planning and creating a project report would drastically reduce the risk of losing money and making silly mistakes. Of course, you could jump right in and start the project without a plan, but you'd be more likely to waste time, money, and resources.
Lastly, creating a project report increases the chances of your project being successful. Over the years, several studies have proved that companies who plan are much more likely to be successful, get funding and achieve their goals – in comparison to the companies who don't plan.
Excited to create project reports? We know you are! So, without further ado, let's learn how to actually create an amazing project report.
Read more: Project Timeline: What is it & How to Create it? (Step By Step)
How to Create a Good Project Report? Follow these Steps!
Step 1. Set the Objective
First things first, you need to figure out why exactly why you're writing the report and what's your end goal. Do you want to describe something to your team or do you want to persuade the upper management?
Once you set a clear purpose and objective, it would be easier for you to stay focused while writing the project report. The result? You would be able to write a much better and more engaging report!
Step 2. Understand The Reader
A formal annual report would be very different from a status report, right? So, while writing your report, always keep the reader in mind. This way, the reader would become more receptive to your ideas.
Basically, tailor your language, data, and graphics according to your audience. Don't forget to consider their communication style, for instance, how they write emails and structure their documents.
Step 3. Know The Format
Before you start writing the project report, don't forget to check the format and type of the report. Is it a formal, informal, technical, annual, financial, or fact-finding report?
Also, confirm if any project report templates are available within your organization, or if there is a specific structure that you need to follow while writing the report. This would save you a lot of time in the long run!
Step 4.  Collect All The Facts & Data
By backing up your arguments with facts and data, you can solidify your project report. Moreover, you should also cite sources such as case studies, interviews, and articles.
Including data, facts, and figures in your project report is most crucial when you are writing it to persuade someone about the project, or when you're giving a status report.
Step 5. Structure the Report
Once you are done with understanding the nitty-gritty of the report and collecting all the data, it is time to structure it. Generally, a report has four elements:
Executive Summary: Even though this is the first part of the report, it's written once the report is finished. As the name suggests, this part comprises a brief about what's written in the report.
Introduction: In this section, you need to provide a context for your report and the scope. In addition, you also need to outline the structure of the contents and mention all the methodologies you've used.
Body: In this part, you have to put your writing skills to work. This is undoubtedly the longest part of your report and it should include everything from data & analysis to recommendations.
Conclusion: This is where you need to compile all the elements of the report in a clear and brief manner. You should also mention the next steps and actions that you want the readers to take after reading the report.
Step 6. Edit & Review
Spend some time formatting your report and making it enjoyable to read. No one likes to read long blocks of text, so use formatting, visuals, and lists to break them up.
Remember, the first draft of the report can't be perfect! So, do not forget to edit and revise the content until you're sure that it is error-free. You can also ask a colleague for a review!
So, now that you know the basics of what a project report is and how to create it, let's check out some really cool use cases of project reports.
Read more: Performance Report: What is it & How to Create it? (Steps Included)
A Few Use Cases of Project Reports
1. Project Health Report
A project health report outlines the problem areas or any other risk involved with your project. It helps you find out any problems before they happen – which ultimately saves you time and money.
2. Project Summary Report
As the name suggests, a project summary report gives you a quick peek at your project. It's a concise report that covers all the key highlights of the project, including completed and upcoming tasks.
3. Project Status Report 
A project status report can be used to share the status of your project, in line with the original project plan. This report gives the stakeholders information about the project's performance, updates, and developments.
4. Project Time Tracking Report
This report helps your team and all the stakeholders to understand the time allocated for each task in a more efficient manner. It's a useful report to gauge your team's efficiency and the areas that need improvement.
5. Project Tracking Report
This report gives you all the numbers, metrics, and other data that you can use to measure your project's progress. It also covers your project's status, team performance, and more.
6. Project Performance Report
A project performance encapsulates the progress of your project, the budget, and a breakdown of allocated resources. It helps you monitor the status of your project, and whether it's headed in the right direction or not.
Phew! Creating project reports can be a complicated and cumbersome process. Luckily, we have something to make your life easier. Whether you need need to create basic project reports or super complicated ones, Bit.ai is just what you need.
Create Project Reports & All Other Documents On Bit.ai
Bit.ai is the easiest, most convenient way to create project reports and every other kind of document that exists on Earth. With Bit, you can create project reports in no time. Just focus on the content because Bit is going to handle every other aspect of your report – from designing to formatting.

Want to know more reasons why you should use Bit for creating your project reports? Let's go!
1. Stunning, Fully Responsive Templates: Whether you want to create a sales project report or an annual report – there's a beautiful template for that on Bit. With over 90 pre-built and fully responsive templates, Bit has turned the painful task of creating reports a walk in the park.
2. Design Automation: Writing projects reports isn't easy. It takes so much effort that you end up having no energy to make the report look appealing. Luckily, Bit solves that problem for you with its design automation feature. With just one click, you can change the look of your entire document, its layout, and color too!
3. Interactive Documents: Bit lets you add PDFs, charts, videos, maps, surveys/polls, charts – basically all kinds of rich media in your documents. Right now, there are over 100 rich media embed integrations on Bit! So, why give someone a boring, static project report they'll never open when you could turn it into something much more engaging?
4. Real-Time Collaboration: Project reports are important documents, and creating one on your own is a little difficult. That's why this feature of Bit is the best. Using Bit, you and your team can collaborate on the reports in real-time, no matter where everyone is located. You can co-edit, make inline comments, access version history, chat via document chat, @mentions, and much more!
5. Smart Workspaces: Organizing and managing all your project reports can be a pain, but Bit is here to take the pain away. Bit lets you create as many workspaces as you want around different teams and departments, invite guests into the workspace, and manage everything much more efficiently!
6. Tables: It's better to show all the data and figures in your project reports via tables. This way, everyone who reads your report would be able to grasp the complex figures in a quick glance. On Bit, you can create wonderfully designed and fully responsive tables with the click of a button. The colors of these tables automatically change according to the colors of your document's theme!
Wrapping Up
Creating project reports is at the core of every business. It is essential for evaluating the feasibility of your ideas and plans, and for proving that your strategies are working.
Yes, we know you have a thousand other things to do when you are running a business, but creating project reports should always be one of those things.
Got anything to ask related to creating project reports or using Bit.ai? Just hit us up on Twitter @bit_docs. We would be happy to help you out. Cheers!
Further reads:
KPI Report: What it is & How to Create a Perfect One?
Weekly Report: What is it & How to Create it? (Steps & Structure)
Project Objectives: What are they & How to Write them Effectively?
Project Documentation: What is it & How to Manage it?
Project Summary: What is it & How to Write it!
Formal Report: What is it & How to Create it!
Consulting Report: What is it and How to Create it?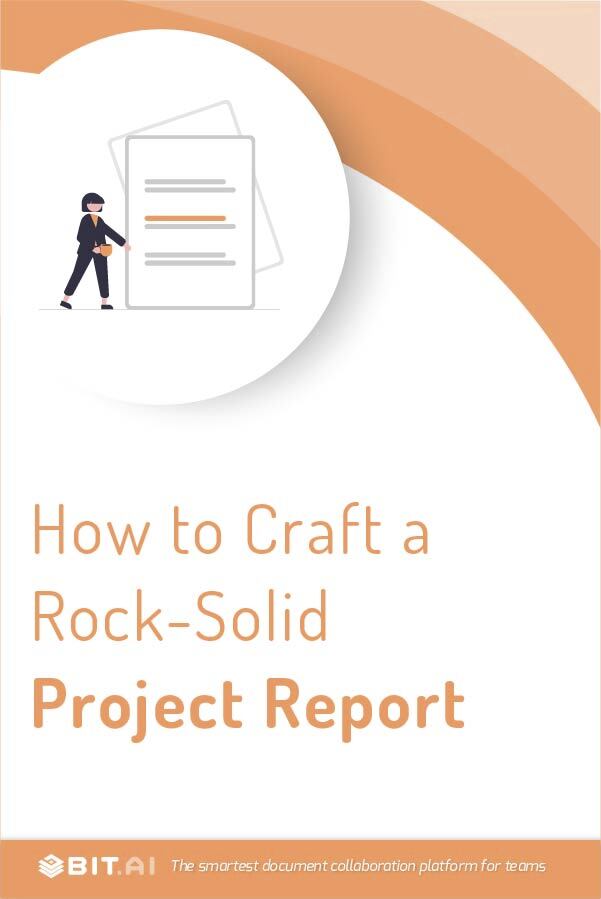 Related posts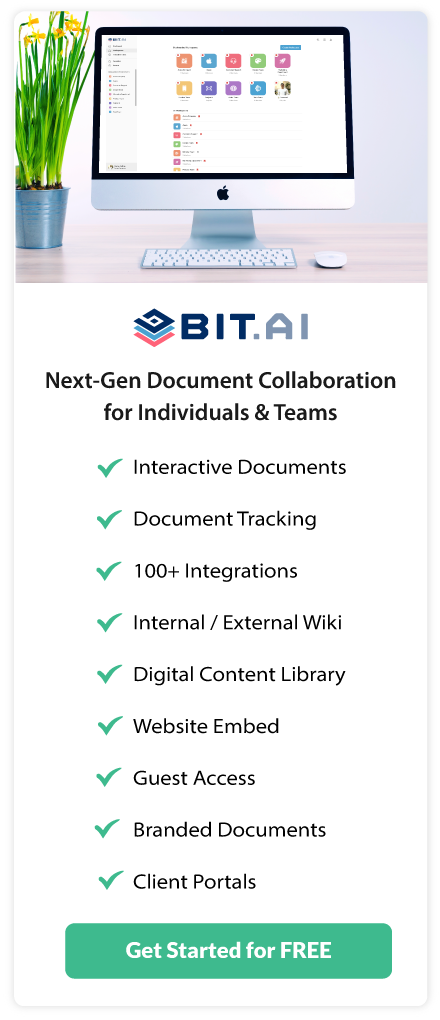 About Bit.ai
Bit.ai is the essential next-gen workplace and document collaboration platform. that helps teams share knowledge by connecting any type of digital content. With this intuitive, cloud-based solution, anyone can work visually and collaborate in real-time while creating internal notes, team projects, knowledge bases, client-facing content, and more.
The smartest online Google Docs and Word alternative, Bit.ai is used in over 100 countries by professionals everywhere, from IT teams creating internal documentation and knowledge bases, to sales and marketing teams sharing client materials and client portals.
👉👉Click Here to Check out Bit.ai.