Human civilization knew business probably before it even became a civilization. Yes, people have been buying and selling things for eternity. And it is one field that can never be outdated.
Simply because business and selling are all about people. It is not dependent on theories of the past or some complex formula but simply on the people in the present. This is why you must keep updating yourself concerning your customers to grow your business.
Social selling is the new beast in town that has made businesses stand up and take notice. In essence, the idea is to use social media and create a whole network of customers. Read on as we delve into its various aspects.
What is Social Selling?
The basic idea behind social selling is to develop meaningful relationships with prospects and convert them into sales. This is based on the premise that customers are likelier to buy from a seller with an already established relationship. If you are already within the network of prospective customers, you will be the first to enter their minds when they want a product or service.
In today's time, social selling is done online. Social media platforms provide a readymade platform for the opportunity to sell socially. You can easily study your prospective customers by observing their online or social media behavior, what they research, their needs, etc., and actively influence their buying decisions.
Let's try to understand this through the concept of the social selling index. Read on to know more about it.
What is the Social Selling Index Meaning?
Social Selling Index or SSI is a tool to measure your capability to sell your product/services through social channels.
It was introduced by LinkedIn in the year 2014. The components used to make up an SSI score are: a professional brand with a well-managed LinkedIn profile, finding the relevant people on this platform, sharing the right content that influences people on the platform, and building on the relationships formed here. You can check your SSI score to understand where you stand and work your way up to improve.
Having understood the basics of social selling, let us see how it can help you to manage and grow your business.
How Social Selling Can Grow Your Business?
1. Lead Generation and Revenue
A major crux of your revenue depends upon the kinds of leads you can generate. Through social selling, you can develop a stronghold of active and loyal clients that will always choose you. You can use the available social media data to formulate your sales strategy. With the right data and perfect execution of strategy, you can build an entire army of loyal clients that you can always depend upon.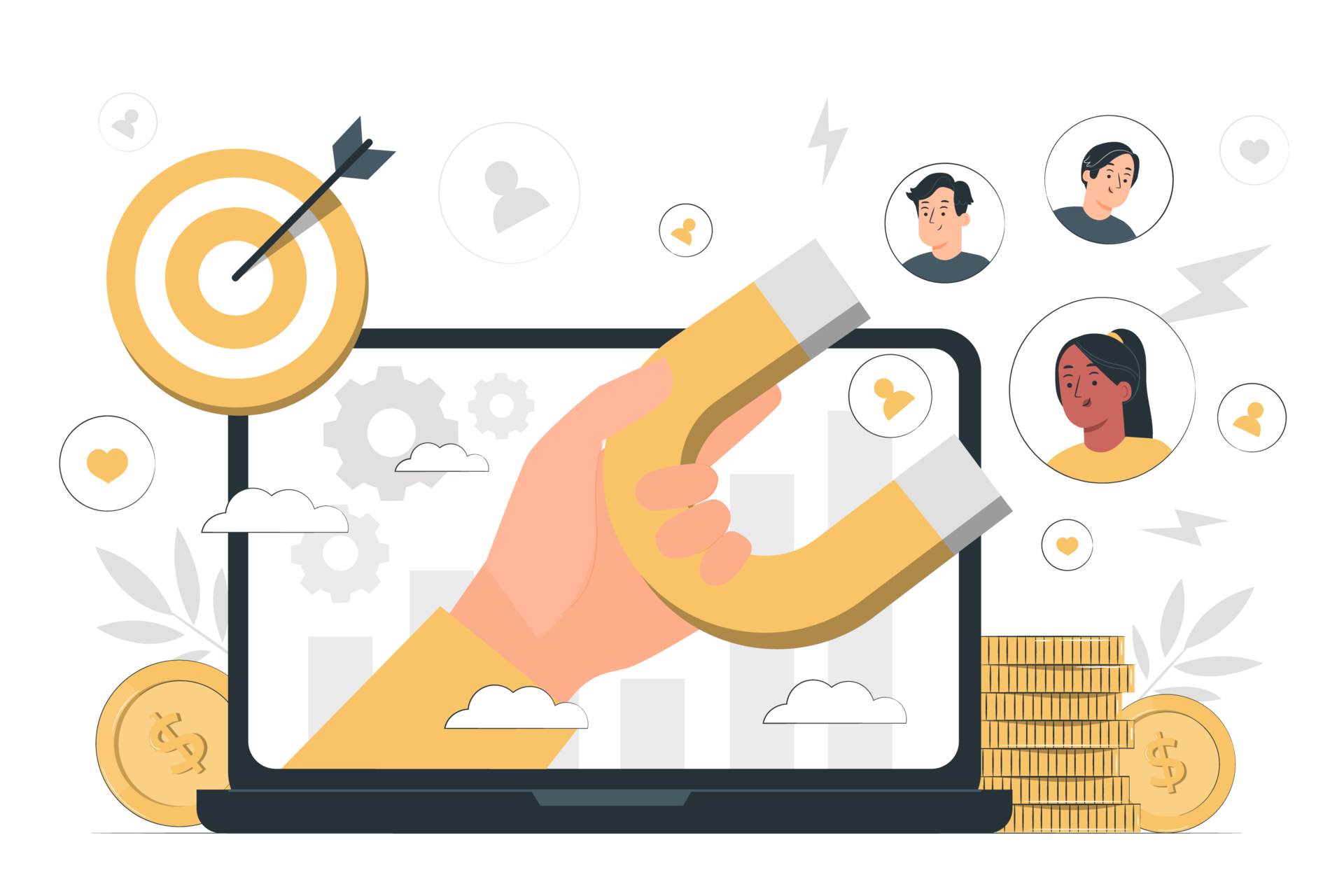 More than that, those clients can spread the word and get even more customers; social media is all about networking. So with a little effort, you get prospective clients, directly and indirectly, through social selling. Since most social media features are free to use, you will not have to empty your pockets, which means your profit margin will constantly rise.
Read More: Lead Generation: Definition, Benefits, Plan & Strategies!
2. Builds Genuine and Strong Relationships
Social media is hands down the strongest platform for networking. You can get your sales team to actively engage with prospective clients and build a strong bond with them. The platform provides plenty of engagement tools to help you stay connected with your clients; use them wisely, and you will never lack customers.
The social media profile of your prospect is a well of key information that helps you understand their personality, interests, and preferences. Check for the posts they engage with, the content they share, and the memes they comment on to understand them on a deeper level that will help you eventually sell to them.
At first, it might seem to stalk, but it's just research; we checked! Not using this holds your business back, but if you can crack the code, you will see an instant improvement in your growth rate.
3. Personalize to Provide Added Value
The best sales are the ones that are personalized. Social selling gives you the advantage of knowing your client to the core. You can use this information to design the perfect pitch for prospective customers and turn them into your clients. Use this productively, and you will see a rise in your conversion rate. People like to see that you have made an effort to know them and their interests; it gives the impression that you genuinely care about them as clients and tilts their decision in your favor.
Customizing your sales pitches is a sure-shot way of improving your conversion rate; social selling is just a tool that helps you customize your pitch. But social selling is not just about getting new clients; you will have to ensure that they are well taken care of, and you have to continue to engage with them, especially after they are on board as clients.
Social selling has proven beneficial for many businesses, but it can be a little intimidating if you are an organisation that has not indulged in the practice. Let us look at the steps involved in starting with social selling.
How to Get Started with Social Selling?
1. Choose a Relevant Social Media Platform
The first step in starting with social selling is to find the right social media platform for your business. This selection will depend on the kind of business you have and the target audience you are looking for. For example, you need to start with Instagram or Facebook to connect with a target audience of young adults. But if you are looking at a more senior audience, you should go for Twitter. Being on the right platform will ease your search for the right target audience.
2. Have a Company Wish List and Acquire Them
You should also make a wish list, including all the major brands you want as your clients, and be bold to reach out to them through this platform. Post this; it is about constantly engaging with your prospects with good posts and relevant content. You should provide value to the client through these posts to have the connection you aim for. Today, with the advent of social media, you can connect with big clients. Play your cards right; you can catch the big fish.
3. Share Customer Success
You must build the right brand for yourself on social media to succeed at social selling. And a major factor that affects this is what prior customers think about you. People give importance to social proof. Therefore you should not shy away from posting stories about your customer success. If a prospect sees that you have solved a similar problem that they have for another client, their interest in you will instantly peak.
4. Indulge in LinkedIn groups
LinkedIn is a useful tool for social selling. And a good way of using it is through LinkedIn groups. LinkedIn has over 1.8 million groups on its platform today. You should search for the right group for your organisation and make a mark there. In such groups, you have a higher chance of finding potential clients. You will find active clients in such groups, and if you can create the right impression on them, you will never lack in clients.
To be a pro at social selling, you need to understand the tricks of the trade. Once you get the hang of it, you can take your business to the next level. We have developed some tricks to help you improve your social selling game with some of the best practices used in social selling; read on to get enlightened.
Social Selling Best Practices
1. Provide Valuable Content
The entire concept of social selling is directly selling to your clients and making networks by connecting with your clients. And that is possible only through providing them with valuable content. The first step should be establishing yourself as an industry expert. Your content should reflect that you know the business and are here to help people get the important information they need.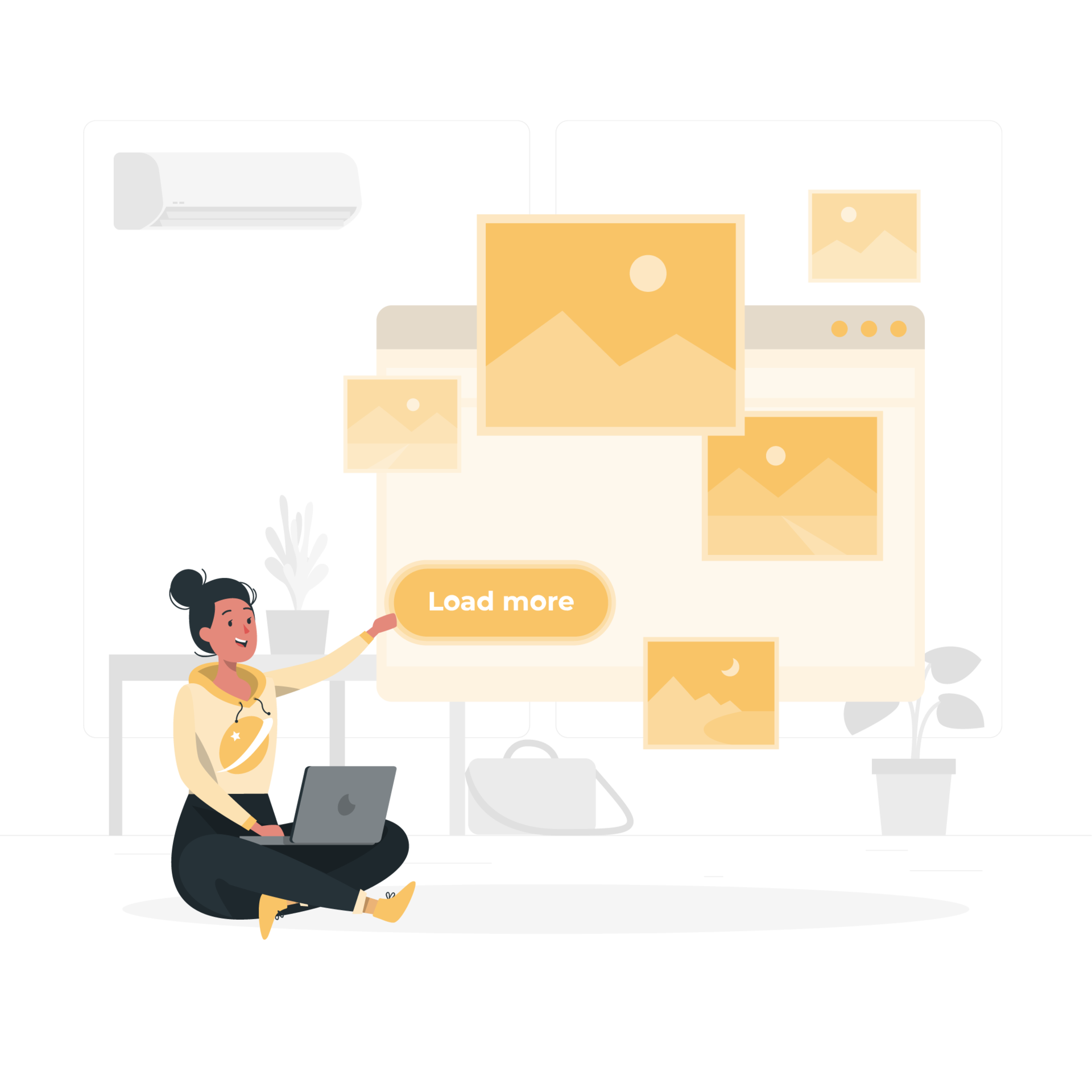 Your content should be rich with information and interesting to engage with. Use the medium to know the right style for your content, for example, reels on Instagram, and use it generously. You can also collaborate with experts in the field or influencers to draw people towards you. You need to prove to the audience that you are not just here to fish for sales but are helping them.
Read More: 13 Social Media Post Ideas for Interesting Content!
2. Social Listening
To be effective at social selling, you have to ensure that you are social listening first. While having a social media presence as a business, you need to know where you stand. This means knowing what the world of social media is saying about you, thinking about you and sharing about you.
You will know your pain points and strengths through this. Only when you know these things are when you can make an actual improvement in your social selling strategy. You should also check how other competitors are doing and learn from those doing well.
3. Maintain Consistency
Most pleasures of the modern world are through compounding, bank interests, investments or relationships. The same holds for social selling. You should not be too desperate to get immediate results. Build on your existing profile, constantly engage with your prospects, and you will see the results eventually. Have the patience to maintain contact with seemingly uninterested customers; social selling takes time.
Always follow up with your new leads. Maintain the meaningful relationships you have formed with the prospects through the engagement mediums available on the platform. Maintaining such consistency will ensure you have the right impression on the platform. Eventually, when these prospects become your customers, they will be loyal.
4. Write Blogs
Good content creation is dependent on the kind of content you engage in. You and your team should follow and read blogs regularly to know the kind of language and posts that the audience can relate to.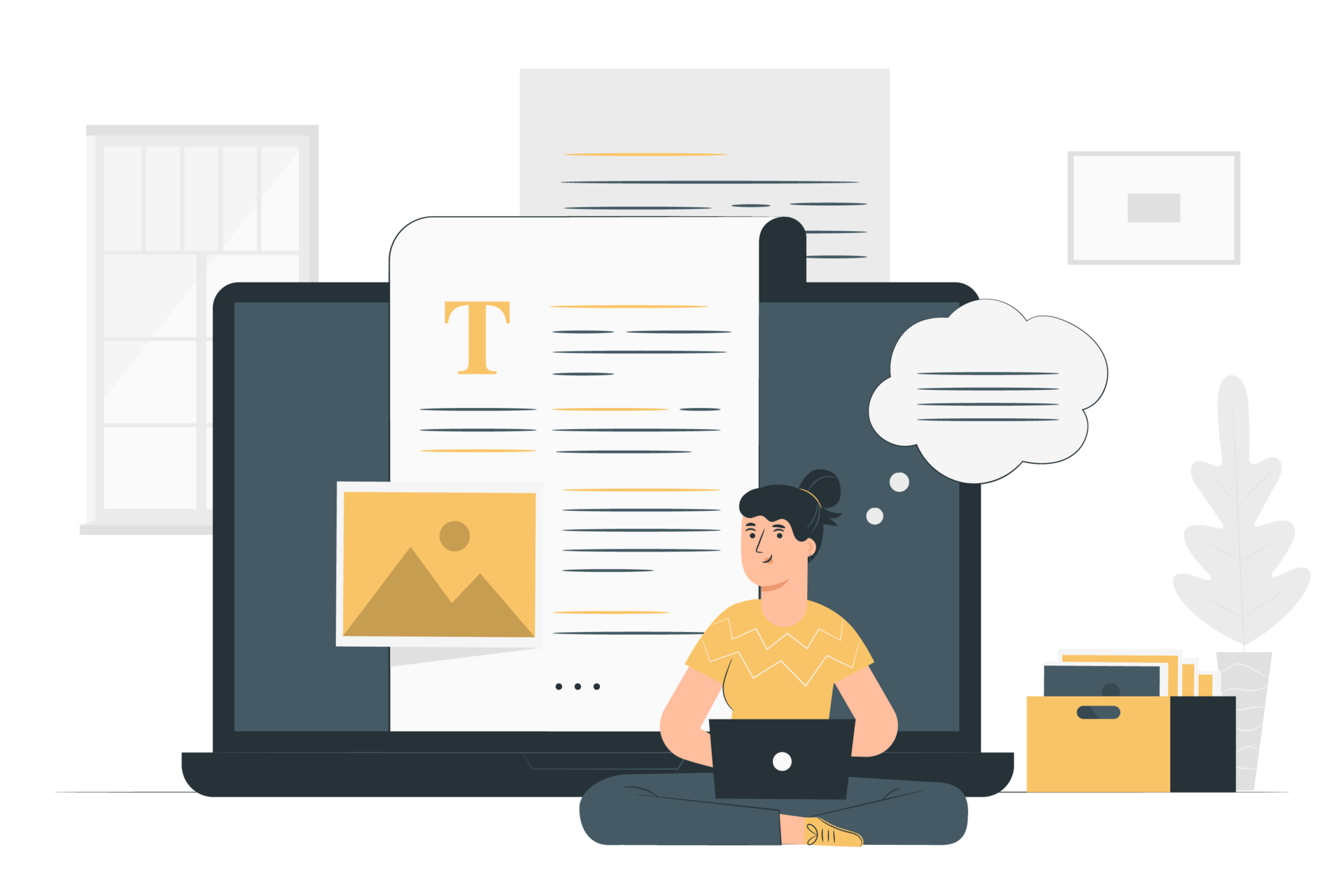 You can also share these informative blogs with your clients to further their cause. Read informative blogs to gain important information and use it to make more engaging posts for your clients to build your reputation on the platform.
5. Track Audience Engagement
You must keep a constant check on your audience engagement. Social media has these metrics that make this process easier. You can keep the data of the number of likes your posts get, the comments section, how many people share your posts etc.
You also learn what posts work for you and build similar stuff. All this can be achieved through a proper tracking system and following up on it.
Conclusion
Social selling is all about leveraging social media to build and develop relationships, expand networks, establish credibility, meet goals, and offer the right solutions to people at the right time.
So it's pretty much safe to say that if you're not incorporating social selling in your sales strategies, you'll probably lose your business to the social media-savvy competitors.
We hope this blog has helped you understand everything you need to know about social selling and how to get started. Now quit waiting around and start taking some action!
Further Reads:
Social Listening: Get To Know About Your Audience & Competitors!
Business Pitch: What is it & How To Create it? (Steps Included)
Gated Content: Meaning, Examples & Best Practices!
7 Social Media Trends To Watch Out For!
Social Proof: 8 Ways to Use it to Get More Sales!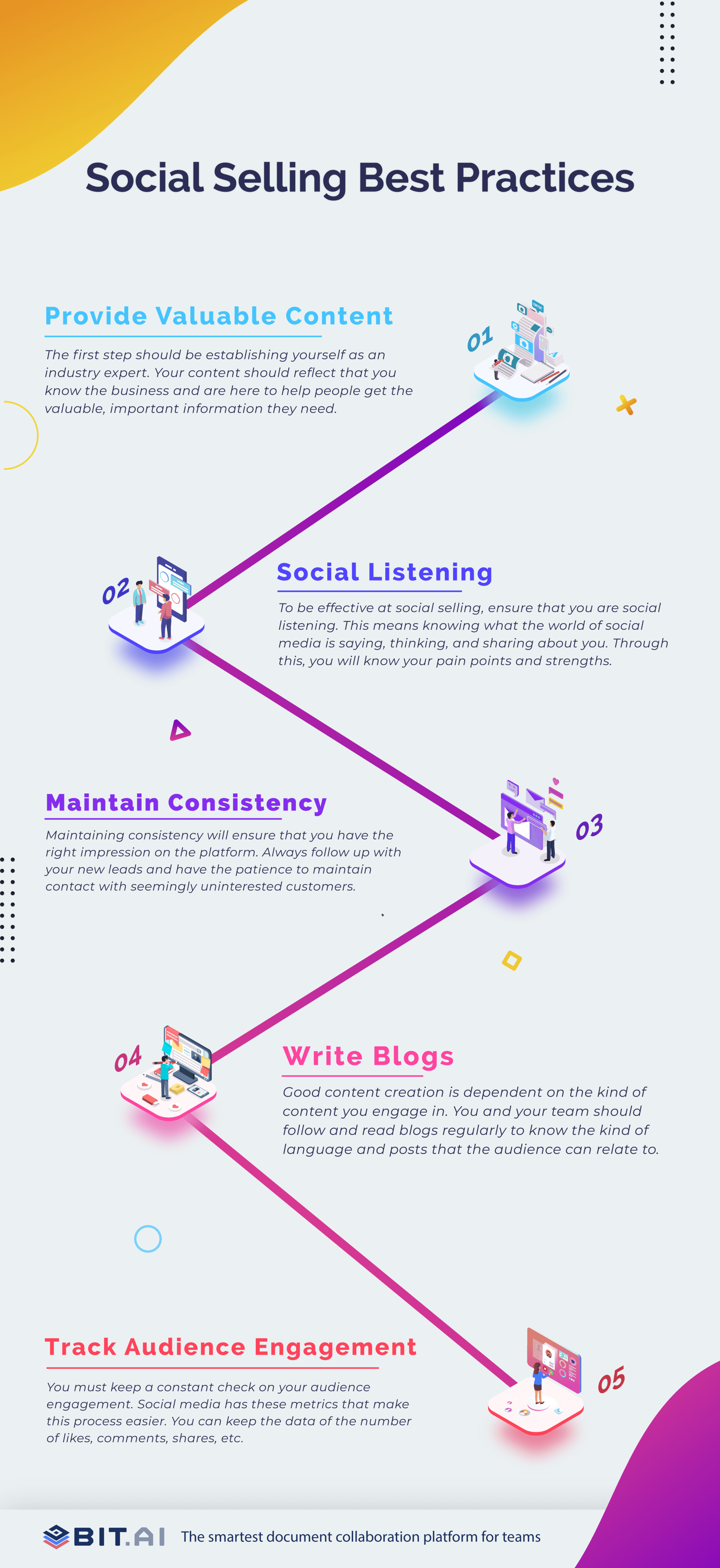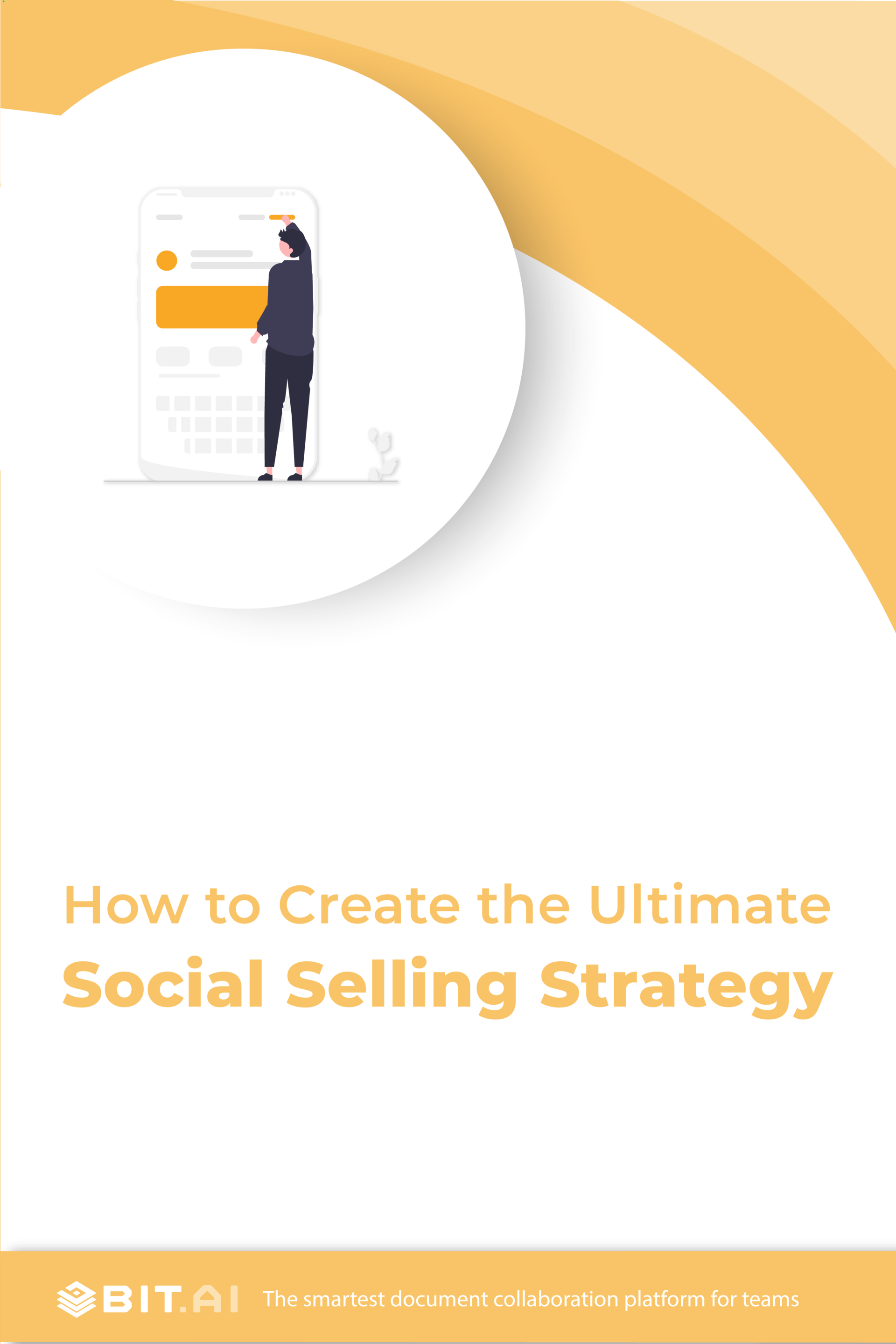 Related posts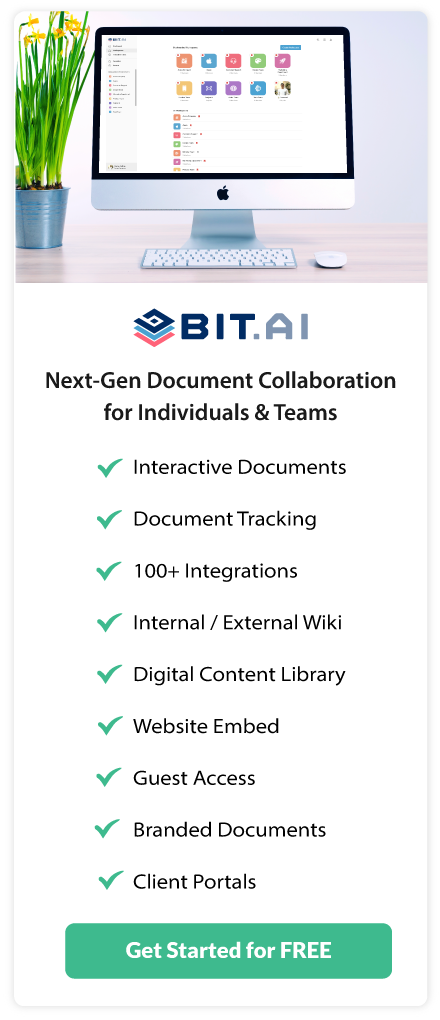 About Bit.ai
Bit.ai is the essential next-gen workplace and document collaboration platform. that helps teams share knowledge by connecting any type of digital content. With this intuitive, cloud-based solution, anyone can work visually and collaborate in real-time while creating internal notes, team projects, knowledge bases, client-facing content, and more.
The smartest online Google Docs and Word alternative, Bit.ai is used in over 100 countries by professionals everywhere, from IT teams creating internal documentation and knowledge bases, to sales and marketing teams sharing client materials and client portals.
👉👉Click Here to Check out Bit.ai.