If there is one thing that has changed in the marketing world, it's the level of competition. Trying to stay relevant in today's cut-throat industry is a feat. Consumers today are bombarded left and right with offers and are flooded with options. Every brand tries to get customers to jump ships and choose their product or service over others.
A huge misconception is that the end game of growth marketing is acquisition and being able to generate demand. A highly underrated component of successful marketing lies in retaining customers.
Statistics show that only 18% of companies focus on customer retention. Perhaps this is due to a lack of knowledge that without a strong customer retention strategy, a company or brand is at a high risk of having customers swayed by other tempting offers.
What Exactly is Retention Marketing?
Simply put, Retention Marketing  is a strategy to deter customers from defecting to other brands. It can also be defined as a company's actions to get customers to stay. Because a substantial portion of any brand's profit is made up of repeat customers, the necessity of retention marketing is now more apparent than ever.
The hardest stage in the journey of marketing growth is convincing customers to purchase your products or services for the first time. Once this goes smoothly, all you have to do is to devise incentives for them to stay.
In this blog, we've curated all you need to know about retention marketing so that you can effectively implement them into your marketing strategies. Let's get started!
What are the Benefits of Retention Marketing?
Retention marketing has a sleuth of benefits from profitability at the bottom line to growth at the top line. We've highlighted them here so you can get a better idea:
1. Sustainable Company Growth
Retaining customers is a sustainable way to achieve company growth. Data shows that in financial services, a 5% increase in customer retention leads to a 25% (in some cases even up to 95%) increase in company profit.
2. Increase CLV (Customer Lifetime Value)
If a company or brand has a stellar retention marketing strategy, it leads to an increase in customer lifetime value. The benefit is that the longer customers stay loyal, the more likely they spend.
3. Provides Customer Insight
Insight is the key to running a successful business. Knowing what customers prefer, their purchasing tendencies, etc., is crucial because remember – data never lies.

4. Boosts Referrals
A loyal customer is bound to promote your product or service. Whether it's intentional or unintentional, a great marketing retention strategy aids in customer loyalty, resulting in more referrals to other people, thereby leading to an increase in further customer acquisitions.
5. Reduction of Costs
Think of it this way – it will always be cheaper for any brand or company to keep existing customers rather than to acquire new ones. A good retention marketing strategy will thus help in cutting costs.
6. Reduce Customer Churn
A high churn rate weighs down the growth rate, and when it eventually adds up, customer churn can break the bank for companies. Therefore, a great retention marketing strategy is needed to keep customers loyal and prevent them from jumping ship.
Believe it or not, retaining customers is not as hard as it sounds. Let's check out some ways you can improve your retention marketing strategies so that it yields results.
How To Improve Customer Retention Marketing
1. Excellent Customer Service
This sounds like a no-brainer statement, but putting effort toward improving customer service goes such a long way. An important fact to note is that there is often a huge gap in perception when it comes to customer service. By this, we mean that what companies view as 'great customer service' does not necessarily align with what the actual customers regard as 'great customer service'. This is why insight is so important. We've listed some steps that can be taken to improve customer service:
Strive to provide a consistent and cohesive experience, i.e., make customers feel they are getting the same level of attention and care regardless of whatever medium of interaction- email, phone calls, in-person, etc.
Communication preferences can differ, so always provide a wide range of channels customers can use to reach out.
Try to match the right agents with the right types of customers. This can be done by analyzing your customers and understanding their preferences.
2. Conduct Surveys
Never underestimate the power of insight. Knowing your customer's likes and dislikes is the key to retaining and keeping them loyal. A great method to do this is by conducting surveys. Taking the time to send out a simple survey can help gather customer preference data. Although it's impossible to appease every customer on every issue, a survey can identify the patterns of customers.
Read More: What is Customer Survey & How to Create it the Right Way? (Template Included)
3. Discounts
Let's face it – passing up on a good offer is hard. There is just something about the word 'Sale' that does something to us. Customers and people in general love to feel appreciated. As a company or brand, you can tap into this and offer discounts and surprise gifts for your customers. It does not always have to be something grand -a short and sweet message accompanied by a sale on products that they frequent, a special birthday discount, etc., The little things add up in the grand scheme of things – even in marketing.
4. Personalization
Customers don't want to feel like they are being generalized and treated the same. Everybody wants to feel special to some degree. So, to improve customer retention rates, try to identify what the customers want, whether it is the medium they like to be contacted by or the products they most frequent. Try to make the customer experience feel as personal as possible.
There can never be a one size fits all strategy for retention marketing. What works for one company may not work for another. Our tip is to test the waters and determine what will work for you and your brand. On the same note, here are some channels you can utilize to improve your customer retention strategy.
5 Best Retention Marketing Channels
1. Email
Email is a great channel for retention marketing because it is one of the few channels customers can opt-in. Once a customer provides you with their email, they can either check a box or refuse to do so. In cases that they do, you can use this to follow up with offers and other opportunities.
2. Pay Per Click (PPC)
Pay Per Click is another great channel for increasing customer retention. You can retarget customers using this channel. Let's say a customer purchased a microwave oven recently; you can use PPC and show similar products to the customer, such as other tools for baking.
3. SMS
SMS is another useful channel for retention marketing. It's quite effective because, like emails, it is an opt-in channel. SMS also has a higher open rate than emails, but you should remember that customers usually guard their phones compared to their emails. So, use this channel of retention marketing in moderation.
4. Social Media
In today's digital world, if a brand can utilize social media to its advantage, they are practically set for success. Social media is a great channel for retention marketing because it can help build relationships. A smart move is to use social media to transform existing customers into followers and turn these followers into brand loyalists.
5. Push notifications
Push notifications can be a great channel to retain customers because they can remind customers to revisit your website, app, etc., and repeat a purchase. However, you can risk annoying your customers if you use them too frequently. So, utilize push notifications sparingly.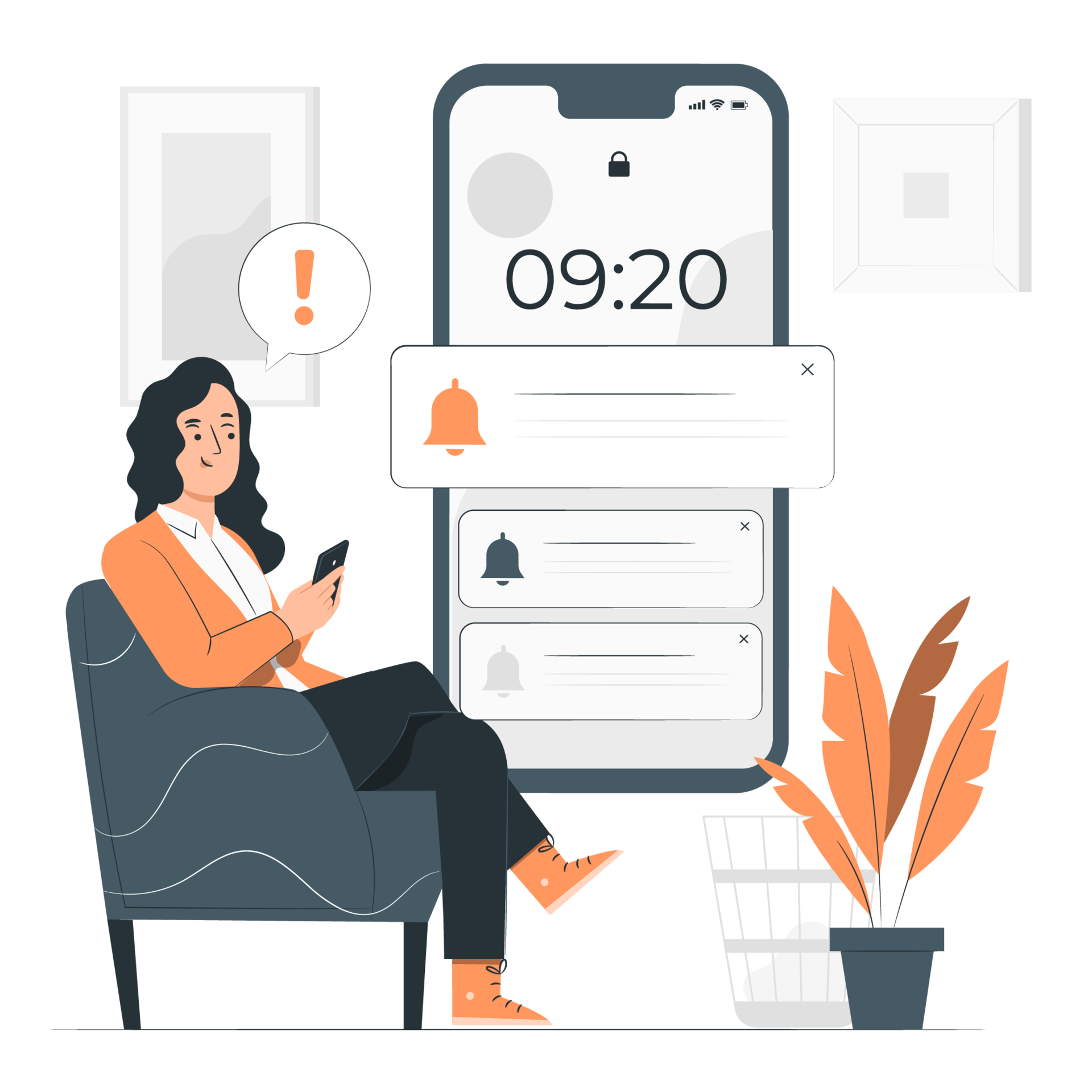 Now you know some of the best retention marketing channels, but if you are unsure where to start, we've curated 5 of the best strategies you can follow for retention marketing.
5 Best Retention Marketing Strategies
1. Customer Loyalty Program
Customer loyalty programs are sometimes referred to as customer retention programs because they effectively increase purchase frequency. A loyalty program can be as simple as providing welcome points for creating an account or giving a discount code when customers make a second purchase.
Not only do these programs motivate customers to purchase more often to earn valuable rewards, but they also provide a win-win scenario; Customers get more value each time they shop, and as a company or brand, you benefit from their repeated business.
2. Less is More
There can be such a thing as doing too much regarding marketing. Just because you want to increase customer retention rates does not mean you should bombard your existing customers constantly. Sometimes less really is more.
Honor their opt-ins, refrain from sending constant push notifications and put a time gap before you reach out again with offers. If customers find you annoying, then it's practically game over.
3. Incentivize
Just because a loyalty program or a retention strategy has been implemented does not mean the customers will come. You need to use certain strategies that work, such as providing incentives.
A company or brand has to offer tempting incentives, be it discounts or points, etc., to entice customers to remain loyal. The right direction is to focus on customer satisfaction, not just purely sales.
4. Monitoring
We've mentioned this before, but it is the end all be all when it comes to customer retention and, i.e., insight. A brand or company needs to know customers' preferences; a great method to do this is monitoring.
With the right software, systems, and processes, you can track your customers' likes and dislikes. Also, monitoring can be used to track the metrics you want, whether it's repeated purchases, referrals, etc.
5. Experiment
As the saying goes, you won't know it until you try it. Because there is no 'foolproof strategy' for retention marketing, you must test the waters and find out what works for your brand and what doesn't. The first idea pitched may or may not be the best idea. So, experiment and keep trying till you find the one that fits your brand.
Final Words
Regardless of the nature of a company, brand, or organization, retention strategies have proven to be a universally effective method to increase profitability and improve marketing ROI.
As we have explained in this blog, no one size fits all approach will work for everyone. You must find the strategy that works for you to achieve long-term and holistic growth. Hope this blog helped! Good luck, folks!
Further Reads:
6 Ways Digital Transformation Can Fastrack Your Business Growth in 2023
Improve Customer Satisfaction in these 11 Smart Ways!
Customer Journey vs Buyer Journey: The Key Differences!
Customer Segmentation: Definition, Importance, Types & Process
10 Best Customer Retention Strategies for Startups!
 9 Customer Acquisition Strategies Your Boss Wishes You Knew!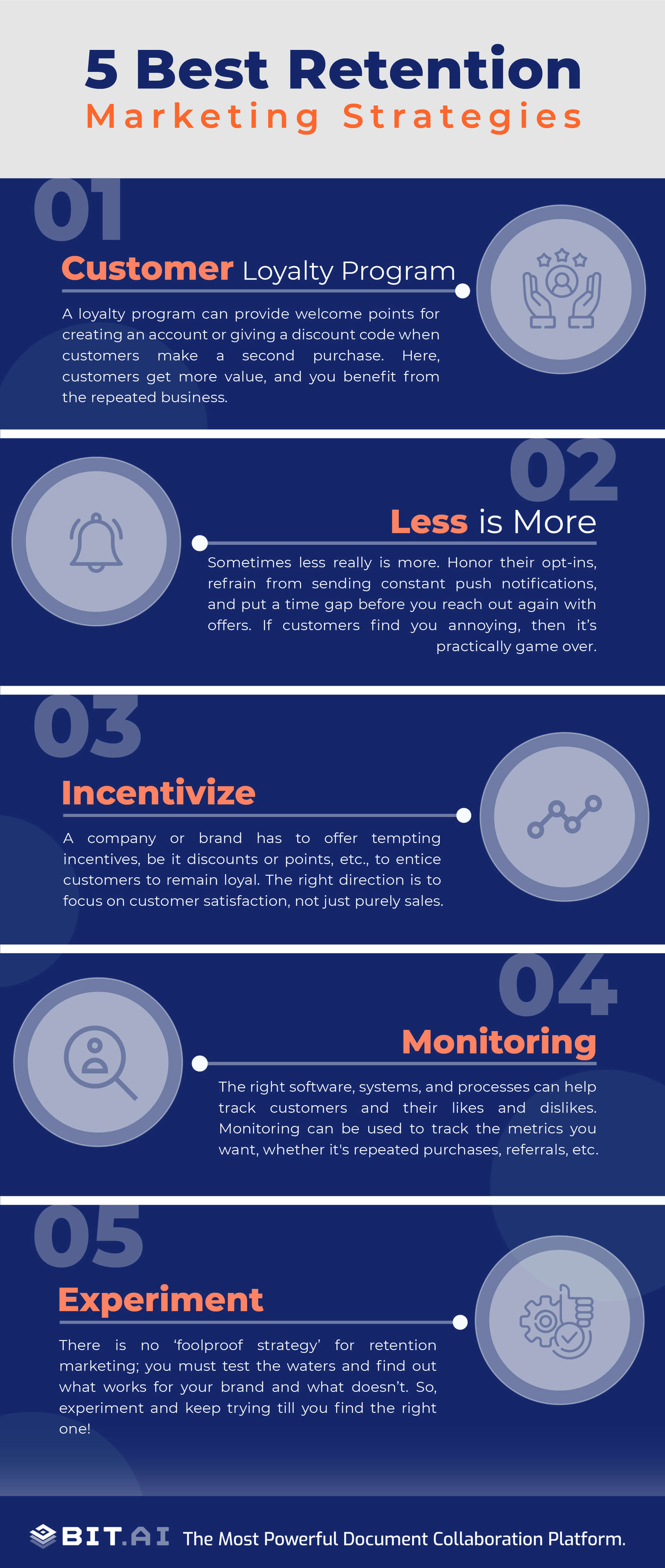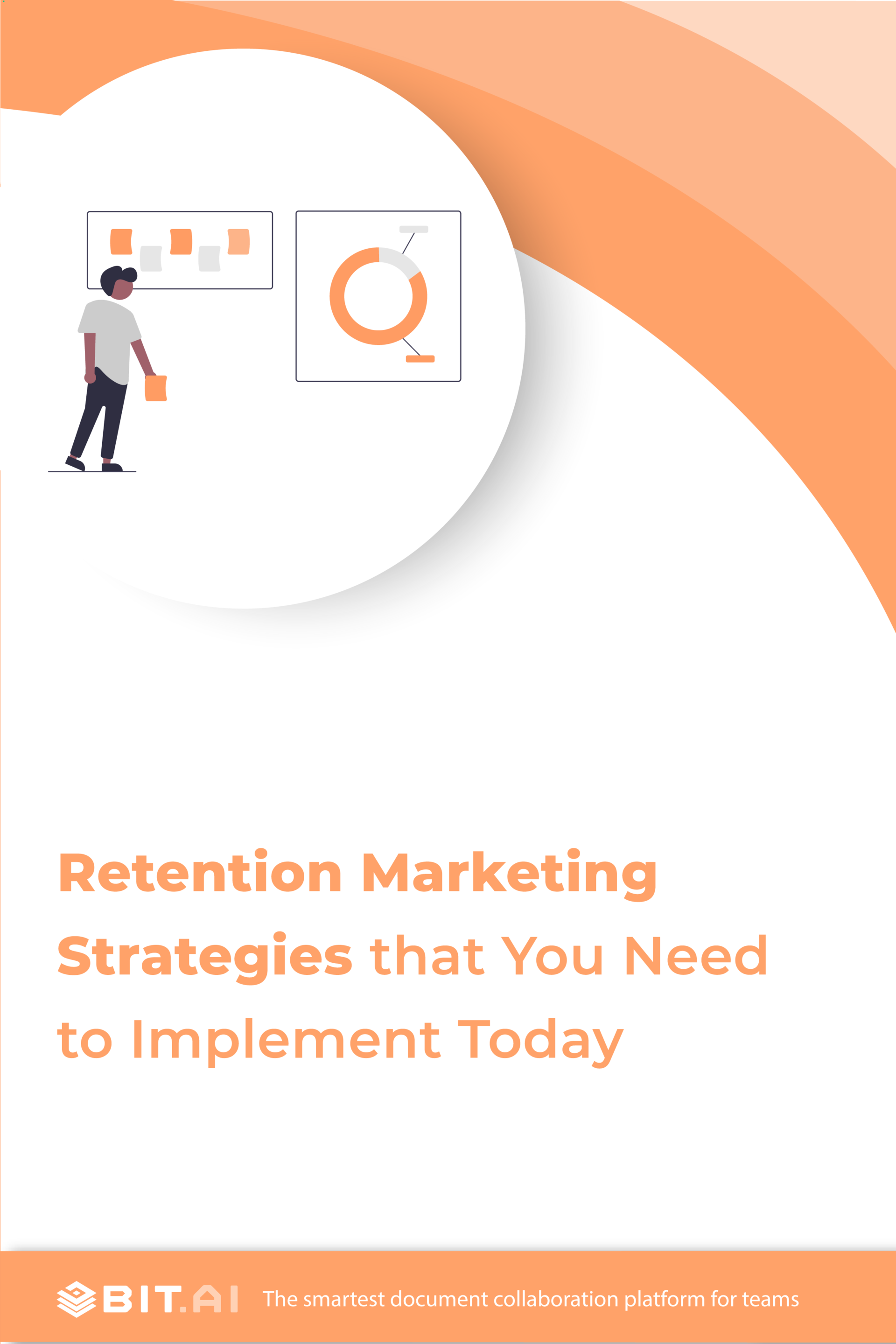 Related posts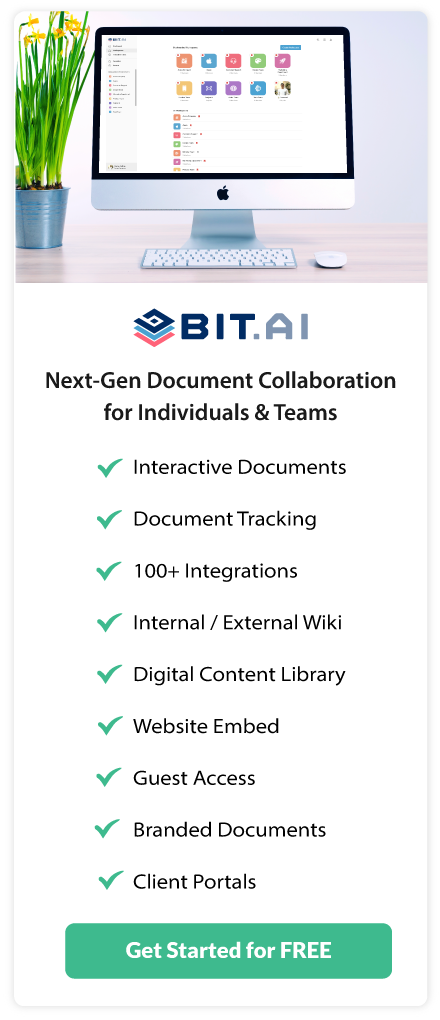 About Bit.ai
Bit.ai is the essential next-gen workplace and document collaboration platform. that helps teams share knowledge by connecting any type of digital content. With this intuitive, cloud-based solution, anyone can work visually and collaborate in real-time while creating internal notes, team projects, knowledge bases, client-facing content, and more.
The smartest online Google Docs and Word alternative, Bit.ai is used in over 100 countries by professionals everywhere, from IT teams creating internal documentation and knowledge bases, to sales and marketing teams sharing client materials and client portals.
👉👉Click Here to Check out Bit.ai.