There comes a point where every project has its own issue and the need to face certain obstacles. These issues can be problems that arise during the planning or execution of the project.
Sometimes, no matter how thoroughly you plan a project, you're still going to face some problems, even if you use project planning software.
Speed bumps during a project are bound to happen, and trying to solve them in real-time while maintaining the progress of the project is a real challenge.
Another perspective to look at is Risks, which are a bit different than issues. Risks are issues that have not happened yet. By identifying what risks are likely to happen, you can prepare for them in advance and have a response ready in place if and when they show up in your project.
But once you have the plan in place, and have thought about all the risks that are likely to occur throughout the project, the next step is to have a system in place to monitor and track the potential risks and issues that might happen. This is known as risk or issue management and is crucial for smooth workflows in an organization.
But there's another way you can take that management to the next level by using what's called a RAID log.
In this article, we'll be talking about the meaning of raid logs, their importance, and how you can create a raid log.
What is a Raid Log? (Definition)
A RAID Log uses concepts to create a management tool that improves decision-making. RAID is an acronym that stands for Risks, Action/Assumptions, Issues, and Decisions.
Before we take a look at how a raid log is made, let's understand what it represents.
Risks are potential problems that are unexpected and can affect your project. Risks tend to be thought of as harming the project, but on the other hand, there are some positive risks too.
Assumptions can be defined as any factor in the project that is considered to be real or certain without any proof or demonstration.
Actions are the things that need to be accomplished to complete tasks or respond to issues. The actions, no matter what they are, need to be noted the very same day they are completed.
Issues arise when something goes wrong in the project. If an issue isn't resolved in time it can cause trouble and derail the entire project or cause the project to fail.

Decisions are the choices you make while deciding how to act in the project. Your business' success depends on each and every single minute decision that you make.
A RAID log, therefore, is a project/program management tool that aims at tracking the risks, actions/assumptions, issues, and decisions in your project. It is an easy way to organize information and improve problem-solving.
We're right about to show you how you can make your own RAID log, but let's take a look at the importance of RAID Logs first!
Importance of a Raid Log:
RAID Logs should be used in your organization for several reasons:
1. It shows you the whole picture
A RAID log project management system is essential as it helps teams to paint a full picture of the project's limitations and potential issues right from the beginning.
It is a holistic approach toward all the main strategic decisions in your business and makes it clear for everyone.
2. It allows you to act faster
A RAID log should be used to keep track of the issues and is updated as needed throughout the project.
A precise, up-to-date, and perfect RAID log allows the managers and stakeholders of the project to act at the earliest if any potential obstacles become major issues. RAID logs help to make things very organized and help to plan projects more efficiently.
3. Makes you think twice about every decision
RAID logs make you document every decision taken. Since you have to give an explanation for every decision taken, you have to think twice and be more careful about everything.
This ultimately improves your decision-making as you are forced to consider many factors.
4. It makes reviewals easy
A RAID log has all the major risks and decisions that were taken by the businesses. Since everything is in one place, it is easy to look back at and understand which decisions were right and wrong respectively.
It captures critical project information and compiles the data that can be used to inform and improve future projects.
Now that you've understood why creating a RAID log is super important, here's how you can create one for your company!
How to Create a Raid Log (Step By Step Process)
A RAID log is not that hard to structure. It consists of the four components in RAID: Risks, Actions, Issues, and Decisions.
You have to fill in the respective information about each of the 4 categories, and you will learn how they interact with each other. Here's how you should go about adding to each topic:
Step 1: Acknowledge the Risks in the project
Different types of risks can arise during the life of a project. They may be risks related to taking a decision or action.
For each risk that comes up, elaborate upon the decisions that may lead to that risk, the probability of it arising, and the steps you can take to counter it.
You should set up consistent reviewal dates to monitor the progress of the risks that may come up. Each risk should have a designated leader who will help solve any issues that arise from the risk and will come up with strategies to solve them.
Step 2: Consider the actions that should be taken
Every action taken should be charted and its progress should be reviewed consistently. Similar to risks, every action needs an owner as well to make sure it doesn't get lost in all the other actions in the project.
Listing every action can act like a to-do list, helping you mark off all the things you need to do. When you are reviewing the actions you've taken, note down the results that occurred after it, so you can understand which actions went well and which ones had negative sides.
Read More: How to Create a To-Do List the Most Effective Way! (Free Template)
Step 3: Make a note of issues that may arise
Issues can either be internal, that arise within the business, or external, which are outside of the business.
Internal issues refer to problems related to funding, resources, problems within teams, and processes like employee programs or software systems.
External issues refer to factors like decisions made by the government, new policies, competitors' plays in the industries, and more.
Issues are very high-priority problems, so a leader needs to be designated to tackle them. Note the plan for solving the issue and how it will be reviewed in the future.
Step 4: List down the Right Decisions
This section is pretty self-explanatory. List down any decisions you have to make along the way so that you can document the decision-making process and the reasons behind every decision.
Make sure you include who was in charge of the decision and why it was made. You can then review this later on in the future to understand if the right decisions were made.
As you can see, a RAID log is a pretty simple document that shouldn't take too long to make. While making a RAID log, there may be multiple people in the organization who are involved.
Traditional software makes it very difficult to share and receive documents and keep them updated.
That's why a tool like Bit.ai is the perfect solution for your document collaboration needs.
Bit.ai: Tool to Create a Raid Log

Bit.ai is a modern-day document collaboration platform that allows you to embed any kind of images, videos, media, and links directly into your documents.
This cloud-based platform is amazing for creating various types of documents like RAID Logs. Here are a few reasons why you should use Bit for document creation:
Smart Workspaces:
When you create a RAID log, you will have to document each aspect of the log in detail. Bit can help you do this very easily.
It allows you to create multiple workspaces around the risks, assumptions, issues, and decisions so that you can efficiently organize and manage them.
You can even create folders within these workspaces to store everything you have gathered in an organized manner.
Collaborate in Real-Time:
Bit allows you to work with multiple people in real-time. While creating a RAID log, employees can work together and add their own points related to the topics they are in charge of.
Co-edit, make inline comments, access version history, chat via document chat, @mentions, and much more! This allows both the parties to work faster and add their own viewpoints simultaneously, rather than waiting for the other to finish.
Negotiate Using Comments:
If you feel that texts or phrases or details within your RAID log need to be altered, then you can comment on them individually and negotiate in real-time.
This way, you can review and suggest specific parts of each document. Once the modification is done, your comments can be "resolved" and everyone can move on to the next topic.
Real-time Notifications:
Don't ever worry about missing anything related to your RAID log documentation process when you have Bit's real-time notifications to keep you updated.
It sends you notifications every time someone leaves a comment or feedback on your document, adds you to a workspace, adds a document to a workspace, updates a workspace, mentions you in a comment, and much more. This ensures that you are always kept in the loop about what's happening.
Create Interactive Documents:
Your RAID log will require you to add several digital assets such as tables, graphs, studies, presentations, and more to understand the document better.
Here is where you can use Bit's interactive documents with rich media integration to embed images, videos, files, PDFs, and any other type of media right into your RAID log and bring the document to life.
Document Templates:
Bit has an extensive template gallery that offers over 70+ professionally designed ready-made templates to get started on your documents.
Create your RAID logs by choosing your favorite template and simply customizing it with details that are relevant to the specific document.
Smart Search Functionality:
Never lose anything related to your RAID logs when you have Bit's smart search feature. It lets you search for folders, files, documents, and content inside your documents across all of your workspaces and help you find what you're looking for in a matter of seconds.
Permission levels:
Keep your RAID log documents secure and private with Bit. Manage permissions and information access with the help of features such as document tracking, password protection, file access restrictions, etc. to keep all your important safe.
Set up a custom password when you are sharing your documents to ensure that your documents are protected at all times. You can even update it and disable it at any time as well.
Conclusion:
In conclusion, raid logs are a key type of document that you need to be creating for your organization. An updated RAID log offers clarity to the whole organization and makes it very easy for managers to review the work being done.
You can get started making your RAID log using Bit.ai today! It offers amazing collaboration abilities, which is essential when multiple employees want to use the RAID log together.
Further Reads: 
9 Risk Management Tools & Techniques You Must Try!
Risk Management Plan: What is it and How to Create it?
Risk Register: Definition, Importance, and Elements!
How To Create Effective Issue Tracking Documents For Your Company?
Action Plan: Definition, Importance & How to Steps!
Stakeholder Management: Definition, Importance & Process!
Crisis Management Plan: Definition, Types & Steps to Create!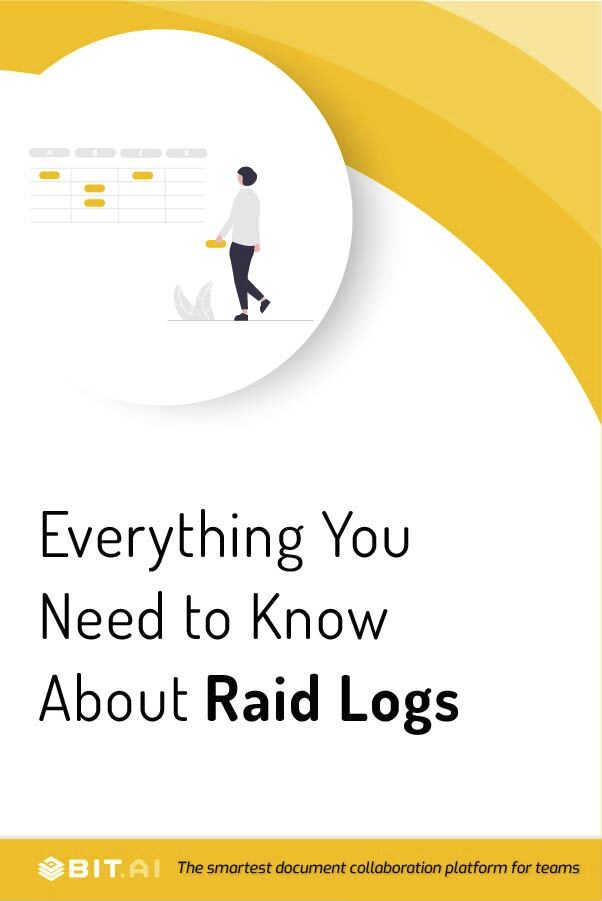 Related posts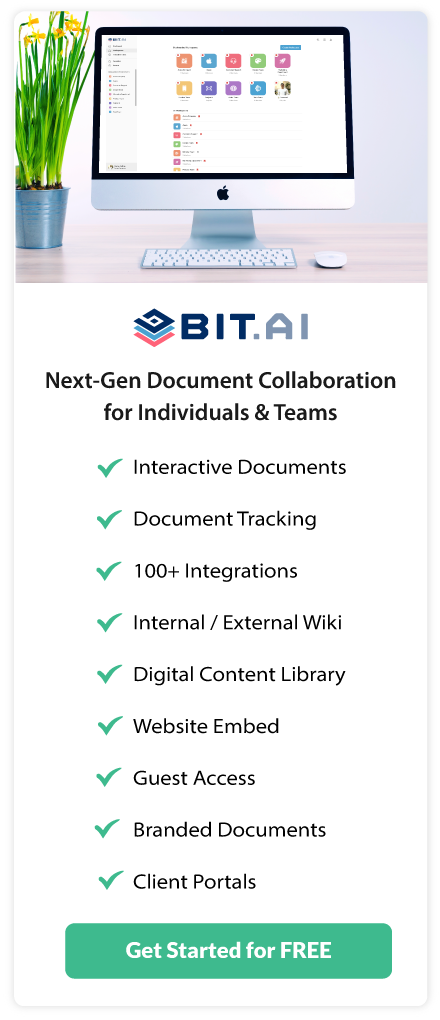 About Bit.ai
Bit.ai is the essential next-gen workplace and document collaboration platform. that helps teams share knowledge by connecting any type of digital content. With this intuitive, cloud-based solution, anyone can work visually and collaborate in real-time while creating internal notes, team projects, knowledge bases, client-facing content, and more.
The smartest online Google Docs and Word alternative, Bit.ai is used in over 100 countries by professionals everywhere, from IT teams creating internal documentation and knowledge bases, to sales and marketing teams sharing client materials and client portals.
👉👉Click Here to Check out Bit.ai.