When you're running a business, it affects many people. After all, a business is born from all the relationships it establishes with the people.
And it only becomes successful when it achieves its objectives and goals and meets its expectations. For that to be a reality, there are multiple factors that need to be considered.
One key aspect or ingredient in the success of a business or a project is the role the stakeholders play in it. It can be a positive or negative role, but their influence on your project is one that cannot be sidelined.
In a world where protection of privacy and the right to information is increasingly becoming the top priority, it is crucial that you have a well-defined stakeholder management process in place to actively manage your relationship with the stakeholders.
In fact, statistics show that 63% of companies already have a stakeholder engagement strategy.
With proper stakeholder management, you can gain a competitive advantage, build loyalty, and establish a social contract that will drastically boost your organization's performance.
In this blog, we will help you understand what stakeholder management is, why it is important, and what steps you need to take to make your company or project a successful one.
Let's get started!
What is Stakeholder Management? (Definition)
First, let's answer the question – who is a stakeholder? A stakeholder is an individual, group, or organization that has an interest in or is affected by a business venture or project and its outcome.
A stakeholder can be both internal and external parties, such as customers, employees, business partners, team members, sponsors, investors, suppliers, and even the government.
Stakeholder management refers to the process of identifying stakeholders, analyzing their needs and expectations, and planning and implementing tasks to engage with them throughout the product development process.
Basically, it is all about monitoring, managing, and improving your relationships with your stakeholders, as they play a significant role in your product's life.
A good stakeholder management process is a way for you to coordinate your interactions and evaluate the status and quality of your relationship with different stakeholders.

Now that you know what stakeholder management is, let's try and understand why it is important.
Importance of Stakeholder Management
First off it's important to remember that key stakeholders have a huge impact on the resources, budget, and other essential elements that you need to introduce a product to market. So it's crucial that you have effective stakeholder management strategies in place to engage your key stakeholders.
But beyond this, stakeholder management offers various benefits. Let's take a look at them!
1. Improves Role Clarity and Focus
Straightforward stakeholder management helps you develop clear communication and set realistic expectations for each kind of stakeholder. It basically keeps all stakeholders on the same page and helps manage expectations. This provides clarity that helps improve focus and productivity.
Creating a space where stakeholders understand and have clarity about their roles and responsibilities makes it easier for your project to stay on track.
2. Increases Engagement
Involving your stakeholders in projects can be quite challenging, especially if they are already busy with day-to-day tasks or have more than one project to monitor.
To get them to engage or involve themselves in the project, you need to have effective stakeholder management in place to clearly explain how the project will affect them and benefit them. This increases their engagement with the project and helps with the overall success of the project.
Read more: Stakeholder Mapping: Definition, Importance, Process & Tools!
3. Builds Better Relationships
When executed effectively, stakeholder management helps develop and sustain good relations with the affected communities and stakeholders. The transparency involved establishes trust, strengthens relationships between teams and individuals, and aligns ideas with strategic objectives.
This in turn increases stakeholder support, improves collaboration, and helps build your organization's reputation. Ultimately, it plays an important role in the implementation of a successful project with better results.
4. Lowers Risk
With increased role clarity, better engagement, and well-established relationships, the chances of risks jeopardizing your project become significantly lower than before.
A well-developed and executed stakeholder management strategy ensures this and helps stakeholders work towards the same goal. This way, everyone is prepared to face challenges and address risks more effectively and efficiently.
5. Brings in Free Resources
Stakeholders possess knowledge about current processes, past successes and failures, industry insights, new ideas, and more. By managing and building a positive relationship with stakeholders, it becomes easier for you to reach out to them for assistance and advice.
This helps you bring in free resources in the form of business intelligence by tapping into stakeholders' skills and knowledge. This also helps you make crucial decisions throughout your project process, reduce cost, and maximize value.
In short, stakeholder management is all about bringing together the right people to ensure the overall success of an organization or a project
Now that we know why stakeholder management is beneficial, let's take a look at the steps involved in the stakeholder management process.
Stakeholder Management Process
Step 1. Identify the Stakeholders
The first step in stakeholder management is to identify the stakeholders of your project. You can do this by brainstorming with your team and making a list of all possible people who might be positively or negatively affected by your project. Take into consideration:
Those who are interested in your project
Those who support your project
Those who have power over your project
Those who want your project to fail
Those investing in your project
Those who might benefit from your project
Don't bother too much about categorizing them at this stage; just simply list down all their names so that it's easier to categorize them at a later time.
Step 2. Analyze and Map the Stakeholders
Once you have created a list of all possible stakeholders, you need to analyze and evaluate them so that you can map them. This essentially means that you categorize your identified stakeholders.
A well-known and widely practiced method of mapping your stakeholders is through Mendelow's Power-Interest Matrix or the Power Interest grid. This technique helps you classify your stakeholders based on their level of interest and level of power or influence on your organization or project.
Here is how you can categorize or prioritize your stakeholders based on the power-interest grid:
High-power and high-interest stakeholders – The key stakeholders who have a high influence and interest in your project and require full attention, such as sponsors, investors, business leaders, etc.
High-power and low-interest stakeholders – The secondary stakeholders who have a high influence on the outcome of your project, however, do not have a direct interest.
Low-power and high-interest stakeholders – Those stakeholders who have high interest, however, lack the power to create an impact. They mentor and support, but aren't directly involved.
Low-power and low-interest stakeholders – Those stakeholders who barely have any influence or interest in your project, such as people working in departments or industries not directly impacted by the project.
Understanding the category in which each stakeholder belongs gives you an idea about how many resources you must invest in, how much budget you require, and what all tactics and methods you must choose to improve your stakeholder engagement.
By categorizing your stakeholders, you also get to decide which stakeholders you need to spend your time and effort on, and determine what you need to communicate to them and at what frequency.
Step 3. Learn About the Stakeholders
Okay, now that you have successfully identified, analyzed, and categorized your stakeholders, the next step is to dig a little deeper and learn more about them.
Some questions you want to ask yourself about your stakeholders at this stage can include:
Where do they stand regarding your project/organization (support, neutral, object, undecided, or conditional)?
What impact do they have on your project/organization – positive or negative?
What is their opinion of your organization or project?
What are their interests – financial, social, environmental, personal, or emotional?
Getting to know your stakeholders in-depth will help you focus your messaging on topics that matter to them or engage them better. This will in turn help you build trust and stronger relationships with your stakeholders.
Step 4. Conduct Stakeholder SWOT Analysis
A stakeholder SWOT analysis is a study used to identify a stakeholder's strengths, weaknesses, opportunities, and threats to deeply analyze the key stakeholders of your project or organization.
You can do this by listing out all the relevant strengths, weaknesses, opportunities, and threats of each stakeholder.
After this, you can assess what each stakeholder means to your project, the positive or negative actions they can, the effect those actions have on your project, and the aspects of your project they are likely to support or not support.
From this, you can get a thorough understanding of their strengths and weaknesses, the interests they pursue, the actions they take, the opportunities they can bring, and the risks and threats they pose.
Step 5. Develop a Communications Plan
Communication is one of the main elements used in stakeholder management. In fact, Project Management Institute says that among those organizations considered to be highly effective communicators, 80% of projects meet original goals, 71% deliver projects on time, and 76% are within budget. 
So, the next step in stakeholder management must be to make a communication plan to deliver the right message to the right stakeholder at the right time.
For that, you need to have a stakeholder profile in hand, which lists out their needs, interests, responsibilities, level of power and interest, goals, communication channels, etc.
Your communication plan should include details such as:
The key message with the description of the type of information to be communicated
The engagement approach
The communication channels, such as person-to-person, emails, video calls, etc.
Frequency of engagements or communications
The participants for each mode of communication
Distribution for the communications
The final deliverables
How a communications plan is developed and documented is important to ensure that all stakeholders are constantly updated and that progress is made.
Step 6. Engage with the Stakeholders
Here is where you will actually execute your communication plan.
Choose an appropriate communication approach based on the type of stakeholder you are dealing with. Concentrate on the most important stakeholders first, and the less important ones later. Refer to the power-interest grid for this.
For example, if you are handling a high-power, high-interest stakeholder, then use more engaging modes of communication, such as face-to-face meetings, extensive consultations, phone calls, etc., on the other hand, go for less expensive modes of communication, such as emails and newsletters while dealing with a low-power, low-interest stakeholder.
Step 7. Monitor Your Stakeholders
No management process is complete with monitoring and reviewing. So make sure to constantly observe and monitor your stakeholders and make updates as you go.
Have your stakeholders' opinions changed? Are there any issues they may be facing? Have they shifted to a different category in the power-interest grid?
Consider these questions and understand your stakeholders' stand, allocate required resources to build and maintain the relationship, take necessary steps to provide continuous support, and make essential improvements.
Step 8. Report Stakeholder Information
Finally, it is extremely crucial that as you go about with your stakeholder management process, you'll be required to collect and maintain stakeholder information, such as stakeholder contact details, communication records, areas of interest, issues, notes, and more.
You need to make sure that all the information you gather is organized and accessible so that you can create reports to keep everyone on the same page and share updates for the decision-making processes.
For doing this, you will need to take the help of a tool or software that can make your stakeholder management process a seamless and effortless experience.
And we have the perfect tool for you! Don't believe us? Then scroll down right now and find out for yourself!
Bit.ai: Perfect Tool for Carrying Out Your Stakeholder Management Process
Bit.ai is a new-age cloud-based documentation and workplace collaboration tool that makes anything and everything related to workplace collaboration a fun and exciting process! It helps teams create, organize, manage, share, and track all company documents and other content.
Not sure what you are getting yourself into? Take a look at some of these awesome features that Bit provides to make your stakeholder management process hassle-free!
1. Infinite Workspaces
Your stakeholder management process will involve working with multiple stakeholders and teams across different departments while dealing with loads of information. This can create chaos. Here is where Bit can help you out.
It lets you create infinite workspaces and folders around projects and teams to keep all your work organized. This lets you store all your information in a neat and orderly manner, making your work more efficient.
2. Real-Time Collaboration
The stakeholder management process is a team effort and has multiple areas that need attention. In moments like those, Bit's real-time collaboration feature is truly a blessing. With Bit, you and your team can collaborate and work simultaneously on the same document in real-time.
It allows you to make changes, edit in real-time, highlight sections, leave comments, mention people, and more.
3. Document Templates
With Bit, your stakeholder management team can create umpteen marketing-related documents.
Be it a stakeholder management plan, communication plan, product requirements plan or performance report, Bit has templates for everything. Its extensive template gallery offers over 70+ templates for you to choose your favorite one!
4. Auto-formating
With Bit's auto-formatting feature, your entire document will be uniformly formatted for you. It even provides you with its own collection of themes and you can change the color of the document with a click.
5. Interactive Documents 
Bit supports over 100+ file formats in its documents, which means that you can add any kind of rich media such as videos, presentations, charts, maps, surveys and so much more to your documents and make them come to life! This will make your marketing-related documents much more interactive and engaging!
6. Live Sharing & Other Features
You can use Bit's live sharing feature to share any of your marketing-related documents in a live state with anyone that you want. All the changes that you make to the report get updated in real-time as well.
This is a great advantage when you are working with multiple teams and departments to carry out tasks that need constant updates. Bit also has features like document tracking, password protection, file access restrictions, etc. which will help you keep your documents safe.
All-in-all, Bit is the dream tool for your entire company as it makes the entire stakeholder management process easier and more interactive! So, what are you waiting for? Do yourself a favor and get Bit right now!
Conclusion
Keeping your stakeholders satisfied is the key to a smooth-sailing journey towards your company's success. And effective stakeholder management is the tool to help you unlock it.
Because, with the right process, you can execute and achieve your goals effectively and efficiently. So we hope that this blog has helped you familiarize yourself with stakeholder management and the steps involved in the process.
And no, stakeholder management may not be the easier task out there, but with Bit by your side, there's no question about how much the process can become easier and smoother.
Cheers to managing stakeholder relationships the right way! Good luck!
Further reads:
Work Breakdown Structure: Definition, Types, Importance & Process!
Crisis Management Plan: Definition, Types & Steps to Create!
Organizational Change Management: Definition, Process, Models & More!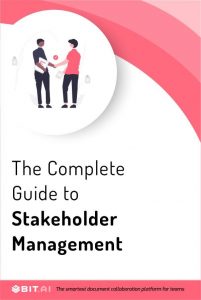 Related posts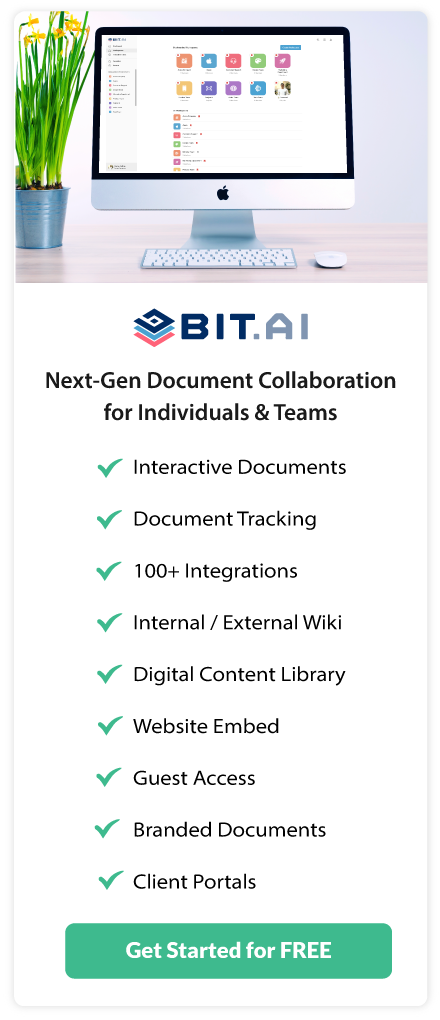 About Bit.ai
Bit.ai is the essential next-gen workplace and document collaboration platform. that helps teams share knowledge by connecting any type of digital content. With this intuitive, cloud-based solution, anyone can work visually and collaborate in real-time while creating internal notes, team projects, knowledge bases, client-facing content, and more.
The smartest online Google Docs and Word alternative, Bit.ai is used in over 100 countries by professionals everywhere, from IT teams creating internal documentation and knowledge bases, to sales and marketing teams sharing client materials and client portals.
👉👉Click Here to Check out Bit.ai.