Are you looking for ways to impress your stakeholders, attract new investors, and showcase your achievements from your past year?
An annual report is what you need!
Annual reports consist of everything from your vision, your past strategy, and your achievements. It's basically a snapshot of your previous year in business.
Ideally, curating this annual report would be exhilarating, a fun experience looking at the year that was – but the harsh reality is that it's tedious, to say the least.
Collecting the right data, constantly going back and forth between teams, is onerous, and without a proper outline to work with, you're going to get nowhere!
And that's where we come in – this blog will cover everything from how to create annual reports, how they help you, and more.
So let's get going…
What is an Annual Report? (Definition)
Simply, an annual report is a comprehensive view of a business's achievements and financial statements from the previous year.
These reports are generally distributed among stakeholders, investors to showcase how well the brand is doing, its financial standing, its vision, and overall performance.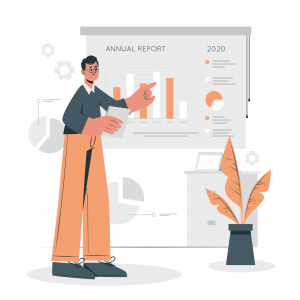 Every piece of information provided in the annual report is backed with proof, thus it is a reliable source for all future investors.
With the right and enticing annual report, you can attract new investors and also develop trust among the current shareholders.
So let's see the benefits of creating an annual report…

Read more: 7 Types of Reports Your Business Certainly Needs!
Benefits of Writing an Annual Report
1. Builds Customer's Confidence:
Annual reports help customers keep a check on their suppliers and their current status. This way they can understand the company's sustainability and profitability, and if they can be a viable supplier, in the long run, thus building their faith and confidence.
2. Helps Communicate With New Investors:
An annual report consists of all the pivotal financial data needed to attract and retain investors. Investors want proof that the company has sound management, or if the company is under too much debt.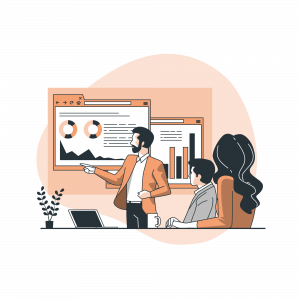 They want to know about how a company is doing in terms of opportunities, if they are exploring markets that offer growth, etc – annual reports cover all this!
3. Retains And Attracts Employees:
Employees want to know that they're working in a developing and growing workspace. Annual reports offer an overview of all prospects of the company's position in the market and help shape the perspectives of future and current employees.
4. Great Decision-Making Tool:
When managers have an annual report right by their side, they can assess what went wrong and how they can recoup for any damage or losses endured by the company in the previous year. They can devise new strategies by learning from their past mistakes and make the right decisions.
Now that you know why you need an annual report, let's learn how to create one…
How to Create an Annual Report? Follow these Steps!
Step 1. Determine Key Message
Like every other business, yours might have seen certain highs and certain lows throughout the year. That is why you'll have to decide what you want your readers to understand about your business.

You can mention:
How was the overall year in terms of success?
What new plans did you undertake?
Why did you undertake them?
How is the level of competition?
Is your business looking at sheer success in the future or is it too soon to determine?
The investors, employees, other stakeholders, want to know it all!
By showing them how all your tasks tied with carefully curated strategies led to major accomplishments, you'll be able to foster trust and create long-lasting relationships.
Step 2. Create an Outline 
This is one of the more tricky parts. Here you'll have to map out the content of your report.
Generally, an annual report includes:
A letter from the CEO
Corporate financial data
Operations and their impact
Market segment information
Plans for new products
Research and development activities
You have to establish a storyline that will intrigue readers. This way you can avoid any unnecessary data that doesn't add any flavor to your overall report.
Be clear, precise, and unambiguous. And be honest about what you're writing, don't inflate data or put a disguise over any losses.
Step 3. Decide Where You'll Get All Your Content From 
It's obvious that to create a storyline, you won't just get a narrative from numbers and hard data. You'll have to hear it from the people who worked first-hand to achieve these successes for the firm.
You will probably work with people like the Chairman, HR director, finance director, and more. And to get information from them, you'll have to interview them. Instead of interviewing them, you can also ask them to give you written answers to your questions.
All of the details they mention will take you a long way in understanding the massive amount of work the firm undertook and how they achieved it.
Step 4. Start Writing 
There's no one way to do this. You can either start right from the top or go directly to key sections that are highly pivotal. Or you can start with the easier bits, to boost your confidence.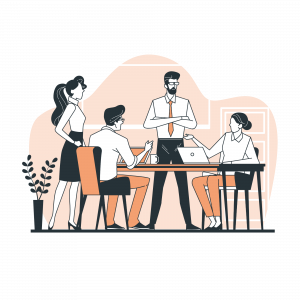 Make sure you're not writing huge pieces of texts, rather use bullet points. Introduce the section with a gist so that it's easier to read and add rich media.
Use questions like:
Does my audience want to know about this?
Is it consistent with the key message?
Do I need to cross-reference this with some other part of the report?
Once you have a clear idea of all this, you can then try sticking to the company's word count for the report and make edits where necessary.
Read more: KPI Report: What it is & How to Create a Perfect One?
Step 5. Review Your Material 
Now that the writing part is done, it's time to review. You can first use key questions to check for yourself if the annual report is cohesive or not like:
Is the style inconsistent?
Is there unnecessary repetition?
Once you've reviewed it for yourself, you can send it out to other team members for clearance. Ask for specific feedback like:
Factual errors
Materiality
Understandability
This way you can get a fresh take on your report and then make revisions wherever needed.
Step 6. Use Compelling Design 
Last but clearly not least, is the design. The ultimate goal of your annual report is to entice audiences.
A powerfully designed annual report is a great marketing tool for a business to bag new investors.
Add images and graphics, use headings, use colors that catch the eye, etc.
But to create a compelling design without any help will be a daunting task.
Worry not – Bit.ai is the smartest and fastest way to design and create your annual reports!
How? Let us show you…
Bit.ai – The Best Guide For Your Annual Reports

Bit.ai is a new-age documentation and collaboration platform that helps you create modern documents. Bit documents take very little time to create and thus you can focus on the content and have Bit automatically help you with your report design so that your report is sleek and enticing!
Here are some of its robust features:
1. Smart Workspaces
On Bit.ai, you can create as many workspaces as you want around different teams and communicate in a much better way.
For example, while creating an annual report you may have to deal with different departments, so you can create a workspace based around them. This makes it much easier for you to collaborate on your annual reports.
2. Offers Consistency 
Bit will do all the magic when it comes to design and formatting. Bit documents are completely responsive and look great on all devices. With amazing templates and themes, Bit docs provide you with design consistency that has never been seen before in the documentation industry.
Within a few clicks, you can change layouts and themes and make your annual report shine!
3. Amazing Integrations
Visuals increase the desire to read any content by 80% – and with Bit, you can crank up the dial to make your annual reports look beautiful.
Be it images, gifs, videos, or any other kind of media. Bit's 100+ rich media integrations let you add anything and everything by just pasting the shareable link in the report from YouTube, Typeform, LucidChart, to Google Drive, etc.
4. Sleek Editor
Creating an annual report will require many revisions and edits, with Bit's minimal document editor, you can make all those edits without the distraction of unnecessary buttons and tabs. And given its sleek design, you won't have to spend hours creating your report.
5. Easy Sharing 
Sharing is super easy on Bit.ai. You can share your annual report in the following ways:
Live state: A live state meaning that all changes that you make to the document will update in real-time. If you are sharing your report with clients, partners, or customers they will always get your most up-to-date changes.
Trackable links: You can track your documents and gather real-time insights to understand how users interact with your content. See how much time users spend viewing documents, scroll ratio, user information, and more.
And this is just the tip of the iceberg! To learn more, we suggest you give Bit.ai a try by availing of their free account plan! We're sure you'll love it!
Tips for Writing Annual Report
As we near the end of this blog, we want to leave you with some tips that will guide you in this journey…
Use charts and graphs to present data.
Highlight any pivotal points.
Always ask for feedback.
Avoid repetition.
Do not slavishly just copy reports, tell a story!
Keep in mind the company rules for creating annual reports, if any.
The audience's needs should be at the front and center of your report.
Conclusion
It goes without saying that annual reports are vital for every type of business.
Only when you present your progress and development in a quantifiable manner, will an investor take notice of your business. Not only this, but you need your stakeholders to also keep faith in your way of working, annual reports help you instill that confidence.
Annual reports will keep you updated and help you analyze what aspects of your business can do better.
That is why effective annual reports are a must-have!
With a tool like Bit.ai by your side, you'll save time and resources while creating an annual report and easily impress all your readers.
And with that, we wrap up and leave the rest to you!
Have any queries about annual reports? Do tweet us @bit_docs and we'd love to help you!
Further reads: 
Business Report: What is it & How to Write it? (Steps & Format)
Incident Report: What is it & How to Write it the Right Way!
Consulting Report: What is it and How to Create it?
Performance Report: What is it & How to Create it? (Steps Included)
Formal Report: What is it & How to Create it!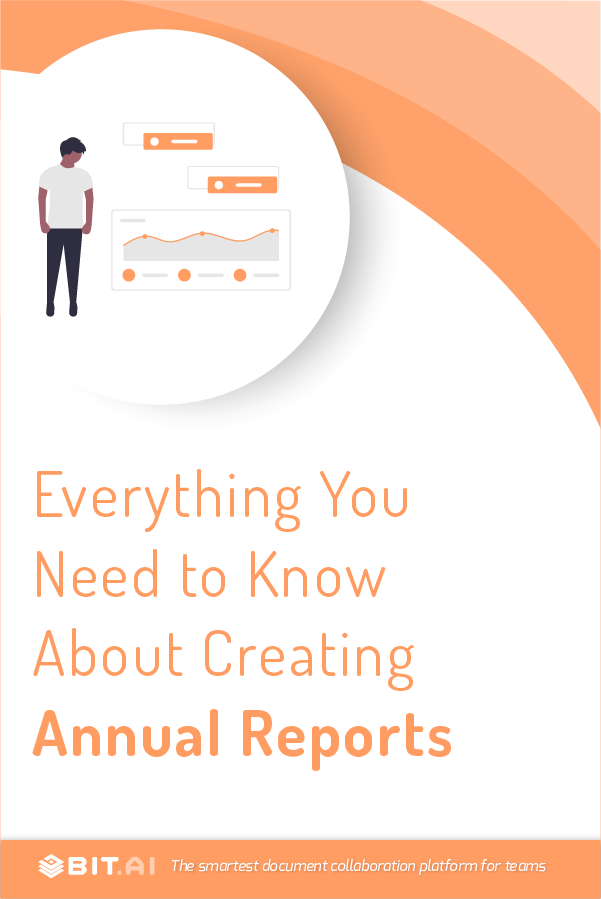 Related posts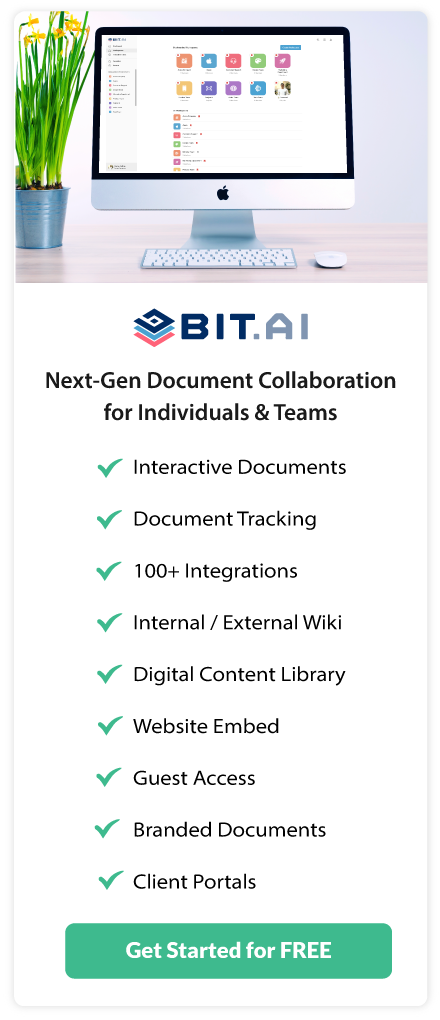 About Bit.ai
Bit.ai is the essential next-gen workplace and document collaboration platform. that helps teams share knowledge by connecting any type of digital content. With this intuitive, cloud-based solution, anyone can work visually and collaborate in real-time while creating internal notes, team projects, knowledge bases, client-facing content, and more.
The smartest online Google Docs and Word alternative, Bit.ai is used in over 100 countries by professionals everywhere, from IT teams creating internal documentation and knowledge bases, to sales and marketing teams sharing client materials and client portals.
👉👉Click Here to Check out Bit.ai.