Every business has to deal with loads of data every day, and it is truly exhausting and overwhelming to keep track of all this data and make informed decisions based on them.
This brings up the question: how can companies make use of all the data collected in the most efficient manner? How can they use this data to increase productivity and decrease costs?
This is where a dashboard software enters the scene. It's all you need to simplify and visualize your data. It helps you gather, store, analyze, measure, and present the performance of your business in real-time.
And with a better understanding of your business, you'll be able to make decisions that will help you achieve your long-term goals.
But we know that finding the right dashboard software for your company is not a simple task. That's why we have compiled for you a list of some of the best dashboard software out in the market.
But before we get into the list, let's take a look at the meaning and importance of having a dashboard software for your business. Jump right in!
What is a Dashboard Software?
A dashboard is a tool that visualizes data to help users understand the analytics and metrics of their business and projects.
This software tracks, gathers, and displays objective information related to your business in a graphical and visual format so that you can monitor and analyze the health of your business.
A dashboard software basically provides you a birds-eye-view of everything that has happened, happening, and will happen in your business.
In a nutshell, it converts enormous amounts of complex data into a simple and easy-to-understand graphical format, thus providing you all the data you need in a single place!
Now that we know what dashboard software is, let's try to understand why you need to have one in your business.
Why You Need a Dashboard Software?
Aside from the fact that dashboards visualize and simplify complex data to help you analyze your business activities, they offer an array of benefits that significantly contribute to the growth of your business.

Let's take a look at what they are:
It provides a centralized location from where you can gain consistent insights into your KPIs.
Offers you real-time updates throughout your business processes.
They are accessible at any time from anywhere if you have an internet connection.
With its data-driven workflows, you will be able to minimize risks and make better decisions.
They take data management to the next level using artificial intelligence.
They help forecast and predict customer behavior.
In short, dashboard software provides a clear overview of all data, keeps you updated, and organizes your work in such a way that it increases productivity, improves overall performance, and simply makes day-to-day business activities easy.
Now that we have established the importance of having dashboard software, let's take a look at some of the best ones out there!
List of 11 Dashboard Software to Explore:

Let's start off the list with Tableau, a leading dashboard software that supports data visualization and data analysis for businesses of all sizes.
From basic bar graphs and pie charts to advanced Gantt charts and Histograms, Tableau has everything you need to create any type of visualized data. It is extremely user-friendly and comes with drag-to-drop functionalities and natural language processing.
Tableau provides a self-service model to drill down, filter, and blend all your data, and it allows you to track and monitor your KPIs. What's more? It provides update alerts through push notifications.
Key Features:
Offers drag-to-drop functionality
Provides a private server
Alerts updates through push notifications.
Pricing 
Read more: Top 9 Virtual Data Room Providers in 2022

Klipfolio is a cloud-based business intelligence software that offers dashboards to track and monitor KPIs and metrics. This dashboard software lets you to import and merge data from over 300 sources under one platform.
Klipfolio also helps you visualize data using its drag and drop interface. Its PowerMetric analytical feature stores and tracks the historical value of each metric.
Moreover, it comes with reporting features such as reporting engine, report designer, and reporting platforms and lets you share your reports via multiple channels like Slack, emails, links, and lots more.
What's more? Klipfolio offers several tutorials, workshops, and courses to help you learn about the platform and how it works.
Key Features:
Offers PowerMetric analytical features
Imports and merges from over 300 sources
Provides tutorials, courses, and workshops
Pricing:

Here we have Sisense, a data and analytics platform that offers an interactive dashboard software with dashboard widgets. These dashboards help bring together data from multiple places and visualize them through line charts, pie charts, geographical maps, and many more.
Sisense comes with in-built collaboration tools which let you work together, make comments, and share reports as well. It has a library with industry-specific KPIs to track different areas of your business.
Moreover, Sisense is a self-service platform that comes with a drag and drop functionality and also supports end-to-end encryption of data.
Key features:
Offers in-built collaboration features
Supports end-to-end encryption
Has an industry-specific KPI library
Pricing
Standard Plan starts at $83.00/month per employee
Professional Plan at $160.00/month for unlimited users

Smartsheet is a web-based collaboration tool and dashboard software that offers project management features, team task management features, sales pipeline tracking features, and many more.
This software offers dashboards and portals which provide real-time visibility into crucial data that can be viewed on your phone and shared with anyone. It has an easy-to-use and user-friendly interface and comes with Gantt charts, Smartsheet templates, work automation, file-sharing, and reporting features.
Smartsheet also allows you to set automated alerts or reminders about upcoming deadlines and tasks. Furthermore, it integrates with third-party apps like Excel, Tableau, Sense, and others.
Top features:
Allows team collaboration
Sets automated alerts and reminders
Offers Gantt charts and templates
Pricing: 
From $15 month/user for teams
Business Plan at $25/user/month

Next on this list, we have Grow, a cloud-based reporting and business intelligence dashboard that provides comparable insights about business performance data.
Grow has a pre-built interactive and customizable dashboard. It helps you track different types of KPIs and analyze data in real-time. You can connect all your data using native integrations to CRM platforms, spreadsheets, databases, and even social media.
The best part about Grow is that it lets you have an unlimited number of users and is highly secure because it has SSL encryption.
Key Features:
Supports pre-built interactive and customizable dashboards
Allows an unlimited number of users
Provides native integrations
Pricing
Provides customized pricing based on a company's needs and use cases.

iDashboards is a self-service business intelligence software that helps you build custom and interactive dashboards with its simple drag-and-drop functionalities.
This software has more than 225 charts and graph templates and a built-in ETL tool that lets you connect directly to CRMs, databases, and web-applications.
iDashboards also provides Excel Auto Uploader to help you push your data into the cloud within a few seconds. Not to mention, it also has excellent customer service and support. What's more? The dashboards are mobile and desktop-friendly too.
Key Features:
Offers chart and graph templates
Provides analytics features
Focuses on a customer-centric approach
Pricing

Not looking for advanced AI features or deep analysis? Then we recommend that you check out Geckoboard, a simple dashboard software for quick data visualization.
With Geckoboard, you can directly add or pull data from programs like Excel files or Google Sheets or use its drag-and-drop functionality to create a beautiful visualization of your business KPIs.
This software allows you to track all your information in real-time from a single screen and supports full-screen display of dashboards on TV screens and mobile phones.
You don't need to have a Geckoboard account to view other dashboards, you can simply share secure links via email or chat. Furthermore, Geckoboard supports over 80 different integrations.
Key features:
Adds or pull data from Excel files or Google Sheets
Supports full-screen display on different types of screens
Offers over 80 integrations
Pricing

Zoho Reports is a business intelligence and analytics solution that is also a dashboard software. It allows you to create reports and dashboards and integrates with several databases, applications, and external files.
A special thing about Zoho Reports is that it comes with integrated artificial intelligence assistance called Zia. All you have to do is ask questions on the Zoho interface and Zia will generate the necessary charts. It also comes with a drag and drop functionality and other customization tools for upgrades and creating apps.
Zoho Reports has strong security practices which include support for backup, redundancy, confidentiality, and privacy to make sure that your data is entirely safe.
Key features:
Offers sharing and collaboration features
Supports an AI assistant
Integrations with over 40 applications
Pricing 
From $55 / month for 5 users

Datapine is a business intelligence solution with a dashboard software that lets you collect data and visualize it using its easy-to-use drag-and-drop functionality. It's a great software for both basic and advanced users.
Datapine not only offers interactive dashboards but also provides analytics, reporting features, subscription options, and sharing possibilities. It has a smart monitoring process that uses AI to alert you in case of any business anomalies.
The dashboards in Datapine update in real-time and can be presented on any device – be it mobiles, desktops, tablets, or even TV screens. It also provides analysis features like hierarchical filters, time intervals, zoom-ins, text boxes, and lots more.
Main Features:
Offers industry and function-specific built-in templates
Provides smart monitoring system
Multiple sharing options like public URL, automated emails, embedding, etc.
Pricing
Datapine pricing starts at $249.00 per month

Next, we present to you Databox, a dashboard software that allows you to blend data from various sources under a centralized platform to provide a complete overview of your business performance.
With Databox, you can set time-bound and numeric goals, automatically track your progress and get real-time insights about the latest trends and updates. It provides a clean user interface and supports a Databox library of over 200 pre-built report templates.
In addition to all this, Databox also has over 70 third-party integrations such as Salesforce, Hubspot, Shopify, Facebook, and many more!
Top features:
Provides real-time insights about updates and trends
Allows you to set and track time-bound and numeric goals
Offers over 70 third party integrations
Pricing 
Free for up to 3 users
For larger teams – $49

Lastly, we have Dasheroo, a cloud-based business dashboard software that comes with an array of dashboard templates.
Dasheroo gathers data from different applications, mashes them up together, and helps create visualizations and reports. This gives you an overview of your business. It stores all your KPIs in a single place and allows you to access them from anywhere.
Dasheroo also comes with team collaboration features that let you chat and work together in real-time and provide you with metric alerts whenever it goes above or beyond a limit.
Features
Offer several dashboard templates
Stores KPIs in a single place
Provides team collaboration features
Pricing
Free version available
Paid plan starts at $9/month
Conclusion
… and that's a wrap to our special list of dashboard software you can use for your business.
We believe that professional dashboard software is a must-have for every business, especially with the amount of data that each company has to deal with.

We hope that this blog has equipped you with enough knowledge to choose the best solution for your business. Time to dash out of here and focus on your dashboards.
Cheers!
Further reads: 
10 Best Reporting Tools and Software for Businesses!
11 Gantt Chart Software You Should Check Out!
10 CRM Tools and Software You Should Explore Right Now!
9 Client Management Software You Must Check Out!
Top 9 HR Software and Tools for Human Resource Departments!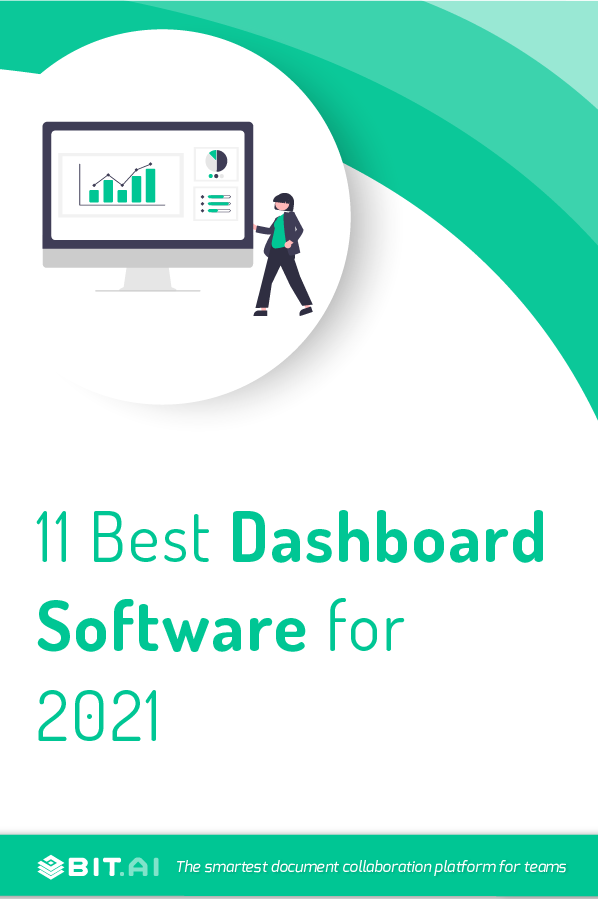 Related posts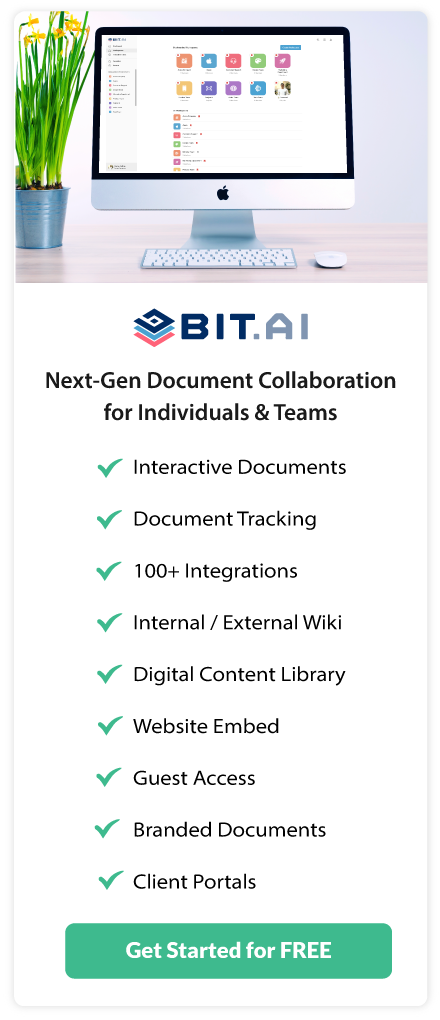 About Bit.ai
Bit.ai is the essential next-gen workplace and document collaboration platform. that helps teams share knowledge by connecting any type of digital content. With this intuitive, cloud-based solution, anyone can work visually and collaborate in real-time while creating internal notes, team projects, knowledge bases, client-facing content, and more.
The smartest online Google Docs and Word alternative, Bit.ai is used in over 100 countries by professionals everywhere, from IT teams creating internal documentation and knowledge bases, to sales and marketing teams sharing client materials and client portals.
👉👉Click Here to Check out Bit.ai.