Before you dive straight into a project, there are a few questions that you will always have to answer.
What is the project goal? What is the purpose of this project? Who is involved in the project? How to measure the success of the project?
The perfect place to answer all these questions is in a project kickoff!
A project kickoff is like an inaugural ceremony to the main project. It is the very beginning of your project, where all your team members and stakeholders come together for a common purpose.
Organizing a great project kickoff guarantees that your project will start on the right foot. It will lay the foundation and pave the way for a successful project.
That's why in this blog, we will be discussing everything you need to know about project kickoffs, why they are important, and how to create them! So buckle up and dive right in!
What Exactly is Project Kickoff? (Definition)
Project kickoff is a project management activity that involves establishing the general direction, vision, goals and objectives, team member responsibilities, KPIs, and more so that the project team and client team are clear about their expectations and communication.
The project kickoff is part of the initiation phase of the project lifecycle. Essentially, it ensures that your project starts on the right foot and also lays down the foundation for the rest of the project.
Why Does a Project Kickoff Matter?
For a project to be successful, it needs to have a dedicated project team and committed stakeholders. However, merely this is not enough. You also need to have a common vision and general direction to follow so that there is alignment between the teams from the very beginning.
A project kickoff is perfect for this. Its primary aim is to get everyone on the same page and make sure that everyone has an excellent headstart.
With a project kickoff, you can create a great impression by introducing your team and helping them understand the project, the steps involved, tasks, and decisions that lie ahead so that they can begin their work as quickly as possible. This ensures that everyone knows what they are getting themselves into.
A project kickoff also helps establish open lines of communication, generates enthusiasm and excitement for the project, builds confidence and credibility, and promotes active participation.

In short, a great project kickoff will ensure the smooth and quick flow of your project strategies and establish team alignment at an early stage.
Now that you know how important project kickoffs are, let's check out how to create one!
Read more: Project Summary: What is it & How to Write it!
How to Create a Project Kickoff? Follow these steps:
If you have reached the project kickoff stage, then it means that you have already decided on how to run the project. This means that there is only one thing left for you to do and that is to communicate it all to your team and stakeholders.
So how do you go about creating a project kickoff to ensure that your team and stakeholders are fully informed about the project to proceed? Let's find out!
Step 1. Plan the Project Kickoff
The first step in creating a project kickoff is to plan it. For this, you need to inform or notify your team in advance about the project kickoff.
Be prepared to explain everything about the project and its mission, what steps have been planned to carry it out, who will be in charge, and more. You can keep a project charter in hand or create a PowerPoint presentation to help you through the way.
Step 2. Start with an Introduction
For a successful and effective project kickoff, you need to have the right set of people for it. So make sure to bring together people from different departments.
However, merely bringing together a great team isn't enough, and neither does it mean that everyone knows each other. So you must set up a quick ice-breaker session where everyone can introduce themselves, their role, the project, and what they will be delivering.
Step 3. State Project Vision and Goals
The next step in creating a project kickoff requires you to understand what the project is about, why it matters, and identify its goals, objectives, and vision.
Here, you can give a basic overview of your project and the client's needs, and also share your vision for the project. You must also state your project goals and objectives as well.
Only when you know are aware of the key details, goals, and objectives, will you be able to communicate with your team about the project and motivate them to collectively work towards the ultimate goal.
Step 4. Define the Project Background, Scope, and Deliverables
Once you are done sharing your project vision and goals, you need to be able to discuss the project background and define the project scope, deliverables, and timeline. This will provide context to your team to help them navigate towards a successful project.
Here, you can also establish the time for your work. All this will ensure that your team members and clients are on the same page.
Step 5. Assign Roles
Now that the goals are identified and all crucial project-related information is established, it is time to discuss the team's roles and responsibilities throughout the entire project lifecycle.
Assign duties and roles to each team member, and ensure that you're clear and specific about their responsibilities within the project.
Read more: Project Report: What is it & How to Write it?
Step 6. Discuss Project Tools and Methodologies
The next step is to be specific about what project tools, project management methodologies, and communication strategies you are going to use and how you are going to articulate that to the project team.
Project tools can include Skype, Slack, Asana, etc., whiles project management methodology can include Scrum, Kanban, Agile, etc., and communication Strategy can include online or offline methods on a daily or weekly, or monthly basis.
S‍tep 7. Define the Next Steps
Once all the tools, strategies, and methodologies are discussed in the project kickoff, it is vital that you define the next steps for going forward with your project.
Make sure to document your processes, track them to prevent errors, review your goals, and find out what needs to be done next.
Step 8. Set Up a Q&A Session
The opportunity to receive feedback and question processes will help address issues that may arise over the course of the project. That's why it is crucial to set up a question-and-answer session that will raise concerns and help you be prepared to solve them.
Step 9. Wrap Up
Hey! You have finally reached the end of the project kickoff and that means you wrap the whole thing up by thanking all the participants.
Now that you are fully equipped to create a project kickoff, how about we present to you a tool that can make the process easier?
Intrigued? Keep on reading to find out more!
Bit.ai: The Perfect Tool for Creating Project Kickoffs

Whether you need need to create basic project documents like project kickoffs, charters, proposals, etc., or collaborate on them, or simply store information, then Bit.ai is just what you need.
It is a cloud-based documentation collaboration platform that helps you create, store, manage, and track beautiful documents with ease, and engage with your team through collaboration!
With Bit, you never have to worry about the format or design of your project documents! All you have to do is just pick a template that is closest to what you want from Bit's extensive template gallery, and put your content in it!
If you want to make your documents more interactive and comprehensive, then you can do that with Bit's smart integration! It allows you to add rich media, such as charts, excel sheets, social content, cloud files, surveys/polls, presentations, and much more!
The best part about Bit is that it allows you to exchange feedback with your team members. This means that you can invite your team members and collaborate with them in real-time! They can highlight changes, add comments, and can even chat with you on the same document!
For any document you want to create, Bit.ai will make the process easier, quicker, and simply better! So what are you waiting for? Get Bit today!
Conclusion
A project kickoff is the first step towards achieving your project end goals. It ensures that both the team and clients are fully aware of the project and each other's roles in it.
Not only does it establish expectations and desires but it also fosters a healthy relationship between the team members and between the team and clients.
In this blog, we covered everything you need to know about project kickoffs and how to create them. Now all you have to do is go out there and kickstart your kickoff!
Further reads: 
Project Timeline: What is it & How to Create it? (Step By Step)
Project Scope: What is it and How to Write it?
Project Outline: What is it & How to Create it for Your Business?
Project Budget Plan: What is it & How to Create it?
Project Calendar: What is it & How to Create it?
Project Objectives: What are they & How to Write them Effectively?
Project Documentation: What is it & How to Manage it?
9 Project Documents You Must Create For Your Project!
Burndown Charts: What Are They and How to Create Them?
Related posts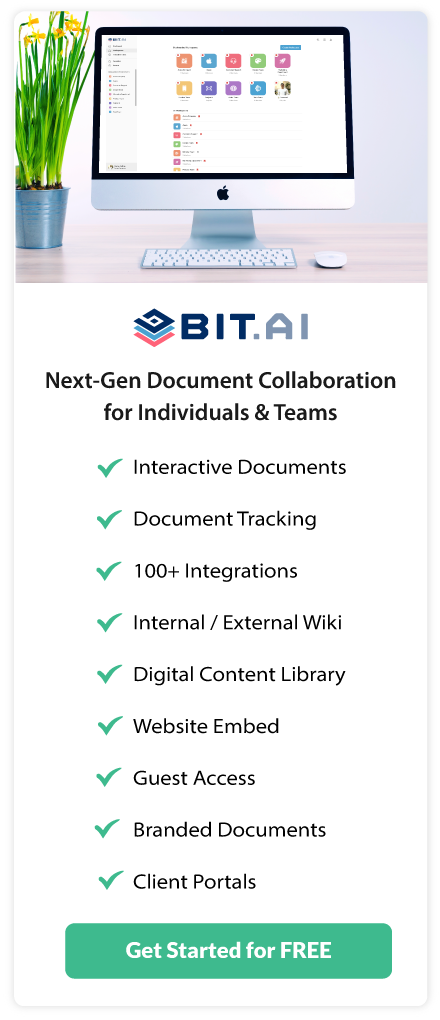 About Bit.ai
Bit.ai is the essential next-gen workplace and document collaboration platform. that helps teams share knowledge by connecting any type of digital content. With this intuitive, cloud-based solution, anyone can work visually and collaborate in real-time while creating internal notes, team projects, knowledge bases, client-facing content, and more.
The smartest online Google Docs and Word alternative, Bit.ai is used in over 100 countries by professionals everywhere, from IT teams creating internal documentation and knowledge bases, to sales and marketing teams sharing client materials and client portals.
👉👉Click Here to Check out Bit.ai.