What's the key to driving traffic and converting leads? Producing quality content consistently!
However, the thing is, it can be a bit challenging to post excellent content consistently if you don't have a central hub for planning, organizing, and tracking all your content-related activities.
That's where an editorial calendar comes in. It can help you stay on track and keep you sane – while saving you time and ensuring a consistent flow of high-quality content.
In short, an editorial calendar is a lifesaver! In this blog, we're going to tell you everything that you need to know about editorial calendars. Ready? Let's go.
What is an Editorial Calendar?
An editorial calendar gives you an overview of your publication pipeline. It helps you plan, manage and coordinate the entire process of content creation – from idea generation to publishing and promotion.
However, there's more to an editorial calendar than just an 'overview'. It gives you a birds-eye view of how strategically you're creating content for the target audience.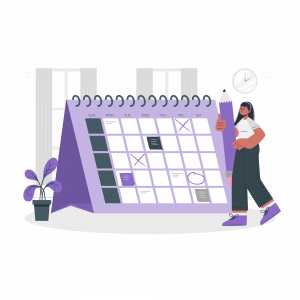 Moreover, if you're targeting multiple target audiences, you can also whether you're creating enough content for each – all thanks to an editorial calendar!
Besides a bird's eye view, this calendar also gives you and your team a plan of action that you need to create content consistently and efficiently.
Now that you know what an editorial calendar is, let's explore a few reasons why you should create one.
5 Reasons Why You Must Create an Editorial Calendar
1. Much Better Organization
An editorial calendar is like a central hub for storing all your content ideas, listing your publishing schedule, and creating a sturdy and robust workflow.
Using an editorial calendar, you can tell what's due, what's in progress, and what has been done – all at a glance. The result? An increase in productivity levels!

2. Plan Content Efficiently
Content marketing is all about creating content that solves your target persona's problems and meets them exactly where they are in their buyer's journey.
However, even though you can plan out which articles would meet all the requirements, it would be hard to get a complete picture of how each piece of content connects with others.
By laying everything out in a calendar interface, you can easily understand what content you'll create, who will create that content, when the content is due, why you're creating it, and for whom.
3. Quickly Understand What Content is Being Produced
Along with providing you with details about the nitty-gritty of your content pipeline, an editorial calendar also makes it super easy for the stakeholders to see the same.
That means you can coordinate content campaigns and themes in a more efficient manner and tell how much content you're publishing for each stage quickly.
4. Stay on Track & Hit The Deadlines
Do you know what makes coordination super easy? Pre-planned due dates and a place where you can see and manage your editorial tasks. Lucky for you, an editorial calendar provides both!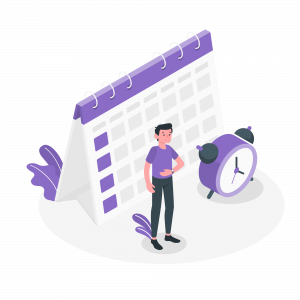 Through an editorial calendar, your content team can easily see the tasks they're responsible for and related deadlines. This way, everyone will stay on track and be less likely to miss any deadlines!
5. Publish More Content
It becomes easier to publish content consistently when you have a pre-planned workflow, deadline management, and fully fleshed-out content topics.
Moreover, when everything is planned out, you can publish better quality content. How? Because you'll be creating each piece of content ahead of time – which means you'll have a lot of time to review and polish it!
So, are you excited to create an editorial calendar? We know you are! The next section will take you through how to create a solid editorial calendar step-by-step.
Read more: Marketing Communication Strategy: What is it & How to Create it?
How to Create an Editorial Calendar in 6 Easy Steps?
Step 1. Decide a Tool
First things first, you need to decide which tool you're going to use for the editorial calendar. It entirely depends on your team, and sometimes, you might have to use a combination of tools to get the best results.
Some free tools are Google Docs, Excel, or Trello. There are several amazing paid tools as well, including Airtable, Monday, Asana & Brightopt.

No matter which tool you choose, just make sure that it meets the needs and requirements of your entire team, not just the content writers.
Step 2. Build a Content Backlog
Now, you need to create a content backlog, which is basically a list of content ideas. A content backlog would make it easy for you to view and track your ideas.
Remember, not every idea would end up as a post, and it's completely okay to stray from your list! Sometimes, changing or modifying your ideas is essential to keep up with the new trends.
Once you've created a content backlog sheet, you can add a few headings like:
Title
Assigned Author
Status of The Project
Publication Date
Theme
Distribution Channel
Trending Topics
Special Dates
Step 3. Form Your Content Strategy
To develop a solid content strategy, you first need to figure out how much content you want to publish a month, the topics you want to cover, and the audience you want to target.
Once that is done, add strategic steps such as managing your existing content and tracking your goals. This might include your goals, your USP, your budget, and your KPIs.
For example, your goal could be to grow your mailing list. Moreover, if you're aiming to build brand awareness, your KPI could be an increase in share and views.
Step 4. Start Scheduling
Creating content whenever you've spare time or at the last minute is stressful. A more effective and less stressful approach is scheduling your content in advance.
List down each and every task involved in the content creation process for the month. Set appropriate deadlines for writing outlines, the final article, proofreading, publishing, and social media sharing.
Choose a schedule that fits you, but a forward-looking plan of 4 weeks works well for most teams!
Step 5. Assign The Tasks
Once you've figured out each step that is involved in creating each piece of content, identify who will be the best for doing those tasks.
In this step, you need to assign and coordinate on all the tasks with your team. If you don't want anything to slip through the cracks, this step is significant.
Step 6. Keep Optimizing The Calendar
You can't just create an editorial calendar, fill in all the details and forget about it. Over time, you might find that there are a few bottlenecks in your content creation process or that a tool doesn't fit your needs.
Keep checking in with your team to ensure that the editorial calendar you have created is working for everyone. You can review your schedule, the tools, the volume of content, the time, and the metrics.
Over time, you'll clearly understand which tools are working for your team and whether your content strategy is helping your business grow!
Create your Editorial Calendar on Bit.ai

Bit.ai is a new-age document management and collaboration platform that helps teams collaborate, share, track and manage all information in one place. It offers an amazing UI and a phenomenal user experience as things flow from documents to workspaces smoothly.
Bit is, undoubtedly, the perfect platform to create, manage and share your editorial calendar. Apart from calendars, you can also create everyday documents like meeting minutes, to-do's, ebooks, case studies, onboarding docs, fact sheets, sales decks, project proposals, media kits, and much more.
Still not sure how Bit can help you create an impressive editorial calendar? Let's check out some of the best features of Bit.ai!
1. Pre-Built, Beautiful & Fully Responsive Templates: Okay, you've created the editorial calendar. But, what if the calendar looks dull and poorly formatted? Your team won't understand a thing, and that's for sure. You might not have the time to pay attention to the presentation aspect but don't worry, because Bit does the formatting and designing for you! Bit.ai has over 90 fully responsive and gorgeous templates. Just pick one, add your content and let Bit handle the rest.
2. . Collaborate in Real-Time: If your team members work on the editorial calendar together and take inputs and ideas from one other, it is bound to be perfect! Luckily, Bit.ai helps you with that. It allows you and your team to collaborate on a Bit document in real-time using @mentions, highlight features, and comments. Every document comes with a separate comment stream.
3. Interlink Your Editorial Calendar With Other Documents: On Bit, you can interlink your calendar with other important assets that are supposed to be posted like newsletters, blog posts, videos, and more on the web or inside the platform.
4. Create a Fully Interactive Editorial Calendar: Bit lets you embed over 100 rich media integrations, including Excel Sheets, Google Drive files, and more. Basically, on Bit, you can create media-rich and interactive, modern workplace documents. That means, your team won't have to jump through different files to get information.
5. Track Engagement & Get Insights: Imagine if you were able to track the time spent by others on your editorial calendar, how frequently they were viewed, and if they were viewed at all. Well, Bit allows you to track your documents and gain amazing insights, helping you create an even better version of your documents.
There's nothing like Bit.ai out there when it comes to creating documents like editorial calendars. With a FREE account for up to five members, there's no reason why you should not give this super cool platform a try.
Wrapping Up
An editorial calendar can help you remain focused on your goals, limit writer's block, and seamlessly produce great content while making the most of all the trends.
In a nutshell, if you're looking to make the most out of your content creation process, an editorial calendar is a must-have. Always remember – the better you plan your articles, the better your write-ups will be!
Got any queries, questions, or suggestions? Tweet to us @bit_docs and let us know. We'd be happy to help you!
Further reads: 
How to Create a Content Calendar?
How to Create a Rock-Solid Marketing Calendar Easily?
Action Plan: What is it & How to Write it? (Steps and Format)
Best Content Creation Software: Attract Your Target Audience with Ease
Brand Voice: What is it & How to Define it for your Business!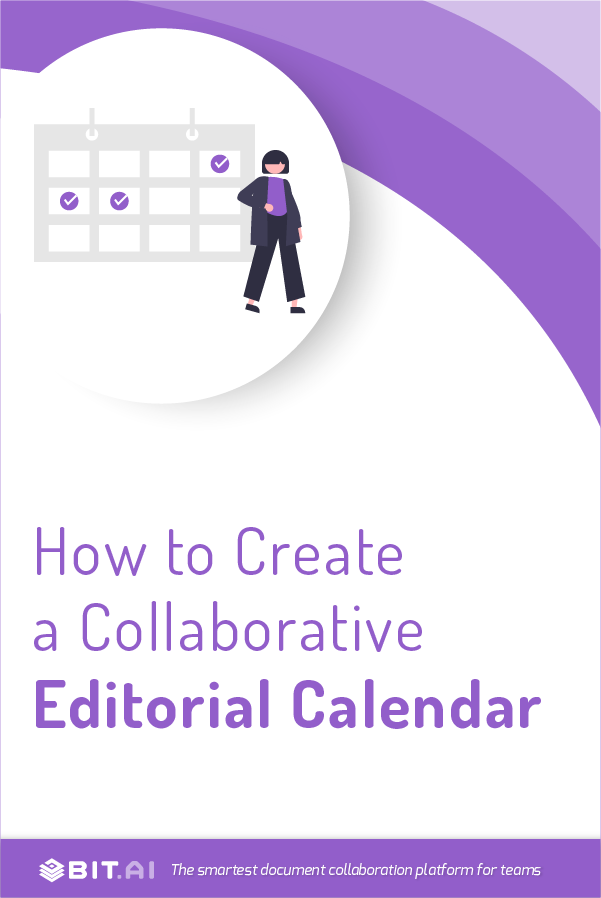 Related posts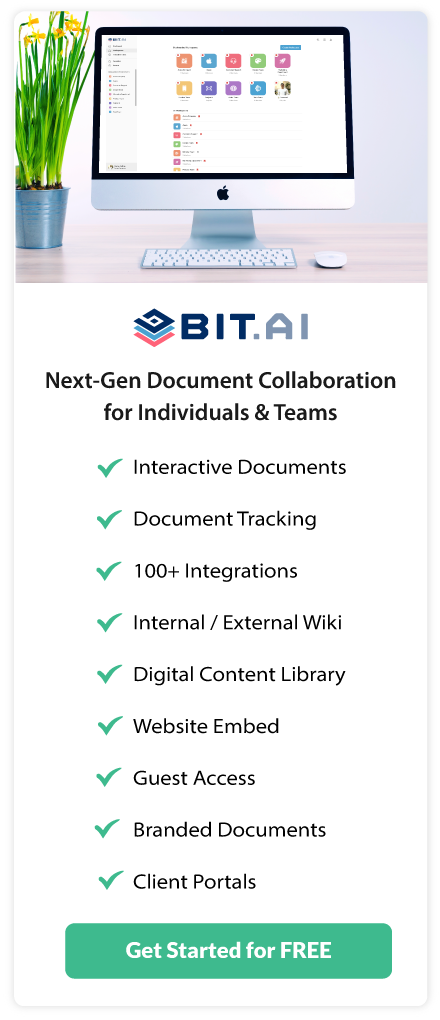 About Bit.ai
Bit.ai is the essential next-gen workplace and document collaboration platform. that helps teams share knowledge by connecting any type of digital content. With this intuitive, cloud-based solution, anyone can work visually and collaborate in real-time while creating internal notes, team projects, knowledge bases, client-facing content, and more.
The smartest online Google Docs and Word alternative, Bit.ai is used in over 100 countries by professionals everywhere, from IT teams creating internal documentation and knowledge bases, to sales and marketing teams sharing client materials and client portals.
👉👉Click Here to Check out Bit.ai.