Whether it is being able to work from home or watch movies on your mobile phone or order food online, technology has by and large made our lives more convenient and easy. And this is true even in the case of conducting events! That's right, you can now conduct and attend events online too!
Gone are the days of being constrained by physical limitations or geographical boundaries. Now, with just a click of a button, you can participate in conferences, seminars, trade shows, and more, all from the comfort of your own space.
If you wish to learn more about virtual events, then this blog is for you. Here, we cover everything from meaning, types, virtual event tools, and lots more! Strap in, because you're in for a treat! Let's get started!
What is a Virtual Event?
A virtual event is an online gathering where people from different locations can participate, interact, and share experiences through the Internet. Instead of meeting in a physical venue, participants join from the comfort of their homes, offices, or any place with an internet connection.
In a virtual event, various activities take place, just like in an in-person event. They are, after all, events held online. So, often, there are presentations, workshops, discussions, networking sessions, and even entertainment.
The event organizers use special platforms or software that enable attendees to access all these activities virtually. Participants can engage with the event through their computers, smartphones, or tablets. They can watch live streams or pre-recorded content, ask questions, participate in polls, and interact with other attendees through chat or video calls.
Simply speaking, virtual events have become increasingly popular because they have overcome the limitations of physical gatherings and have made it easier for people from different parts of the world to come together and share knowledge, ideas, and experiences without the need for travel.
What are the Types of Virtual Events?
1. Webinars
Webinars are online seminars or workshops conducted over the Internet. They typically involve presentations, demonstrations, or discussions on a specific topic, and attendees can participate by watching, asking questions, or engaging in polls.
2. Virtual Conferences
Similar to traditional conferences, virtual conferences bring together speakers, exhibitors, and attendees in an online environment. Participants can join sessions, visit virtual booths, and network with others virtually.
3. Virtual Trade Shows
Virtual trade shows are like traditional trade shows, but they take place online. Companies can showcase their products or services, and attendees can explore different booths and interact with exhibitors.

4. Virtual Meetings
These are remote meetings conducted through video conferencing tools. Virtual meetings allow participants to collaborate, discuss projects, and make decisions without being physically present in the same room.
5. Virtual Networking Events
Virtual networking events offer opportunities for people to connect with others in their industry or with similar interests. Participants can interact one-on-one or in group settings to build professional relationships.
6. Virtual Social Events
These are online gatherings designed for entertainment and social interaction. They can include virtual parties, concerts, or game nights where participants can have fun together in a virtual setting.
7. Virtual Workshops
Virtual workshops are interactive sessions where attendees learn new skills or techniques. The workshop leader guides participants through activities and exercises virtually.
8. Virtual Job Fairs
Virtual job fairs allow job seekers to explore job opportunities by interacting with employers in a virtual environment. Companies can showcase their job openings and engage with potential candidates online.
Fool-Proof Ideas For a Virtual Event
1. Engaging Content
Creating engaging content is crucial to keep attendees interested and active throughout the virtual event. This includes a mix of live presentations, pre-recorded videos, interactive polls, Q&A sessions, and panel discussions. Use visuals, graphics, and multimedia elements to make the content visually appealing and easy to understand. Engage the audience by incorporating audience participation elements like live polls and Q&A sessions to encourage interaction and feedback.
2. Networking Opportunities
Facilitating networking is crucial, especially in virtual events where participants may miss the casual interactions of in-person gatherings. Provide virtual breakout rooms or networking sessions where attendees can connect in smaller groups based on shared interests or topics. Use ice-breaker activities or discussion prompts to encourage participants to interact and build relationships.
3. Virtual Exhibitions
If your event involves sponsors or exhibitors, set up virtual booths or exhibition spaces. These virtual spaces can showcase products, services, and promotional materials. Consider incorporating chat or video call options for attendees to interact directly with exhibitors, fostering meaningful connections and potential leads.
4. Gamification
Gamification adds an element of fun and competition to the event, encouraging attendees to actively participate. Implement quizzes, challenges, or scavenger hunts related to the event theme, and offer rewards or prizes for those who complete them. Gamification can increase engagement and keep participants motivated to explore all aspects of the event.
5. Event Branding
Maintaining consistent branding throughout the event creates a professional and unified look. Use customized banners, logos, and backgrounds that align with the event theme and reinforce the event's identity. Consistent branding helps create a memorable experience and reinforces the event's messaging.
6. Virtual Workshops
Another thing to do is conduct virtual workshops. They are interactive sessions led by subject matter experts or facilitators. These workshops focus on specific topics or skills and offer hands-on learning experiences. Pre-event materials, instructions, and interactive activities are provided to participants to make the learning process engaging and effective.
7. Live Tweeting
Live tweeting involves encouraging attendees, speakers, and organizers to share real-time updates and insights on social media platforms like Twitter during the event. This creates a virtual buzz and allows people who couldn't attend the event to follow along and participate in discussions. Use a unique event hashtag to organize and track tweets related to the event.
8. Social Live Streaming
In addition to the event's main platform, consider using social media platforms with live streaming capabilities, such as Facebook Live, Instagram Live, or LinkedIn Live, to broadcast selected parts of your event. This strategy can attract a broader audience outside of the registered participants and increase the event's visibility.
9. Pre-Event Promotion
Promote the virtual event well in advance to build anticipation and attract a larger audience. Utilize social media, email newsletters, event websites, and relevant communities to spread the word. Offer early bird registration discounts, exclusive perks, or limited-time offers to incentivize early sign-ups.
10. Post-Event Follow-Up
After the event, follow up with attendees to keep the momentum going. Share recorded sessions and presentation materials with participants who may have missed certain segments or want to revisit the content. Gather feedback through surveys to assess the event's success and identify areas for improvement. Express gratitude to participants, speakers, sponsors, and volunteers for their contributions and support.
Best Platforms To Host a Virtual Event
1. Zoom
Zoom is a versatile video conferencing platform that caters to virtual events of various sizes. Its primary feature is high-quality video conferencing, so it's suitable for webinars, meetings, and virtual events with multiple participants. Zoom offers breakout rooms which allows you to divide participants into smaller groups for networking or workshops.
With Zoom, you can share your screens to showcase presentations, demos, or other visual content. You can also have fun with virtual backgrounds to add a professional touch to the virtual event. What's You can have interactive Q&A sessions that enable attendees to ask questions and engage with others during live sessions.
2. Google Meet
Google Meet is a video conferencing platform offered by Google, suitable for various virtual events. It provides easy-to-use video conferencing capabilities that can accommodate both small meetings and large gatherings. Features include high-definition video and audio, screen sharing, and real-time captions to enhance accessibility.
Google Meet can integrate seamlessly with other Google Workspace applications like Google Calendar, Gmail, and Google Drive, making it convenient for scheduling and sharing event-related information. With Google Meet, you can control the event with features like muting participants, managing questions, and controlling screen sharing. It can be accessed via web browsers or through mobile apps, making it available to participants on various devices.
3. Microsoft Teams
Microsoft Teams is a collaboration platform suitable for hosting virtual meetings, workshops, and smaller events. It offers video conferencing capabilities with features like screen sharing, meeting recording, and scheduling.
Teams also allow you to share files and collaborate on documents during meetings and discussions. Real-time collaboration on shared documents, spreadsheets, and presentations is also possible during virtual meetings. What's more? Teams integrate seamlessly with other Microsoft Office 365 apps and therefore it helps to improve productivity during virtual events.
4. vFairs
vFairs specializes in virtual trade shows and job fairs. It provides exhibitors with virtual booths to showcase their products, services, and promotional materials. Attendees can interact with exhibitors through live chat during the event, and this helps foster engagement and potential leads.
vFairs supports live video streaming for keynote sessions, product launches, and other presentations. Exhibitors can also provide downloadable resources like brochures and whitepapers for attendees to access.
5. Hopin
Hopin is an all-in-one virtual event platform designed for conferences, expos, and networking events. It provides customizable event spaces where different sessions, booths, and stages can be set up. You can create interactive virtual booths to showcase your products or services and engage with attendees through chat and video calls.
Attendees can interact with each other and event organizers through live chat during the event. Polls and surveys can be conducted to gather feedback and insights from participants. Hopin also supports live streaming, so it allows real-time broadcasting of sessions and presentations.
Now that you know a bunch of virtual event tools, let's go over some tips to successfully host one!
Tips To Successfully Host a Virtual Event
1. Define Clear Objectives
The first thing to do before hosting a virtual event is to clearly define the purpose of your virtual event. Are you aiming to educate, network, promote a product, or raise funds for a cause? Understanding your goals will help you design the event to align with your objectives and measure its success.
2. Choose the Right Virtual Event Platform
Next off, you need to research and select a virtual event platform that suits your event's needs. Consider factors like the number of attendees it can handle, interactive features like chat and polls, user-friendliness, and technical support available.
3. Test Technology
Once you choose your virtual event platform, thoroughly test the platform and equipment to ensure everything works smoothly. Conduct tech rehearsals with all speakers and participants to resolve any technical issues and familiarize them with the platform.
4. Create a Schedule
The next step is to create a schedule for your virtual event. Plan the event with a clear and organized structure, while assigning specific timings for each session. Communicate this schedule to your attendees ahead of time to allow them to plan their participation and avoid confusion during the event.
A well-structured schedule ensures a smooth flow of the event and helps attendees know when to join sessions or activities. This improves their engagement and overall experience.
5. Engaging Content
Your virtual event content needs to be captivating and engaging. To do this, you should use a mix of formats like live presentations, panel discussions, and interactive sessions. Ensure that the content you offer is relevant and tailored to the interests of your target audience.
For instance, you can involve industry experts and thought leaders in panel discussions to provide diverse perspectives on the chosen topics. You can also personalize your content based on attendees' demographics and expertise levels.
6. Encourage Audience Interaction
Often, merely talking or presenting in front of a screen during virtual events can get awkward if everyone involved remains silent. So it's crucial that you promote audience interactions in some way or the other.
Incorporate live chats, Q&A sessions, quizzes, and polls to deeply involve your attendees in the event. You can engage attendees by encouraging them to ask questions, share their thoughts, and actively participate throughout the event.
7. Virtual Networking
The point of virtual events and any other events is to create networking opportunities. In a virtual event, you can facilitate these networking opportunities by using virtual breakout rooms, networking lounges, or dedicated networking sessions. To break down initial barriers, you can include ice-breaker activities. This will create a comfortable environment where people can connect, initiate conversations, and share their interests and experiences.
8. Promote Your Event
If you wish to have a successful virtual event and reach a wider audience, then it is crucial to promote it across multiple channels. Utilize the power of social media platforms such as Facebook, Twitter, LinkedIn, and Instagram to share event details, engaging content, and updates.
Encourage speakers and partners to share the event information within their networks, implement email marketing campaigns, create a dedicated landing page on your website with all essential event details, and leverage industry-specific platforms, forums, and communities to target individuals interested in your niche.
You can also collaborate with influencers, thought leaders, or organizations to co-promote the event and boost its credibility. Also, consider running targeted online ads to reach a broader audience and attract potential attendees who may not be familiar with your brand or event.
9. Provide Post-Event Resources
Once your virtual event comes to an end, it's essential to offer attendees access to valuable resources. These resources could include video recordings of the event's sessions, the slides used in presentations, and any additional materials that were shared during the event.
By providing these post-event resources, you give people the opportunity to go back and review the content they found interesting or informative. Moreover, those who couldn't attend certain sessions can catch up and benefit from the valuable insights shared during the event. It adds extra value to the attendees' experience as they can reinforce their learning and stay engaged with the event's content even after it's over. This makes it a more enriching and rewarding experience for everyone involved.
10. Gather Feedback
Collecting feedback from attendees through post-event surveys is a crucial step in improving the quality of your virtual events. So, after the virtual event is over, ask attendees to fill out a survey to give their feedback. Check the responses to find out what worked well and what can be improved for future events. This will help make your future virtual events better and more enjoyable for everyone.
11. Follow-Up and Thank You
Send personalized thank-you emails to all attendees, speakers, sponsors, and partners who contributed to the event's success. Express gratitude for their support and highlight the impact of their participation.
Wrap Up
Even though hosting a virtual event may feel overwhelming to some businesses, most organizers have found success by setting clear goals and focusing on creating better user experiences. With determination, you can achieve exceptional results.
We hope that we have offered you enough information about virtual events, how to set them up, and tools to consider using. Now you're well-equipped to conduct your own virtual event! Happy networking, folks!
Further Reads:
Event Management: An Effective Guide For Your Next Event!
Virtual Workspace: 9 Tools to Work Digitally With Team!
9 Virtual Team Building Games for Remote Employees!
11 Best Video Conferencing Tools & Software For Teams!
Top 9 Event Management Software You Should Know About!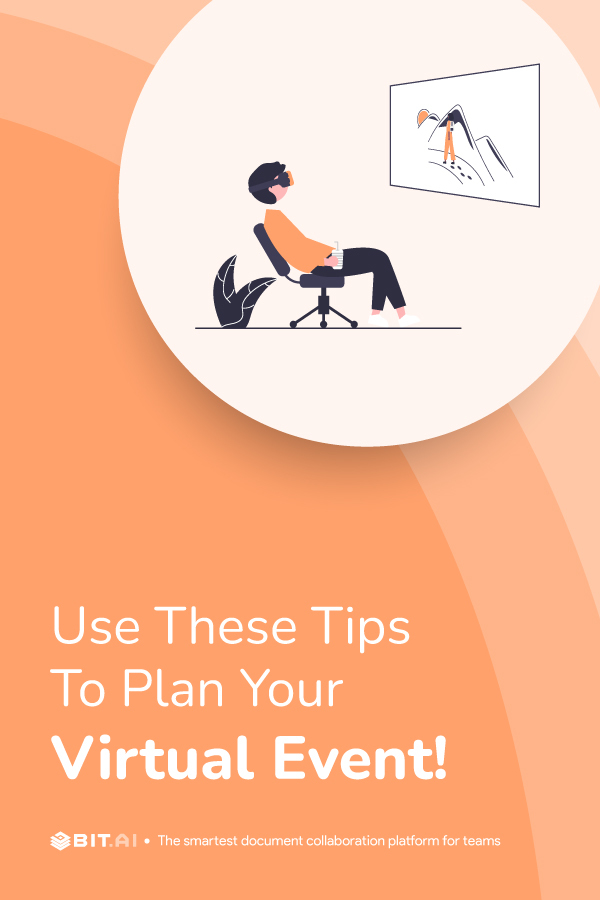 Related posts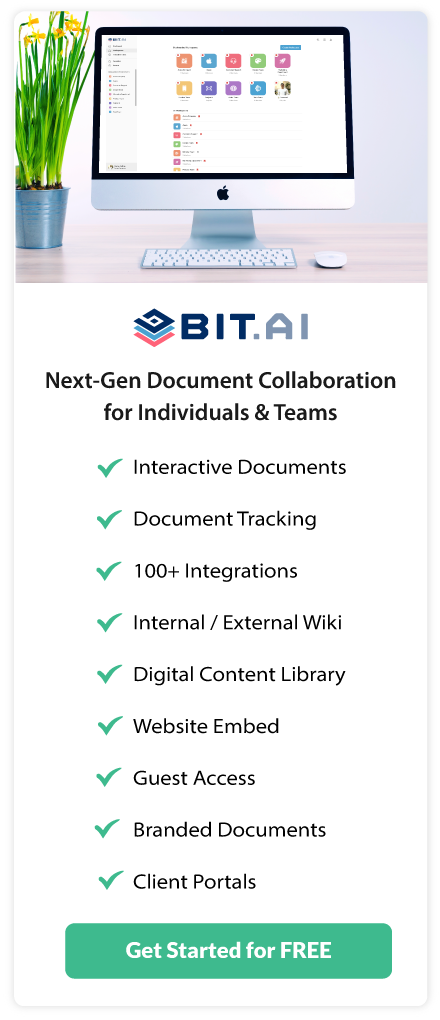 About Bit.ai
Bit.ai is the essential next-gen workplace and document collaboration platform. that helps teams share knowledge by connecting any type of digital content. With this intuitive, cloud-based solution, anyone can work visually and collaborate in real-time while creating internal notes, team projects, knowledge bases, client-facing content, and more.
The smartest online Google Docs and Word alternative, Bit.ai is used in over 100 countries by professionals everywhere, from IT teams creating internal documentation and knowledge bases, to sales and marketing teams sharing client materials and client portals.
👉👉Click Here to Check out Bit.ai.