If you're in charge of planning events, whether it's a small get-together or a large conference, you know that there's a lot of work that goes into it.
From finding a venue to coordinating catering and speakers, there are a lot of tasks involved. And that's before you even start thinking about marketing and promotion!
Fortunately, there are a number of event management software tools out there to help make the process easier. In this blog post, we'll take a look at eleven of the best options.
We have also tried to outline the main features of each product and their pricing details so that you are able to make an informed decision based on your preferences.
Whether you're looking for something to help with booking and logistics or marketing and promotion, we've got you covered. So read on to learn more about what's out there – and find the right tool for your next event.
What is an Event Management Software?
Event management software refers to a wide range of tools that help event planners in conducting their activities in a systemic and organized manner.
They often come in the form of SaaS (Software as a Service) products that can be accessed directly through the browser or mobile apps. They provide assistance from the initial idea to post-event reporting and analytics
Basically, these software help businesses automate the process of planning, organizing, marketing and ultimately analyzing promotional events.
Moreover, they facilitate event registration, ticketing, onsite, operations management, seat allocations, and more. They can also be used to administer real-time polls and surveys to keep the audience engaged and incorporate customer feedback to improve future events.
Why Do You Need an Event Management Software?
As the world evolves and adapts to upcoming technological changes, the traditional standards of every industry are lifted with it. The event management space is no stranger to such changes.
With the popularity of event management software rising each day, it's hard to ignore the statistics that prove its worthiness. The experiential marketing stats show that the use of event management software increases attendance by 20%, productivity by 27%, and profit margin by 20-30% on average.
To understand this better, let's take a look at some of the benefits of using event management software!

1. Eliminates Missed Communications
Often times the main problem that teams that organize events face is the gaps in communication. The message is often lost in translation when it is passed from one point in the hierarchy to another.
Event management software do away with this shortcoming by providing a central place for the management and integration of all event-related activities.
Its unified management dashboards, automated notifications, and mobile capabilities facilitate instant communication, keep everyone informed, and make it easier to share timely information.
Read more: Top 7 OKR Software You Need To Use This Year!
2. Reduces Time and Cost
By using a host of different solutions (which are often not built for events in particular), organizers lose a lot in terms of money and time. Event planning software combines multiple tasks in one place so that you can manage all of them from a single source.
3. Makes Processes Simpler and Efficient
The whole idea behind building event management software in the first place was to make processes simpler and easier. It minimizes the steps required to manage your events, thereby making all your administrative processes much more efficient.
What's more? The user interface and user experience of an event management software are curated precisely keeping the end-user in mind i.e., event planners, so that you get the maximum advantage of all the tools' offerings.
4. Supports Pre-built Resources
With a library of templates for email, landing pages, ticketing systems, etc., that are already available on an event management software, you don't have to worry about creating these nuanced resources from scratch. The tough part has already been done for you. So just plug, play, and enjoy.
Now that we have gone over the benefits of using event management software, let's take a look at a list of some of the best ones available in the market!
List of Event Management Software
Cvent is by far the most popular and one of the best all-in-one event management software that simplifies each step in the lifecycle of an event and easily navigates all the aspects of the event more efficiently.
Cvent allows you to create multi-faceted marketing campaigns to enhance the impact of the event and get powerful event data analytics and insights. The unified dashboard provides all resources required from start to finish in a consolidated and comprehensive manner. It also helps track attendee attendance, engagement, feedback, and more.
Being a global market leader, the Cvent team has put well-planned efforts into helping with events of all types and sizes across categories like virtual, in-person, and hybrid. Furthermore, it offers 24/7 customer services and is available for use through the web or smartphone apps.
Pricing:
Pricing is available on request.
Eventbrite is another popular event management software that focuses more on promotion and ticketing automation. It helps you create, plan, promote, and track every kind of event. It all types of events, such as workshops, concerts, conferences, music and film festivals, and more
Not only does Eventbrite help you plan and manage all aspects of your event, but it also offers various features such as email invitation creation, online ticket selling, attendee tracking, and more. It provides you with real-time reporting, data, and insights to help you manage and track your sales.
Eventbrite can be accessed online through mobile or web apps and it integrates with Zapier and social media tools. What's more? It helps you receive online and offline payments and come with 24/7 live support.
Pricing:
Essentials plan: 2% of sales and $0.79 per ticket sold
Professional plan: 3.5% of sales and $1.59 per ticket sold
Premium plan: Custom pricing for free events.
Read more: Best Roadmap Software You Need to Try (Free & Paid)
Whova is another all-in-one event management software that is a go-to for planners who want to make their events trendy and modern. It is great for organizing time, maximizing attendee engagement, and networking.
With Whova, you can create customizable email campaigns and make instant announcements to allow easier communication with the attendees. You can use its virtual conferencing capabilities to interact with attendees via live streaming, pre-recorded videos, polls or discussion forums, chats, and more.
Whova lets you use its web-based dashboard, mobile applications, and QR codes to facilitate check-in processes during events. It provides you with reports to gain visibility into engagement rates and monitors ticket sales, gamified activities, and poll results in real-time.
What's more? Whova offers social media integrations to help create and manage events on Facebook, Twitter, and LinkedIn.
Pricing:
Available on request.
The app is freely available on the Google Play store.
Bizzabo is an event management software that has been known to provide highly immersive and personalized experiences to attendees. It offers a 360-degree event overview of the event so that you can monitor and control the entire event effectively and efficiently.
Bizzabo helps you offer multiple ticket types, create event websites, manage registration and onsite check-in, send email invites and promotional campaigns with personalized content, and more – all in one place.
The best part is that Bizzabo provides you with an in-depth analysis of your targeted accounts' main interests so that you can design an ideal account-based marketing strategy. What's more? It offers easy social media integration.
Pricing:
Planner – For small to medium-sized events – On quote
Pro – For businesses with an established event portfolio – On quote
Elite – For large-scale enterprises – On quote
Social Tables is a cloud-based event management platform that helps in uniting all the stakeholders involved in the event. It is a popular choice for many businesses in various industries like entertainment, travel, and food.
This platform provides a common ground for the planner, the venue provider, and other service providers, and makes internal communication a worry-free process.
Social tables is great for planning in-person events as it offers distinct features such as floor plans, visual seating, space-effective diagraming, seat diagrams, and more. The UI is extremely simplified so that anybody can use it with zero to minimal training.
What's more? Social Tables provides quote-based pricing, which means that you only have to pay for features that you need.
Pricing:
Essential: free for one user and one event.
Professional: $199 billed monthly
Custom Package: Personalized quote billed annually.
Planning Pod is a simple and easy-to-use, all-in-one venue and event management software that is built for newbies and professionals alike. It helps you complete activities, streamlines complex procedures, develops time-saving workflows, reduces workload, and more.
With Planning Pod, you can ensure that everyone is on the same page using its integrated email capabilities to centralize your event communications and enable contractors, suppliers, and staff to easily collaborate online. It also lets you track hundreds of event data such as timetables and registrations, in real-time.
Planning Pod also comes with integrated tools for managing timelines, budgets, calendars, leads, proposals, registrations, contracts, e-signatures, invoices, payments, forms, floor plans, and tons of other components. This tool is also accessible in the form of web and native applications across PCs, Android, and iOS devices.
Pricing:
Planner plan at $49/month
Business plan costs $79/month
Enterprise plan costs $119/month
Enterprise plan – Custom pricing
Whether it is an in-person, hybrid, or virtual event, Eventizilla offers a complete suite of solutions to streamline all activities related to the event planning process. This all-in-one event management platform helps you create landing pages, sell tickets, manage registrations, process payments, promote events online, and more much from a single place.
With Eventzilla's virtual add-on feature, you can create and manage webinars, live streams, or other virtual events directly from within the platform. It also offers various other features such as multi-session registration, automated waitlists and approvals, customizable registration emails, session info, badges, reminders, and more.
The event registration widget can be embedded anywhere for easy collection of customer data. The best part about the widget is that you don't even have to create an account on the website, thus saving you the trouble of going through an entire registration process.
Pricing:
Basic plan costs $1.50/registration
Pro plan costs 1.9% + $1.50/registration.
Plus plan costs 2.9% + $1.50/registration.
Read more: 10 Workflow Management Software Every Business Should be Using!
Eventleaf is a robust event management software that was created specifically for big companies to help them in organizing award shows, conferences, meetings, fundraisers, workshops, trade shows, etc.
With Eventleaf, you can create unlimited events and event websites, register attendees, conduct surveys, collect payments, and lots more. It allows you to manage everything from invitations and reminders, promotion, ticket sales, payments, merchandise, etc. from its dashboard.
In case there is a change in dates, timings, speakers, etc., you can easily notify your participants through the conference app. It even lets you print your guest badges in advance using the Check-In App via your smartphone.
Pricing:
Starter plan is free for up to 100 attendees/year
Basic plan at $1/attendee
Professional plan at $2/attendee
Ultimate plan – Custom pricing based on the requirement.
Eventmobi is an event management software that covers the entire lifecycle of an event, meeting, or conference.  It has a highly user-friendly interface with heavy customization and design capabilities.
A distinct feature of Eventmobi is that it supports multi-event management, which means that event attendees can get access to previous, present, and future events in a centralized location.
With its gamification feature, you can include elements of competition, scores, rewards, etc. to boost your engagement with your attendees.
Furthermore, Eventmobi creates post-event and end-of-day reports as well as live analytics to give you valuable performance insights.
Pricing:
Contact the vendor for pricing.
Conclusion
Getting your hands on a fully integrated solution that can simplify event management processes, while maintaining crucial reports and data, is every event planner's dream come true!
That's why we took it upon ourselves to create a list of some of the best event management software for you! No matter the size of your organization or the events you are organizing, this list has information regarding the perfect tool for you.
Now you know your options and it's time to choose. Set your mind and try one of these tools, and watch event management become a stress-free and entertaining process.
Further reads: 
10 Team Management Software Every Business Should be Using!
Management Plan: Definition, Benefits & How To Create One?
9 Best CRM Software You Should Use This Year!
Reputation Management: What is it & How to Do it?
10 Team Management Software Every Business Should be Using!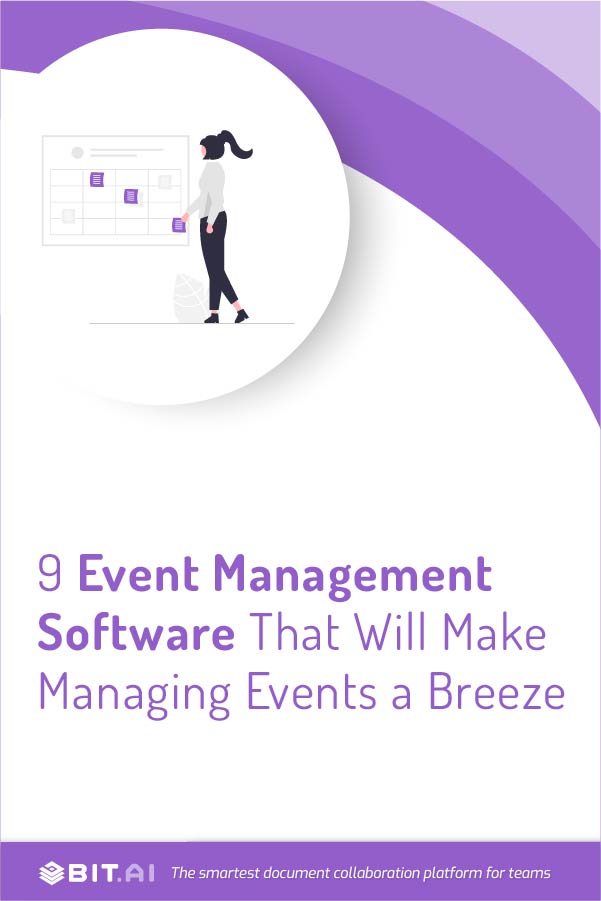 Related posts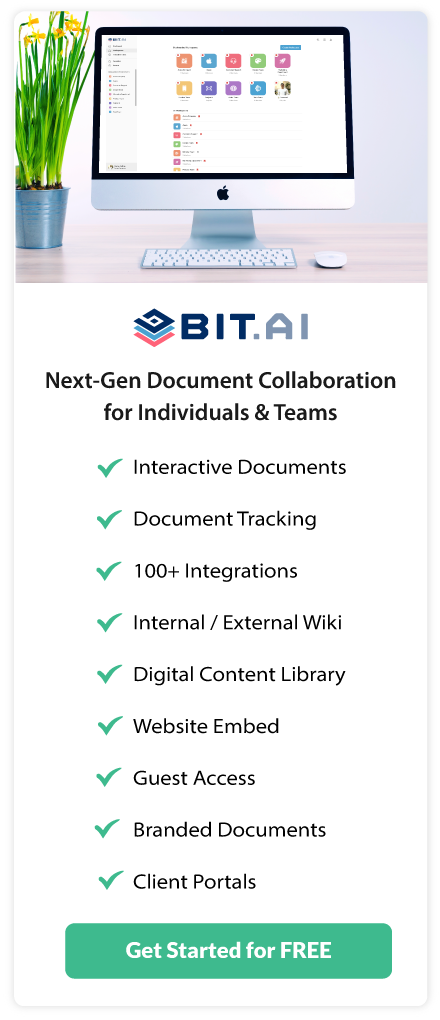 About Bit.ai
Bit.ai is the essential next-gen workplace and document collaboration platform. that helps teams share knowledge by connecting any type of digital content. With this intuitive, cloud-based solution, anyone can work visually and collaborate in real-time while creating internal notes, team projects, knowledge bases, client-facing content, and more.
The smartest online Google Docs and Word alternative, Bit.ai is used in over 100 countries by professionals everywhere, from IT teams creating internal documentation and knowledge bases, to sales and marketing teams sharing client materials and client portals.
👉👉Click Here to Check out Bit.ai.