The word presentation in layman terms means 'the act of showing something', however, with time, this word and its usage have gone through many changes.
Whenever someone mentions the word presentation, our mind either thinks about PowerPoint (a tool) or the act of presenting something verbally.
Let us clear all your doubts! Presentation is more or less both of them. A presentation, when developed using slides and delivered properly through engagement, is a presentation in the real sense.
Now the bigger question is: how to do it?
Well, don't know. We know the important role that presentations play in both personal (for documenting things cleanly and in an organized manner) as well in the professional lives of people. They are of huge help and that's why we have made a list of 15 best presentation blogs and websites you must follow in 2022.
Here in this list, we have mentioned 15 presentation blogs and websites that'll enhance your skills in creating and delivering presentations! Are you ready? Let's dive in…
Presentations have been of great help in every field possible and Slide Share blogs have definitely played a major role in this. The blog has solutions to all the problems you might have while creating and delivering a presentation and has tons of advice on creating exquisite content.
The entire blog can be your go-to source for useful content and amazing strategies for presentations and much more.
Making it into our list of presentation blogs and websites is Prezi Blog. If you know the titbits of the world of presentations, then maybe you are already aware of the name Prezi and what popularity it holds in the field of presentations.
This is probably the smartest tool and has the capability to take your presentation to another level. With Prezi, things become simpler, easier, and more beautiful.
Read more: 9 Best Presentation Ideas and Tips You Must Explore!
Planning and presentations are quite interlinked and Duarte is the platform that helps with both.

With the tagline Ignite your Ideas, Duarte isn't just a platform that has a cure for your presentation needs, it is much more diverse. It offers strategic consulting for making presentations that are beautiful, purposeful, and vivid.
Since 1998, Duarte has been serving to align the flow of creative energy without any obstruction. If you too are feeling obstructed in the path of moving forward because of the unavailability of a tool that might help you, then probably Duarte is the missing link!
Read more: 6 Awesome Video Presentation Software and Tips to Follow!
Presentation Zen, built and founded by Edward Tufte and Garr Reynolds, is a trusted tool in the world of presentations. It has incorporated the voice from all corners of the world and weaved them in the form of storytelling methods to guide people who are willing to change the world through their presentations.
So, with descriptive and practical examples of different types of presentations, Presentation Zen is the key to great presentations! This blog takes input from the principles of Zen arts in Japan and tries to reveal the secrets of communication.
It is a resource that would never turn dissatisfactory when it comes to presentations. Readout their blogs and tips to create amazing presentations for your work NOW!
Charting in the list of best presentation blogs and websites is Design School by Canva. It has innumerable templates covering Social Media, Personal, Business, Marketing, Education, and Trending themes.
This blog comes up with tutorial videos to help the novice, thus leaving no stone unturned. It covers all presentation needs; be it Logos, Posters, Business Cards, Flyers, Resumes, and Presentations – everything is only a click away.
So folks, let's not waste any time! Come up with your ideas and start a project with Canva's Design School.
While presentation tools are of great help, without mastering your speaking skills you won't be able to make the best of it. If you too fear public speaking, then this is the platform you must get in touch with.
A presentation alone is a man without legs, a carpenter without his tools. It is the skill of speaking that brings wonders to a slide.
So, for slide designing and preparing your talk, look no ahead of speaking.io.
Ethos3 is a presentation design agency in Nashville, United States. With a big client base of Google, Coke, and NBC, they probably have an established reputation in the list of best presentation blogs and websites.
This website knows the need for presentation and the powerful role they play in conveying an idea. Hence, serving in the same field, Ethos3 offers tips and hacks to get through the task of building presentations and also doing it the right way.
If you wish to cast an actual magic spell on your team and manager while delivering a presentation, Slide Magic is here to turn your lazy presentation skills into smarter ones.
It is a platform that can help an individual with serious business presentations. It is a perfect tool to match your ideas with designs and vice versa. So, for daily inspiration on developing better slides, go with Slide Magic.
Six Minutes has a plethora of content on public speaking and presenting alongside. Not only this, but this blog comes up with all the positive energy by offering the reader tips for positive thinking and ways to incorporate positive habits.
This makes it worthy because we all are familiar with the pain we go through whenever we are asked to present something in front of an audience.
The world is moving an inch closer each day through the perks of digitalization. Now video conferences, webinars, talks, etc are happening through screens.
In this era of mass mobilization, have you ever felt incompatible?
If yes, then the Virtual Presenter is the answer for you.
In our list of best presentation blogs and websites is Roger Courville's blog that offers tips on running webinars and online sessions without any hesitation. He probably understands the fear of facing the screen while talking and for this, his blog and tips can be of great help.
If you think you know all the inside outs of PowerPoint, then this is the platform that can burst this bubble of illusion for you.
There is a lot that PowerPoint has in stock and Indezine plays a crucial role in this revelation. So, for managing slides with heavy text content, take a look at Indezine and the tips this blog has for you. We are sure it will be of great help!
The blog goes by the name of the founder and Finkelstein is probably the best and most experienced in building presentations. Her articles have been published in renowned magazines and newspapers and this shows the recognized stature that she has in the field of public speaking and presenting presentations.
Through tips, tutorials, and articles, she has something valuable to say on all of the topics related to presentations!
If you want to make a good slide, then you must become a member of the Slide Team. Well, this blog helps people to develop their presentation skills. Many tools and strategies related to presentations are offered by this wholesome blog.
The blog claims to have researched over 100,000 topics and designed over a million editable slides! That's a huge number. The work is done and kept in a place, all you have to do is to come up with your ideas and bring meaning to these slides by filling them up.
It is a one-stop solution for all your presentation needs. With Presentation Panda, you'll see improvement in your presentations and their design. It not only gives you slides to edit but also offers good tips to make them even better. The kinds of services it offers in better planning and public speaking make this blog very comprehensive and useful for users.
This platform is the smartest tool among many other presentation blogs and websites. Whenever you are falling short of places to look to whenever you are asked to present a presentation on a topic, Slide Camp can be your friend in need. So forget not to refer to this website for amazing slides!
Conclusion
If you have ever been asked to create a presentation, then you probably already know how tiresome it can be. Well, there is one tool out there that can make this complicated task easier for you and bring happiness into your workday.
Bit.ai helps you create beautiful, interactive documents that highlight your text, have the perfect format, and great to look at! You can easily share these documents with internal teams and interested stakeholders.
That's not it! You can also work with your team in real-time co-editing and use inline comments to bring your colleagues to the same place to discuss work and make decisions related to your documents.
There you go, folks!
This was our take on the best presentation blogs and websites out of the lots available! This list can help you create slides, offer tips on planning your talk, and help you in getting over the fear of public speaking.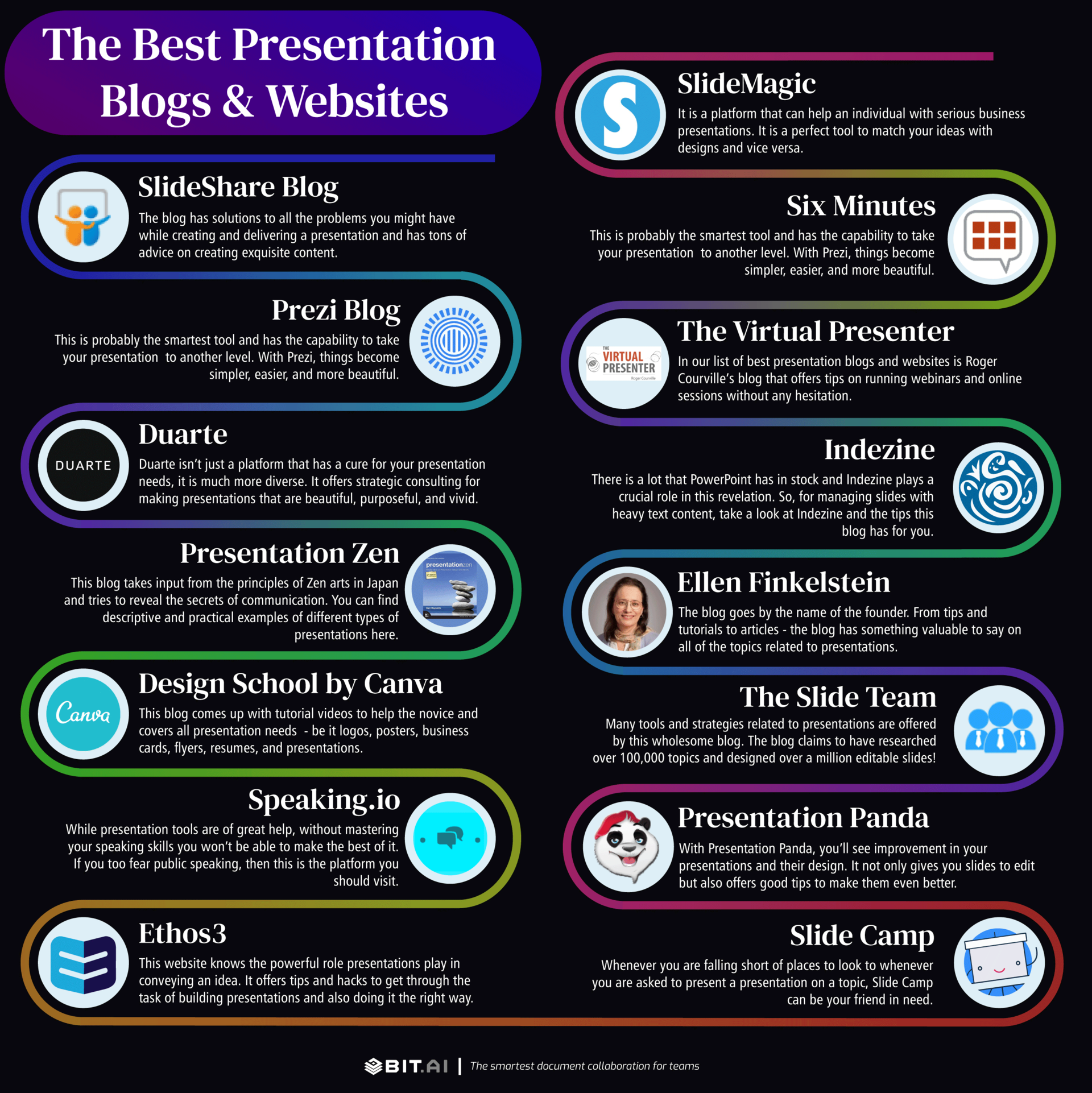 We hope you're benefitted from our list of 15 presentation blogs and websites.
Did we miss out on your favorite presentation blogs and websites? Let us know by tweeting us @bit_docs. We'd be happy to hear from you!
GOOD LUCK!
Further reads:
Presentation Tools That Enable Better Collaboration!
Business Presentation: How to Create One to Woo Clients!
13 Programming Blogs and Websites to Improve Your Coding Skills
Top 10 Technology Blogs You Must Subscribe to in 2022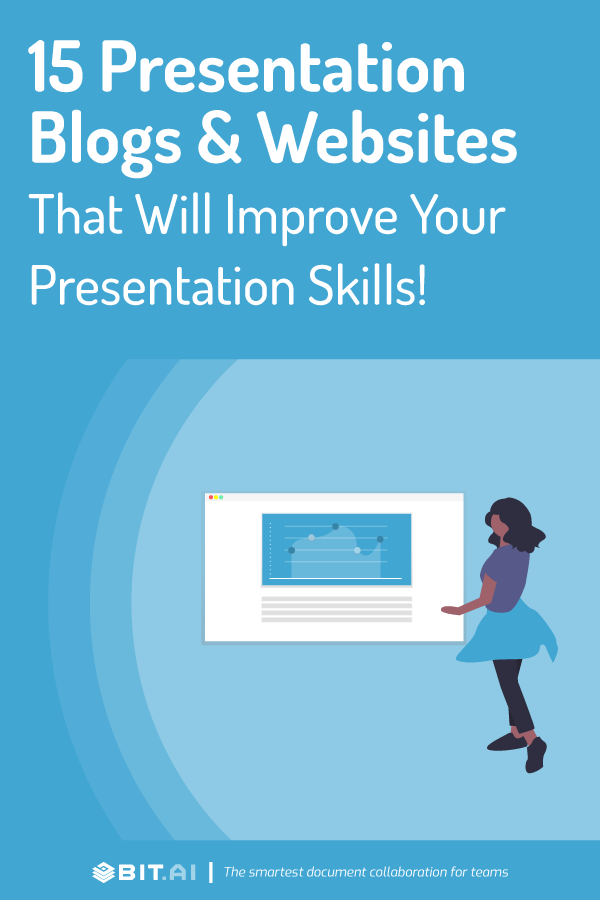 Related posts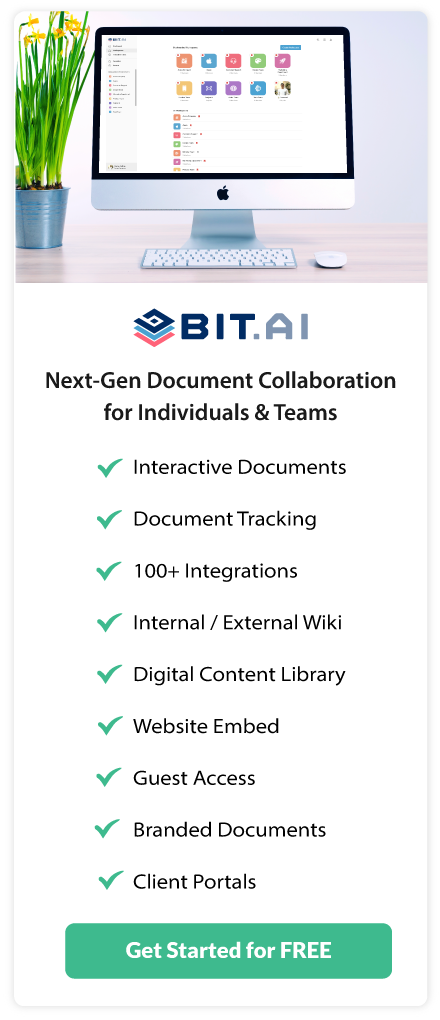 About Bit.ai
Bit.ai is the essential next-gen workplace and document collaboration platform. that helps teams share knowledge by connecting any type of digital content. With this intuitive, cloud-based solution, anyone can work visually and collaborate in real-time while creating internal notes, team projects, knowledge bases, client-facing content, and more.
The smartest online Google Docs and Word alternative, Bit.ai is used in over 100 countries by professionals everywhere, from IT teams creating internal documentation and knowledge bases, to sales and marketing teams sharing client materials and client portals.
👉👉Click Here to Check out Bit.ai.