Plagiarism is the practice of taking or stealing ideas, thoughts, works, etc. from someone else and using it as our own. And it turns out, it's more common than we think.
Recent studies show that 1.5 billion out of the 5+ billion web pages in the world have similar or duplicated content. That's nearly 30% of web pages actively copying content!
This is a shocking and frustrating piece of news for writers and creators who are producing original content.
But sometimes, we also happen to be in a situation where we plagiarize a sentence or two without even realizing it! This can lead to serious repercussions, depending on where you plagiarized your content from.
So, how can we solve this problem? How can we keep copycats at bay? How can we make sure that we haven't unintentionally plagiarized?
Worry not! That's why we have plagiarism checkers to save us! In this blog, we will provide you with a list of some of the best plagiarism checkers out there to help you create, fresh, original, plagiarism-free work.
Before that, let's take a look at what plagiarism checkers are! Ready? Let's go!
What is a Plagiarism Checker? (Definition)
A plagiarism checker is exactly what it sounds like – something that checks for plagiarism.
To define it properly, a plagiarism checker is a software or a tool that searches and locates instances of plagiarism or any similarity in content within a document or piece of content.
It basically scans the database of a web page and identifies the components of a text, and then compares it with other work to discover. Based on this comparison, your plagiarism checker will generate a report which highlights any matches or similarities.
So if you wish to check for plagiarism, all you have to do is copy and paste your text or just upload your document onto the interface of these plagiarism checkers, and it will do its job.
Most of these plagiarism checking tools are often used in academia or the education sector, but they are also frequently used by writers with jobs in corporate, nonprofit, and government sectors.
That's right, even writers like us use it too! Now you probably want to know the names of some of the best plagiarism checkers out there! Well, we've only got one thing to say – read on!

List of 11 Best Plagiarism Checkers You Must Explore!

Let's start the list with PlagScan, an accurate and secure plagiarism checker that lets you find the plan that's custom fit to your needs. It gives you the option to either copy and paste your text or upload a file directly to look for any content similarity. It super easy to use, hence suitable for students and entrepreneurs alike.
PlagScan compares your document to billions of online sources, more than 20.000 scientific journals. and even your own documents using Yahoo's BoSS-API. The plagiarism matches are highlighted in color-coded reports with side-by-side reporting for comparisons on a single screen.
What's more? The scans are even saved to your account along with additional information such as word count, dates, and source list.
Pricing
Plan starts at $5.99 for 24 pages
Read more: 10 Writing Tools that are Essential for a Writer!

Your favorite writing assistant, Grammarly, also offers a high-quality plagiarism checker. So, in addition to proofreading and checking your grammar, it also scans and cross-checks your material from over 16 billion web pages and also ProQuest's databases. It detects plagiarism and provides plagiarism alerts when text matches with online text or in the database.
Grammarly's instant report lets you know how many duplication issues are there in the content and calculates the overall originality score for your document. It highlights the plagiarized sections for you to make the changes and also offers numerous writing styles, suggestions for grammar, vocabulary, and syntax.
You can use Grammarly on any web document creator because it comes with a browser extension for Safari, Chrome, and Firefox. What's more? This plagiarism tool keeps your writing private.
Pricing
 Grammarly costs $11.66/month

Next on the list is QueText, an online plagiarism checker that uses an advanced technology called DeepSearch for detecting plagiarism in your documents. It pulls from 35 billion websites, 20 million books, and 1 million journals and also combines contextual analysis, smart algorithms, and word placement analysis to get fast and accurate scans and results.
This tool provides ColorGrade feedback, which color-codes sentences to help you identify exact and 'fuzzy' matches. It allows you to view any duplicate text side-by-side with the source text so that is easier to edit your texts. Quetext guarantees security because it does not store your files in any database. Moreover, it supports multiple languages and does not require you to register or make an account for using its services.
Pricing
Offers a free plan
Pro plan starts at $9.99

Here we have PaperRater, a cloud-based plagiarism checker that is amazing for students and teachers alike. It offers automated proofreading, grammar check, and automated scoring. This means that it digs deep into the syntax and structure of your text and gives you results for spelling mistakes, grammar, content grade level, and even word choice suggestions.
PaperRater uses Artificial Intelligence and Data Science to analyze your content in real-time and provide highly accurate results within 5-15 seconds after submission. The best part is you don't even have to sign up, log in or download PaperRater. You can just copy-paste your text or upload your document and start using its services.
Pricing
PaperRater is free to use
Read more: 10 Best Apps for Writing a Book!

Whether you are in business or in academics, Copyleaks is one of the most accurate plagiarism checker software you can find. Through its cloud computing, it scans over 60 trillion pages and databases to find duplication of your articles or copies of your content throughout the internet. It has a correlation instrument that discovers a similarity between two reports or site pages and provides you free assistance.
Copyleaks has a copyright infringement checker which brings to your notice when someone on the web acquires your content without your consent. By creating an account, you get to save your previous scans and also use the grammar check tool that comes with it. What's more? Copyleaks supports many file formats including doc, pdf, HTML, txt, and more in any language!
Pricing
$9.16/month for academics
$8.33/month for businesses

Next on the list, we have Plagramme, a plagiarism checker software that is suitable for writers, authors entrepreneurs, students, and educators alike. Its easy-to-use interface features real-time plagiarism checking with a proprietary plagiarism checking algorithm that detects different types of plagiarism such as copy-paste, invalid sources, mosaic plagiarism, etc.
Plagramme has an advanced scoring system that includes metrics like similarity scores, paraphrase scores, plagiarism risk scores, quick scores, matches, and citations. It highlights plagiarized content in color codes and helps place links to the sources on the matched parts in your document.
Plagramme has a multilingual system that has no trouble detecting plagiarism in multiple languages! What's more? There is no word limit to the content that you are allowed to scan on Plagramme.
Pricing
Duplichecker is an easy-to-use plagiarism checker that comes with content-related automation like checking spelling and grammar. You don't even need to create an account or enter an email for this tool – all you have to do is just copy-paste your text directly into the search box and it will do the rest.
The best thing about this tool is that it offers a paraphrasing tool that helps remove plagiarism and allows you to rephrase the content. It shows the results in percentage and has a short waiting time. Moreover, Duplichecker supports varieties of file formats, including, .rtf, .txt, .tex, .docx, .doc, and more.
Pricing
The basic plan starts at $20/month
Read more: 9 Best Paraphrasing Tools In 2022 (Free & Paid)

UniCheck is a plagiarism checker that is jam-packed with features, making it a great choice for businesses and universities alike. It scans your document, provides notification about any suspicious content, and then creates a detailed report to review your plagiarism within as little as 4 seconds.
What makes UniCheck unique is that it supports a Google Docs add-on feature that allows detection of plagiarism by highlighting citations and similarities while you're writing. It even allows you to find duplicate content using a Google Chrome extension.
UniCheck provides a personalized dashboard and supports numerous file formats and bulk uploads. What's more? It uses encrypted text and protects your data through its secure private cloud.
Pricing
Free version available
 Pricing starts at $5.00

If you want an amazing plagiarism checker for your research papers, then we recommend you use Plagiarism Checker X. It is used in over 60 nations, making it a credible and reliable tool. This tool uses AI DeepSearch technology to scan and check for identical articles inside numerous reports and find out whether your content was duplicated or not.
Plagiarism Checker X is easy to use, highly accurate, and allows you to compare the content side by side without any hassle. With its Bulk Search feature, you can scan and compare an entire batch of contents or documents with just one click. This tool ensures 100% data protection as it never stores your data at any stage in its databases.
What's more? It supports multiple file formats and over 20 different languages!
Pricing
Basic plan is free
Professional plan starts at $39.95

Here we have a popular plagiarism checker called Turnitin. It has been partnering with educational institutions for more than 20 years to scan and detect any plagiarism or similarity in content. It uses its algorithm to compare texts against its database that includes works and articles published online as well as papers submitted by your students to the website.
Turnitin provides a comprehensive and proprietary scoring system for each piece it scans. It provides a similarity index, a percentage score, and a report that gives teachers more insight into a piece of writing. It also uses color codes to distinguish unoriginal content in the text
What's more? Turnitin is integrated into the Assignments tool in many AMU and APU classrooms, which means that each paper uploaded will automatically be sent through Turnitin's repository without a separate log-in.
Pricing

Pro Writing Aid is a multi-purpose tool that can not only help you detect plagiarism, but also improve your language, check your spelling, and underline grammatical errors. It is also known to help with SEO and comes with a combo of comprehensive detection and editing tools.
ProWritingAid provides more than 20 in-depth writing reports which highlight elements like repetitiveness, vague wording, variation in sentence length, over-complicated sentence structures, etc. It even includes an inclusive language suggestion feature. All these features make it suitable for different styles of writing.
You can utilize ProWritingAid as a work area application or coordinate it with Microsoft Word, Google Docs, Scrivener, and most internet browsers. This means that you can run a plagiarism report online or through an add-in. What's more? It supports a wide range of file types.
Pricing
Free version available
Premium subscription starts at $20/month
Conclusion
There you have it! In this blog, we have gone over a variety of plagiarism checkers suitable for both academics and businesses.

With these tools on your hands, you will always have superior results, clarity, better writing, and most importantly, peace of mind!
Now all you have to do is choose the one that fits your needs. That's all, folks!
Further reads: 
9 Essential Writing Tips Every Writer Must Use!
Article Spinner: Definition, Purpose & Tools!
10 Best Writing Apps To Make You A Better Writer!
11 Grammarly Alternatives and Competitors You Must Know!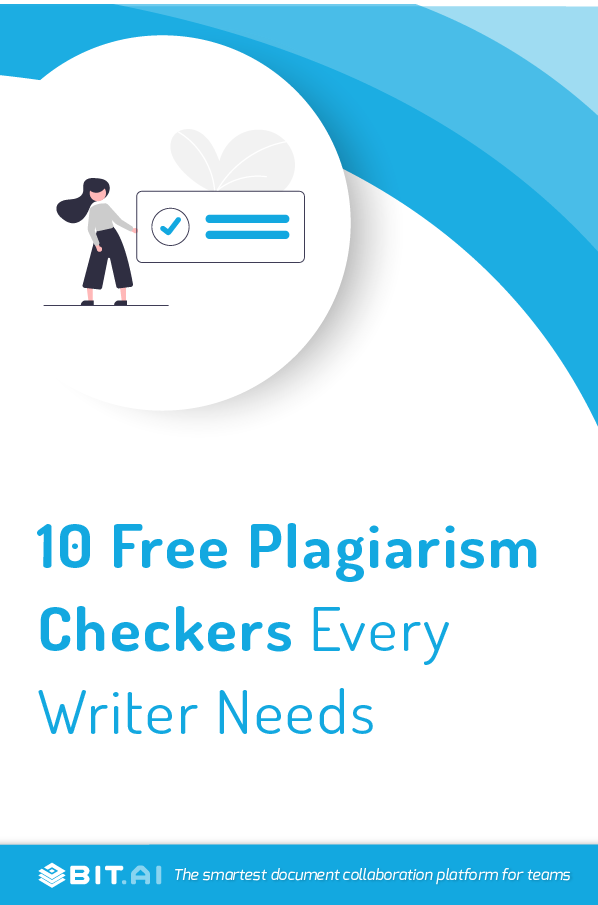 Related posts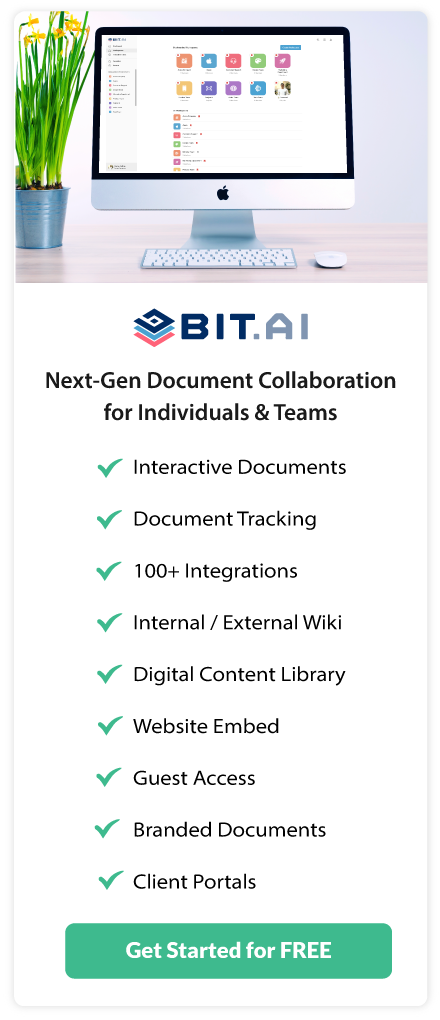 About Bit.ai
Bit.ai is the essential next-gen workplace and document collaboration platform. that helps teams share knowledge by connecting any type of digital content. With this intuitive, cloud-based solution, anyone can work visually and collaborate in real-time while creating internal notes, team projects, knowledge bases, client-facing content, and more.
The smartest online Google Docs and Word alternative, Bit.ai is used in over 100 countries by professionals everywhere, from IT teams creating internal documentation and knowledge bases, to sales and marketing teams sharing client materials and client portals.
👉👉Click Here to Check out Bit.ai.