Spreadsheets have long been one of the key tools businesses use to organize their data. Whether you want to analyze data, record inventory lists, create tasks, manage projects, manage product SKUs, and more- spreadsheets have been an integral part of every business since the dawn of computers.
Everyone from entrepreneurs and freelancers to small, medium and large organizations, uses spreadsheets to solve complex mathematical problems and organize huge datasets.
Spreadsheets were introduced to the world by Rene K. Pardo and Remy Landau in 1969 when they were called LANPAR. The software VisiCalc was the first computerized spreadsheet on a microcomputer and was the key to helping make Apple II computer.
As the internet came along, spreadsheets got smarter and more versatile. One of the most prominent spreadsheet software which is leading the pack is Google spreadsheets.
Google Sheets: An awesome cloud-based spreadsheet
Google Sheets is cloud-based spreadsheet software that allows users to create, edit, and collaborate on a spreadsheet from anywhere around the globe. Users can present data using charts and graphs with built-in pivot tables, formulas, and conditional formatting.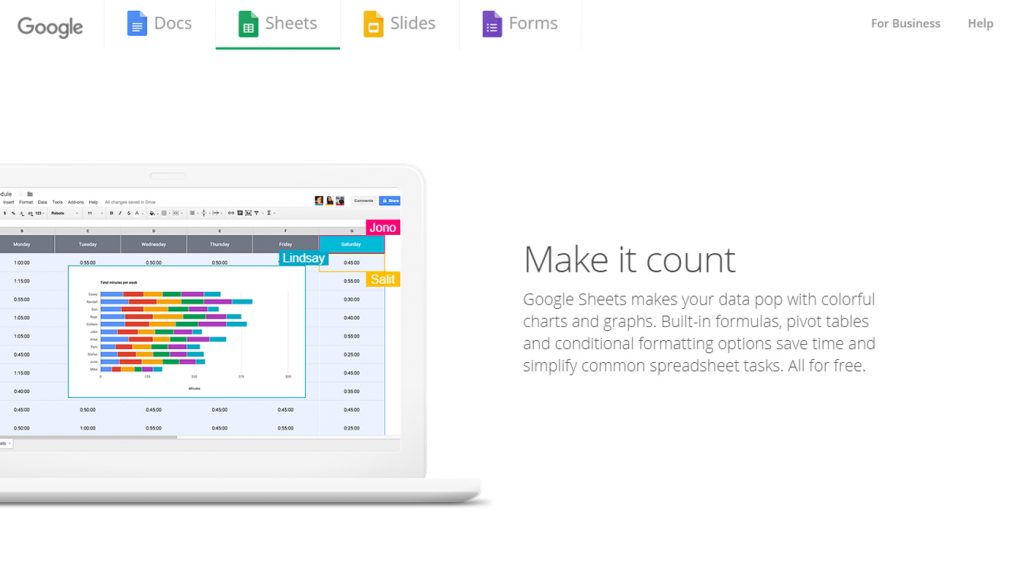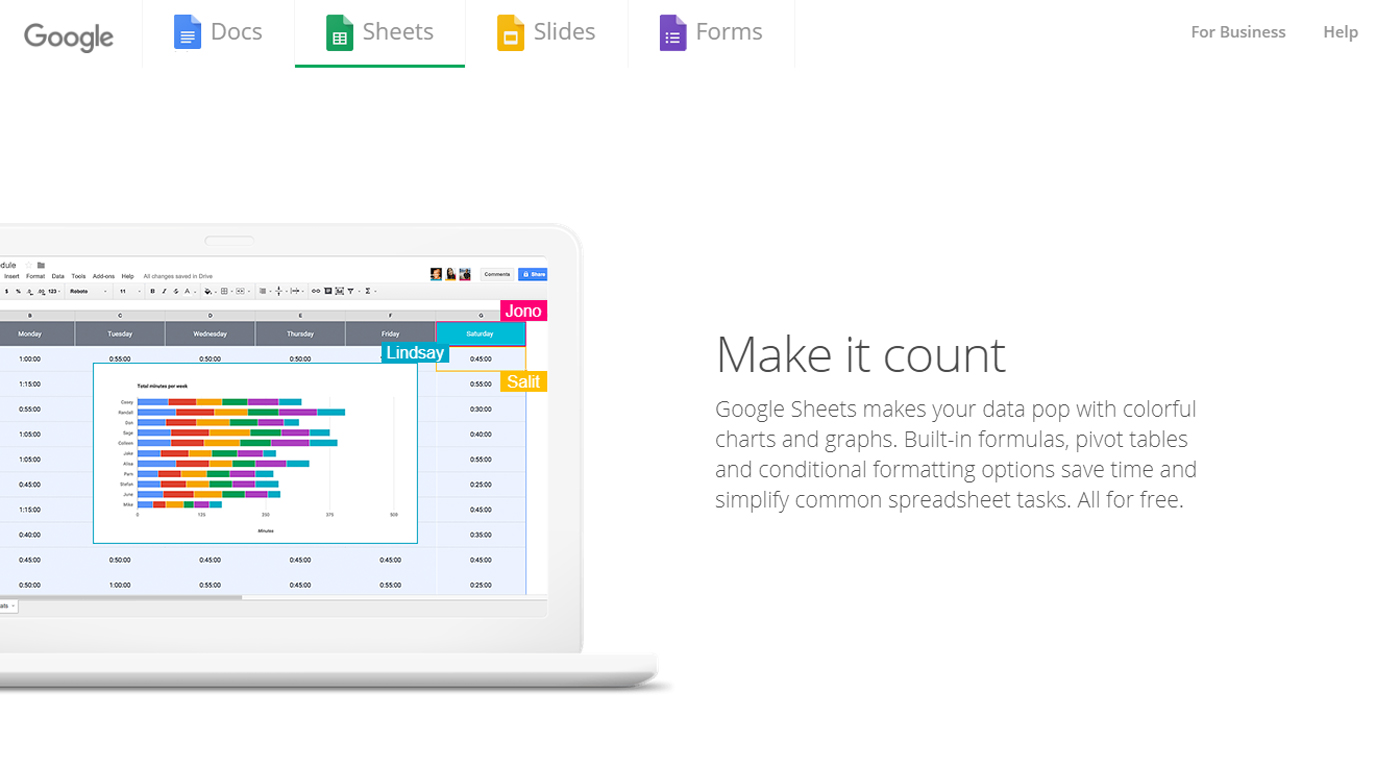 To help you kickstart your work, Google Sheets also provides ready-made templates for budgets, expenses, schedules and more. The best part is that all your data gets safely stored in the cloud, no need to save files on your computer and have trouble finding them. All your changes and work gets automatically saved with each new entry into the spreadsheet.
With mobile and desktop apps available, Google Sheets is great spreadsheet software for anyone looking to organize their data and work collaboratively with their team.
Having said that, the internet is filled with awesome spreadsheet tools, many of which rival, or even outperform Google Spreadsheet in various ways. If you are looking for a Google Sheet alternative and want to see what else is out there, this blog post is for you!
Read more: How To Embed Google Sheets In Your Documents
Top 5 Google Sheets Alternatives To Help Your Team
A quick Google search would give you a comprehensive list of spreadsheet software, all claiming to be better than Google Sheets. After extensive research, we have come up with the top 5 Google Sheet alternatives that rival Google Sheets in various aspects of usage, design, quality, security, and features. So without further ado, let's get started…
The first google sheets alternative is Microsoft Excel Online. Since the 1980s, the name "Microsoft" has been synonymous with personal as well as work computers. Add Microsoft's Office to the mix and you have a whole range of productivity apps for businesses and individuals alike. This is why Microsoft's spreadsheet software Excel is being used by an estimated 750 million people worldwide! For years, Microsoft Excel has been the go-to spreadsheet tool and for a good reason.


Microsoft has a familiar-looking interface that most of us have seen or worked on at least once in our lifetime. The platform can be as easy and as complex as you want it to be. And now with Excel online, people can collaborate with their peers and colleagues, and analyze data collectively in real-time.
There are various charts and graphs to help you present your data in a visually appealing manner, while the presence of tables and formatting options can make it easy for anyone to understand complex datasets. Businesses can also easily create forecasts and predict trends.
In order to kickstart your spreadsheet projects, Excel also has over 40+ professionally designed templates to help you get started. Excel also has mobile and desktop apps that sync your data automatically, making sure you are always working on the current version of the spreadsheet no matter which device you are working on.
Key Features:
Real-time co-author on the spreadsheet
Reliable and secure
Apps for almost all platforms and devices
Pricing: 
Free version with limited features
The paid plan starts at $8.25 per month, per user.
Read more: 7 Best Google Translate Alternatives In 2021
Next up on our list of awesome Google Sheet alternatives is Zoho Sheets, spreadsheet software for collaborative teams. A free tool, Zoho Sheets allow users to create, edit, and share spreadsheets online. Zoho sheets are interactive, meaning that users can track progress with checklists, create validations for data entry, and automate everyday tasks- all within the spreadsheet tool.

A key feature that sets Zoho sheets apart from other spreadsheet software is it's AI assistant Zia. Acting as your personal data analyst, Zia helps make sense of your data quickly without the need to hire a data analyst to do it for you.
Zia can recommend charts, aggregate them depending on your data, or create pivot tables that you can then add to your spreadsheet with a simple drag and drop. You can even ask her questions like "what's my monthly sales?" and Zia will analyze your spreadsheet and come up with an answer in seconds!
Besides the super cool AI assistant, Zoho Sheets helps you analyze your data using over 350+ functions and even gives you the ability to create your own functions based on your business need. Working with large data sets could result in high data inconsistencies. Zoho Sheets helps clear these inconsistencies by getting rid of duplicate values and filling random missing values in the spreadsheet.
Key Features:
User-level locks, version history, and audit trail
Works with Excel and formats like .ods, .csv, and .tsv.
Embed your spreadsheet on your website or blog
Pricing: 
Free plan with limited features
Paid plans start at $10 per month per user
Read more: How to Embed Google Slides Into Your Documents
Calling itself "part spreadsheet, part database," Airtable is a truly unique Google Sheet alternative. Being dubbed as 'spreadsheets with a superpower,' Airtable allows users to move beyond the restrictions of a simple spreadsheet cell-like structure and do more with your data.
If you find the task of adding and managing data into a spreadsheet a bit boring, Airtable will surely change of all that. From an intuitive interface and a colorful dashboard, Airtable brings fresh energy to the, often boring, spreadsheet environment.


The interface is customizable enough to operate like a project management software and not just a Google Sheet alternative. You can switch your data to a grid, gallery, calendar or kanban view. Airtable is flexible enough to incorporate different types of content like checkboxes, attachments, links, long text notes, etc. and can even link to records in other databases.
Airtable can be integrated with your favorite office apps like Dropbox, Google Drive, Slack, Gmail, Zendesk, and even social media platforms like Instagram, Facebook, Twitter, etc. And with companies like Shopify, Buzzfeed, and Expedia using the tool, Airtable is definitely worth a try.
Key Features:
Highly customizable and dynamic
Add checkboxes, barcodes, long notes to spreadsheets
Extensive template gallery
Pricing: 
Free plan with limited features
Paid plans start at Plus ($10 per month per user), Pro ($20 per month per user).
A free and open-source Office application, Libreoffice has an extensive community of developers and members who support this awesome tool. LibreOffice Calc is the spreadsheet tool of Libreoffice that is highly intuitive and easy to use.

Calc has various styling options like freely rotating contents, borders, templates, backgrounds, and more, while the solver component lets you solve optimization problems with a click of a button. Users can also collaborate and co-author a spreadsheet easily.
Calc has something called the Advanced DataPilot technology that makes it easy to pull in raw data from corporate databases, and then convert it into meaningful information. The tool is compatible with Microsoft Excel and can even convert spreadsheets into PDFs.
Apart from Calc, LibreOffice has an extensive list of office apps like Writer (word processing), Impress (presentations), Draw (vector graphics and flowcharts), Base (databases), and Math (formula editing).
Key Features:
Open-source
Works with Excel
Convert raw data into useful information
Pricing: 
And the last tool on our list of awesome Google Sheet alternatives is Smartsheet. Another cloud-based tool, Smartsheet is more than a simple spreadsheet as it allows teams to plan, capture, track, automate, and report on work at scale. With a clean and intuitive interface, Smartsheet empowers users to instantly configure and improve their processes.

Users can begin their work by noting their data into a grid view which can be converted into a card, kanban, or calendar view in a single click. With a clean UI, users can plan, collaborate, and keep an eye on the workflow from a single dashboard. You can combine data from multiple sheets and look for trends and insights.
Smartsheet has been named in the Forbes "Cloud 100" list of the best private companies in cloud computing and is used by over 96 of the Fortune 100, making it a must-try Google Sheet alternative!
Key Features:
Project management and content collaboration
Create and manage forms
Pricing: 
Free plan with limited features
Paid plans start at Individual ($14 per month), Business ($25 per user per month)"
Final Words
Google Sheets is an excellent spreadsheet tool that offers many straightforward features. But as time has passed, a lot more advanced spreadsheet software have emerged on the market. All the above-mentioned tools are great at what they do so the odds of you getting disappointed with either one are very low!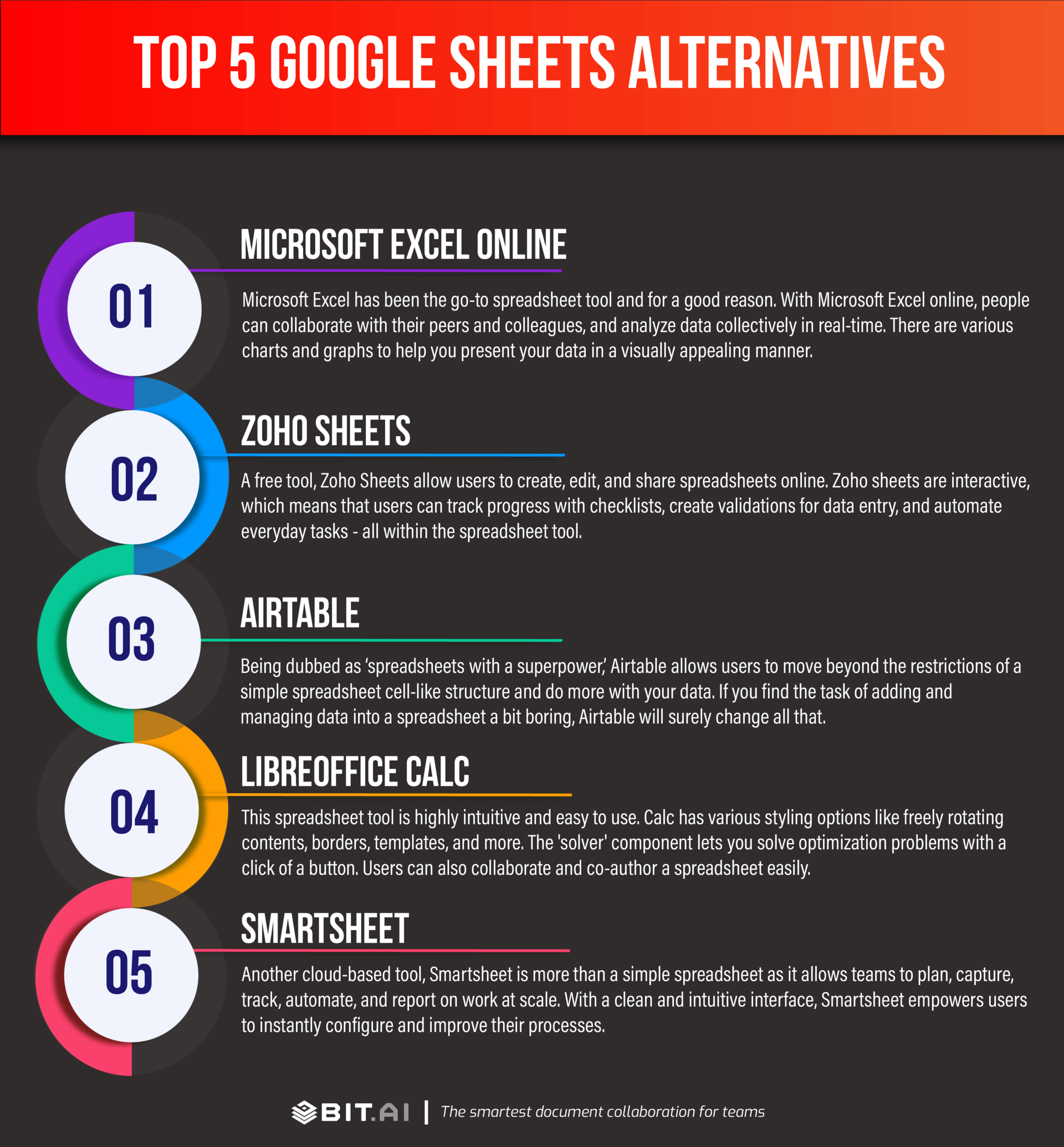 Did we miss any Google Sheets alternative out there? Which one do you prefer? Tell us about it by tweeting us @bit_ai
Further reads: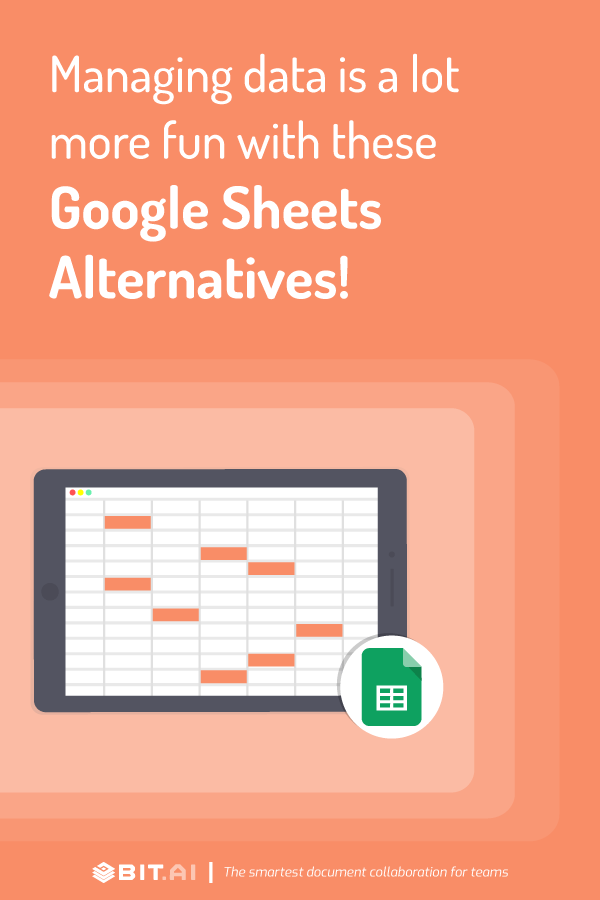 Related posts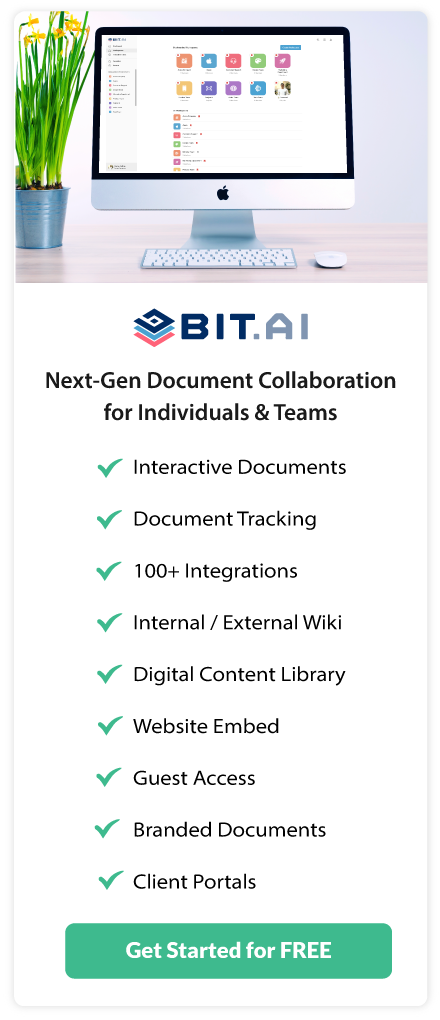 About Bit.ai
Bit.ai is the essential next-gen workplace and document collaboration platform. that helps teams share knowledge by connecting any type of digital content. With this intuitive, cloud-based solution, anyone can work visually and collaborate in real-time while creating internal notes, team projects, knowledge bases, client-facing content, and more.
The smartest online Google Docs and Word alternative, Bit.ai is used in over 100 countries by professionals everywhere, from IT teams creating internal documentation and knowledge bases, to sales and marketing teams sharing client materials and client portals.
👉👉Click Here to Check out Bit.ai.