Meetings are an essential part of every company's workflow. They help discuss internal issues and problems, brainstorm ideas, discuss opportunities and goals, and determine action plans for the future.
However, when meetings are conducted without any purpose or goal in mind, they end up being harmful to the company. In fact, data suggests that almost 50 percent of employees think meetings are the biggest waste of their time at work and the number one productivity killer.
Even executives agree that around 67% of the meetings are actually failures and lead to nowhere.
All of these unfruitful hours and resources spent on meetings cost companies a whopping $37 billion a year! This is why it's crucial for companies to make sure meetings are conducted only when deemed necessary.
However, meetings that are necessary also sometimes go to waste when there's no documentation of the things being discussed. This is where meeting minutes come in.
Meeting minutes helps keep everyone present on the same page with what happened at the last meeting and where to go next. Let's take a quick look at what meeting minutes actually are and how they can transform your meetings for the better.
What are Meeting Minutes? (Definition)
Meeting minutes are notes that are taken during a meeting as a record of what was discussed. It's an important part of any meeting to make sure all those involved are on the same page with decisions, updates, and action plans so that work can be pushed forward.
The term Meeting Minutes could be confusing as many people get overwhelmed that they have to take notes "minute by minute"! Minutes are a factual record of the meeting for its members while also acting as a source of information for people who were unable to attend.
Meeting minutes are only aimed at capturing the essence of the meeting so that all important aspects of it get documented for future reference.
Read more: How To Create Effective Issue Tracking Documents For Your Company
‍Why are Meeting Minutes important?
Since meetings are an important part of making decisions and pushing work forward, meeting minutes are crucial for making sure those decisions don't get lost in translation. Meeting minutes help all attendees and those who were unable to attend be on the same page.
Not taking meeting minutes can lead to disastrous results for the company and could be costly in terms of time and resources. If the meeting is conducted without taking meeting minutes, you will find that all of the participants will have different recollections from the meeting than you.
You also run the risk of forgetting what was discussed and who was assigned what task. This is why it's so important to create meeting minutes as it provides written documentation of what the meeting was about and what was agreed on.

What you should include in Meeting Minutes?
A typical meeting minutes document has the following key elements:
Title of Meeting: Name of the meeting (for example, "New Product Launch brainstorming").
Purpose of meeting: Add the purpose of the meeting in detail to make sure everyone is on the same page.
Date: Don't forget to add the date on which the meeting is conducted.
Objective: Write the purpose of the meeting. 
Attendees: Add the names of the participants in the meeting room.
Conference Call Number / Recorded Link: Add the conference call number (if any)
Meeting Agenda Items
Title
Presenter
Time Allotted
Description
Notes/Resources
Action Items
Continue the process for additional meeting agenda items.
Read more: How To Create Brainstorming Document the Right Way
Example of Meeting Minutes
Here are 2 meeting minutes of examples to capture all the relevant and important facts from your last meeting!
Example 1: Executive committee meeting minutes
Executive committee meetings typically focus on strategic planning and review. Their minutes are supposed to be longer and more formal. Here's an example:
Name of the Meeting
Present: List all Committee Members present.
In Attendance: List any person present who is not a member of the Executive Committee.
Agenda: Goal of the meeting including any already listed on the Agenda.
Steps: Include the decisions, who they were approved by, and their completion process.
Action Items: Outcomes from the action items generated from the previous meeting.
Example 2: Informal team meeting minutes
Having informal meeting minutes becomes even more critical as they provide weekly status updates, one-on-ones between the participants, and are conducted in a shorter span of time. Here's an example:
Date & place of the Meeting
Attendees: List of attendees or participants
Agenda: List of key agenda, discussions, decisions made, next steps
Next steps:
The list goes here in the format: action item and responsible person,
How the list of a target will pe archives weekly
Closure: Provide a summary of the meeting and key takeaways.
Conduct Meetings the Right Way with Bit
Creating and storing meeting minutes can be tough, especially if you use a notepad to do your work. There are high chances of misplacing the information and is a pain distributing to all the attendees. Using a documentation tool can do wonders for your note-taking process and the notes can easily be shared amongst attendees.

Bit.ai is a new-age documentation and knowledge management tool that helps teams to collaborate, share, track, and manage all company knowledge in one place. Yes, that means meeting notes as well!
Bit has an amazing UI that's easy to understand by a new user, making onboarding easier. The user experience is phenomenal too as things flow from documents to workspaces swiftly.

Create any document: Bit allows teams to create workplace documents like meeting minutes, issue trackers, software documentation, wikis, sales decks, training documents, process documentation, how-to guides, company policies, project proposals, media kits, fact sheets, e-books, competitive research, case studies, etc. It also provides a safe and secure place to store these documents centrally. 
Avoid Confusion: With the ability to tag co-workers, chat, and collaborate on a document in real-time, teams (especially if you have remote workers) can stay on the same page and avoid confusion and chaos.
Discuss Together: Multiple people can simultaneously collaborate on a Bit smart document in real-time. It's a great way for employees to discuss meeting notes together on a single document and resolve issues. Bit's sleek, minimal and distraction-free editor makes a great tool for documentation.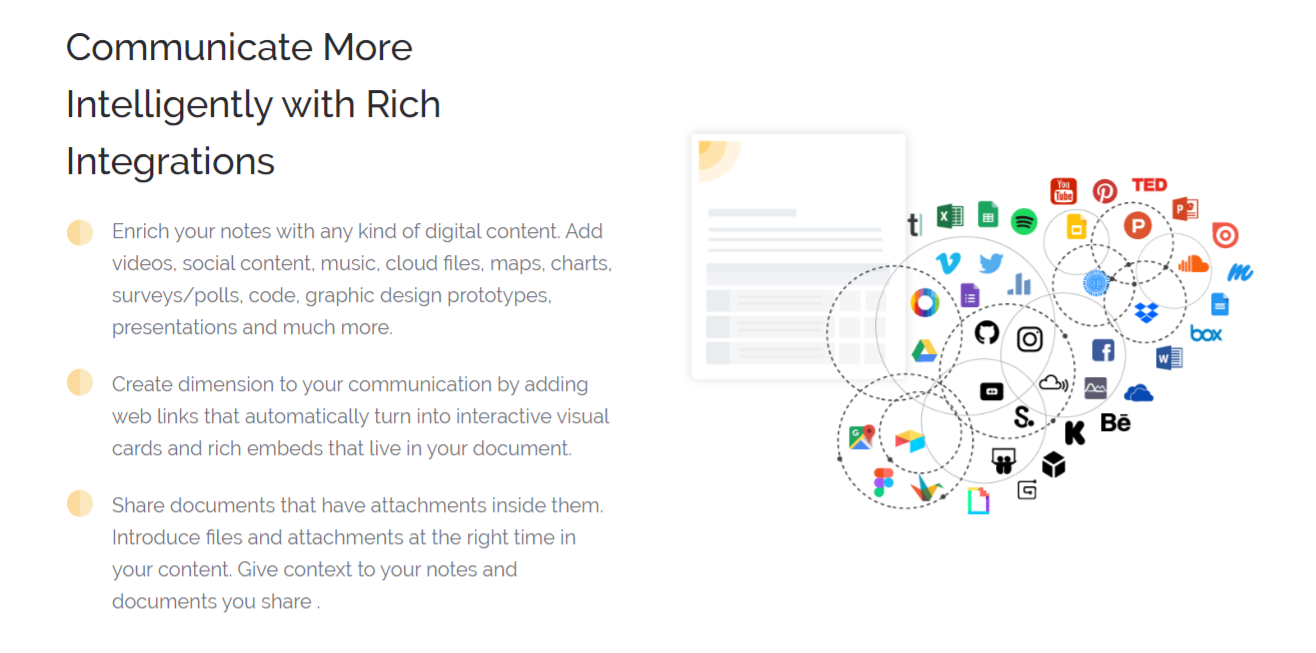 Keep it Safe: Bit allows users to manage permissions and information access, that suits your organizational needs. It supports features like document tracking, password protection, file access restrictions, etc. that help keep your important company information safe. Once you are done creating your documents, you can easily export them as PDFs, Word files, Markdown and much more.
Multiple ways to share: Bit documents can be shared in a live state meaning that all changes that you make to the document will update in real-time. If you are sharing your documents with clients, they will always get your most up-to-date changes.
You can even embed Bit documents on any website or blog. Since Bit documents render and are responsive, any changes made to these documents will reflect live on the site! Moreover, features like document tracking, password protection, file access restrictions, etc. help keep your meeting minutes and other workplace documents safe.
Bit provides a common workplace for employees to collaborate, share their knowledge, brainstorm ideas, store digital assets, and innovate together. The best part is that this knowledge is safely secured in your workspaces and can be shared (or kept private) with anyone in your organization or the public!
Here are some of the main benefits of using Bit:
Collaborate in real-time
Interlink meeting agendas and other documents
Create fully responsive documents
Create meeting agendas only visible to yourself or your team
Track engagement on shared meeting agendas with clients, partners, etc.
To make the process of documenting meeting minutes easier, we have created a ready-made meeting minutes template for you! Check it out below:

How to use Meeting Minutes Template with Bit
The process of creating a meeting minutes document on Bit is insanely easy! Just follow these four simple steps to create a meeting minutes document quickly:
Step 1: Create a Bit Account
Go the home page of Bit.ai and click on Get Started for Free or Sign Up to get started. Enter your email address to sign up. Once in, you can create your personal profile.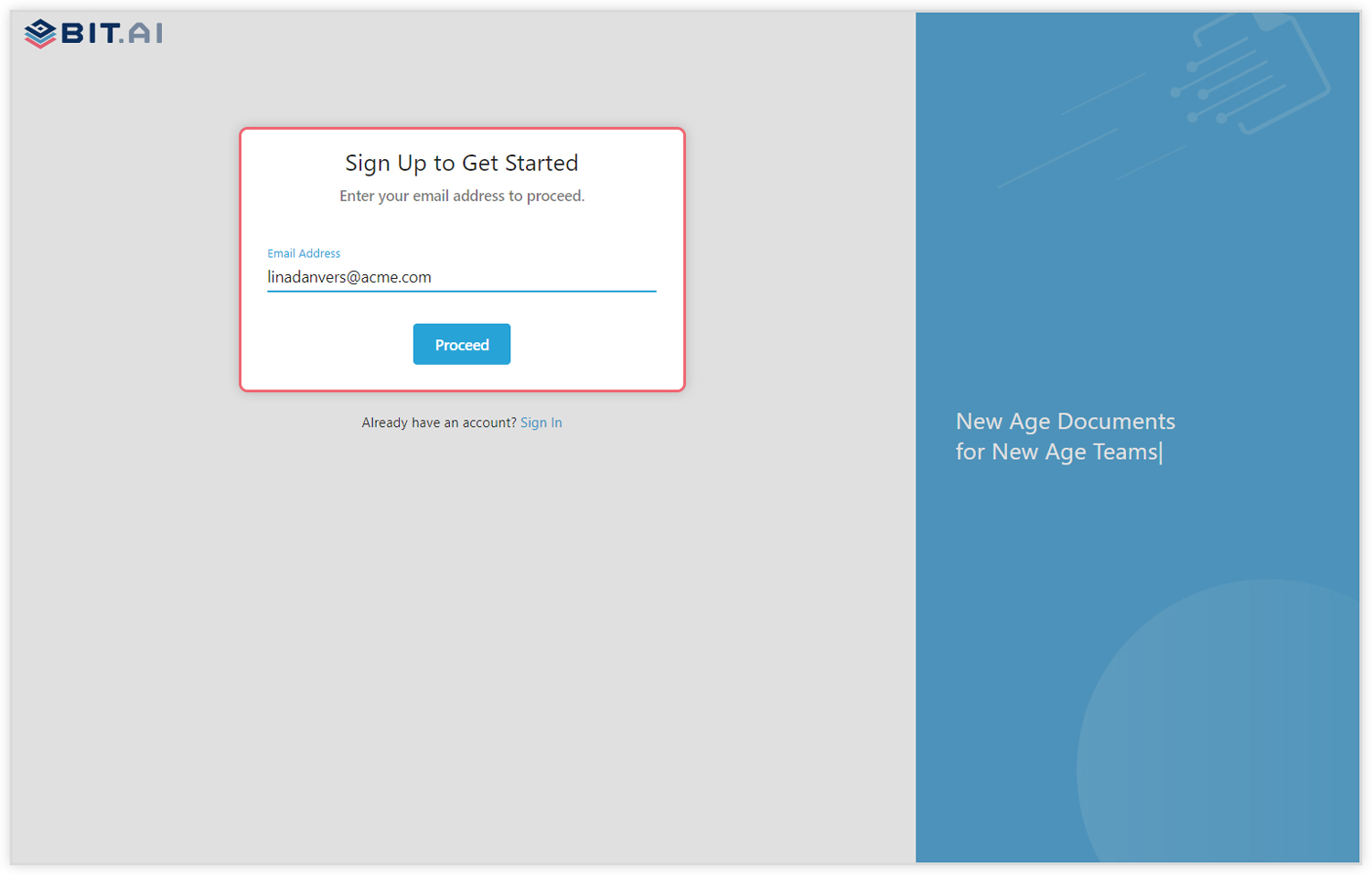 Step 2: Create a Workspace
Workspaces are where the work gets done. Click on the 'Create Workspace' button on the right. A popup will show up prompting you to add a name for your new workspace.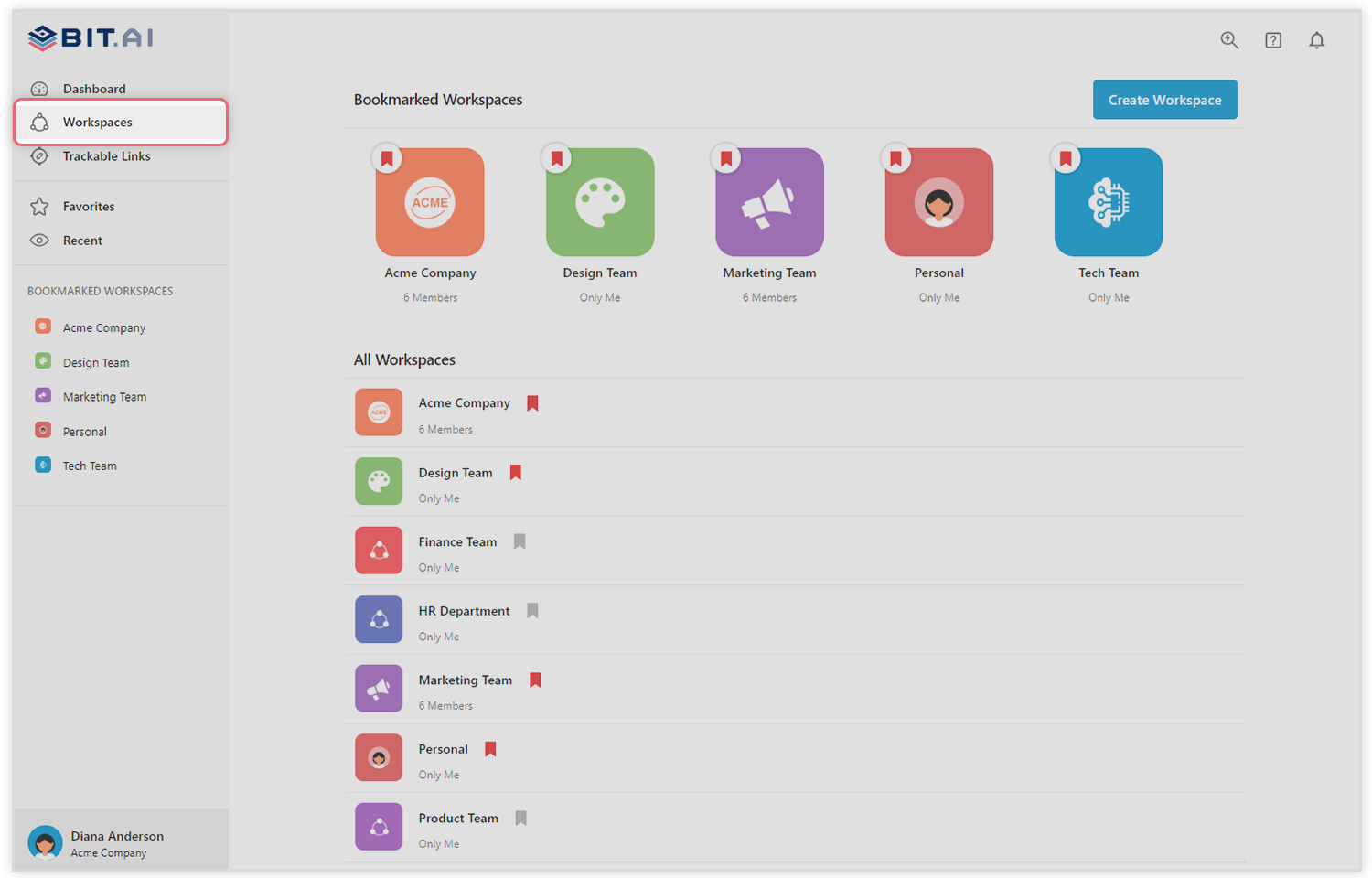 You can create a workspace around a team, department, large project, client, partner, etc. Inside each workspace, you can create an unlimited amount of Bit documents and access your content library (storage area for all of your digital assets – web links, files, cloud files, rich embeds, etc.).
Step 3: Add Team Members
Bit allows your team members to collaborate in real-time and get work done. Collaboration starts at the workspace level.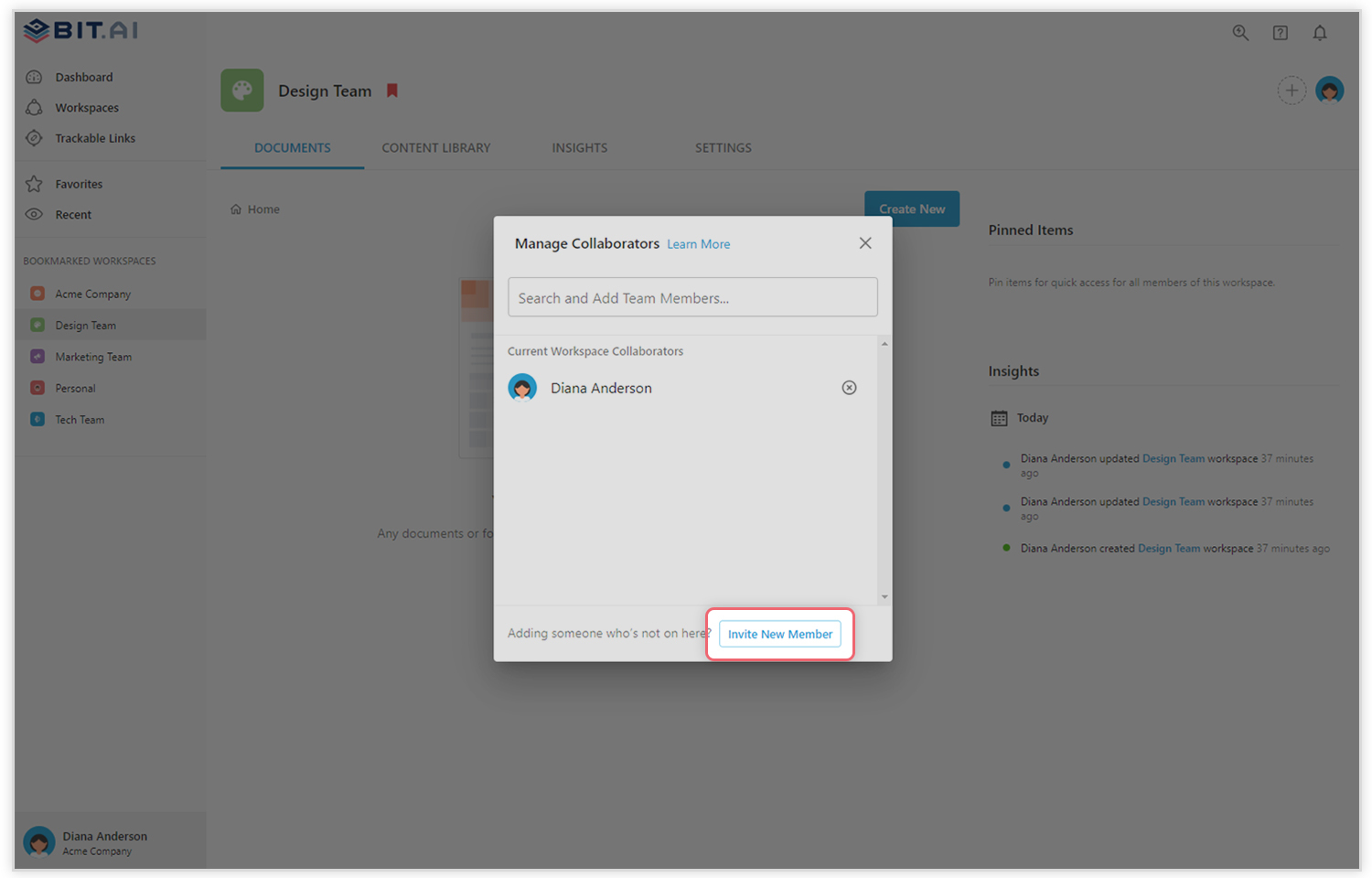 You create private workspaces by default. However, you can invite others to join you inside of a workspace and collaborate together with the knowledge, projects, documents and content inside of the workspace.
Step 4: Create Your Desired Document
Once you are in the workspace, click on the 'Create New' button. Select 'From Template' in the dropdown. A pop up will display allowing you to select a template from the gallery.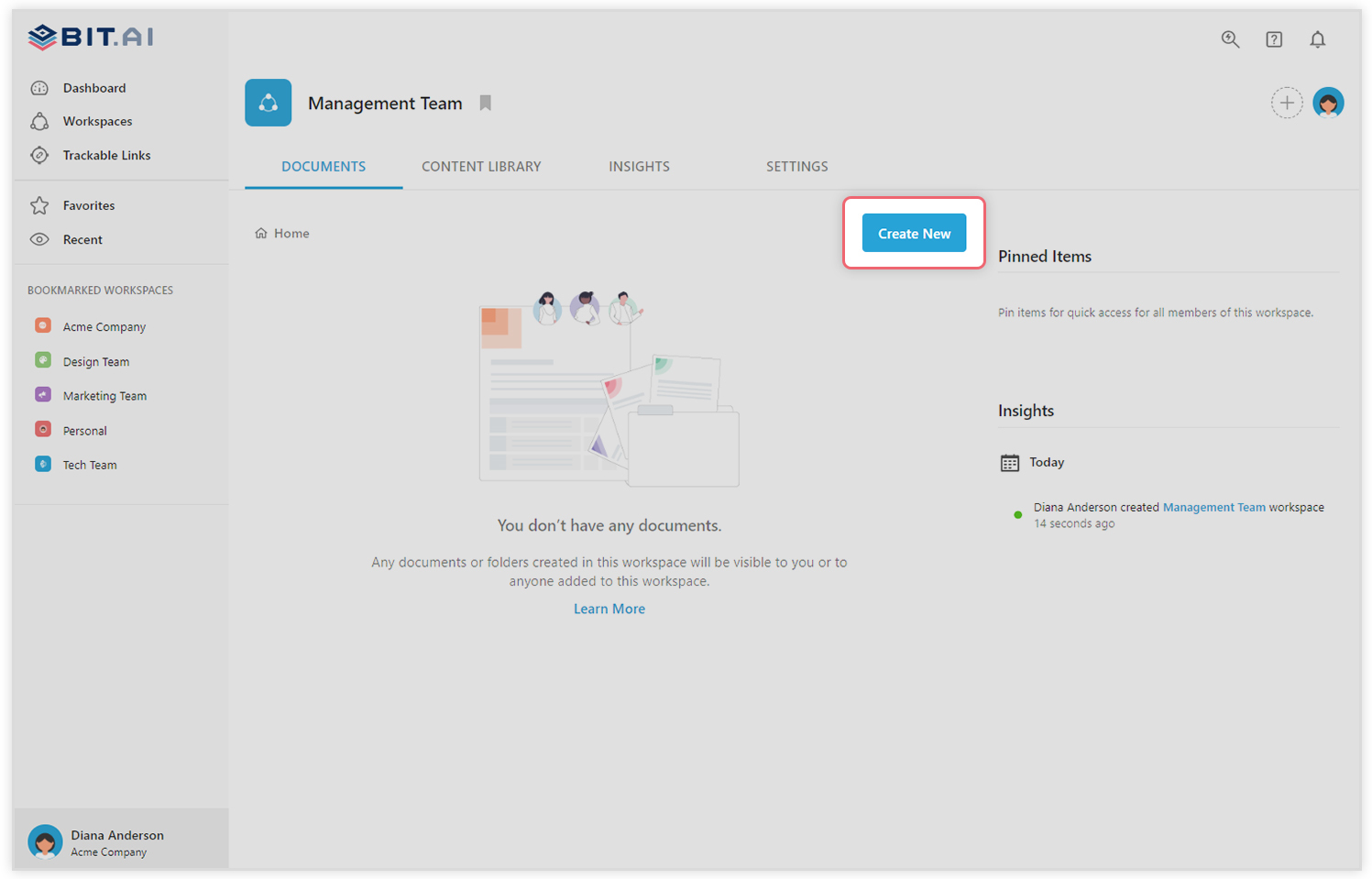 In the search box on the top left corner, you can search for "a meeting minutes template". Once your desired template pops up, click on it and click on the "Use Template" button on the bottom right corner.
That's it! Your meeting minutes document is ready for use!
🎥Watch this video to learn more👇
Final Words
Meeting minutes are critical – after all, they help you seize the fundamental information of a meeting and make sure that everyone is on the same page. However, many people find taking meeting notes a daunting and tiring task.
This is why we created our awesome Meeting Minute template to help you out in this process. Apart from taking meeting notes, Bit enables remote teams to work on any workplace document, collaborate in real-time, brainstorm ideas, and store all company data under a single roof to make it more accessible.
If you need any help with meeting minutes or want to know how Bit can help your business, let us know by tweeting us @bit_docs. Cheers!
Further reads: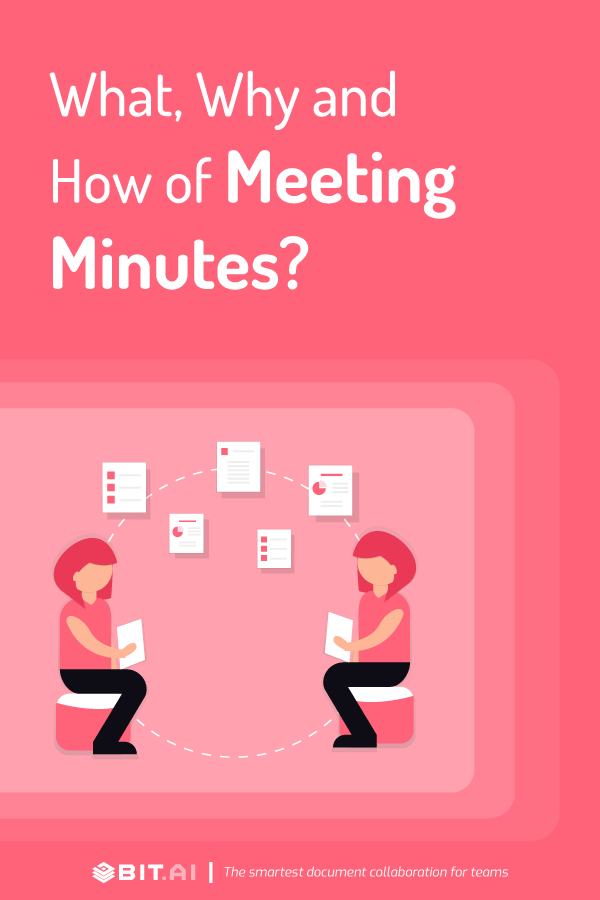 Related posts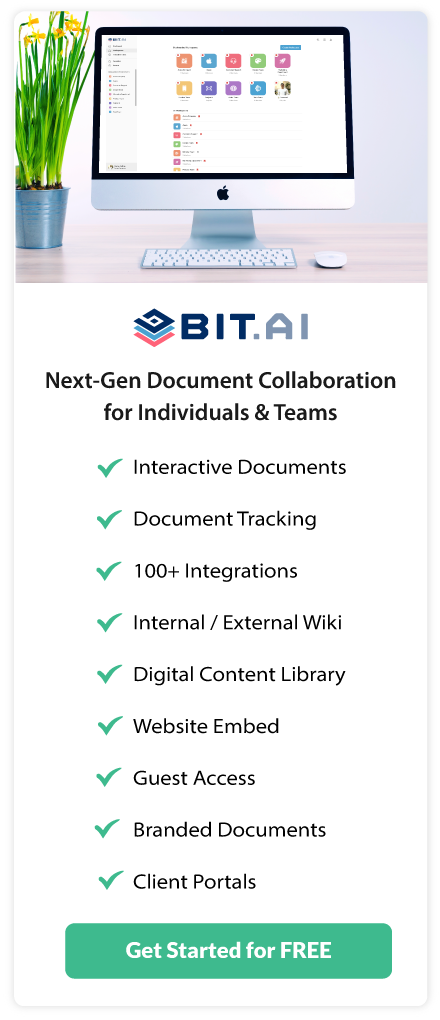 About Bit.ai
Bit.ai is the essential next-gen workplace and document collaboration platform. that helps teams share knowledge by connecting any type of digital content. With this intuitive, cloud-based solution, anyone can work visually and collaborate in real-time while creating internal notes, team projects, knowledge bases, client-facing content, and more.
The smartest online Google Docs and Word alternative, Bit.ai is used in over 100 countries by professionals everywhere, from IT teams creating internal documentation and knowledge bases, to sales and marketing teams sharing client materials and client portals.
👉👉Click Here to Check out Bit.ai.