Have you ever walked out of a meeting that could've been an email?
Have you ever been to a meeting and wondered: Why am I even here?
Have you ever attended a meeting where hours would go by with no decisions made?
We know you're nodding your head in agreement. Well, you're not the only one. In a survey, many US workers cited ''too many meetings' as the biggest waste of their time.
Apart from meetings being a "waste of time", if you don't plan them efficiently, they're also a waste of money. Apparently, more than $37 billion is spent on unproductive meetings!
But whether you love them or hate them, meetings are an inevitable part of the working world, and by the time you finish reading this sentence, 8,000 meetings will have started in the US.
The good news is, meetings are NOT a lost cause. They do not have to be a waste of time. It is very much possible to run productive and successful meetings – whether your team is in the office, fully virtual, or hybrid.
And, the recipe for a perfect meeting is – a meeting plan. Yep, there's no magic bullet. It all starts with a plan.
If you've never created a meeting plan before, you probably don't know where exactly to start. Fortunately, in this blog, we're going to tell you everything you need to know about a meeting plan.
Ready? Let's go!
What's a Meeting Plan? (Definition)
Simply put, a meeting plan establishes what needs to be done before, during, and after a meeting. Basically, it brings everyone on the same page on the most important topics.
A meeting plan is all about what you want from the meeting and the results you want at the end of the meeting. This information gives you a clear focus that guides your meeting structure.
Some of the essential points that need to be covered in a meeting plan are:

What key things need to be accomplished during the meeting?
What's the agenda of the meeting?
Who'll be attending the meeting?
How long would the meeting be?
These things might sound basic, but you'd be surprised to know that they are often forgotten. After all, we've all been to meetings that stretch on for hours, go over irrelevant topics and leave us in a zombie-like daze.
Okay, so now that you know the basics of a meeting plan, it's time to learn the four things that you HAVE to mention in the plan (if you don't want it to be a disaster). Let's roll!
Read more: 13 Online Meeting Apps and Software for Remote Teams!
How to Plan Meetings Effectively? Follow these Steps!
Step 1. Mention goals of the meeting
You can't cover everything happening in a company in one single meeting and you obviously don't want your meeting to be derailed.
So, first off, decide what you want to accomplish by that particular meeting and then set achievable goals to keep your meeting as focused as possible.

You might want to develop a plan, solve a problem, evaluate risk, or some combination of the above – whatever it is, put it into the meeting plan so that the participants are more prepared when they arrive!
Step 2. Add list of participants
Without the right people in the room, you can never meet your meetings' goals. Not to forget, if people are in meetings where they have nothing to learn or add, they end up getting super frustrated.
Just go through your goals, think through who would be the most beneficial in the room, and then build your participant list. Asking these questions might help you:
Who needs to know the information that will be discussed in the meeting?
Who can provide guidance and insights?
Who has the most experience or expertise on the topic that's going to be discussed?
Who'll be responsible to implement the solutions or other tasks?
Once you've figured out the participants of the meeting, approach the meeting accordingly to get the best out of everyone and meet the meeting's goals!
Step 3. Write down topics that need to be discussed
Your meeting needs to be on point. Period.
In the meeting plan, specify all the important topics that need to be discussed in the meeting. This will give the participants a clear idea about the meeting and they can prepare for it accordingly.
This way, everything that needs to be covered will be covered without any issue, and any time in the meeting will be a time well spent.
Step 4. The timings of the meeting
If you want your meeting to be meaningful and not overly rushed, you need to think about the time available and plan your meeting accordingly.
Here's how you can do that: When you're defining your goals and objectives, evaluate the complexity of every topic that'll be discussed in the meeting and then mention it in your meeting plan.
(Keep in mind that certain topics might lead to large discussions while others may be straightforward!)
People like to know what's coming and if you start and end your meeting on time, your staff can plan their work around the meeting and be their most productive self!
Meeting plans are critical documents, and you know that by now. The plan demonstrates that you are someone who takes the time to thoughtfully plan a meeting – but ONLY if it looks good.
No matter how much thought and time you spent in creating your meeting plan, if it looks like a dull piece of document, consider all your efforts wasted. It's just how it is.
When you create a good meeting plan, your team members are more likely to understand the plan, and have meaningful and actionable conversations at the meeting. (That's the dream, right?)
So, how do you create a visually appealing and solid meeting plan? The answer is – by using Bit.ai!
Read more: Meeting Agenda Template: Make Your Meetings More Productive
Best Practices to Plan your Meetings Effectively!
There are always a few pointers and tips you need to keep in mind while setting up a meeting plan to ensure that it runs at a good pace and covers all the important points without wasting time.
What are they? Let's take a look!
1. Decide Whether the Meeting is Needed
Before actually setting up a meeting, you need to decide if the meeting is really needed. Because let's face it, no one really likes going to meetings.
So ask yourself, 'can this all be put in an email instead?' If the answer is yes, then you would be doing everyone a favor by sending an email and not setting up a meeting.
2. Structure your Meeting
Every meeting needs to have a rough structure to be followed. So make sure to create a meeting agenda with objectives, expectations, guidelines, timings, and more. Write them in bullet points so that it's easier for your team members to skim through them.
3. Attach Supporting Documents
If you have any documents that are going to be discussed in the meetings, then make sure to send them to your meeting participants a day in advance or at least a few hours in advance. This gives them time to go through the meeting material to be discussed and be prepared for participating in your meeting.
4. Start On Time
Nobody likes wasting their time waiting for people to turn up. So the last thing you want to do is be late for your own meetings. That's why it's crucial that you make sure to always start your meetings on time.
5. Keep it Short and Simple
If there is anything people hate more than meetings, it is long meetings. So keep your meetings short, simple, and to the point. Make sure that the message is conveyed in a short time so that no one has to linger around for longer than they're required.
6. Seek Inputs from Team Members
You're conducting a meeting and not a lecture, so it's crucial that you encourage participation from different people.
Seek their inputs, ask for suggestions and ideas, address their issues and concerns, and encourage questions. This will create a healthy environment for discussions and make your meetings more engaging.
7. Summarize
Always close your meeting with a quick and concise summary of whatever was discussed. This is to ensure that everyone leaves the meeting with the same understanding.
8. Finish On Time
Lastly, just as important as it is to start your meeting on time, it is also equally important to end your meeting on time. Nothing more, nothing less.
Create an Awesome Meeting Plan & Other Documents Using Bit.ai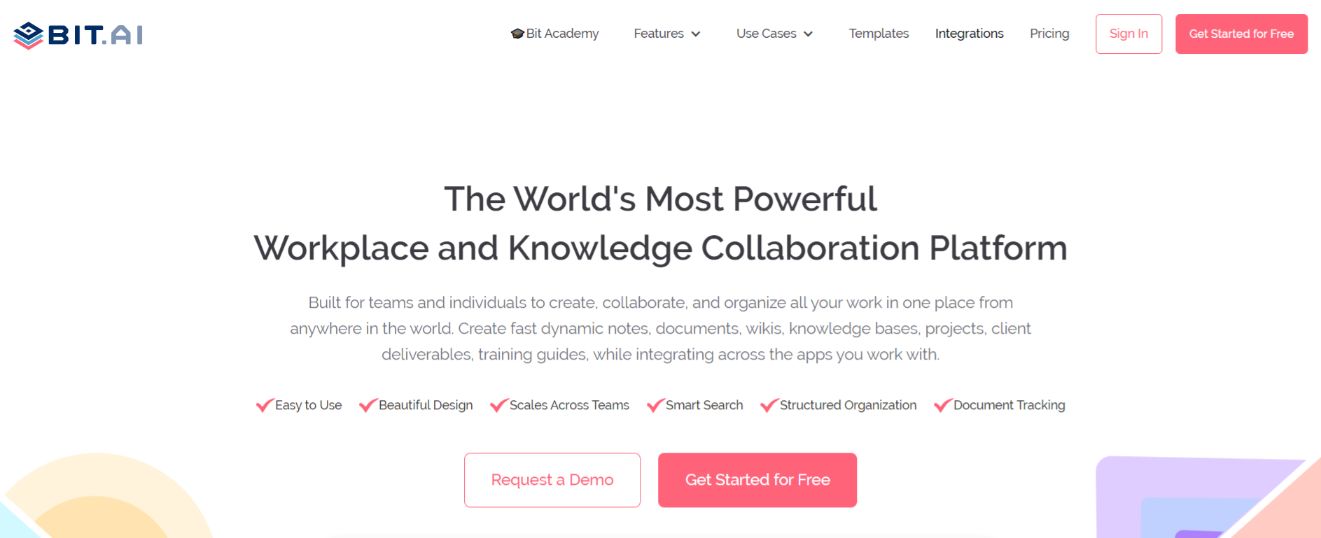 Whether you need need to create basic documents like a meeting plan or hardly complex ones, Bit.ai is just what you need. This cloud-based documentation platform helps you create beautiful documents with ease, engage your team, and facilitates creativity and collaboration!
You do not have to worry about formatting or designing your meeting plan at all – just pick a template that is closest to what you want, and put your content in it! Oh, did we tell you that Bit gives you the option to choose from over 70 templates?
The best part is that Bit allows you to exchange feedback with your team members. That means, while creating your meeting plan on Bit, you can invite your team members to share their input. They can highlight changes, add comments, and can even chat with you – without stepping out of the document!
Want to make your meeting plans more interactive and comprehensive? Add rich media into them! Bit lets you add excel sheets, social content, cloud files, maps, charts, surveys/polls, code, presentations, and much more to your documents.
That's not it! You can also get real-time insights on your shared docs with document tracking. You can see how much time someone has spent reading your meeting plan, how often they come back to read the plan, how far they've scrolled, and more.
Bit.ai will make your document creation process better than ever – you've our word.
Wrapping Up!
No one wants to sit through boring, unproductive, time-suck meetings where nothing gets accomplished.
Because these meetings cause more problems than they solve. They often lead to rework, budget overruns, poor deliverables, and missed deadlines. What a nightmare.
See how important hosting a good meeting is?
Fortunately, with a meeting plan in the back of your pocket, you can host meetings that deliver tangible results, a list of great ideas to pursue, and a shared understanding of the work ahead.
So, in the spirit of efficiency, saved time, and money, it's time to create a meeting plan and say goodbye to terrible meetings! 👋🏼
Further reads:
How To Write Effective Meeting Minutes?
How To Write an Effective Meeting Recap with a Summary? (Steps)
Tactical Plan: What is it & How to Create an Effective One?
Communication Plan: What is it & How to Create it? (Steps included)
Implementation Plan: What is it & How to Create it?
Business Continuity Plan: What, Why & How to Create it?
Project Budget Plan: What is it & How to Create it?
15 Team Meeting Ideas & Topics For Your Next Meeting!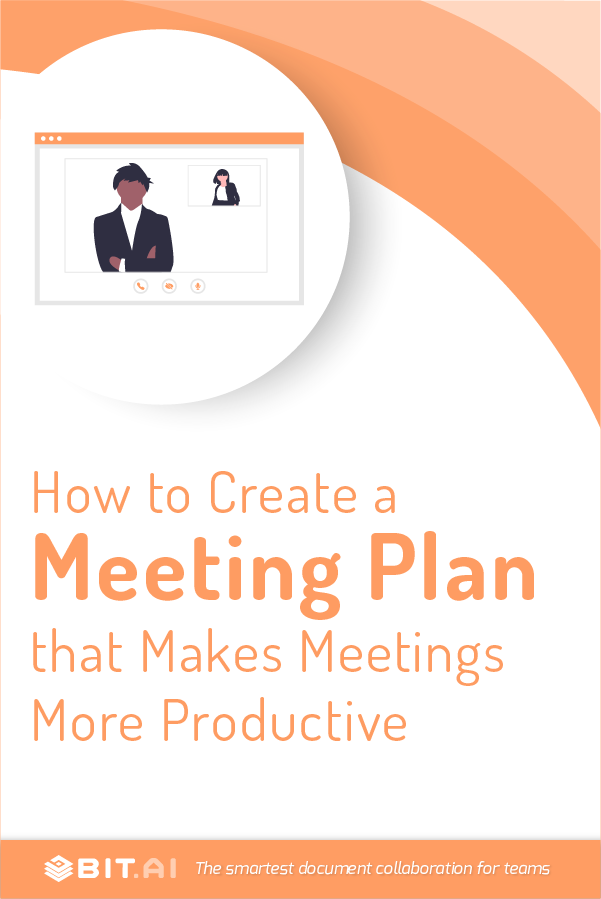 Related posts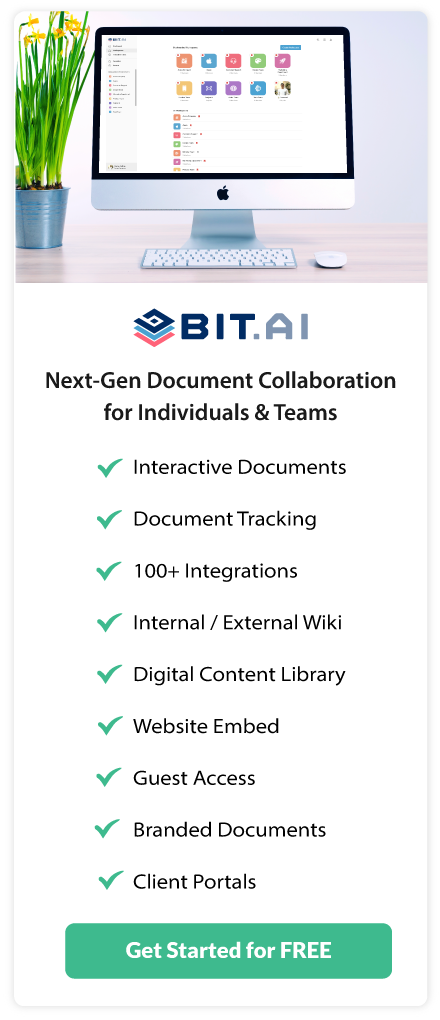 About Bit.ai
Bit.ai is the essential next-gen workplace and document collaboration platform. that helps teams share knowledge by connecting any type of digital content. With this intuitive, cloud-based solution, anyone can work visually and collaborate in real-time while creating internal notes, team projects, knowledge bases, client-facing content, and more.
The smartest online Google Docs and Word alternative, Bit.ai is used in over 100 countries by professionals everywhere, from IT teams creating internal documentation and knowledge bases, to sales and marketing teams sharing client materials and client portals.
👉👉Click Here to Check out Bit.ai.