Did you know that 91% of unhappy customers leave a brand without complaining and 1 in 3 customers leave a brand they love after just one bad experience?
And it turns out that only 10% of consumers say brands meet expectations for a good experience! Doesn't that send shivers down your spine?
Clearly, customer experience is top priority when it comes to dealing with your business. But in a world that is constantly changing with new technologies and buying trends emerging, understanding how customers think and behave can be quite overwhelming and challenging.
But the fact is that you need to understand every customer's experience at each stage of their customer journey if you want to create long-term improvement strategies and offer an excellent customer experience.
What you need is a customer journey map that will help you keep track of your customer's journey and help you improve your services.
But if you don't know what a customer journey map is, then we're here to help you out!
In this blog, we will explain everything you need to know about customer journey maps, including what it is, their importance, and how to create them.
Are you ready to learn about customer journey maps? Then, dive right in!
What is a Customer Journey Map? (Definition)
First off, let's try to understand what a customer journey is. It is the process or course in which a customer interacts with your brand. It forms the total experience of a customer and includes all the actions and emotions of your customer when they first encounter your brand.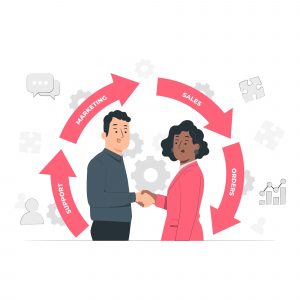 One of the most commonly heard and taken approaches to effectively track and understand your customer's journey is to walk in their shoes and go into the journey yourself as a customer.
By simply being the customer of your own brand, you understand exactly how other people experience/feel about your product or service and help you make better sense of the customer journey.
A customer journey map (CJM) is a visual representation or overview of a customer's experience with a company. It illustrates how a customer interacts and experiences your brand across multiple touchpoints.

You can map a customer journey in the form of a diagram, an illustration, an infographic, or an excel sheet.
By visualizing the actions, thoughts, and emotions that your customers experience, your customer journey map can help you gain valuable insights about your customers. It provides a deeper understanding of their needs, identifies their pain points, and simply helps you understand them better.
Importance of a Customer Journey Map
1. Visualizes All Customer Experience
A customer journey map highlights a customer's motivations, drivers, and pain points. It helps your team visualize what your customers are thinking, wanting, and doing at each point of their customer journey.
When you incorporate empathy into your customer journey map, it also helps you identify specific emotions that your customers are experiencing throughout their journey.
2. Helps Offer Better Experience for Customers
If you want to offer a better experience for your customers, you need to be able to get a clear understanding of your customers and their needs. With a customer journey map, your team can get better insights into how things work from the perspective of the customer.
It helps you walk in their shoes and enables you to identify their needs, wants, and problems – all of which are crucial to creating a better experience for your customers.
3. Defines Areas of Ownership
It's not uncommon for companies to have their lines of ownership occasionally blurred when it grows in size and complexity.
Without proper clarity of which point your customers are in, they are very likely to get tossed around several departments. This is not ideal for a good customer experience and neither does it make work easy for you.
With a central source of truth like a customer journey map, your team can find out where exactly your customers are in their customer journey. This helps clarify and define the areas of ownership and hand-over points, thereby ensuring a smoother and seamless experience.
4. Converts More Visitors into Customers
Often times, you may notice that your visitors are leaving your website at a certain stage or point and you are clueless as to why that has happened.
A customer journey map helps you identify the exact reason and the main problems that need to be addressed. This will help you make the right changes and create a positive impact on the visitors, thereby turning them into satisfied customers very quickly.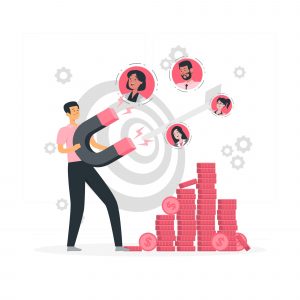 Now that we have gone over the several benefits of having a customer journey map for your business, let's take a look at the steps involved in creating one.
How to Create a Customer Journey Map? (Step by Step)
Step 1. Set Clear Objectives
Before you jump straight into creating a customer journey map, you need to ask yourself WHY you want it in the first place. Understand what your goals and objectives are, who exactly your customers are, and how they behave.
Based on this, you can create a buyer persona, a fictitious customer created based on data and research who represents your average customer. This will help you direct every characteristic of your customer journey map towards them.
Remember, creating one buyer persona is not enough as customers behave and interact differently with your business at different buying stages. So it's necessary to determine and differentiate who has been doing market research, who is ready to buy, and who is simply thinking about solving an issue.
Step 2. Highlight Target Customer Personas
Once you have created and learned about the different customer personas that interact with your business, the next thing to do is narrow your focus and highlight one or two of them.
This is because your customer journey map tracks several customers, their experiences, and the path they take. So if you club all customer personas into one journey, you will not get an accurate representation of your customers' experience.
For your very first customer journey map, you can choose the most common customer persona and take a look at the path that they would normally take when they are first engaging with your business. You can then target your next customer type and create new maps specific to them,
If you want, take the help of marketing dashboards to visualize and compare each customer and determine who would be the right fit for your journey map.
Step 3. Understand Customer Goals
Now that you have your buyer persona narrowed down to whom you intend to focus on, you need to understand what their goals are and what they hope to achieve as they go through their customer journey.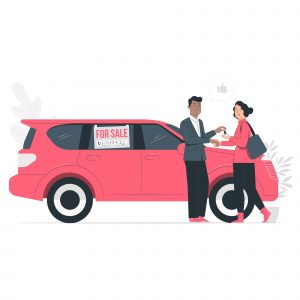 For this, you need to identify the paths they are likely to take and think about what your customer's goals are at each stage of their journey. You can also conduct research via questionnaires and user testing to get valuable customer feedback and a better understanding of everything.
All of this will help you create a list of all possible customer activities and allow you to determine all the touchpoints and goals often associated with them.
Step 4. Map Out Buyer Touchpoints
The next step in creating an effective customer journey map is to identify your buyer's touchpoint. It is the way a customer can interact with your business – this could be before, during, or after they make a purchase.
You must make sure to map out all the touchpoints your customers and prospects are using and will use. The different touchpoints can include your website, social media, customer service team, third-party review sites or mentions, customer reviews, and more
This provides you with an opportunity to listen to your customers, gain valuable insights about what actions your customers are performing, and make improvements and changes that will keep them satisfied.
Step 5. Identify Customer Pain Points
With all the quantitative and qualitative data that you have about your customers, you need to bring them together and look at the bigger picture to identify potential roadblocks or pain points in the customer journey.
Take note of the areas where you are doing things right, identify roadblocks that are preventing your customer from taking their desired actions, determine at which stage they're experiencing any negative emotions and why, and figure out ways to improve.
Once you know where exactly the roadblocks and pain points are, you need to mark them down and highlight them on your customer journey map so that you can help them mitigate it.
For example, a common roadblock or obstacle is cost. It might be the reason that your customer abandoned their cart. By mapping this out in your customer journey map, you will be able to address this issue and solve it.
Step 6. Offer Solutions
Now that you have identified the various obstacles or roadblocks that your customers might be facing, you have to come up with solutions for them. For this, you need to ask what needs to be corrected and where improvement is required.
As solutions are one of the final elements in your customer journey map, you and your team need to brainstorm all potential ways you can improve the buying process for your customers.
Let's take the same example mentioned in the previous section about 'cost' being one of the reasons why customers abandoned their cart. You can fix this roadblock or issue by offering affordable rates or special discounts or other incentives to make the purchase.
Read More: Price Skimming: Definition, 3 Types of Phases, Pros & Cons!
Step 7. Test. Update. Improve.
One of the most crucial things to remember while creating a customer journey map is that it will always be a work-in-progress.
Every time there is a change in your product or service, even if it is a slight tweak, the customer's buying process changes too. So the last thing you want to do once you are done completing your customer journey map is to leave it to gather dust.
In fact, your customer journey map should be used as a tool to improve your product or service so that you can offer a better customer experience. For this, you need to make sure that you constantly and consistently test, update, and improve it.
Review your customer journey map on a monthly or quarterly basis and before and after implementing changes. Use data analytics and customer feedback to identify any gaps and discover opportunities that can streamline your map.
Step 8. Visualize the Map
Hurray! You have reached the end of the customer journey map creation process, but you should know that merely gathering data is not enough. You need to be able to organize all your information in a visual manner. After all, your customer journey map is all about visualizing the customer journey process.
You can visualize your customer journey map using various software and tools such as Google Sheets, LucidChart, and other diagramming tools.
But if you and your team are more into using tools that can facilitate a smooth collaboration, then choosing a collaboration software might be your best solution.
Looking for a software that can help you organize information about customers and their journeys and also allow you to collaborate with them? Then, we have the right tool for you!
Scroll down to learn more!
Bit.ai: The Ultimate Tool For Mapping Customer Journey!

Bit.ai is a modern-day, cloud-based knowledge management and document collaboration platform that you create, edit, organize, manage, and share documents all under one roof.
With Bit, you can create multiple workspaces around your different customers and clients to store and manage information in an efficient and organized manner.
Bit allows you to create smart documents which support over 100+ rich media integrations. It lets you add images, links PDFs, tables, charts, presentations, excel sheets, graphs, videos, GIFs, and basically any type of rich media to your document.
All you have to do is add any web link in Bit's editor and it will automatically turn it into a live visual web link or embed content that lives on your workplace documents! This means that your customer journey map can be created on Google Sheets or Lucidchart or other software and you can easily embed them on your document for your team to collaborate on.
Bit is also an excellent tool for brainstorming ideas with your team as its real-time collaboration feature allows you to simultaneously collaborate with your team members on a Bit smart document in real-time. You can chat privately, make inline comments, co-edit, and do much more.
And even though Bit is jam-packed with features, it has a simple and easy-to-understand user interface, which makes it extremely easy for new users to get on board with the platform.
Bit is the one-stop solution for all your documentation and collaboration needs! So quit waiting around and just get Bit already!
Conclusion
To wrap up, a customer journey map helps business owners visualize and understand their customers' pain points and genuinely empathize with their problems.
It shifts the focus to the customer's perspective by allowing you to understand customer wants and needs and thereby creating a more effective and satisfying experience for your customers.
We hoped that we have succeeded in helping you learn a thing or two about customer journey maps, their importance, and how to create them. And with Bit, the customer journey mapping process becomes much easier.
Now you're ready to board the customer train and journey with your customers! Bon voyage!
Further Reads: 
Improve Customer Satisfaction in these 11 Smart Ways!
21 Rock-Solid Ways to Improve Customer Focus in Your Business!
11 Amazing Sales Promotion Examples for Your Product!
User Persona: What is it & How to Create it?
Product Launch Plan: What is it & How to Create it?
Refund Policy: What is it and How to Create it!
Product Mix: Definition, Dimensions, Importance & Examples!
Sales Tracker: What is it & How to Create One? (Template Included)
Customer Segmentation: Definition, Importance, Types & Process
Customer Journey vs Buyer Journey: The Key Differences!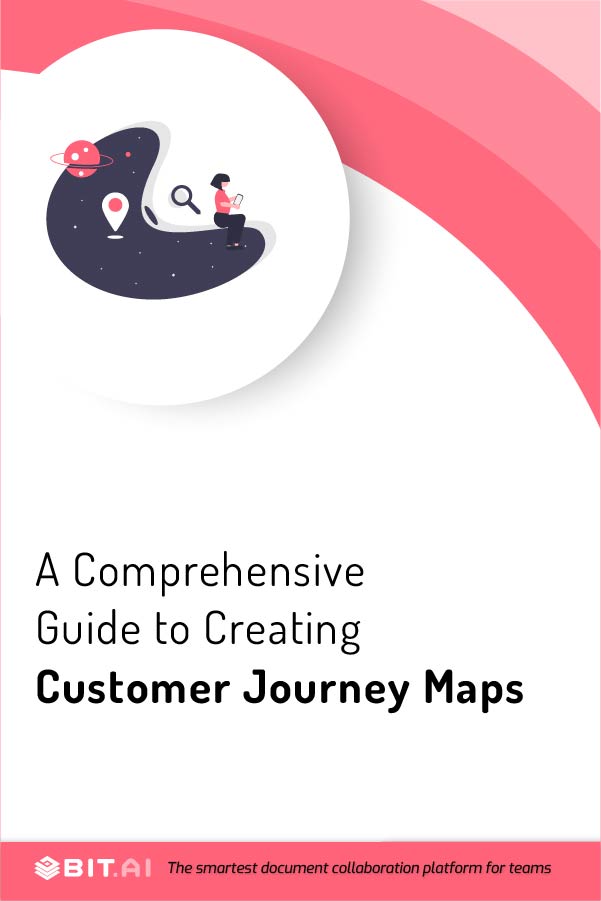 Related posts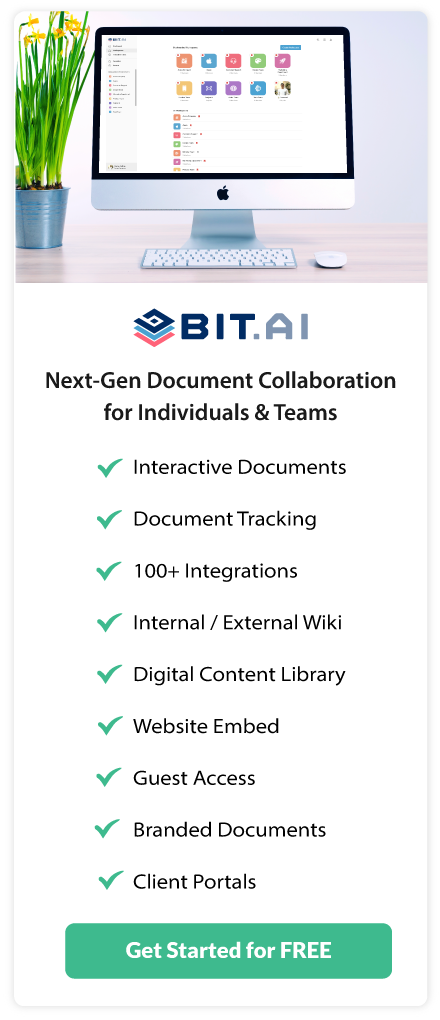 About Bit.ai
Bit.ai is the essential next-gen workplace and document collaboration platform. that helps teams share knowledge by connecting any type of digital content. With this intuitive, cloud-based solution, anyone can work visually and collaborate in real-time while creating internal notes, team projects, knowledge bases, client-facing content, and more.
The smartest online Google Docs and Word alternative, Bit.ai is used in over 100 countries by professionals everywhere, from IT teams creating internal documentation and knowledge bases, to sales and marketing teams sharing client materials and client portals.
👉👉Click Here to Check out Bit.ai.