Did you know that more than 12 million people use Slack daily?
Slack may be a leading team collaboration platform that has simplified how you work from home. However, it is not without flaws.
You are probably one among the 12 million people who use Slack, and if you're here, then you're probably not happy or satisfied using it as your choice of workplace collaboration platform.
And with remote work becoming the new norm, having an easy-to-use and affordable collaboration platform is of utmost importance too.
So if Slack is not your cup of tea, we have good news for you!
This blog has prepared a list of some of the best Slack alternatives!
Why Look for a Slack Alternative
Even though Slack is a great team collaboration platform, it may not be beneficial or suitable for many organizations.
So where does Slack fall behind? Let's take a look:
1. Too Many Distractions
Due to Slack's powerful interface, it is often used for all types of communications, even those outside of work. This often leads to clutter in the interface as people tend to get caught up in the middle of multiple conversations. In addition to that, Slack notifications tend to disrupt workflow significantly.
So if you have an extremely busy organization that cannot afford any distractions, Slack's features and functions can negatively affect your company's productivity.
2. Not Very Affordable
We're not saying Slack is expensive, but compared to most of the alternatives available in the market, Slack has a much higher overall price.
And even though Slack offers a free version suitable for small businesses with fewer employees, it comes with many hard limits, such as the limit to the number of chats that can be kept in the chat history. So it's not a great choice if you want a free and robust option.

3. Security Concerns
Slack does do a good job of keeping data safe and secure. However, it is still not free from some major security concerns. This is because Slack is a highly popular software and is therefore at a greater risk of becoming a major target for hackers.
In such a case, it becomes difficult for Slack engineers to plug every security hole quickly enough. Moreover, Slack is also at a higher security risk than many of its alternatives because it cannot fully control the security of a significant number of the third-party integrations it allows
So whatever it is your reason for trying out a better alternative for Slack, we've got you covered!
Are you ready to get to know some amazing Slack alternatives? Then let's go!
List of Slack Alternatives
1. Microsoft Teams
If you already use the Microsoft Office 365 plans, you can access Microsoft Teams, a business chat tool that centralizes all your data and helps you collaborate on any document.
What makes Microsoft Teams a great Slack alternative is that it separates your communications into different tabs, such as 'Chat' for private conversations, 'Teams' for common channels, 'Call' for speed-dialling teammates, and 'Files' for accessing the breakdown of files that people are working on.
Microsoft Teams also comes with chat features, like instant chats and audio-video calls, provides unlimited messages and history, and allows up to 2BG of storage per user. Furthermore, it offers integrations across all Office 365 products and over 250 apps.
Pricing
Free for up to 100 video participants
Premium plans start at $5.00/user/month
2. Google Hangouts/Google Meet
Google Hangouts and Google Meet are great Slack alternatives for businesses that already use multiple Google apps and services and are looking for team communication and collaboration.
Bot Google Meet and Google Hangouts have very similar features, such as performing document collaboration, making video and voice calls, and holding chat sessions, all on the same interface.
These apps integrate well with Google services like Google Drive, Gmail, and other Google document creation apps. They allow you to chat in real time and store them for future access. Furthermore, Meet and Hangouts work across both web browsers and mobile devices.
Pricing
Google Hangouts is free with a Gmail account
Google Meet (included as part of Google Workspace) costs between $6 to $18/month/user
3. Discord
While Discord is widely known as a popular platform for gamers, it proves to be a valuable option for organizations seeking cost-effective alternatives to Slack.
Discord provides high-quality, low-latency voice and video calls, ideal for team meetings and collaboration. It offers organized text channels for focused discussions, with features like @mentions, reactions, file sharing, and pinned messages.
You can personalize Discord with themes and custom CSS which allows you to have a tailored look and branding. It supports a range of bots and integrations, enabling task automation, information fetching, and workflow management. Furthermore, it provides unlimited storage space, file-sharing options, and a searchable message archive.
Pricing:
Free version available
The Basic version costs $2.99 a month
The Nitro version costs $9.99.
4. Chanty
Next on the list, we have Chanty, a simple, AI-powered team communication and task management platform for small and medium-sized teams. It has an intuitive interface that lets you exchange information via chat and voice messages and audio and video calls.
This Slack alternative allows you to manage tasks from a single place by turning your messages into tasks and assigning them to your team members within the app. Its Teambook feature lets you organize all your files, tasks, and conversations into multiple folders.
What's more? Chanty integrates with third-party apps such as Trello, Google Drive, Giphy, OneDrive, and others. It is also available on Mac, Windows, Android, iPhone, and iPad
Pricing
Offers free plan
Business plan starts at $3/user per month
5. Troop Messenger
Troop Messenger is a team communication and collaboration tool similar to Slack. It has an intuitive interface that offers a real-time work collaboration environment where you can seamlessly conduct all your conversations.
Some of Troop Messenger's unique features include Burnout, a private chat system to keep your conversations confidential; Forkout, a feature that lets you pick multiple team members to share a common message; Respond Later, a feature to filter all your tagged messages to reply at a later time; Shoutout, a broadcasting message to the larger audience; and Jumper, a feature to select multiple members to start a private conversation.
Troop Messenger also offers audio and video calling features and a screen-sharing function. Furthermore, it allows for all communication to be documented for future reference.
Pricing
Premium plan at $2.5 per user/month
Enterprise plan at $5 per user/month
6. Flock
Flock is a workplace communication platform, team management, and collaboration software with in-built productivity tools. It lets you organize information, messages, and files in a centralized place and thus eliminates the need for you to switch between different apps.
Besides the usual text, voice, and video communication features, Flock offers to-do lists, reminders, polls, notes, and file-sharing features. It has a clean and minimalistic interface lets you split the screen into five vertical panels.
Moreover, it is SOC 2 Compliant, which means that all your data is encrypted and highly secure, and it is available on iOS, Android, Windows, macOS, Linux, and the Web.
Pricing
Free starter plan with basic features
Pro plan with additional features at $6/month
Enterprise plan at $10/month
7. Ryver
Up next, we have Ryver, a team communication tool known for its Trello-like built-in task manager, which allows you to turn your messages into tasks and manage them with Kanban boards.
Ryver has a clutter-free interface which makes it easy for you to start using it and helps you focus on the collaboration of tasks by reducing time-wasting conversations and saving time.
With Ryver, you can communicate via private groups, open forums, direct messages, voice calls, and video calls. It lets you integrate your RSS or social media feeds into your Ryver chats so that everyone has all the latest information. Furthermore, Ryver is available on iOS, Android, Windows, macOS, and the Web.
Pricing
Starter plat at $49/month for up to 12 users
Unlimited plan at $99/month
Enterprise plan at $199/month
8. Mattermost
Here we have Mattermost, a customizable workplace messaging platform that provides both self-hosted and SaaS cloud-hosted versions. It has a similar interface to Slack, offering private and public chats and good archival support.
Mattermost has excellent security features such as encryption-at-rest and in-transit, providing complete control over your data. It lets you upload sound, video, or images directly from your mobile devices.
Also, if you're already using Slack, Mattermost provides an easy import function that lets you move over your current channels and archives. Not to mention, this software is extremely easy to use.
Pricing
Cloud-Free free version available
Cloud Professional at $10/user/month
Cloud Enterprise at a custom price
Enterprise E0 free self-hosted version available
Enterprise E10 at $3.25/user/month for the self-hosted version
Enterprise E20 at $8.50/user/month for the self-hosted version
9. Wire
Wire is a great option for professional business communication and collaboration. Its highly secure messaging platform lets you make safe video calls with screen-sharing options, share files, and create encrypted groups for different projects and tasks.
This Slack alternative takes privacy seriously by providing end-to-end encryption and following European privacy laws. It also lets you send timed messages that self-destruct themselves from all servers. It has a superior user experience and allows integrations making communication and collaboration much faster.
What's more? Wire lets you communicate with people even if they don't have a Wire account.
Pricing
Wire Pro for $5.83/month
Wire Enterprise for $9.5/month
Conclusion
There was a time going to the office was an essential part of the job. But with changing times and developing technology, we now can work from home, and platforms like Slack have made life easier.
However, since Slack comes with its share of drawbacks, we provided you with a list of Slack alternatives for you to choose from.
Now, all we hope is that you have an idea about what matches your specific needs because, at the end of the day, it all comes down to what works best for your company. That's all, folks!
Further Reads: 
12 Best Basecamp Alternatives & Competitor to Check Out!
11 Smartsheet Alternatives & Competitors You Must Check Out!
13 Discord Alternatives You Must Explore in 2023! (Features & Pricing)
12 Asana Alternatives & Competitors You Must Know About!
10 Killer Zoom Alternatives and Competitors Worth Checking Out!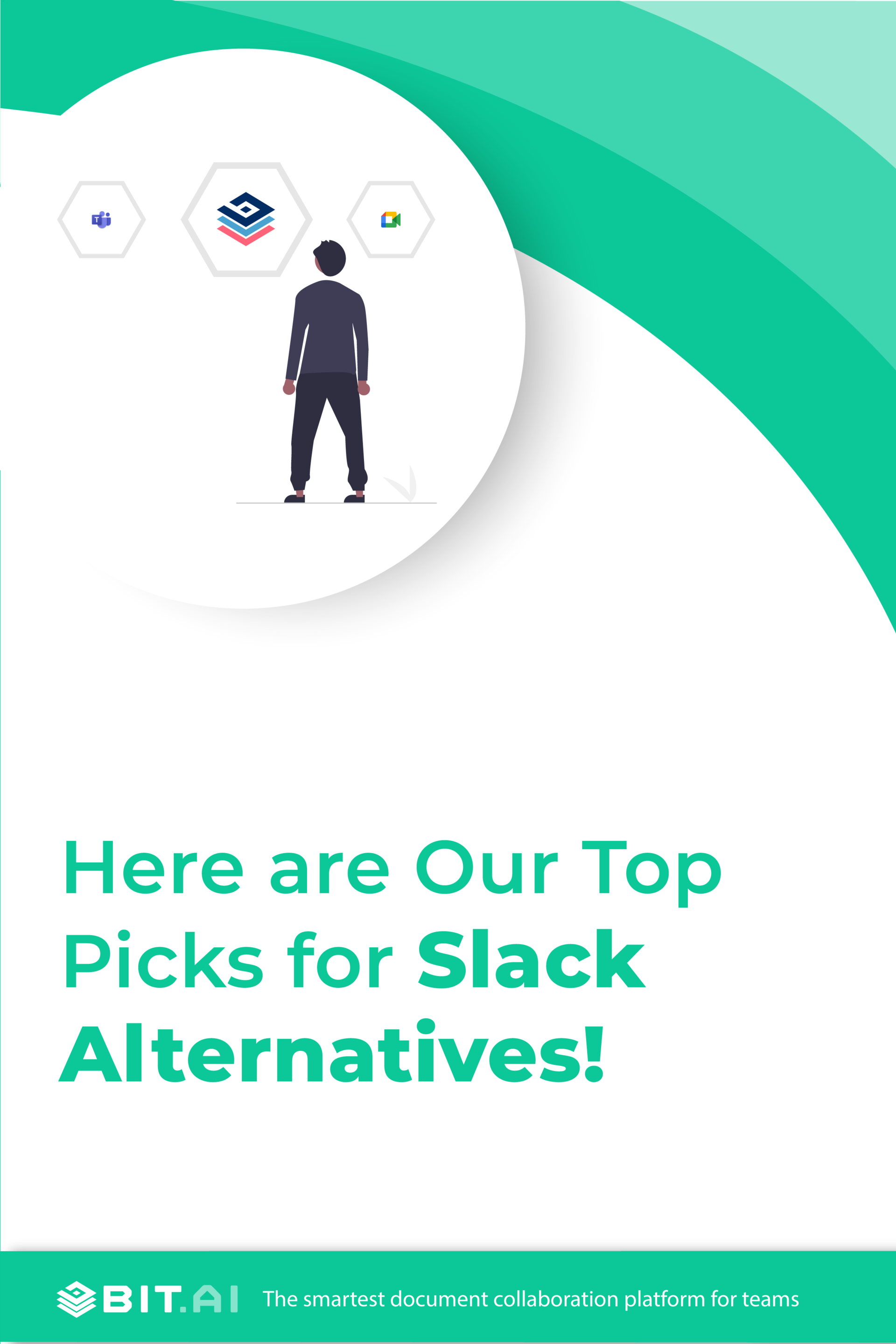 Related posts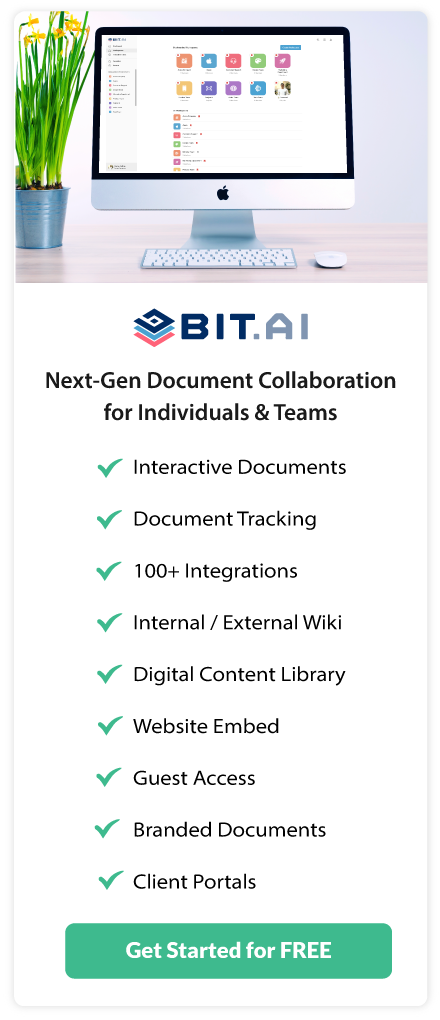 About Bit.ai
Bit.ai is the essential next-gen workplace and document collaboration platform. that helps teams share knowledge by connecting any type of digital content. With this intuitive, cloud-based solution, anyone can work visually and collaborate in real-time while creating internal notes, team projects, knowledge bases, client-facing content, and more.
The smartest online Google Docs and Word alternative, Bit.ai is used in over 100 countries by professionals everywhere, from IT teams creating internal documentation and knowledge bases, to sales and marketing teams sharing client materials and client portals.
👉👉Click Here to Check out Bit.ai.