Ever bought a house without getting an inspection done and carefully evaluating if it's the right fit for you?
Probably not. That's because it's typically the largest investment you will ever make. It is something that could affect your financial well-being, for better or for worse.
Similarly, before executing a business project that could cost thousands or millions of dollars – you should always get the lay of the land, gauge the probability of success, or the cost of failure.
In short, you should perform a feasibility study. This study will help you determine the viability of the project and identify possible issues that could hurt your project down the road.
To help you pull it off, we are going to walk you through everything you need to know about the feasibility study, including why it's beneficial and how to conduct it. Ready? Let's go!
What Exactly is a Feasibility Study? (Definition)
A feasibility study is conducted to confirm the probability of completing the project successfully. It considers all the aspects of the project, including economic, legal, operational, and technical.
To determine the feasibility of the project, there are several factors are taken into consideration, such as the cost of the project and the return on investment (revenue, sales, and more).
But, a feasibility study isn't just confined to measuring and forecasting financial gains from a project. It entirely depends on the industry you're in.
For example, a hospital could conduct a feasibility study to determine whether they would be able to get enough investments for building a cancer research center.
Nonetheless, no matter the industry, every feasibility study serves the same purpose – it helps you identify the risk and returns of a plan of action, and the steps you need to take before moving forward.
In simple words, a feasibility study is an evaluation of how viable a proposed project or plan is, and whether it will succeed or fail. It is also used to identify potential issues that could arise during the project.
Well, now that you know the basics of what a feasibility study is, let's head over to the next section – reasons why you should conduct a feasibility study before starting any project.

Why You Should Conduct a Feasibility Study?
1. See The Big Picture
We all know that executing a project is not so easy. It's a huge responsibility for every single person involved – especially the project manager or the head of the project.
With that being said, is important to identify the opportunities and threats associated with the project. You need to take a deep dive into every aspect of the project, and that's exactly what a feasibility study helps you do.
Let's understand it with an example. Knowing whether you've enough people to complete a project isn't really a "broader view". To get the true big picture, ask yourself:
Are the team members capable of working on the project? Will they be available until the end? In case a team member isn't available, do you have a backup plan?
Read more: Project Objectives: What are they & How to Write them Effectively?
2. Easier To Plan Things
When you conduct a feasibility study, it becomes easy to list down all the strengths, risks, opportunities, and threats right at the beginning of the project, making planning simpler!
With a foolproof plan in hand, your team members would be able to work effectively and efficiently. Needless to say, without a plan, your entire project might go sideways.
3. Straightforward Execution
Planning and execution always go hand in hand. After all, without a proper plan in the back of your pocket, you won't be able to execute the project properly.
When you conduct a feasibility study, you can create a rock-solid plan, which paves way for execution. Execution involves cost, time, and resources, so always analyze the viability of the project before starting it.
4. A Back-Up Plan
In case the project goes sideways due to some uncertainties or hindrances, an in-depth feasibility study will allow you to develop an alternate plan immediately.
This will ultimately save cost, time, and resources! How? Because without a feasibility study, you won't be aware of other opportunities, and then you would have to develop an alternate plan from scratch.
We know that we've convinced you to conduct a feasibility study before getting your project off the ground. Now, let's take a look at a few areas that a feasibility study examines.
The 5 Types of Feasibility Study
1. Technical Feasibility
Technical feasibility is all about assessing whether your organization has the technical resources and expertise needed to meet the requirements of the project.
It also involves evaluating the hardware, software, and all other technical requirements of the project. For instance, you won't put Star Trek's transporter in your office building, as it's not technically feasible.
2. Economic Feasibility
To determine the financial viability of the project, you need to evaluate the economic factors. You can conduct a cost-benefit analysis, which will help you compare the project's financial costs against the projected benefits.
This assessment also enhances project credibility and helps the decision-makers in determining the positive economic benefits that the project will provide to the organization.
3. Legal Feasibility
It goes without saying that your project must meet all the legal requirements. This includes zoning laws, data protection acts, social media laws – basically every law that applies to your project deliverables and activities.
For example, let's say that you want to build a new office building somewhere. By conducting a feasibility study, you'll be able to determine whether the location is ideal for your business or not.
4. Operational Feasibility
Operational feasibility involves analyzing whether your project matches your organization's resources, strategic goals, business objectives, and capacity planning.
In simple words, operation feasibility refers to determining whether (and how well) your organizations' needs can be met by completing the project.
5. Time Feasibility
This assessment is super important when it comes to project success. After all, if a project isn't completed on time, it is bound to fail! In time feasibility, you estimate the time needed to execute and complete the project.
Once that's done, think about how your project timeline aligns with your current operations, such as product schedule, demand planning, and more.
It's time to explore the entire process of conducting a feasibility study. To make things easier for you, we've broken up the process into seven steps. Let's roll!
How to Conduct a Feasibility Study? (Step-By-Step)
Step 1. Conduct a Preliminary Analysis
This is more of an exploratory step where you investigate and examine a variety of methods to organize your business or position your product in the market.
After discussing all the business ideas and scenarios, start conducting the pre-feasibility study. This will help you pinpoint the unnecessary ideas and the ones that need to be studied more in-depth.
Step 2. Time For Market Assessment
Through market assessment, you will be able to determine how viable your proposed product or service is in the marketplace. It will also help you recognize the demand for your product in the market.
In this step, identify the market opportunities for your project through focus groups, interviews, and surveys. You should also observe what your competition is doing in terms of marketing, services, and products.
Step 3. Study Your Organizational Structure
Once you've performed the above two steps, it's time to get your organization ready for the project. Study the staffing requirements, management and labor alignment, start-up costs, and operational costs.
Start-up and operations costs include infrastructure, personnel, supply convenience, marketing methods, equipment, and any known (or surprising cost) that might occur during the project.
Step 4. Calculate The Financial Costs
In this step, the projected revenues, expenses, financial costs, and risks involved with the project are studied. These costs might include human resources, materials, third-party services, equipment, and more.
Along with that, during the financial assessment, you also need to assess what impact the project will have on the bottom line of your organization – if it fails.
Step 5. Find Points of Vulnerability
Points of vulnerability are those facets that can hinder the project's short-term or long-term goals. That's why it's important to review and analyze them beforehand so that they can be controlled or eliminated.
To identify points of vulnerability, think about problems and events that could result in project delays or failure. Then, think about solutions that can help you get rid of these problems.
Step 6. Present Your Results and Conclusions
The conclusion of your feasibility study is an in-depth outline of the various scenarios that you have examined. If the results indicate that your project is perfectly viable, you're good to go!
However, there are times when the outcome of your study is neither positive, nor negative, and the decision of whether to proceed ahead isn't clear-cut.
You can use the information and insights from the study to gauge the trade-off between the risks and rewards associated with the project and decide if you want to pursue the project or not.
Sometimes, it seems really straightforward to gather, record, and present all the feasibility study data.
However, there are times when you keep running into one challenge after the next while conducting the study, which slows you down (and adds stress to your life).
Well, we have something that will make conducting a feasibility study easier for you – Bit.ai.
Bit.ai – The Tool That Will Assist You In Your Feasibility Study (And Every Other Research)
Bit.ai is a robust, new-age document management and collaboration platform where you can create, collaborate, share, track and manage all your documents and research material in one place.
Bit.ai will make recording and presenting all your feasibility study data super easy – you can take our word for it. It's the perfect platform for you to get work done without having to rely on complicated apps and software.
Want to know a few more reasons why you should use Bit for your feasibility study? Read on!
1. Real-Time Collaboration
While collecting and recording your feasibility study data, you need inputs and insights from your entire team so that you don't end up miscalculating and misinterpreting numbers.
Bit.ai helps you do that effortlessly. Bit lets you and your team collaborate on a Bit document in real-time by co-editing, making inline comments, accessing version history, chatting via document chat, and much more.
It is an amazing way for your team to handle different aspects of your study together in one place. That means, no more communicating back and forth through emails and messages with your team!
2. Smart Workspaces
Research is something that can never be carried out using one piece of document, especially when it comes to the feasibility study. There is just so much different information that you need to gather from different markets and audiences – and storing all this information can be a pain.
Luckily, Bit solves this problem for you. On Bit, you can gather your team and create workspaces around different markets, target audiences, and teams to keep all your research data organized.
3. Interactive Documents
What if you could keep all your important research files in one single document? We're talking about those excel sheets, presentations, charts, and more.
Won't that make your research documents much more comprehensive? The best part – your team won't have to jump through different files to get information.
It's possible using Bit! Bit lets you add images, videos, social media content, music, cloud files, surveys/polls, charts, code, presentations, and any other rich media you can think of in your Bit doc.
4. Permissions & Sharing in Multiple Ways
Research findings are crucial documents, and you need to make sure that the right people have access to them at the right time. This is why Bit supports features like document tracking, password protection, file access restrictions, etc. that help keep your important company information safe.
There are multiple ways to share your Bit documents – you can create a shareable live link to share the documents with someone. You can also share your documents via Bit's guest access.
5. Guest Access
You can use Bit's Guest Access to your investors, funders, or other interested stakeholders. The 'guests' can get two types of access to the documents: comment-only and read-only.
With the comment-only access, they can @mention team members and give their suggestions or feedback while read-only access only allows them to read the content you have shared with them.
There's nothing like Bit out there when it comes to creating and organizing documents. With a free account for up to 5 members, there's no reason why you should not give this amazing platform a try.
Wrapping Up
Should we or shouldn't we? This is the question that a feasibility study answers. It helps you determine if a particular project makes sense from an economical, technical and operational standpoint.
Every business project comes with great risk and expense, and you should always perform a feasibility study to understand the risk factors at play, project parameters, and business goals.
Most importantly, this study helps you identify whether the merits of investing in the project outweigh the risks. Just another reason why it should be a part of your project cycle!
Further reads:
Project Outline: What is it & How to Create it for Your Business?
9 Risk Management Tools & Techniques You Must Try!
9 Project Documents You Must Create For Your Project!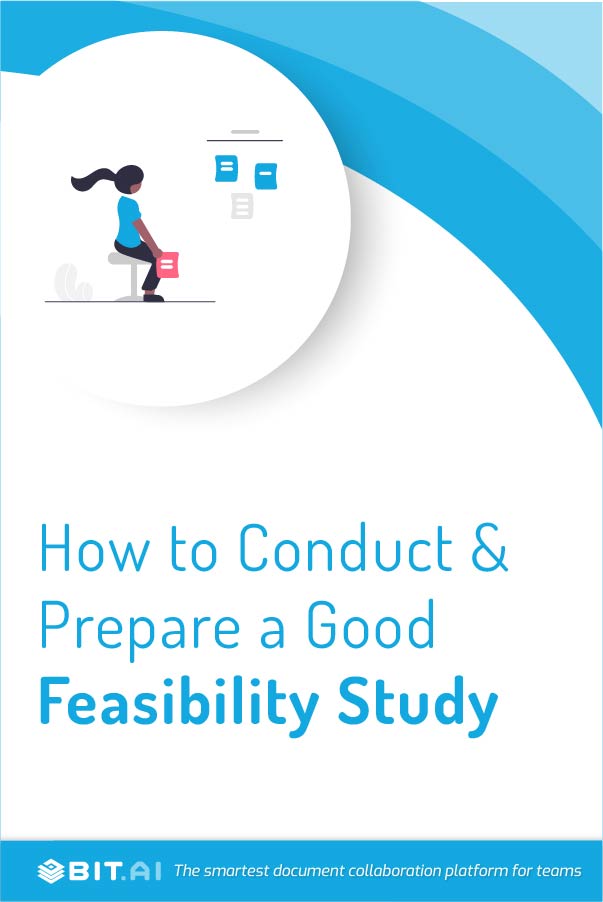 Related posts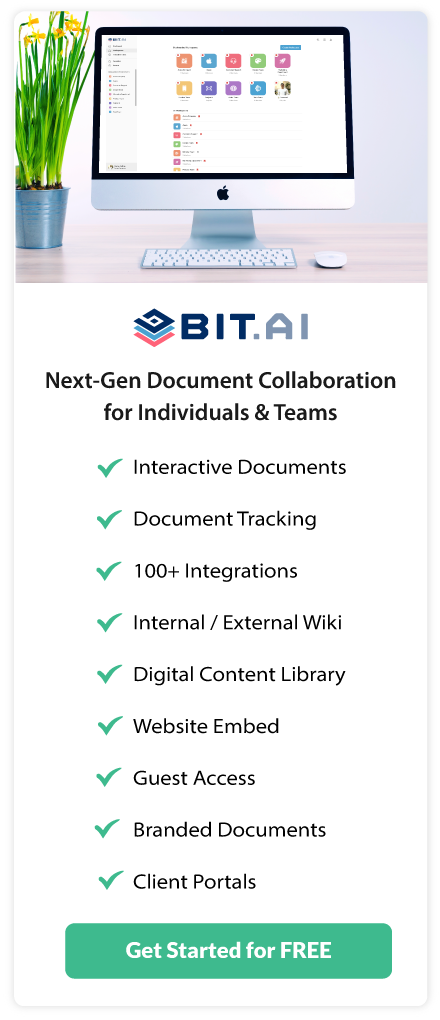 About Bit.ai
Bit.ai is the essential next-gen workplace and document collaboration platform. that helps teams share knowledge by connecting any type of digital content. With this intuitive, cloud-based solution, anyone can work visually and collaborate in real-time while creating internal notes, team projects, knowledge bases, client-facing content, and more.
The smartest online Google Docs and Word alternative, Bit.ai is used in over 100 countries by professionals everywhere, from IT teams creating internal documentation and knowledge bases, to sales and marketing teams sharing client materials and client portals.
👉👉Click Here to Check out Bit.ai.