PDFs have always been the go-to file format to share personal and professional documents with your peers or business associates. PDFs is an amazing file format except for one thing- you can not track PDF documents. 
Wouldn't it be amazing to know what happened to your PDF after you have shared it with someone? It's possible, and we're going to show you how! Read on…
PDFs have been around for decades, from the early 1990s to be precise. The Portable Document Format or PDF (now you know the full form😉) was created as a cross-platform file format to create, share and read files seamlessly on any device.
PDFs can be used to present documents using text, images, and other rich media. They have been playing a major role in businesses. Whether you want to share a marketing brochure, a sales pitch to investors, a user manual to customers, online fashion magazines, share a white paper, etc, the majority of these documents are displayed in a PDF format.
However, when it comes to business, data is critical. We often make use of advanced analytics to study how our business is being received by the public and what are we doing wrong (or right). Analytics help us find out answers to critical questions like:
How many people visited our website?
How many people interacted with our Twitter ad?
How many views did our product video got?
How many people opened our last email newsletter?
and so on.
This data is extremely important to make informed business decisions in the future by learning about what works and what doesn't. Only when you analyze this data and put it to good use, you can gain a competitive advantage over your competitors.
Read more: How To Create An Interactive Pdf In Minutes?
How Can Pdf be Tracked?!
You can track every aspect of your online activity– your website stats, social media stats, videos stats, email stats, but when it comes to PDFs and content that we create, the tools that we have at our disposal limit our ability to understand how our audiences engage with our content.
Even though PDFs have been around for over two decades, there is no easy way to track PDF documents and get intelligent data on it. Sure you can get your developer to configure your Google Analytics to do it.
But that too will require some advanced coding skills and time to configure. If your developer doesn't know how to do it or you don't have a developer friend, you're basically out of luck.
Why You Need To Track Pdfs?
We've all been there. You just created an awesome piece of content and you're sending it out to close a deal, move the business forward, update an important client, share a white paper, send out training materials, etc.

How are you supposed to know if your audience even read your document? Or if he/she did, how much time did they spend reading it before making their decision or reverting back to you.
This kind of data can help you identify potential clients and see what changes you need to make in order to make your PDFs more appealing and engaging.
Read more: Ever Wished You Could Track Google Docs? Today's Your Lucky Day!
How To Track Pdf Files And Other Documents?
There is surely a dire need for a PDF and document tracking tool that can help you create smarter content. Content analytics help you make intelligent and informed decisions and avoid costly mistakes. This is why we created Bit.
Bit is a new-age cloud-based document collaboration tool that helps teams create, manage and track workplace documents.

Bit helps you make sure your documents are more than just plain boring text. Thus, apart from allowing multiple users to collaborate on documents, Bit also allows users to share any sort of rich media like YouTube videos, Google Docs, One Drive Excel Spreadsheets, SlideShares, etc.
Basically, anything on the internet with a link can be shared and Bit will automatically turn it into visual content. While PDFs allow you to only share information in text and images, with Bit, you can share hundreds of file types within your documents that your audience can interact with and even download.
With an automated table of contents, Bit displays all of your data in a systematic manner based on your header 1, header 2, and header 3 usages on your document. If you have a long-form PDF, creating a table of contents can be a lot of labor.
When you are satisfied with your document and are ready to share it, you can create a trackable link. Your trackable link once shared will provide you with information on how often it's viewed, how much time was spent on it, etc. Bit also gives you the ability to share multiple trackable links for every recipient or group you want to track.
Read more: Why Smart Professionals Track Their Shared Documents
Why You Should Use Bit.ai for Pdfs? The Awesome Features!
Here are some of the features that make Bit, the ultimate solution for creating, sharing, and tracking workplace documents.

1. Document Live Sharing
Sharing a live link to your Bit document allows anyone to see changes or updates made to the Bit document in real-time. You can then get real-time feedback from your team and adjust the document before sharing the final version.
2. Published document tracking
You can create multiple trackable shareable links for each Bit document. These links are a smart way to track your audience's engagement levels as they view your content. With PDFs, unfortunately, you have no idea what happens to them once you share them.
3. Engagement Analytics
This is where the magic happens! You can gather real-time insights to understand how users interact with your content. Users are able to see who has accessed their Bit document, how frequently, how much time they spent on it, how often they have returned to it along with other great engagement metrics. Forget about doing that with your boring old PDFs!
4. Lead Capture
One great way to get lead information is to attach a lead capture form to your Bit document. This allows your team to collect information (name, company, job title, email, phone number, etc.) before your audience views your Bit document.
5. Password protection
You can also password protect your Bit documents before sharing them. This allows only people to access it to whom you've given the password. You can update your password anytime or can also disable it at any time.
6. Document Expiration
Users can set expiration dates on their trackable Bit documents. This means that you can prevent your audience from accessing your Bit documents beyond a set date. You can update the expiration date anytime.
7. Real-time alerts
With Bit, you can get instant notification on your Bit dashboard as well as an email when someone opens your Bit document and leaves you feedback. This allows you to quickly respond to the receiver and move business along quicker. You can't leave a comment on PDF that triggers an instant notification!
8. Document access settings
Users can go back anytime to update their Bit document access settings. They can adjust the lead capture forms, expiration dates, password access and much more.
9. Responsive
Last but certainly not least, Bit documents are responsive. This means that you can view a Bit document on any device and on any screen size without it breaking or becoming distorted. No more downloading PDF viewers on your smartphone or computer!
Final words…
Bit allows you to create better and smarter PDFs and other workplace documents with the click of a button. Here are a few examples of the types of Bit documents you can create.
Having this much control over your PDFs was unheard of up until this moment. Bit sets the bar high for other document creators out there and forces you to rethink how you've been creating, managing and sharing your workplace documents.
Now go ahead and put all these advanced analytics and information to good use and make informed decisions using Bit.ai.
Further reads: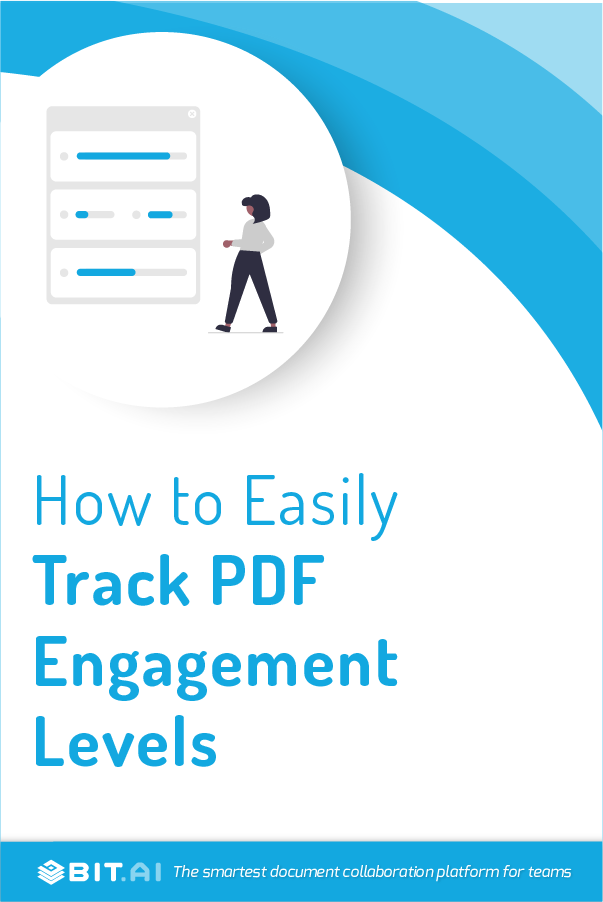 Related posts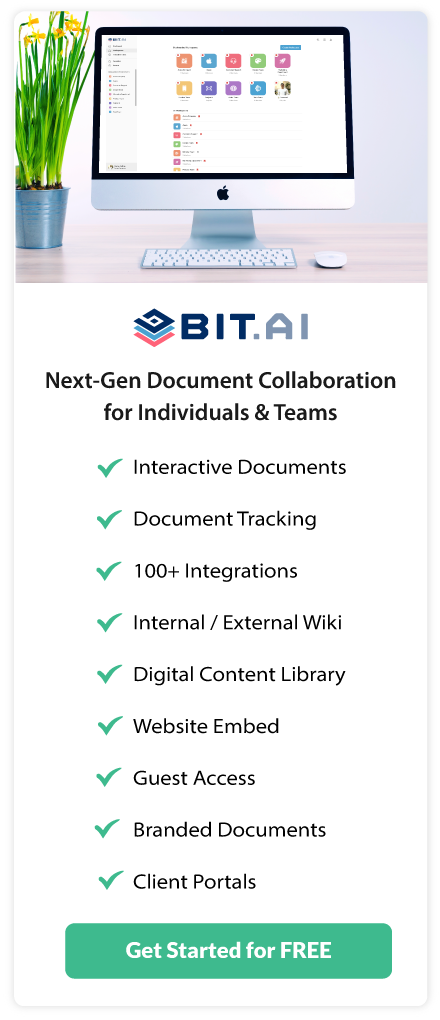 About Bit.ai
Bit.ai is the essential next-gen workplace and document collaboration platform. that helps teams share knowledge by connecting any type of digital content. With this intuitive, cloud-based solution, anyone can work visually and collaborate in real-time while creating internal notes, team projects, knowledge bases, client-facing content, and more.
The smartest online Google Docs and Word alternative, Bit.ai is used in over 100 countries by professionals everywhere, from IT teams creating internal documentation and knowledge bases, to sales and marketing teams sharing client materials and client portals.
👉👉Click Here to Check out Bit.ai.