Running an online business is a big deal, especially when you have to keep up with big companies like Amazon that have a massive marketing budget fueling their sales promotions.
The race to score a position on the first page of Google search is cut-throat. This means that struggling to be on the first page results, even with the best SEO may take months to accomplish.
This is where paid ads come in! There are multiple online platforms like Facebook ads and YouTube ads where you can advertise to help you grow your business and reach new customers in no time.
But, if you're thinking of investing any amount of money on these paid ads to reach your target audience, then you'd better spend it in the right place!
How about a place where more than 246 million unique visits, 3.5 billion user interactions happen every day?
A place like…Google AdWords!!
What is Google Adwords?
To give you the exact definition, AdWords or Google ads are an online advertising service platform developed by Google to help small and large businesses reach their audience instantly under PPC i.e paid-per-click.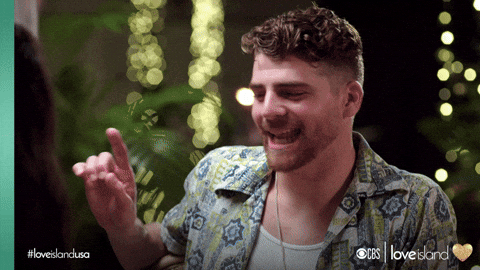 Through Google AdWords, businesses can build their online advertisements to reach potential customers who are interested in their products or services. These ads then show up either on SERP (search engine results page) or on websites that allow businesses to display their Google ads.
Usually, when a person looks up a specific term, say 'productivity tools', Google would show a list of searches for you. But if you closely view that list, you will notice that the beginning and the results on the page are ads.
The Google Network lets you display your ads to users who are dynamically searching for the keywords that you've selected. Although both search and display ad campaigns are run via Google AdWords, the term "AdWords" is commonly used to refer to the search network.
So, if you're a marketer who wants to start making profits from the number of searches that take place on Google daily, and quickly grasp the attention you need to tailor your business, there's no better way to start than by signing up to use Google AdWords.

The AdWords tool gives you the possibility to stay within your monthly budget and even stop or pause your ad campaign any time you want!
But first, let's find out what makes Google AdWords so great?
Read more: What Is The Google Recommended Meta Description length
Why Use Google Adwords for Advertising?
Google Ads platform has been in the market for nearly two decades with an ROI of $116 billion in 2019, giving it a higher rank in the area of paid promotion. According to Google, marketers make $8 for every $1 they spend on Google Ads.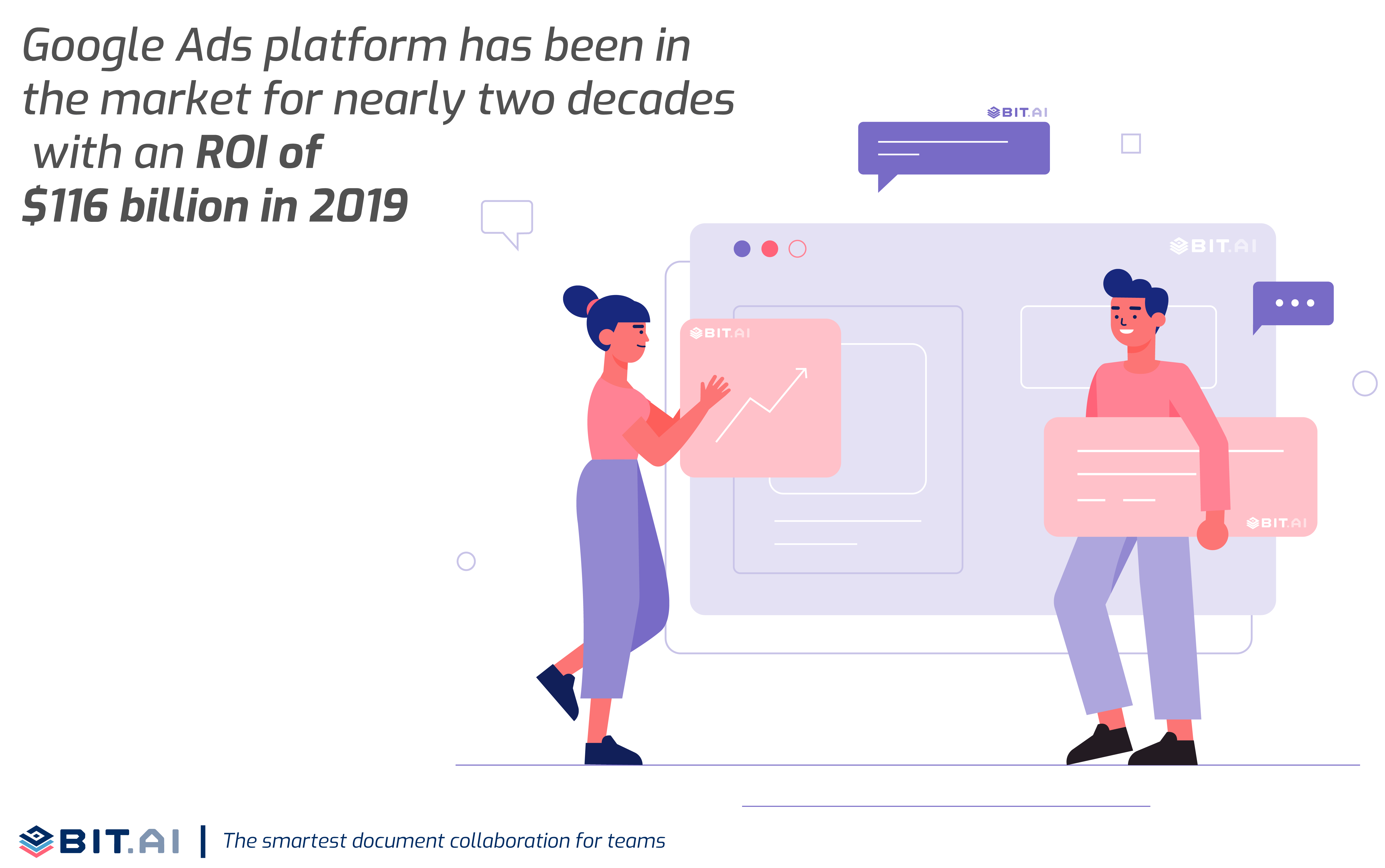 Therefore, here are some benefits on why to use Adwords for generating Google-leads!
1. Adwords Works Faster than SEO
The top benefit of Google AdWords is that it works faster than SEO (search engine optimization). SEO and AdWords both are search engine marketing tactics to generate more traffic and leads on your website. But, a well-optimized ad campaign can work faster for a business to score the first spot in search.
Google Adwords is the perfect workaround for new businesses, as they do not have to wait for a longer time to see results. While working on your website's SEO, you can put some capital into a Google Ads campaign and start getting clicks and impressions instantly.
Because of its speed, Adwords is a great way to test whether a given keyword or audience is worth following up through organic search or not.
2. Increase Brand Awareness
Strengthening your brand name, character, reputation, etc., are all important to building trust with your audience. The more you redo these things consistently, the more powerful your brand becomes and the more faith you earn amongst your customers.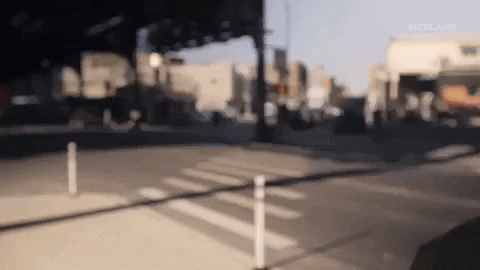 With the help of AdWords search network, even if target customers aren't clicking, they see your brand name, your tagline, what you are offering, and everything else you showcase.
You can even prioritize brand awareness by showing your ad campaign to more people than just focusing on Google-leads or conversions. This not only allows marketers to reinforce their business's important features but in turn, nourishes their brand.
Read more: What Is A Brand Style Guide And How To Create One ( Template Included )
3. Tracking Performance
Google AdWords enables companies to track the performance of their ad campaigns. This means you can trace the number of users that clicked and viewed your ad. Adwords also lets you track the number of visitors that take the desired action after visiting your website.
In the current market scenario, using Google AdWords as a piece of your online marketing strategy is bound to bring in positive results. The right way to know if AdWords will be profitable for your business to give it a try!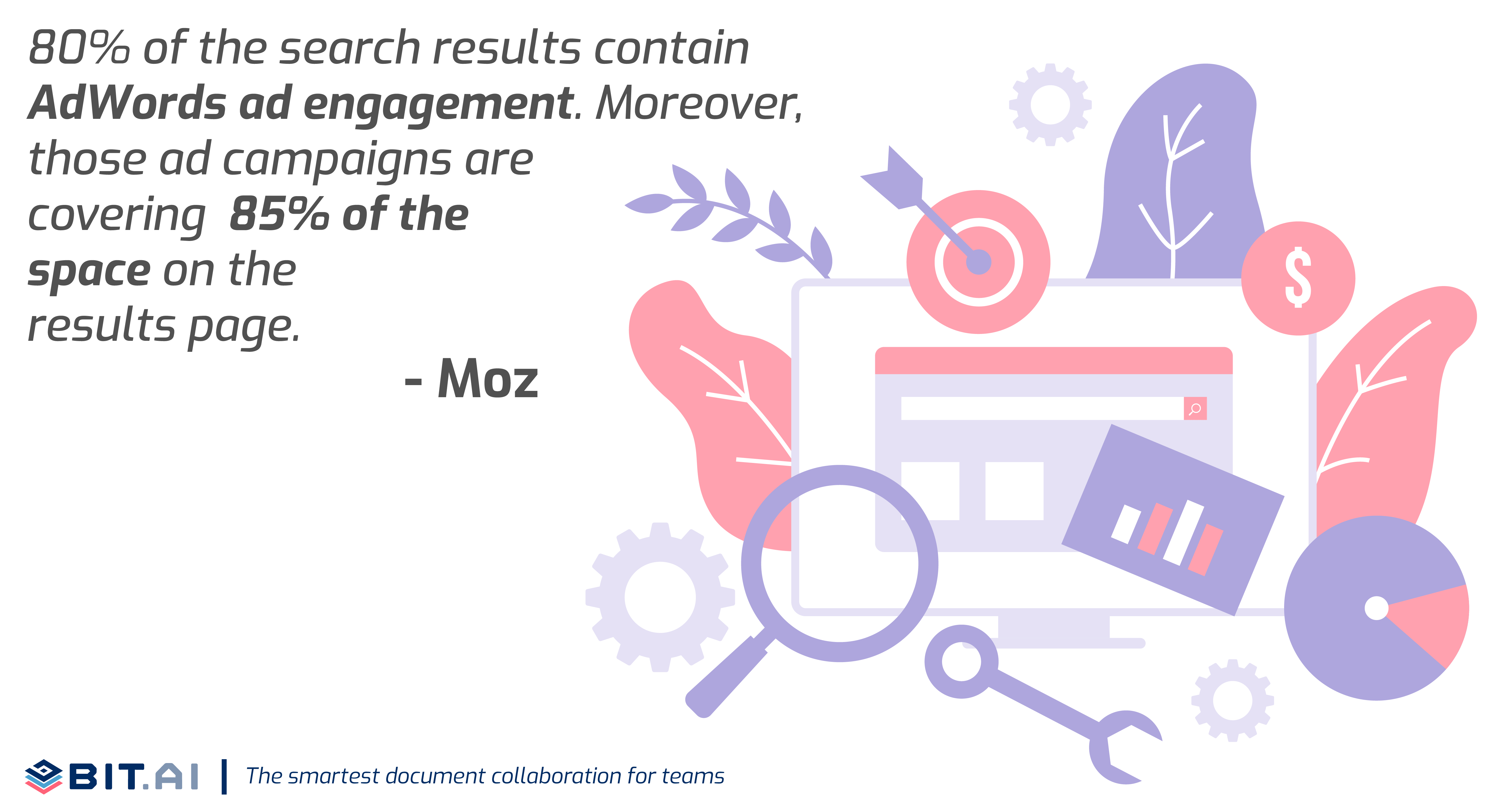 According to a study by Moz, 80% of the search results contain AdWords ad engagement. Moreover, those ad campaigns are covering  85% of the space on the results page. 
This does not mean that Google is earning a heavy profit, it just shows that AdWords is being used by more and more of your competitors. So, the only way to surpass them is to join the platform!
Now, to begin with, creating a beautiful Google ads campaign, you first have to create an Adwords accounts. Duh!
Setting Up a Google AdWords Account
Step 1: Signing Up
Visit the Google AdWords website and register with your Google account. If you don't have a Google account * No Stress *, just create one!
Step 2: Choose your Advertising Goal
After signing up you, are asked to choose an advertising goal for your business, this is how you verify your account and describe the purpose of your business.
Step 3: Select Your Target Audience
In this step, you need to select the geographical location of your targeted audience. This feature ensures your ad is shown to the specified users that makes a search for the keywords you're bidding for and are present in that particular geographical location.
Step 4: Choose Your Keywords
Keywords are the terms or phrases a user enters on Google's search for searching. It's better to choose more than 2 keywords that you know will bring results, also check the search volumes of the keywords you choose.
Step 5: Write Your Ad
We would suggest you give some deep thought while writing your ad. Your message should be clear and convince your users to click on your ad and visit your website. You don't want to miss out on those clicks!
Step 6: Setting Your Budget
Fixing your daily budget is very important and will ensure you never cross your expense limits. If you're just starting, it's OK to work with averages!
Once you choose your desired budget and currency, click on save and move to the next step
Step 7: Billing-up Your Ad
In this final step, Google will ask you for your business information and payment method. You will be then charged whenever you have exhausted your set budget, or 30 days later, whichever comes first.
Now, you are done creating an account on Adwords, but don't just get excited yet! 😉 There is more for you to know before you start running your amazing ad campaigns on Google.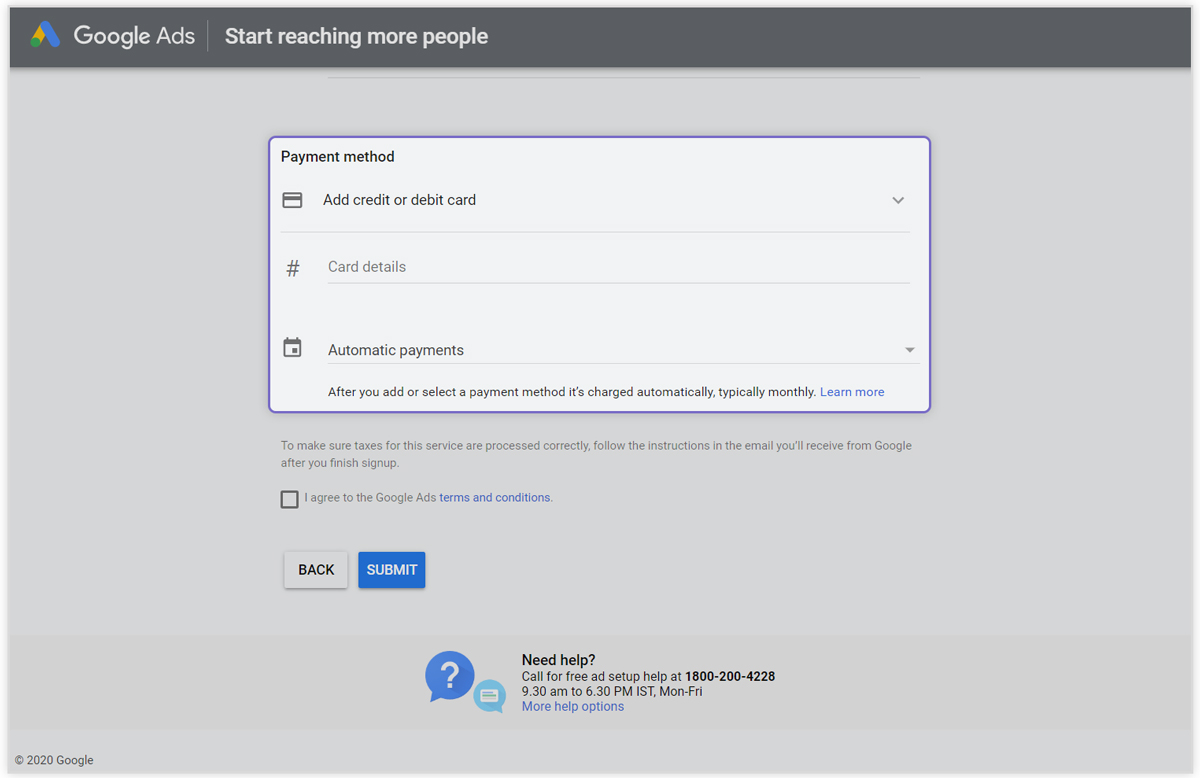 Read more: Ever Wished You Could Track Google Docs? Today's Your Lucky Day!
Power Tips to Use Google Adwords at 100%
To make it slightly easier, let's walk you through some of the golden nuggets in the world of Adwords to always keep in mind before you run a Google ad.
So, let's dig in!!
1. Optimize Your Account Structure:
Once you are done setting up an AdWords account, it's time to think about how to optimize its structure.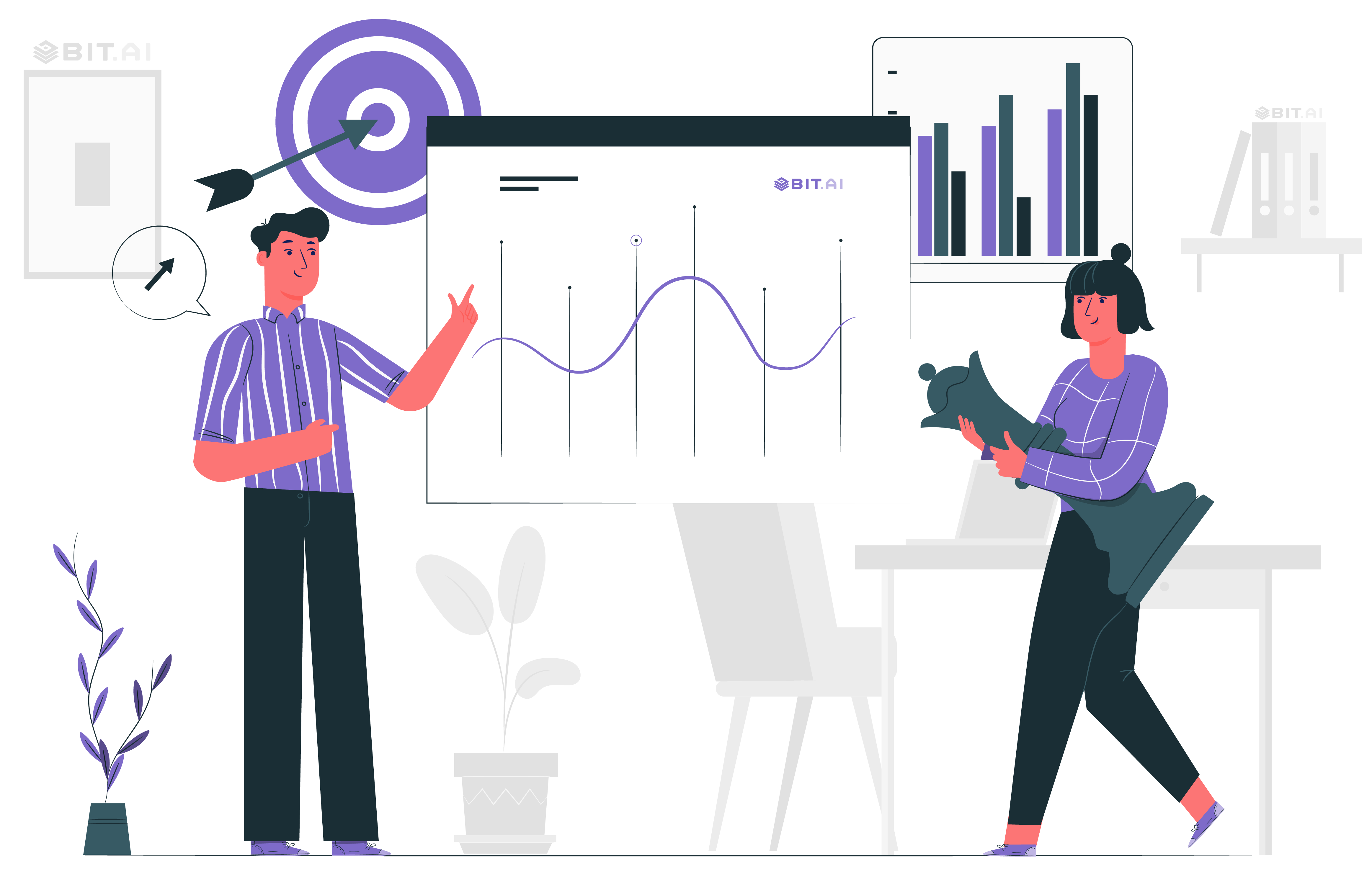 A rational account structure should have a reasonable impact on crucial PPC metrics, such as a Quality Score that helps you measure the quality of your ad by CTR (Click-through-rate).
A properly structured account has many benefits, including:
More traffic and clicks
High-Quality Scores
Making your account easier to maintain
If you plan to run a single campaign, your AdWords account structure is likely to be simple. However, if you wish to run various campaigns simultaneously, consider keeping a clear account structure from the start.
A right AdWords account is structured into single campaigns, each will have its ad group. Each of these ad groups will have their own keywords, special ad text, and landing pages.
There are multiple ways in which you can structure your AdWords account, depending on your requirements. For example, your AdWords account can be structured based on your website, products or services you're marketing, or by geo-location, in case your business is active in different markets.
2. Creating an Awesome Landing Page
A landing page is a place where the user lands after they click on your ad campaign. The landing page has one aim and one aim only: To generate leads!
"Landing pages are the key to success," says Sam Brinks
Because without great landing pages, your visitors might not know the purpose of being on your website. Did you know that 48% of marketers design a new landing page for each marketing campaign they run!
Consider these 5-elements that will help you're to construct a high-converting landing page:
Convey Clear Value: When a potential customer lands on your page, it should be clear what your product or service is, and how it will improve their lives.
Call to Action (CTA): Your landing page should convince the visitor to make a purchase.
Keep it Short: Don't make it difficult for the user to purchase by asking too much information.
Create Trust Elements: Acknowledging user reviews or testimonials will help build trust, especially if they are genuine and fresh amongst website visitors.
Easy-to-Understand Content: Whether it's bullet points, videos, or quotes, make sure to keep the information easy and smooth to understand your product or service for the buyers.
Read more: How To Embed Google Slides Within Your Documents
3. Bidding on the Right Keywords
Try to bid on keywords that closely link with your products. A simple trick is to examine your website. What words or phrases are regularly used? The more accurate you get to choose keywords that are related to your business, the more you are likely to get clicks for what you offer!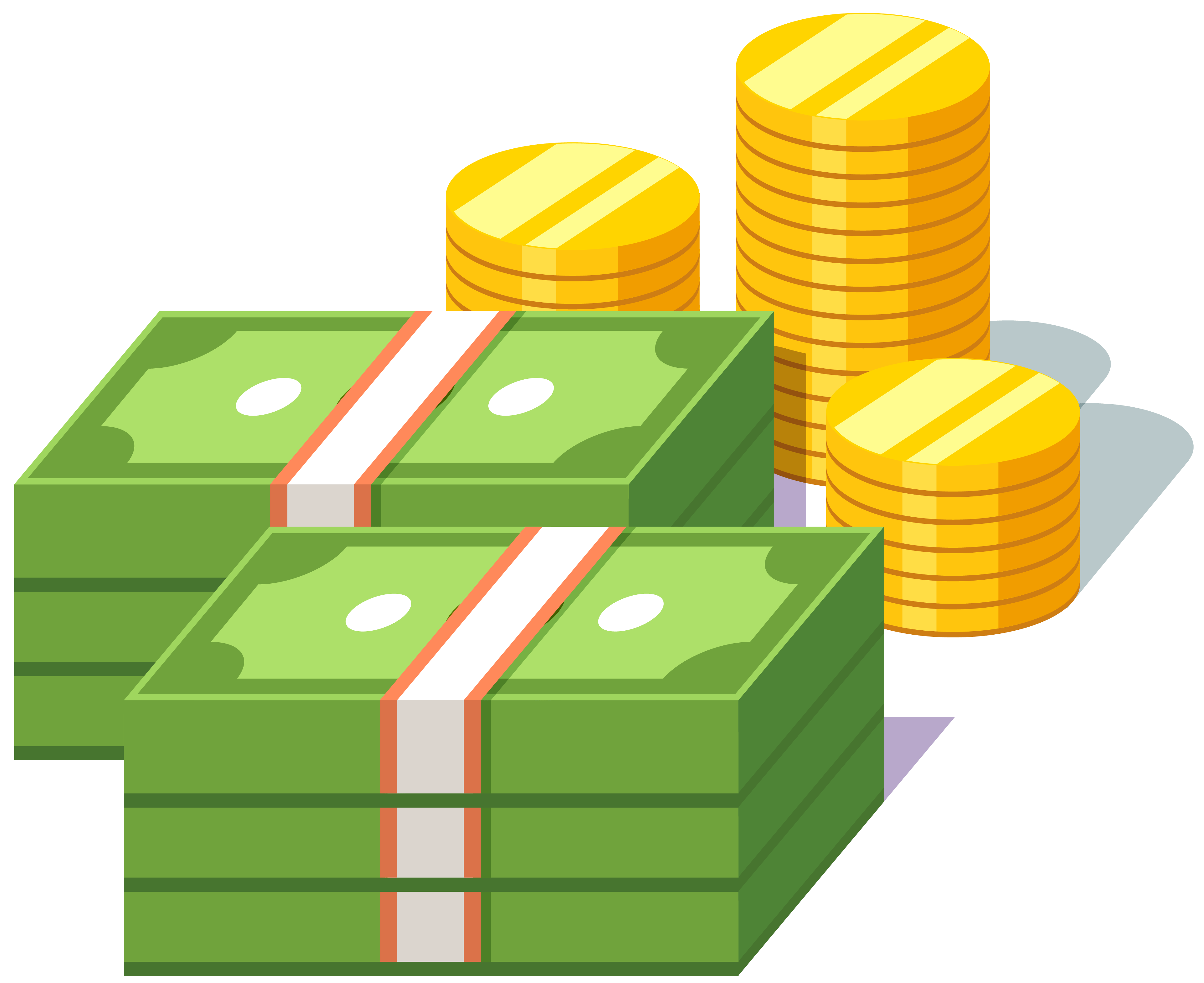 Match Types
Match types are the categories that Google will ask you for each keyword you choose. It refers to how closely Google matches your keyword to the relevant searches by user. There are 4 types of Matches: exact, phrase, modified broad, and broad.
1. Exact: Google displays your ad campaign when a user searches for the exact word you bid on.
Keyword: shoes
Exact match: shoes
2. Phrase: Your ad is displayed by Google when a user searches for a phrase that contains the exact word you bid on.
Keyword: shoes
Phrase match: Buy shoes
3. Modified broad: Google displays your ad campaign when the user searches for a term that contains the exact word you bid on plus words related to a modifying word
Keyword: +fancy shoes
Modified broad match: quality shoes
4. Broad: Your ad is displayed when a user searches for a term related to the word or phrase you bid on.
Keyword: fancy shoes
Broad match: quality boots
5. Negative Keywords : 
A negative keyword is a term or phrase that you do not want your ad campaign to be connected with. So if you're selling shoes online, you don't want to show up when someone is looking for the wholesale stilettos.
To keep more control over your keywords, go for an exact, phrase, and modified broad match keywords, and constantly look at search term results to add new keywords that you might be accidentally targeting.
4. Write Compelling Ads
Once you are done identifying the keywords that are relevant to your business, all that's left to do is write compelling, irresistible text ads that simply beg to be clicked.
Even though Google AdWords offers a variety of diverse ad formats, text-based PPC ad formats are the core of AdWords. Writing ad text is not as easy as you think, because of the spacing restrictions that marketers are subjected to.
You have very little space to craft a catchy message that speaks to your prospective buyers and compel them to click on your ad campaign
There are various elements to consider when writing PPC ad text:
Choice of language you use
The dramatic tone of your advertisements
Your current location
Some ads even hold emotional responses such as affection, fear or even comedy to tempt visitors to make a click, whereas other businesses monetize on special offers or discounts to make their ads more compelling.
Best Practices for Copywriting:
Keep it Crisp: As you are given limited spacing, keep your message to the point.
The Headline is Important: The headline of your ad is the first thing a user will see. Make sure it calls out to your audience and drive them to click on the ad.
Have a Clear Call-to-Action: A clear CTA helps you to tell the user what you want them to do.
Insights of an Ad:
Headlines: AdWords allows two headlines to be included in an ad, each containing 30 character limit. Make sure to use this space wisely, it is also recommended to include at least one of your related keyword in your headlines.
Description: The description is 80 characters. You can use it to convey some basic details to the users. If possible, include offers or discounts to ensure that user clicks on your ad.
Pro Tip: Triple check for spelling and grammatical mistakes. Better not grab attention with a flawed ad! This will only hamper your business image.
Ready to Get Started with AdWords?
Whew! That was a lot! And we've only just touched the surface of Google Adwords. There are a bunch of other features as well, that you can explore once you get familiar with the platform.
Hopefully, this blog was enough to help you decide whether Adwords is worth giving a shot and in any case will help you to kick-start your business ad campaigns!
Have you ever invested in Google AdWords and got a suggestion? Just drop a comment below or let us know by tweeting us at @bit_docs.
Further reads : 
Don't want to forget this information?
Pin it for future reference!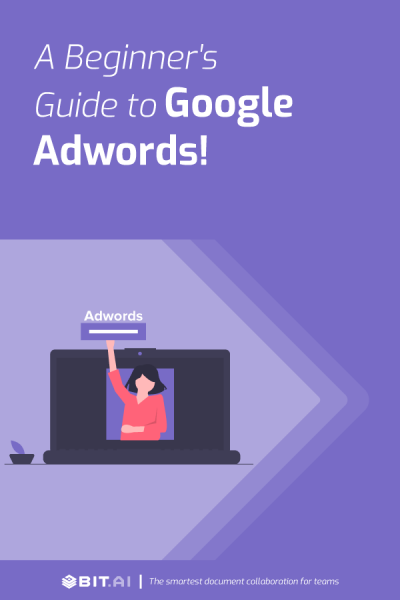 Related posts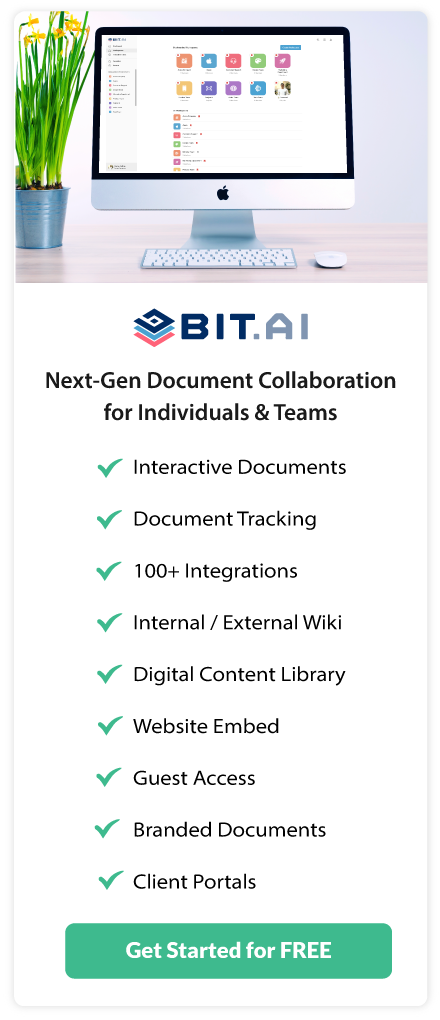 About Bit.ai
Bit.ai is the essential next-gen workplace and document collaboration platform. that helps teams share knowledge by connecting any type of digital content. With this intuitive, cloud-based solution, anyone can work visually and collaborate in real-time while creating internal notes, team projects, knowledge bases, client-facing content, and more.
The smartest online Google Docs and Word alternative, Bit.ai is used in over 100 countries by professionals everywhere, from IT teams creating internal documentation and knowledge bases, to sales and marketing teams sharing client materials and client portals.
👉👉Click Here to Check out Bit.ai.